28 Quick & Easy 30 Minute Meals
These quick & easy 30 minute meals will have a warm dinner ready– even when you feel like you don't have the time! If you need easy cheap meals, you'll also find my quick way for subbing out ingredients.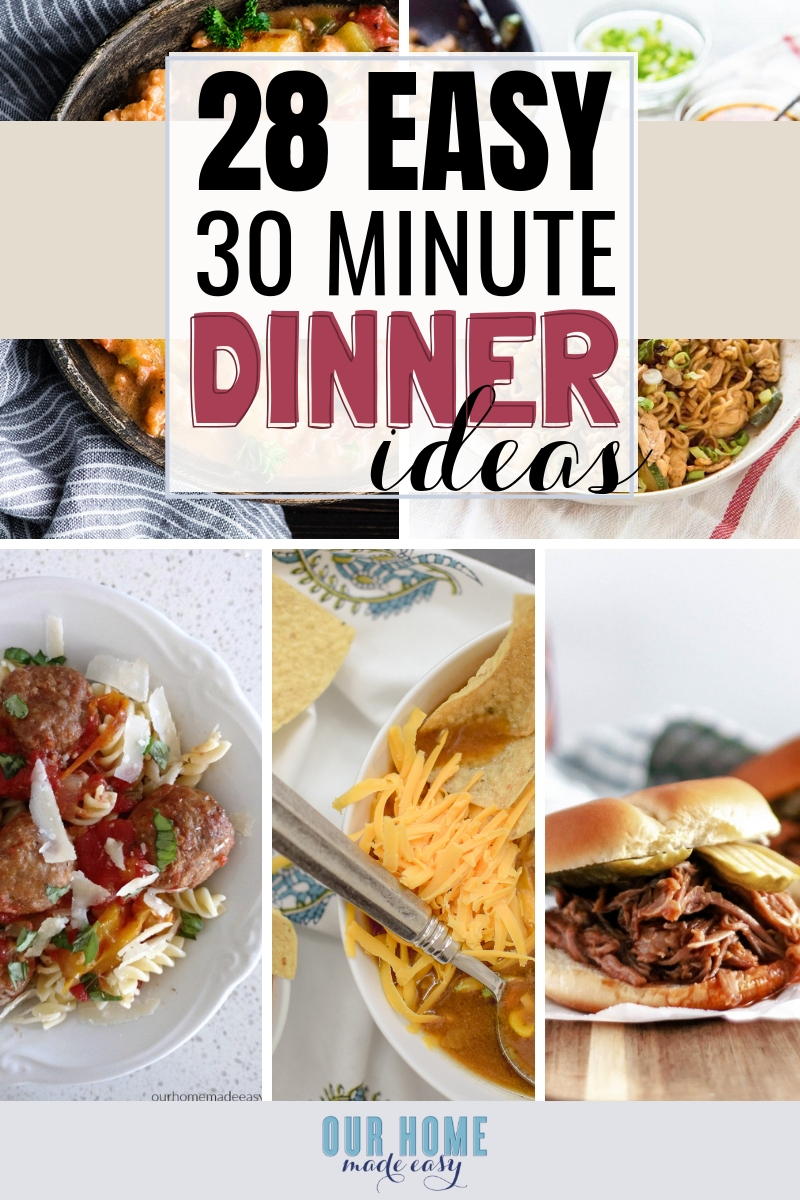 Can we talk about kids & sports? Or what it is like being a mom juggling school events during the week?
One or other is seriously affecting our dinner plans lately. To help fight the 30-minute time crunch and not grab dinner through the drive-thru, I rounded up my favorite easy 30 minute meals for families!
You'll notice that I included several slow cooker recipes simply because they are my go-to dinner hacks when we want a warm dinner quickly. It seems like I can always find 5 extra minutes in the morning to prep the dinner than the extra 5 minutes after arriving home and before we have to leave for soccer practice.
While we love baking chicken tenders, it's not quick. Our favorite baked fried chicken recipe takes almost 40 minutes to bake– so delicious, but it's not for practice nights!
Unless you're a Sunday dinner meal prepper, I'd avoid any recipes that promise you 30 minutes, but require you to bake whole chicken breasts. Perhaps I'm super weird about needing super done chicken, but it seems like I can't dip & batter chicken and then bake it in 25 minutes.
For those cases, I happily recommend buying a rotisserie chicken the next time you're at the grocery store. I like to shred the chicken, store it all in the fridge, and then sub it in for recipes when we dinner that much quicker on the table.
Alright, now onto my favorite easy 30 minute meals! You will feel good about serving them to your family and be able to take advantage of the leftovers for lunch the next day! [Here is my favorite trick for never wasting dinner again]
Need Easy Cheap Meals?
If you are looking to stay under budget, I recommend using cheaper meats for the slow cooker recipes. You can sub out prime cuts of beef for stew meat or the weekly sale promo.
Since we are big fans of shopping our weekly sale ad for dinner ideas, we usually find a way to use the meat that is on promo. If nothing is on promo, we will use the chicken & ground beef from Costco / Sam's Club.
[We buy in bulk and store them in the freezer as single meal's worth]
Swapping out cuts of meat for what is on sale is one way we balance our budget. I will save on the slow cooker meals and perhaps spend a little more for the ingredients that add flavor in quick 30 minute meals.
Let's Get to The Easy 30 Minute Meals!
28 Really Easy 30 Minute Meals for Families
These quick & easy 30 minute meals will have a warm dinner ready, even when you feel like you don't have the time! Click to see the quick dinner recipes!
I hope that the next time you're feeling crunched on time, that you can take advantage of these recipes! Don't forget to grab your FREE pantry staples cheat sheet. It will help you make sure you don't run out of the basics the next time you cook!
GET MY FREE PANTRY STAPLES CHEAT SHEET HERE>>