This is a sponsored post written by me on behalf of Carando®. All opinions are 100% mine.
Have you ever wanted to enjoy a homemade, great tasting, and healthy Italian dish on a week night? Yea, me too. This week I've teamed up with the lovely folks at Carando Meats & Kroger to try out a new recipe and find something that says "I'm so delicious & flavorful, but super easy to make!" This will recipe will give you a perfect cooler weather inspired dinner, but without a ton of prep work immediately after arriving home from work. Win- win, right?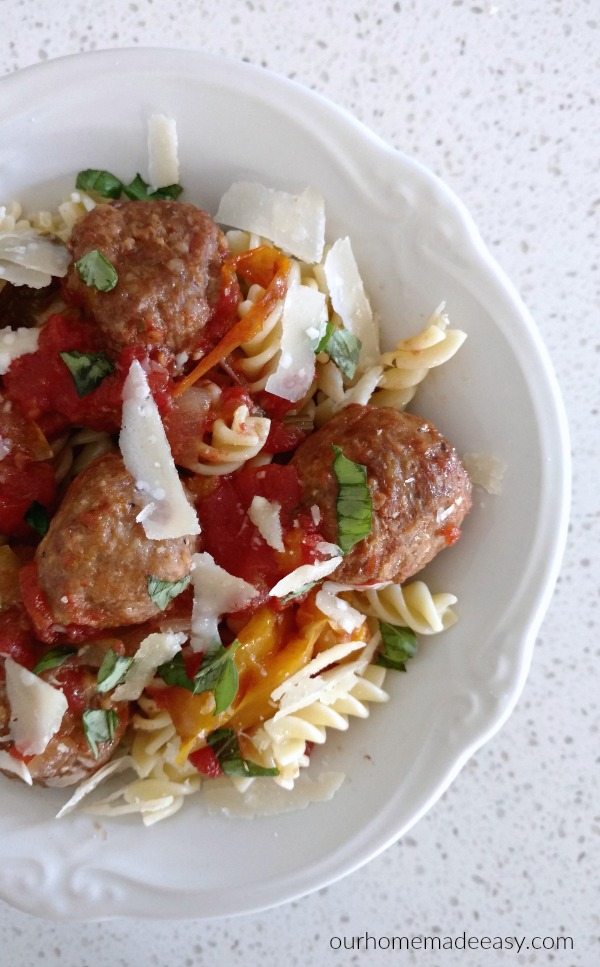 This recipe is based around the Carando meatballs. Why? I've found them to be extremely flavorful (not like the ones you find in the freezer section). Carando uses authentic Italian recipes to craft their Italian Sausage, Meatballs and Charcuterie items that will please every one in your family. If you love my own recipe, you can find more Carando Recipes online. The spices in the meatballs give this recipe an extra kick. Their spice is a great complement to the sweetness in the peppers. And, they just may be better than the ones I make at home already. Shhh, don't tell Jordan!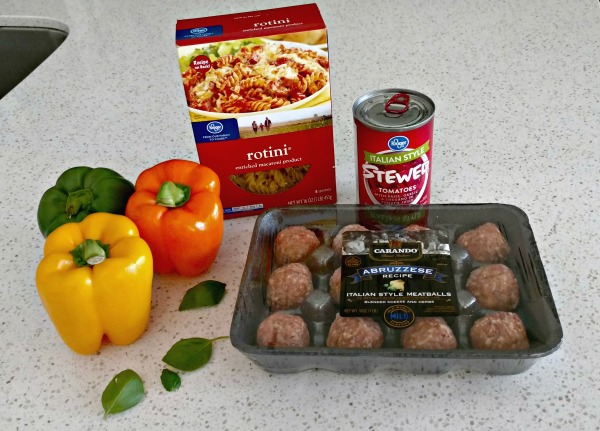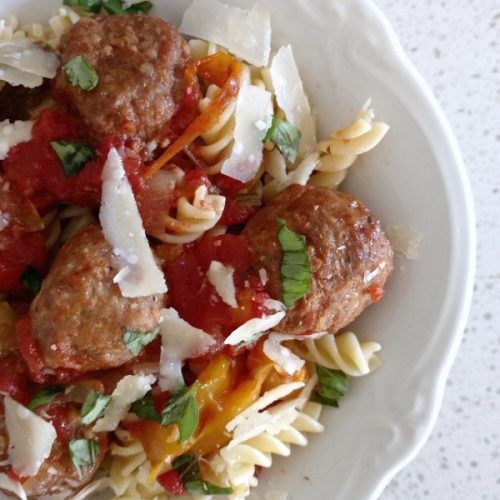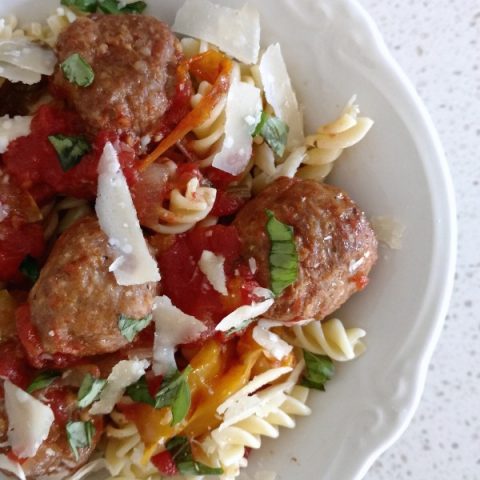 Easy Slow Cooker Italian Meatballs & Peppers
Yield: 6-8 Servings

Prep Time: 15 minutes

Cook Time: 6 hours

Total Time: 6 hours 15 minutes

This simple slow cooker dish is a perfect quick weeknight dinner. Delicious Italian meatballs, tender pasta and peppers, and a rich tomato sauce slow cooked to perfection.
Ingredients
2 Packages of Carnado Italian Meatballs (24 total)
1 14.5 ounce can of Stewed Italian Tomatoes
1 14.5 ounce can Diced Italian Tomatoes
1 each Green, Yellow, Orange Peppers, sliced
1 Medium Yellow Onion, sliced
12 oz of Pasta of your Choice (I used Rotini)
Fresh Parmesan Cheese, for topping
Optional: Fresh Basil, Crushed Red Pepper
Instructions
Slice each pepper into large thin slices.
Follow with the onion.
Place one-third of the peppers and onions on the bottom of the slow cooker.
Set meatballs on top of the peppers and onions.
Top meatballs with remaining peppers & onions.
Pour the diced & stewed Italian tomatoes over the peppers.
Top with chopped fresh basil (optional)
Cook in slow cooker on High for 6 hours, or Low for 8-10 hours.
Boil pasta of your choice.
Drain Pasta.
With a slotted spoon, top pasta with meatballs and sauce.
Top with freshly grated Parmesan cheese, basil, or crushed red pepper!
What I loved the most about this recipe was how easy it was to prepare in the morning. Seriously, I made this at 5:30 while sipping coffee and just before the kids started their day. Once everything was tossed in, there was nothing to do until it was time to eat. Then, it was as simple as boiling some water for my rotini (your choice of pasta), draining it and serving the meatballs over the pasta. Yes, that simple, and delicious.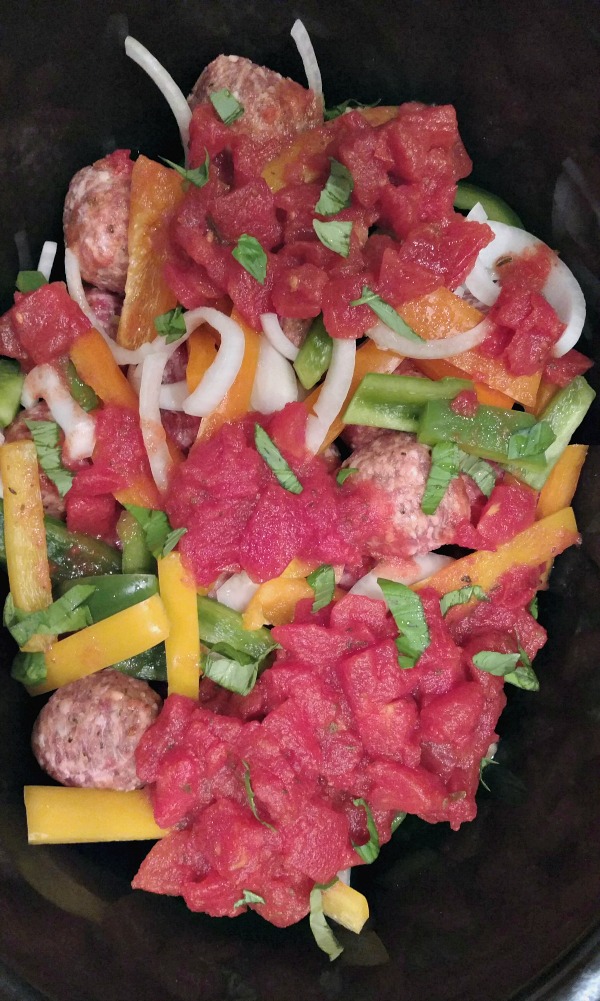 If you're suddenly looking forward to all foods Italian, check out Kroger during their Taste of Italy week! You'll find so many dinner ideas, new ingredients to explore, and even some in-store cooking demos! I don't know about you, but I like to occasionally sample something new before trying it out with A+O. Check with your Kroger store to find out when your local Taste of Italy is happening!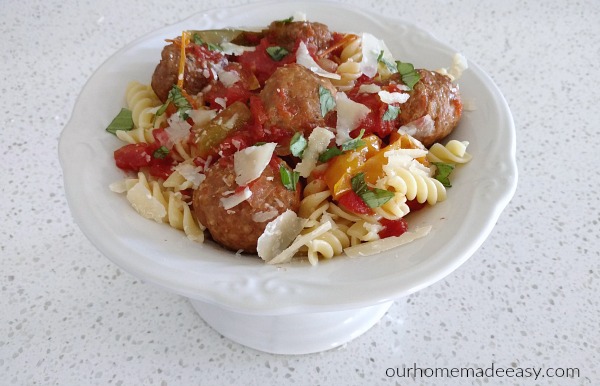 My family loved this, let me know if yours did too!