Hello! Did you already take a look at the fall decorations inside the house? I know, it's so early, but autumn is one of the best parts of living in Michigan. Seriously… the colors are starting to turn beautifully up here and college football is in full swing (yassssss). This weekend, we setup the front porch. And this is crazy because, we just returned from 9 days in Phoenix. Never a slow moment in our house. Take a look at how we are doing fall in Michigan!

To refresh your memory, this is the before.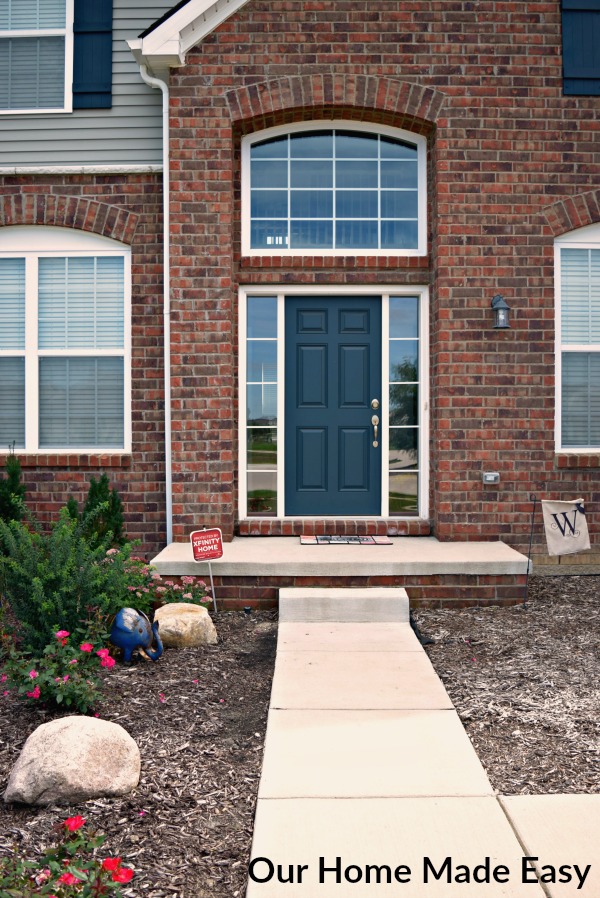 PS. If you have any front porch decorating advice for the months in-between Christmas & Labor Day, please help me!
We've had to shift some things around since we went from a huge (& wide) front porch in Alabama to this… stoop in Michigan. I love the house, but long for the huge front porch from the past! But since I can't change the porch, I worked with what we have.
(This post contains affiliate links for your convenience. If you shop from my blog, I may be compensated for clicks or purchases that you make. Read my disclaimer page for more information.)
Last fall, I was 3 months post-partum and while I almost back up to speed with all things busy mom-like, a well decorated fall front porch was not one of the items on my to-do list. This year, I am super excited to spend a few more minutes decorating the little area! We celebrated living in our home for two years in August. Gosh, time is flying by!
Our Fall Front Porch Here in Michigan… the After
To keep things looking up rather than out, I made my own sign. DIY coming soon!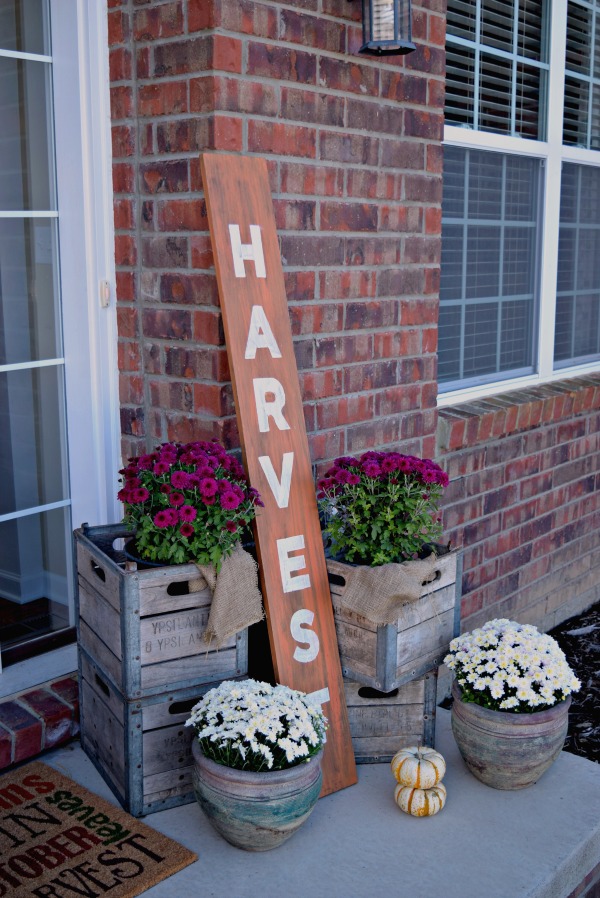 I found the welcome mat Sunday morning at Sam's Club. You can actually buy it online here. Woot!
Next we built the little pumpkins out of scrap wood and leftover stain & paint. Seriously, best use of leftover materials ever. How cute are these little guys?? Jordan cut the wood and assembled them (love the Kreg Jig) in less than 20 minutes. I took over DIY duties and stained them while he colored pictures with 'A' upstairs. It's a tag-team project over here.
DIY Wood Pumpkin tutorial is now on the blog! Click over to see how to make your own with just a few materials (and a few dollahhsss)!!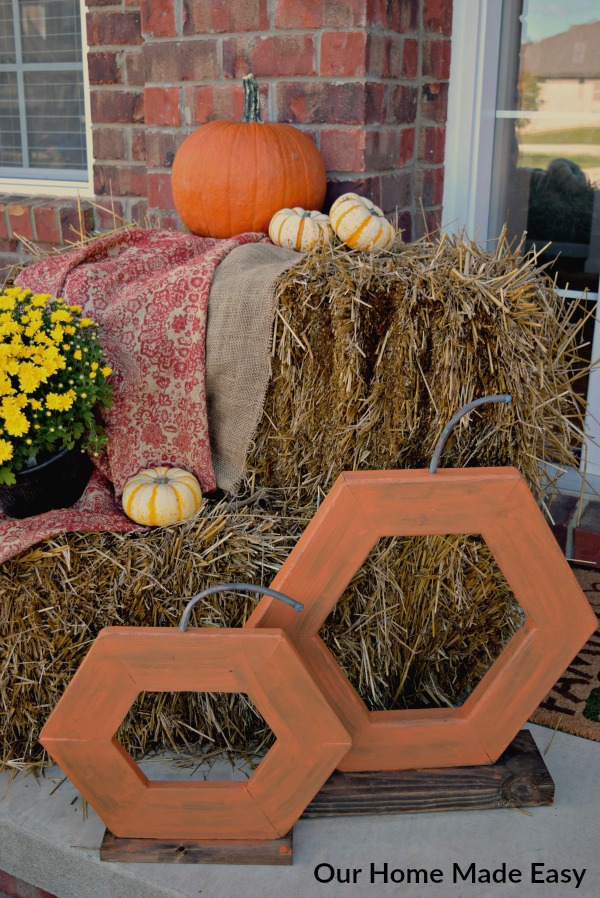 The dairy milk crates were left over from a farmhouse in Chelsea. The best part? They were generously given to me for free! I have eight of them and hadn't found a use yet. I'm so happy to finally showcase them!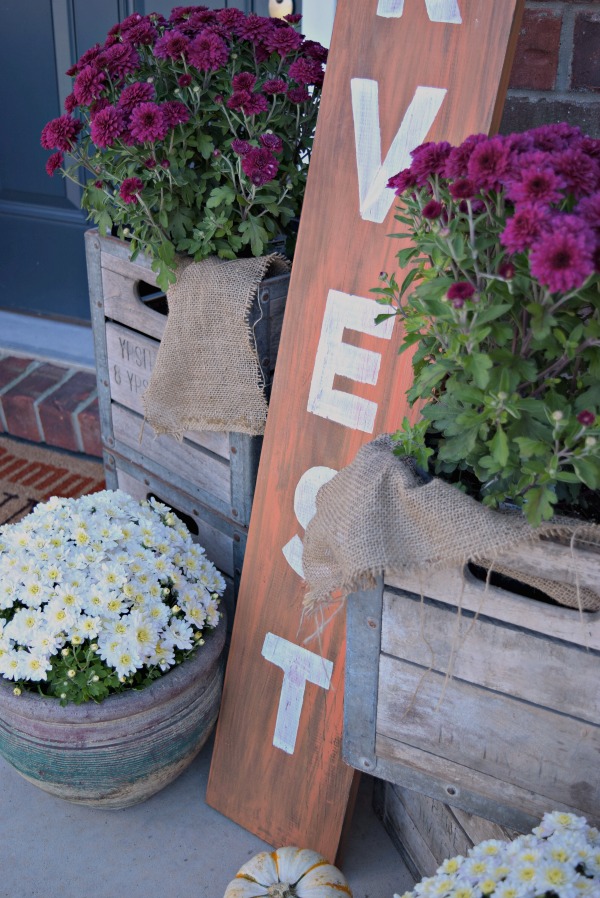 I picked up the mums for an extremely reasonable price from a local florist. I love the color they added bonus– they are going to be replanted so that I can enjoy them in our front beds next year.
The front door wreath was a DIY project from our Alabama days. It's lasted at least 5 years and I'm still loving it.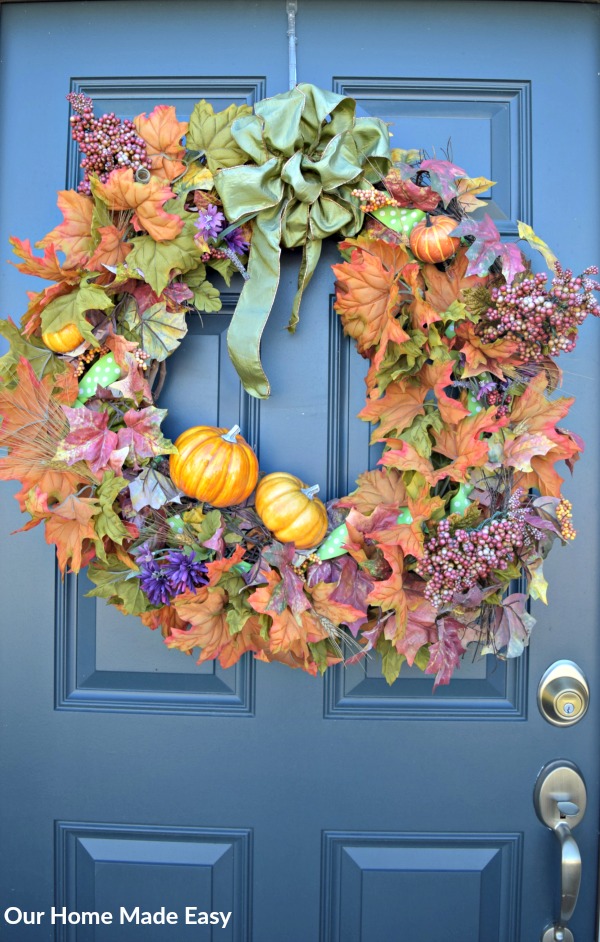 Unfortunately, the porch here in Michigan isn't covered like Alabama. It makes me a bit sad that I'll have to make another wreath sooner than I'd like simply because it isn't protected from the weather.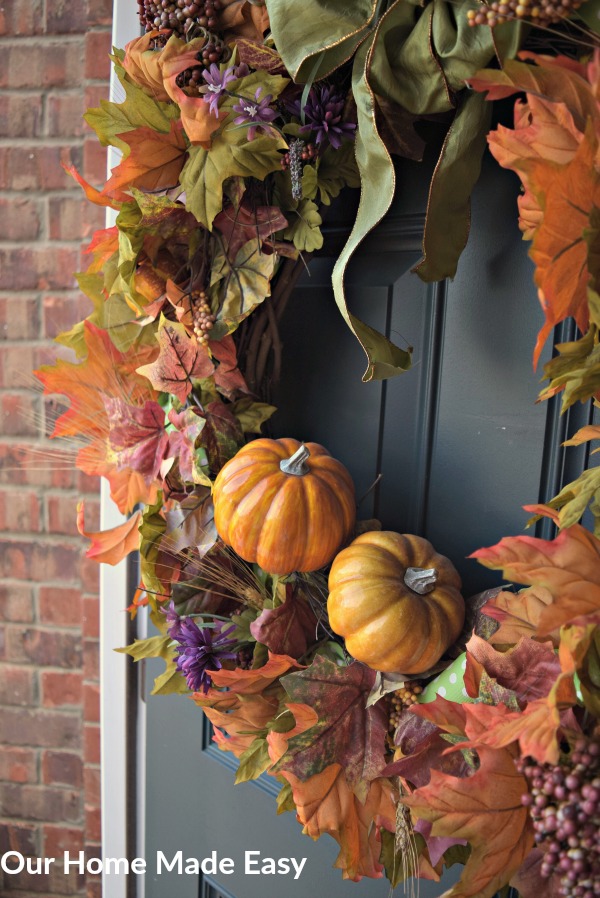 Shop this space: Wreath Supplies | Burlap Fabrics | Welcome Mat | Faux Antique Milk Crates |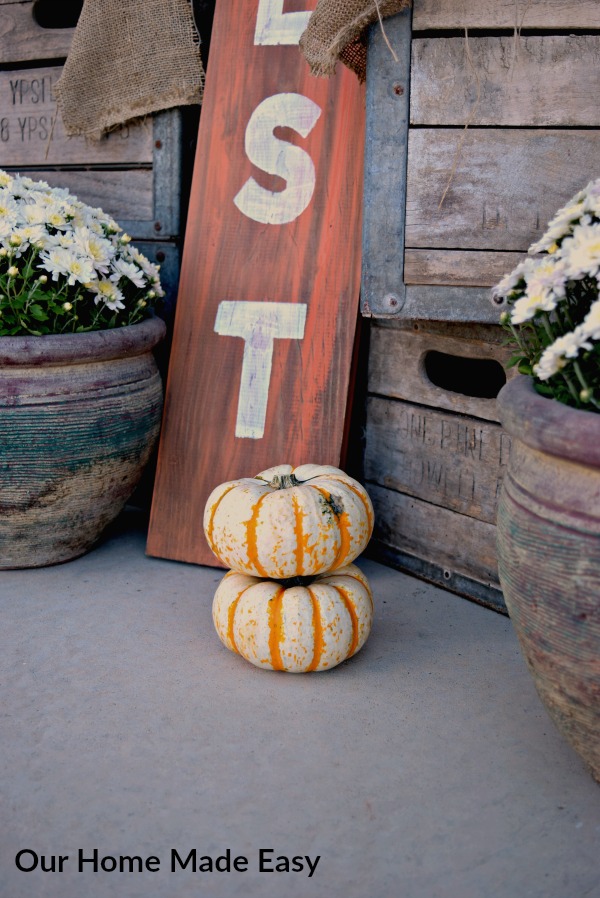 Are you decorating your front porch for fall? What are your favorite ways to decorate? If you want an easy method of decorating your porch, don't forget to see how to knock it out of the park in 5 steps!