Fall Decor Home Tour 2016
You guys… I know it's early, but fall is my favorite time of the year. Even when we lived on the Gulf Coast, you could bet that my fall decor was out by Labor Day. Sorry, I'm not sorry, but I love all things pumpkin flavored, pumpkins, and adding rich colors to our decor scheme. I am embarrassed to admit, but I found 4 large storage totes of Fall & Halloween decorations. I think I might have a problem. Here are the first things I set out for fall at our house! Take a look around!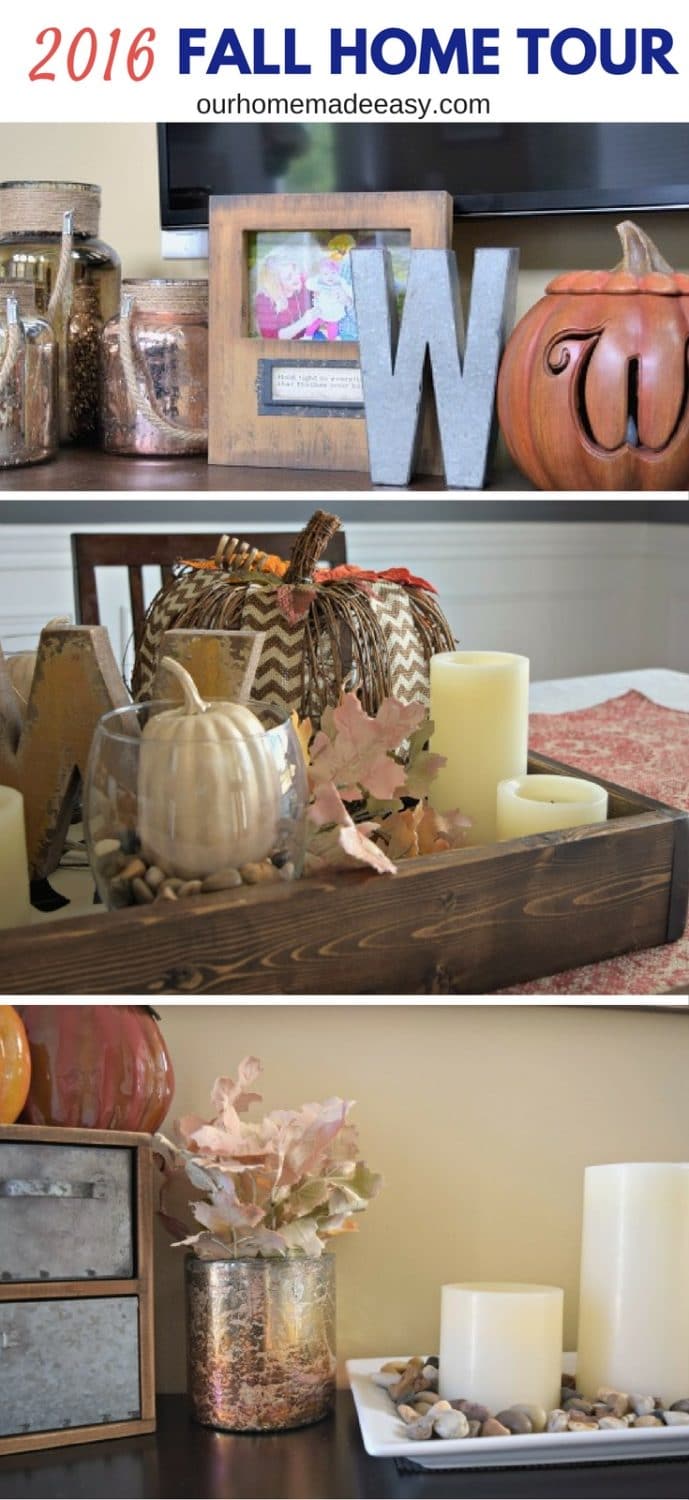 (This post contains affiliate links for your convenience. If you shop from my blog, I may be compensated for clicks or purchases that you make. Read my disclaimer page for more information.)
I started unpacking and immediately began filling up the tray Jordan made for me last year. Isn't it adorable? I love its versatility AND it's ability to contain items when little man comes exploring.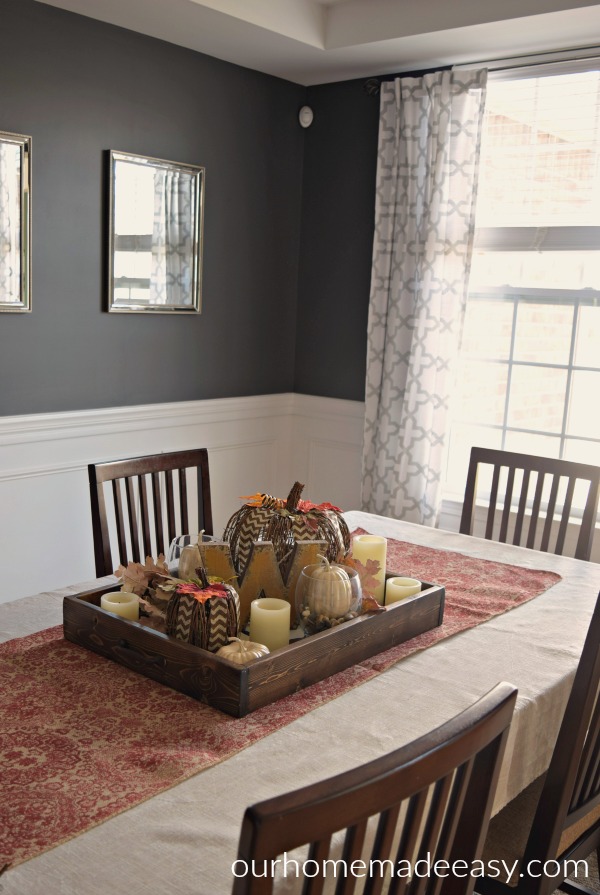 While I'd love to have a beautiful setting of pumpkins, gourds, and cloches around the table, but I have to remember…. I have a one year old who would see sparkly pumpkins as a fun sized challenge! Eeek. So in the meantime, everything is corralled into a tray that can be easily moved away during dinner time and out of reach of little fingers!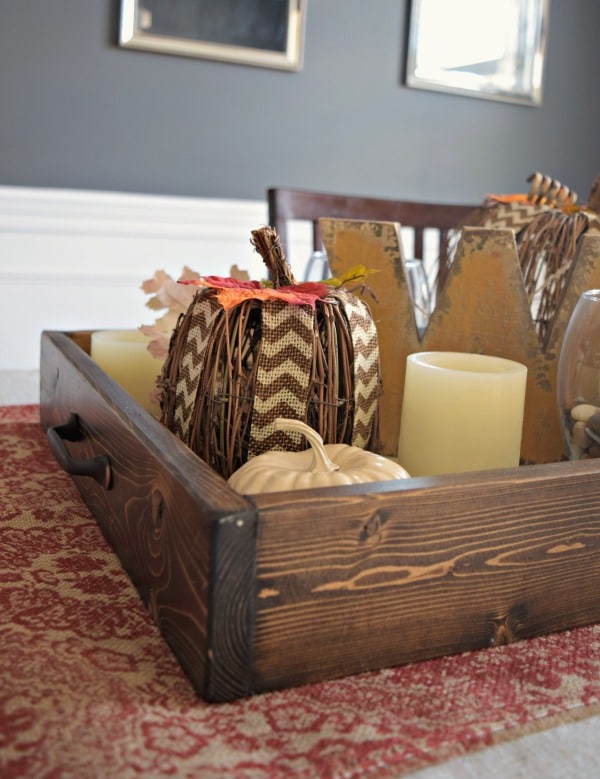 I made the burlap table runner DIY style from fabric found at Jo-Ann's I used the same sewing method as my burlap curtains. I knocked out two of these (we like to host Thanksgiving) in less than 20 minutes! The tablecloth is a thin (but totally washable!) linen from Target.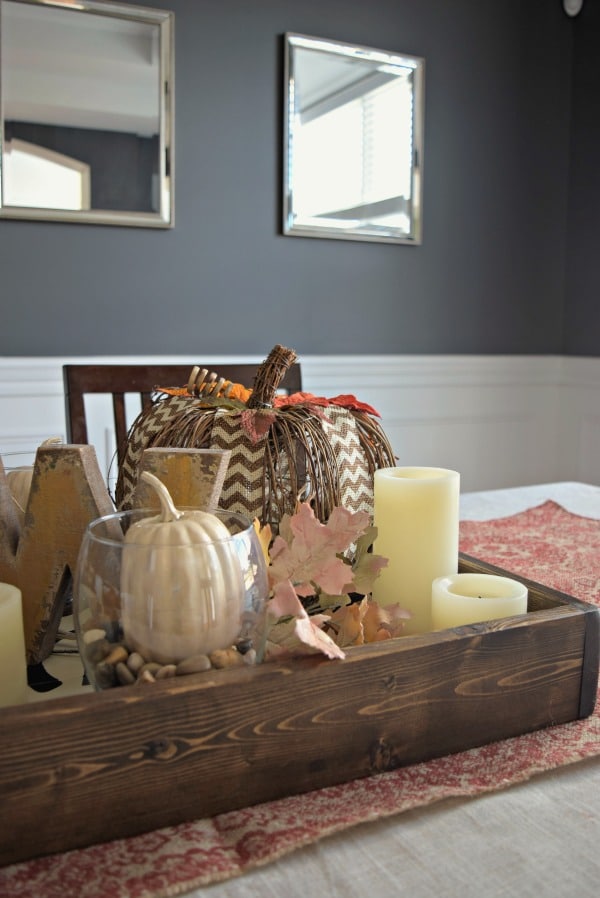 The pumpkins are a 15 minute DIY from Pumpkins I found at the dollar tree. Check out how I made them here!
My favorite place, so far is our entry way hallway. I had the most fun removing all the daily items and replacing them / re-purposing them for Fall time.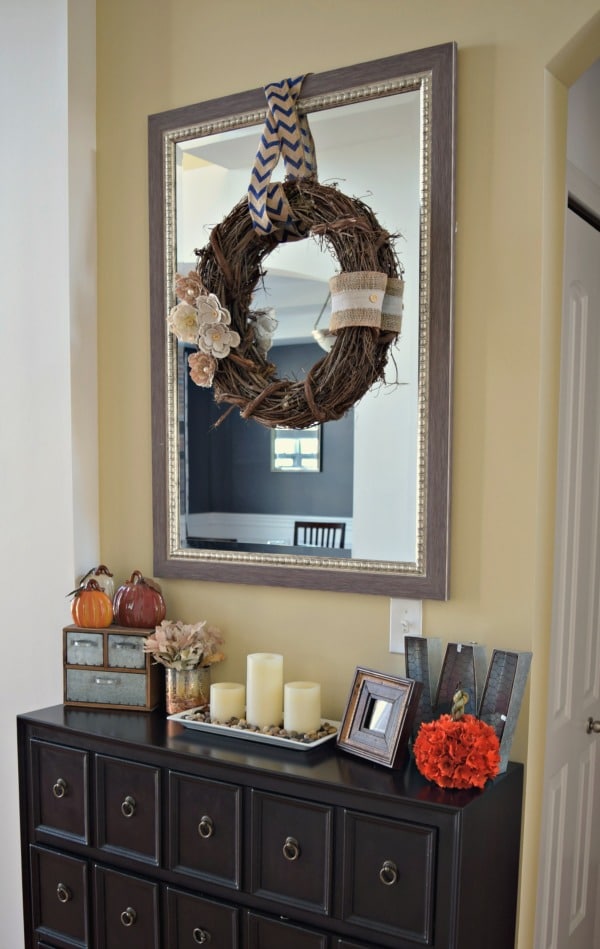 I love these pumpkins. I told you that I might have a small problem! 🙂 The wreath normally hangs on our basement door. I moved it into the entryway and added some burlap ribbon I tucked away for a rainy day. Check out the rustic wreath tutorial.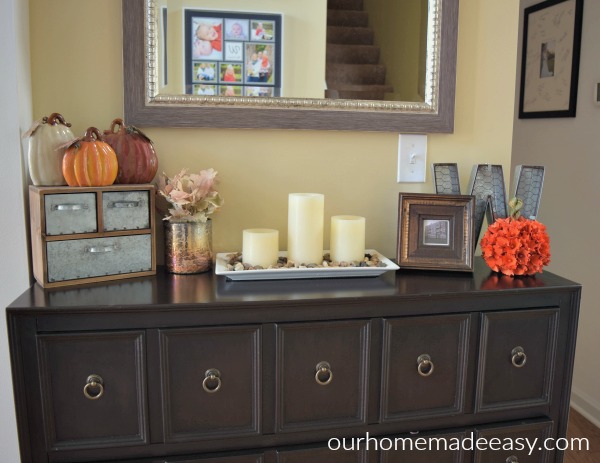 And a close up. Can you believe I picked up this mercury glass hurricane for $8 last week? It was on clearance for 80% off at a local furniture store! And those leaves in there? I bought them for a $1 and fancied them up in a few minute's time!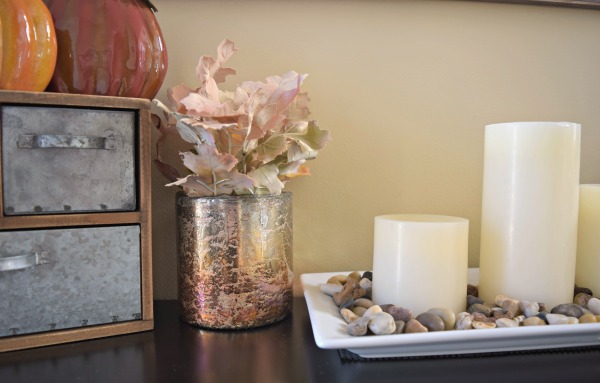 and the little picture frame too! I found the rocks in the seasonal section at the Dollar Tree. Since they are right up my style, don't expect to see them changed out any time soon!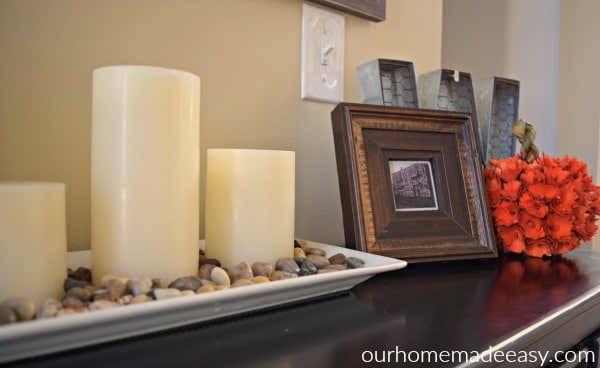 In the kitchen, I set a few more wooden pumpkins on the sink ledge.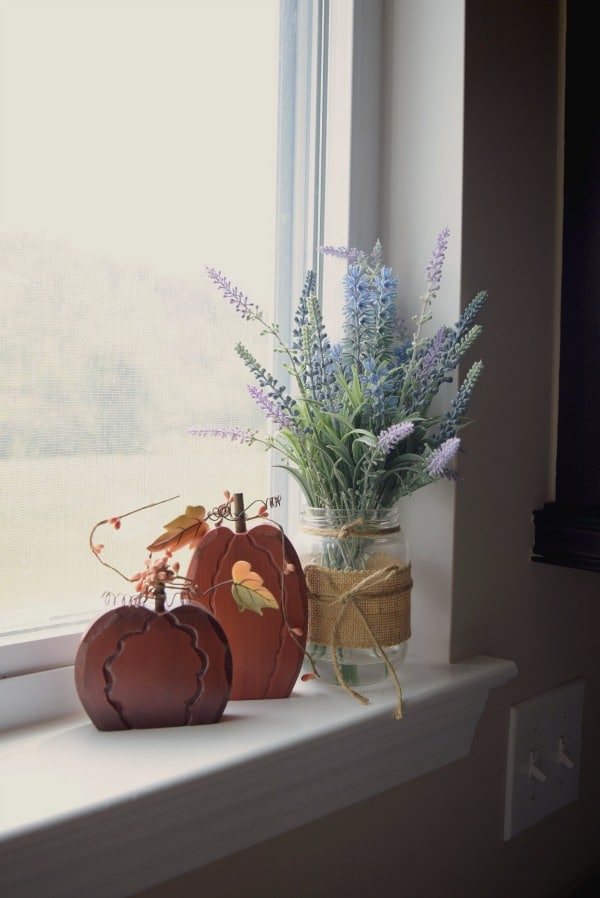 Even the TV stand got into the fall action. One tote unpacked and it's already starting to fill up quickly. My monogram and pumpkin tendencies are featured heavily. I'm quickly remembering of what the rest of the decorations may look like. 🙂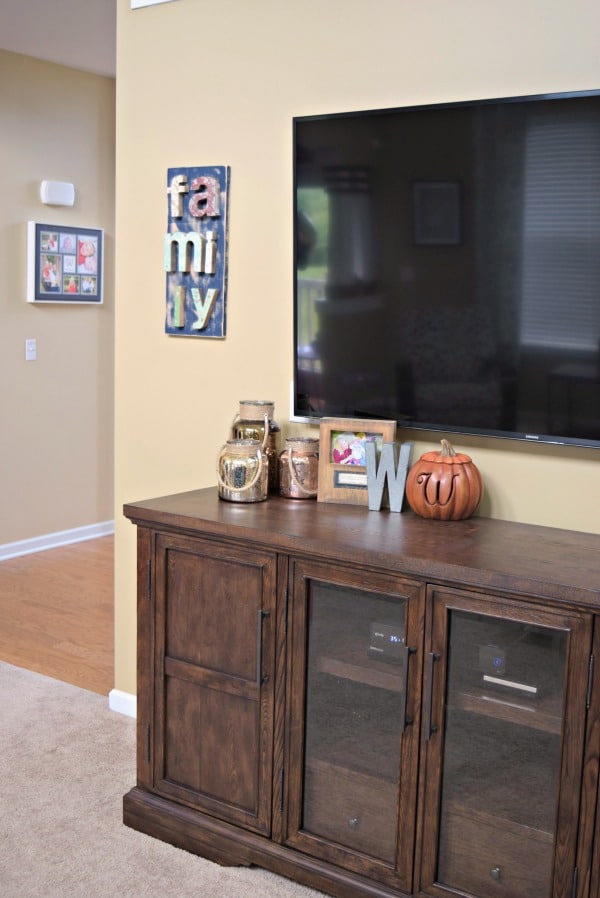 One of my favorite items is the monogrammed pumpkin. It's been around for several years. Alright, back to unloading the three other totes! Have a wonderful week friends!
For More Fall Decorating Posts: 13 Favorite Places to Buy Holiday Decor on the Cheap! | DIY Harvest Fall Sign | Our Fall Front Porch in Michigan | How to Decorate Your Front Porch in 5 Easy Steps | Hexagon DIY Wood Pumpkins | Pottery Barn Pumpkin Filler Hack