You need to find the balance of working full-time during the week (and doing it well) and enjoying life at home. I do, too.
Just because you have so much to at this exact moment doesn't mean it needs to be hard. In fact, you can make your life easier. I promise.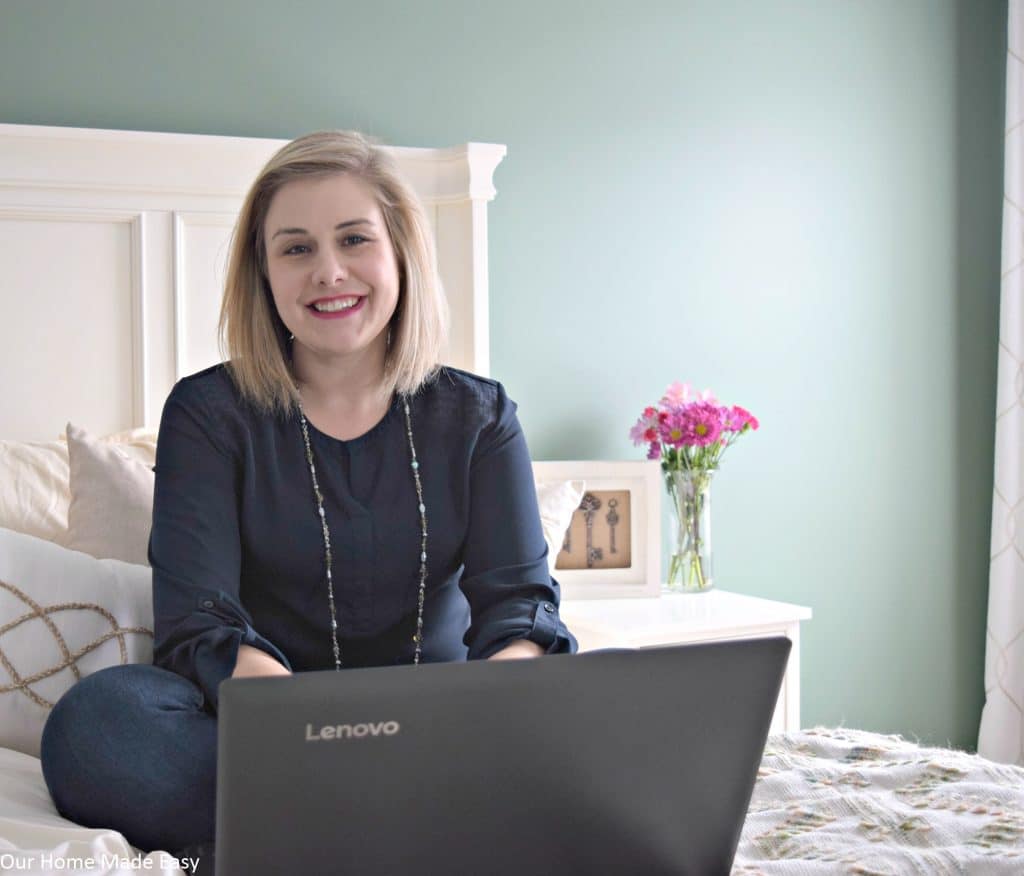 You already know that running a house and working full-time isn't easy. It's tough. I completely agree. In our home, a happy and relaxed mom is a better mom.
You don't have endless time to complete DIY projects. If you're making time to do something, it better be worth it. Right? There is nothing more frustrating than starting a Pinterest inspired project only to realize you don't have ALL the supplies needed or that it's actually hard work. I feel ya.
My hours at night are limited and the weekend is jam-packed with toddler-centric activities. I only post projects that are worth your time.
Just because you're busy doesn't mean you don't enjoy tackling something new! It's actually how I discovered a knack for sewing. While you may not need to DIY it (I love Pottery Barn as much as any other mom), you find gratification is repainting a Craigslist find or slowly creating a well designed home.
Honestly, you have way more areas in your life that should take up your energy. Running your home shouldn't be so tough. We need to make it easier for you.
What is next? I'd love for you to officially become a member of our community! I send out weekly emails that give you extra information about time saving projects and what is happening behind the scenes.  To sweeten the deal, I have lots of free printables perfect for your family. To join,  [ CLICK HERE ]
For more information on how Our Home Made Easy got it's name, check out the story here!

So you need to save time! How am I able to help you?
I'm Brittany. I live in the beautiful city of Ann Arbor, Michigan. I am a wife to Jordan (the DIY muscle). We have two fun toddlers who make our lives pretty great (and keep us on our toes).   <<< Let's be honest– parenting is tough. But this isn't a blog for how to be a better parent. My sarcasm wouldn't complement the self-help well enough. 🙂
Both Jordan & I have undergraduate degrees in Industrial Engineering and we love the process of finding better ways to tackle projects. This need for efficiency (and planning!) crosses over to our life at home.
So it just makes sense now that we document how we do things around the house and how you'll be able to take what we've learned and make something really great out of it!
In addition to blogging on here, I work full-time as an engineer. So if you haven't already realized it, I'm just like you.
If Jordan & I can rock full-time careers and knock out projects on our to-do lists, you, dear busy Momma, can too! You'll find everything you need to make your home life easier. I cover everything from easy (aka practical) DIY projects, simple dinner recipes, to finally saving you lots of time during the week!
---