The Best Chocolate Chip Cowboy Cookie Recipe
Make this super easy cowboy cookie today! It's the ultimate chocolate chip cookie that you'll never share!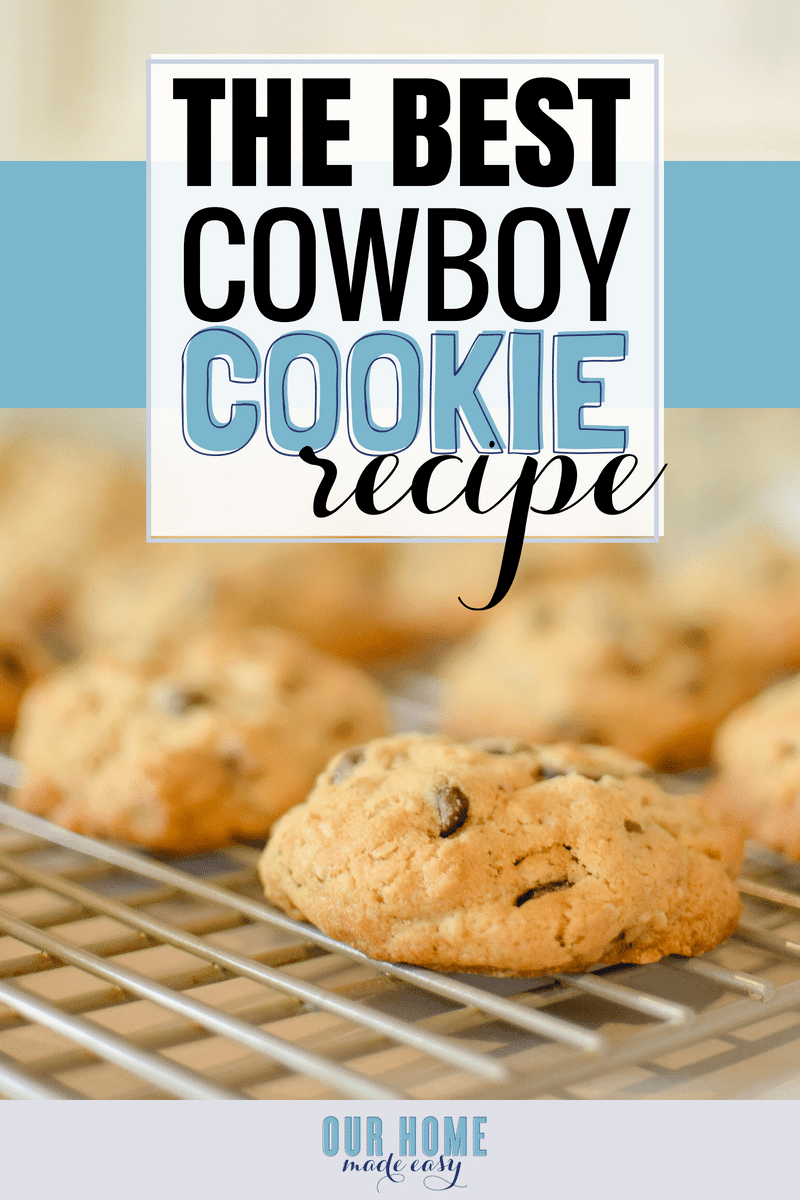 This post contains affiliate links. If you shop from my blog, I may be compensated for clicks or purchases that you make. Read my disclaimer page for more information.
Do you have a favorite cookie recipe? One that's so yummy that you don't ever, ever, want to share?
Like ever, ever??
I whipped up a batch of my husband's favorite cookies– the Cowboy Cookie! And gosh. They are delicious, so I wanted to share this recipe with you. I promise, once you have them… you will share the recipe but not your cookies. 😉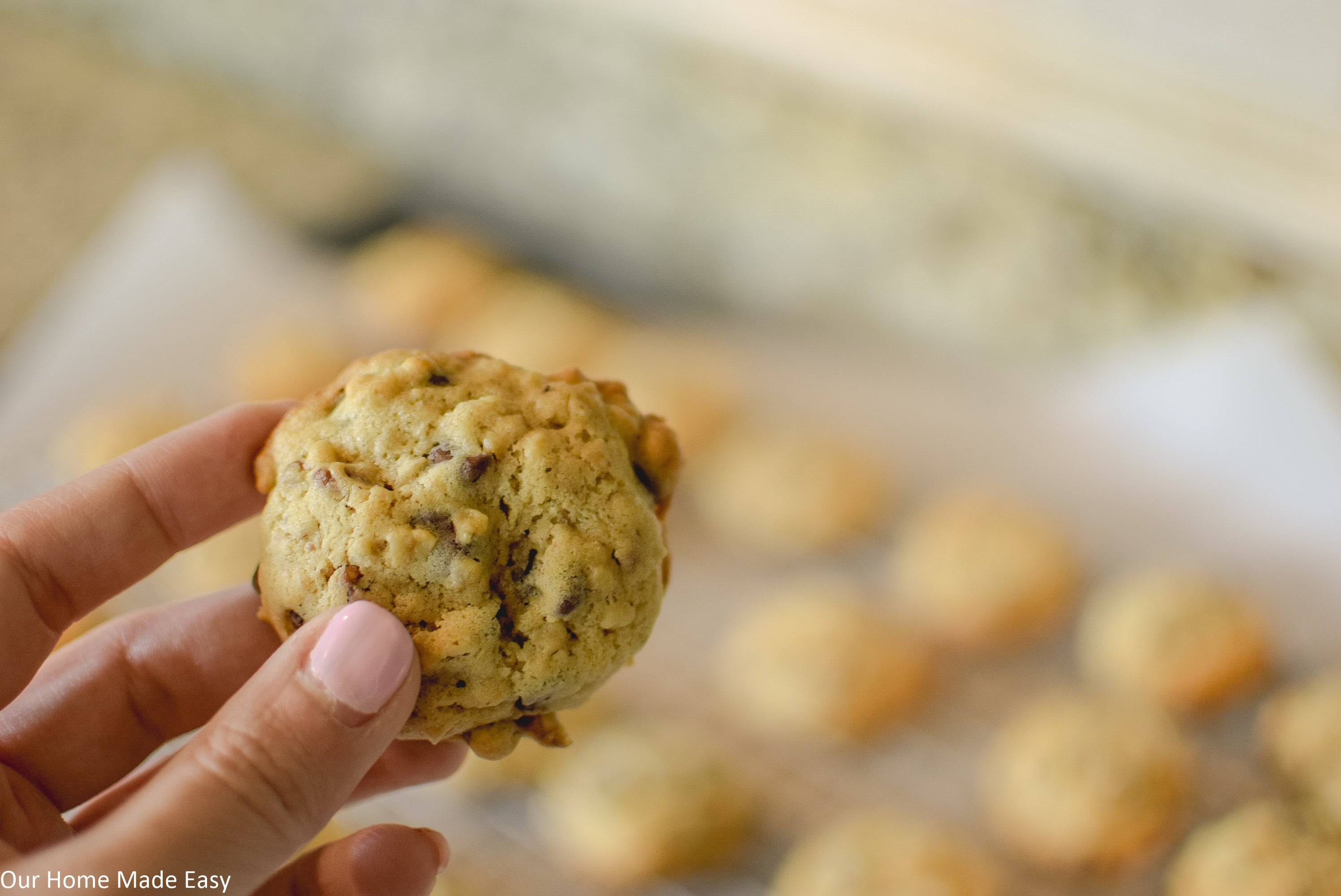 Why are they called Cowboy Cookies? I'm not sure. I think traditional Cowboy cookies have coconut, but Jordan is not a fan so I don't include them. Otherwise, this recipe is like most other Cowboy cookie recipes– chocolate, oats, and salty pecans! If you love coconut (like me), toss in 1/2 cup at the end of mixing.
This dough is super easy to whip up and you can stash any extra dough in the fridge between batches. I've found that placing any cookie dough in the fridge makes less-spread and more solid cookie. That's my preference, but if you like the crispy, thinner cookies, keep leaving out all the dough!
Doesn't this cookie dough look good enough to eat?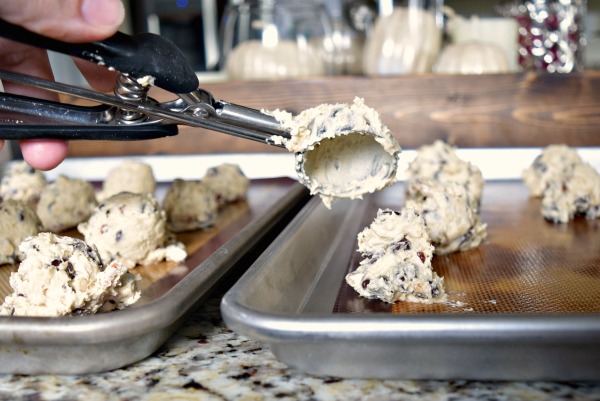 I love the handy little cookie dough scooper. It's the only way I can maintain consistency when making cookies. Otherwise, I get distracted and up with either 55 or 15 cookies… when the recipe says 35. Anyone else? The Silpat sheets are oldies but goodies. I'm not one to mess with what works… and these are working for me!
These came out perfectly! They had the best crisp to softness ratio. Whenever I need to cool cookies, I always place 2 pieces of wax paper under my supersize cooling rack. I'm all about easy clean up. 🙂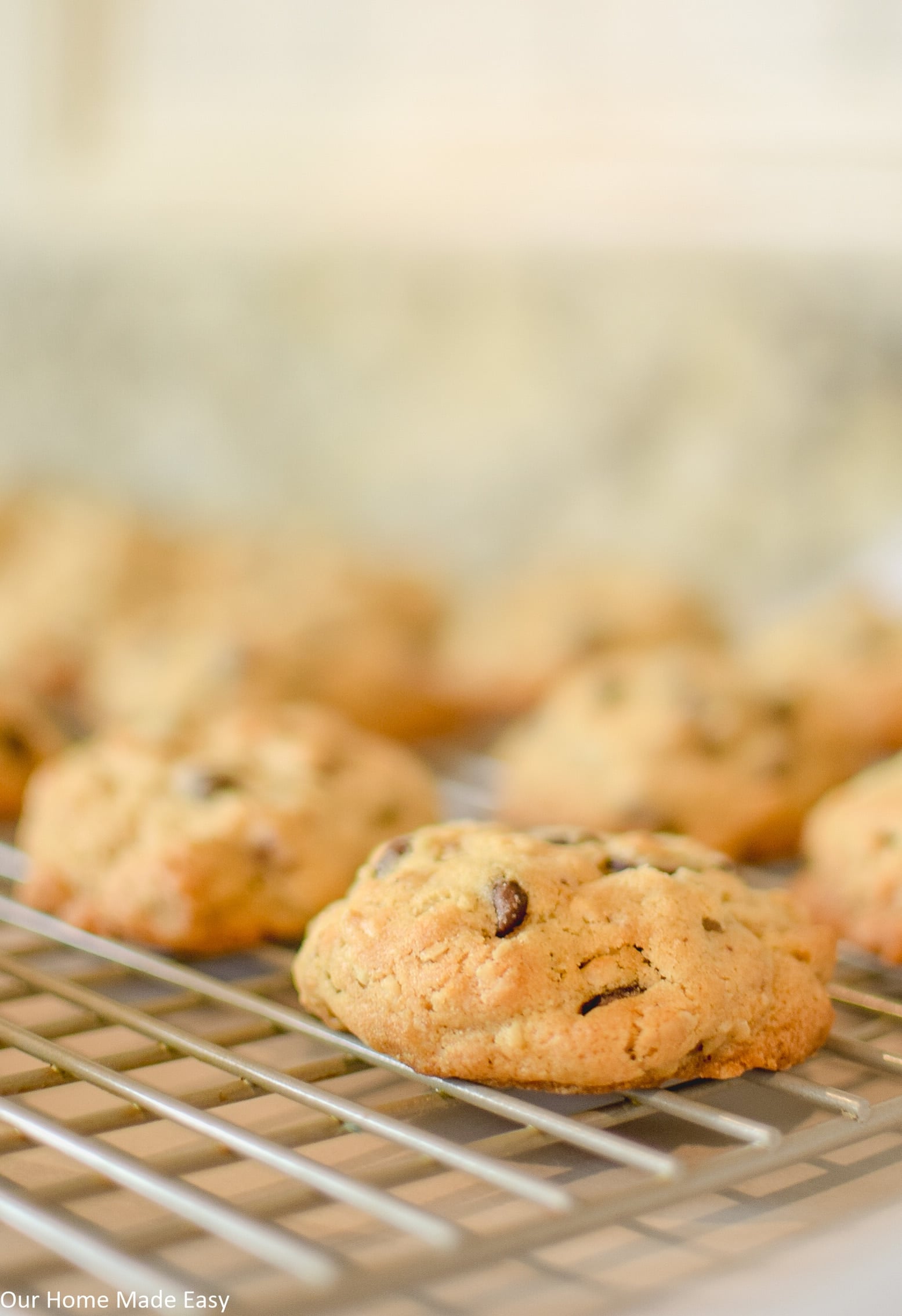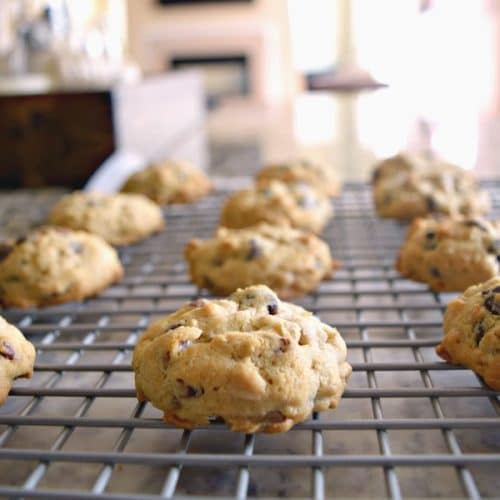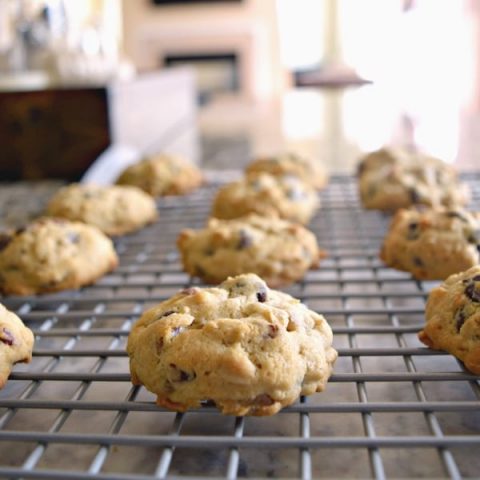 The Best Chocolate Chip Cowboy Cookie Recipe
These cowboy cookies have chocolate chips, oats, and pecans. You can add coconut to make it a traditional cowboy cookie, but no matter how you customize, this is a perfect recipe!
Ingredients
2 cups All Purpose Flour
1 teaspoon Baking Powder
1 teaspoon Baking Soda
1/2 teaspoon Salt
1 cup Butter, unsalted, room temperature
3/4 cup Brown Sugar, packed
3/4 cup Splenda, (or white sugar)
2 Eggs (Room temperature is ideal but not necessary)
1 teaspoon Vanilla Extract
1 & 1/2 cup Old Fashioned Oats
12 ounces Chocolate Chips
3/4 cup of Pecans, chopped
Optional: 1/2 cup of shredded coconut
Instructions
Preheat oven to 350 degrees.
Mix the flour, baking powder, baking soda, and salt in a medium sized bowl.
In a large mixing bowl, cream together the butter and sugars.
Once creamed, add in eggs, one at a time.
Add vanilla. Mix for about one minute.
Slowly add in the flour mixture. Mix until combined.
Add in the oats, chocolate chips, and coconut (optional).
Spoon onto baking sheets.
Bake for 12 minutes or until browned.
Cool.
Did you try them? Are you keeping them to yourself?
PIN IT HERE: