Good Morning! It's a good day, as it's Jordan & my's 5th wedding Anniversary. Thank you so much for your kinds words about our anniversary post. But now we are back to sharing easy home decor projects. And I am so excited to officially welcome in the first day of fall with Jess from The Bright Green Door on this first day of fall on her "Hello Fall" room tour. For this fun hop, I am pulling back the curtains on our family room decorated for fall– with lots of pumpkins! It's a slight addiction, corralled into one space.
Welcome to my little corner of the world. If you are joining me from Susan at Saw Nail & Paint, let's say "hello fall!"! Isn't Susan's tour so pretty? If you are new here, I'm Brittany. My passion is creating easy projects that any mom can create herself and even save time around the house. We do things on the easy over here!
We live in Michigan, like Jess, but several hours south of her in the Lower Peninsula. The fall air is starting to turn and it finally feels like fall is officially here. We've been in this house for 3 years (you can see the before & afters here) and I wanted to show you around one of the busiest spots in our home.
(This post contains affiliate links. Please see my Disclaimer for more information)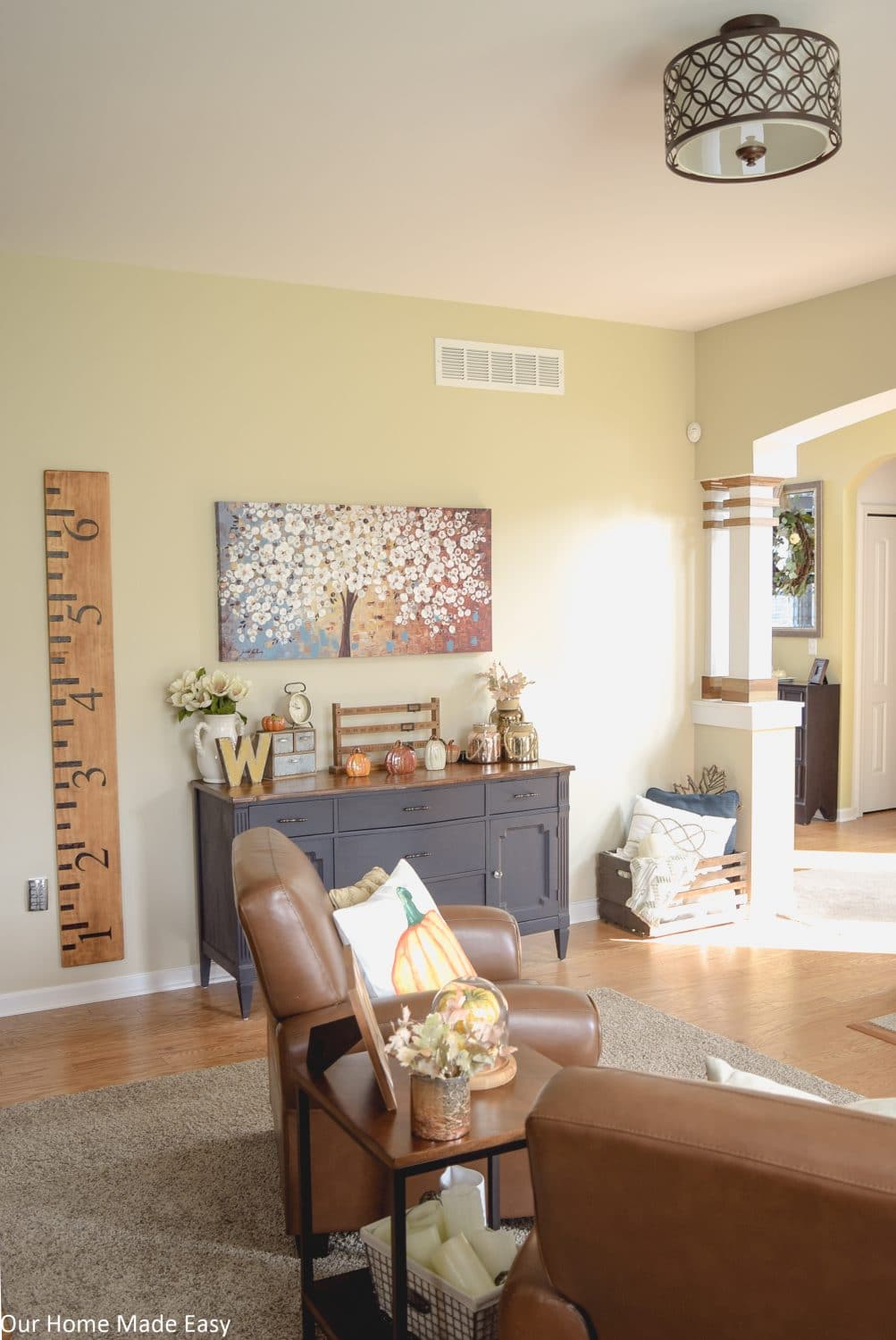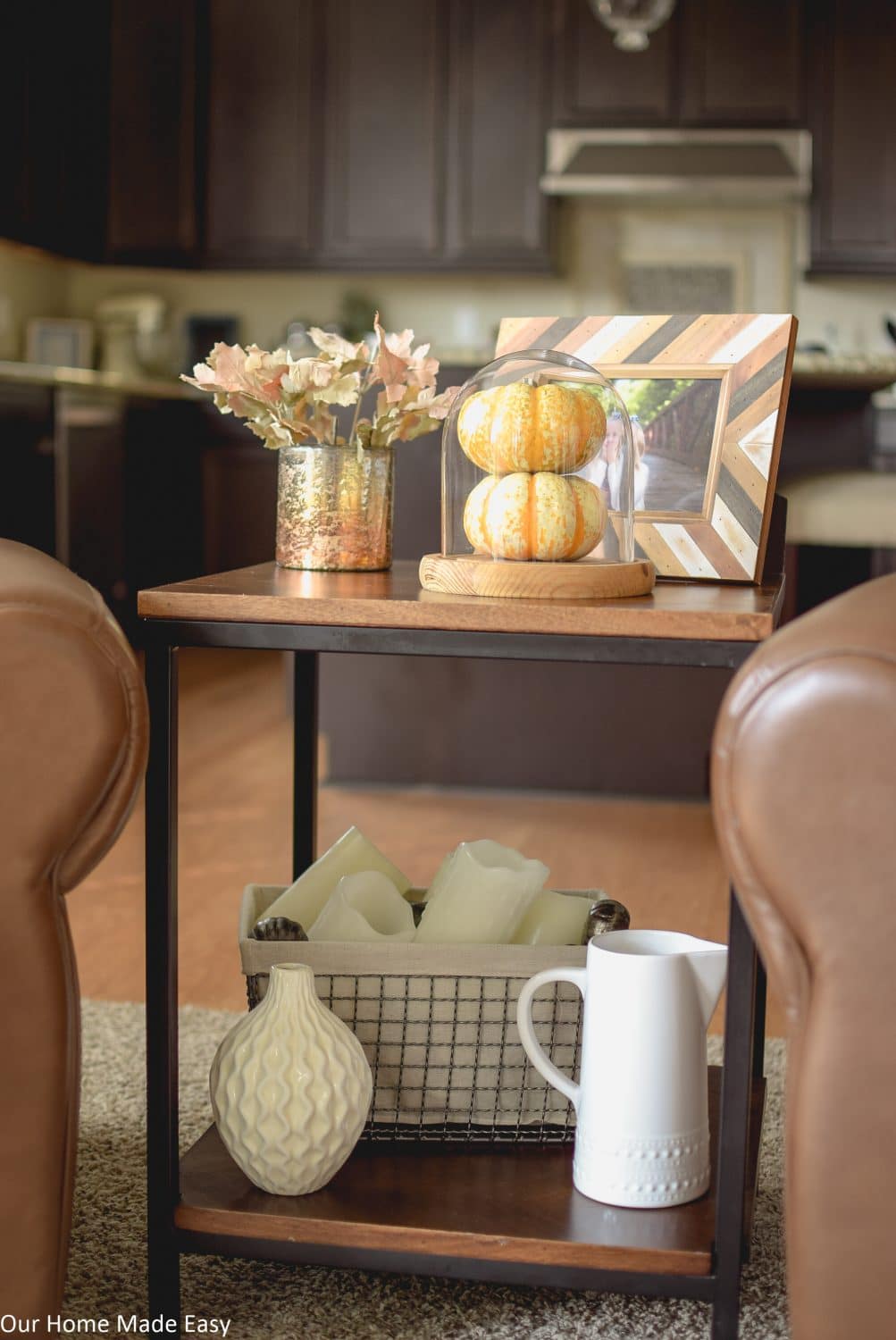 This room was designed to be an eat-in area by our home builder. We decided to use it as a hang out spot for running out the door in the mornings, and while we are making dinner in the evenings. It gets way more use everyday and we actually use our dining room. I was adamant, if we are paying for the square footage of the house, we were going to use it all.
If you're thinking I'm way crazy for having some many little things and having toddlers around, I have to tell you– those sweet white pumpkins have already been tossed around several times. Nothing in here is particularly fragile aka valuable. We try to use boundaries, but we live in the real world. If it can't be thrown in the washer or easily fixed, you're not going to see it enter this house. 🙂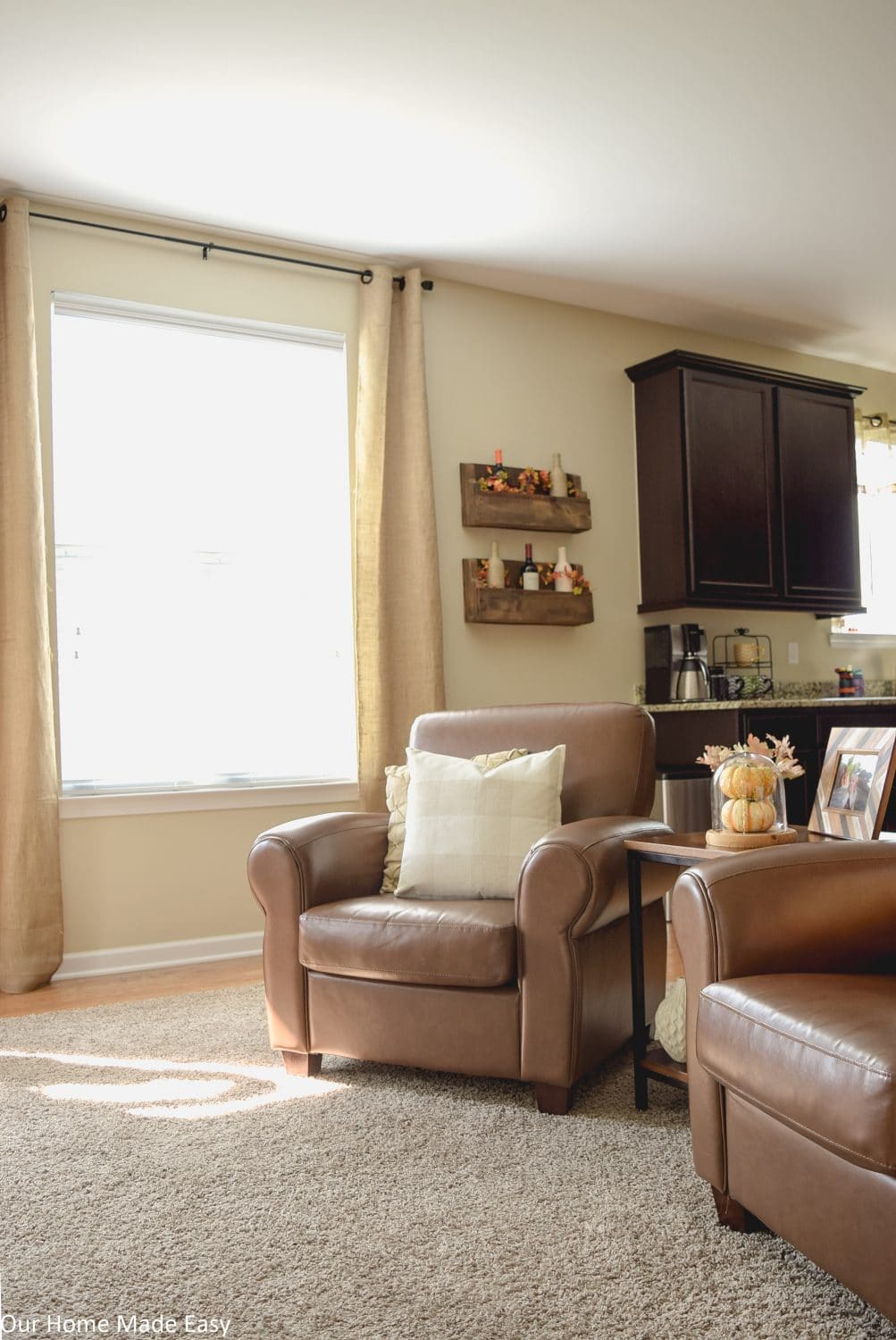 Even the DIY wine rack received some love thanks to dollar store leaf garland. The burlap curtains are still a favorite of mine. I think they add texture, but without a lot of weight. Even though we don't have a traditional farmhouse, they are still well loved. 🙂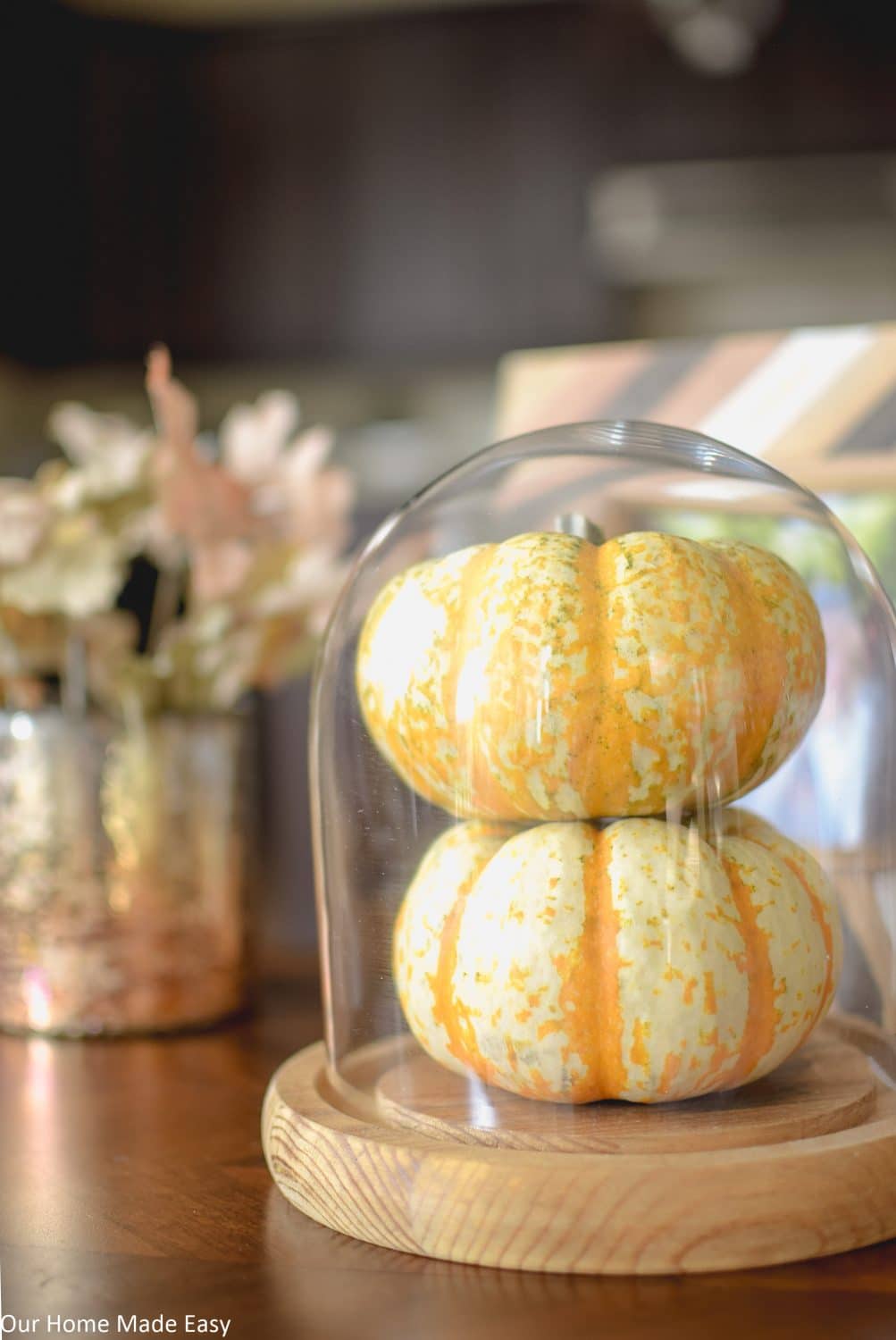 I didn't lie. Pumpkins and fun everywhere. In order to avoid spending too much money every year, I try to buy items in similar colors & tones so that I can use them throughout the house without having to worry if they match. Buying neutrals doesn't hurt the wallet either.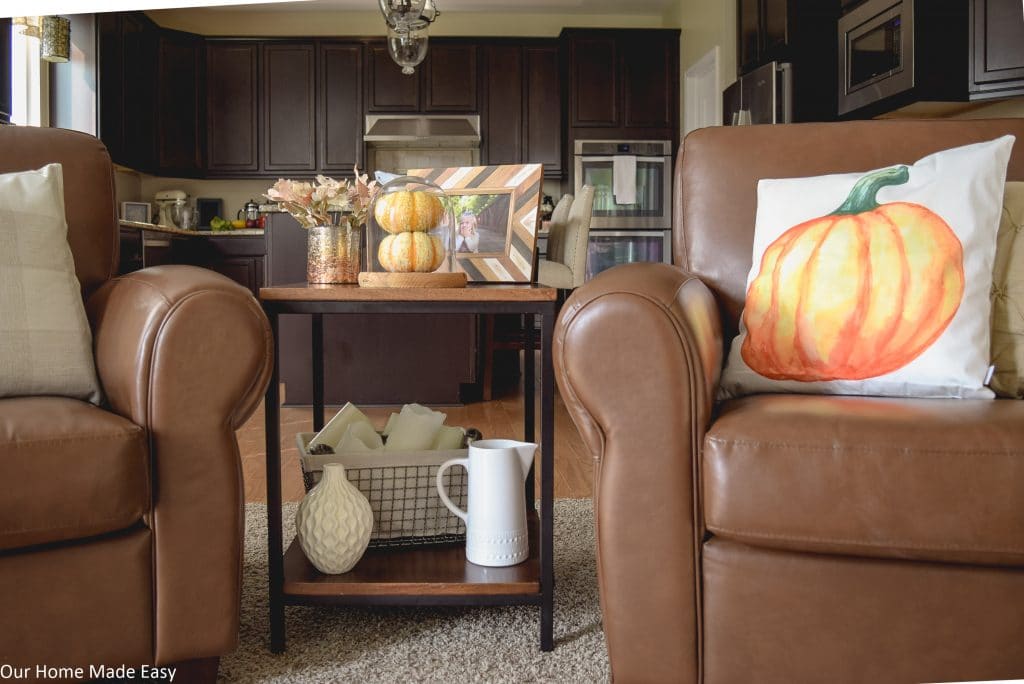 I feel like our home is itself in the fall & winter times. So aside from adding a bunch of pumpkins to this room, it's how it usually looks the rest of the year.
When it comes to décor, I try to be as casual as possible. Rather than storing away all my pillar candles, I set them in a basket and placed it on the bottom shelf of the end table. The kids can't really hurt it and now I'll remember that I have extra candles.
Earlier this month I picked out 18 of my favorite fall pillows. These two pillow covers [watercolor pumpkin & neutral plaid] arrived this week and I immediately popped them over pillows. Aside from the miniature pumpkins, the pillow covers were the only things I bought this year!
Wondering about those leaves? They were a dollar store craft from last year. they've held up so well. I considered buying more just to make more this year!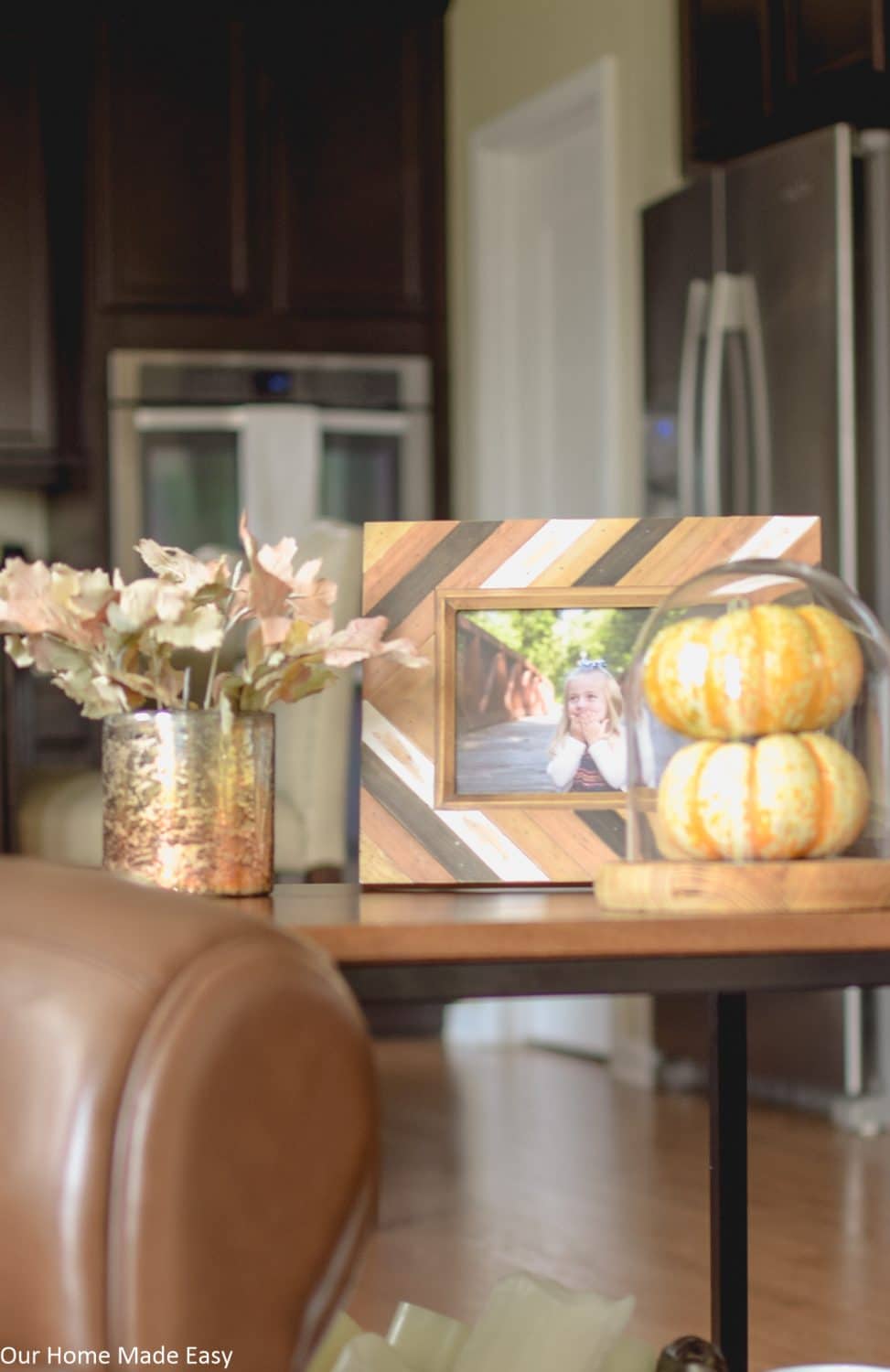 I recently repainted the two tone buffet in the winter and it looks better than ever in it's first fall season.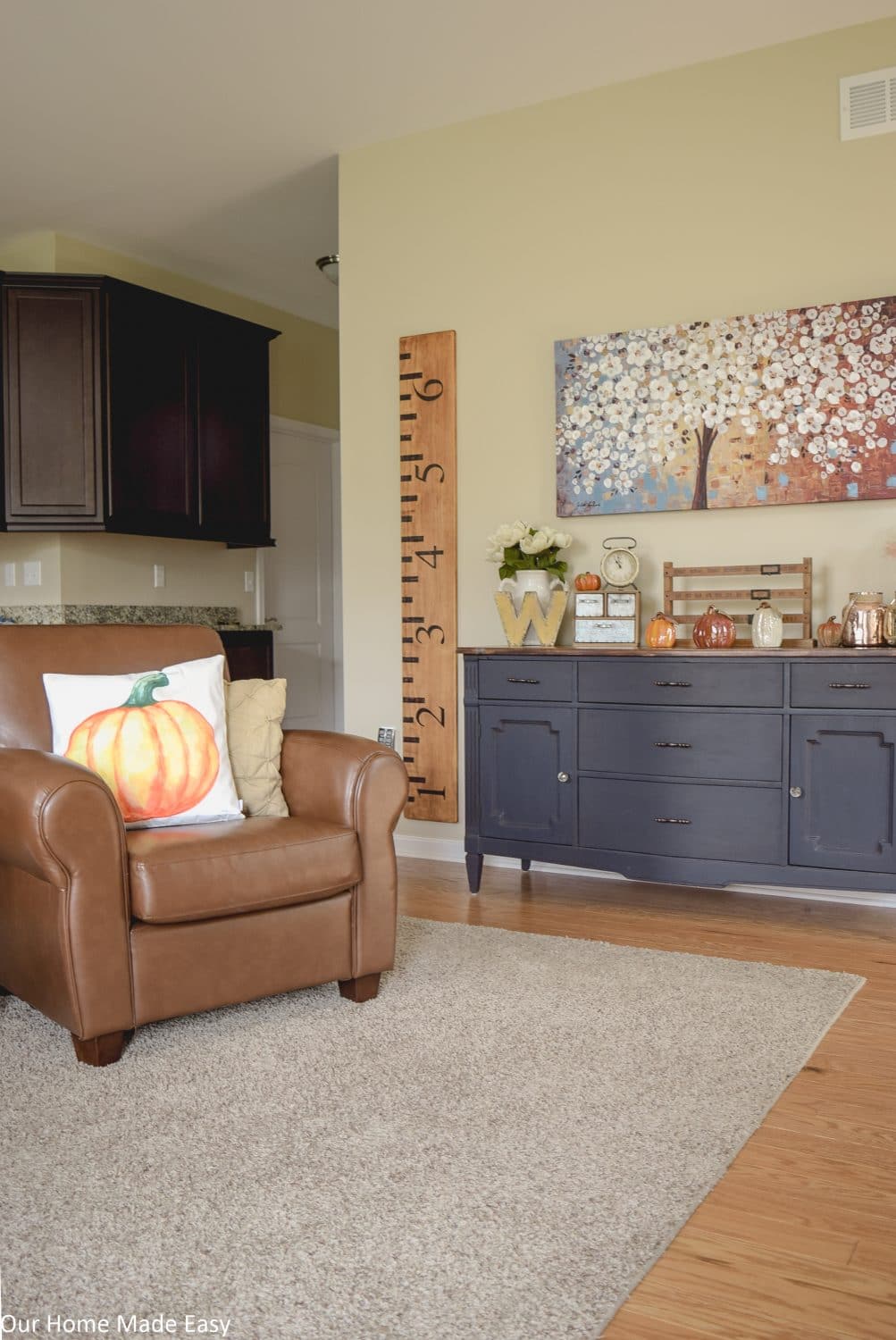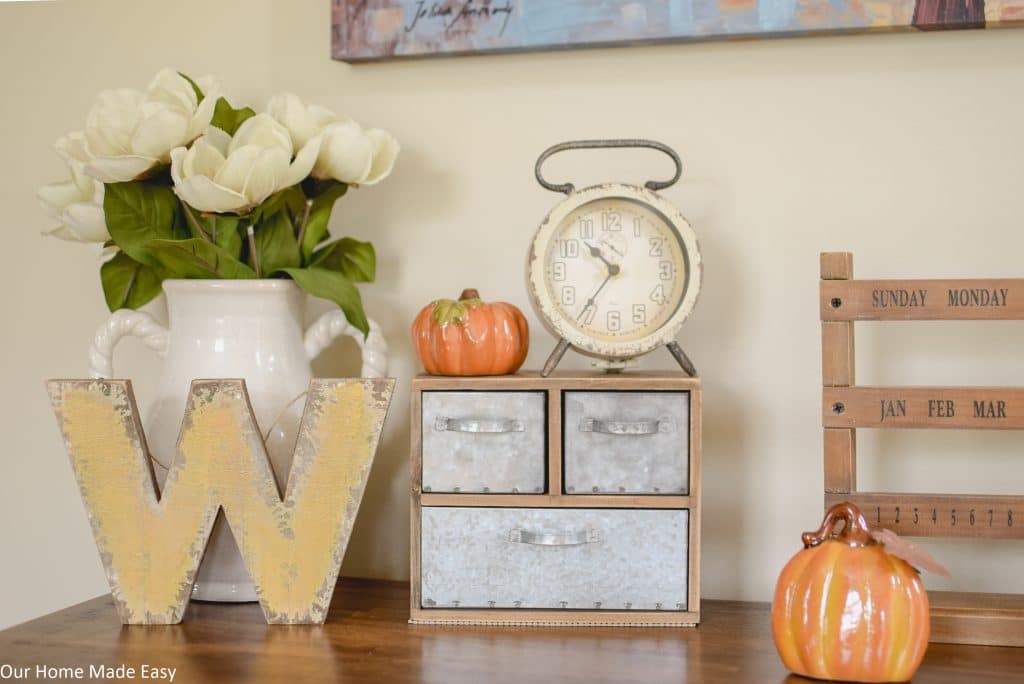 Spoiler alert: the buffet usually looks like this all year minus the pumpkins. I sometimes am a little forgetful and don't change out the décor as much as I could. If I love it, it stays!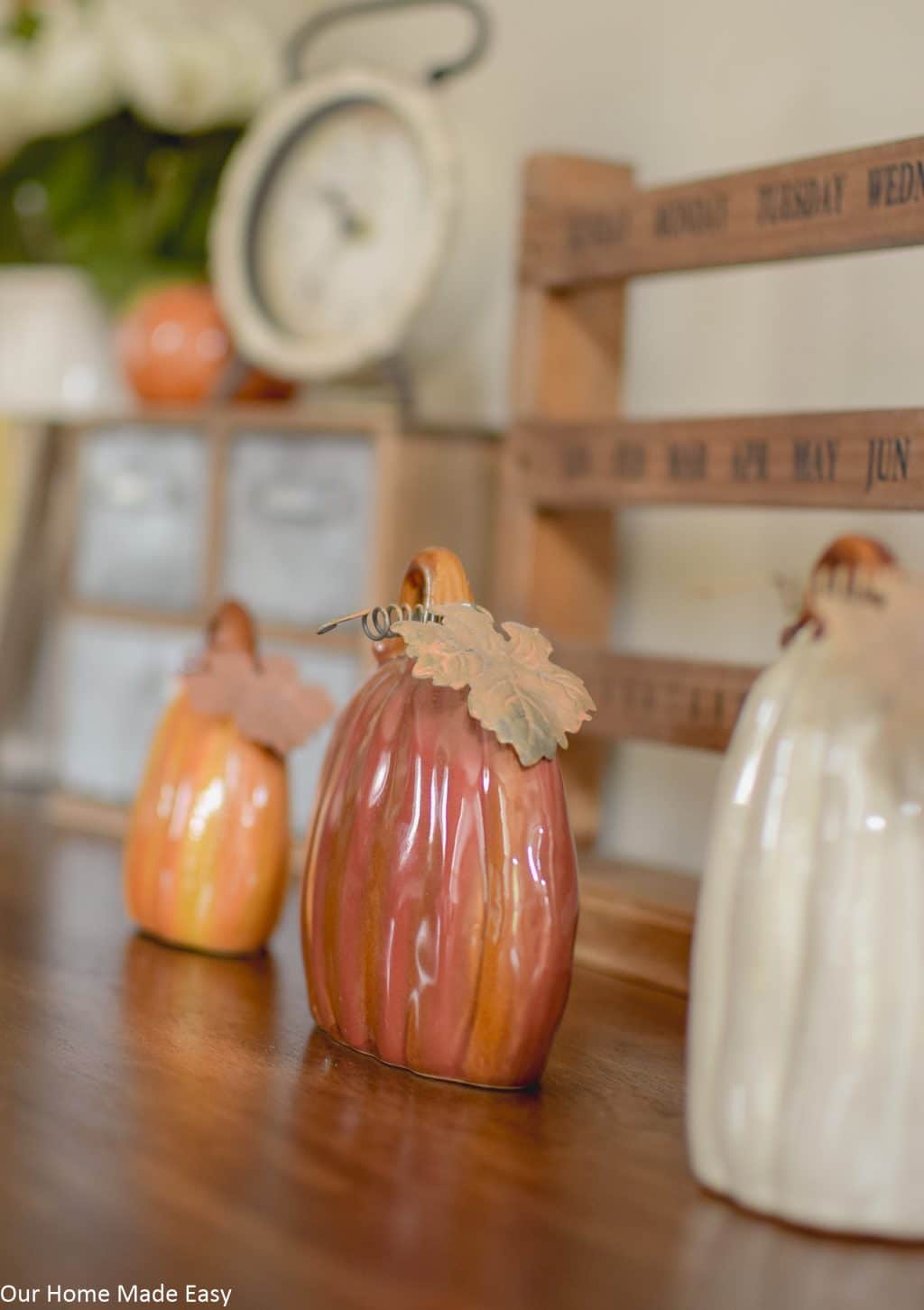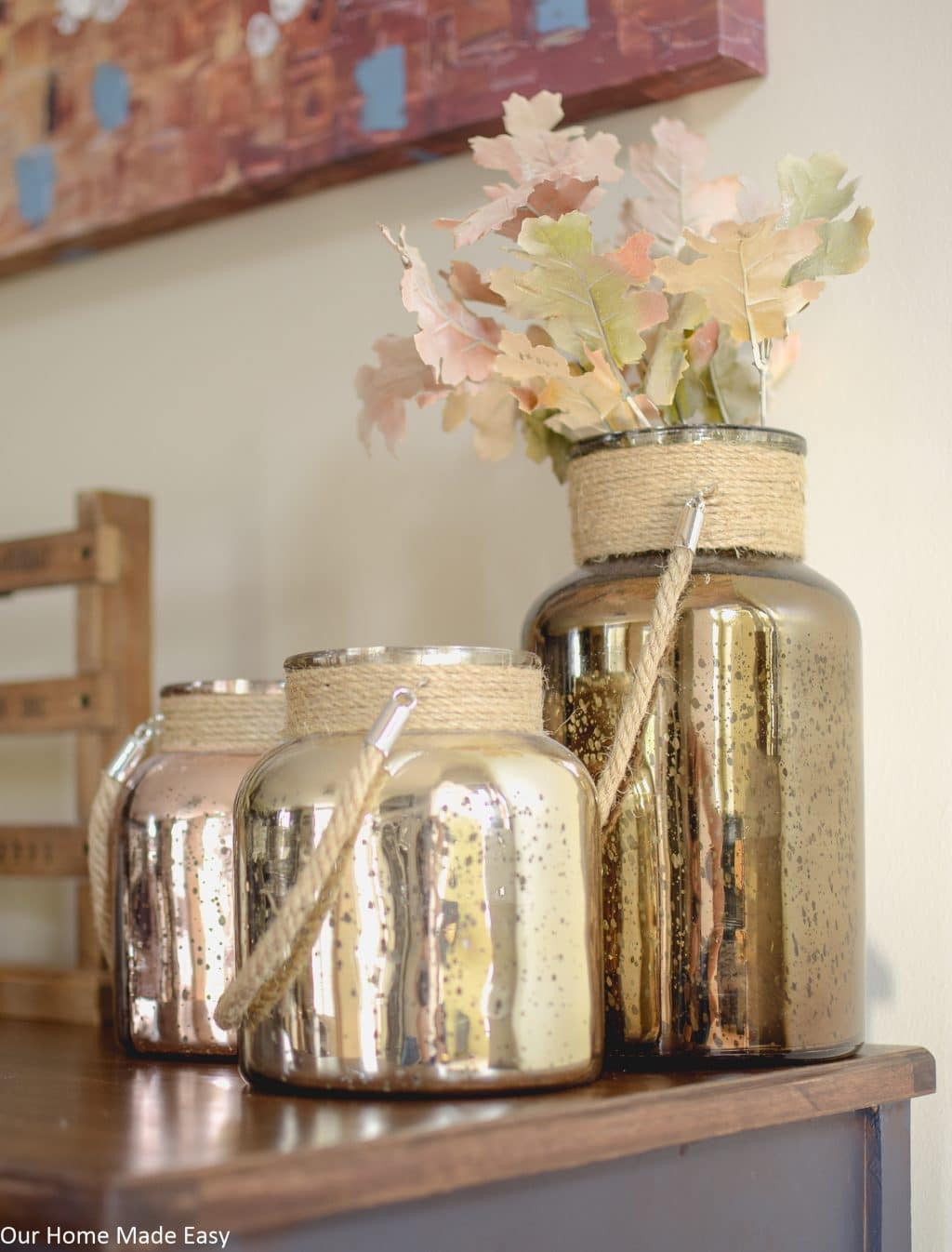 While I try to use buy neutrals to use year after year, not everything is store bought. For instance, that rustic dark brown crate is from my grandmother's home. She also made the pretty cream blanket for Jordan & I's wedding shower. I simply added a few pillows from around the house and craft store pumpkins!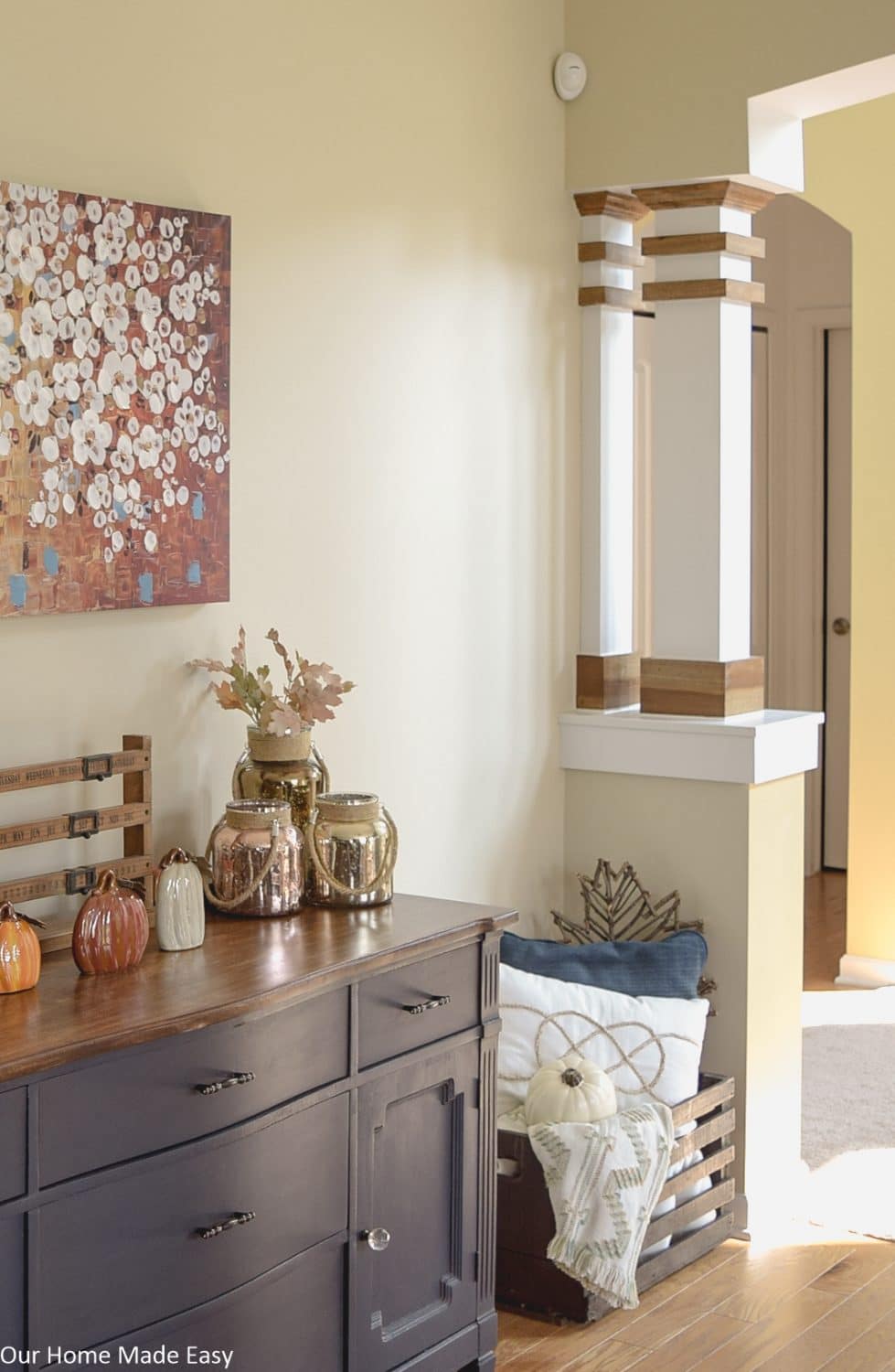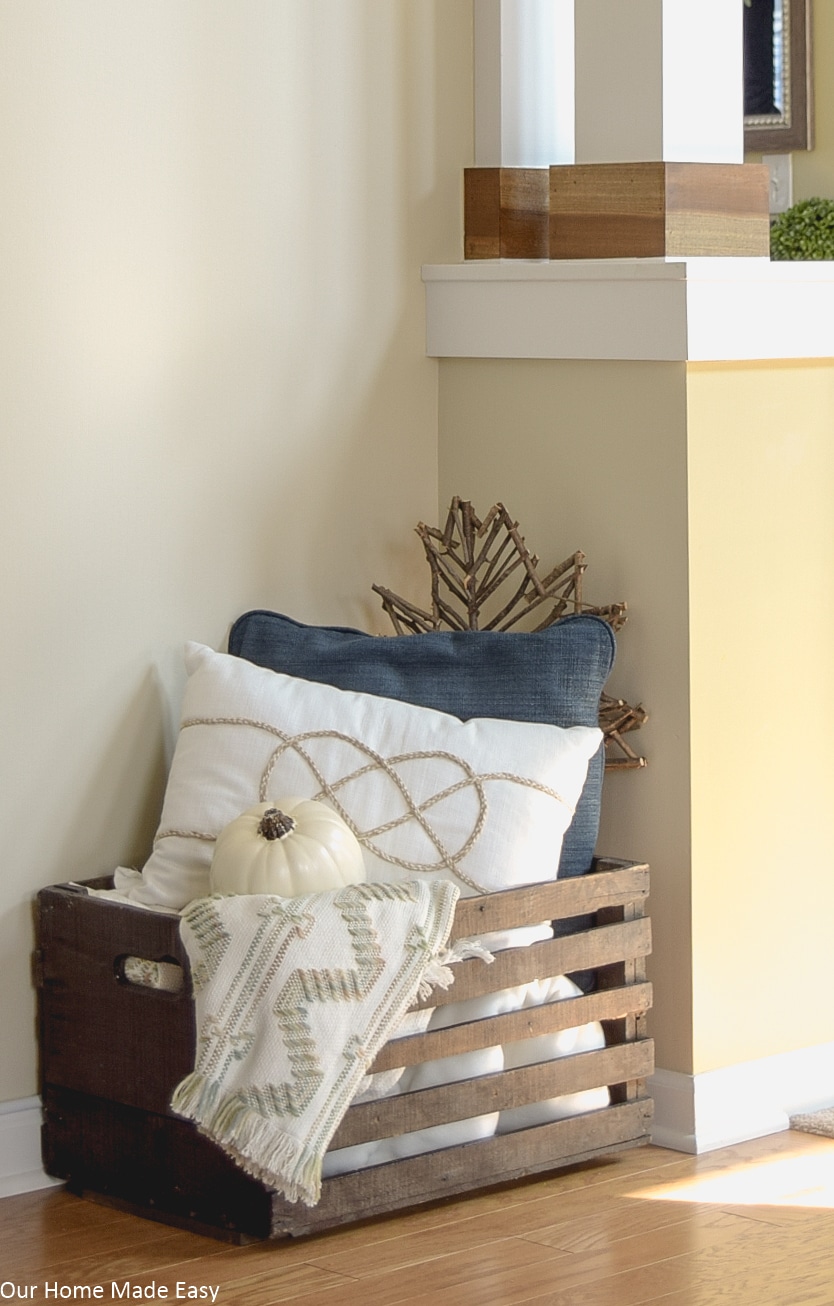 To add some warmth to this side of the double side fireplace, I added my favorite arch wall décor. I've avoided nailing it to the wall purely so that I can move it as my whims change or the kids get especially active. I think it adds ALOT of character to a room that was originally designed purely for eating-on-the-run.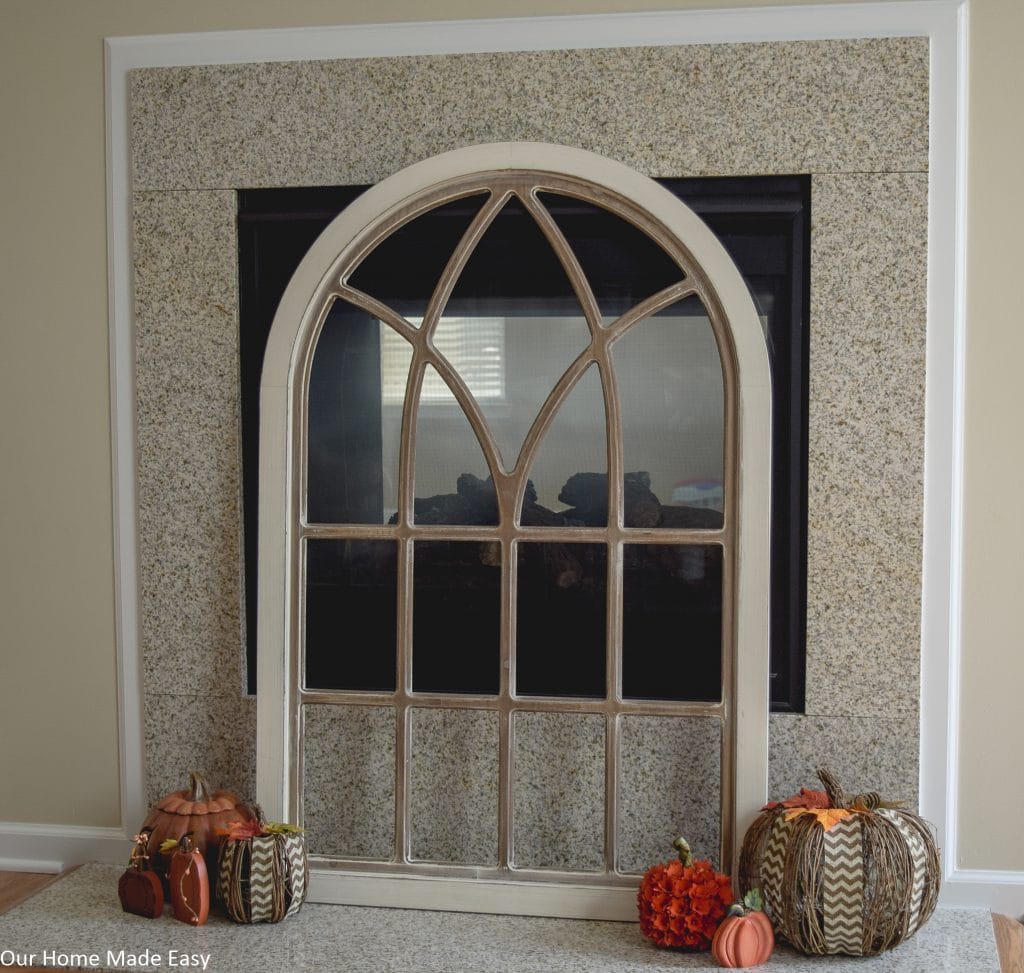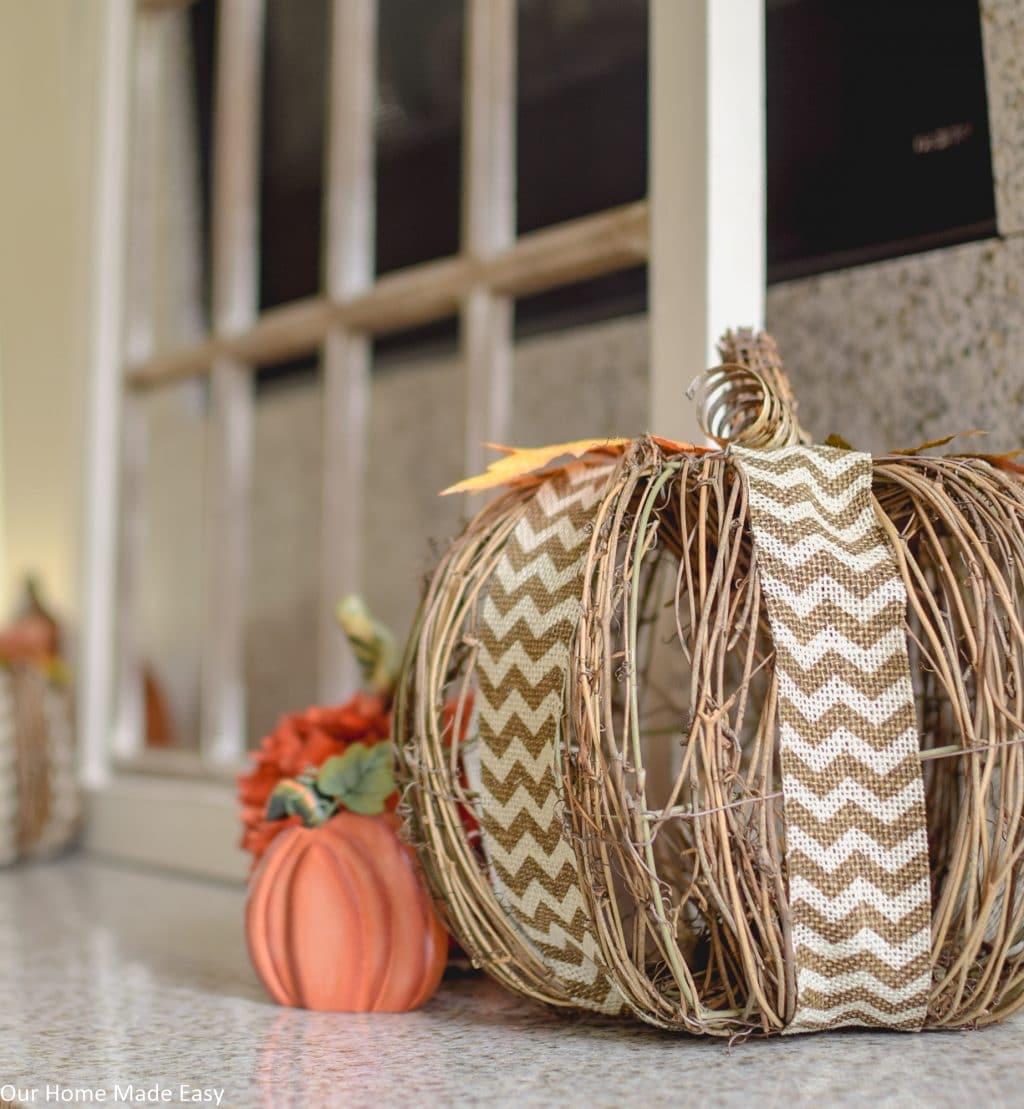 Over in the other corner of the room there is a small rocking chair from when I was itty bitty. Every once in awhile I catch Aubrey rocking in it. 🙂 I set our one board pumpkins with the rocking chair to keep it from being too lonely.
The wreath is an easy 15 minute DIY. It's up somewhere in our home most of the year. Where I hang it depends on the season. When the house isn't especially cleaned up for home tour, you'll catch the kids' bright purple play table over there. 🙂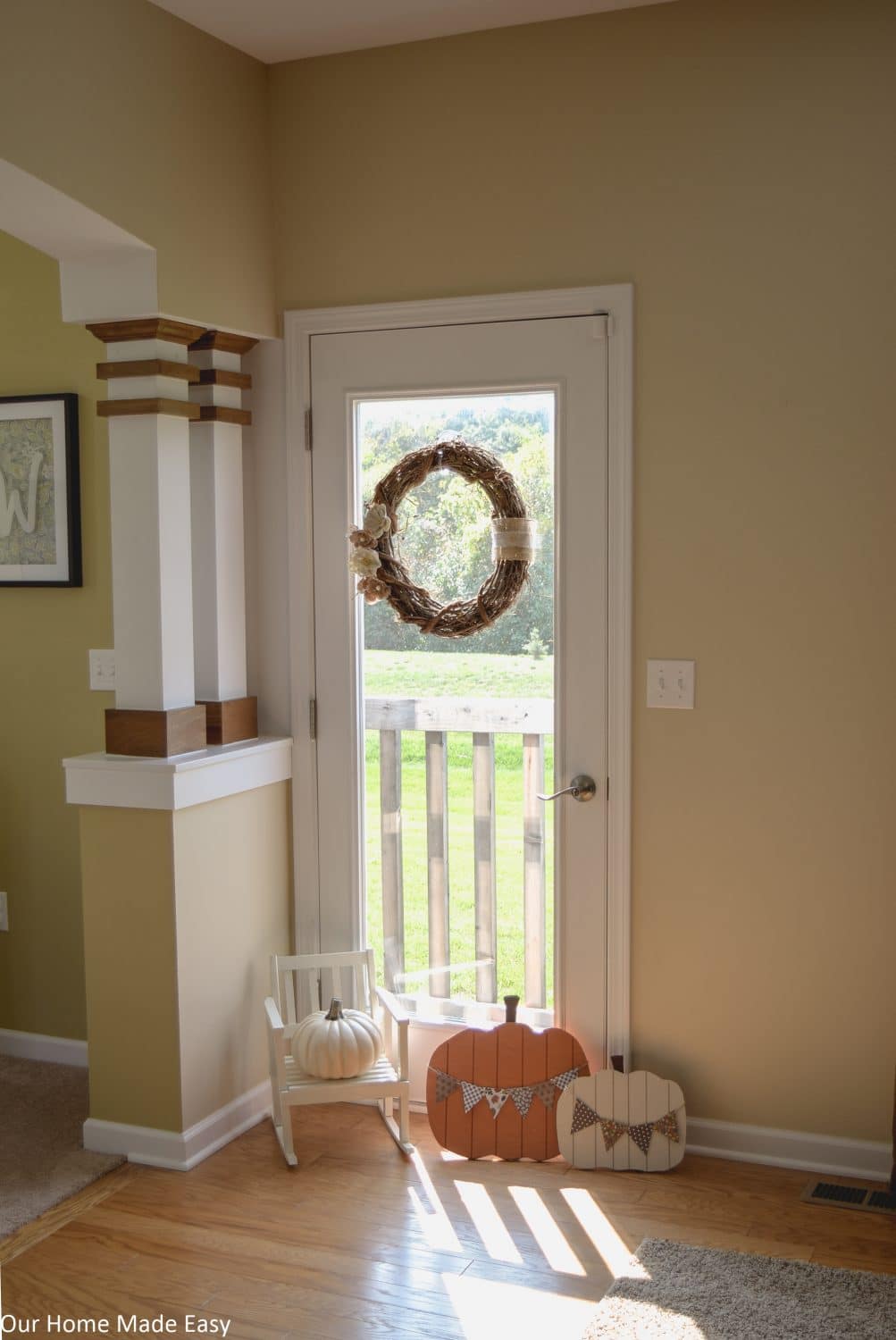 Sources for the Family Room:
And that's our family room! I am so happy that you stopped by today. Be sure to follow along the blog hop and visit Up to Date Interiors next! If you want to see all the beautiful spaces, you can see the "Happy Fall" participants here >>>
Bright Green Door * Polished Habitat * Thoughts From Alice * Green with Decor * Farmhouse 1820 * Saw Nail and Paint * Our Home Made Easy [You're Here!]* Up to Date Interiors * Just Call Me Homegirl *