Use leftover plywood to build these cute little wood pumpkins! They are virtually free to DIY & are super cute for around your home!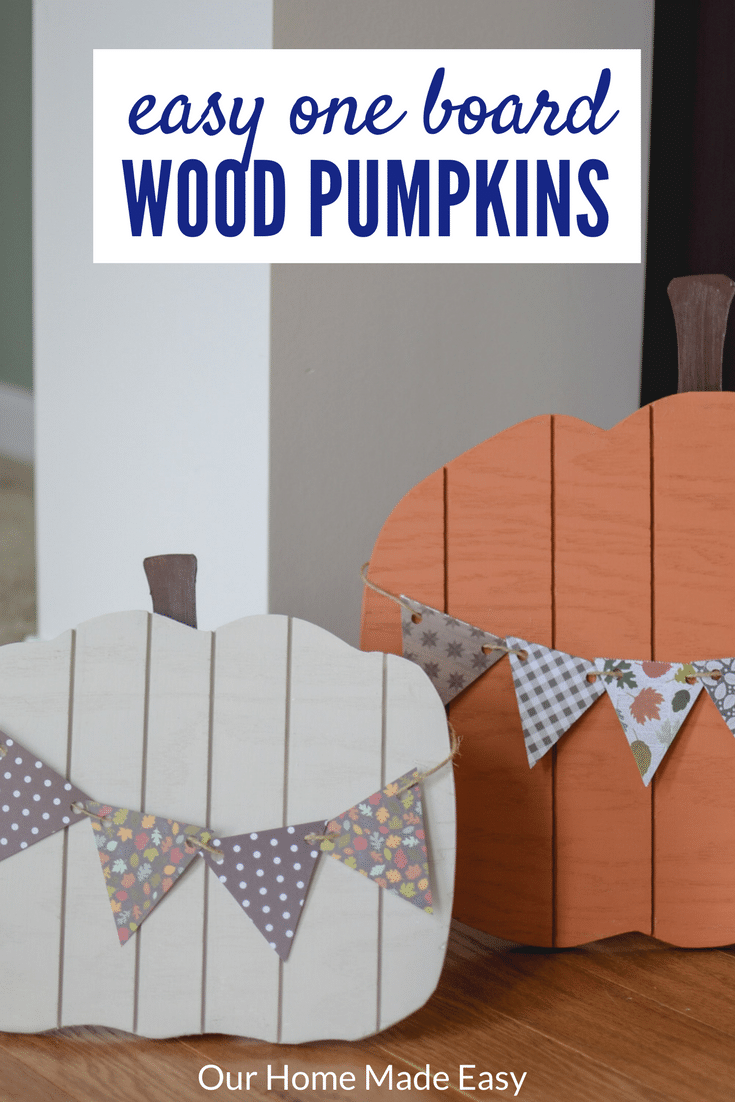 (This post contains affiliate links. If you shop from my blog, I may be compensated for clicks or purchases that you make. Read my disclaimer page for more information.)
Hey! Happy Labor Day! I officially can talk all things fall related, right? According to a recent Facebook discussion, September 1st was the official but totally un-official gateway to decorating for fall and Halloween. And I am so excited to show you a new DIY craft. It's perfect for using up leftover plywood from old projects. Let's get to building wood pumpkins!
Aren't they super cute? They look like they are multiple pieces of wood, but really they are built from small pieces of leftover plywood from the mudroom project that Jordan recently built. Yay for new décor and for being practically free!
We were inspired by these cute little pumpkins from Jo-Ann Fabrics. We saw them in the store, but knew we could make them for using up items we already had on-hand and didn't need to spend more $$$.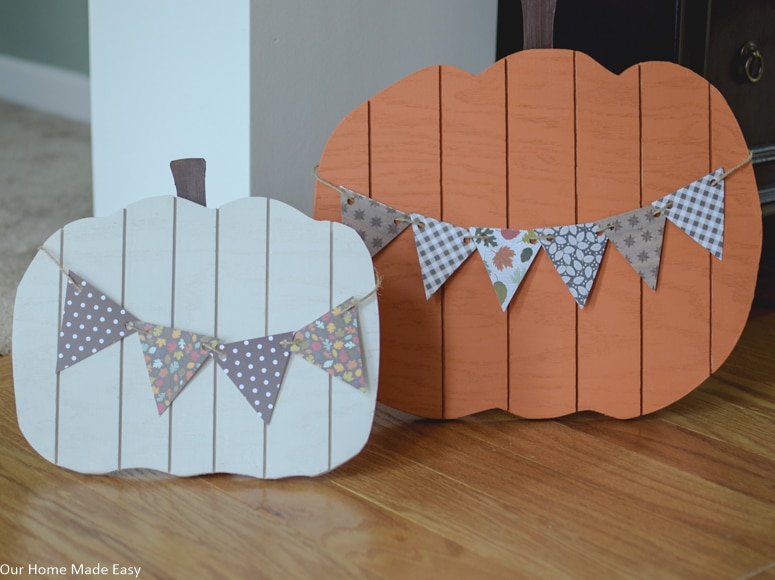 How to Build One Board Wood Pumpkins
Items Needed
1/2″ Plywood
Pumpkin Paint Colors (I used leftover samples of Behr's 'Fall Foliage' and Behr's 'Ashen Tan.')
Pumpkin Stem Color ( I used this color)
Cardstock / Scrapbook Paper (I used 2-4 choices)
Tools Used
Cutting the Wood Board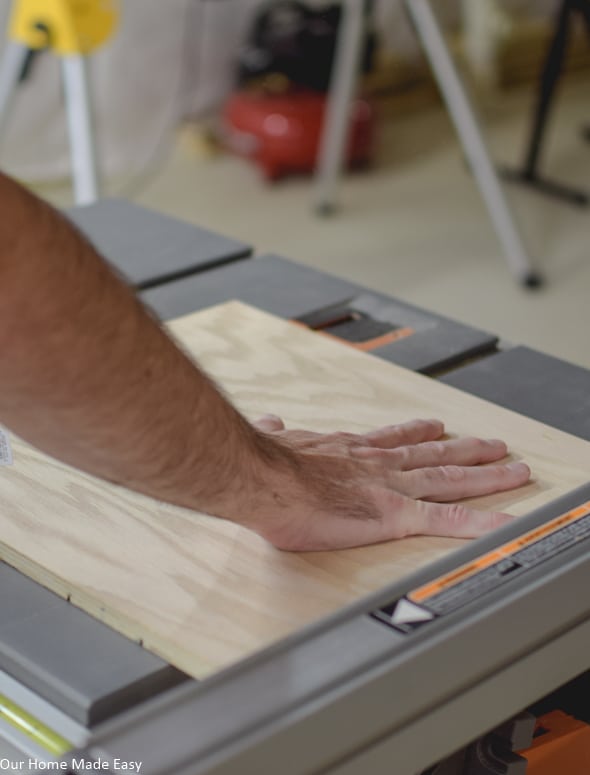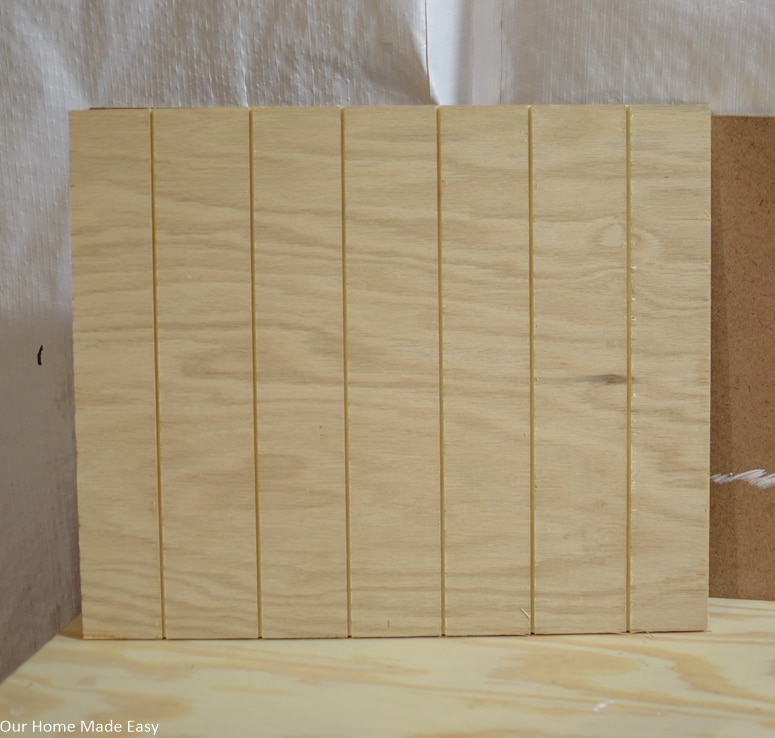 To make these cuts as easy as possible, we gave up trying to make them perfectly & evenly spaced. Ultimately you will take your board and run it over a table saw at 1/16″ of an inch. But here is the easy hack— don't start in the middle of your board. Make your first cut 3/4″ of an inch in from your middle point.
Then, when you run your board over the saw, you can immediately flip it to the other side and run it again. Voila. 2 cuts without changing the fence!
Then you will expand your fence (the distance from your piece to the saw blade) another 1″ or 2″. It depends on your pumpkin size or how many 'slices' you want. Again, run your board over the table saw and flip it to do the same for the other half of the pumpkin.
Repeat for as many 'slices' as you'd like. Changing the fence 2 times was enough for us to make it look interesting– but without a lot of hard work.
Now you should have a plain piece of plywood with several cuts going down it. Let's start shaping it into a pumpkin!
Tracing the Wood Pumpkins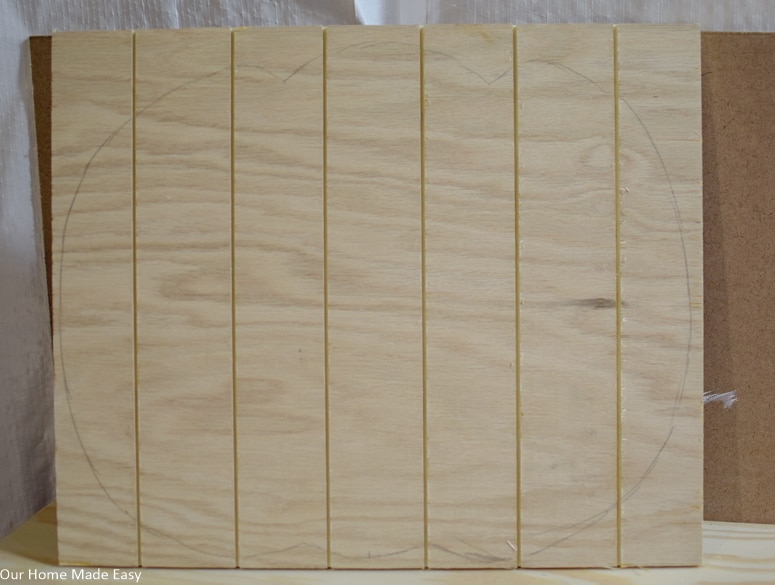 Next, you'll want to use a pencil and lightly trace an outline of a pumpkin. You can try to make a perfect circle, a squished 'Cinderella' kind or go for the imperfect lumpy kind we traced. It's super forgiving.
Cutting Out The Wood Pumpkins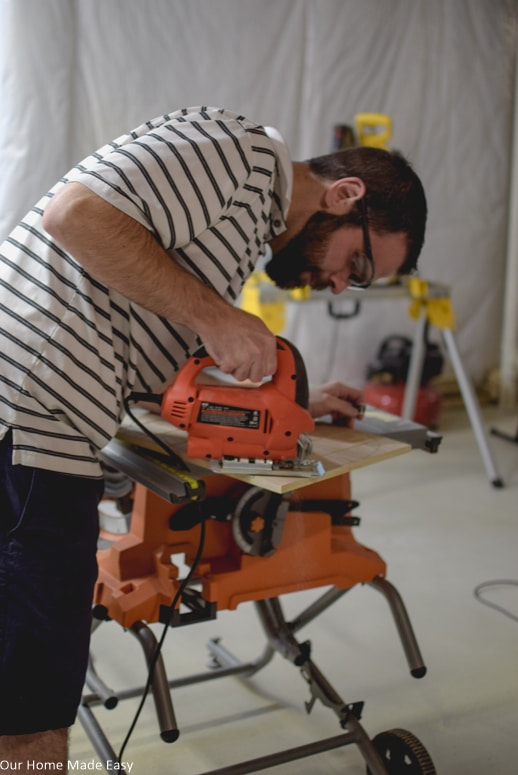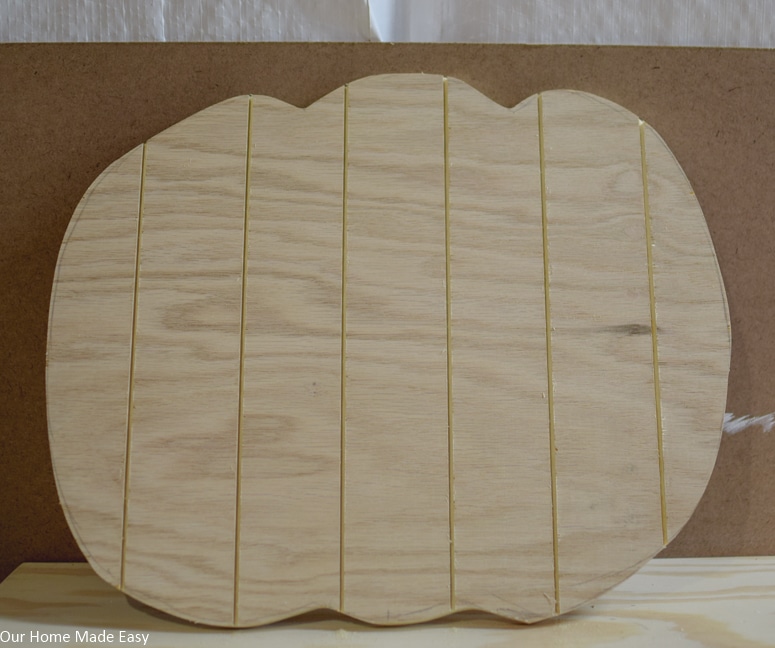 Next, you'll want to use a jig saw and cut out your pumpkins. Use your pencil as a guide for cutting.
Once they are cut, use an orbital sander to soften the edges and surface.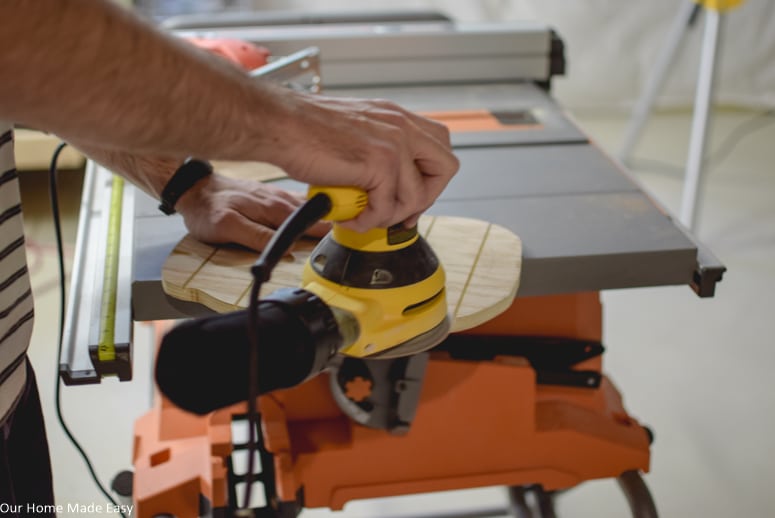 Paint Your Wood Pumpkins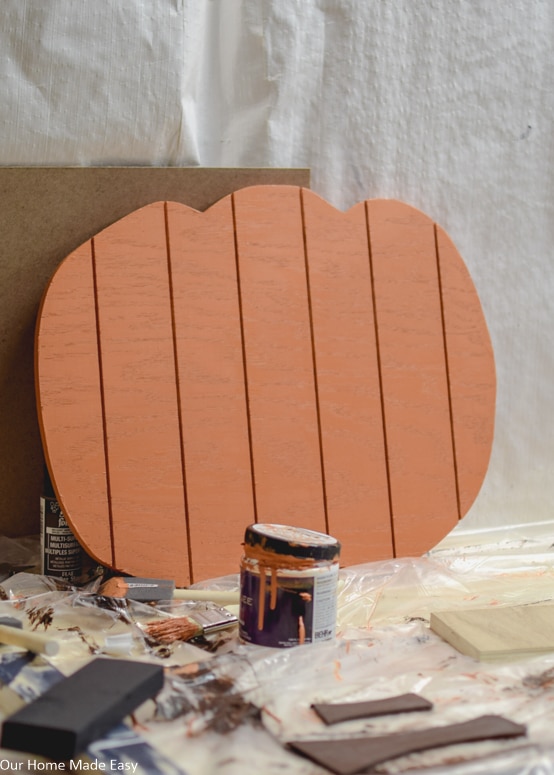 With your pumpkins cut and ready, it's time to paint them! You'll need two coats. To get in the nooks & crannies of the pumpkin 'slices,' use a small paint brush. For the surface of the pumpkins, I used foam brushes and a chip brush for the edges.While I used an orange and creamy greige color, you could choose to make them match your own home. I love how versatile they are!
The colors I used were Behr's 'Fall Foliage' and Behr's 'Ashen Tan.'
Make the Stem and Stand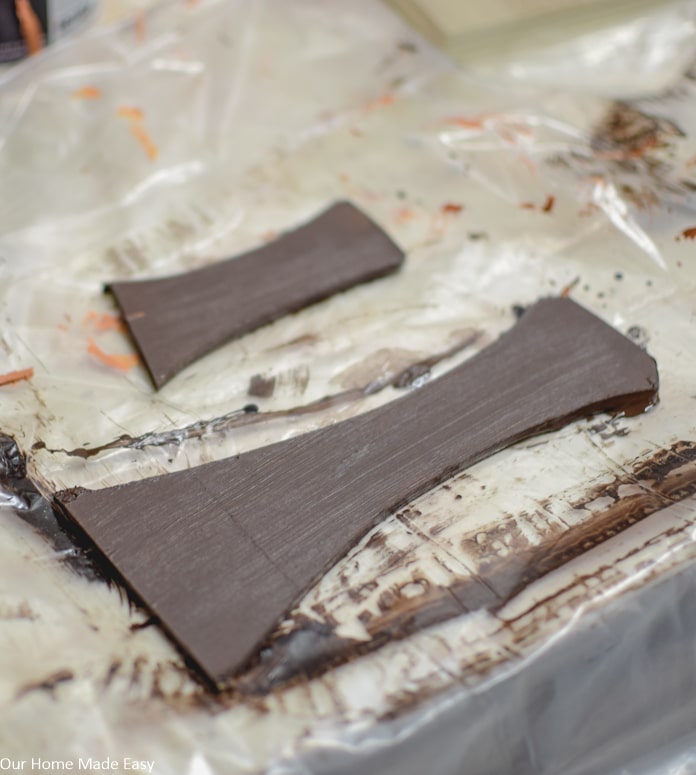 Using a thin piece of left over wood or MDF, cut out a small stem for your pumpkin. Err on the side of making it too tall so that you have the option to adjust the height rather than making it too short. We used a jig saw to cut the stem and used the sander to soften the edges.
Paint both sides of the stem a dark brown color.  Adhere to your pumpkin with hot glue.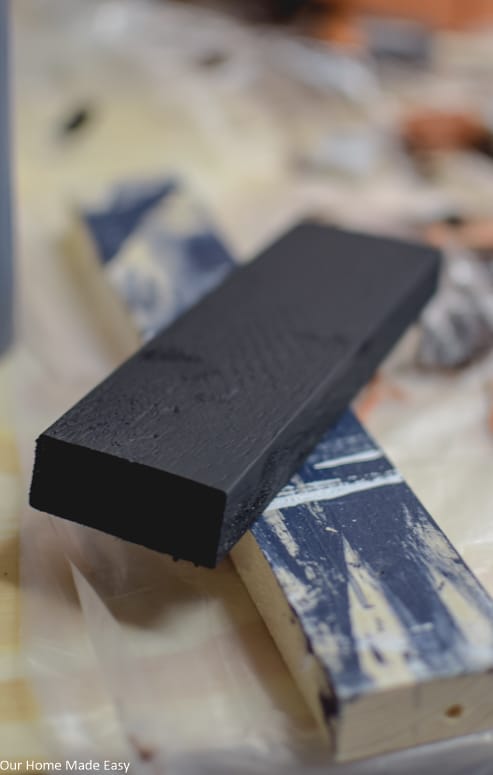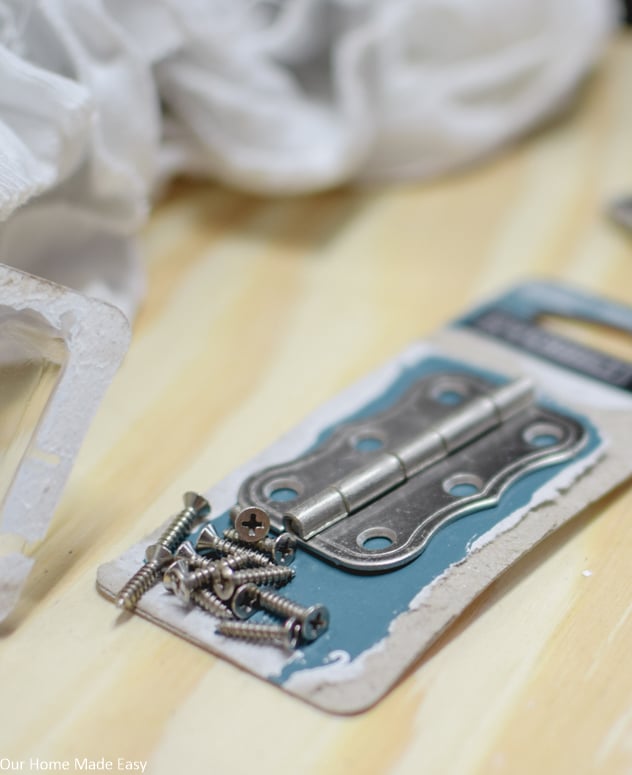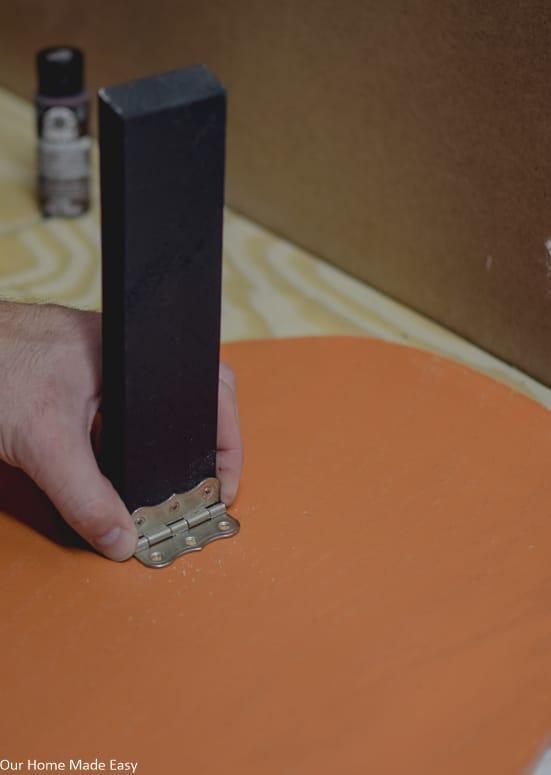 If you want to add a small stand, cut a small piece of wood to the desired propped up length. Each stand is different based on the size of your pumpkin. Ultimately, once you find a length that gives you the height you want, you will cut one end at a 25-30 degree angle. Attach your wood stand using a small hinge.
The stand is purely optional. You could always do nothing and simply prop up your wood pumpkins on a wall or you could add little hooks for hanging on a wall. Your choice. 🙂
Add the Paper Bunting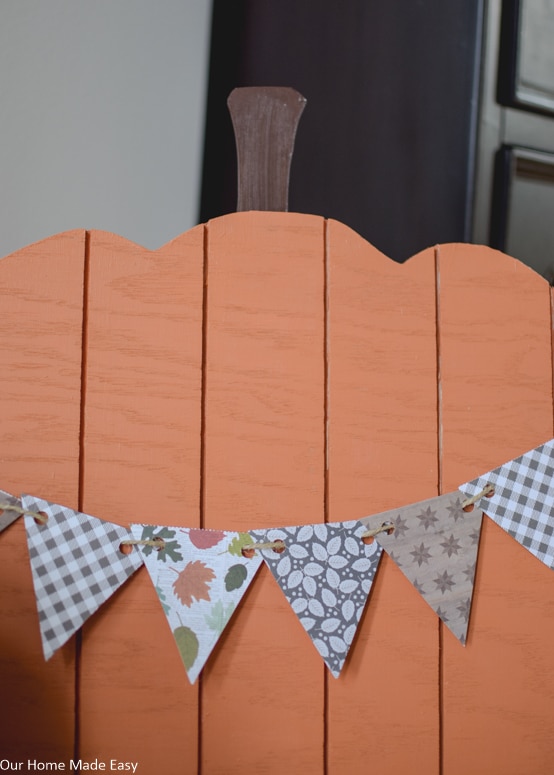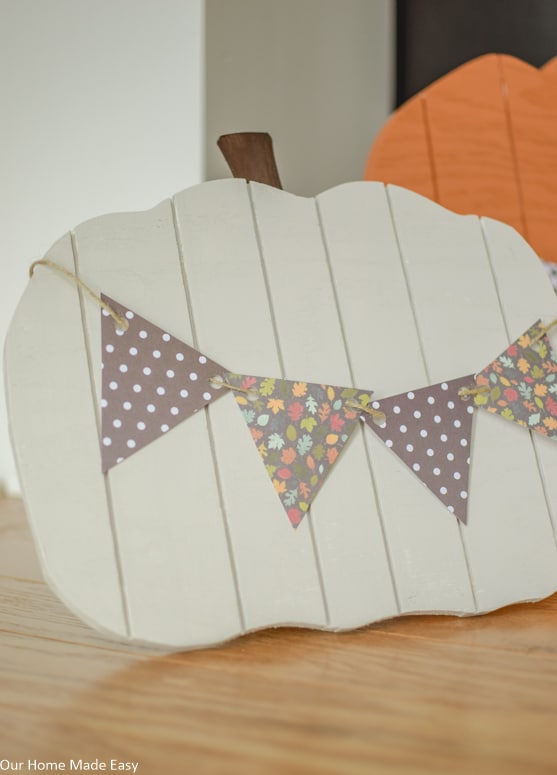 Using a few pieces of card stock, cut out a few triangles. I made mine by creating a 3″ square and then drawing down to the middle from each upper corner.  Once you have a few triangles, hole punch 2 corners. Then thread twine through to create bunting. Attach to the back of the pumpkin.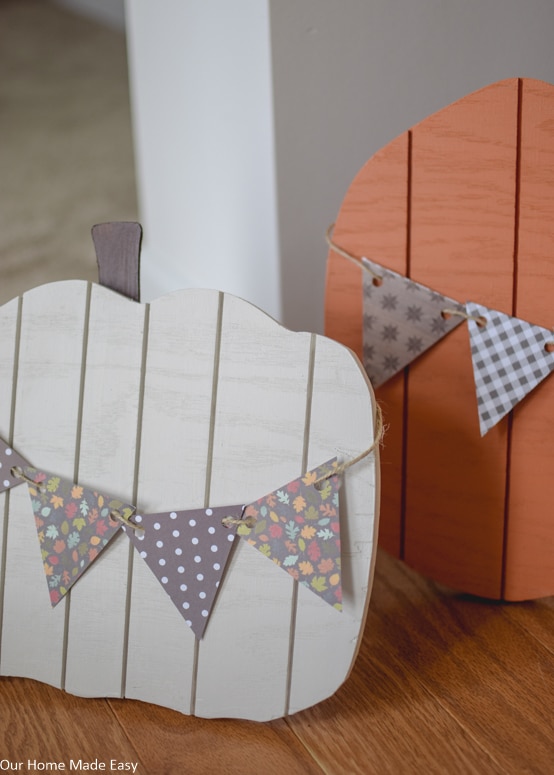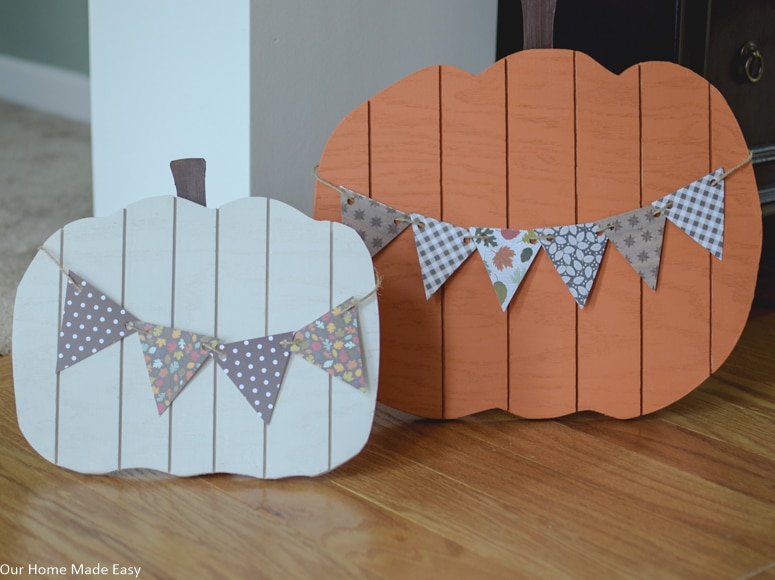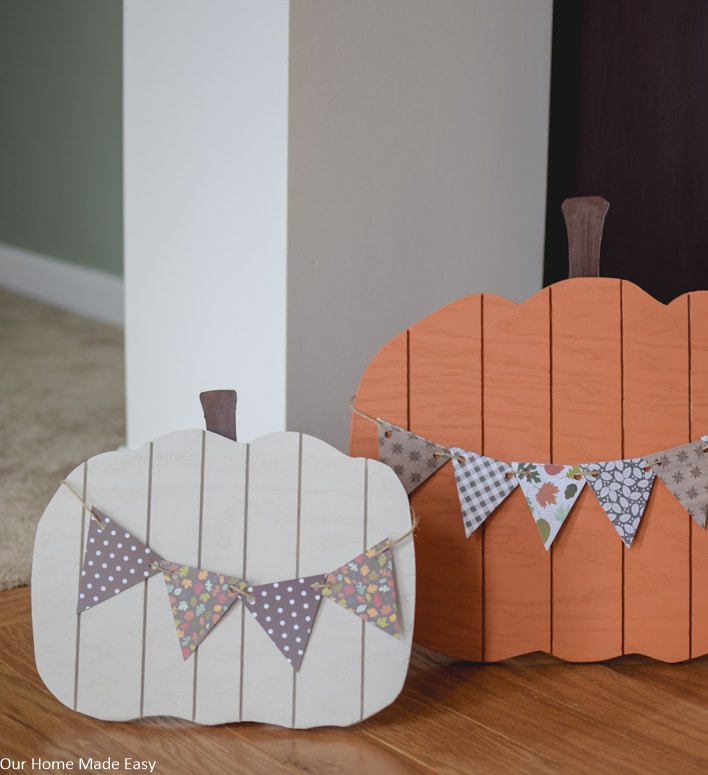 These wood pumpkins are super cute and such a great piece of decor that is practically no cost if you use leftover project material!
PIN FOR LATER: