When I was thinking of what I wanted to share with you this morning– I couldn't help but look at the date. It's August tomorrow. Our little girl turned 4 yesterday. Whoa. Time. 🙁 We also celebrated 3 years of home ownership in our Michigan home too this weekend (even if we technically weren't in the state). This means that this month marks 3 years of living in our new home build. Between A's birthday & feeling sentimental, I think we will take a quick stroll through the past 3 years of DIY and what we've done so far here in our home in Michigan!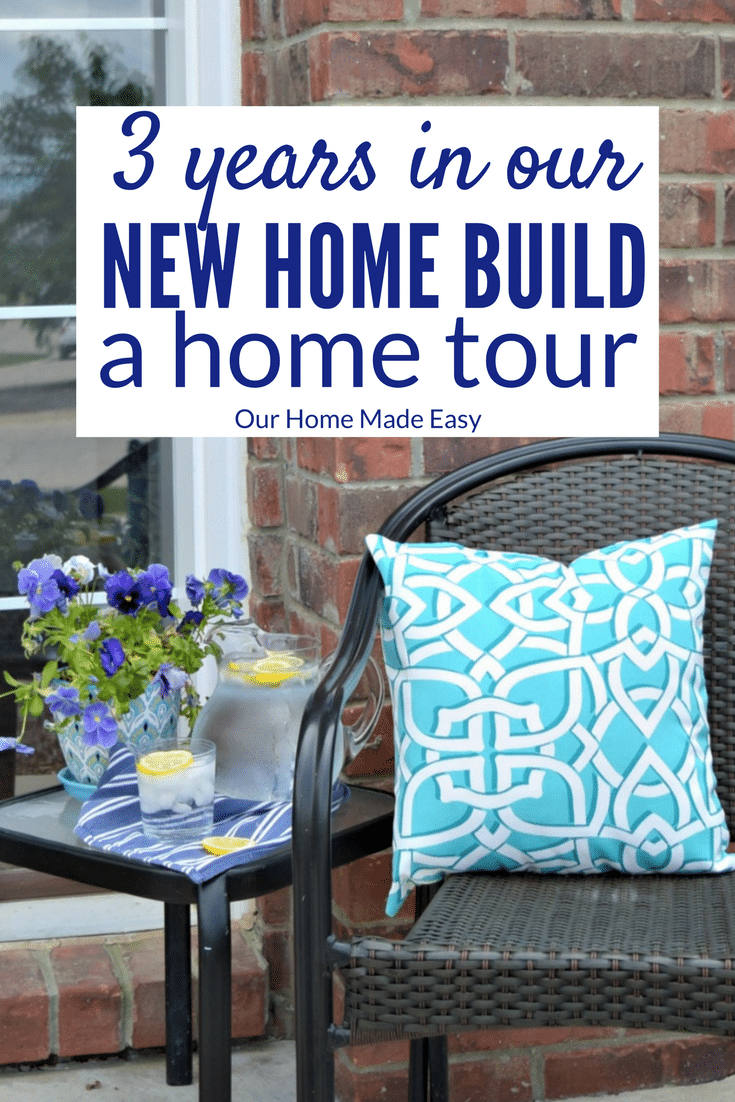 I'm holding a kleenex typing this post out. Don't judge.
We moved into our Ann Arbor, Michigan home in August 2014. It was our second new home build– but first in the Midwest and it came with a few surprises.
No yard. Our HOA required a full sod installation within 6-8 weeks of moving in simply due to the season we moved into the home. We wanted to be good neighbors to the empty lots on either side of us ( 😉 ) and we obliged.
No painting the walls for one year! This was a shock to us. Due to home settling, we were strongly advised to wait until the one year mark before painting rooms. In Alabama this wasn't a concern, but we found out soon enough that yep, the house moves. But don't worry, once we hit the one year mark (or 11ish months) we painted as much as we could. Owen was 2 weeks old and this Mama needed the house painted. 🙂
What We've Accomplished the Past 3 Years
I don't have great 'before' pictures of where we started, but you'll quickly get an idea. At closing our home was flat bright commercial white paint and ready for us to leave our mark on it. I'll share what we have done so far, 3 years in, and wish list projects we'd love to tackle.
Since I was pregnant for the first year we lived there, not much was done. I didn't have the energy to do much more than work and care for 1 year old Aubrey. Once we hit the 1 year mark, Owen was already born, I was back to work, and we finally had more energy to tackle home projects. A few months later, I started blogging.
Timing is funny like that. 🙂
Our biggest barriers are like every other young family— when we have the time, we can't justify the cost and when we finally save up enough– well, we cannot find the time.
One of our biggest cost savers making our new house a home was doing it ourselves. Jordan really. If we need something around the house, he simply learns how to do it. And I am forever grateful for him managing my grand requests with realistic projects that always turn out so nice.
Since I never considered blogging when we closed on the house, I don't have any true 'Before' pictures! Sigh. But what I do have are photos from 3 weeks before closing. Imagine an extra coat of flat white paint and flooring installed when we moved into the home.
The Front Yard
Yard Before
Yard 3 Years Later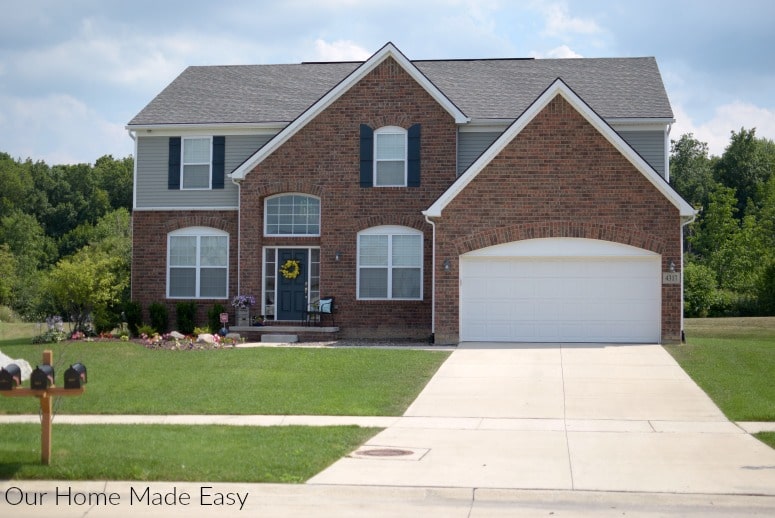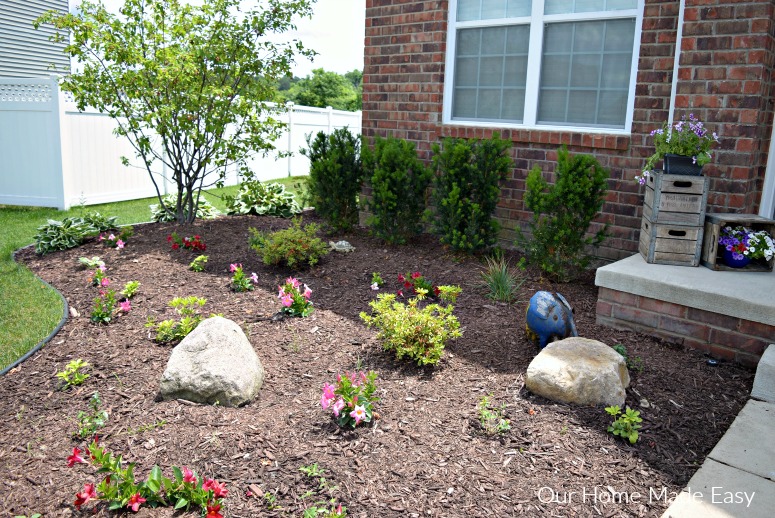 What We've Done So Far
Professionally Installed Sod & Landscaping
Installed Sprinkler System
Installed French Drains
Refreshed the Flower Beds this year (Summer Flowerbeds Update)
Wish List Projects
Add 2′ concrete apron on either side of driveway
Create a stamped concrete area in large empty area in front of home for setting out a chair and table
Remove existing sidewalk
Install Window Boxes
The Entry Way
Entry Way Before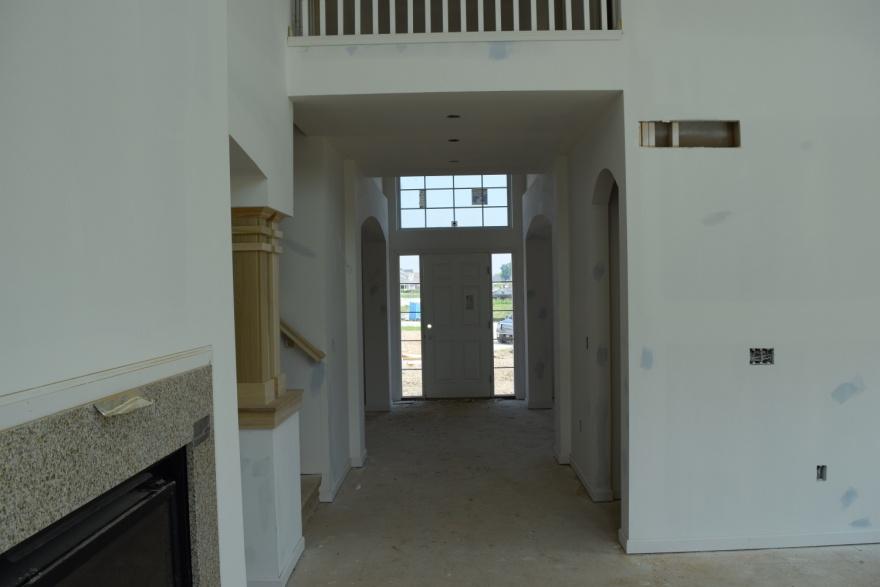 Entry Way 3 Years Later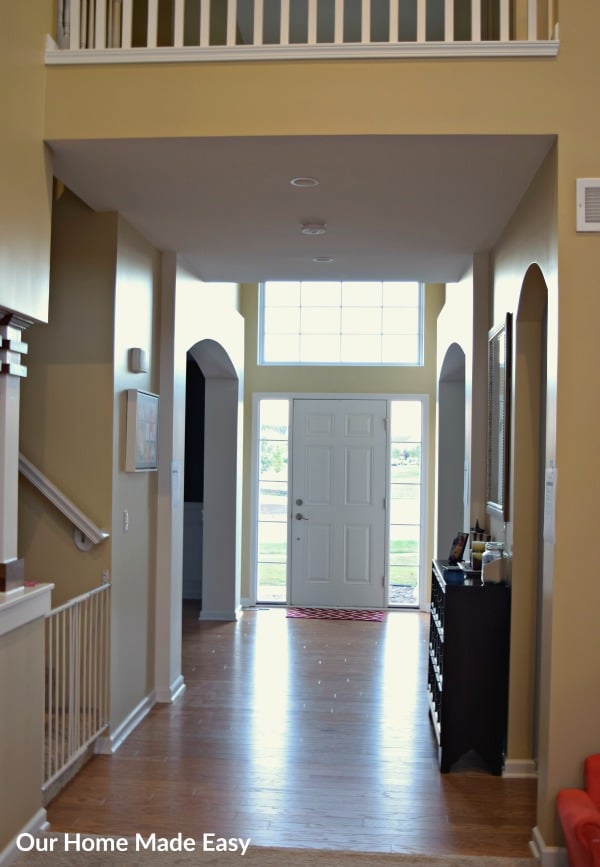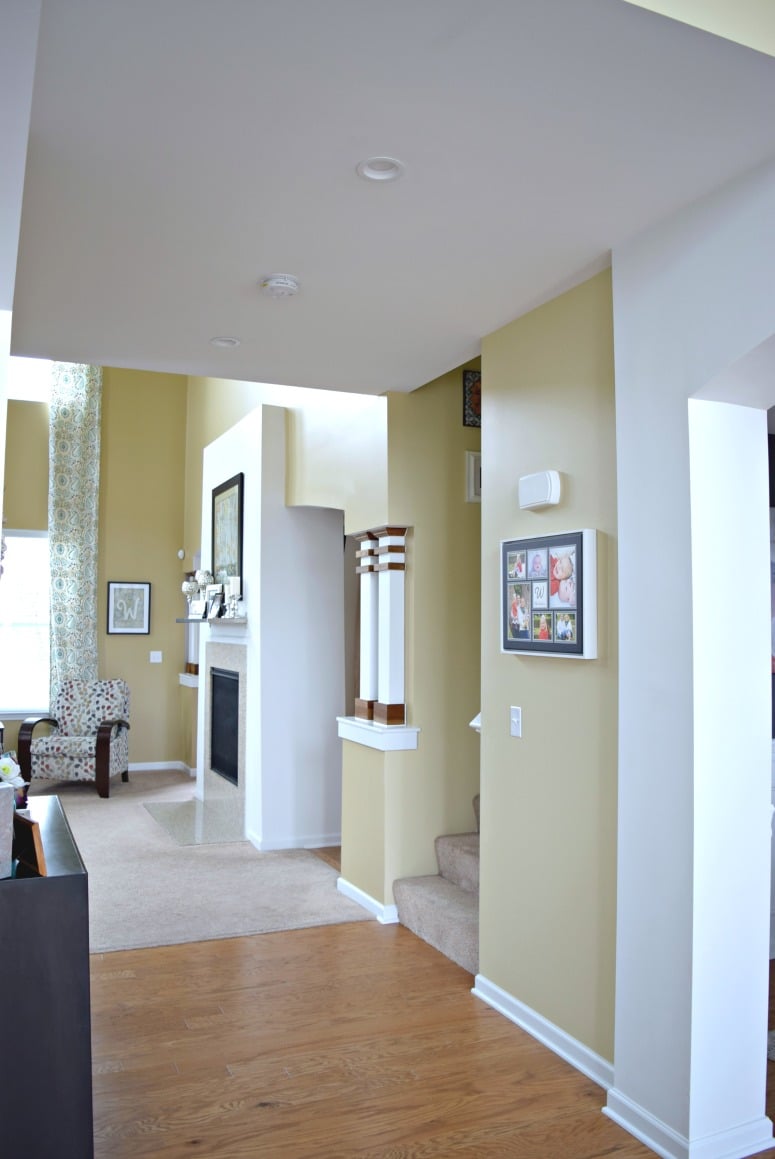 What We've Done So Far
Wish List Projects
Paint the Black Table to Something More Our Style
Change Out the Upstairs Hallway Lights to Something More Our Style
Add Shelving / Picture Ledge in Upstairs Hallway
Add more furniture in upstairs hallway
The Dining Room
Dining Room Before
Here we had just painted the gray part of the all white walls.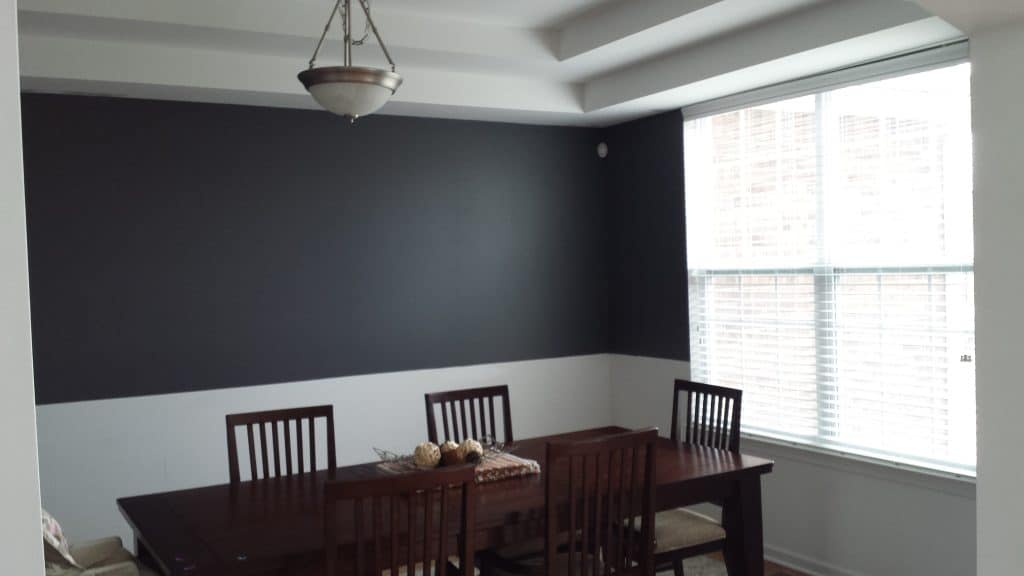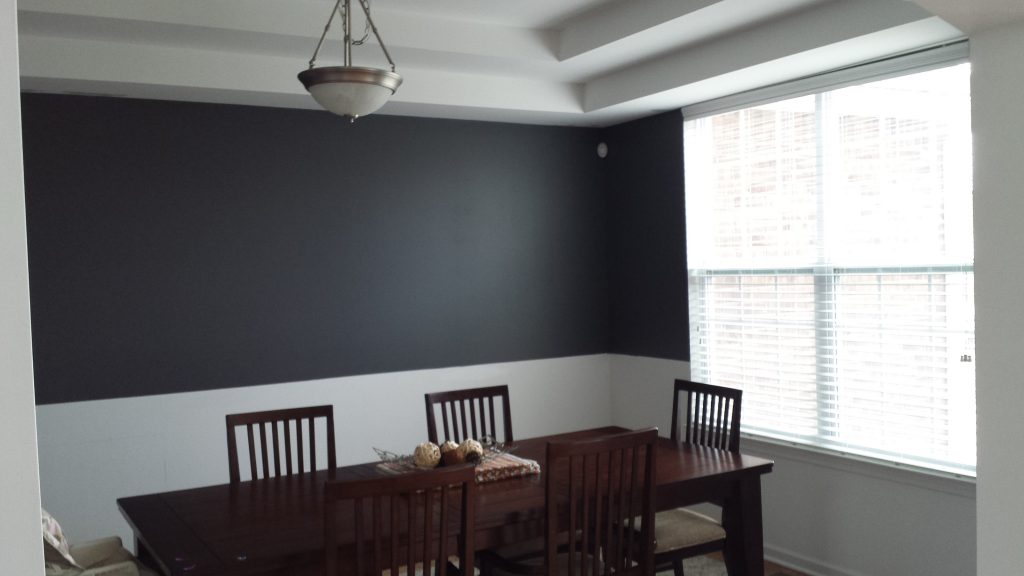 Dining Room 3 Years Later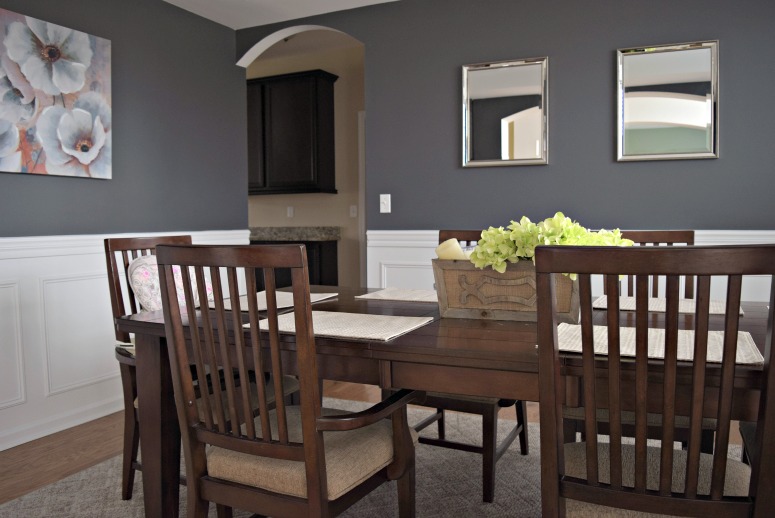 What We've Done So Far
Painted the Room Gray
Installed Faux Wainscoting
Installed Curtains
Added some decor
Wish List Projects
Install a New Light Fixture
Build a Farmhouse Style Table
Build More Shelving on Bump Out Sides
Build a Buffet for the Room
The Front Flex Room
We still aren't sure how we want to use this room. I think we both agree that we'd like a place for the kids to do homework and somewhere for me to setup shop for an office. Right now I blog from the Kitchen Island or the couch and have to pull out my binders & printer as needed.
Flex Room Before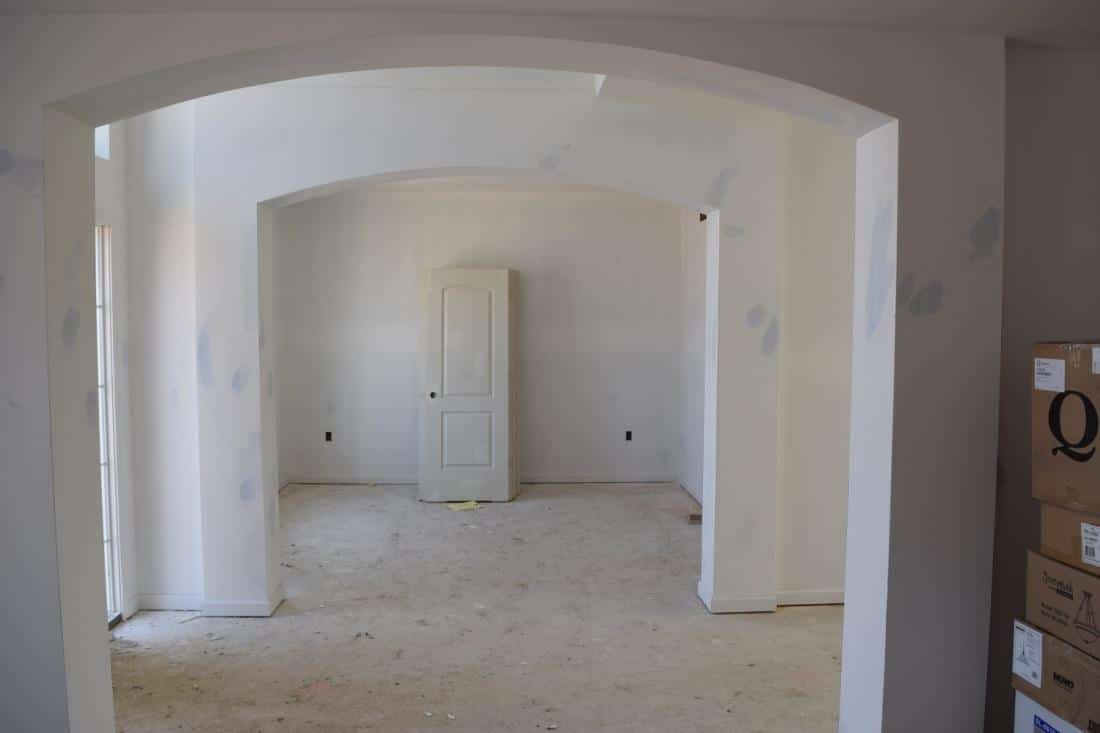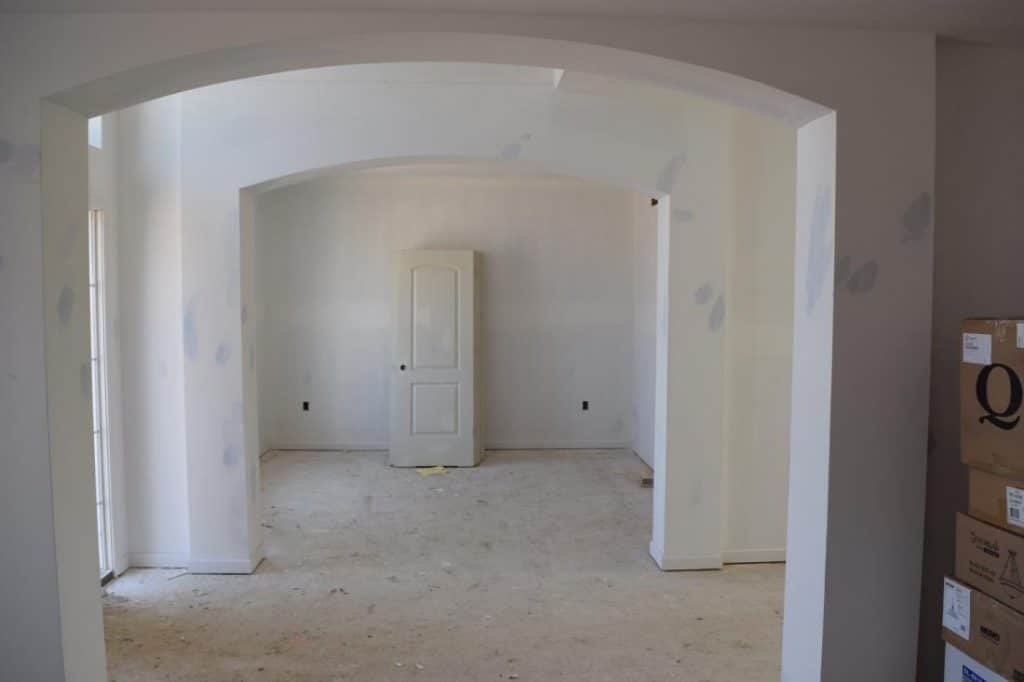 Flex Room 3 Years Later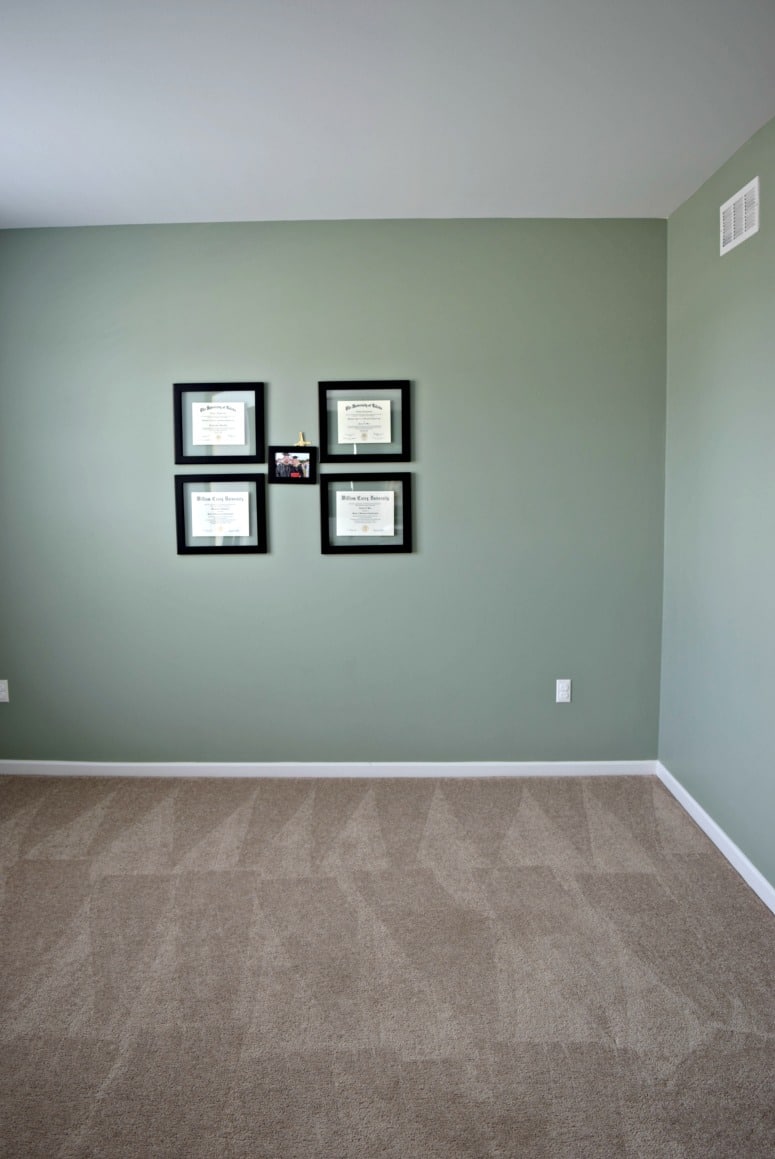 What We've Done So Far
Wish List Projects
Install a Ceiling Light (No power running to ceiling right now)
Install Ceiling Moulding (Jordan's idea)
Install Built-Ins
Make it a Pretty, But Functional Office
The Powder Room
Powder Room Before
We entered our first ever One Room Challenge with the Powder Room. We had 6 weeks to take it from 'before' to something beautiful. In here we had the same flat white painted walls.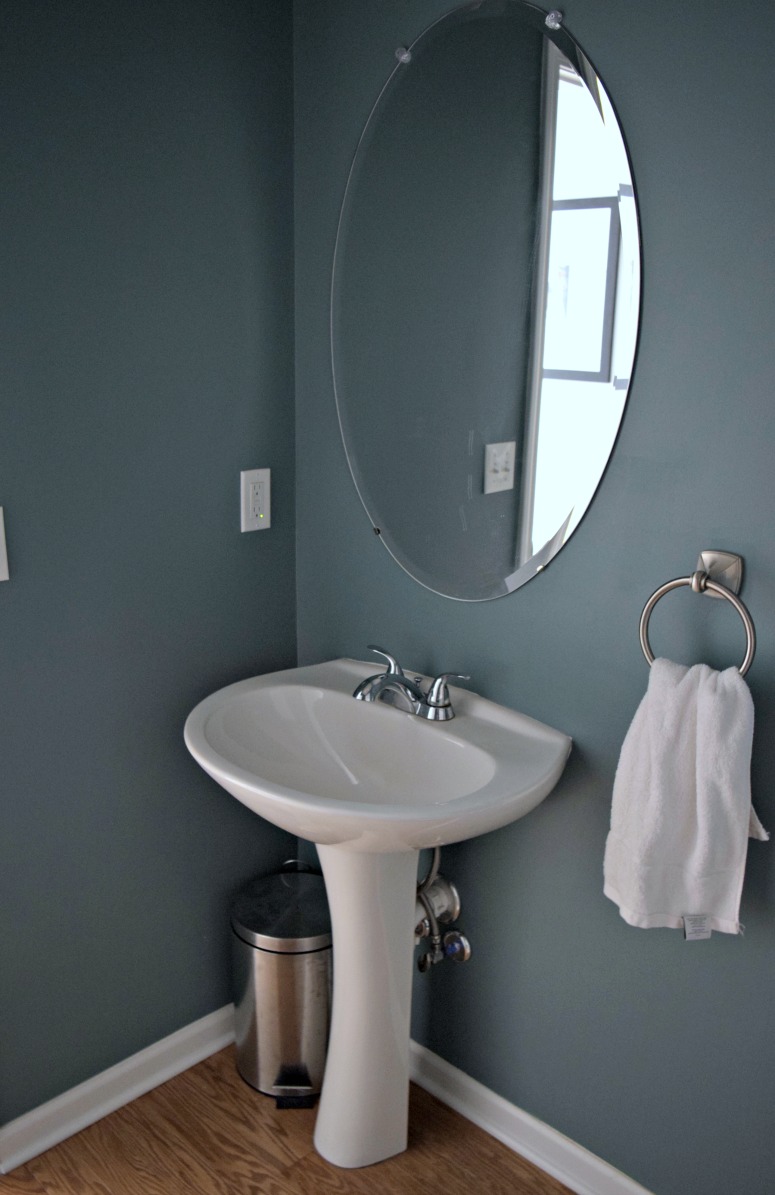 Powder Room 3 Years Later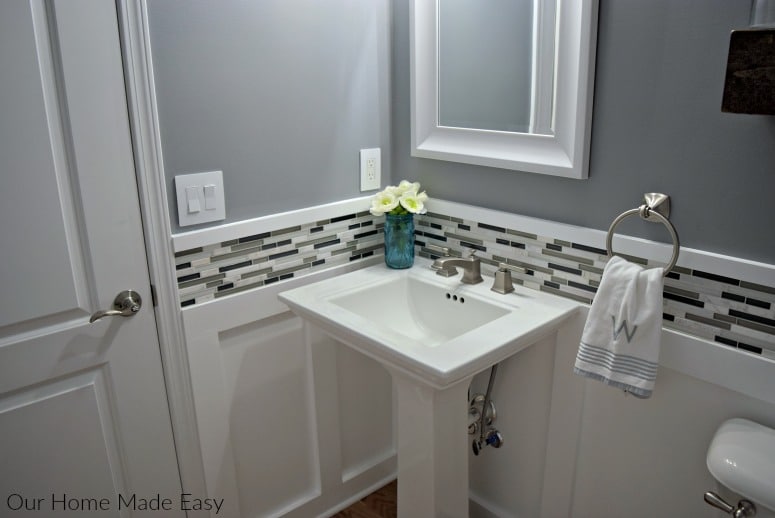 What We've Done So Far
It was so much room renovation. You can see the full list here at the Powder Room Reveal!
Wish List Projects
Not a thing! If we could have every room as finished as the powder room, I'd consider the Michigan home a success. But then I'd be bored. 🙂
The Living Room
Living Room Before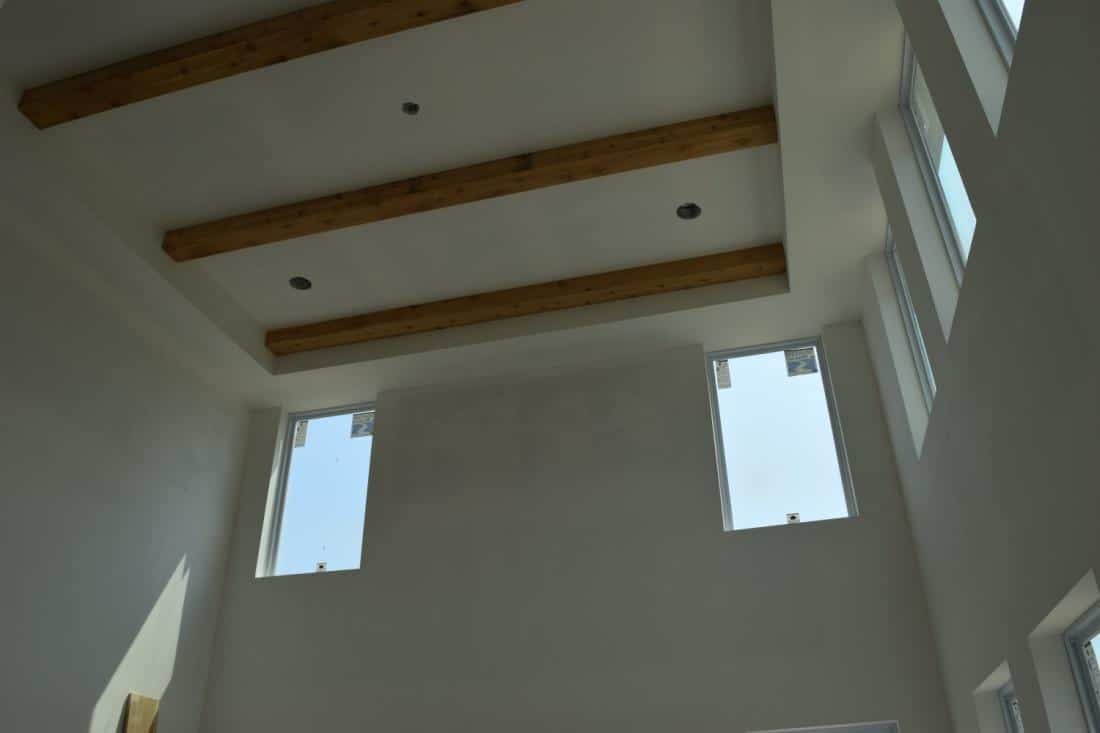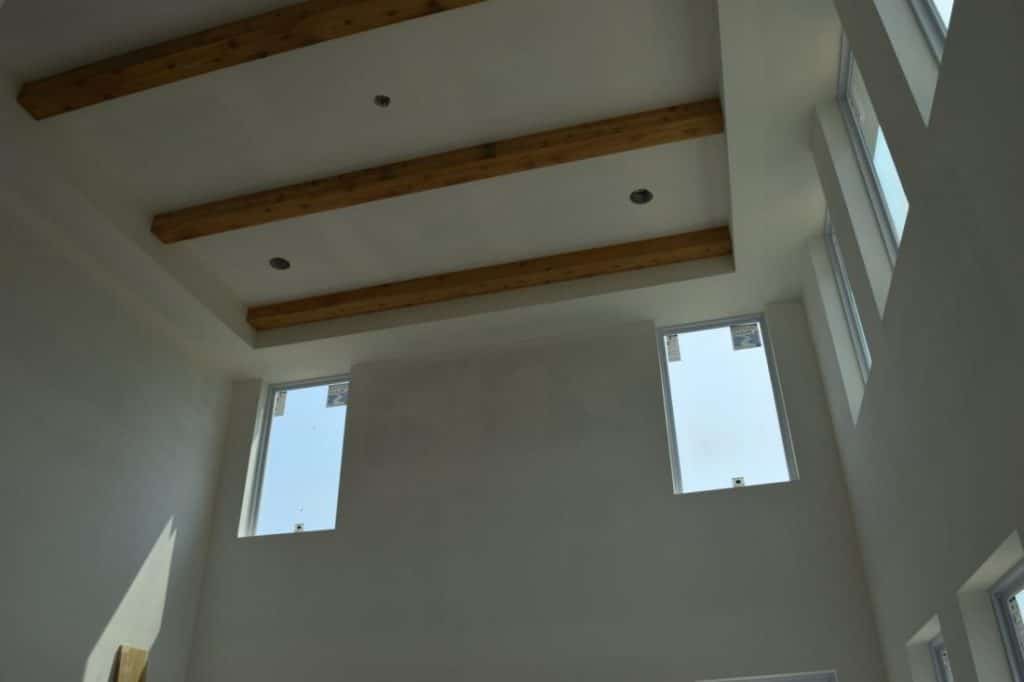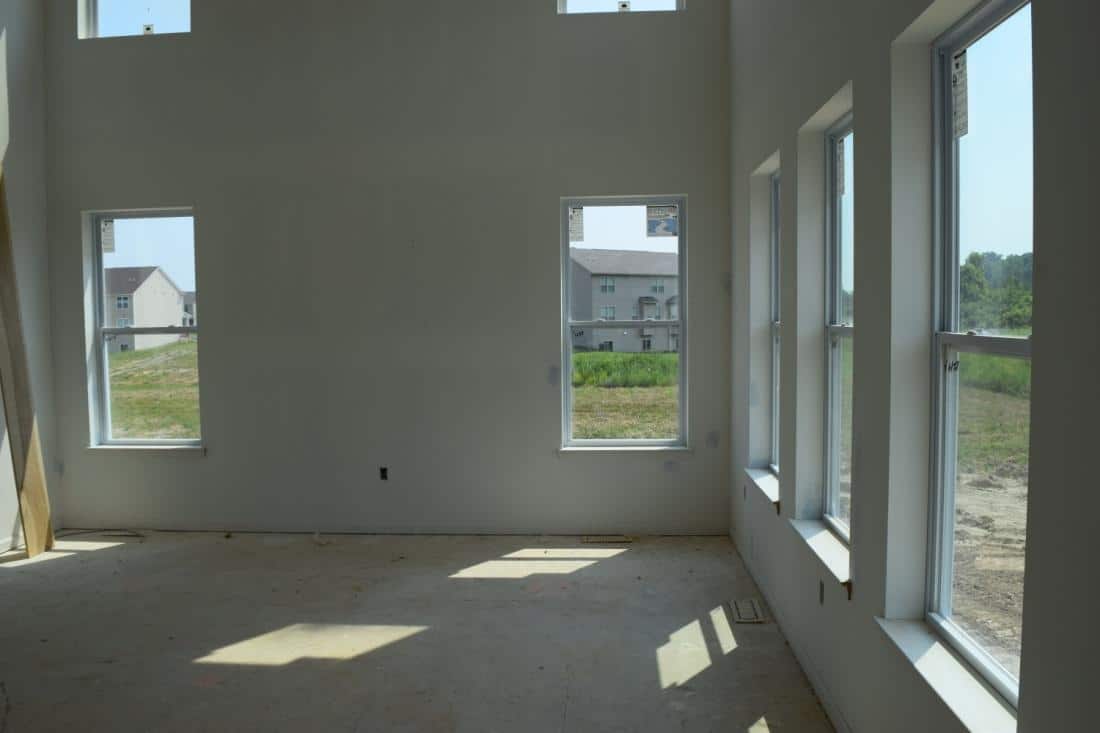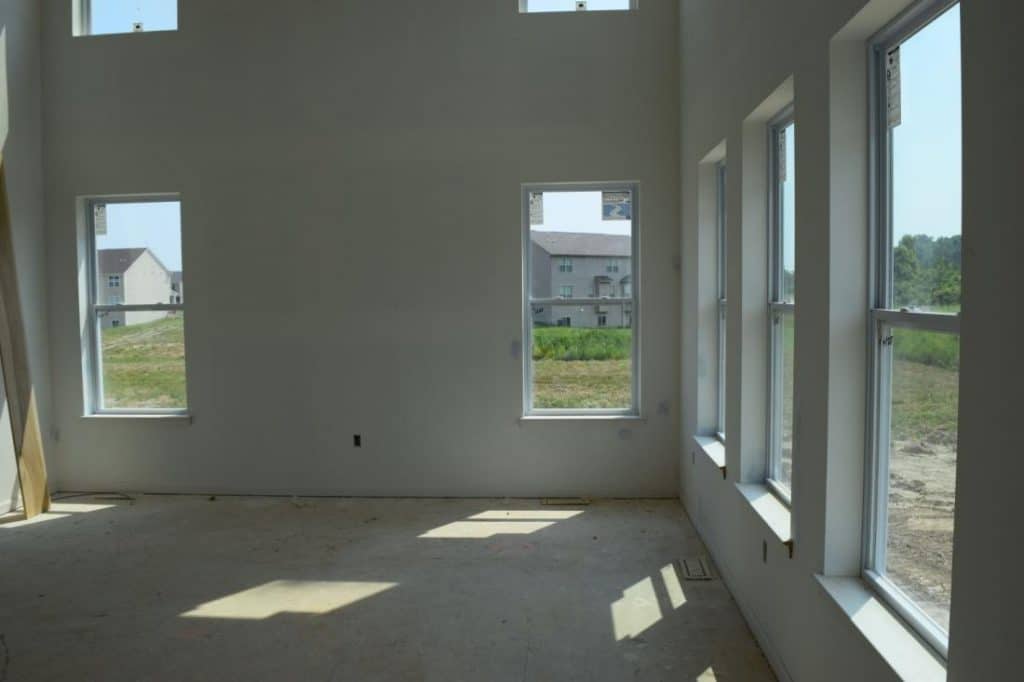 Living Room 3 Years Later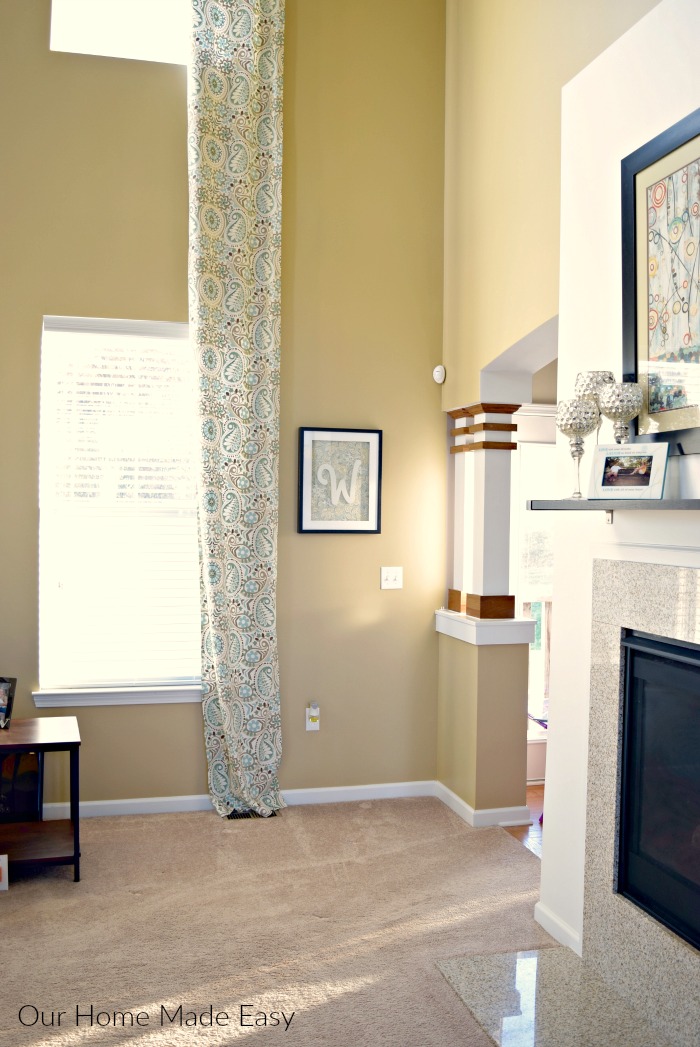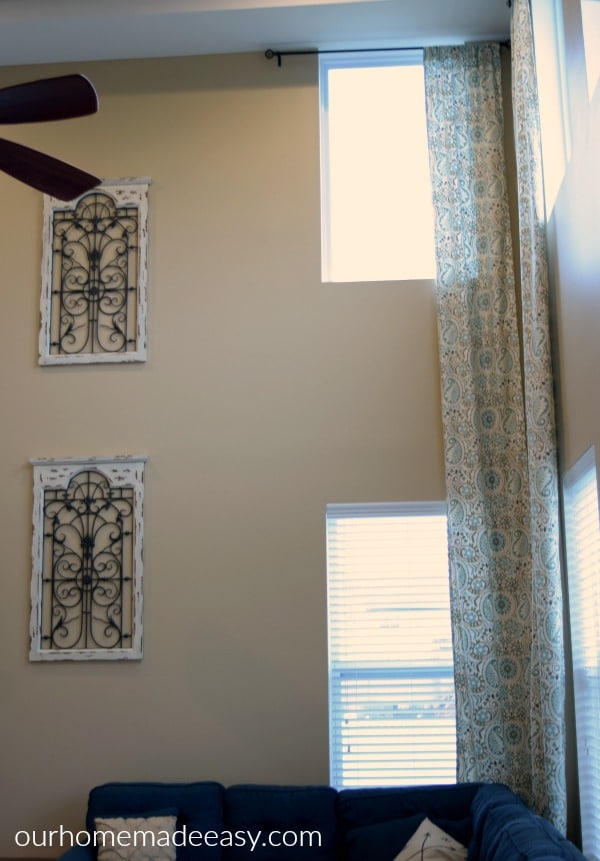 What We've Done So Far
Painted the Walls & Fireplace
Installed Curtain Rods
Installed Wall Art
Purchased a New Entertainment Stand
Wish List Projects
BUILD A WOOD MANTLE (can you tell it's HOT on my list?)
Jordan wants to drywall out the upper part of the fireplace so he can install stack-stone all the way to the ceiling. #loftygoals
I'm considering making white curtains in place of the colored ones.
I'd love to add a rug and more decor.
I really want a mantle. 😉
The Kitchen
Kitchen Before
We haven't done much with the kitchen other than paint it (twice) and add some decor.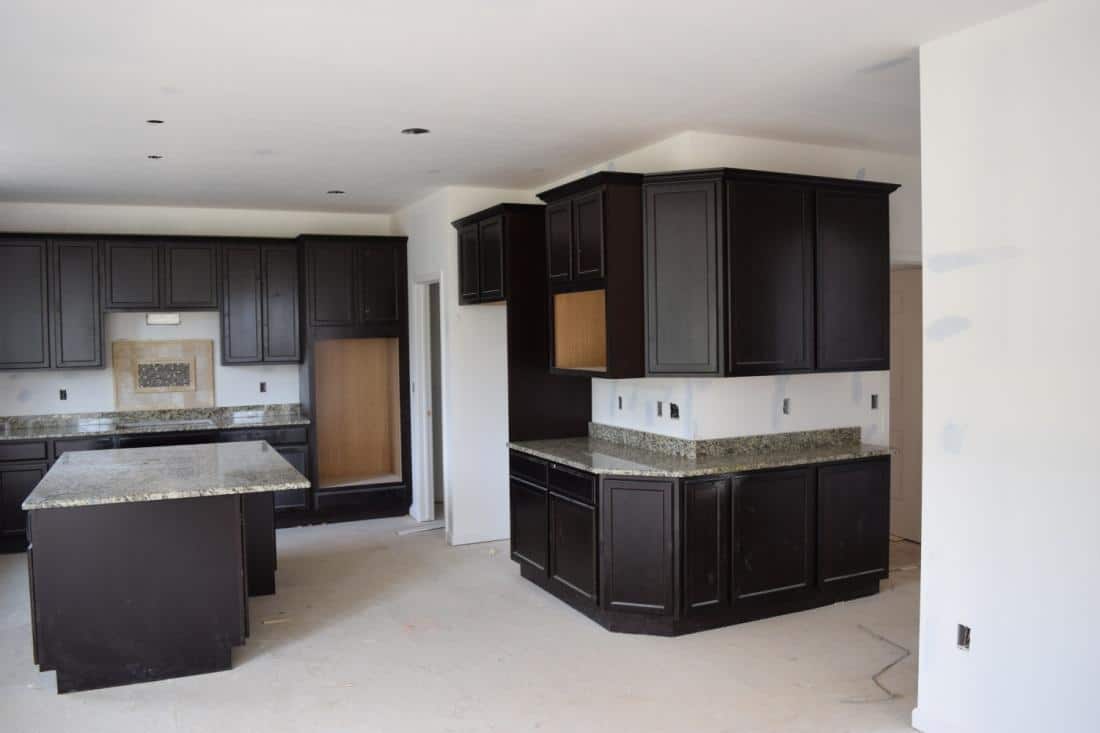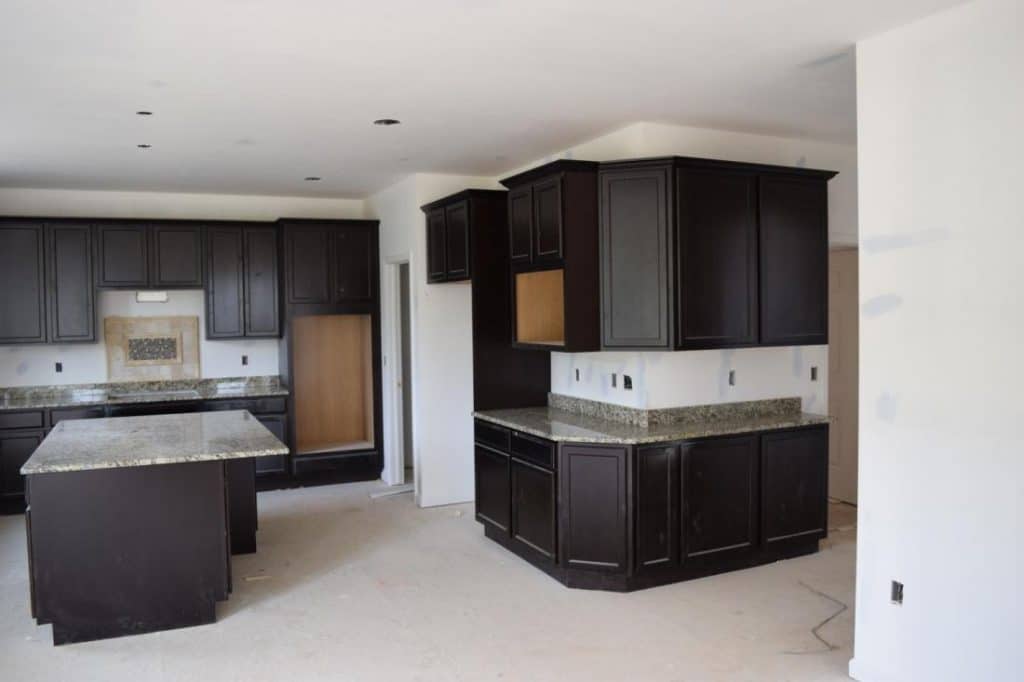 Kitchen 3 Years Later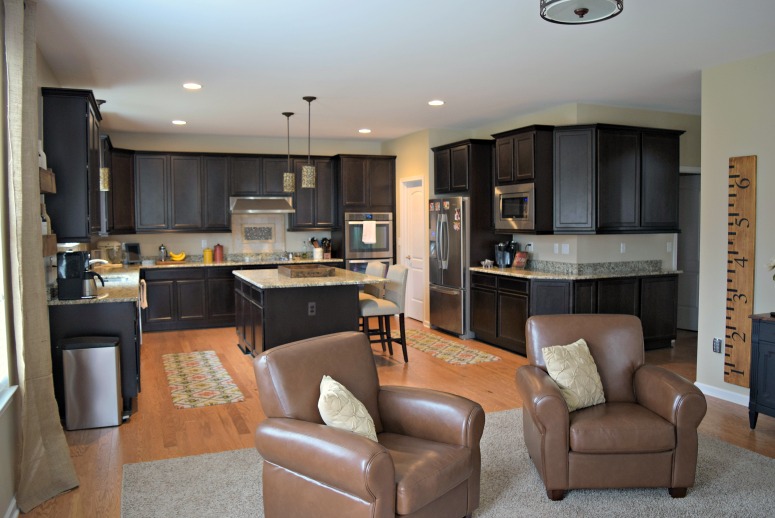 What We've Done So Far
Wish List Projects
We'd love to have lighter cabinets. Perhaps paint them white or light gray?
Jordan has always wanted to install a backsplash. Since he tiled in the powder room, he probably feels more comfortable doing it himself on a much larger scale.
I would like to reorganize the pantry shelving.
The Hearth Room
Hearth Room Before
Our home builder planned for this space to be a dining space. Jordan & I agreed to actually eat in the dining room and not let it get dusty. Since we had that dining space, this area is used every single day for morning adventures and hanging out while we're cooking dinner.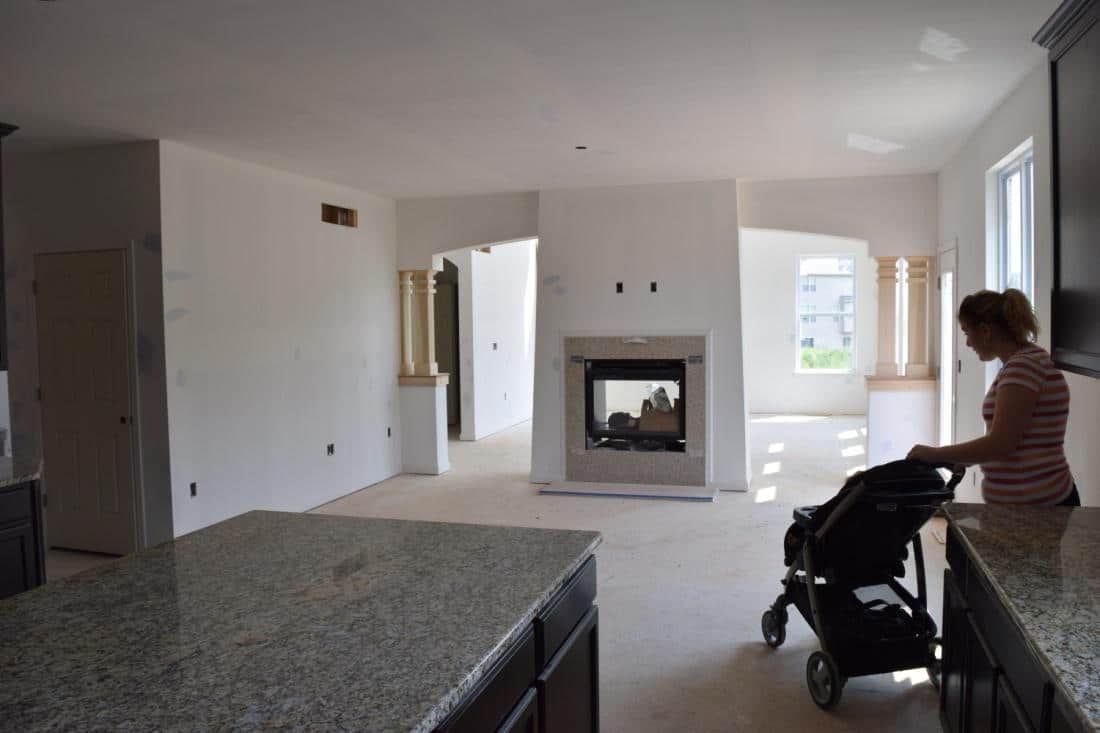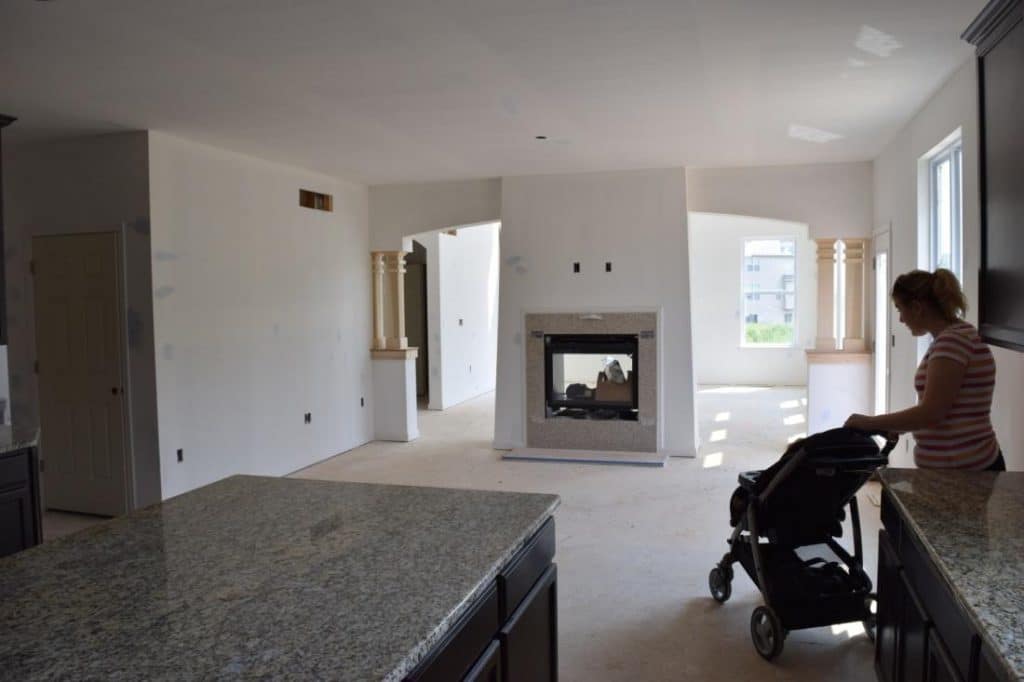 Hearth Room 3 Years Later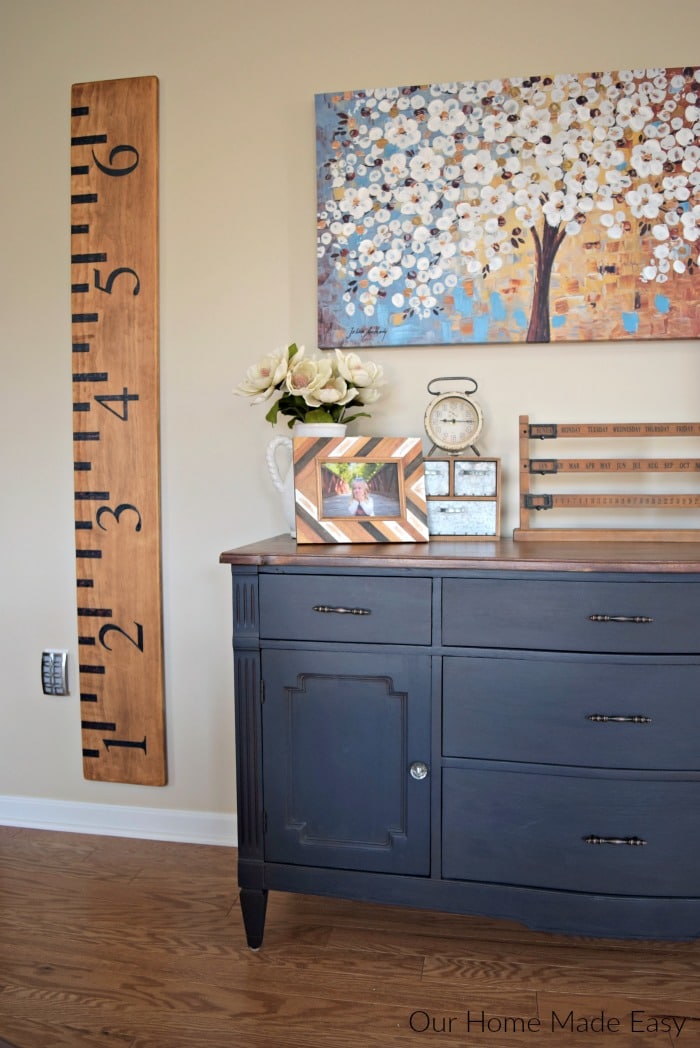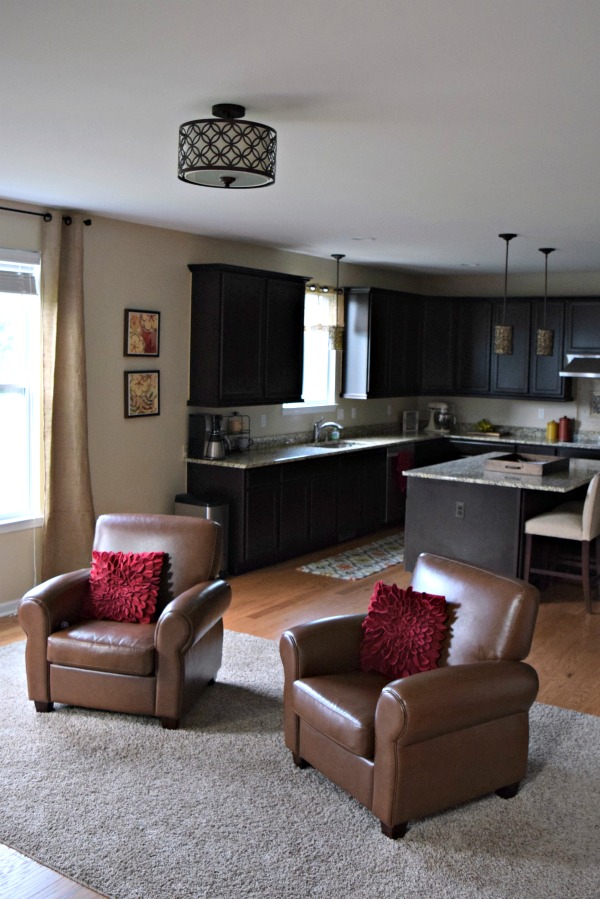 What We've Done So Far
Painted it twice
Changed out the pendant for a new fixture (You can see the project here)
Purchased 2 leather chairs
DIY Burlap Curtains
Installed TV above fire place
Wish List Projects
I'd like to add a small mantle under the TV to make it look less modern and more our style. I'm not sure how we will do that
Add more shelving
Mud Room
Mud Room Before
We haven't done anything to the mudroom in the first 2.95 years. But that is about to change. I can't wait to share our weekend DIY project! In the meantime, this is how it's looked to us every single morning since we've moved in.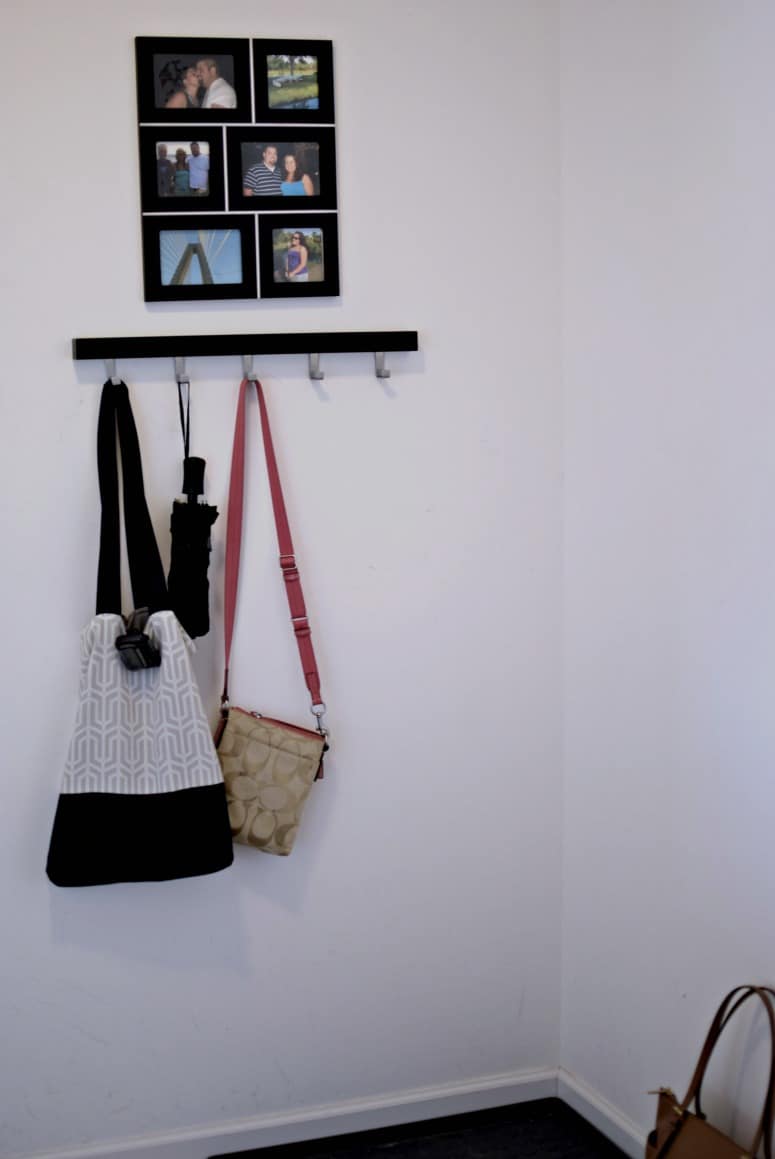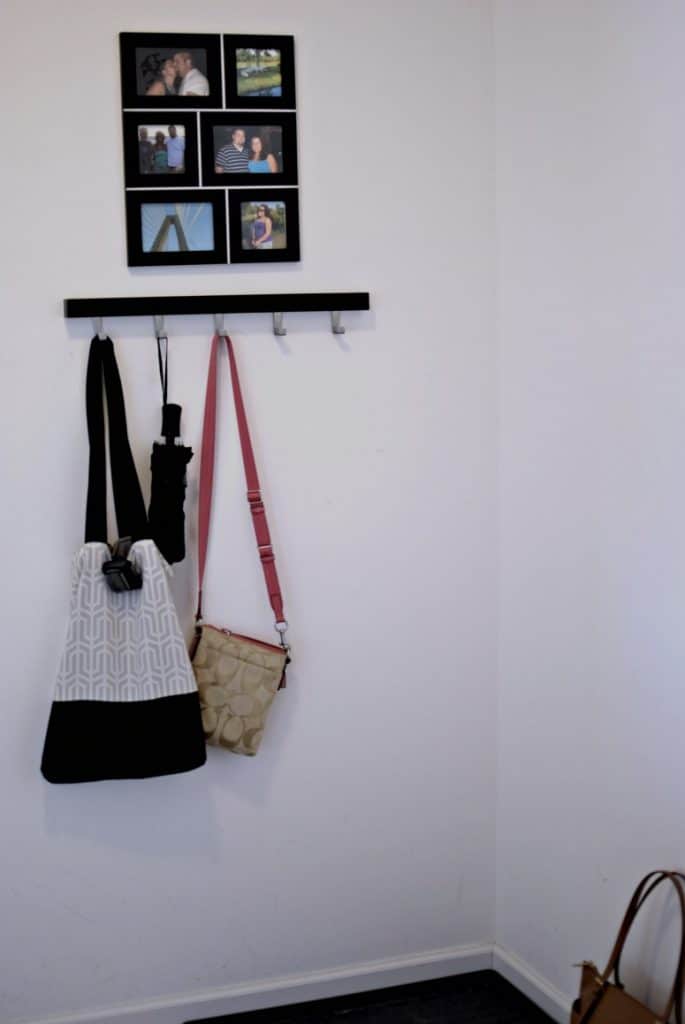 Mud Room 3 Years Later >>> It's a Surprise!
What We've Done So Far
Installed Motion Sensor Light
Hung a Small Hook for Keys
Wish List Projects
A whole revamp of the room to make it more functional.
Paint the room
The Master Bedroom
Master Bedroom Before
This room is too large for my small-decor mind to process. It's been difficult to style without having a large budget. And it hasn't been a focus since we've been trying to update rooms that people actually see. Unless you are Aubrey in the middle of the night, not many people ever come to see the latest decor in our room. 🙂
I created an entire post dedicated to updating our master bedroom. Unfortunately, the timing hasn't worked out (for reasons above). It's always seemed like a better project to do something that other people could appreciate, rather than just ourselves.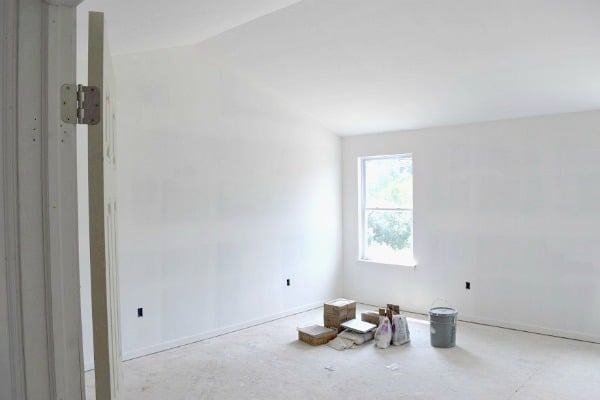 Master Bedroom 3 Years Later
What We've Done So Far
Painted the Room
Installed Window Treatments
Wish List Projects
Closet Shelving Makeover
Give the Walls Character
Kid's & Guest Bedrooms
The Other Bedrooms Before
They are basic bedrooms 🙂 Nothing too fancy over here.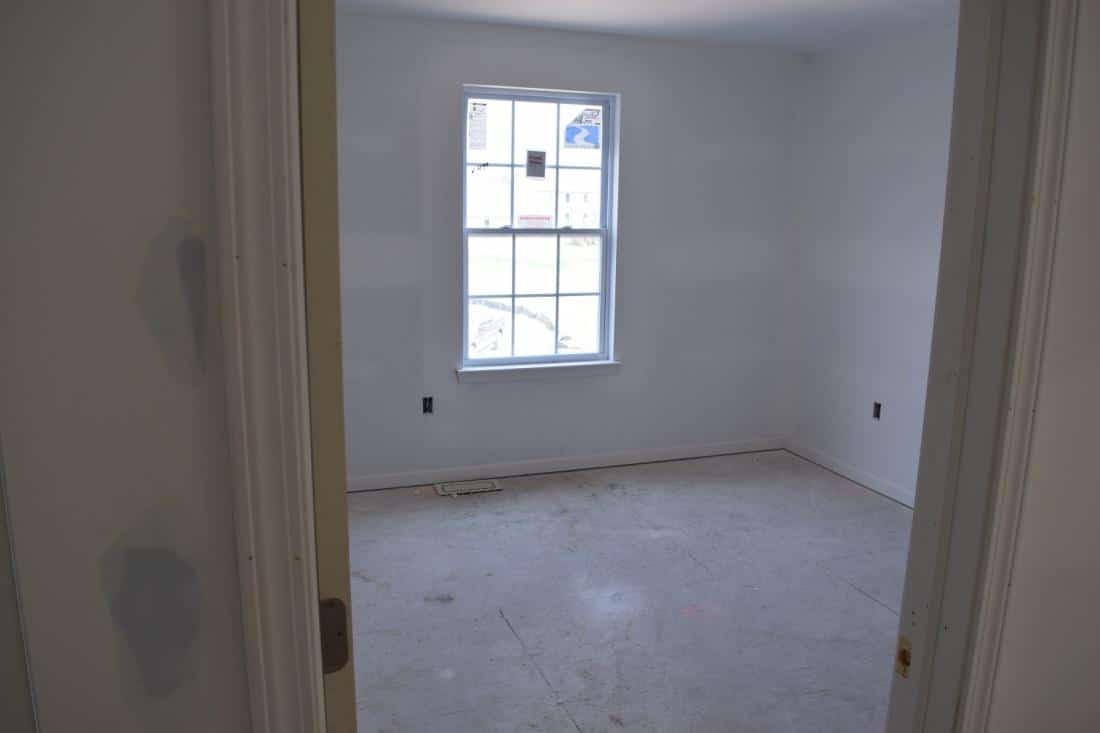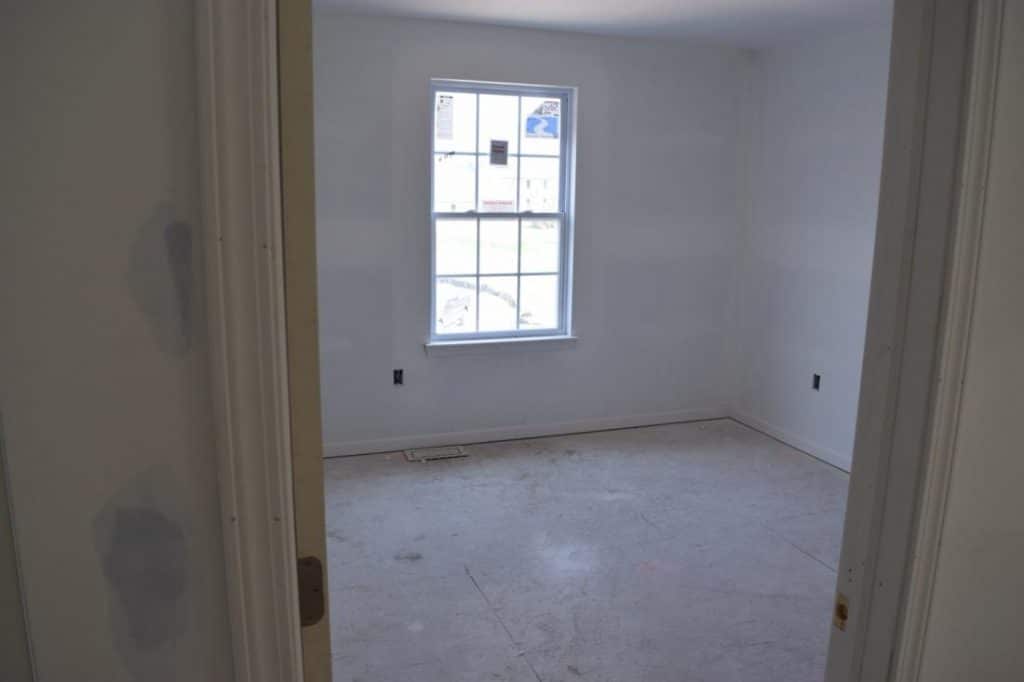 The Other Bedrooms Years Later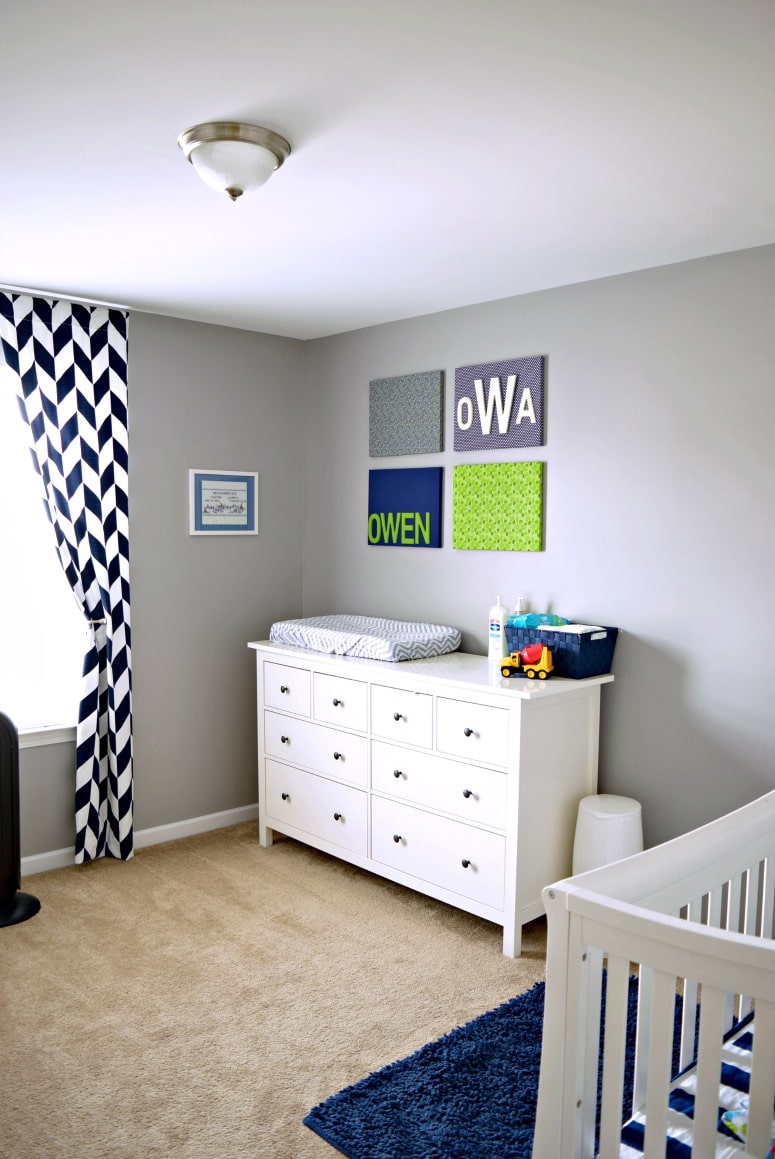 See more about Owen's Nursery here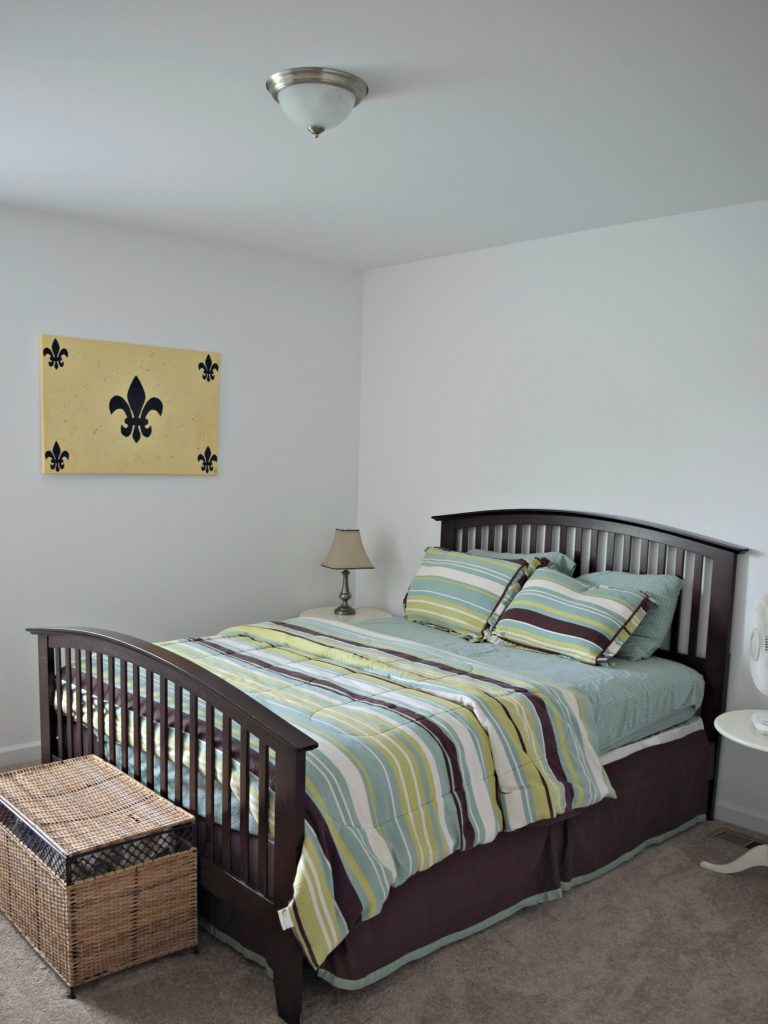 What We've Done So Far
Painted the Kids' Rooms
Decorated Both Kids' Rooms
Changed Out Aubrey's Light for a Fan
Installed a dimmable light for nursery
Wish List Projects
Possibly Move Aubrey into the Spare (consequence of 2nd floor laundry)
Decorate Spare Bedroom
Install Ceiling Fan in Owen's Room
Master & Spare Bathrooms
Bathrooms Before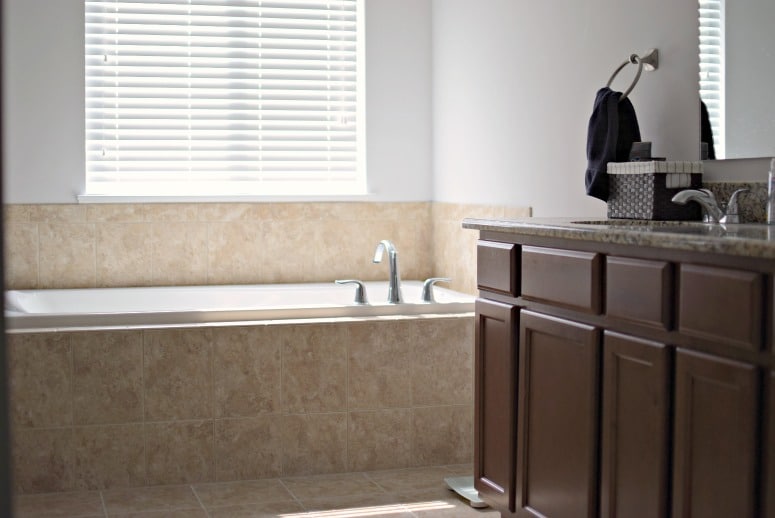 Master Bathroom Above — Spare Bathroom Below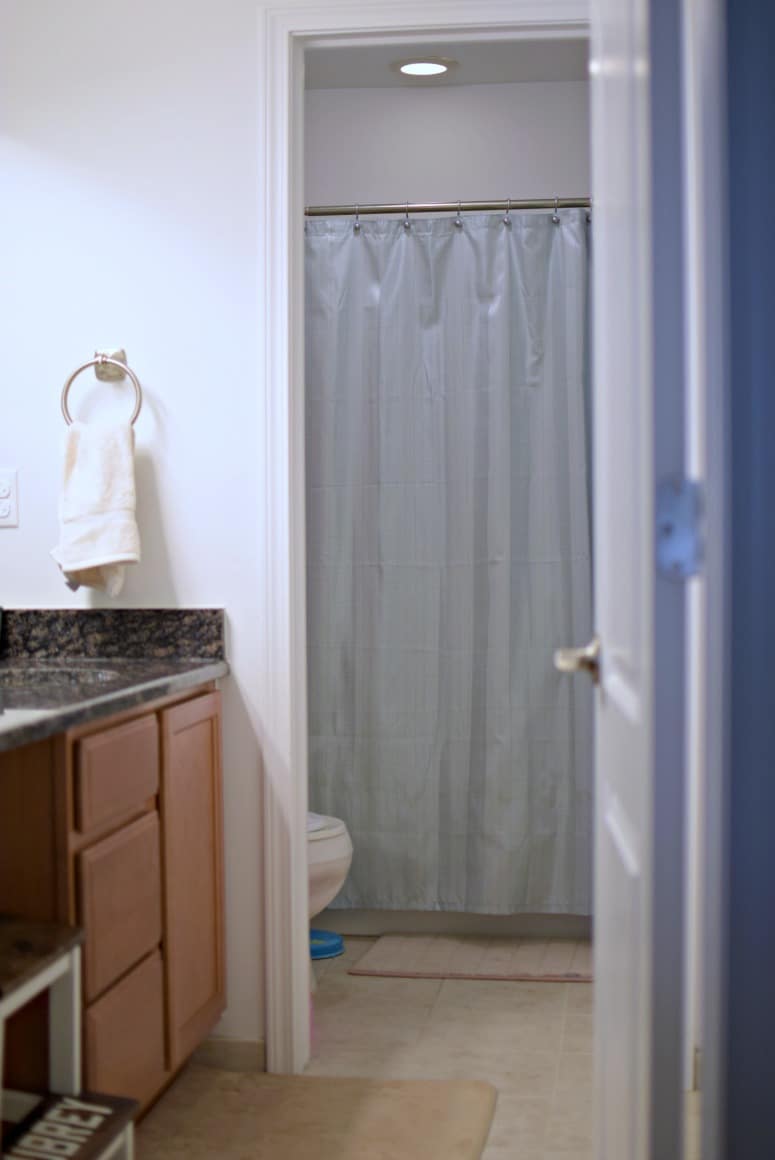 Bathrooms 3 Years Later Still look the same!
What We've Done So Far
Nothing to either one!
Installed Towel Rungs, Toilet Paper Holders, etc…
Wish List Projects
I'd love to paint the Master Bath (we have the paint, need more time)
Install Shelving and Finally Decorate the Master
Plan a Decor Theme for the Spare Bathroom
Paint Bathroom Cabinets (eek!)
The Laundry Room
Laundry Room Before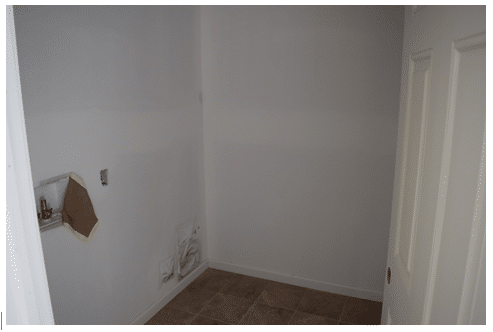 Laundry Room 3 Years Later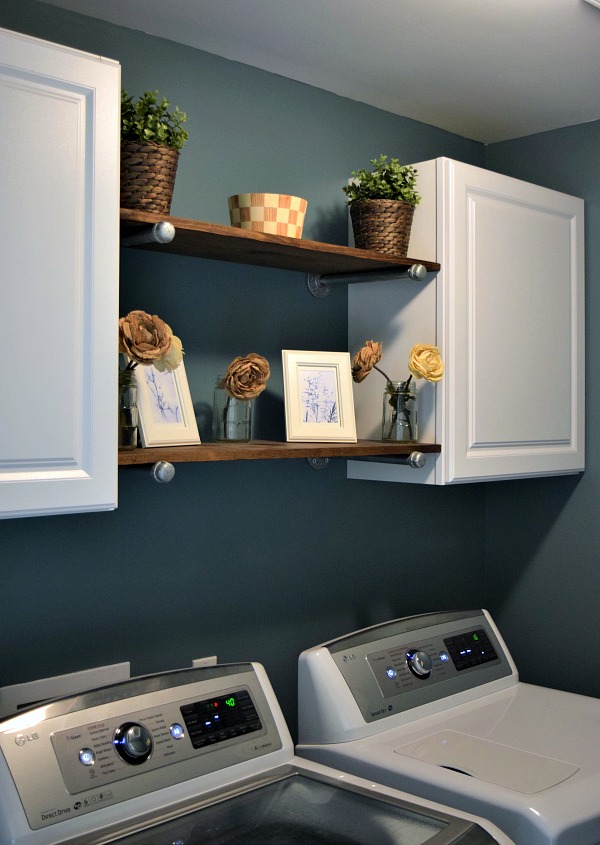 You can see more about our laundry room makeover here
What We've Done So Far
Painted
Installed Cabinets
New Washer & Dryer (on our second round in the house. Grrrr.)
Installed Shelving
Wish List Projects
Add more decor
Maybe Paint it a lighter color with leftover paint? (Shhhh…Don't tell Jordan)
The Basement
Basement Before
Don't worry that's not a water problem. I think someone was working downstairs on a project. The basement is more than 1750 square feet of playground for Aubrey & Owen. Jordan has built a small tool empire with several cabinets, work spaces, and tools. It's a very functional area for him to work and the kids have fun everywhere else.
We opted for 9′ ceilings when we built the house, so it gives us plenty of options– for the future.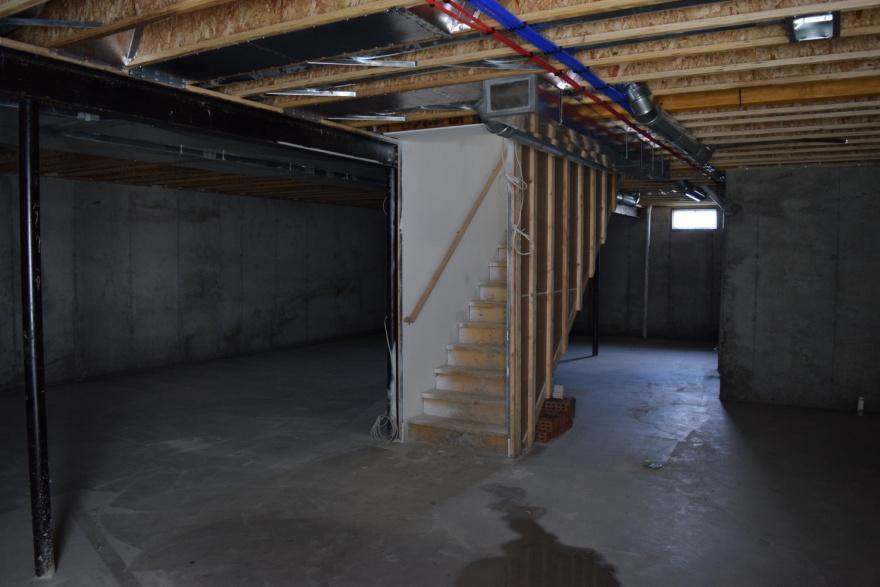 Basement 3 Years Later
What We've Done So Far
Built Wood Shelving for Totes
Bought a Large Carpet Remnant for the Kids to Play On
Created a Workshop for DIY projects all the time!
Installed Motion Sensor Lights for Coming Down the Stairs
Hung Lots of Hooks to Keep Wreaths and Ladders Organized
Created shelving for my sewing supplies
Wish List Projects
More Wood Shelving?
While the basement is plumbed for a full bathroom and there is a legal bedroom space, we don't have any plans to add anything right now. I can only assume that what I'd use the basement for as a toddler mom will be very different than the needs of our family in 10 years.
Whew. That's it! We've been really lucky to enjoy working around the house in the few years we've been here. This place went from some very stark white walls and is slowly turning into a home for our little family. We've made so many memories (and brought Owen home) that it's more than just color and wall decor for us.
Jordan & I were just talking about how we've been in Michigan for more than 3.5 years. it's the longest we've lived anywhere in our adult lives. When it comes to DIY projects, we like to balance making our home pretty, functional, and appropriate for resale. We know that there will always be another place for us to live– but in the meantime we'll be working on a new project.
Thank you for walking down memory lane with me!