Budget Powder Room Reveal [ORC Week 6]
Here is an easy DIY budget powder room makeover! We used easy projects to go from builder grade blah to modern style with simple & easy projects.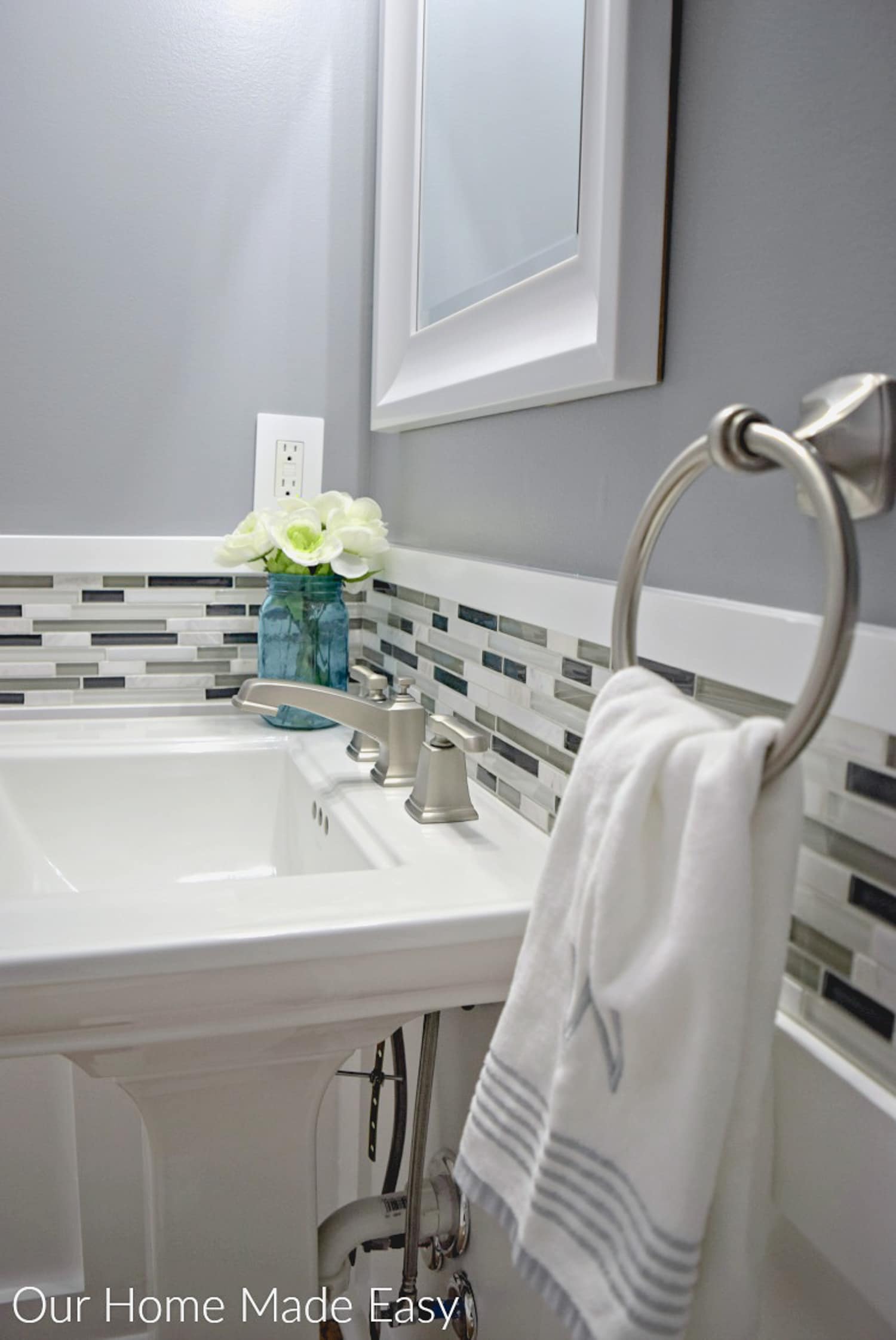 AHHHHHH!!!! It's finally here! Can you believe it has been one whole month since the One Room Challenge started? Everything happened so quickly. I cannot wait to show you the powder room finally finished. And you, guys our marriage is still a thing, so we survived 🙂 This was such a fun challenge, but gosh, it was work. With only having the weekends to do projects (and add in a holiday), we were constantly pressed for time.
If you've never stopped by this corner of the internet, I'm Brittany. I am super passionate about sharing easy and quick tutorials. I love creating simple projects that any busy mom can actually create— even if she doesn't have a lot of free time.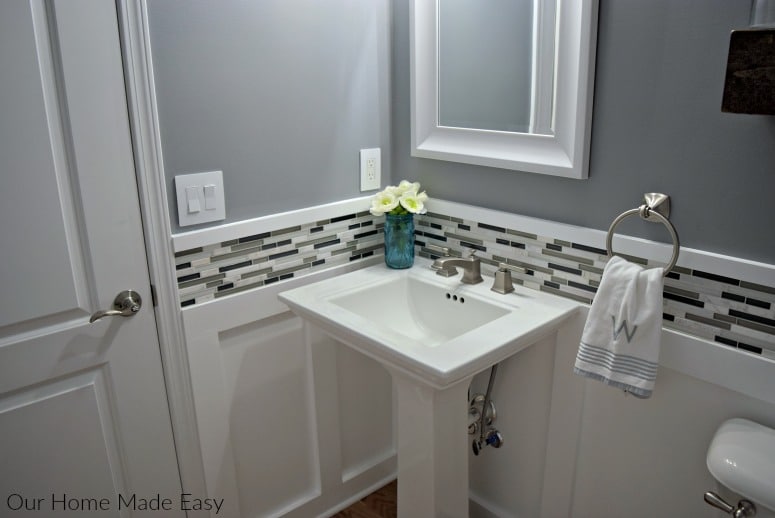 The One Room Challenge is sponsored by Linda at Calling it Home. Each week you can see the guest blogger's latest updates at Calling it Home. It's a great opportunity to see so many design styles, find potential DIY projects for your own home, and finally — a finished room!
This week I filled in the empty spots in the powder room and decorated the space! I can't wait to show the finished room. But first, let's remember the super dark and lack of character 'BEFORE…'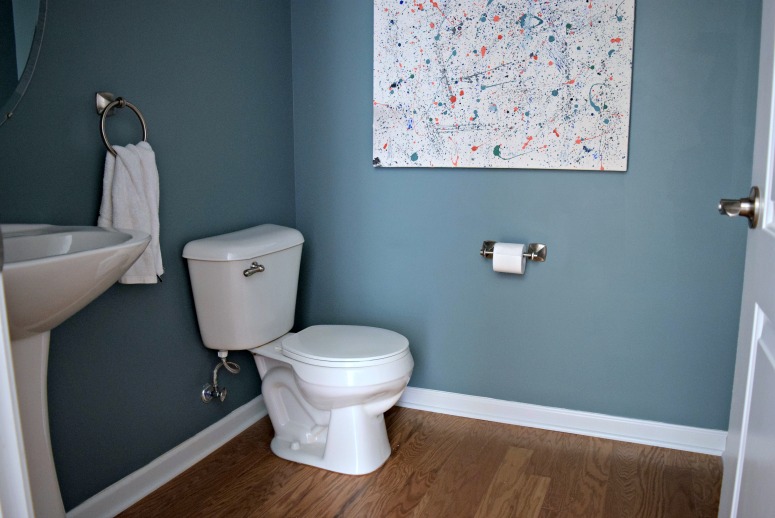 Don't forget this was only 5 weeks ago!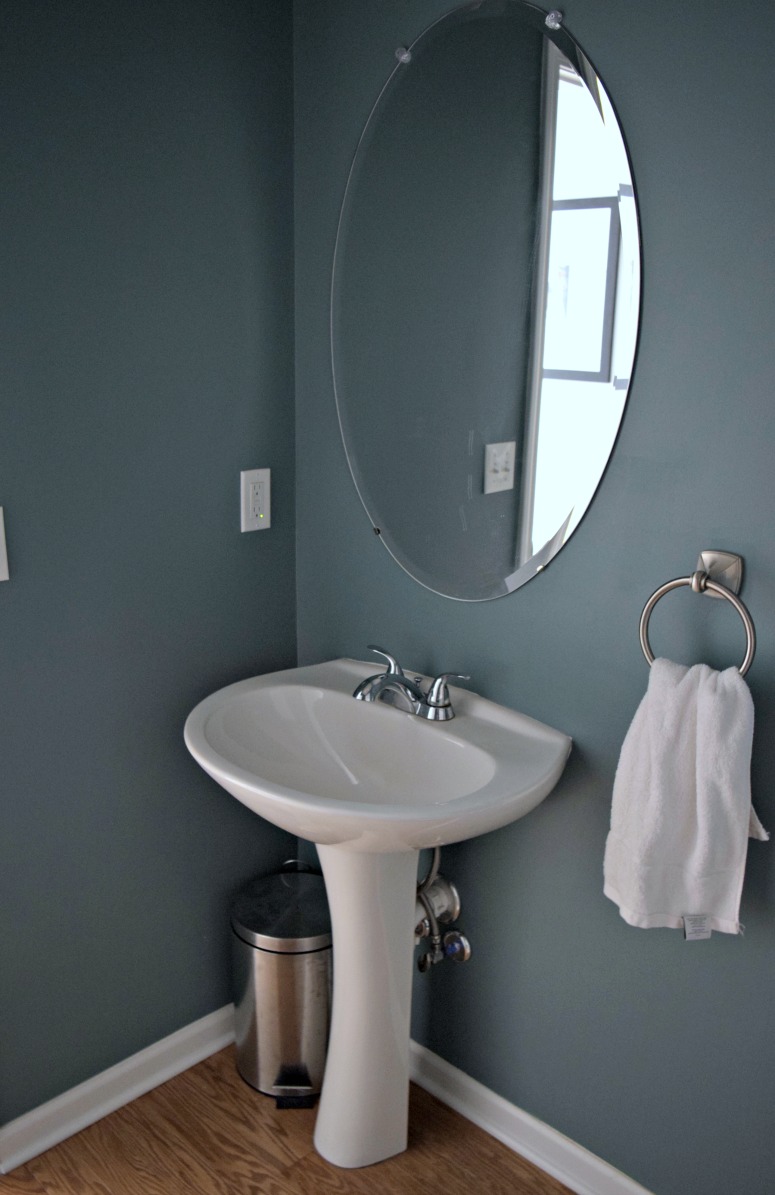 (This post contains affiliate links. If you shop from my blog, I may be compensated for clicks or purchases that you make. Read my disclaimer page for more information.)
And here was the design plan!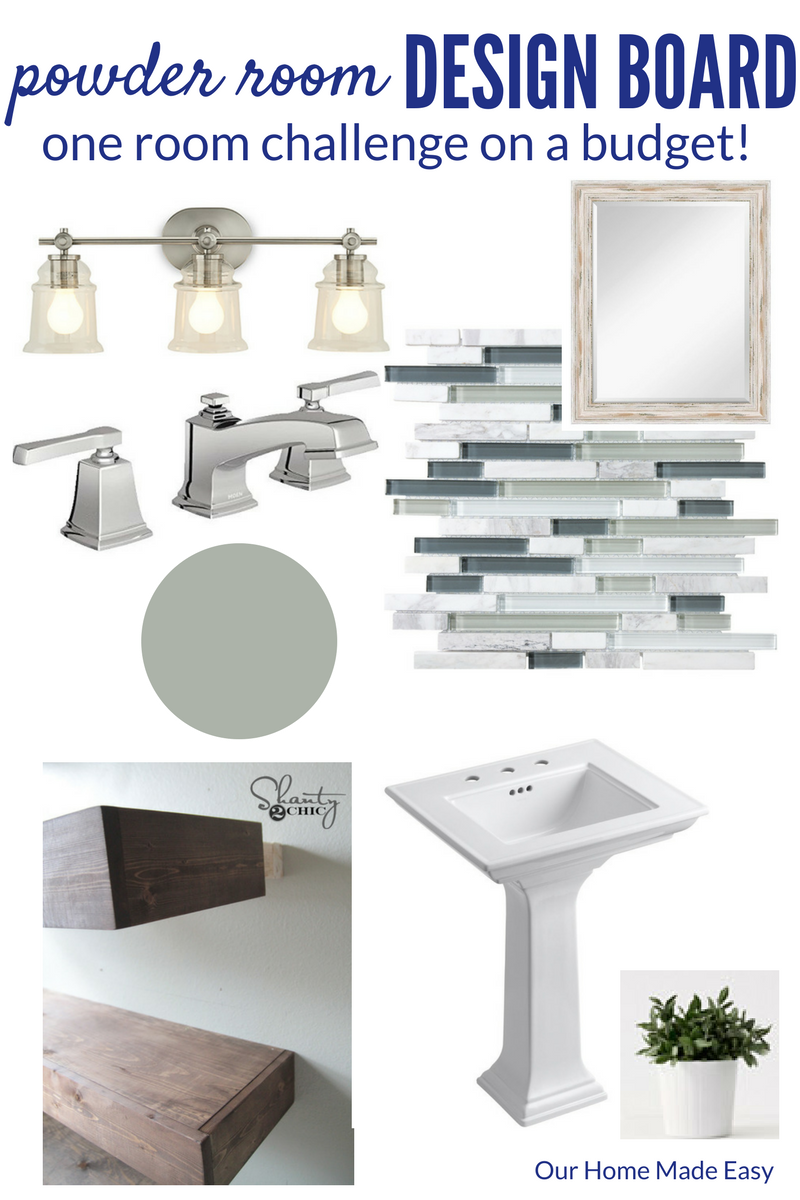 I am really proud that I stayed as close as possible to our plan. We are super visual people, so it was helpful to take the time, pick out the pieces individually, and then place them on a board.
And here is the Powder Room looking a little bit fancier these days…. drumroll please!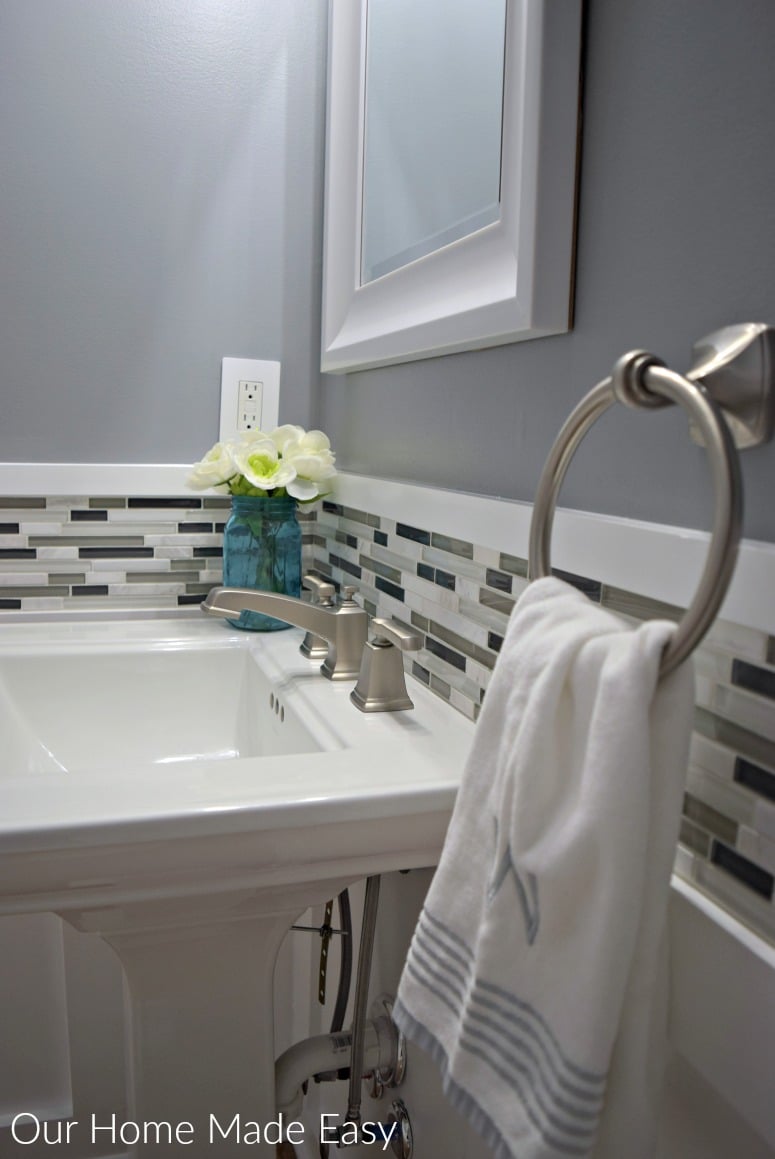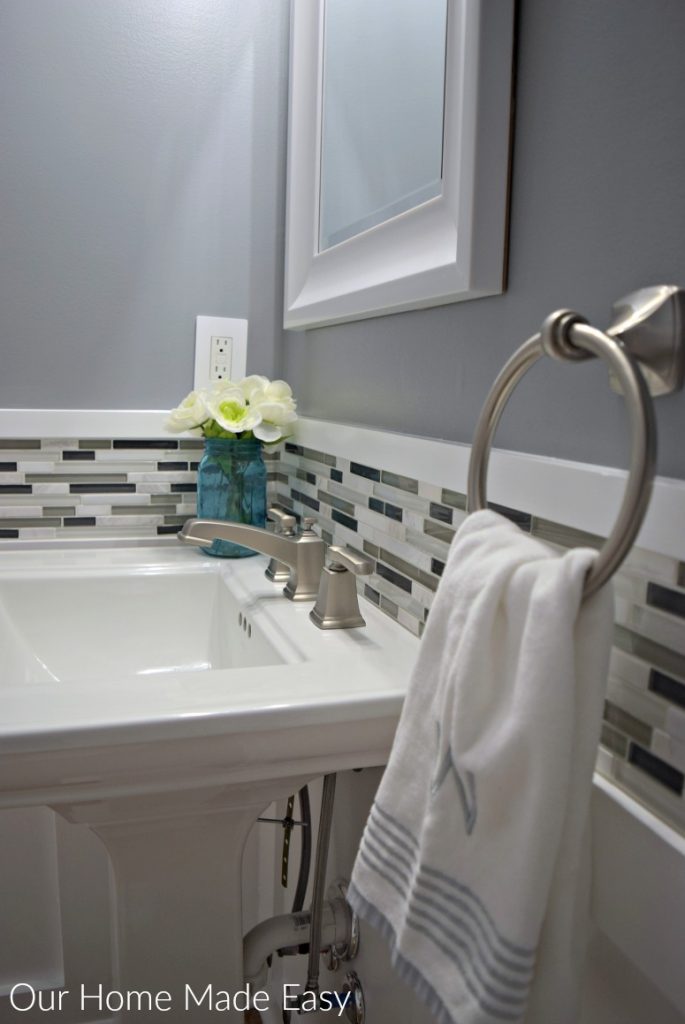 You guys, I wish I could bring you over the house in person. The powder room has no natural light, so it was difficult taking great pictures! Bear with me and let's walk through my little cave-like powder room… 🙂
I found the hanging window frame at Home Goods for less than $20! It was a total steal. However, it was super rustic and was more yellow in color than white. I used some leftover eggshell bright white paint and quickly covered it up. In the near future I'll be on the lookout for large 5″x7″ prints. I simply ran out of time. 🙂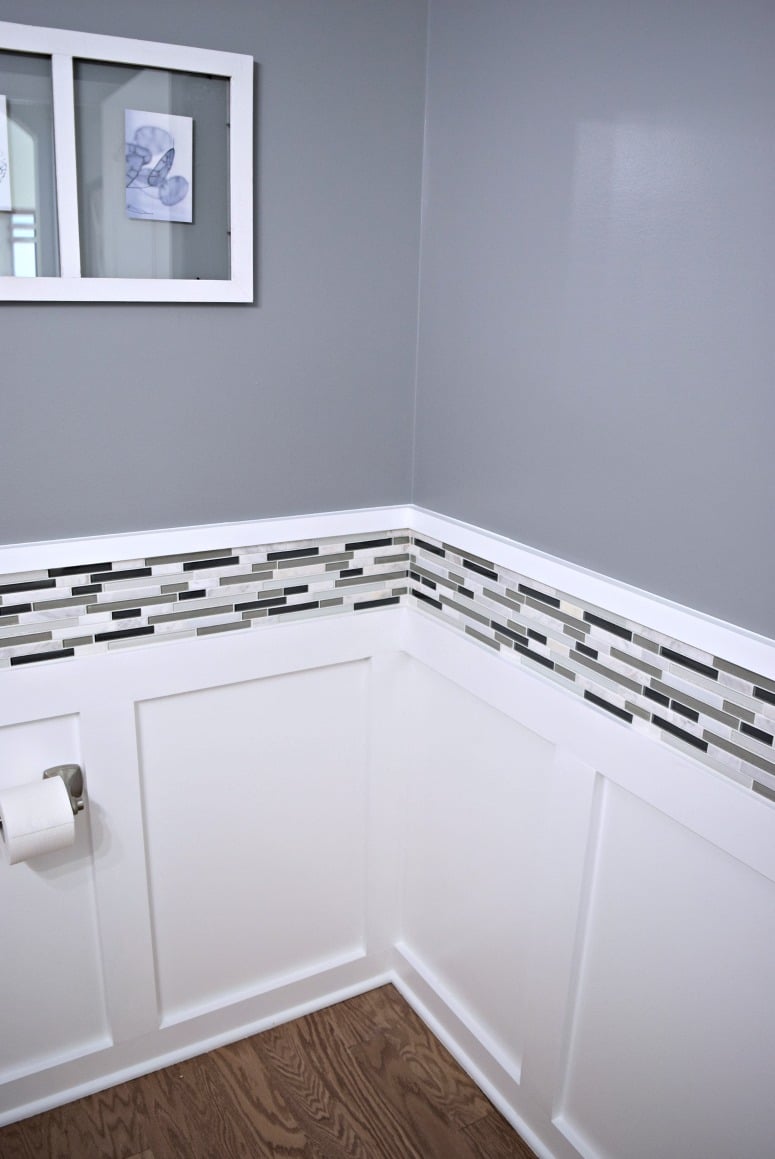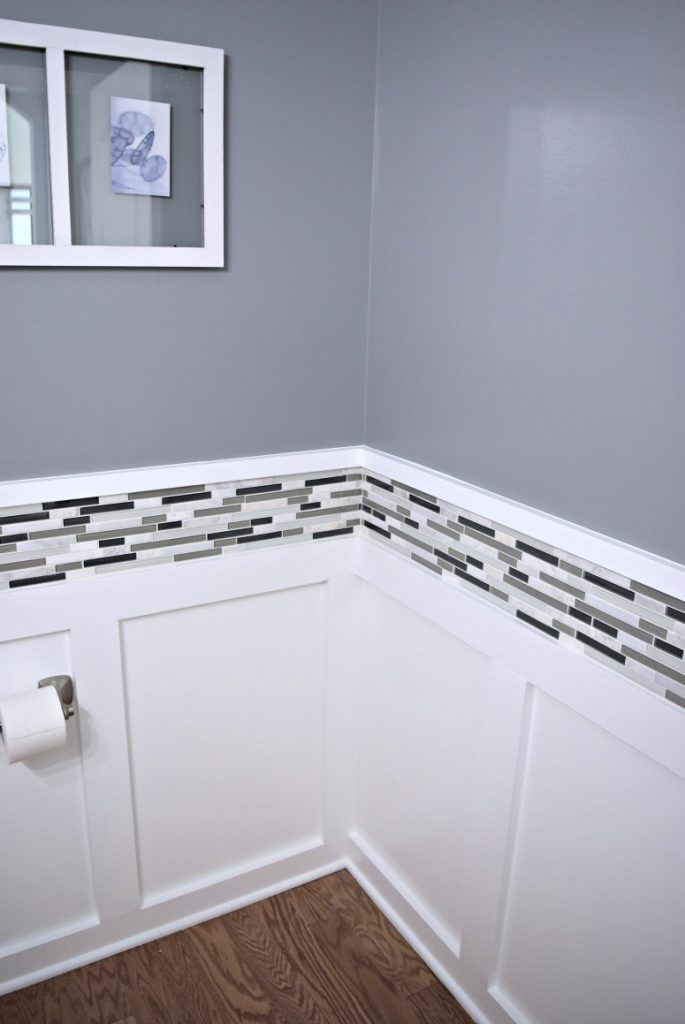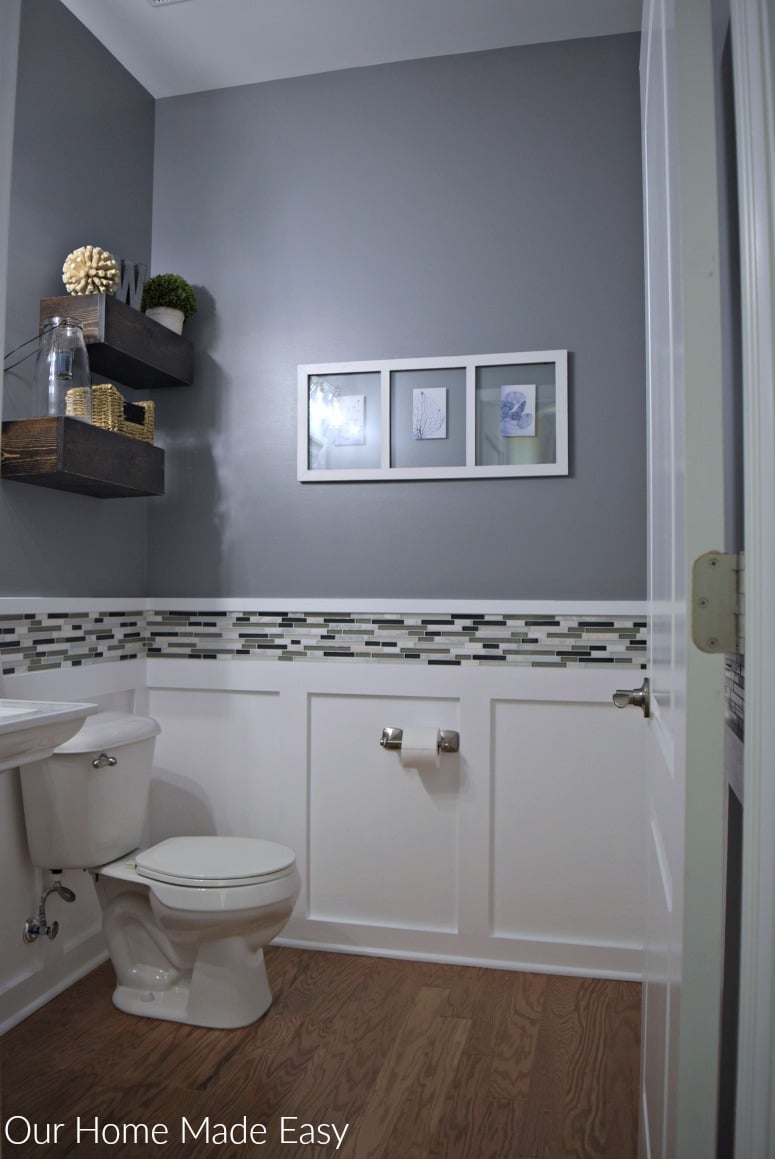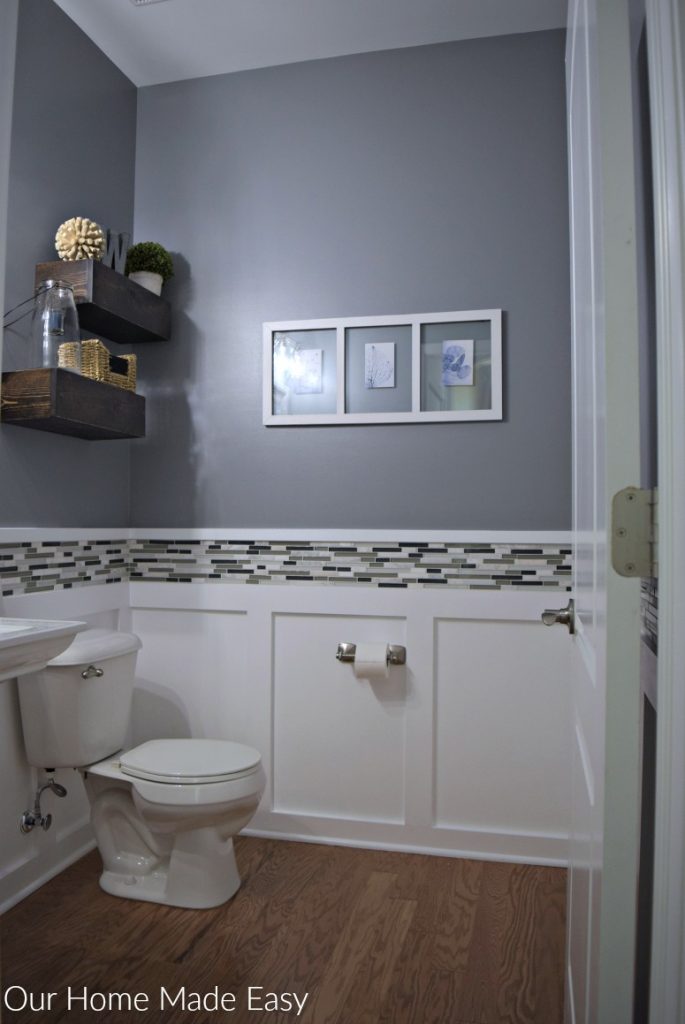 Wandering what we accomplished over the past month?
Our To-Do List for the Powder Room
Removed existing mirror
Grouted
Added wood border
Painted walls
Removed old sink
Installed new faucet
Installed new switch covers
Installed new plumbing in the toilet
Removed existing light
Finished wall treatment (caulk & filling in nail holes)
Hung a new mirror above the sink
Installed new light
Decorated!
Doesn't it look awesome? I am so proud of the work Jordan did on this room. I tried to help out as much as I could shopping ( 😉 ) and setting up & tearing down the room as he worked.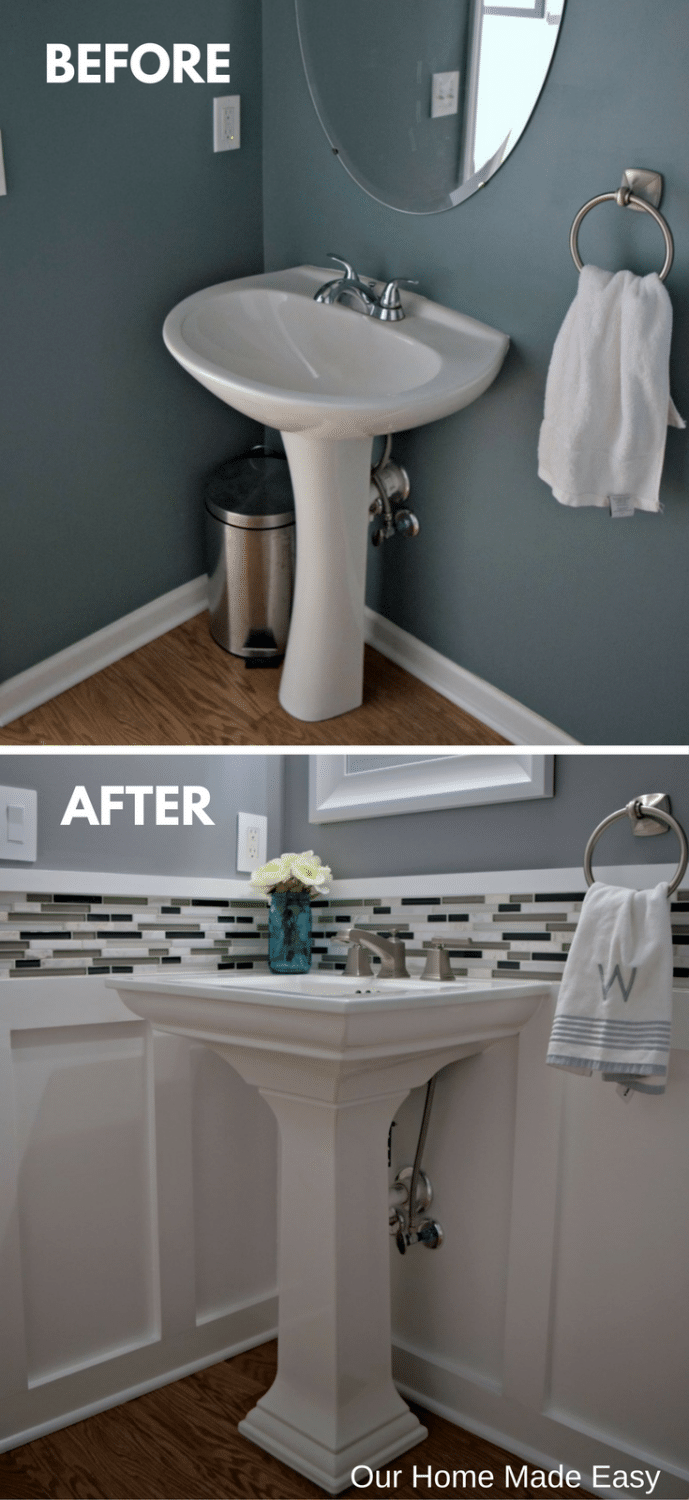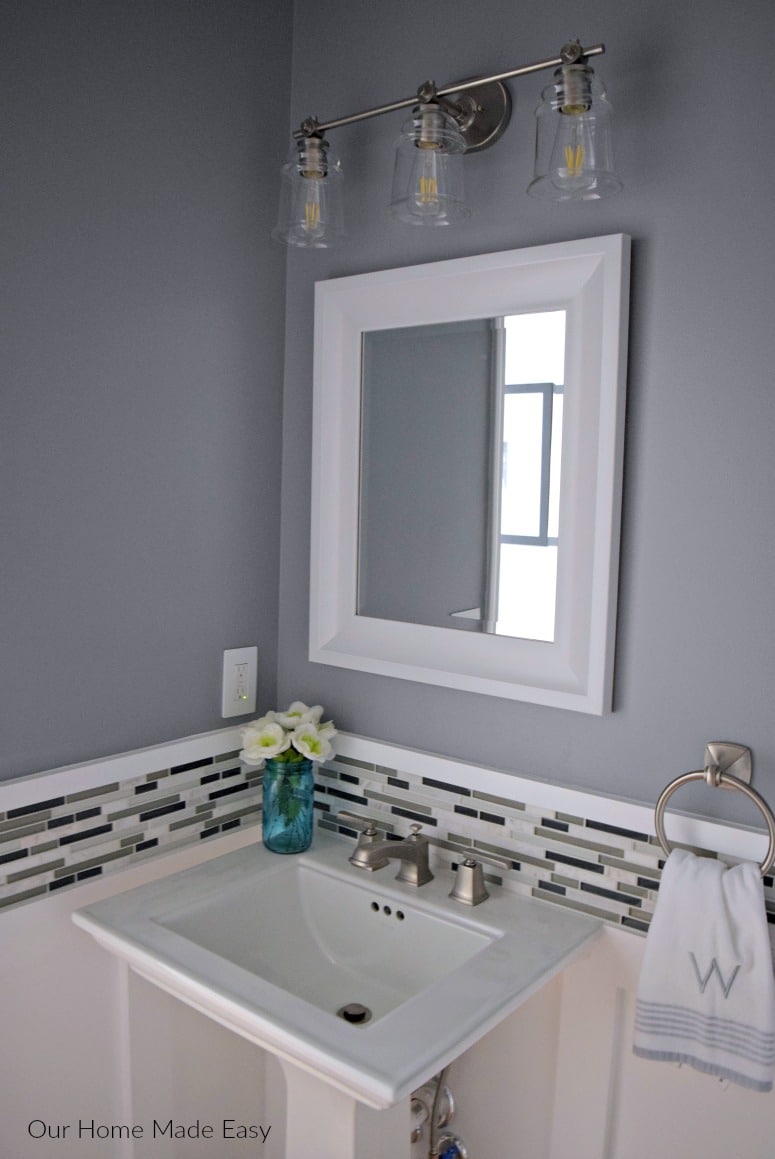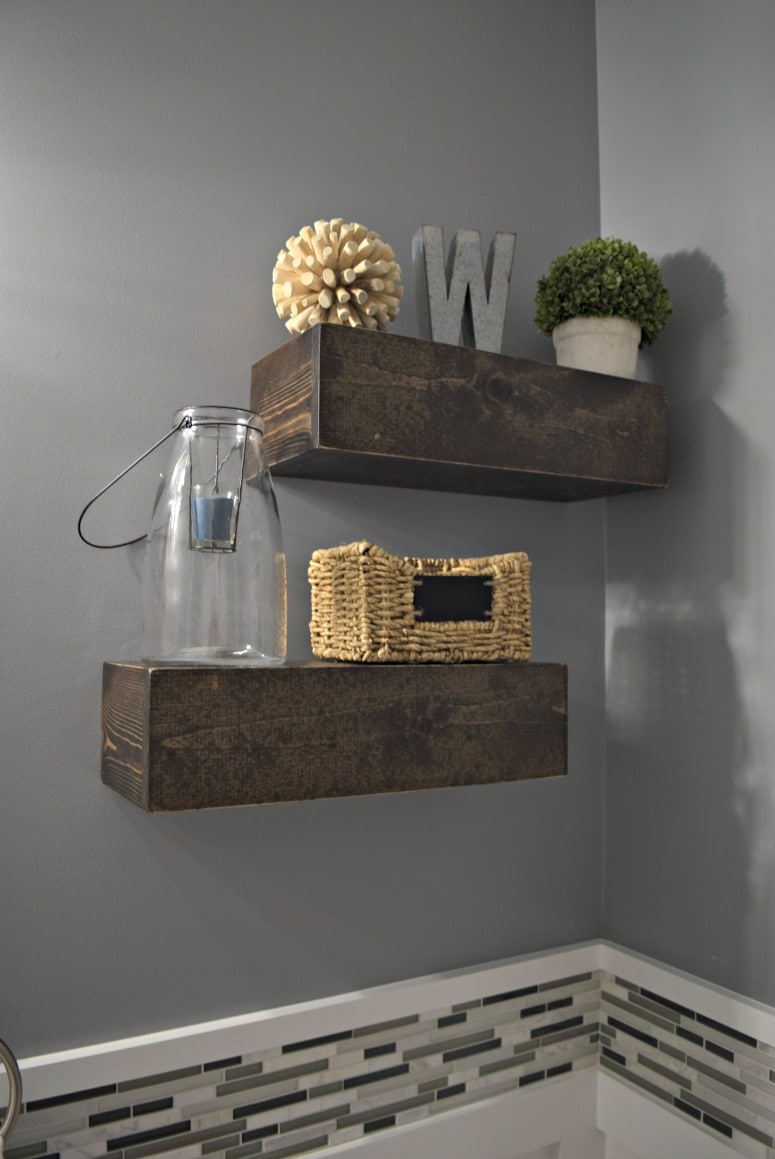 I love how the floating shelves are fun to look at it and give me a spot to store away extra items for visitors. Bonus– can you believe I picked up that glass lantern for less than $10? It was my deal of the day! Every item on the shelf was less than $10 apiece. At Home Goods, I picked up most of the decor, including the basket, which was only $4.99!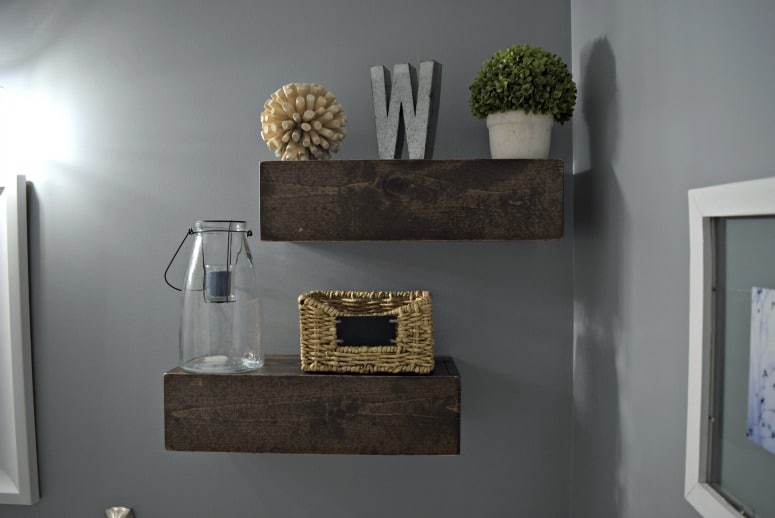 It's turned into my favorite space. Even Aubrey told Jordan that she loves it. 🙂 Whew. After this crazy busy makeover, it's time to give Jordan (and our wallet) some much-needed rest!
I am so happy that we participated in our first ever One Room Challenge! It was a fun experience because it made us actually finish a room and be quick with decisions! Sometimes we wait too long debating what the 'right' answer is on our projects. While the ORC happens twice a year, I think it may be quite some time before I can convince Jordan to do this again. 🙂
Sources for the Powder Room Makeover
Take a look at the Powder Room progress here:
Week Six: The Final Reveal! [You're Here!]
PIN FOR LATER: