Here are the most important things to know before you start DIY board & batten walls! Learn the tricks to making the project so much easier! Choosing traditional wainscoting vs board & batten?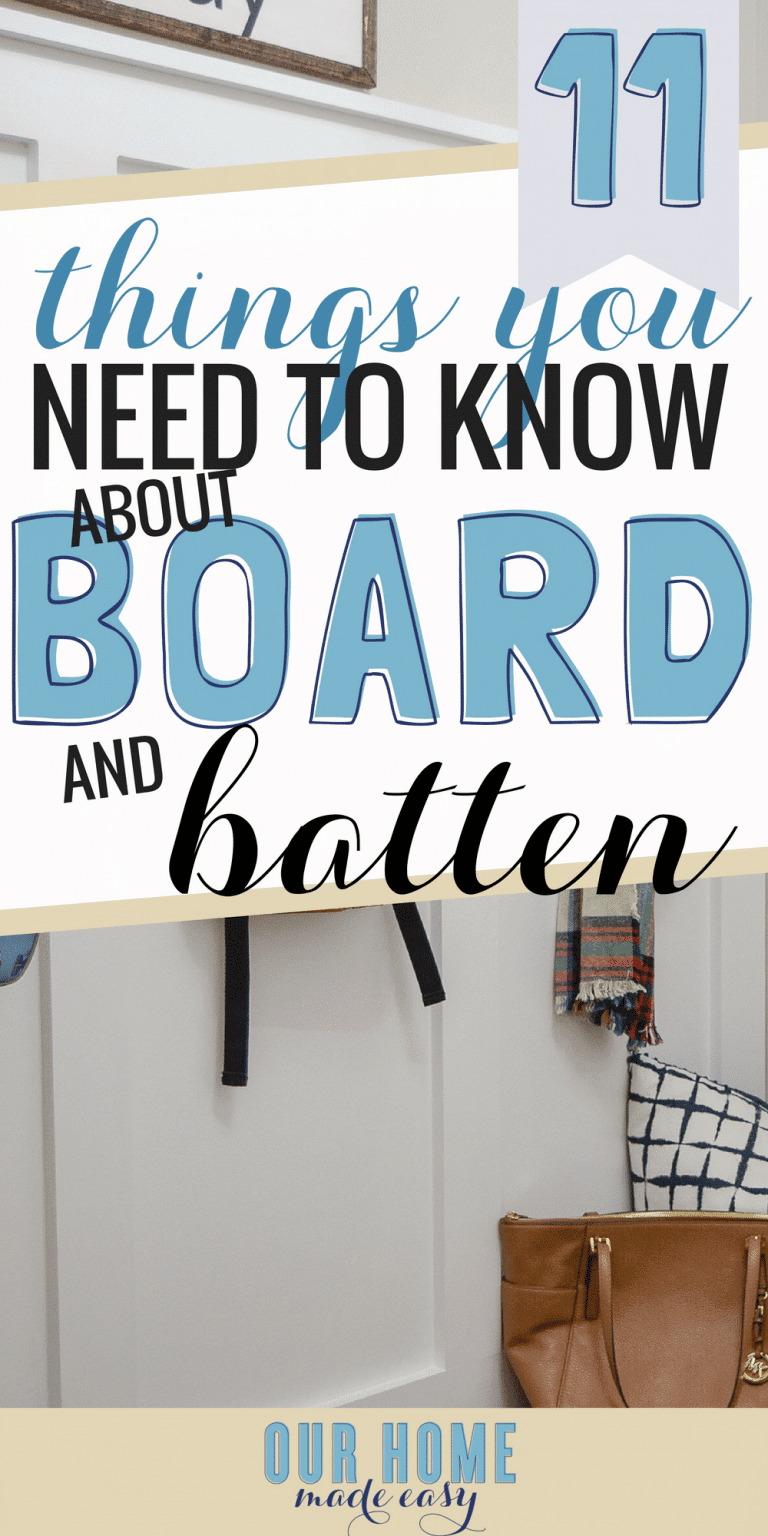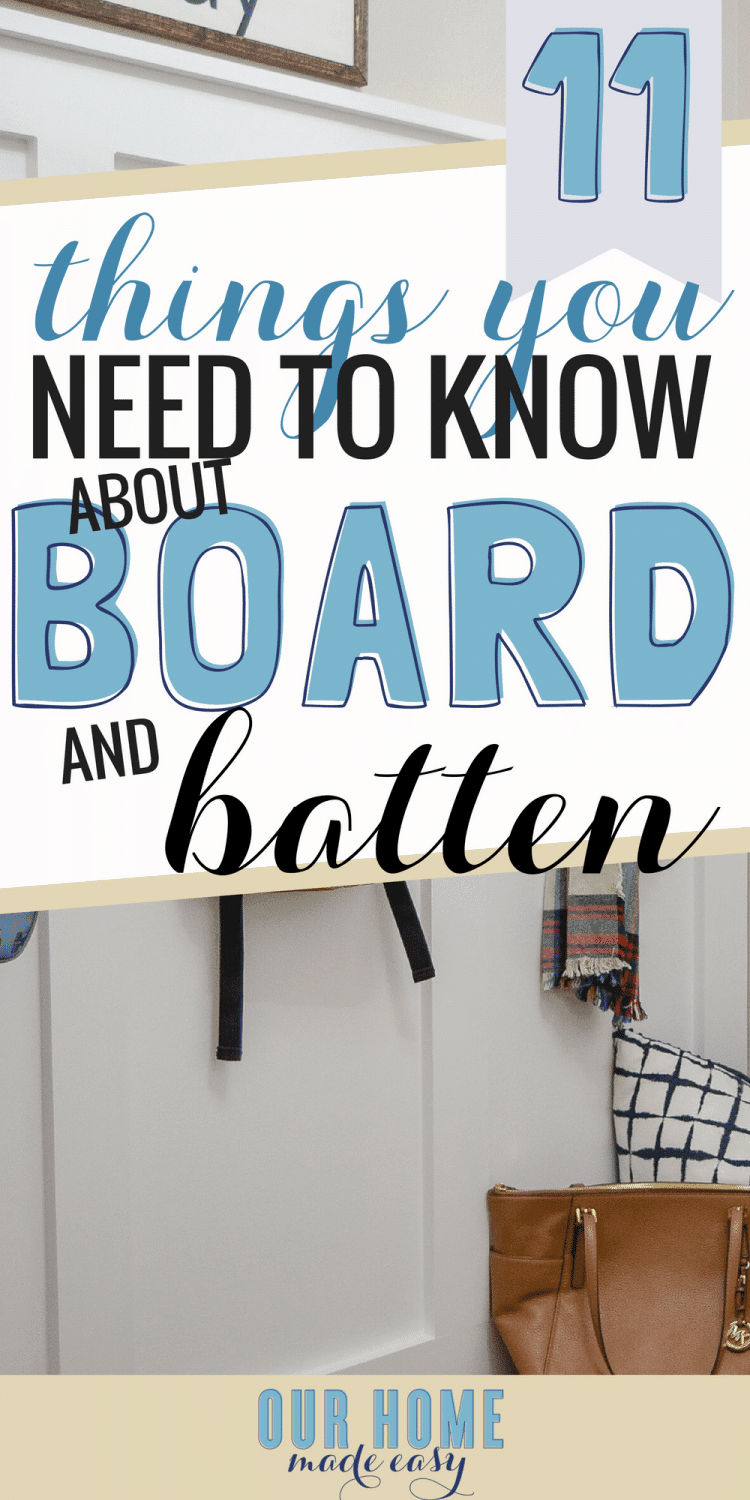 Hey there! I am Brittany from Our Home Made Easy. Over here I am passionate about sharing easy DIY projects and easy recipes to busy moms (like myself!). If you weren't here last week, welcome! I am participating in my first ever One Room Challenge.
We are doing a budget-friendly powder room makeover for the challenge. If you missed last week's powder room makeover design board, definitely check it out. This week I am showing our latest progress AND the 11 things you need to know before making board & batten walls!

The One Room Challenge is hosted by Linda from Calling it Home. Each Thursday, guest bloggers from the internet link up their latest project for the 6 week challenge. On the 6th week, the bloggers link up their Final Reveals! For this challenge, my husband & I are giving our little powder room a much needed refresh!
If you need to remember how the powder room looked like just a few days ago, here is the before…
Pretty dark, right?
Fast forward about 36 hours and here we are this week! Light and bright(er)!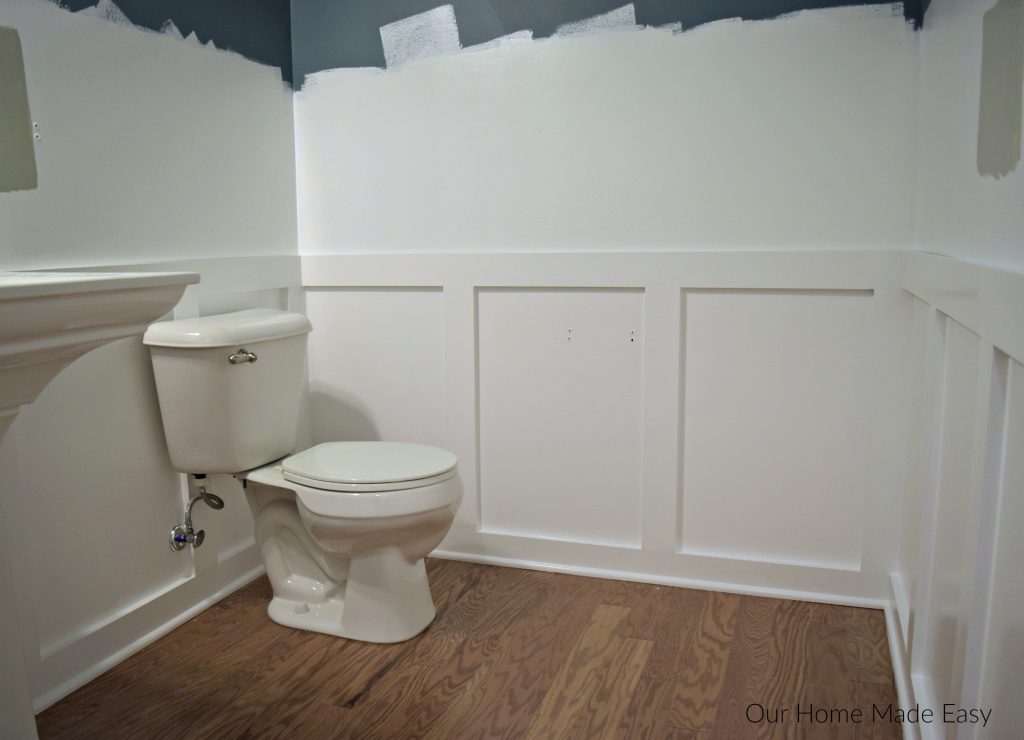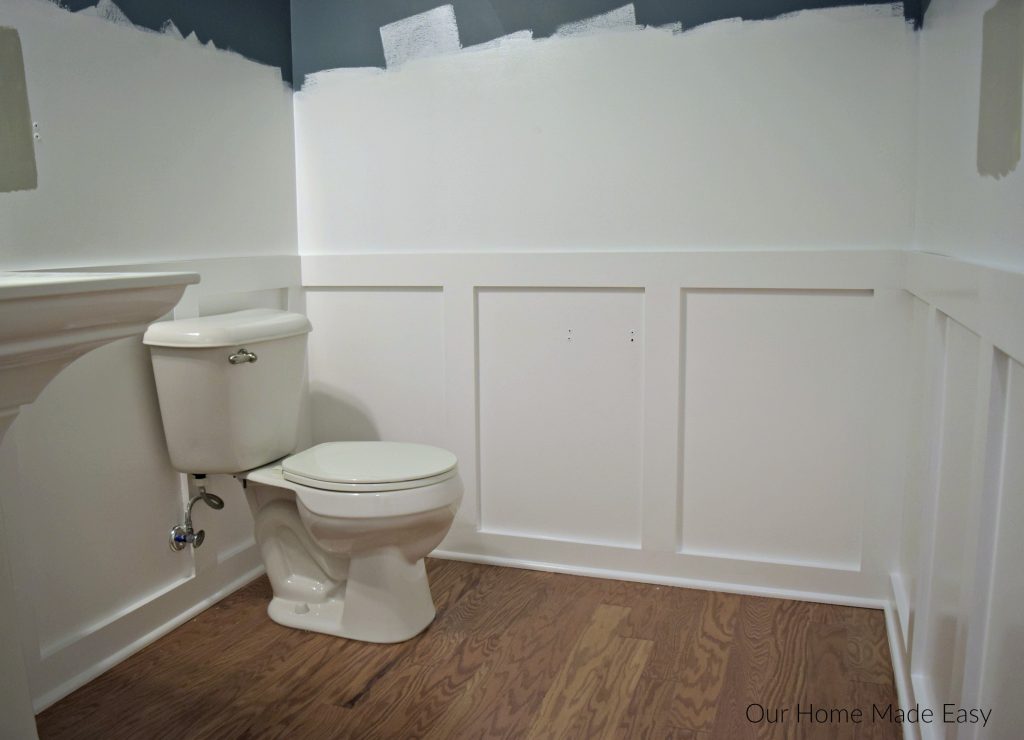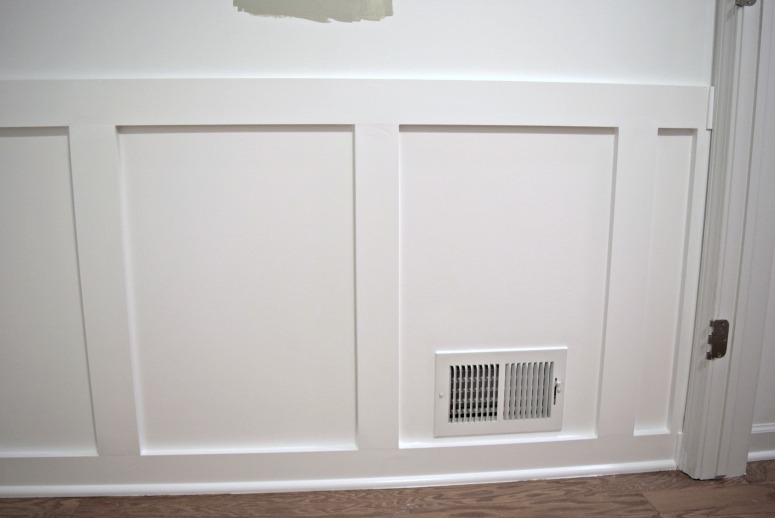 (This post contains affiliate links. If you shop from my blog, I may be compensated for clicks or purchases that you make. Read my disclaimer page for more information.)

This was our first time ever creating board & batten walls. I am excited to share some learned wisdom (thanks, Jordan!) with you so that when you create your board & batten walls, you'll save lots of time.
11 Things You Need to Know Before Making Board & Batten Walls…
1. Measure Everything 3 Times! I know the old engineering adage is "Measure twice, cut once." But when it comes to figuring out wall measurements, sometimes you'll get lost in how many widths across do you need, versus estimated lengths of the rails. Take a few minutes to roughly draw a box (your room) and write down your wall width. Don't forget to double the widths since you'll need a top and bottom molding. Then, figure out your estimated height. Decide how many rails you'll want and multiply it by the rail length dimension.
Your measurements should be the same, whether you are debating between 1″x4″ or 1″x3″ boards. For reference, we used 1″x4″ boards.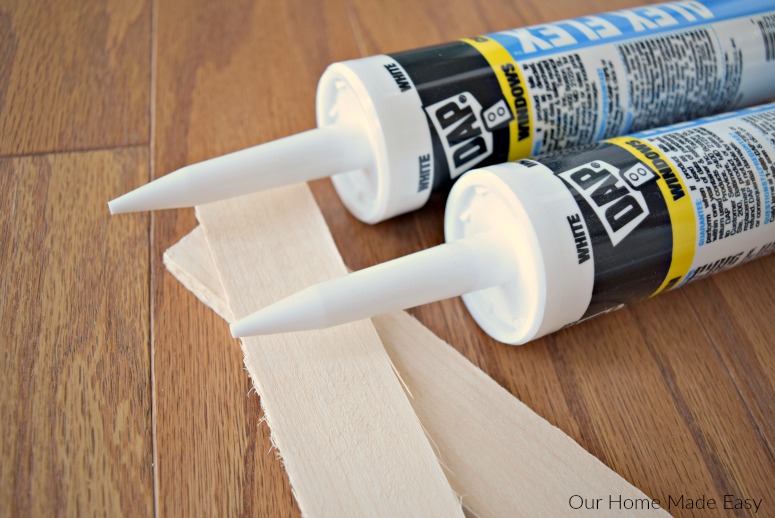 2. Buy 25% More… You know what will make your project last even longer? Unexpected trips to Lowes or Home Depot! Avoid having to stop working and running to the store by over buying your items.
Big box stores have great return policies, so you can return any unopened items rather easily once your project is completed. For this project, Jordan bought 4 extra boards (just in case) and it actually worked out really well.
Once we arrived home, he found that two he picked out were a little more warped than he would've liked. Luckily he had plenty to make up for them and he didn't waste more time running back to the store.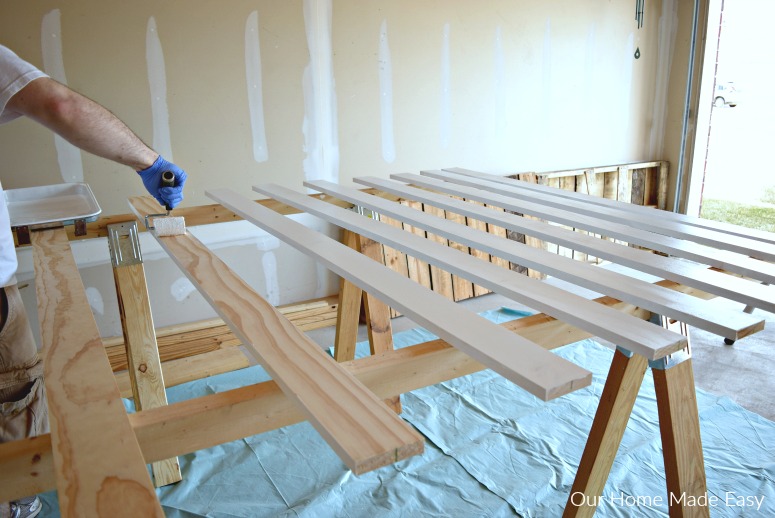 3. Spend More to Save Yourself Time… When it comes to board & batten, there are so many tutorials on Pinterest. Many recommend using furring strips or cheaper wood boards to save money.
And that works, but if you don't buy a select grade of the board, you'll find yourself spending ALOT of time filling in holes, sanding boards, and making them smooth for the board & batten walls.
I recommend spending the extra $1-$3 per board and choosing select pine. You'll find that they are ready to be painted and hung. Buying the better boards saved us lots of time (for a reasonable amount of additional spend).
4. Paint Everything Ahead of Time… In order to cut the time needed to finish the project, paint your walls and board before you even start cutting! It took 4 coats of bright white paint to cover the dark teal walls. Once Jordan had the walls painted, he painted 3 coats of the bright white on his wood rails.
Side note: Do not paint the extra you bought in item # 2! You'll still want to return any extra, so those are as-needed. Once everything is painted, you can start hanging the boards and see an immediate effect. While you'll still need to do one final coat to cover your nail holes, you won't be spending too much time at the end of your project.
5. Use Great Supporting Tools… Sometimes the best tools are the most affordable! Jordan swears by this little caulk finishing tool. Since the molding requires lots of caulking, he was able to quickly move through this step with the finishing tool.
Unless you have the perfect length of walls, you'll need to cut down your rails with a miter saw. You may need to buy 6′ , 8′, or 12′ long boards. At any length, you'll need some support. We used this rolling support stand to help Jordan when I couldn't be around to help.
Then, once you're ready to hang your rails, use a nail gun to quickly set them in place! You can hang a board in only a few minutes and have the entire room up in almost no time.
6. Remove as Much Furniture as You Can…. this includes doors and even toilets! To make sure that there is as much as room possible, remove any doors from hinges. If you are in especially tight spaces, consider getting creative and remove furniture.
For the powder room, Jordan removed the toilet tank and he said it made working in the space even easier.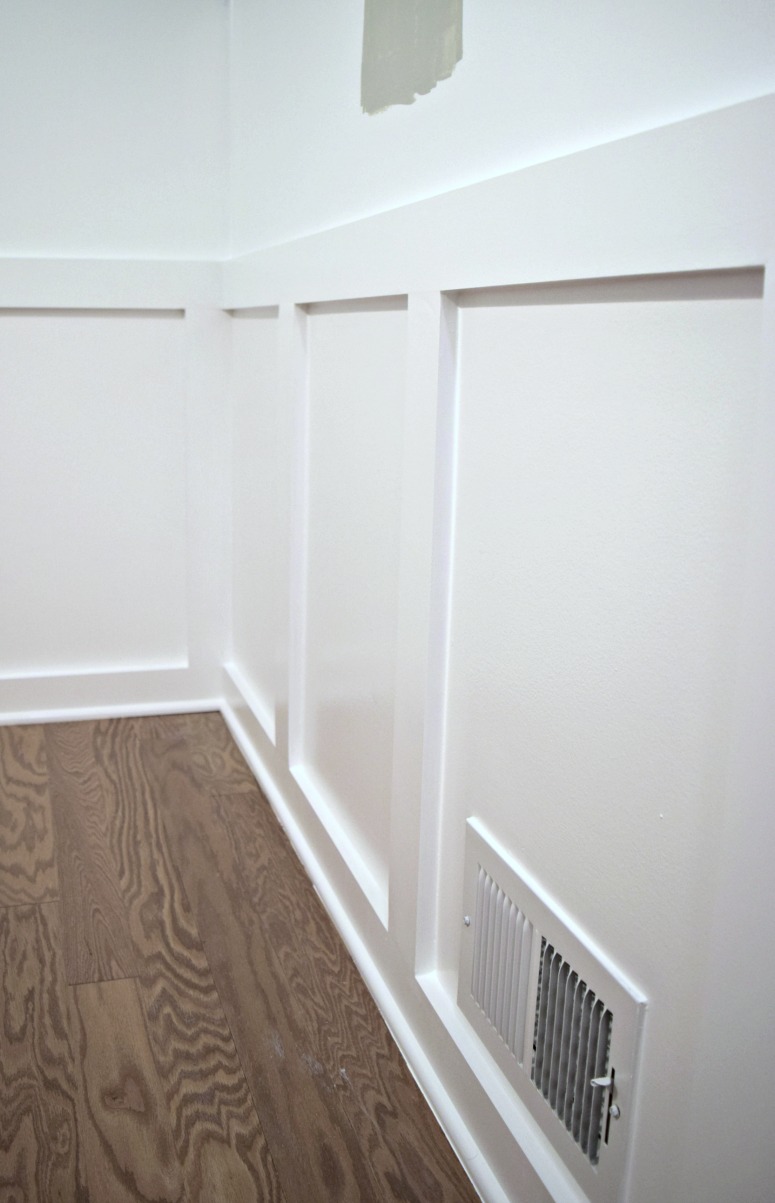 7. Know That Caulking and Spackling Go a Long Way… If you're in doubt while making the board & batten walls, know that caulking will do wonders for your end project.
We were a bit worried about how to finish the ends of the molding and the door frame. We placed a rail directly along the door frame and it looked… a little awkward. With a bead of caulking, the awkward transitioned suddenly looked so much nicer.
I encourage you to use a flexible & paintable caulk and use it as much as you can to finish off your project. The spackling is great for filling in the nail holes and the areas where you join the rails alongside the horizontal boards.
8. But Don't Overdo It…. the biggest lesson we learned from adding molding to our dining room was that fewer nails are better. I'm as guilty as anyone, give me a pneumatic nail gun and I'll enjoy popping them into the wall! 🙂
BUT, it takes so much time to spackle, sand, and paint over those nail holes! Go easy on the nail holes and be strategic ahead of time where you'll use them in your boards. While it isn't as fun doing only a few per board, you'll appreciate it later. 🙂
9. Don't Assume Your Walls are Straight… we are so guilty of this! Jordan knew our walls would be a little off, but we weren't expecting to see how much they were once he started applying the horizontal boards!
Know ahead of time that whether you have a new home build or an old farmhouse, you will need to accommodate for times when walls & boards are far apart.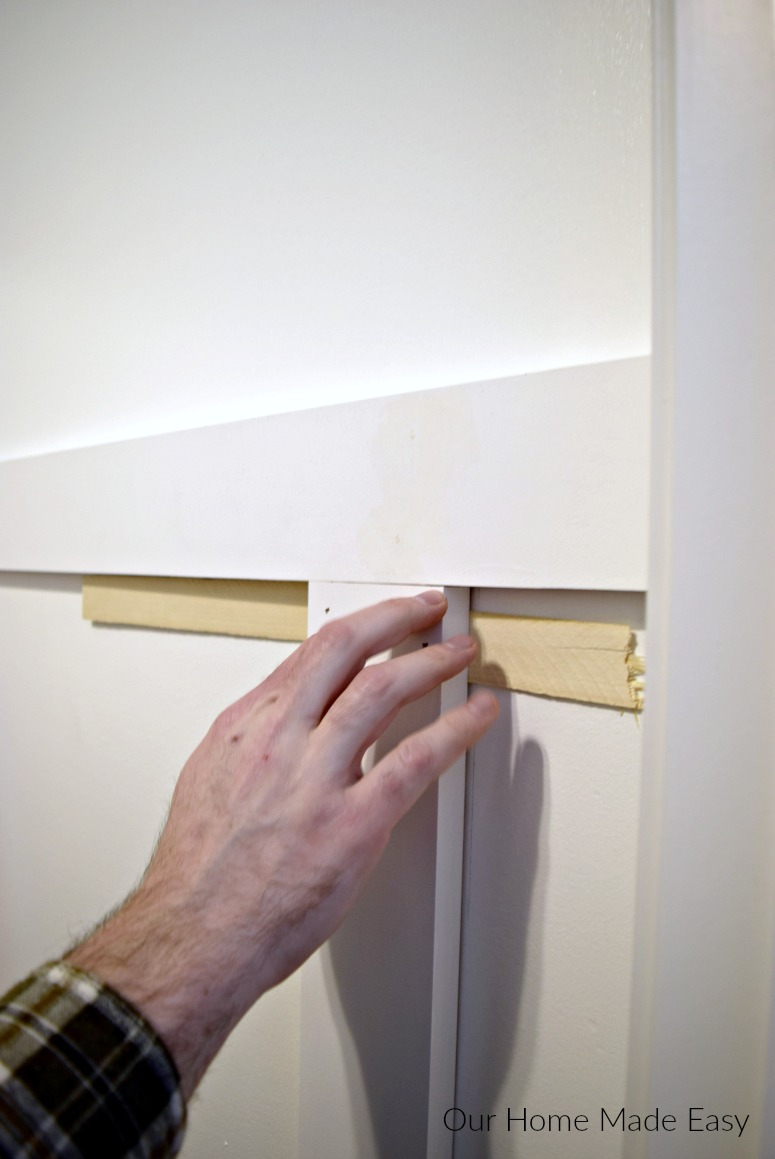 10. Shims are your new BFFs….. when #8 happens above, use wood shims! These little guys fixed every single issue we had with the walls. Sure, we could've caulked around the opening, but Jordan wanted to reinforce the largest openings between rail and the wall. I hope that makes sense.
The shims were in-between the wall and rails so that when you leaned against the wall, you wouldn't feel the railing buckle under your weight. We still caulked the transition between railing and walls, but this definitely gave a nice sturdy end result.
11. It's Going to Take Longer Than You Think… I know this isn't what you want to hear! But just let me explain… if you have a weekend to devote to the project, I think you can get it done!
However, if you have several visits to the hardware store, or have little ones running around, plan on it taking an extra few days. It's not really difficult to work, simple steps that require lots of waiting & drying time that you can't skip!
And that is it! With some time and the right tools, you'll have no trouble making board & batten walls. Simply plan your project from the beginning and you'll find that the time planning will save you so much more time throughout the project!
I can't wait to show you next week's progress!!
Powder Room Design Board (Week 1)
Board & Batten Walls (Week 2) << You're here!
How to Install a Pedestal Sink (Week 3)
Adding Mosaic Tile Wall Accent (Week 4)
Over the Toilet Storage Ideas (Week 5)
Pin for Later!