Planning a Budget Powder Room Makeover [One Room Challenge, Week 1]
Hi there! If you don't already know me, I'm Brittany and welcome to Our Home Made Easy. Over here I love providing busy moms easy project tutorials around the house. This includes time saving tips, and simple recipes that are great for weeknights. This week I am participating in my first ever One Room Challenge. And I couldn't be more excited to have an opportunity to share our adventure in making our builder grade powder room pretty!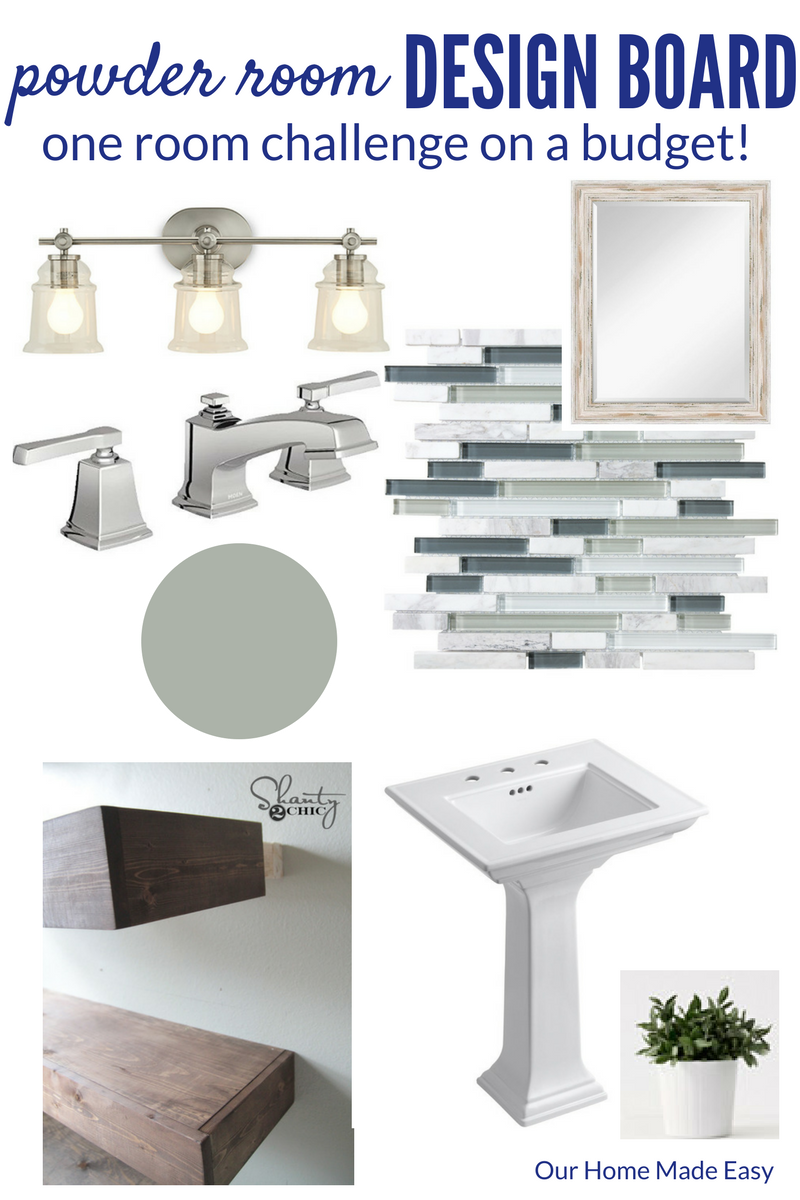 (This post contains affiliate links. If you shop from my blog, I may be compensated for clicks or purchases that you make. Read my disclaimer page for more information.)
If you aren't familiar with the One Room Challenge, it's a biannual event hosted by Linda at Calling it Home, that brings together bloggers all over the country and each week they unveil their latest project for their one room.

In about 5 weeks, this powder room will look drastically different. Well, that is the goal anyway. 😉 Provided Jordan's work schedule isn't too overwhelming (spoiler: it is already), because he is the DIY muscle. I happily help when I can and provide design input.
Now let's get to it! This week I am sharing my design plan for the powder room makeover.
Where does it begin with our powder room makeover?
The Powder Room is small and at the end of the hallway on our first floor. It is 6′ x 6′ square. It feels pretty big, but in an awkward size kind of way. Too big to feel 'squished,' but not big enough to add anything functional.
When we built the house, there was a substantial up-charge to add a window. We elected not to add it because we thought we were going to have neighbors only a few feet away. However, since we are on the cul de sac, our neighbors are angled away from our home and I'm kicking myself about skipping the window. Think of the light! Sigh. Oh well. Jordan did mention "Can we just add a window?" Not in this challenge, my dear. We only have a few weeks!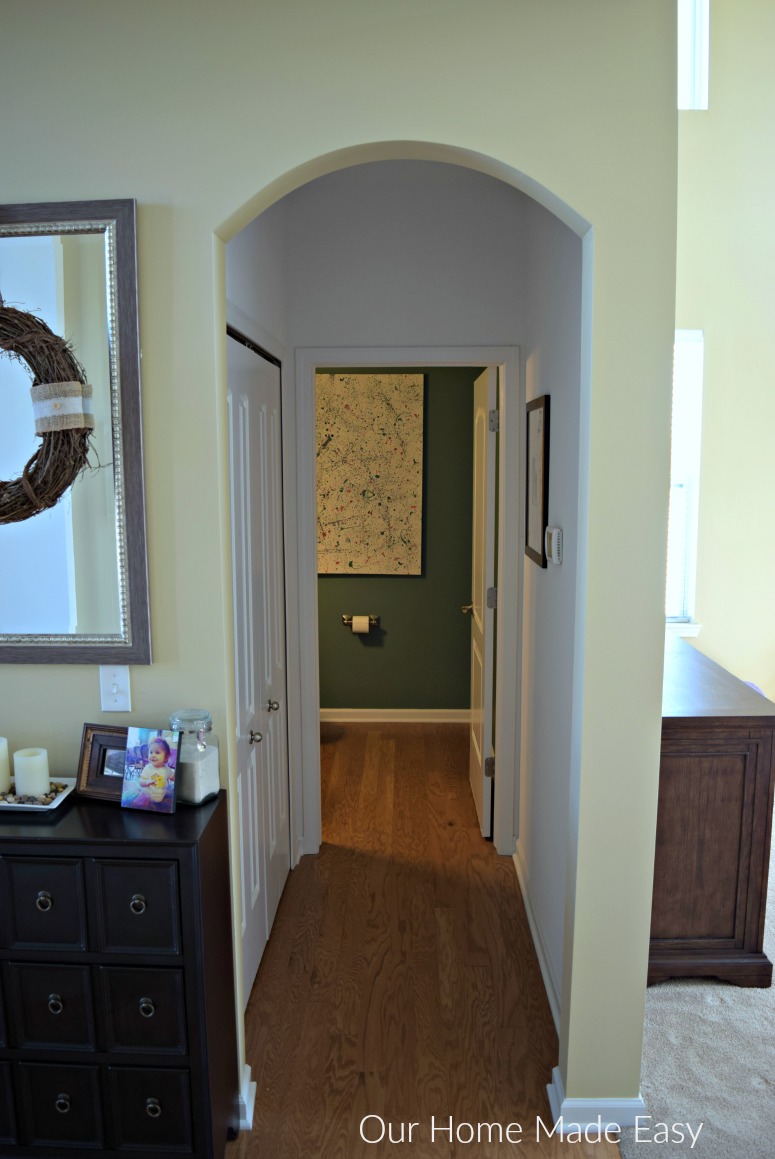 Once the builder finished the home, the entire place was painted in Commercial White flat paint. And there was zero storage to the room itself (there is a hall closet leading to the bathroom).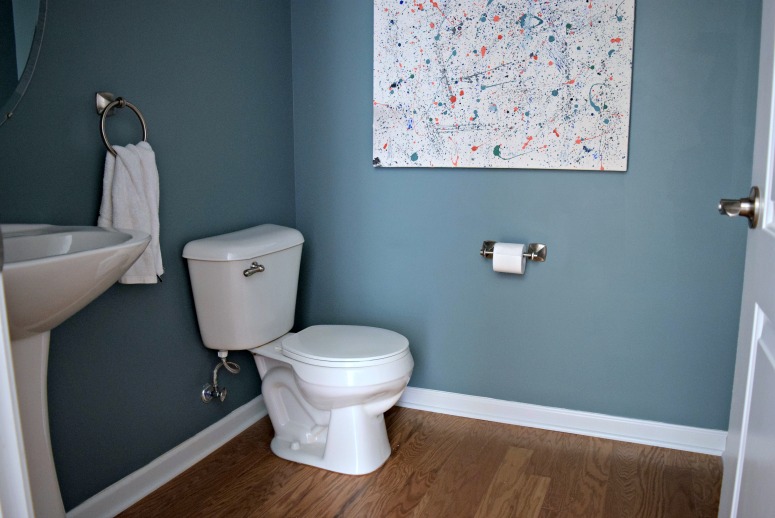 In the first months of moving in, we painted it a teal color. It made the room even darker since there wasn't any natural light.
The artwork currently in the room is leftover art I created several years ago and it simply needed a home.
Since we don't have any storage, I would like to add some pretty, but functional floating shelving to the design. We haven't decided where it's going to go, but definitely would like something above the toilet. The floating shelving will be inspired by this Shanty 2 Chic Floating Shelving tutorial. Same concept, but we will adjust it to fit our space and thickness needs.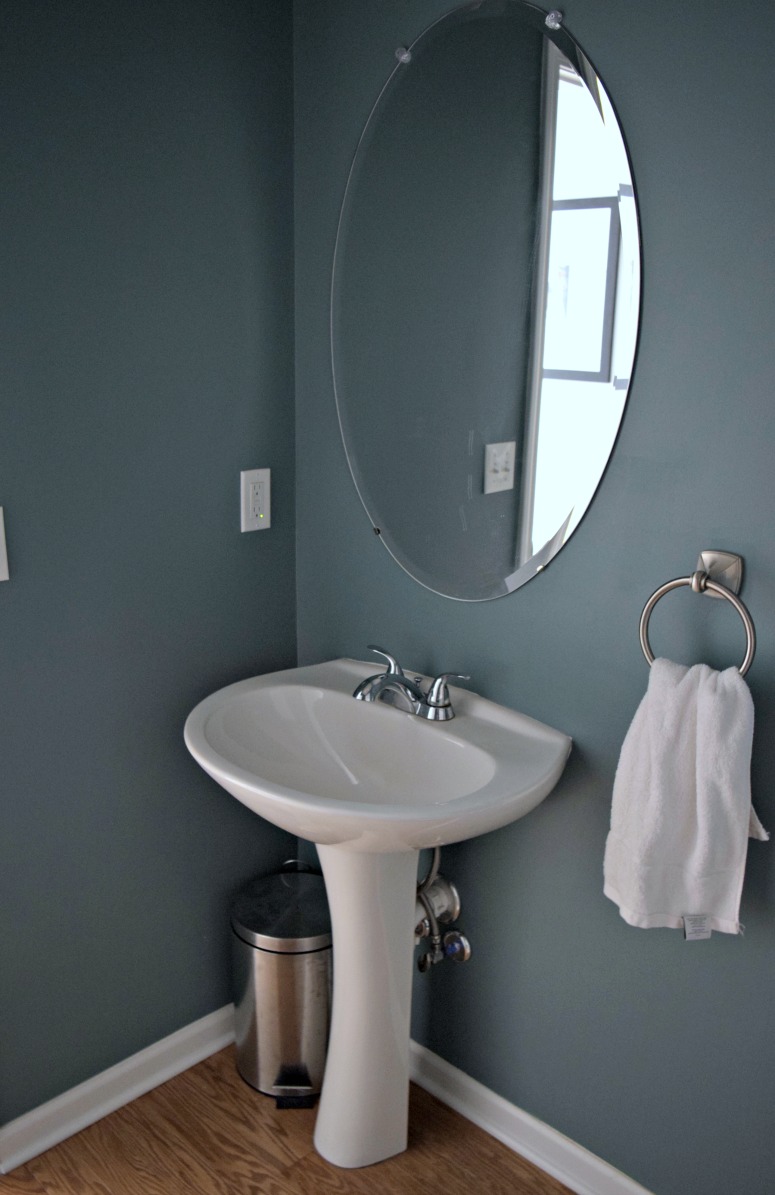 To brighten up the walls and add some visual interest, we are going to add some wall molding! [See the board & batten walls here ] We'll do bright white color to give it a pop.
Above the moulding, we are going to place a border of mosaic tile to give it some personality. I cannot wait to share the tiling project with you!
Once the walls are complete, we will look at replacing the vanity lights and mirror. I am loving this lighting, but we'll need to decide over the next few weeks what we really need vs. want.
Lastly, if the budget allows, I'll add in some art work and try to convince Jordan that we need to replace that builder grade mirror with something similar to this one (it's from Target!). 🙂
I cannot wait to show you our progress next week! In the meantime, you'll find us working hard in this little room!
Week One: Powder Room Makeover Design Plan [You're here!]
Week Two: 11 Things You Need to Know Before Making Board & Batten Walls
Week Three: How to Install a Pedestal Sink
Week Four: Adding Accent Mosaic Wall Tile
Week Five: Over the Toilet Storage Ideas