Easy DIY Two Story Curtain Panels in Only 5 Steps!
Do you ever watch HGTV shows where the couple walks into dreamy two story living areas and they instantly say "Ohhhh.. this space!" What no one ever tells you is that "this space!" is not easy to decorate. If you have this type of space, one the easiest things you can do is really fill it up with floor to ceiling curtains panels, DIY style. And on a budget (if you want to save $$ or have lots of options to change out)!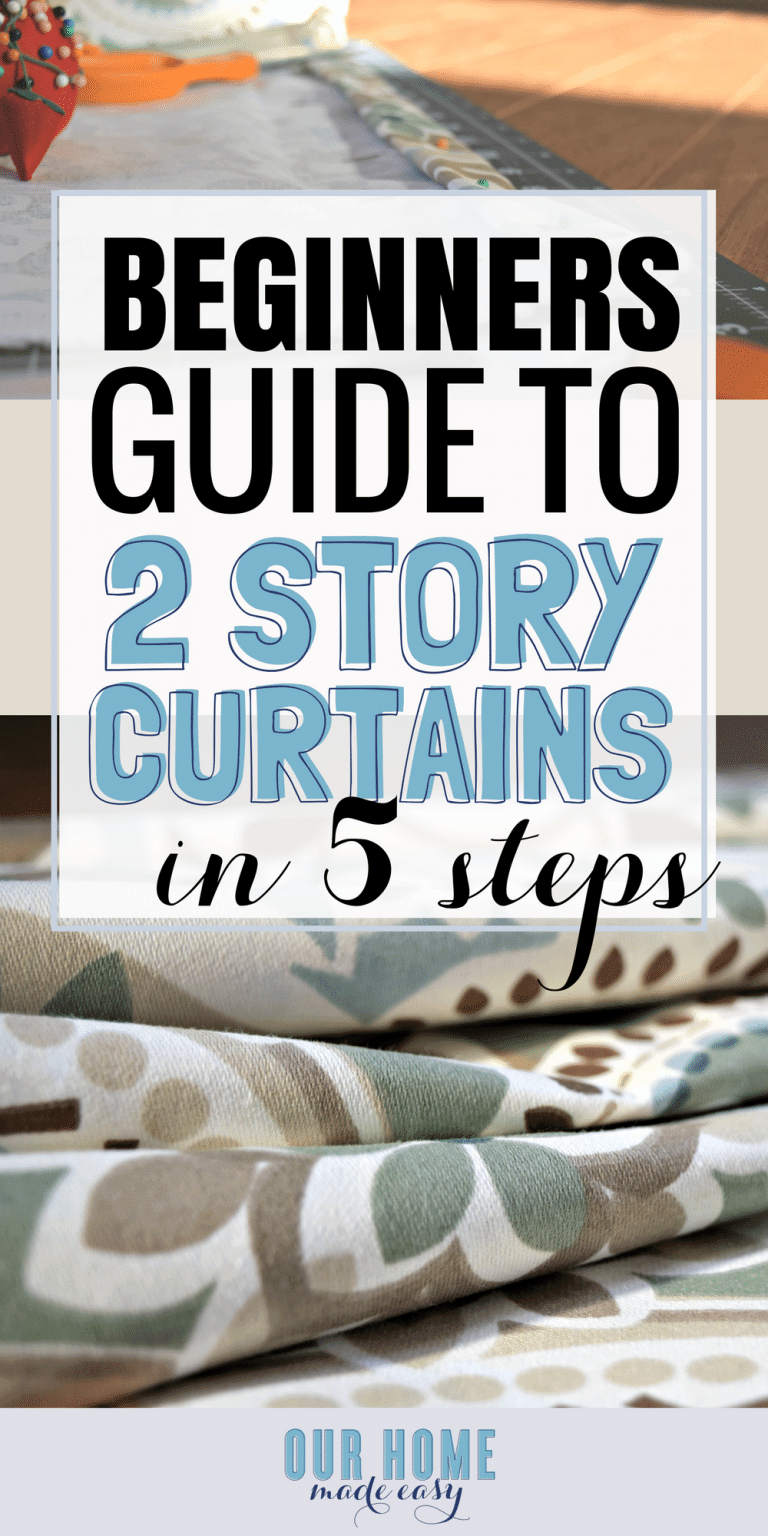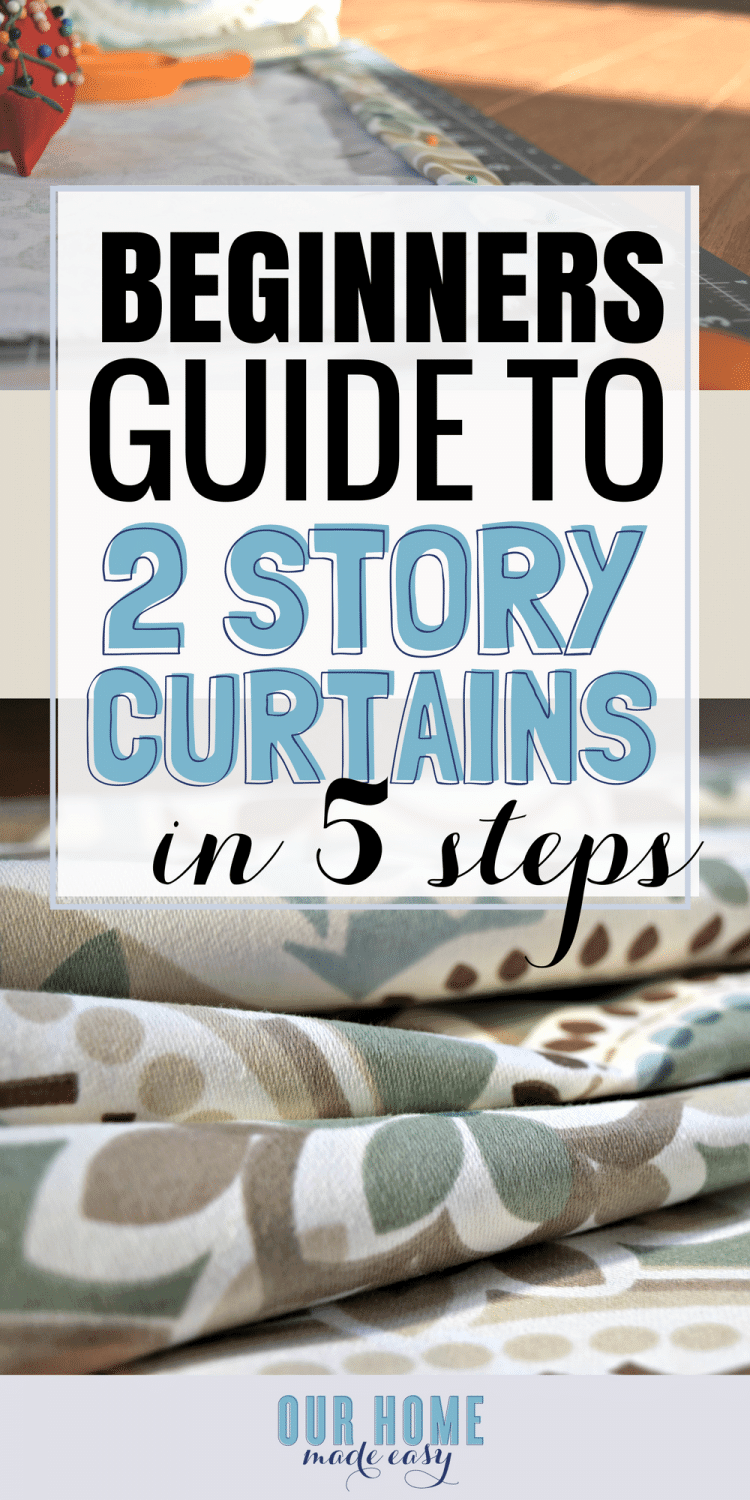 (This post contains affiliate links. If you shop from my blog, I may be compensated for clicks or purchases that you make. Read my disclaimer page for more information.)
When we were looking at floor plans for a new home, I immediately fell in love with two story living spaces. I found them beautiful and dramatic.
Unfortunately, a well dressed window treatment does NOT come with the house upon closing. After waiting a year for the house to settle, the living room was painted a custom color recommended by our awesome paint consultant.
Once the room was painted it was time for me to start curtain shopping!
After we moved in I looked online for 18 foot curtain panels and was extremely surprised at how much they cost on Etsy. I kept finding beautiful panels, but I just couldn't justify spending almost $1000 on 4-6 panels.
And what if I did not LOVE them?! So, I thought maybe I could make them. I took our whole house wall color sample cards (they are pretty large) to the store to find a fabric that matched our tones.
Luckily we found one that coordinated well. Hallelujah!
With a spool of thread, any sewing machine, and A LOT of fabric, you can make them too in one evening!
Extra Info for you: I found the fabric that I wanted and ordered it online to use a better coupon AND ensure that all 12 yards came on one bolt of fabric. Fabric online can occasionally look different online than in person, but online usually has better pricing. Clear as mud, right?
Supplies Needed
If you are a new beginner, check out my post here of 15 must haves for sewing beginners.
Step One: Determine Your Fabric Length
Begin by rolling out the fabric across my living room. I wanted my finished product to be 18 feet long with just a few extra inches to drape onto my floor.
Each panel has a 2″ hem and is folded over 3″ at the top for the drapery rod. I considered adding grommets to the panels, but I decided against it since the grommets wouldn't be featured as heavily 18 feet in the air.
But, if you do decide to use grommets, add another 1″-1.5″ to your final math as the top of the panel will lay higher than a pocket rod. Check out my grommet tutorial here.
The Math:
Each piece is finished length + 4″ (bottom hem) + 3″ (drapery rod). Optional: Don't forget to allow for grommet header length
The fabric is considered home décor and is 54″ wide. The panels are intended solely for decoration and I did not need the entire 54″ so I decided to make two panels out of the 54."

Step Two: Cut the Fabric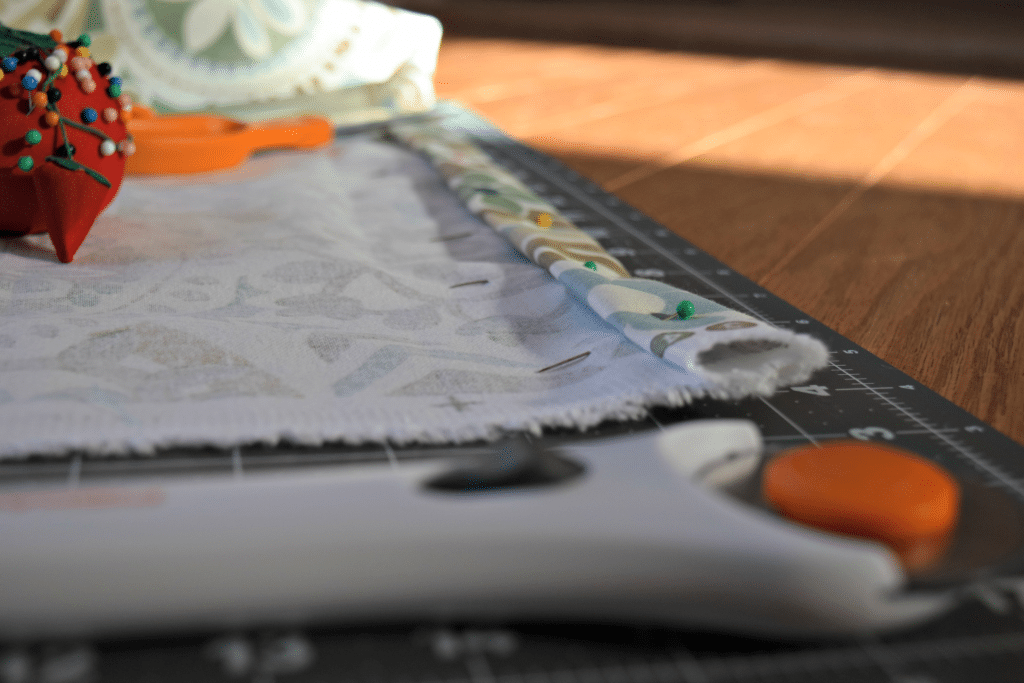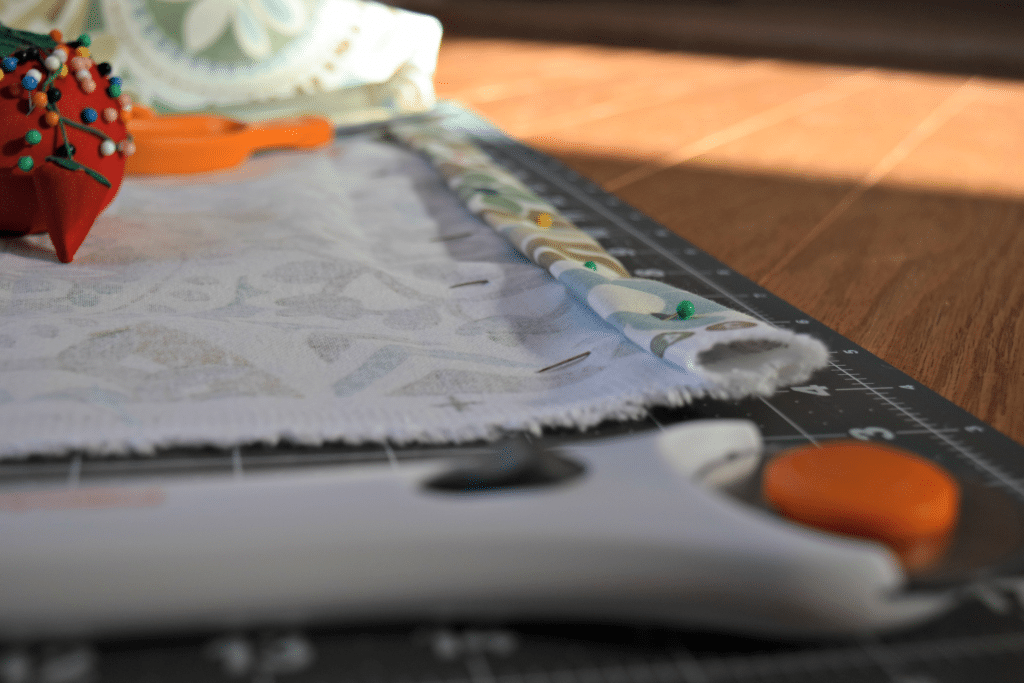 Cut the fabric to your determined length. Once the fabric is cut, fold it in half length wise and squared up the fabric.
Then, cut the fabric in half, lengthwise to make two unfinished panels. Once the panels are cut, fold a 1/2″ hem on the lengths of the panels.
Fold twice over and pin in place.
Step Three: Press the Fabric
Before beginning sewing, quickly press your fabric. This helps keep your hem in place and allows you to maintain better control when you need to sew almost twenty feet of fabric!
Step Four: Make 5 Straight Stitches
Using a coordinating thread
, straight stitch the sides of the panels.
Once the sides are done, fold the bottoms of the panels up 2″ and 2″ again. Pin in place, press, and sew around the sides and hem. Next, take the top of the panel and fold over 3″.
This will be where your rod slides through the panel. Like the others, pin the hem and press. Sew over the hem.
Make sure you leave the ends open for the rod to slide through. Since these panels are so long, it would be a good idea to reinforce the hem and double sew it.
YOU ARE DONE SEWING.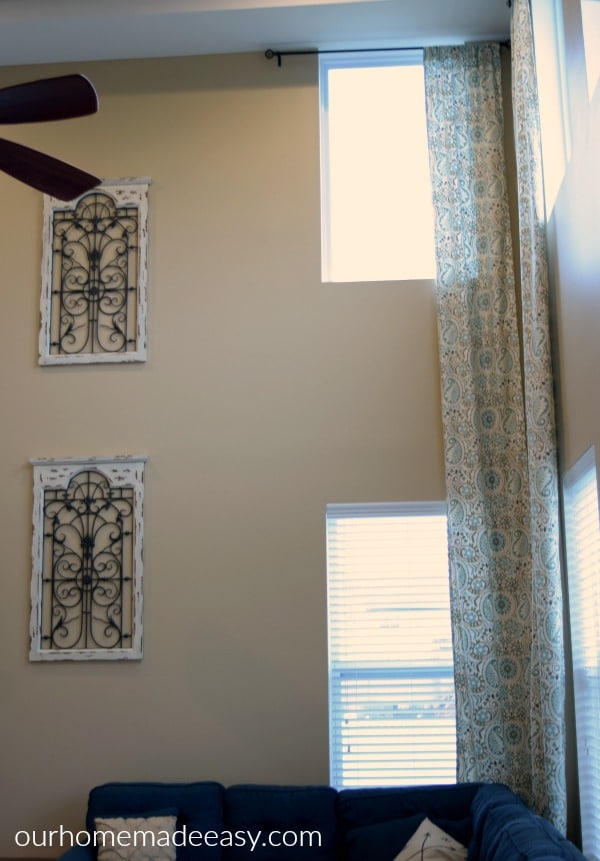 Step Five: Show Off your DIY Handiwork
Press the curtains for a professional appearance. Just because you didn't spend a small fortune on long curtains, doesn't mean that they shouldn't look top-notch!
Slide the curtain panels on your drapery hardware, congratulate yourself, and sit and enjoy your new panels!
Filling in large two-story areas doesn't need to be expensive or difficult. Find fabric and just start! In one evening you'll be able to knock out an entire room's wall treatments AND save enough to make a second set if you ever want to change them out!
Love a great DIY project? Be sure to grab your list of my favorite weekend warrior projects below!
PIN FOR LATER: