The Top 15 must haves for sewing beginners (Easy and Affordable!)
Do you love looking at Pinterest sewing projects? They always looks so cute and easy. And with a bit of patience, you'll find that sewing isn't too difficult for simple home projects. But before you get started, you'll need a few must haves for sewing beginners. These basics are super affordable and don't require an entire sewing room. Scroll down to see the simple items that are oh-so-important for getting your new sewing hobby off the ground!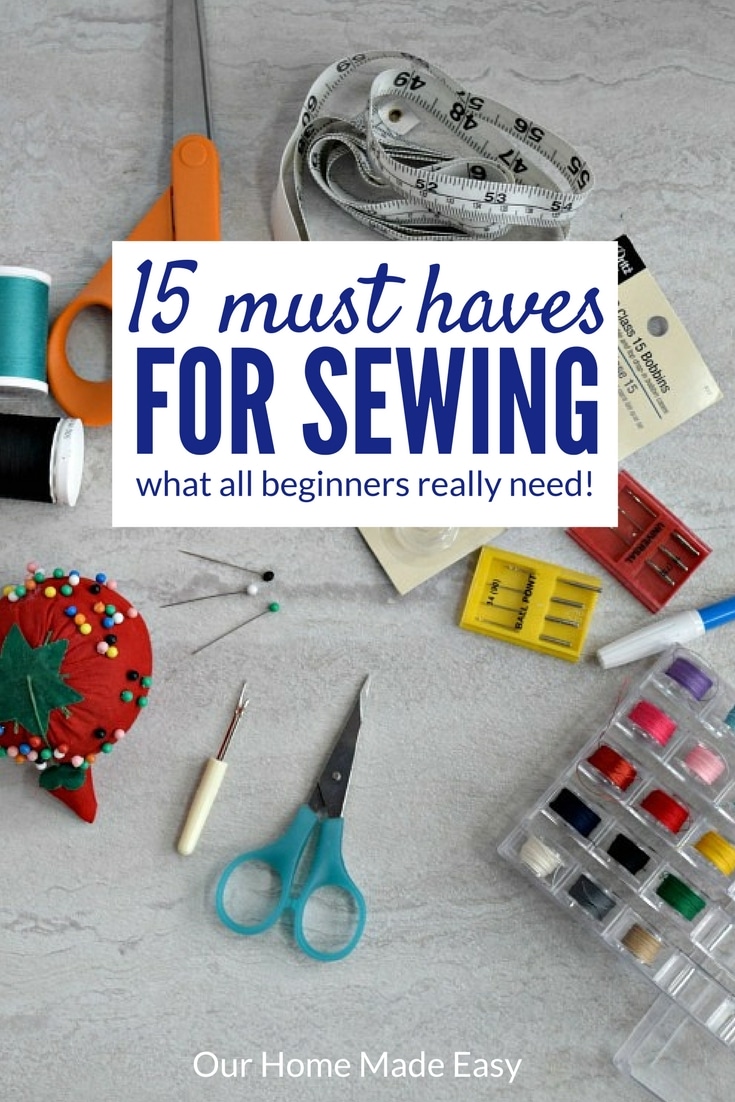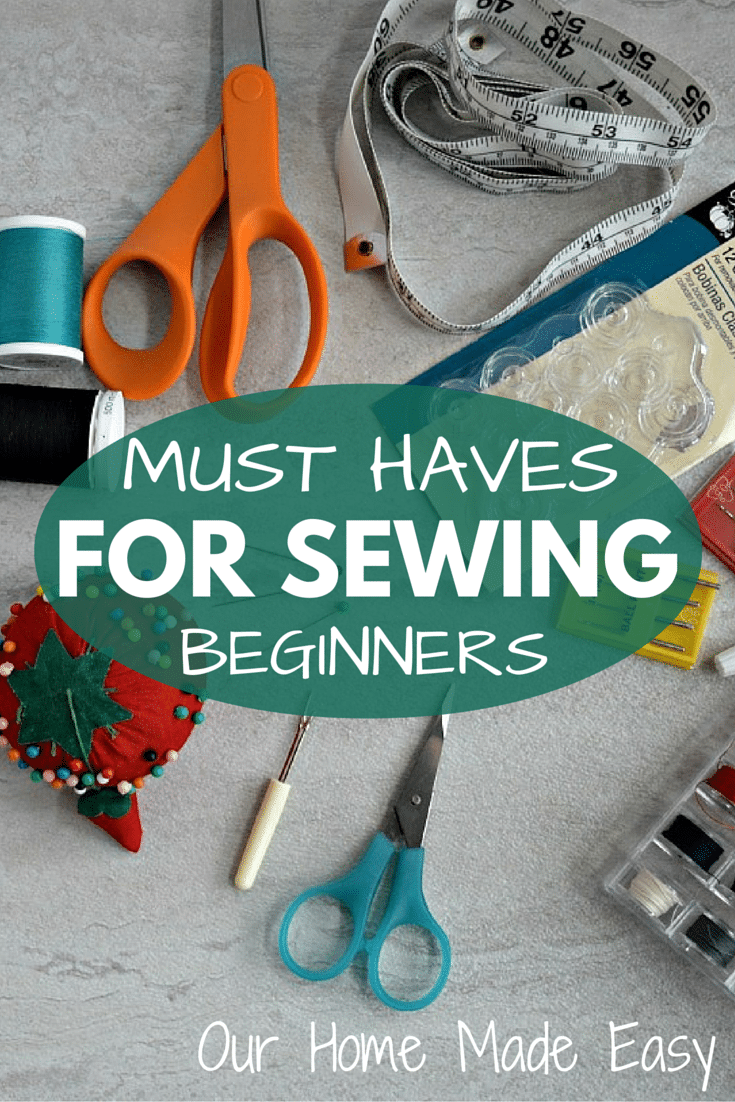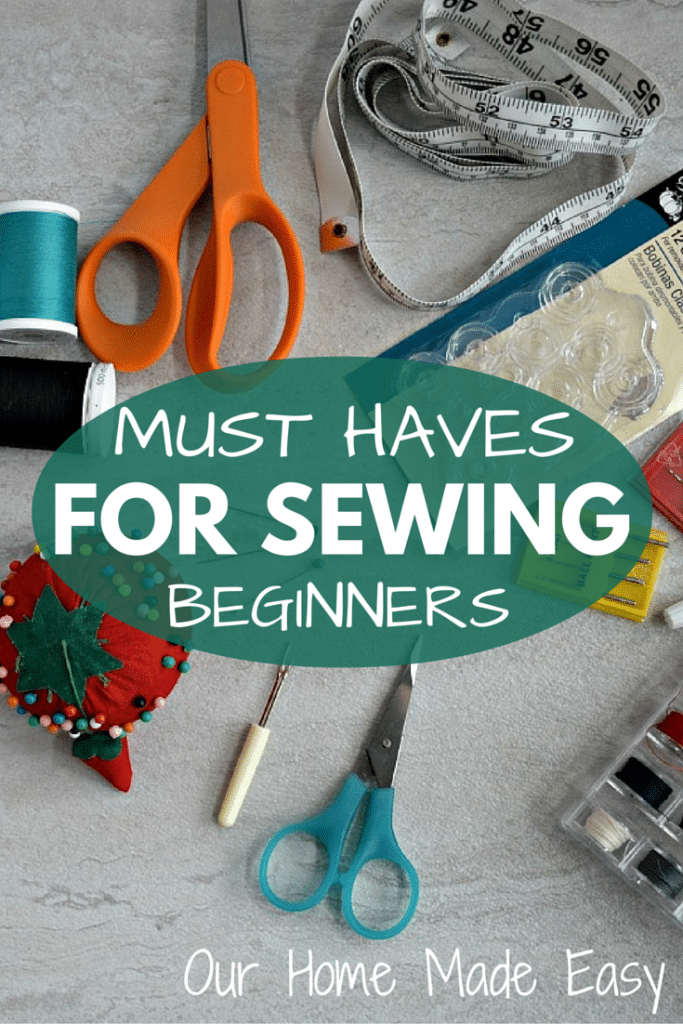 (This post contains affiliate links. If you shop from my blog, I may be compensated for clicks or purchases that you make. Thank you for supporting 'Our Home Made Easy!' Read my disclaimer page for more information.)
Where You Can Find Beginner Sewing Supplies Quickly!
You don't need a lot of items or money to begin sewing. In fact most must-haves are inexpensive and can be purchased just about anywhere.
Since I'm usually remembering that I need something at 10PM in the evening, Amazon is my go to place for sewing supplies.
If I have lots of coupons, I run to Jo-Ann Fabrics!  <— Side Note about Jo-Anns. You can use only one promo code online per order. However, I have found that there are usually better sales online. That seems to help make up for most of the pricing difference of not being allowed to use additional promo codes. 
15 Must Haves for Sewing Beginners!
This list isn't meant to be super fancy, it's for the busy mom like yourself who want to learn and make simple decor (or t-shirt applique) for the house. Don't worry, they are all very reasonably priced, so you won't find yourself spending lots of money upfront.
Sewing Machine
 –  This is one area where you do not need to spend an exorbitant amount. I have friends who use sewing machines passed down from family members and others picked up second-hand. Mine is the Brother SE400 that I linked to. I love its versatility and it works well for my needs. I even purchased it from Amazon, you really can buy any thing – any time!
The Machine's Owner's Manual – I use mine almost every time I sew something new! I am always referring to it for stitches, needle types, and troubleshooting my machine.
If you have an older machine that didn't come with an owner's manual, you should be able to search for one online and be able to download it.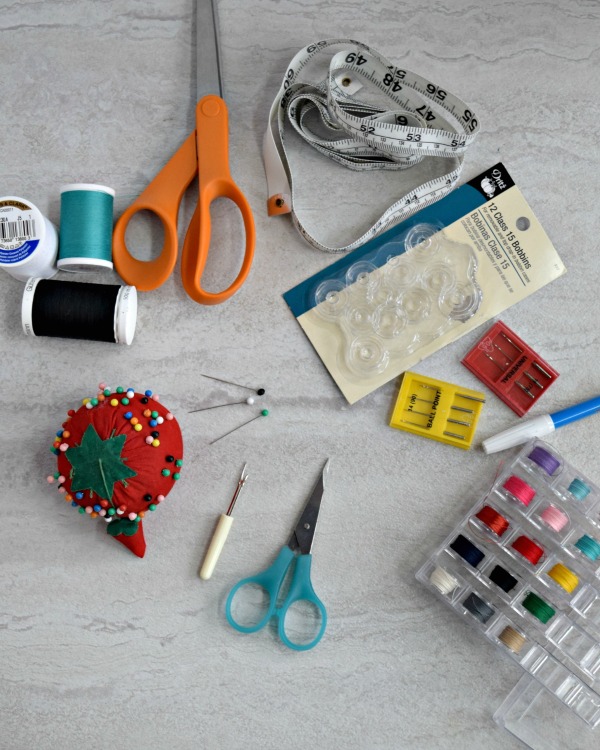 Machine Needles – After you refer to your manual for common needle types, buy a small pack of machine needles that accommodate your machine.
Fabric Scissors – These are a must have when you cut your fabric for your first project. You'll need to have a pair that will cut crisply and make your project look professional!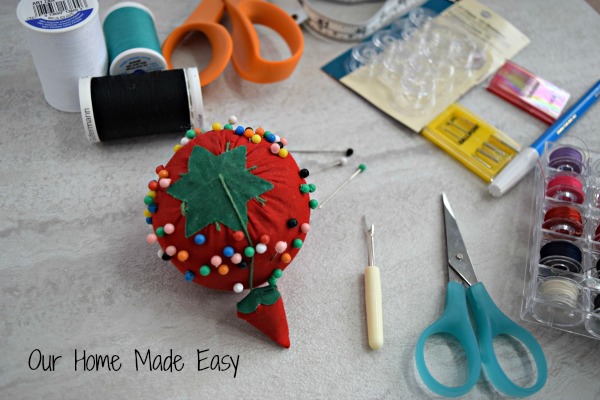 Micro Scissors – These are excellent for trimming threads. I use these for precise cuts for appliques.
Seam Ripper – After the sewing machine, this is my number one item to have! I use these all the time. I probably shouldn't admit that, but hey, I'm a sewing newbie, too! I love a good seam ripper that allows you to make mistakes and doesn't tear the fabric. It's almost like the first stitches were never there!
Marking Pen – You will use the marking pen when measuring out patterns or dimensions for your projects.
Tape Measure – An easy to have tool for making your measurements. When I started sewing, I used one of my husband's tape measure. Silly, I know! Save yourself the grief and prep ahead of time.
Straight Pins – These may or may not end up on the floor sometimes. OUCH. But you'll need a small pack when starting out for piecing together your fabrics.
Pin Cushion – See above. Sometimes my aim is off and they end up on the floor. A fun little pin cushion keeps your pins in one spot so you don't need to worry about little toes accidentally finding loose pins.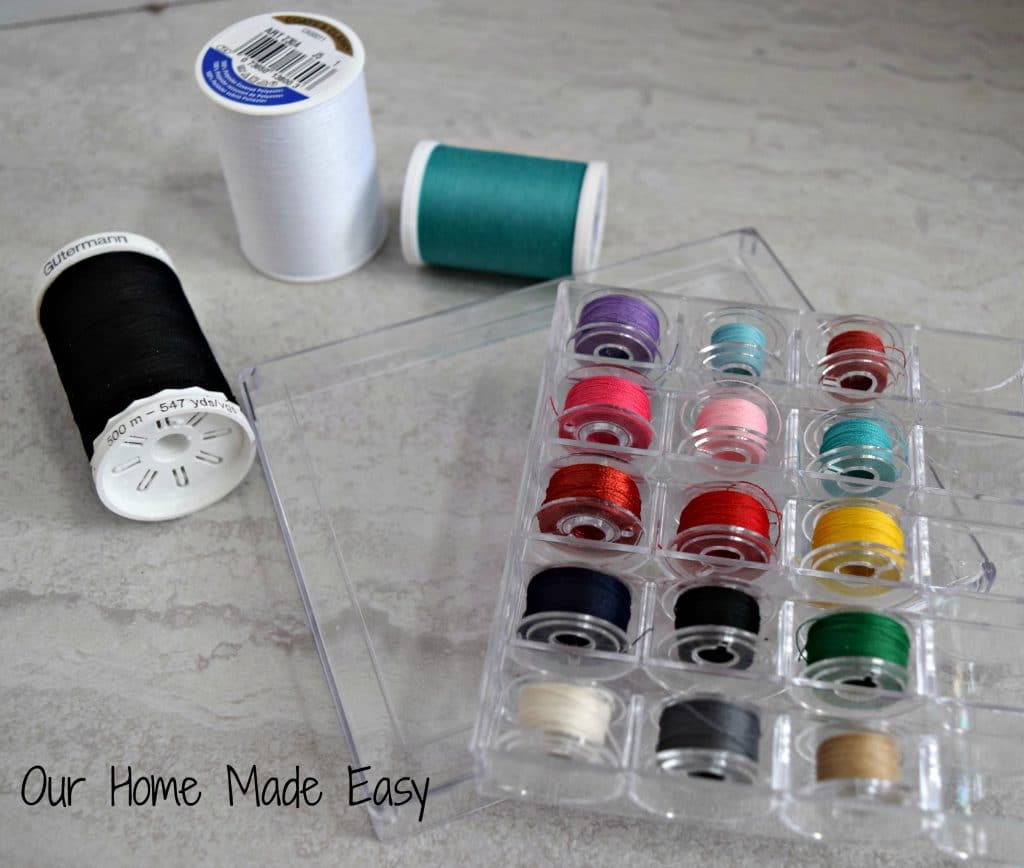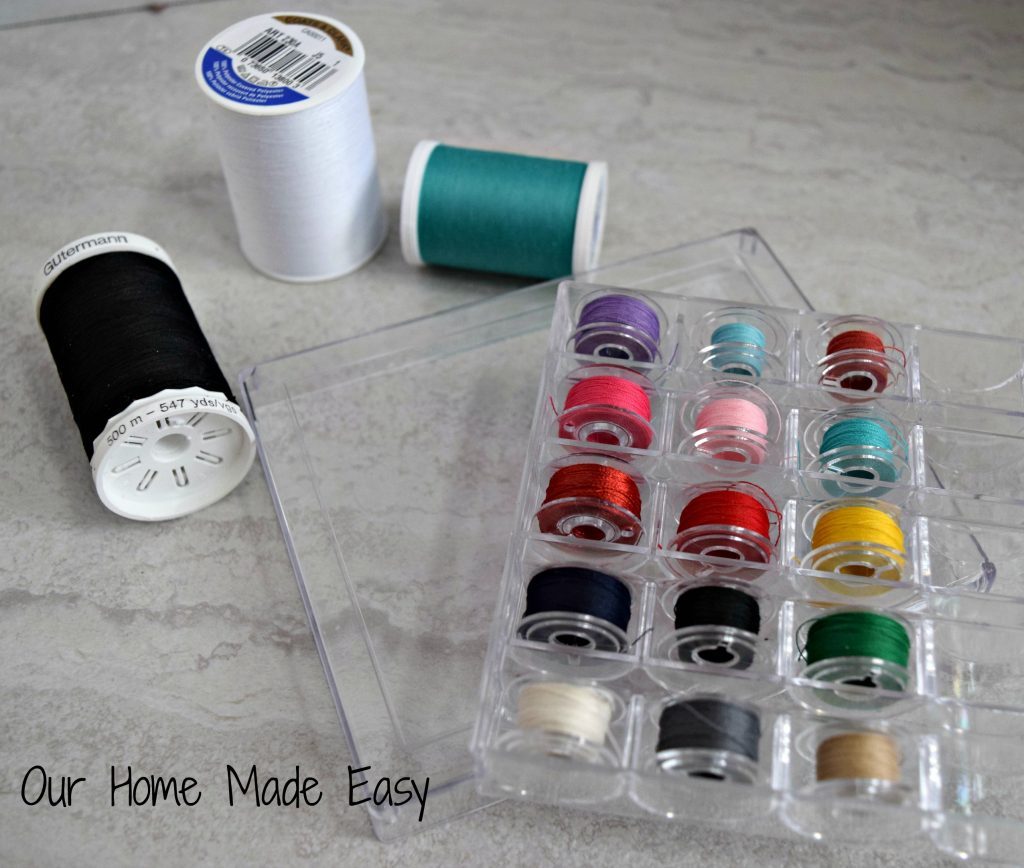 Bobbins and Bobbin Box – Find the bobbin type that accommodates your machine. It is extremely important that the bobbins fit correctly. While they may all look similar, trust me, double-check that the bobbin is correct. I included a bobbin case because I like organization. Totally your call!
Thread – Since you're just starting out, don't worry about choosing an expensive thread. I've found that I splurge on more expensive thread when I'm machine appliqueing. Otherwise I use the Coats Dual Duty for the other projects. It has always held up well for my items. Once you become a sewing pro, you may decide to invest in better thread.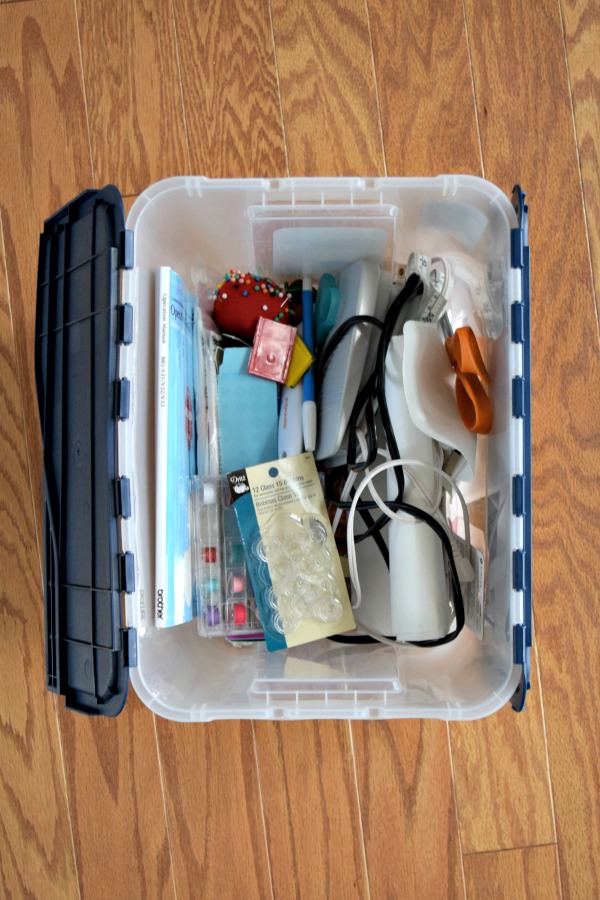 Plastic Tote – So, confession time. I don't have a sewing room. And you don't need one either.
Yes, that is my 'sewing room' in the photo above. I have a small tote that carries all of my sewing tools, even the power supply & foot pedal to the machine. When I want to sew it's great to pull out the tote and instantly have everything I need. I recommend having something that is like a central location so that your sharp sewing tools don't get misplaced!
Pen & Paper – While not always a must, I find myself double checking measurements before making my cuts. I'm always so nervous to cut and sew and it be wrong! If you're like me, you may want to put a small thing of post-it notes and a pencil in the tote!
Having fancy items IS NOT required when you are just learning how to sew. Don't be afraid to pick up an sewing machine, a bobbin, and some thread. Enjoy the decorating freedom that sewing gives you. Whether it's creating new curtain panels, tote bags, or pillows, create a home space that quickly feel like home and is still affordable. You'll never feel guilty about swapping out decor as you'd like when you are making it yourself and saving lots of money while doing it!