I love a versatile recipe, don't you? There are some weeks where we crave salads for dinner, but we still need a protein. Enter this baked chicken recipe! The recipe calls for lots of freshly grated parmesan cheese, how could you go wrong?!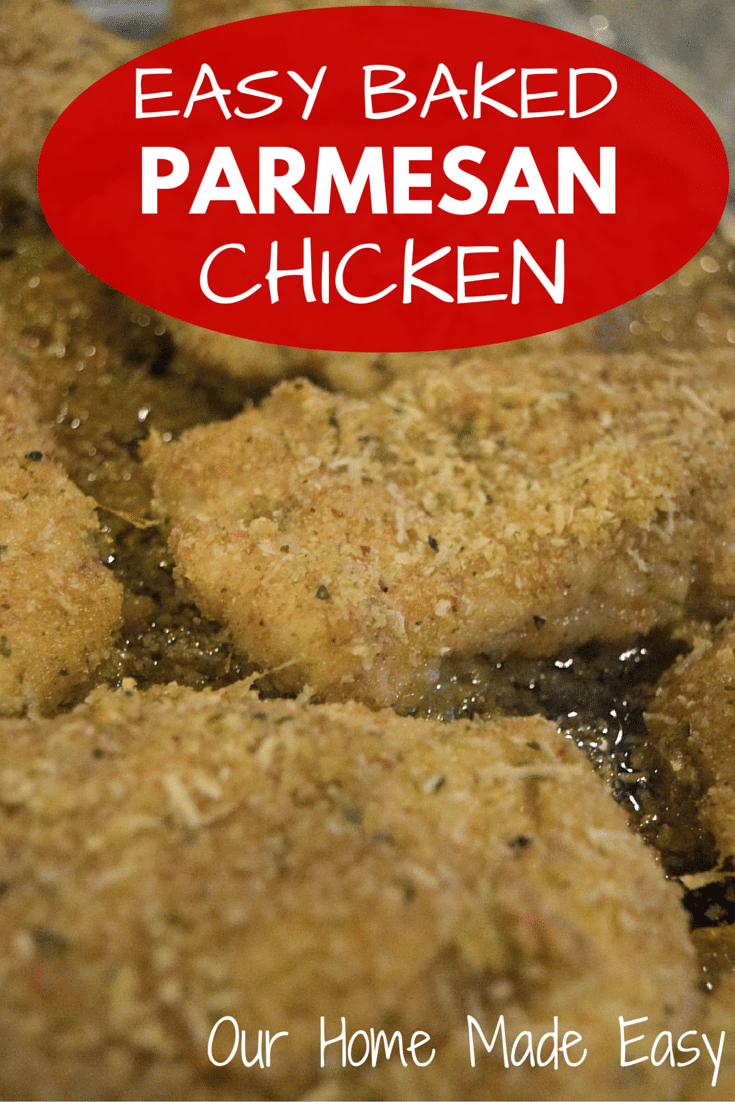 To make the chicken, you will dip it into an EVOO & garlic mixture and then dredge into a dry bread crumb & cheese mix. It's very important to use fresh Parmesan and grate it right before you need it. We usually buy a mini-slab of Parmesan from Sam's Club or Costco and portion it out into freezer safe bags before freezing it. Doing this works well for us and it's inexpensive!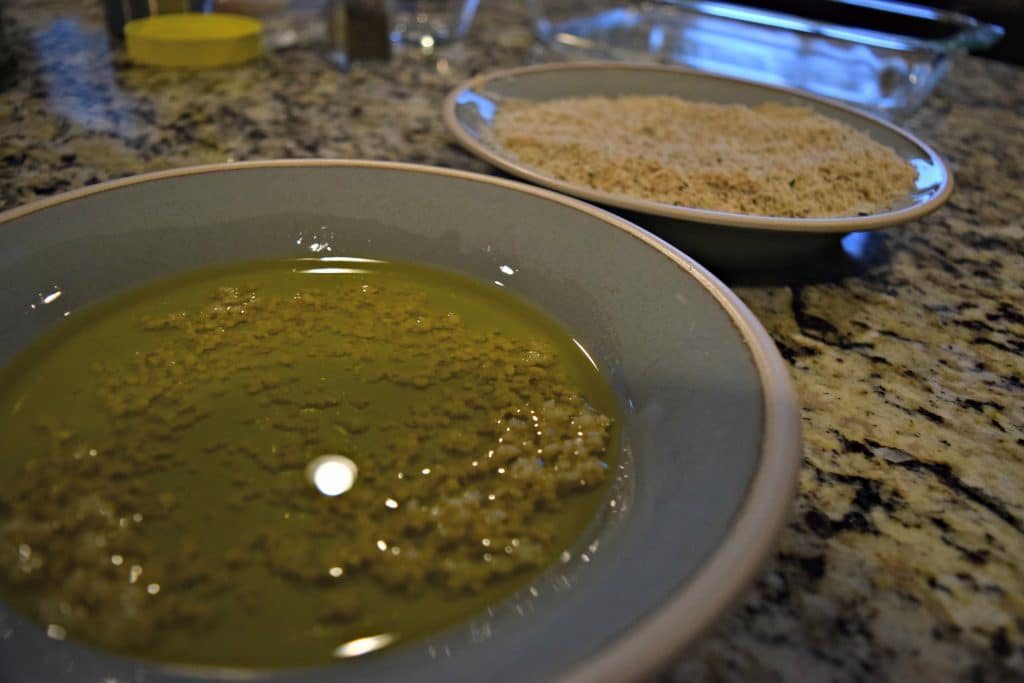 I do not like thick pieces of chicken, I like a little crunch with each bite. For this recipe, I take a chicken breast and slice it very thin before cutting it into tenders. And as if that isn't thin enough, I have been known to take the smooth side of a meat tenderizer to the chicken. I told you, I like a good crunch-to-chicken ratio! If you prefer thick pieces of chicken breast, the coating will still work for you. Just be aware that the cooking time will be longer.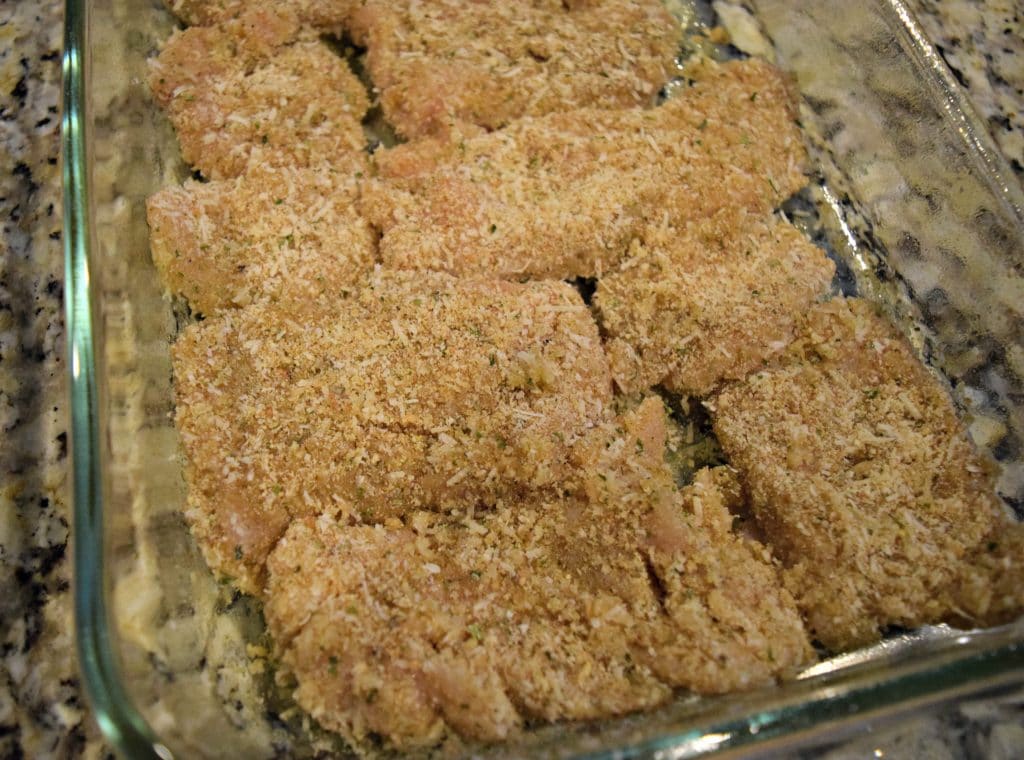 So I overloaded the baking dish. Oops. In true fashion, I underestimated the amount of chicken I had on-hand (see need for thin chicken above) and should've pulled out a second baking dish. But, that would've meant washing my hands two times over, opening a cabinet, pulling out another dish, and adding non-stick spray. Sorry, it sounded like too much work on that week night.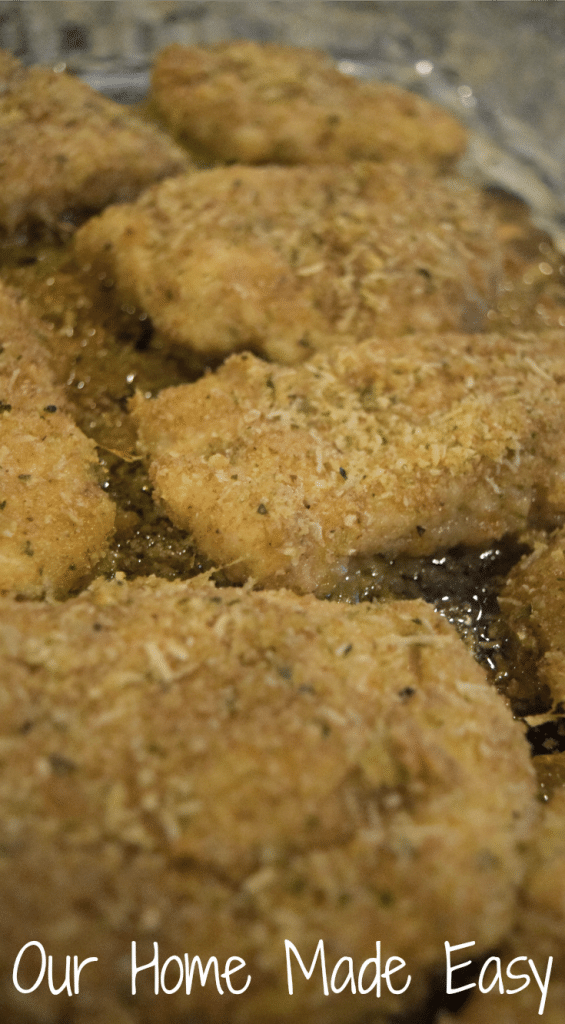 The chicken is ready to go! By this time, our toddler is yelling for 'CHICKEEEEENNNNN." But it cools down pretty quickly and we can get it on table in less than a few minutes. Then, everyone is content for a few minutes. 🙂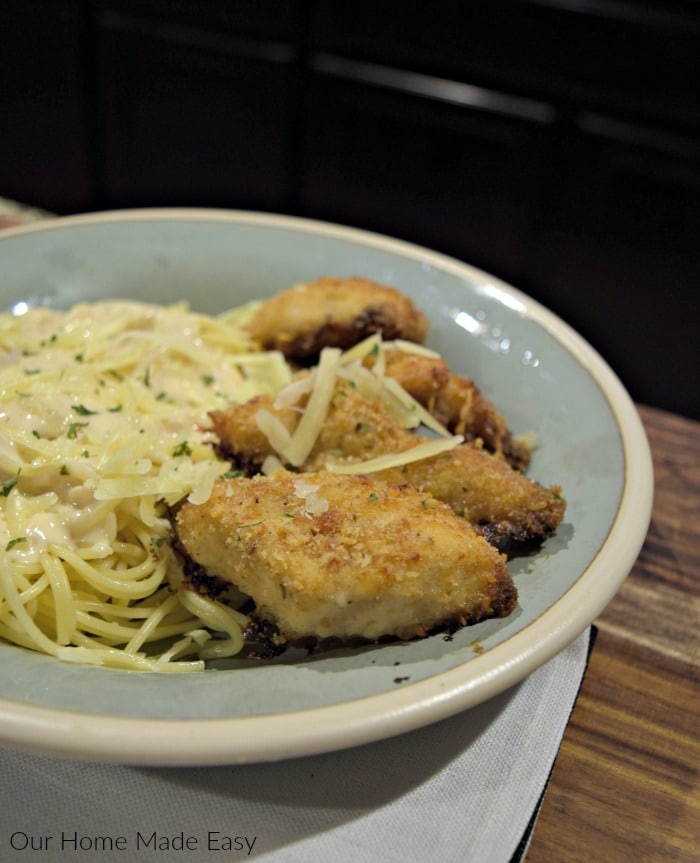 We serve ours with pasta, on top of salad greens, mashed potatoes, and fresh vegetables. Can you see why it's such a favorite?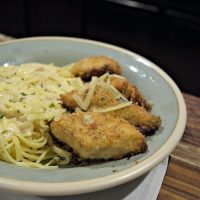 Easy Oven Baked Parmesan Chicken
Ingredients
1 - 1.5 pounds of chicken, cut to preferred size and pounded thin
1/2 cup Extra Virgin Olive Oil
1  Tablespoon of minced garlic
1 cup of freshly grated Parmesan cheese
1 cup of Italian bread crumbs OR Panko Bread Crumbs
Instructions
Preheat oven to 400 degrees.
Coat 13 x 9 baking dish with non-stick spray.
Mix together the olive oil & garlic in a shallow dish.
Mix together fresh Parmesan cheese and bread crumbs in a shallow dish.
Coat one piece of chicken into the oil mixture.
Press both sides of the chicken into the cheese mixture.
Place the chicken into baking dish.
Bake uncovered for 25 - 30 minutes or until internal temperature reaches 165 degrees.
Notes
For extra crunchiness, use Panko breadcrumbs in lieu of Italian Bread Crumbs. [Add in a small amount of Italian Seasoning for extra flavor]
Enjoy! If you try it, please let me know what you thought of it.