Ham and Cheesy Potato Casserole
An easy recipe for cheesy potato casserole! It's perfect for making for parties and using leftover ham from the holidays! Need something quicker than a casserole? Eat one of these easy 30 minute meals instead!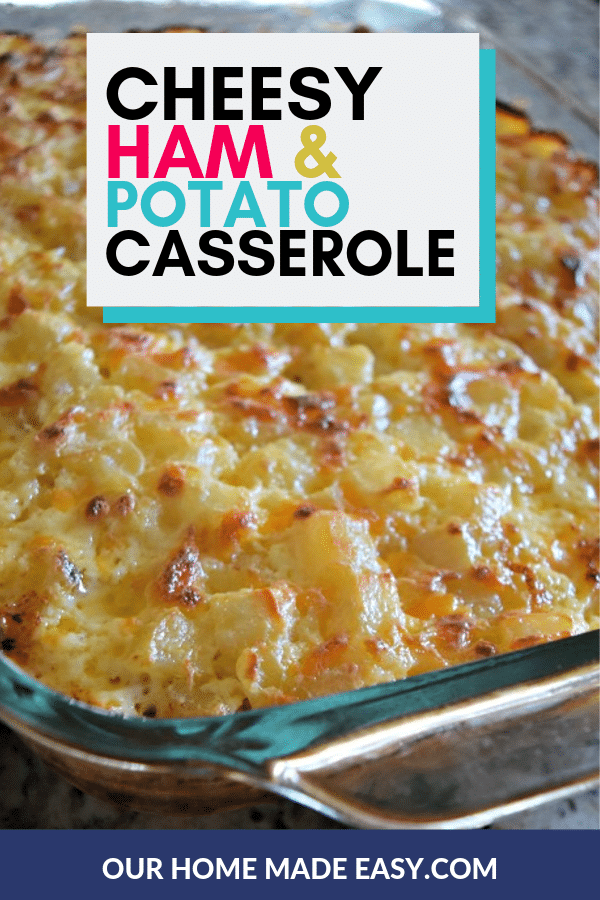 (This post contains affiliate links. Read my disclaimer page for more information.)
We usually serve ham at most holiday get-togethers. And there is always lots of leftovers! Instead of eating reheated ham for several days in a row post-holiday dinner, we use some of the remaining ham and make this cheesy potato casserole dish!
When we have this I usually prep it in the morning before work. It's very easy to prepare before you run out in the morning and you simply pop it into the oven when you get home in the evening!
The casserole is equal parts of cheesy potatoes and ham. Simply add as much ham as you have available. This casserole makes enough to fill a 13″ x 9″ Pyrex dish. You will be able to take advantage of the leftovers for lunch the next day! [Here is my favorite trick for never wasting dinner again]
Other Posts I Think You'll Enjoy: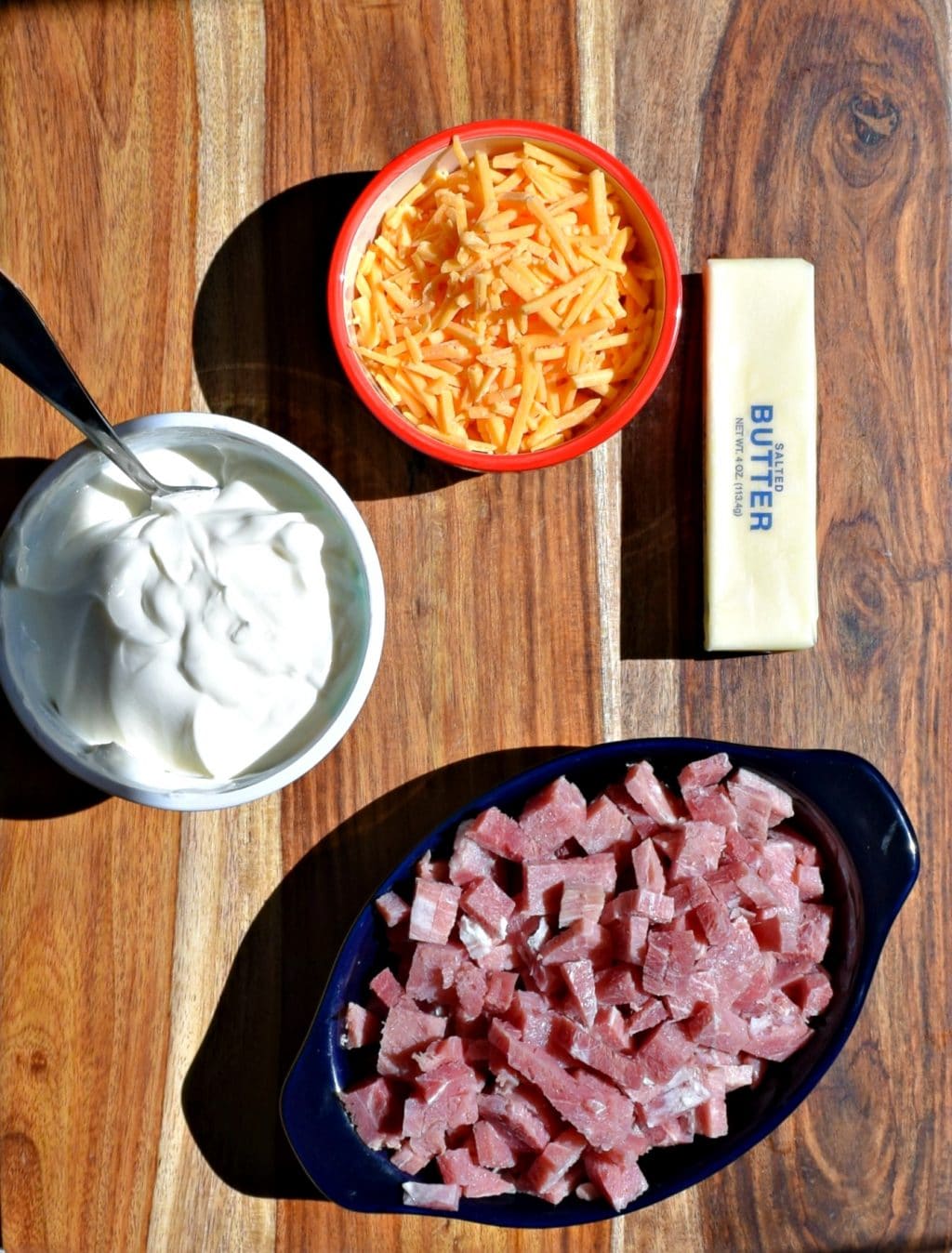 When you make this, melt the butter in the largest bowl you have so that you have space when adding the ingredients! It took me a few tries to figure out that the bowl I kept using was never going to be large enough. Now, I automatically go for the largest bowl tucked away on the shelf.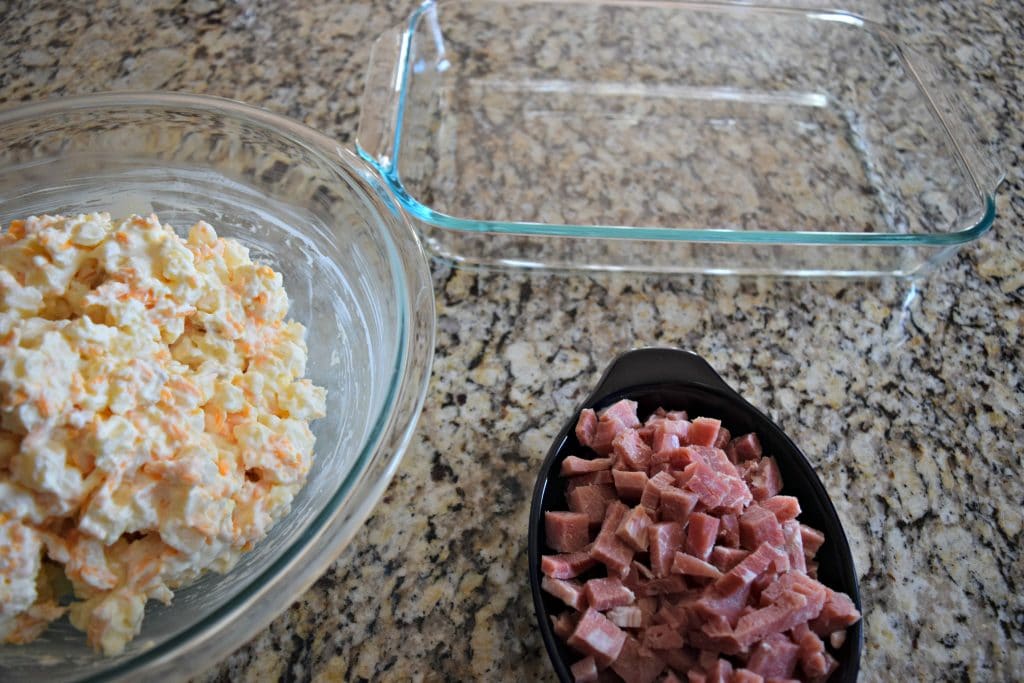 Layer on half of the potato casserole and then top it with the ham. You could mix the ham into the casserole bowl, however, you run the risk of mashing the potatoes too much.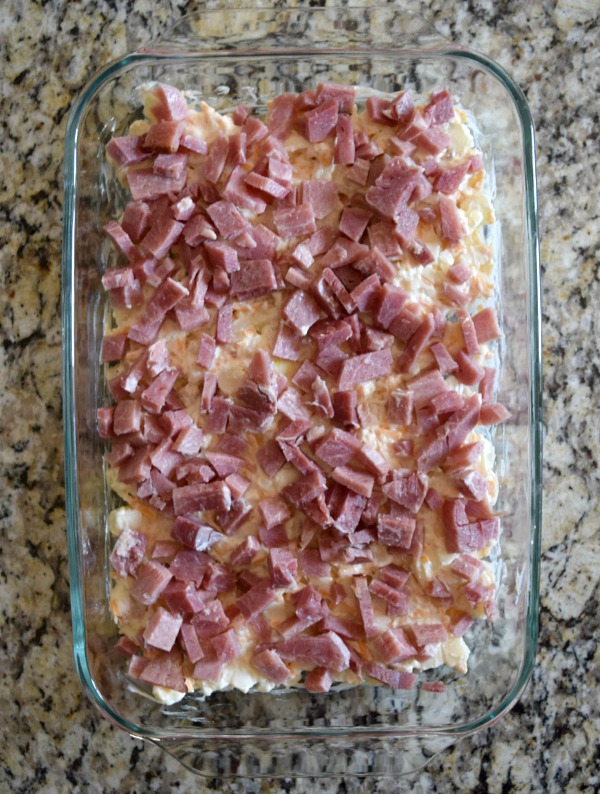 All ready to go for the second half of the potatoes and cheese! If you have extra mushrooms or onions lying around, you could easily toss them into the dish.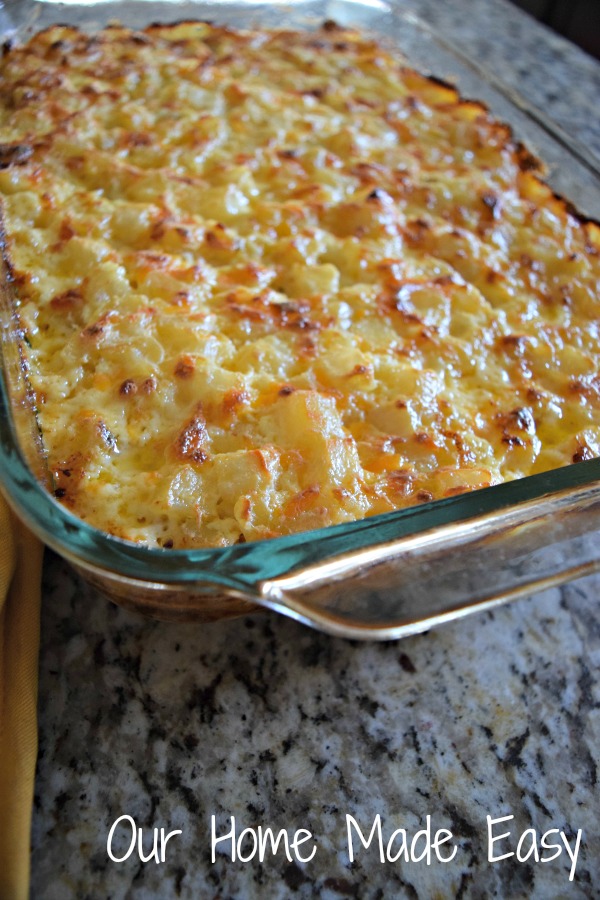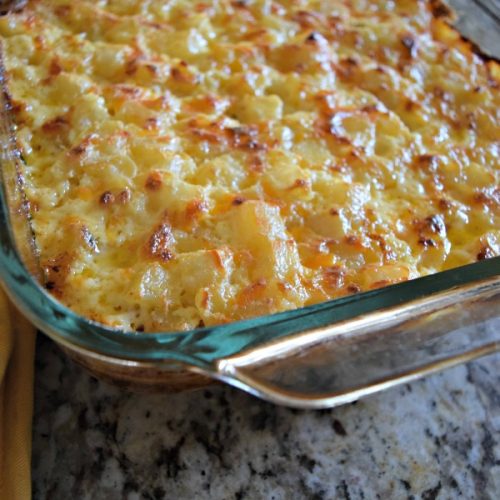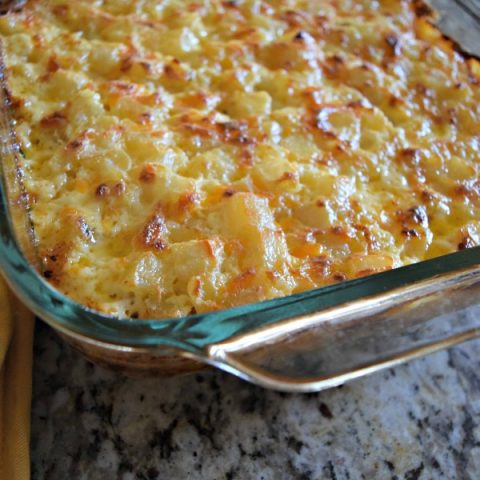 Ham and Cheesy Potato Casserole
Ingredients
1 stick of butter
1 - 32 oz bag of Diced Hashbrown Potatoes, , thawed
1 can of Condensed Cream of Chicken Soup
2 cups of sour cream
2 cups of shredded cheddar cheese
Approx. 2 cups of leftover ham, , cut to preferred size.
(Any extra toppings such as onions, mushrooms, or scallions)
Instructions
Preheat oven to 350 degrees.
Melt butter in microwave in large bowl.
Pour in potatoes, coat well.
Mix in condensed soup, sour cream, and cheese.
Spread one half of the potato mixture on bottom of 13 x 9 casserole dish.
Top the layer with ham.
Spread remaining potato mixture over the ham.
Bake uncovered for 50-60 minutes or until bubbly and golden.
Let the casserole sit for 5 minutes before serving.
Enjoy! What are your favorite recipes for post-holiday leftovers?
Items Used to Make Cheesy Potato Casserole
Forgot to plan dinner? No sweat! With my pantry staples cheat sheet!

Want to remember this post? Pin it for later!