Here is an easy comfort food dinner recipe for everyone's favorite tater tot casserole! It's only a few ingredients and perfect for families! Love casseroles, you'll LOVE this then!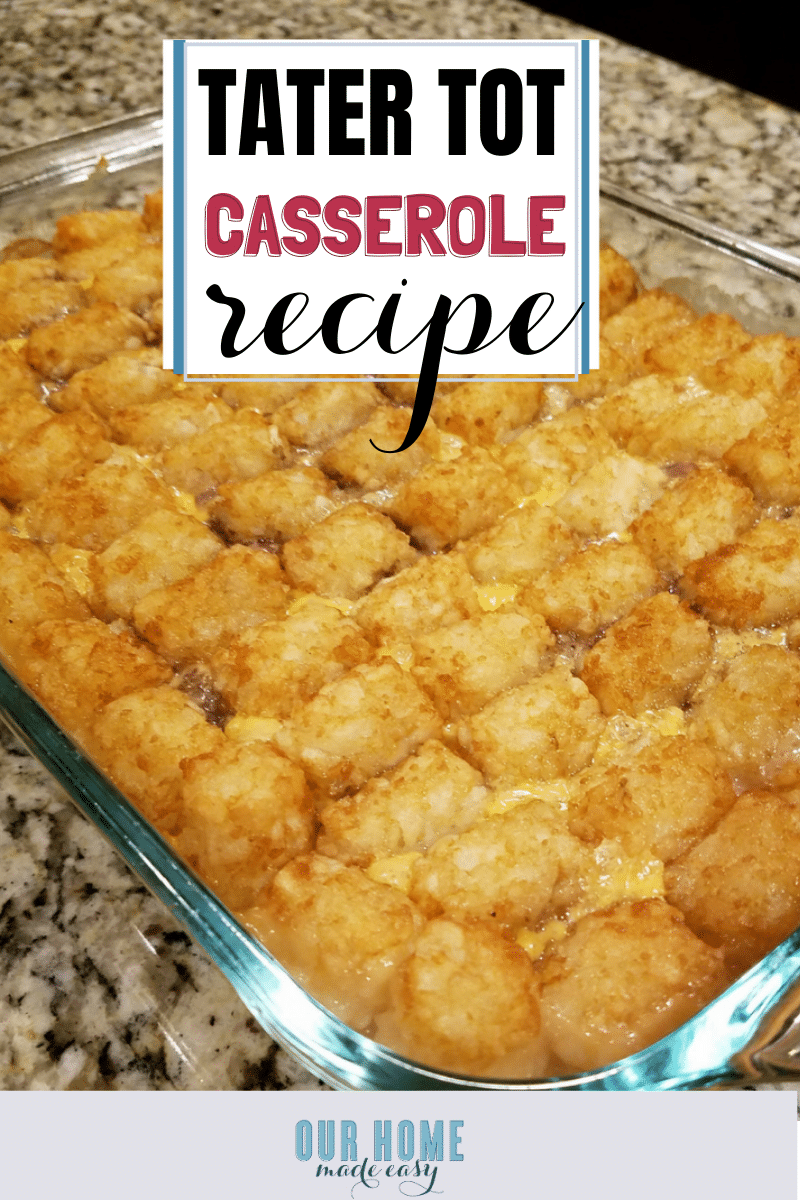 (This post contains affiliate links. Please see my Disclaimer for more information)
What is the one recipe you remember the most from school nights as kid? Was it not the most comforting meal ever? Have you noticed that you've forgotten about that dish since you've become a parent?
Me too.
But this week I am 'righting the wrong' and serving up my childhood favorite casserole– and it's so simple!
Growing up, my parents always worked a lot. So we didn't have fancy meals or dishes that were hard to pronounce. My mom always relied on recipes that were easy enough for her to cook every night (whoa, mom) and easy on the budget to feed us all, well.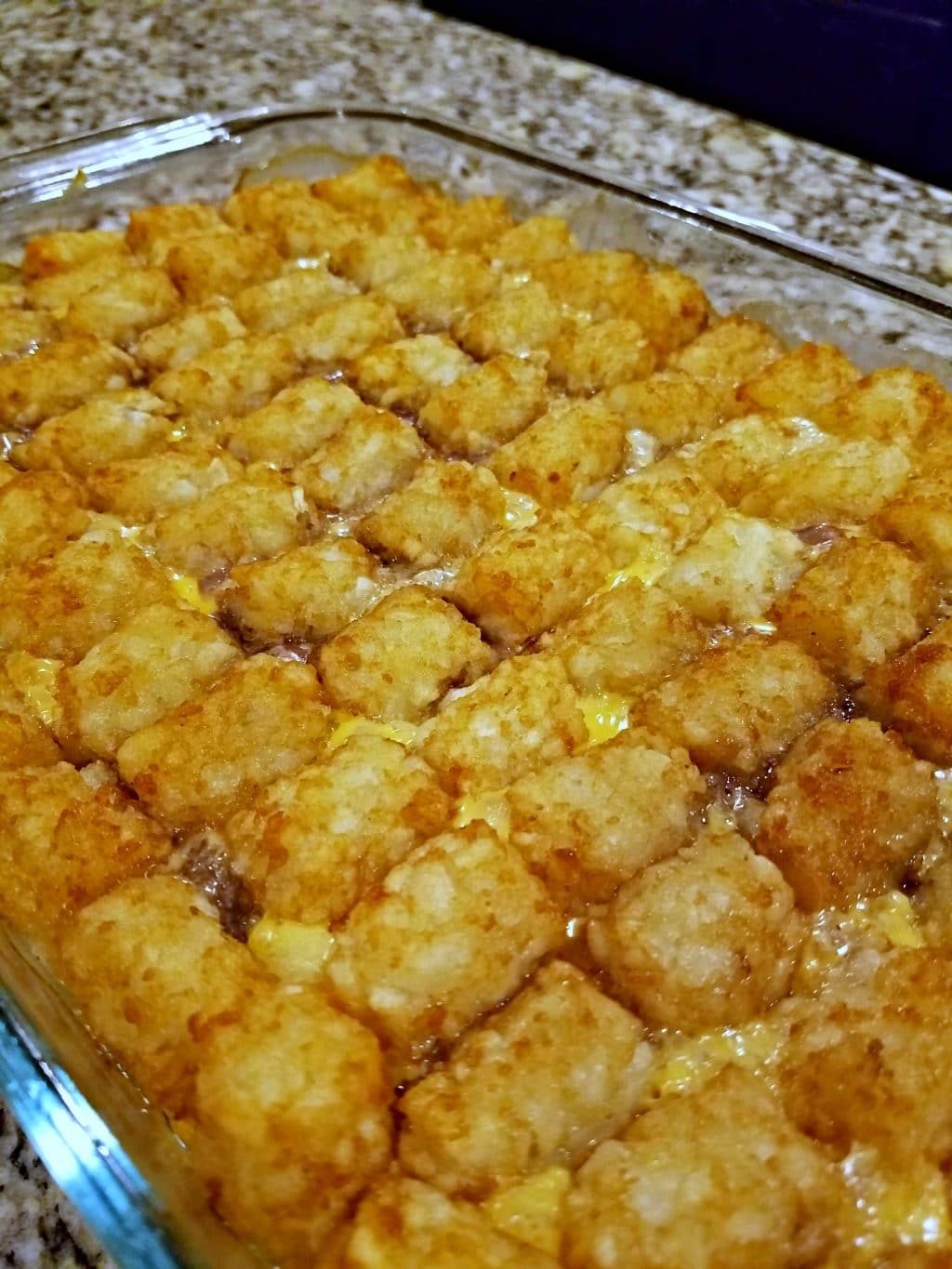 So this tater tot casserole definitely isn't fancy. Or healthy.. or any other adjective that generally describes food that's good for you.
But it's pretty darn great for this overworked mom's soul.
Other Posts I Think You'll Love:
Its simplicity is perfect for whipping up on a weeknight. You can have it prepped in about ten minutes and have it baking while you work on other to-dos around the house.
It doesn't need a roux, prepping veggies, or even cooking the raw beef. 🙂
#easypeasy
How to Make Tater Tot Casserole (Plus Mix-in Ideas!)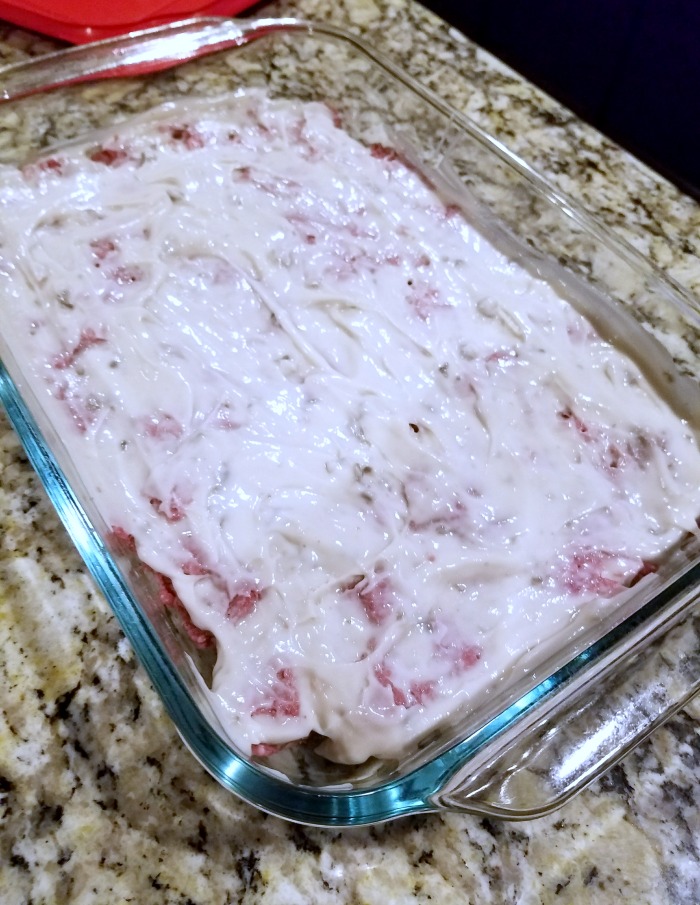 First, you'll layer your ground beef in a 13″x 9″ casserole dish. I don't think 1 pound is quite enough to cover the entire pan and keep satisfy your family.
I've learned that for a 13″ x 9″ pan, you'll likely need about 1 and a 1/3 pounds to 1.5 pounds of meat. If you only have a pound of ground beef, I would use a smaller pan and monitor the bake time to make sure the internal temperature still reaches 160 degrees.
Once you have your ground beef leveled, top with one can of Campbell's Cream of Mushroom soup.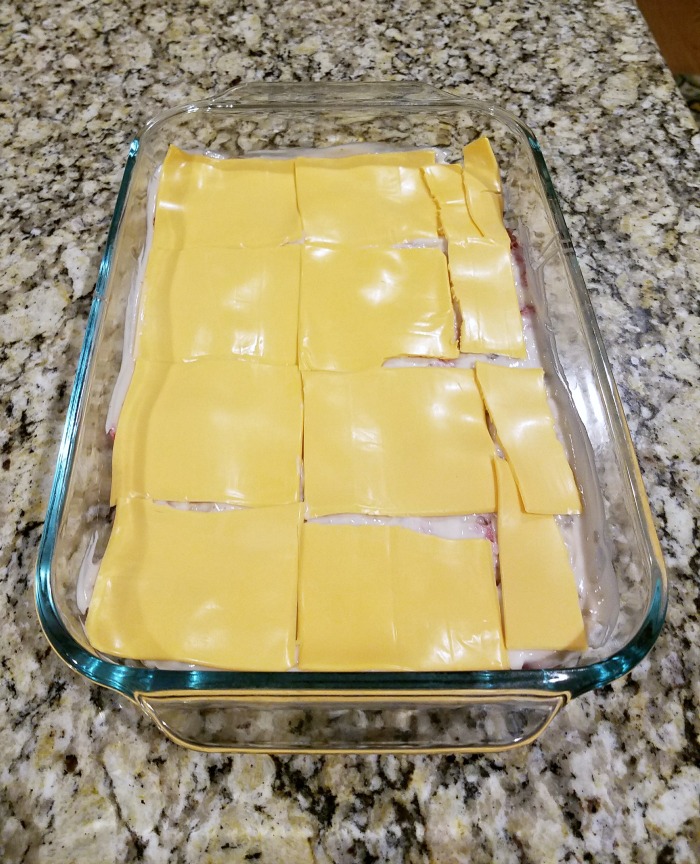 Next, you'll want to lay down a single layer of cheese. Growing up we used pre-packaged American cheese slices. However, over the years, I've used sliced cheese, grated cheese, and pretty much whatever we have in the fridge.
Can I Mix Other Ingredients into Tater Tot Casserole?
Absolutely! You can mix in more than 23 other items! You could add them as a layer before topping everything with the cheese. Click here for all the ideas to use up ingredients that you already have in your pantry or freezer.
My favorite ways to change-up this casserole:
Change the Cheese
Add Frozen Veggies
Add Fresh Veggies
Add Flavored Tots!
Make it Taco themed! (Taco Seasoning, Taco Cheese, etc..)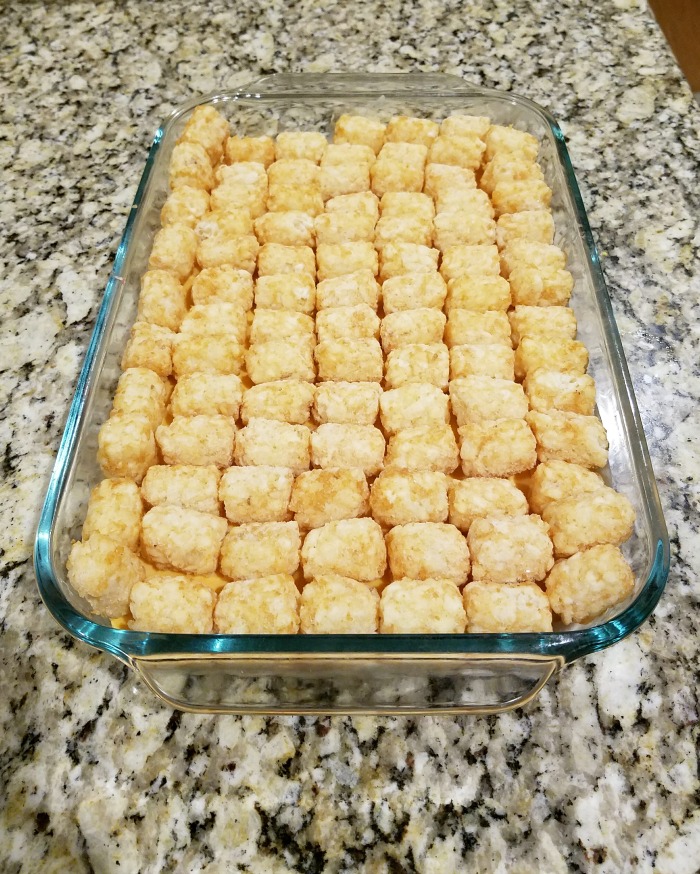 Finally, Add Your Tater Tots
Once you have all your ingredients under the cheese, it's time for the final step— the tater tots! This Tater Tot Casserole recipe uses almost a full bag of tater tots from the store. Depending on the configuration of your tots, you may have 3 or 4 tater tots left afterward.
You can line up the tater tots in neat little rows OR you can pour the entire bag on top of the casserole. If you pour the bag, try to make sure the tater tots are in a single layer so that they all cook evenly.
Whenever my husband, Jordan, is out of town traveling, this recipe pops up on our meal plan. The kids know that when Dad is away, this casserole is likely popping up for dinner. They share my enjoyment in this dish and we all enjoy the leftovers for lunch.
I think the best part of making a childhood dish isn't for the taste, but for the comforting memories that we shared with our parents. And it's something that we get to create with our kids. That can't be a bad thing if we do it in moderation, right?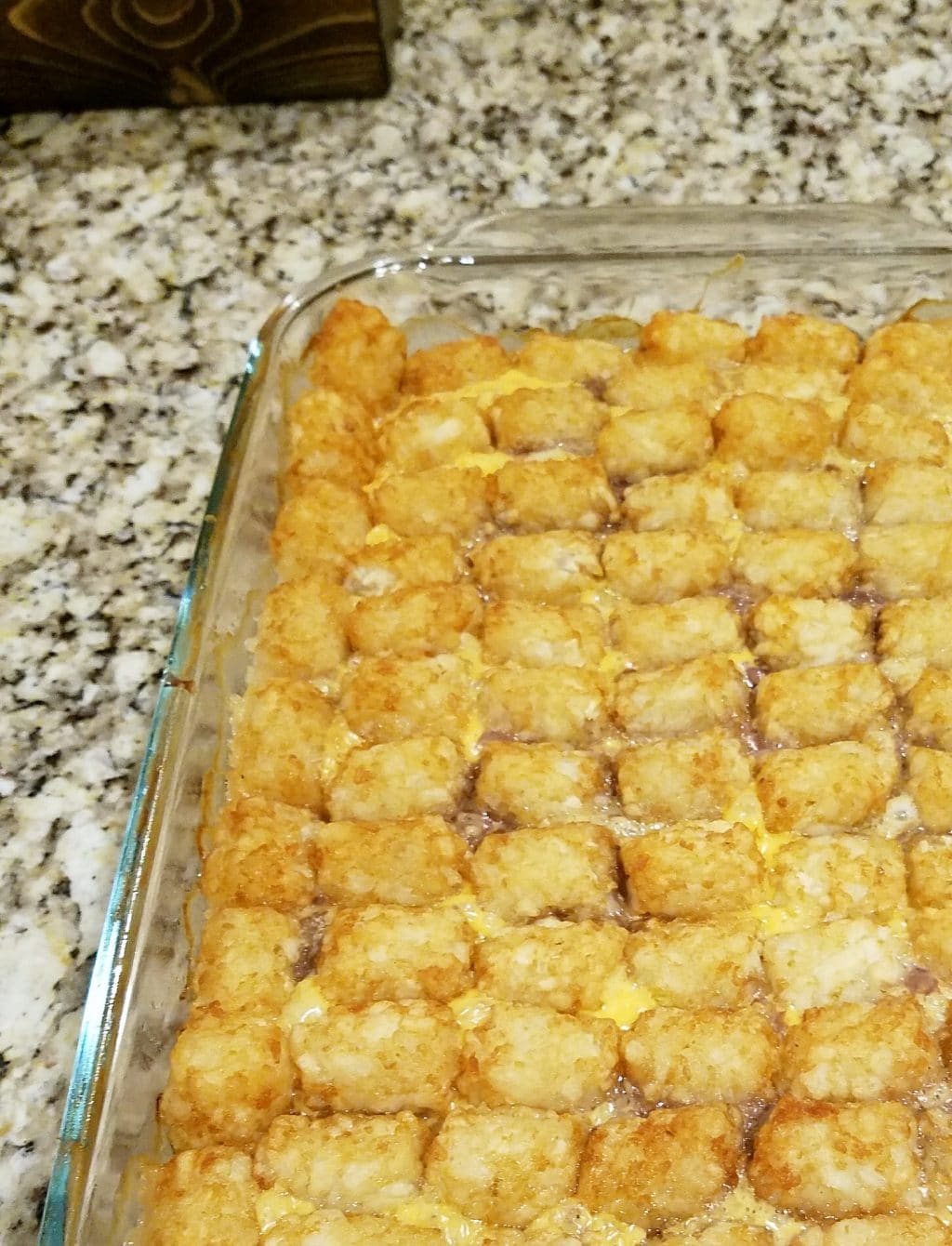 Let yourself reminisce of your own favorite childhood dish. What did you love coming home to after school or practice?
Add it to your meal plan next week. There is a good chance your favorite recipe is super easy, just like this Tater Tot Casserole!
Share the experience with your own little family and how it still feels like 'home,' even if you aren't anymore.
Take care my friends.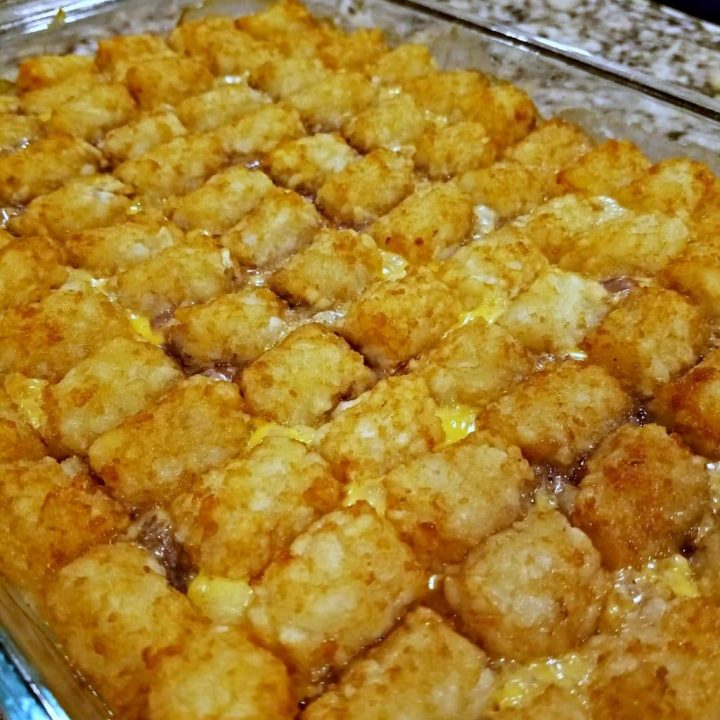 Tater Tot Casserole
Total Time:
1 hour
10 minutes
Make this super easy tater tot casserole for a quick family dinner! You can mix in your favorite add-ins to customize it to your family's liking! It's so simple and perfect for a busy week night.
Ingredients
1.5 lbs lean ground beef
1 can of Condensed Cream of Mushroom Soup
Sliced American Cheese
1 24 oz Bag of Tater Tots
+ Your favorite add-ins!
Instructions
Preheat oven to 350 degrees
In a 13" x 9" baking dish, spread out the raw ground beef evenly.
Empty of Cream of Mushroom soup over the meat. Spread out an even layer.
Cover the dish with a single layer of American cheese. Fill in any gaps for extra cheesiness.
Top with a single, even layer of tater tots.
Bake uncovered for 55-60 minutes.
Notes
Customize this tater tot casserole with your favorite add-ins! Here's a list of all the ways to make this casserole extra flavorful.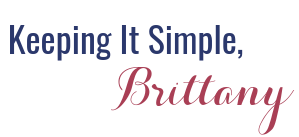 PIN FOR LATER: