Do you have a favorite family dish from your childhood? My husband loves this chicken and rice casserole dish that his mom would regularly make. It is rich, creamy, filling, and not all that healthy. But it is so good! Since we've been trying to eat healthier, we thought, why not substitute quinoa in place of the rice? What if we go super crazy and add in fresh vegetables? Turns out, quinoa is even more flavorful than using plain white rice. Yay! Since we started subbing in the quinoa, we haven't gone back to using white rice.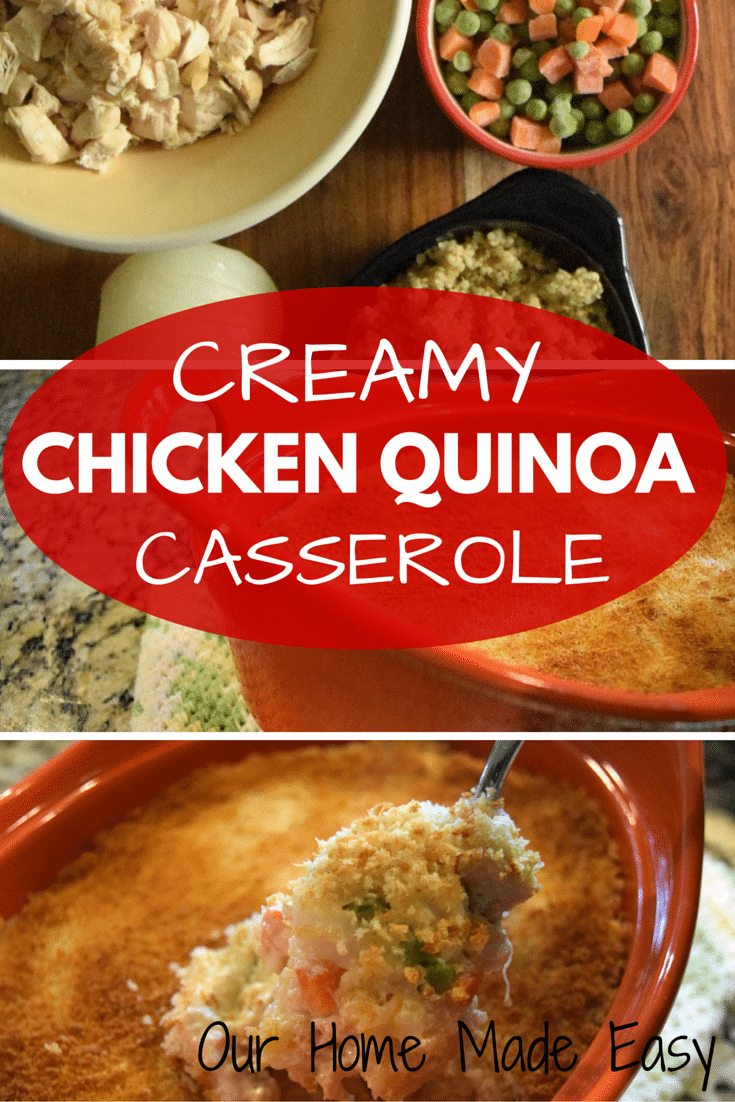 (This post contains affiliate links. If you shop from my blog, I may be compensated for clicks or purchases that you make. Read my disclaimer page for more information.)
If you're new to quinoa, it is a great substitute for anywhere you see white rice in a recipe. If used as a side, I always cook it in a water & chicken stock mixture. The chicken stock or chicken broth helps give it some flavor. Any other time, I cook the quinoa as directed and pop it into casserole or dishes like this chicken casserole.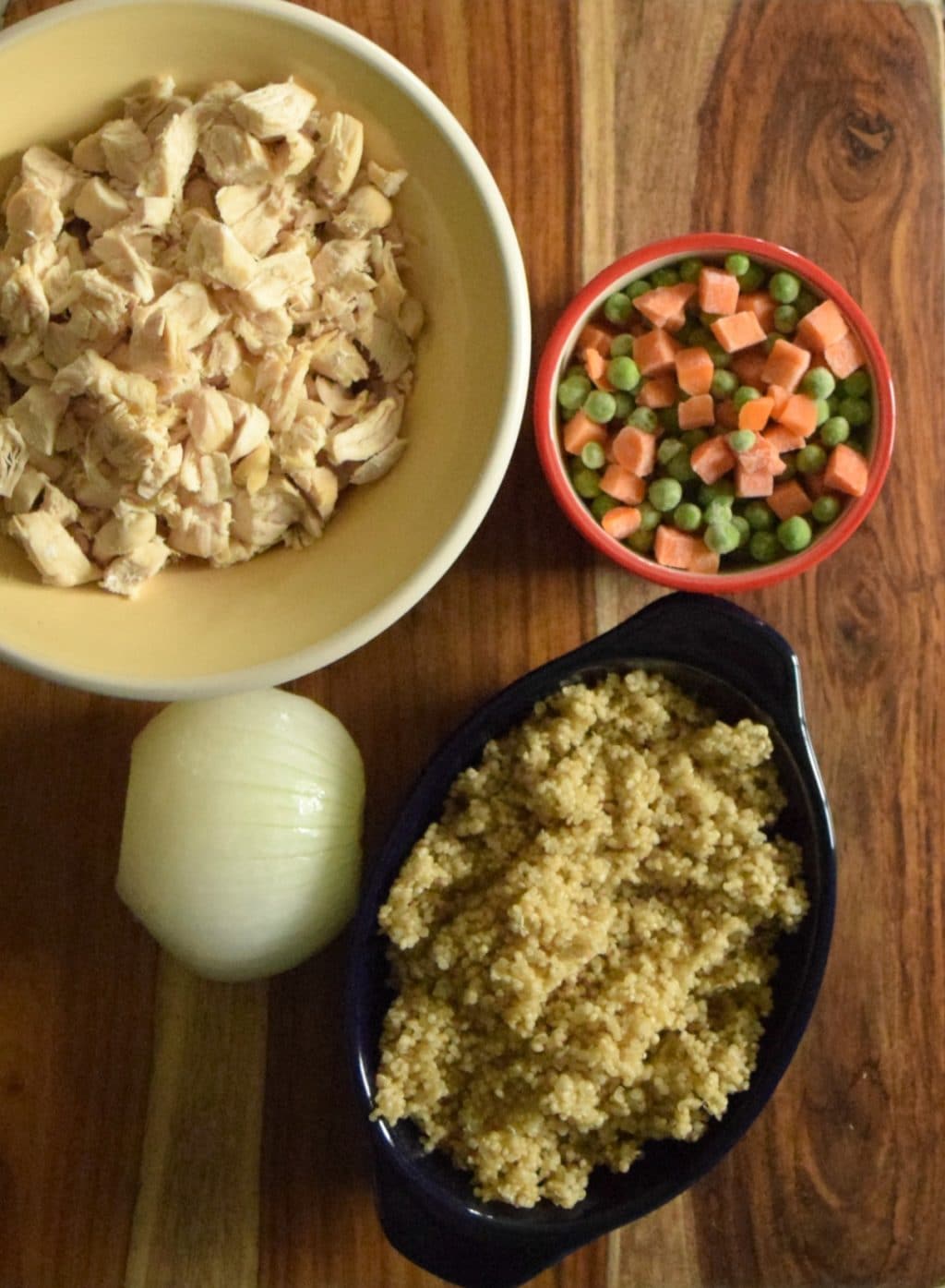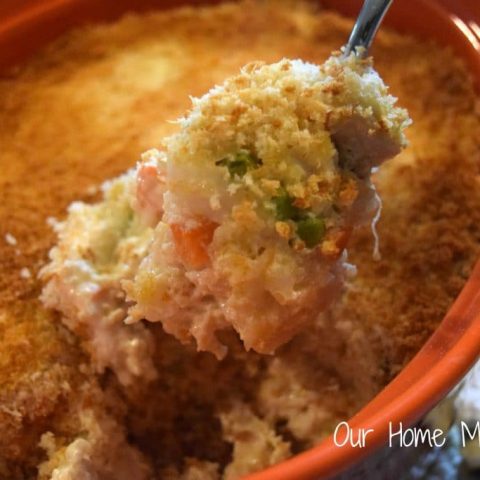 Easy Chicken & Vegetable Quinoa Casserole
This hearty, creamy chicken casserole is made just a bit lighter by replacing white rice with quinoa. It's an easy, filling dinner that the whole family will enjoy!
Ingredients
1 -1.5 pounds of cooked chicken breast, cut into bite sized pieces
2 cups of cooked quinoa
1.5 cups of chopped vegetables
1 can of condensed Cream of Chicken soup
1.5 cups of Mayonnaise
1/2 cup of chopped onions (you can use frozen and mix them in)
Salt & Pepper for seasoning
1/2 cup of Panko bread crumbs for topping.
Instructions
Preheat oven to 350 degrees.
Mix together the cooked quinoa, vegetables, chicken, soup, mayo, and onions.
Season with salt and pepper.
Pour into casserole dish.
Top with an even layer of Panko bread crumbs.
Bake uncovered for 45 minutes or until golden brown.
Notes
Quicker version: Bake chicken & quinoa the night before you make the casserole. Store in refrigerator. Adjust baking time for refrigerated ingredients.
A 13"x 9" baking dish will not take as long to bake as a casserole dish, check internal temperature before serving.
If you are looking to save some time off prepping this casserole, make the quinoa ahead of time. When this recipe is on the meal plan for the week, I boil it the night before, while we are eating dinner or when the dishes are being done. You'll know when the quinoa is ready; it's outer edges are little opaque rings and the inside is translucent.
For the vegetables, we added in one and half cups of frozen peas & carrots. I think it would be great if you have some fresh vegetables on hand. We don't have any yet here in Michigan. Come on Spring & Summer!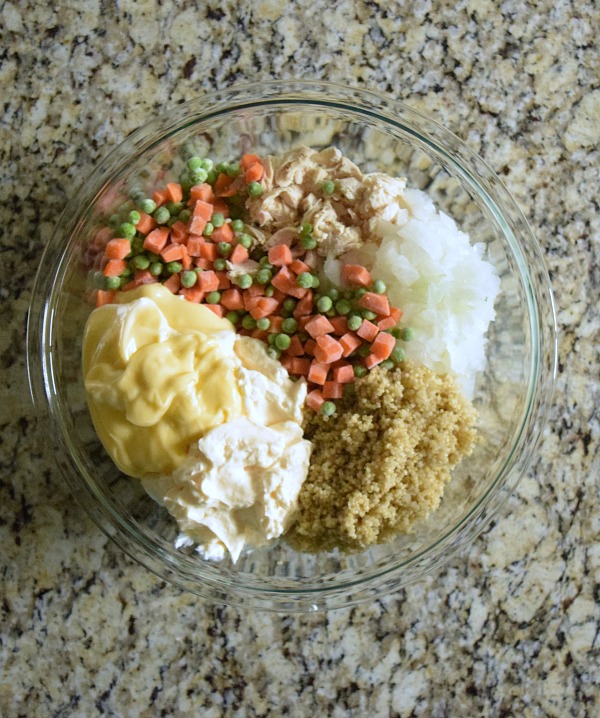 I don't mind boiling the chicken and then cutting it into small pieces. The only reason the bites are so small is because of the two little people we have running around! To save time, you could certainly buy a rotisserie chicken and shred it. Same outcome, same delicious casserole. For the mayo, you can substitute low-fat mayonnaise. However, do not use Miracle Whip. Trust me. 🙂
I use Panko bread crumbs, but you could certainly use any that you have on hand. The idea is to add a little crunch to your bite. 🙂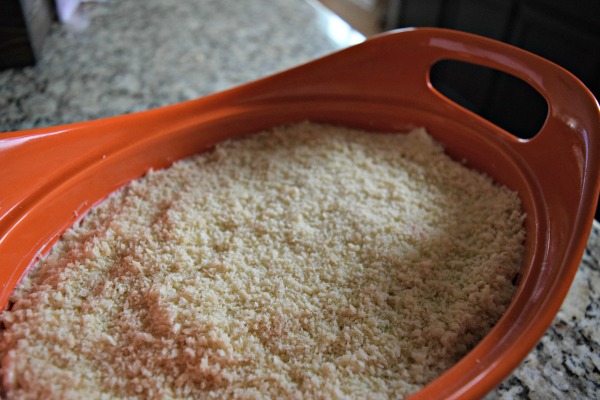 For this Sunday night dinner, I used my Rachael Ray 2.5 quart casserole dish. If you use the casserole dish, increase the cooking time to 55-60 minutes. If you use a 13″ x 9″ baking dish, cook for 45-50 minutes. Here it is golden brown and ready to be served!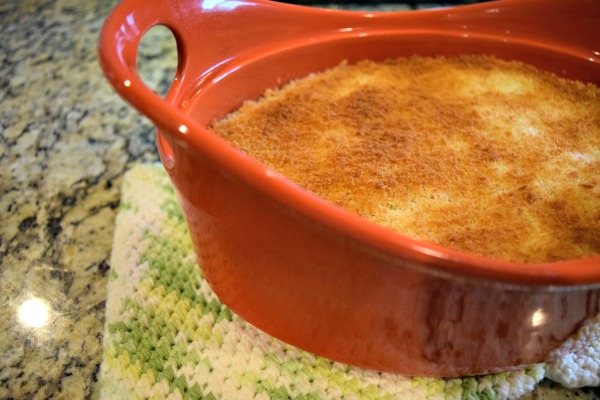 Enjoy!