Do you have kids who love to spend their summer's out by the pool or have little ones who like to dry off using  fun hooded towels? Did you know that they are incredibly easy to make? Seriously. The kids enjoy them AND you get to choose the towels to coordinate to your liking. Plus, they are easy to make (busy mama win!)….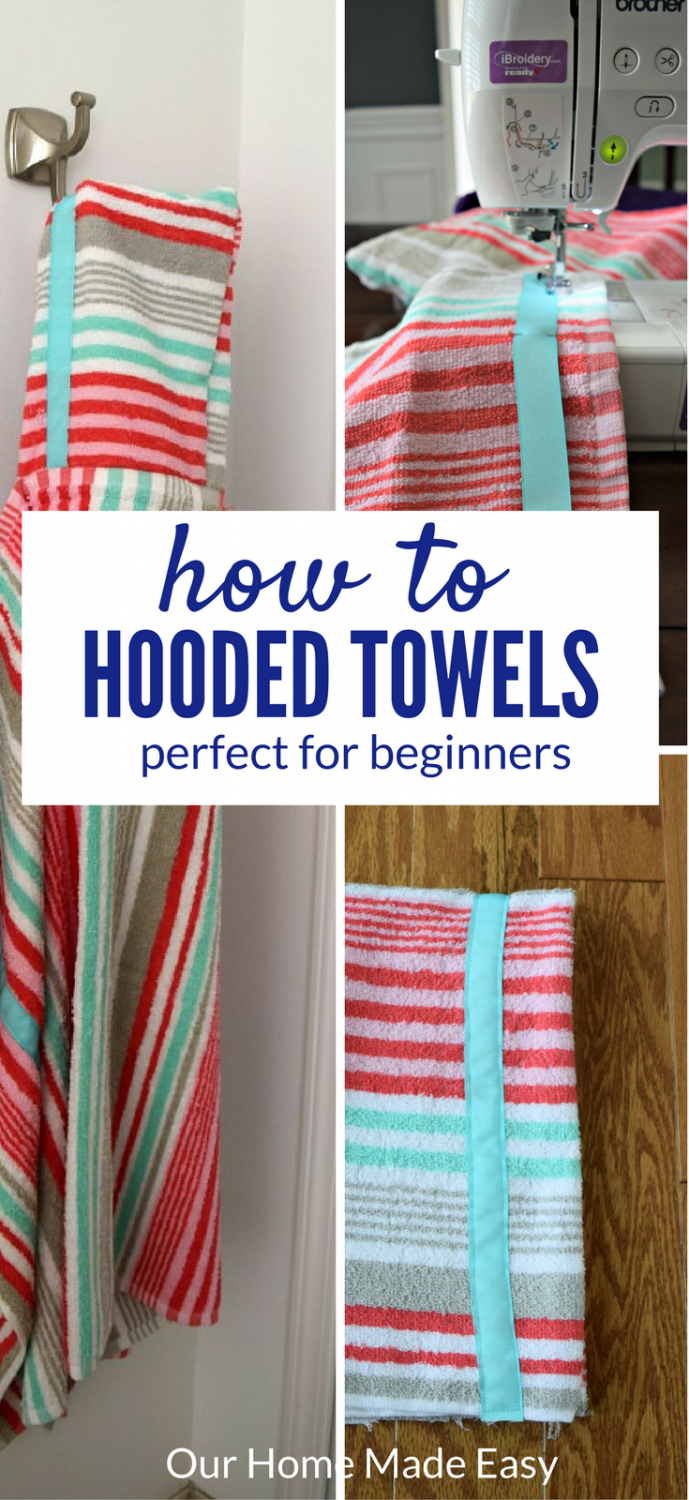 Once you make one, you'll see how easy they are to knock out on a rainy afternoon (when you're dreaming of sunny pool days 😉 ). Pick up enough towels and hand towels to make a few sets in one sitting.
 If you want even more, sewing info, sign up for my email newsletter. You will get exclusive access to my Resource Library. It has a worksheet for How-To Applique & Baby Burp Cloth & Baby Blanket sizing!
 This post contains affiliate links. If you shop from my blog, I may be compensated for clicks or purchases that you make. Read my disclaimer page for more information.
Supplies Needed for Making a Hooded Towel
One Hand Towel
One Washcloth (Optional)
Fabric Scissors (I love my Friskars!)
Quality Coordinating Thread
The hand towel is used to make the hood and the wash cloth makes for a cute complement to the hooded towel! If you're feeling especially creative, grab some coordinating ribbon for a little extra pizzazz.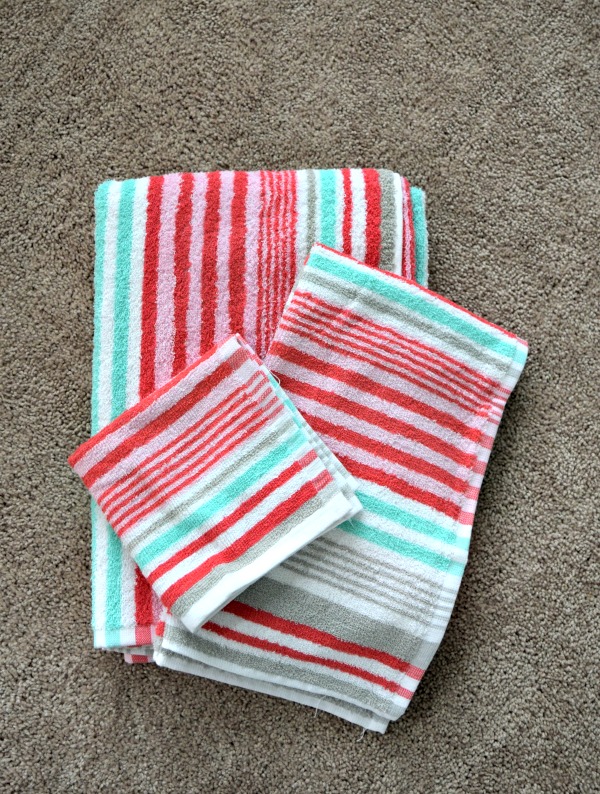 I found these towels at JCPenny. The next time you see them on sale pick them up! This is the great part about making hooded towels, you have complete freedom of prints, texture, and ribbons!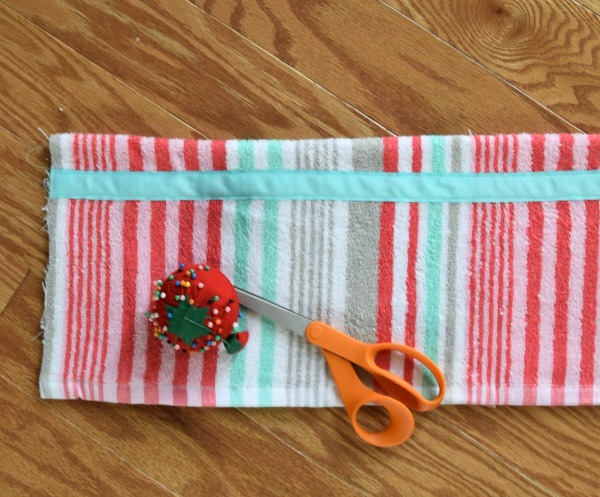 The first thing to do is take the hand towel and fold it in half lengthwise. Cut to 26″ in length. Once you have it cut to length lay it out so that you can measure the ribbon. Lay the ribbon across towel and about 2″ down from the fold and cut enough to slightly go over the sides of the towel.
Set up your machine (I use the Brother SE400) to a straight stitch. Sew the ribbon in place.
Wrap/fold the ribbon ends on the "wrong side" of the towel and sew securely in place.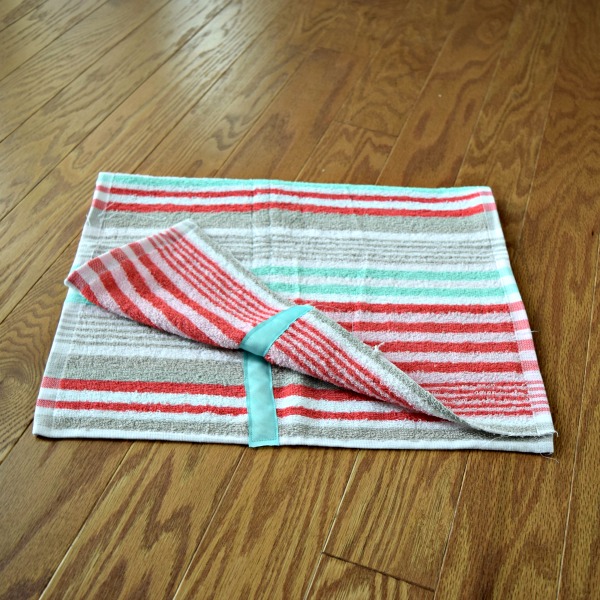 Now you need to begin creating the hood. Take the hand towel and fold it wrong side out and width wise. Look at the picture below for a better idea of what I am explaining. In this view, you will sew along the outer edges.
Once you sew these, you will have only the center area open where the ribbon is. DO NOT SEW on the side where the ribbon is!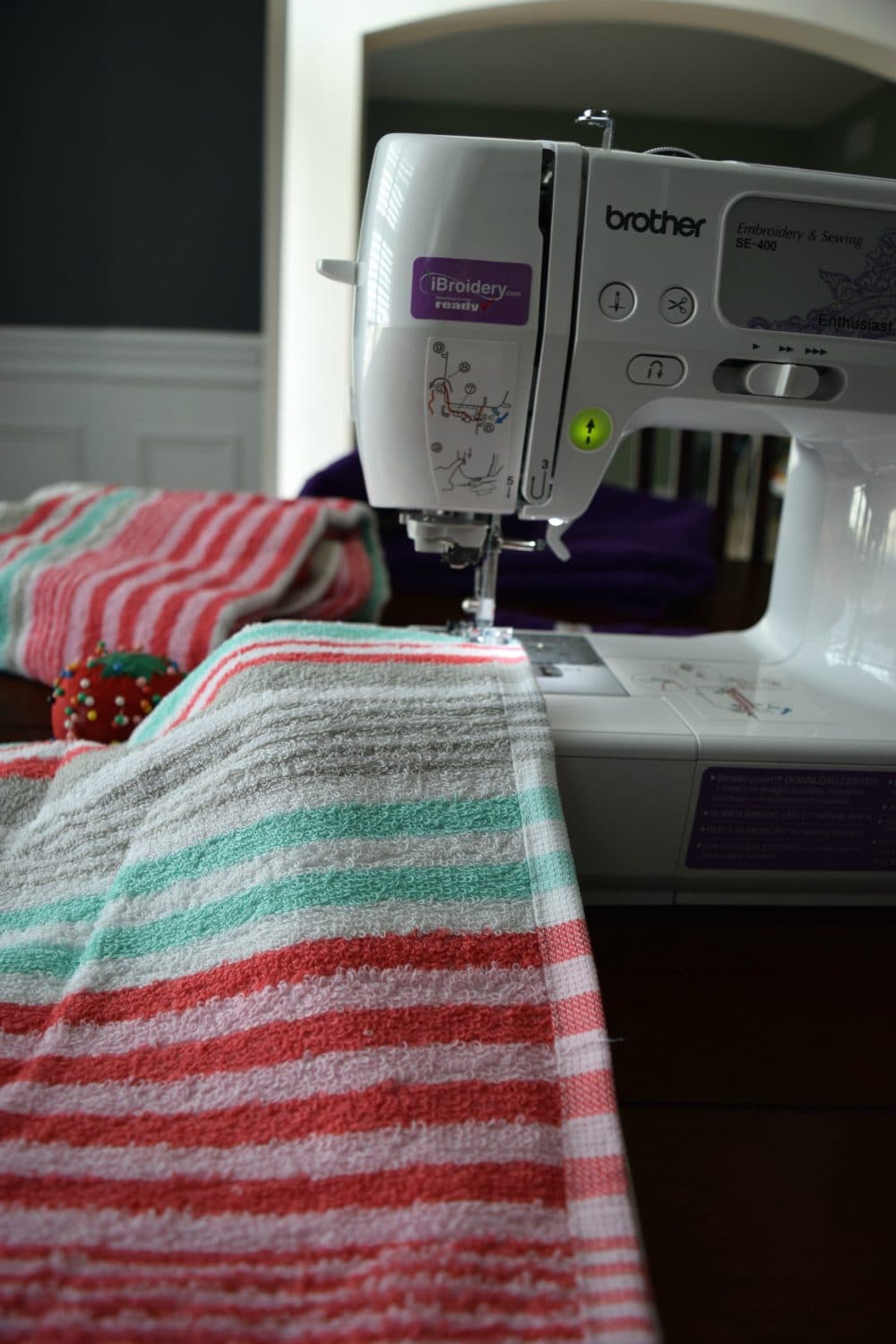 For this project, you will need to use a heavy-duty needle. Take a look at your sewing machine's owner's manual to see what it suggests.
For my machine, I used a denim needle that I already had on-hand. You will find that once you begin sewing through several layers of terry cloth, the needle becomes very important.

Now that your hood is closed on three sides, its time to make the hood opening! First you will lay it ribbon side out and have the opening facing the bottom. Then, take the upper right corner and fold it into the left upper corner.
You should have a towel that looks like it's folded into a quarter of itself. This next step requires you to fold out the bottom of the folded towel. By pulling the bottom corners out, you will create a pocket in the top half. Orient it so that it creates the hood. One last step.
Pin the opening together by tucking the open ends into each other and sew the opening closed. This will make sure nothing frays. Now the hood is ready to be attached to the bath towel!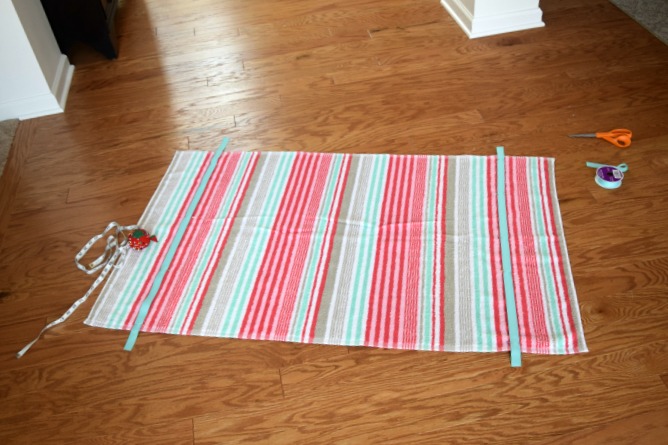 I like to keep things simple. Therefore, I recommend adding any extras, like ribbon, to your bath towel before you attach the hood.
If you add the ribbon later, the hood just adds more "stuff" to get in the way.
I measured in about 9″ to add the ribbon. You can choose the place, just be sure to make sure its equal on both sides. *My OCD tendencies are coming out!*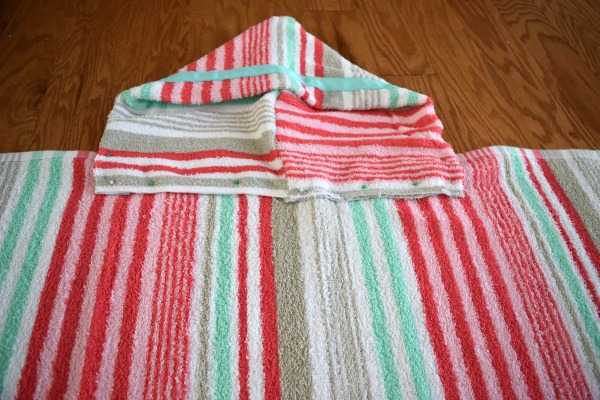 Lay the right side of the bath towel face down on your surface. With the wrong side of the bath towel facing you, pin the hood in the center of the bath towel about 2″ down and overlapping with the bath towel.
Use lots of pins here, you want to keep the terry cloth in place! When it's all done, you will have a sewn a rectangular box. Use a straight stitch and follow the sides of the area pinned. Things get very thick here. It's important to go slow and know that you will get it. I promise.
Once you have all four sides sewn, sew another line across the top and bottom with a zigzag stitch. I know my kids can be tough on items and I did not want the towels to fall apart!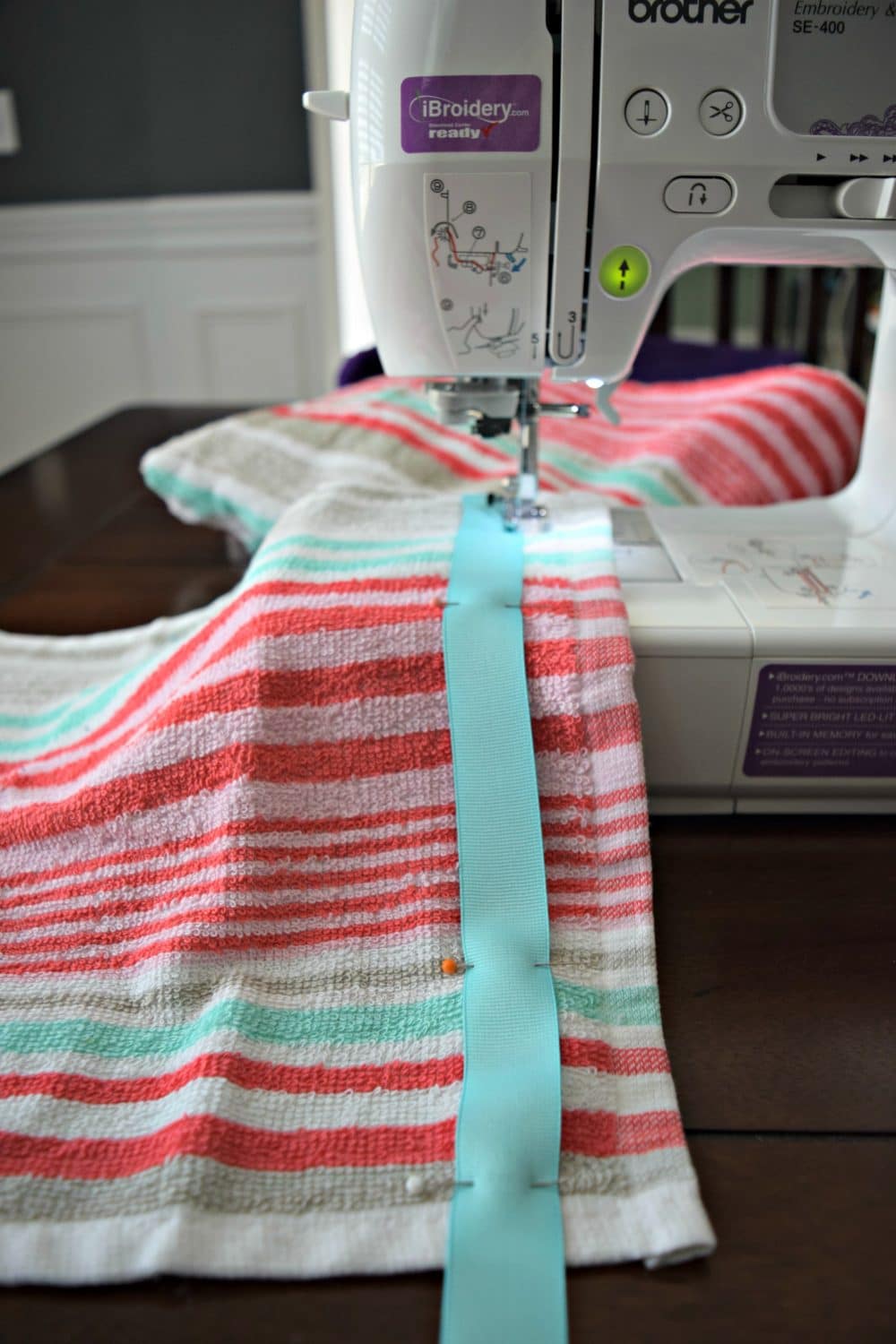 Here I took the ribbon and added a stripe on the hand towel. Again I cut the ribbon about 3/4″ longer than the wash cloth and tucked the extra under the wash cloth and sewed into place.
Here it is hanging up! How cute! I can't wait to see my niece wearing her new towel!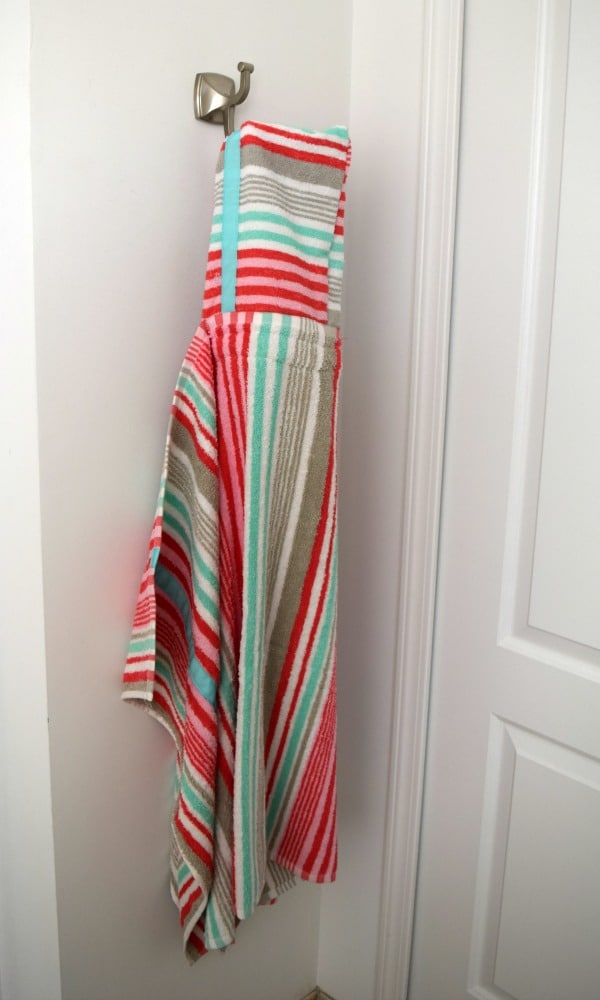 Once you complete your first hooded towel, you will be to knock out your future ones in a fraction of the time!  Once you learn it and find the technique that you love, you'll become a semi-professional very quickly.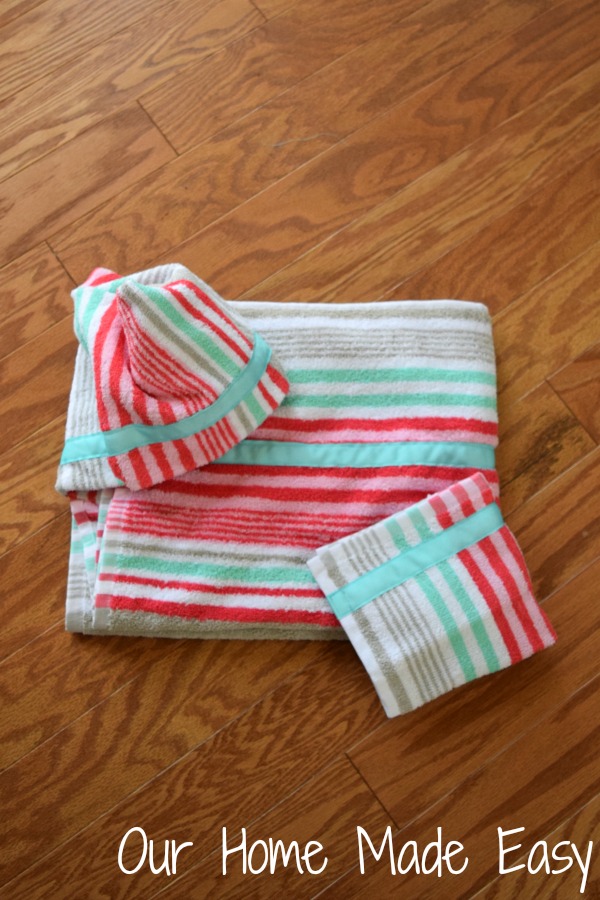 The best gifts are always handmade. By finding a cute hand towel and bath towel you can quickly knock these out. You can give them for little ones for bath-time or those who love to go swimming! Simply stock up during sale time and you can make them with little effort when you need them!