The Best Way to Save 45 Minutes on Every Sewing Project
Do you sometimes procrastinate starting a sewing project? Why? I have to admit, sometimes I avoid starting a project because I have a love/dislike (hate is too strong!) feeling with running to the store and waiting for fabric to be cut. I love browsing, but I quickly get impatient waiting at the cutting tables. Have you ever felt the same way? If you want a trick to speed up the time that you're project takes and actually motivates you to just start it, I found it for ya!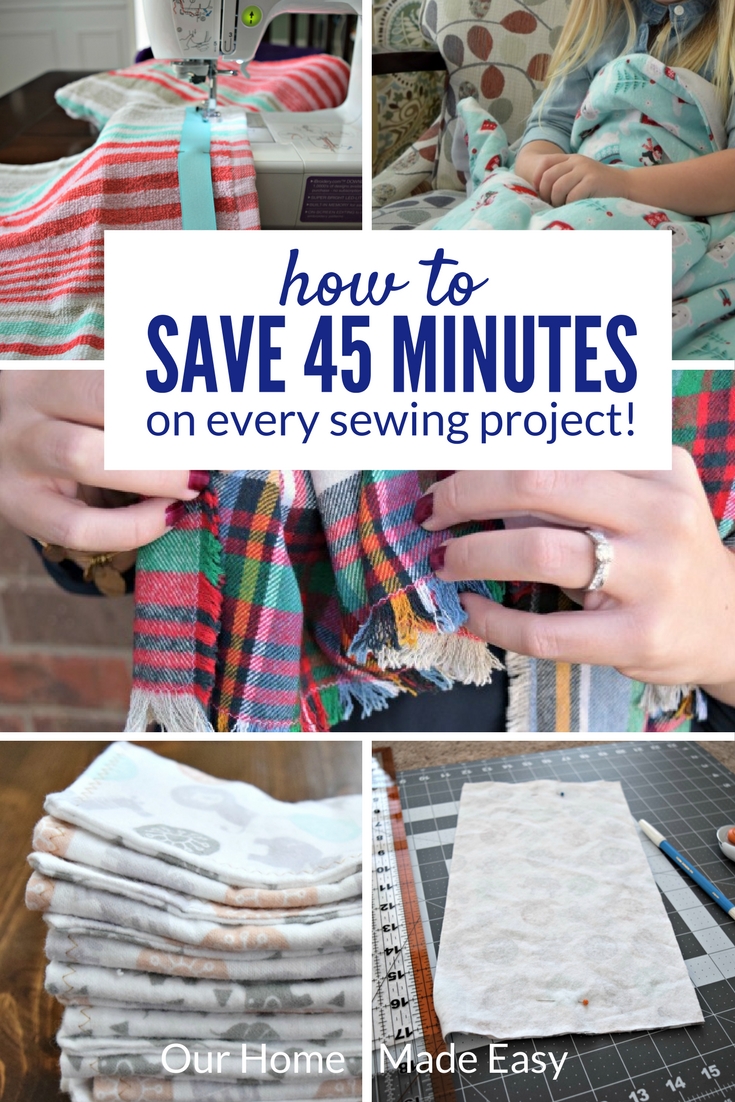 (This post contains affiliate links. If you shop from my blog, I may be compensated for clicks or purchases that you make. Read my disclaimer page for more information.)
You know that one of my biggest hobbies is sewing. I'm definitely not super great at it, but I'm learning new techniques as we need things around the house. Obviously, I love to save money and make things that coordinate well with our home. If I can make some sort of cohesion and save money, well that's golden. But you know one thing that really bothers me about sewing? How long it actually the process take before I can actually sew (I'm an impatient one!).
So this morning, I am sharing with you how I started saving exactly 45 minutes on every single sewing project.
Yes, every… single… project.
Right now my sewing projects are created like this >>
See a problem, think "I could totally make this!"
Drive to Jo-Ann Fabrics
Pick Out Fabric
Line up Bolts of Fabric in the Cart
Pull a Number at the Cutting Table
Wait….wait…wait some more (weekends, are busy, y'all!)
Have Fabric Cut
Wait In Line To Check Out
Arrive Home and Finally SEW!
One of the most time-consuming parts of a sewing project are driving to the fabric store, choosing fabrics, waiting in line at the cutting table, making sure I have the right coupons, and then checking out.
This took too much time. So I figured out a way to literally remove 45 minutes from the entire process. It's probably more time than that when I shop on the weekend.
Seriously. It's like Amazon Prime, but for crafty and busy moms! I think it's a relatively new feature. But guys, I'm using the heck out of it! Like twice… in only two weeks 😀
Here is how it works….
Shop online at Jo-Ann.com and filter by the type of fabric you need for the project. If picking it up quickly is the most important priority, check 'FREE Store Pick Up' over on the left hand side under 'How To Get It'.
You can see also see the fabric's eligibility for pick up when you look at item.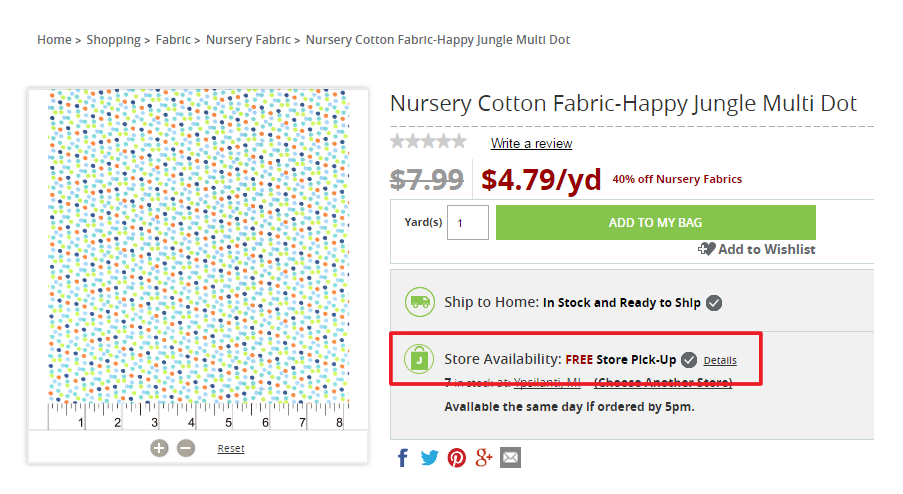 I outlined in red the golden time saver…. FREE Store Pick-Up.
Once you select the fabric that you need, simply head over to the online check out. The only issue I've ever had with Jo-Ann's checkout process is that you can only use one coupon per transaction. If you're like me, I have 5 on any given weekend. 🙂
Continue the check out process making sure that you've chosen 'PICK UP IN STORE.'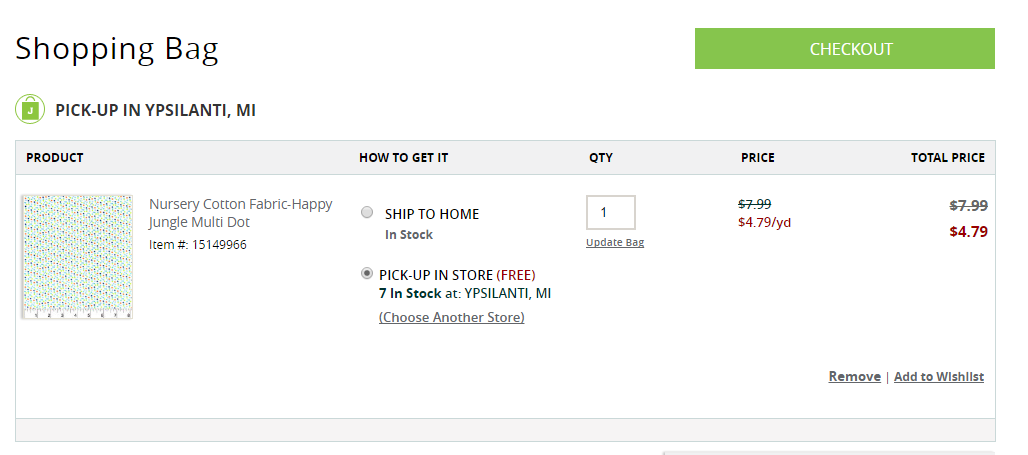 Once your order is completed, simply smile to yourself and wait for an email that tells you that your order is ready! My orders were ready for me within 2-3 hours of my original purchase. If you can't make it to Jo-Ann's that day, no sweat. They'll hold your order for up to 3 days.
In my local store, there are several banners directing online store pickups towards the cash registers. I hadn't paid much attention to them until I needed to pick up my first order. When you arrive at the store and it's your turn, you simply inform the Customer Service Associate that you are picking up an online order.
This seems to be a new feature that was rolled out to our local Jo-Ann's. Since I've already used it twice, I know that it will become a new favorite from now on. Who doesn't love shopping on the couch?
With a bit of planning (I'm looking at you spontaneous fabric picker-outers!), you can order your fabric ahead of time. Simply order online, choose pick up in store, and you'll be greeted at the checkout with your fabric! It's such a time saver in the crafting world, and you won't have to stand in line and be a number on a Saturday afternoon anymore!