Hey there! Earlier this month I went behind the scenes and discussed why you should start a blog. The response was like whoa….. I didn't realize how many readers wanted to know more about the blogging-scene. So if you're interested, this is for you! If you aren't no hard feelings… I'll return to regular time-saving home posts next week! But in the meantime, I can't wait to tell you how bloggers make money on Pinterest (even when they are sleeping)!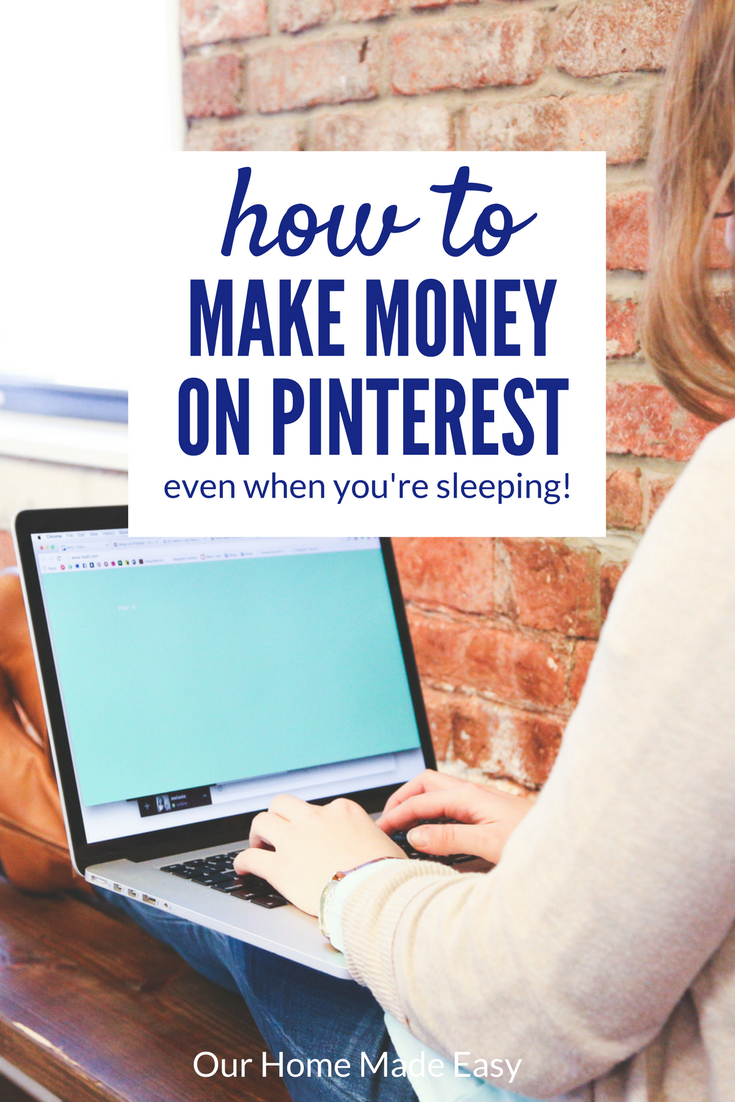 (This post contains affiliate links. If you shop from my blog, I may be compensated for clicks or purchases that you make. Read my disclaimer page for more information.)
So I'm weird. I don't love talking about money. I didn't start a blog to make more money. It happened naturally and I enjoy it, but it doesn't drive this little space on the internet. I am incredibly fortunate to work full-time so I can be choosy as to whether or not I need to monetize something on the blog. But when it comes to blogging, there are definitely ways to make a side income. It helps offset the costs associated with hosting, education, and other expenses.
If you ever talk to a blogger about how they make money, you'll usually hear about three legs of income.
Their own Products (shameless plug: Your Life Made Easy )
Ads within the Blog
Sponsored Posts (like these) / Affiliate Links
As I'm asked more about blogging and the biggest bang for your time, I want to talk about affiliate links. I like to make blogging easy for me since I'm like every other mama– super busy. Rather than depend on my daily traffic for ad revenue, I've developed a love for affiliate marketing.
I learned to really embrace affiliate marketing last summer when I took Affiliate Marketing for Bloggers. It opened up eyes to the real value in creating links to products I already love and sharing them with my readers. If it wasn't for affiliate marketing, I'd still be waiting to 'hit it big' and be dependent on someone else telling me what they were willing to pay for a post (sponsored posts) or pageviews driven (ads).
What are Affiliate Links?
Affiliate links are links that lead to a product or store on the internet. Rather than the link be 'Amazon.com,' it has a cookie in the link that tells the retailer who sent them their way. Why is this important? At no cost to your reader, you'll receive a small commission for referring your reader to the shop! It's a win-win for both of you. Each retailer is different but generally, when the reader makes a purchase within 30 days of clicking on you link, you'll receive commission (it's 24 hours with Amazon). To be genuine, it's important to only refer items or stores you genuinely like. Here is the best thing about affiliate links– when someone clicks on a link, they don't have to buy the item you linked– you receive credit for any item within the store!
How to Become Eligible to Use Affiliate Links on Pinterest
First, you need to have a self-hosted website in order to have affiliate links on Pinterest. It's extremely affordable to start a website (step by step tutorial here). For about $3.95 per month, you can be up and running legally in about 20 minutes! Once you're self hosted, you'll want to create a Pinterest account.
Join Affiliate Networks
Okay, so you now have a self hosted blog. Next, you need to join affiliate networks. Affiliate networks are essentially the middle man between yourself, the publisher, and the retailer. When you want to create links that contain your affiliate code, you'll use these networks. To start with, join the Amazon Affiliate network. Amazon is such a popular retailer that readers buy all the time and they offer gazillions of products.
My favorite affiliate networks
Create Boards
Now that you are a member of an affiliate network, you need to set up your Pinterest account for pinning. Start by creating targeted boards. You can create boards that are full of affiliate links OR intermix your affiliate pins within your existing boards. For instance…
Home Decor: Create your dream home boards using retailer images.
Crafters: Favorite craft supplies, Must Haves for Your Cricut or Specific Craft
Mom Board: Your favorite items for toddlers, favorite books, or Must Have Items for Mom
Party Planning: Create boards for party themes. Include affiliate pins that link to relevant party supplies and personalized party decor. Include crafty and decor links to make the board incredibly useful and not just for your $$$ benefit.
DIY Board: The best DIY tools, DIY gifts,
You can see how quickly you can add affiliate links throughout your boards! I'd recommend starting with one board solely devoted to affiliate links and intermix other links throughout your boards. You don't want to look too spammy!
My own Pinterest Boards with Affiliate Links >> [Minnie Mouse Birthday Party] and [Blogger's Best DIY Tools]
Create Images and Start Pinning!
Now the fun part! Have you ever noticed that when you hover over an image of a product that you like, that you can pin it? Or, there is a pin-it icon within the product page? Pin the images and edit the pins in the next step. If you want to take products to the next level and make them incredibly attractive on Pinterest, create a new image using free software like PicMonkey or Canva. You can use these programs to create long, vertical images that do well in Pinterest.
What would make a great vertical pin? If you focused in motherhood, you could create a collage of GAP Kids summer outfits and add a title that says "Best Vacation Clothes on a Budget!" and link to GAP Kid's summer collection OR You could create a collage of the best farmhouse finds at Pottery Barn (if you're an affiliate to PB) and link to [http://www.potterybarn.com/search/results.html?words=farmhouse ] This is where you can become super creative.
If you're creating your own pin, you'll need to hit the '+' in the upper right corner of your homepage. Click 'upload an image.' Upload the image and save it. Then edit it using each of the steps below.
Write a Great Description!
Now that you've created your first pin, you'll see that when you hit 'Edit,' you can change the description and the URL. This is where your affiliate links come in! In the description, write a sentence or two about the item using popular keywords. After all, Pinterest is a visual search engine and you want your pins to appear in search results! You'll need to add your affiliate disclosure (discussed in the next step).
Then, you'll want to copy the URL of the link. Paste it into your specific affiliate network's link creator to get your personalized link. This link has your referral cookie in it. If this seems overwhelming, start with Amazon Associates. Return your pin and paste in your affiliate URL where the original URL was originally. Boom– now you have an affiliate pin that can go anywhere in the Pinterest-universe.
You aren't done yet!
Disclose, Disclose, Disclose
Remember earlier how I disclosed that affiliate links are used in this blog post? The Federal Trade Commission requires that you know that I may be receiving a commission for any purchase you make through this post. It's the same for pins. Anytime you create or upload an image to Pinterest. You need to update the description to say 'Affiliate Link' or #affiliate. This informs the reader that you are receiving a commission if they click through the pin and make a purchase.
Also, I'm not a lawyer, but you may need to apply for a business license. It varies by state. <<just a heads up!
Lastly, No Short Links Allowed.
Pinterest Terms of Service require that all affiliate links display their full link. So that means you cannot use bit.ly or shortened Amazon links. Traditionally, you would use short links for all social media (affiliate links are super long), but Pinterest wants your readers (and their algorithm) to know what they are clicking through. It's just a small (but very important) detail that many don't realize.
Bonus Tip! [BoardBooster Looping]
If you think that constantly pinning sounds exhausting– it isn't! I use BoardBooster to pin for me. BoardBooster charges $0.01 per pin. Here is how it works for affiliate links in Pinterest… create a looping campaign for each board. In the campaign, you'll tell BoardBooster to 'loop' aka re-pin your pins to the top of the board. Then the old pin is deleted so you don't have to worry about duplicating pins! So you're affiliate links are automatically moving throughout your followers feeds– without any work by you! Note: I recommend looping 1-2 pins per day for every 100 pins on a board. They offer a free trial and monthly plans start at $5 per month for 500 pins! [Click here to sign up for 100 pins for free]
Have fun and enjoy recommending the best products that you already use!
I know it seems overwhelming. But once you've created your self-hosted blog, you can apply to affiliate networks. I advocate that you start out slowly and choose Amazon, first. Then pin and edit the links to include your disclosure and your affiliate link in the URL.