I am so excited to talk blogging shop with you this morning. We returned home from vacation this weekend. We left sunny 107 degree Phoenix for a 47 degree Sunday morning in Michigan. Whew! But ultimately we are extremely lucky to be warm & safe in our home. We are keeping so many thoughts & prayers with those affected by Hurricanes Harvey & Irma.
If you don't mind, I wanted to go behind-the-scenes this morning with how to set up a blog. I receive so many emails asking about blogging. One of the most common ones is "How do you even create a blog?" It made sense to tell explain the process in screenshots!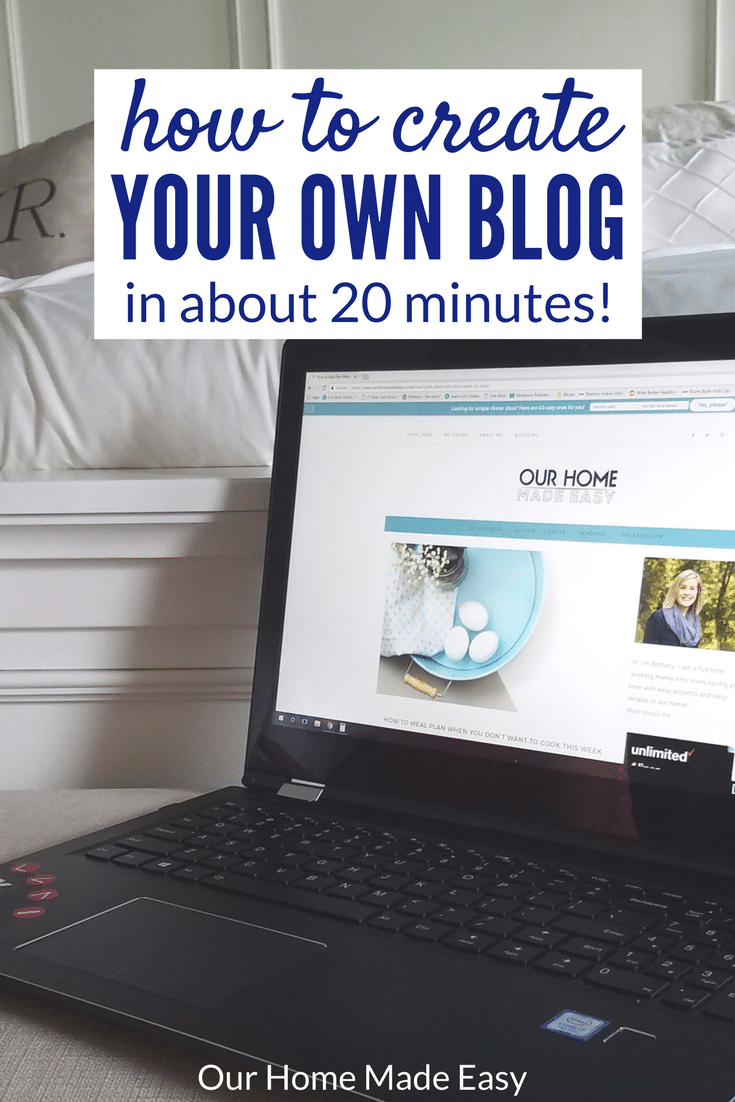 This post contains affiliate links. If you shop from my blog, I may be compensated for clicks or purchases that you make. Thank you for supporting 'Our Home Made Easy!' Read my disclaimer page for more information.
Sign up for a blog here for $3.95 a month! [or keep reading]
Without further ado, I'd love to have a chat about starting a blog. Grab a hot cup of coffee and let's talk the simple steps so that you can have your own little piece of internet heaven. While I call it wonderful, it has been frustrating, gratifying, but most importantly, enjoyable.
And while discussing the best parts of blogging, I'll show you how you can start a blog in about 20 minutes time for super cheap! And it's risk free, which was perfect for a busy mom who doesn't have a lot of spare time to experiment with technology!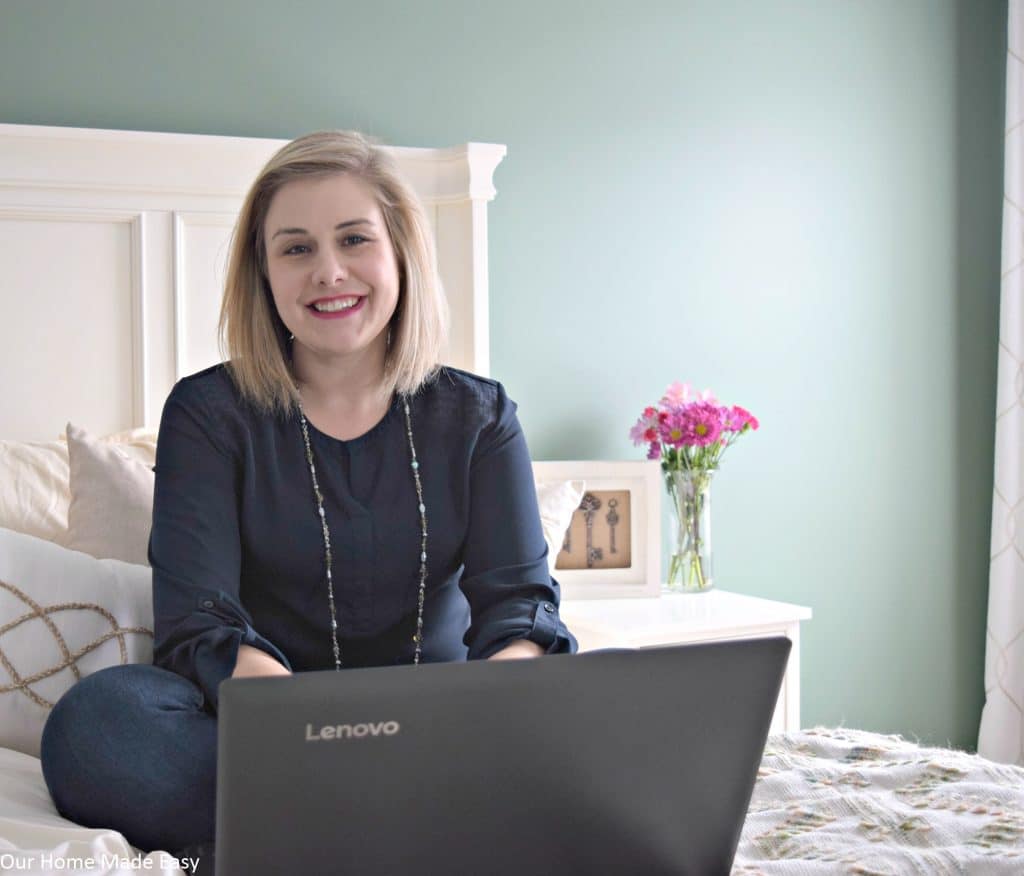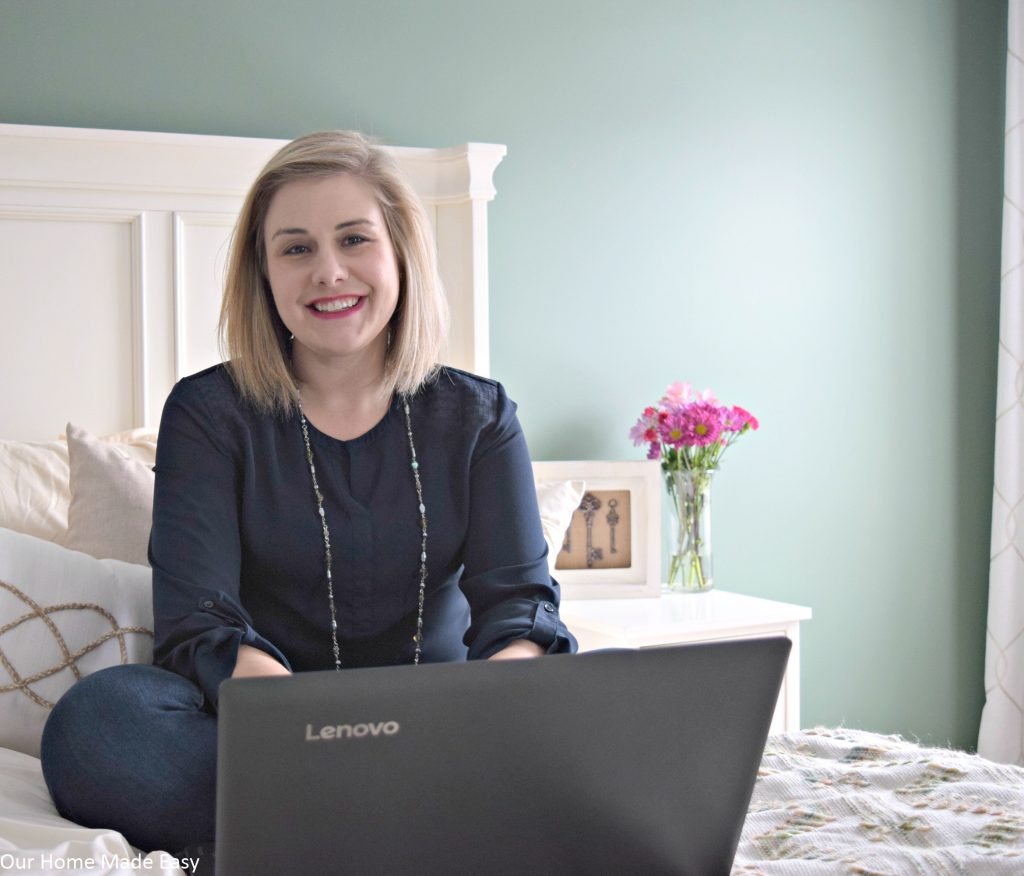 I know you may be thinking…. "What is so special about me? What can I say that hasn't already been said?" I have to tell you, I had these exact same concerns when I started my blog. But you know what? Gosh, it's been a blast and I can share my unique perspective on our home. If you haven't noticed, my unique spin is to utilize my Industrial Engineering background and be detailed in my step by step tutorials. There is plenty of room for all of us online.
The Our Home Made Easy blog is about…
Have you ever felt exhausted thinking about your to-do list each night or your wish list of projects around the house? At my blog Our Home Made Easy, I write about practical home advice to save you time, which often includes easy DIY projects, home organization, and simple recipes.
I've found that so many women struggle with managing their time at home, which is why my passion is providing easy meal ideas and real-mom approved projects. When my readers see a project on my blog, she knows that she could easily complete it. One of the things my readers love the most is that my background is productivity improvement and being a mom of 2, they feel comfortable that I 'get it' when it comes to living a busy life.
Does that sum up OHME pretty well?
When you are thinking about blogging, what comes to mind as your passion? This is known as your blog niche. You can create a general 'My Mom Life' niche to an uber specific "Kid Approved Recipes for the Entire Family"
To get your creative juices flowing, I brainstormed several niche ideas…
What could be your niche?
Do you love being a weekend warrior at DIY projects?
Being a Fashionista & Having Mom Style
Life and Struggles as a Working Mom / Stay at Home Mom
Are you the queen of beautiful baked goods?
Do you want to share your experiences as a parent?
Are you great at lesson plans?
Do you have a booming MLM business whose clients would love tutorials?
Can you cook quick and healthy meals?
Are you a master decorator of homes?
Do you have an eye for helping businesses?
Are you great at offering career advice?
Do you like making items with your hands?
Offer Financial advice?
General Life — you're interesting!
There are so many topics that only you can discuss!
Plus, have I mentioned that you can monetize your blog?? Making money isn't immediate with your blog, but in the long run, with lots of work, your blog can be extremely profitable. Imagine what you could do with extra spending money each month.
But before you can think of monetizing a blog it's imperative that you are self-hosted!
What does that mean? It means that you don't choose a free service from Google's Blogger or WordPress.com. Either of those options can shut your site down… at any time… without notice. YIKES But if you self-host you are in complete control of your little space on the web and that leaves you every option to write about / sell products / monetize through advertisements and affiliate marketing.

How to Start a Blog with Bluehost
I recommend starting a blog with Bluehost because that is where I started. Bluehost is incredibly affordable (it's a steal at $3.95 a month with my discount link!) for new bloggers and we all know that it isn't fun spending any money unless you know that you're going to love blogging! And you will enjoy it, just as I have. The best part of starting a blog on Bluehost? They offer a money back guarantee. It's the best and actually happens.
The best reasons to sign up hosting with Bluehost:
It's extremely affordable when you aren't making money yet
With a 12 month+ subscription, you receive your domain for free the first year! ( a $15 value)
It allows you to have complete control over your own site
Offers WordPress installs for free (and it's so easy to do!)
Offers a Money Back Guarantee if you decide blogging isn't for you!
Are you interested? Blogging has brought me so much enjoyment. Not only do I enjoy sharing our projects around the house, but it has allowed me to learn as much about the ins and outs of blogging as I'd like. Not that you really needed to know more than the basics, but I enjoy always looking for more ways to expand this little site. 🙂
Go to Bluehost and Click on the 'Get started now'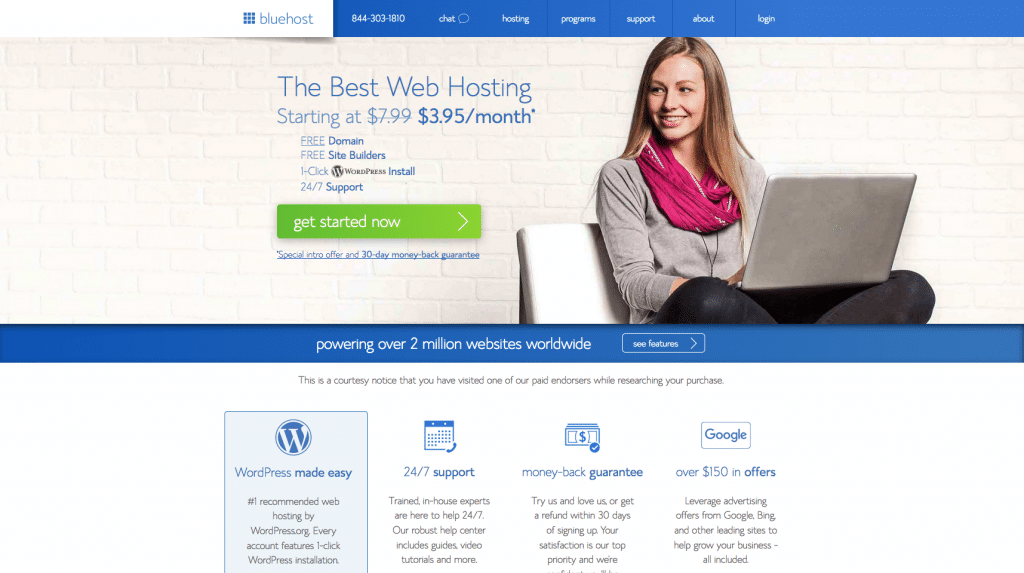 In the next step you'll sign up for a domain. This is where you enter your preferred website address. I can't recommend enough that you choose a 12 month or longer hosting plan. You'll get your domain for free for the first year!
2. Choose Your Hosting Plan
Next, you will choose your plan. When I began blogging, I was on the 'Basic' plan. It was more than adequate when I began blogging. You can upgrade anytime. Bluehost will offer you several other services, you don't need them. What I recommend? The Domain Privacy and Back Up Pro options.
My only complaint with Bluehost while I was with them was the up-time of my website once my blog really took off. Until that time (the first 10 months), I took advantage of the inexpensive hosting and learned blogging.
[Sign up with my discounted link here]
Again, choose the 'Basic' plan. As a new blogger, you don't need the extra items included in the 'Plus' and 'Prime.'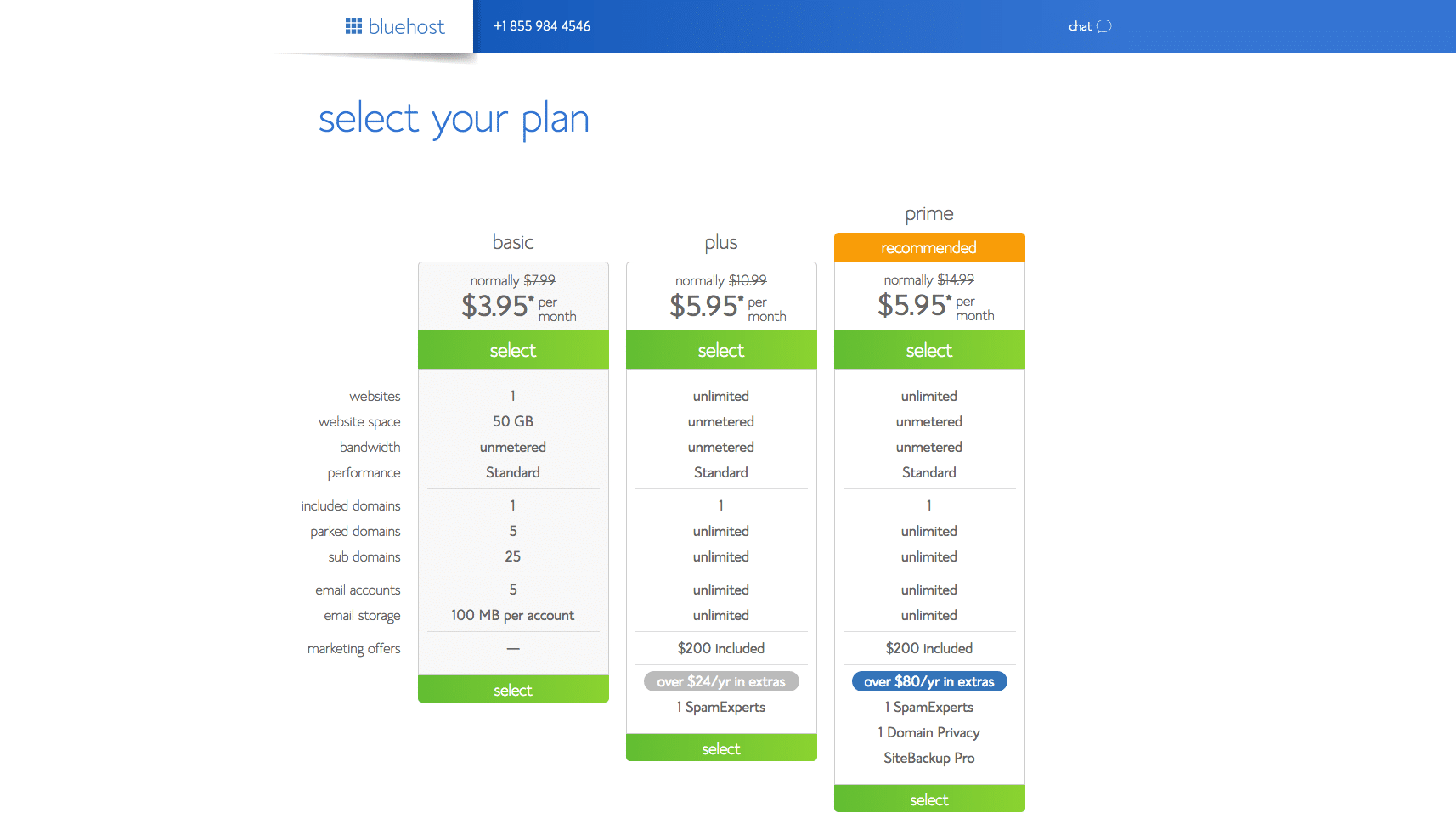 Next, you will choose your domain. A domain is what your www.[blogname].com is inbetween the www. and the .com. If you aren't ready to setup a domain, simply click 'Choose a Domain later..'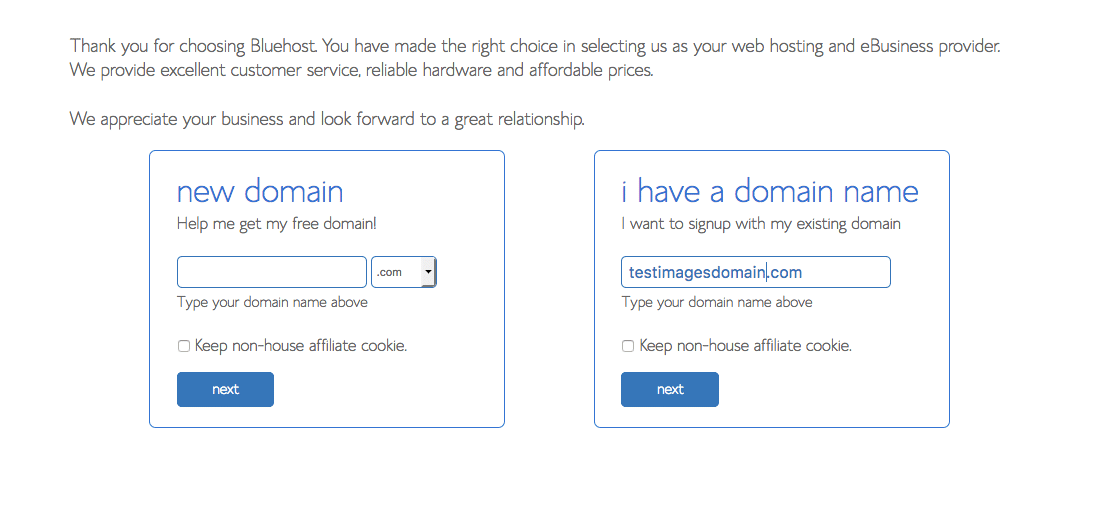 3. Create Your Account
Now, you'll be asked to enter your account information.
Services I recommend:
The 'Basic' Package
Back Up Pro [it saved me lots of times! 😉 ]
Domain Privacy [This keeps your personal identity private from the public]
Everything else in unnecessary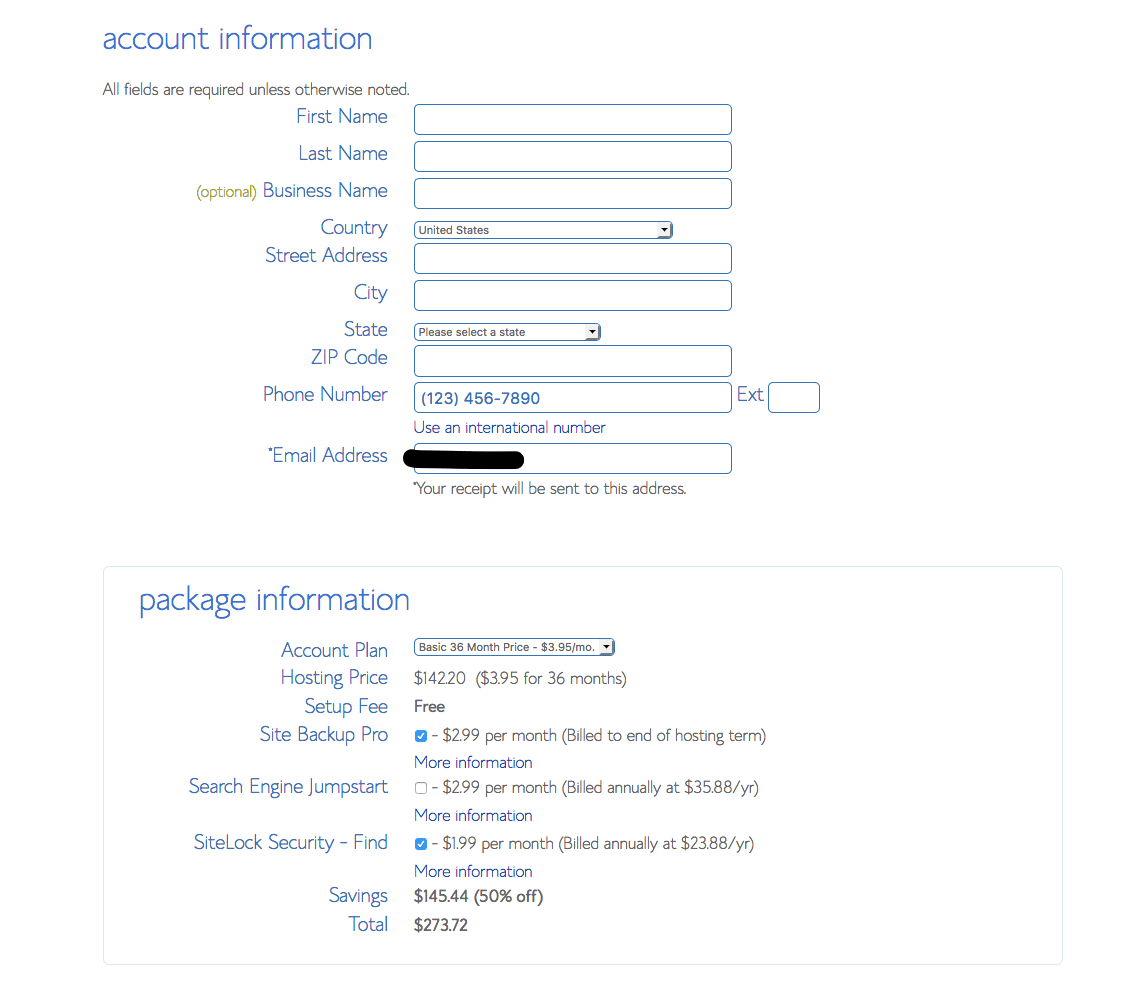 You'll be prompted to check out. When you sign up for hosting, you'll pay for all the months at once. I tell you not to discourage you, but to avoid you being surprised at checkout. Take a look at Bluehost's money back guarantee for additional information.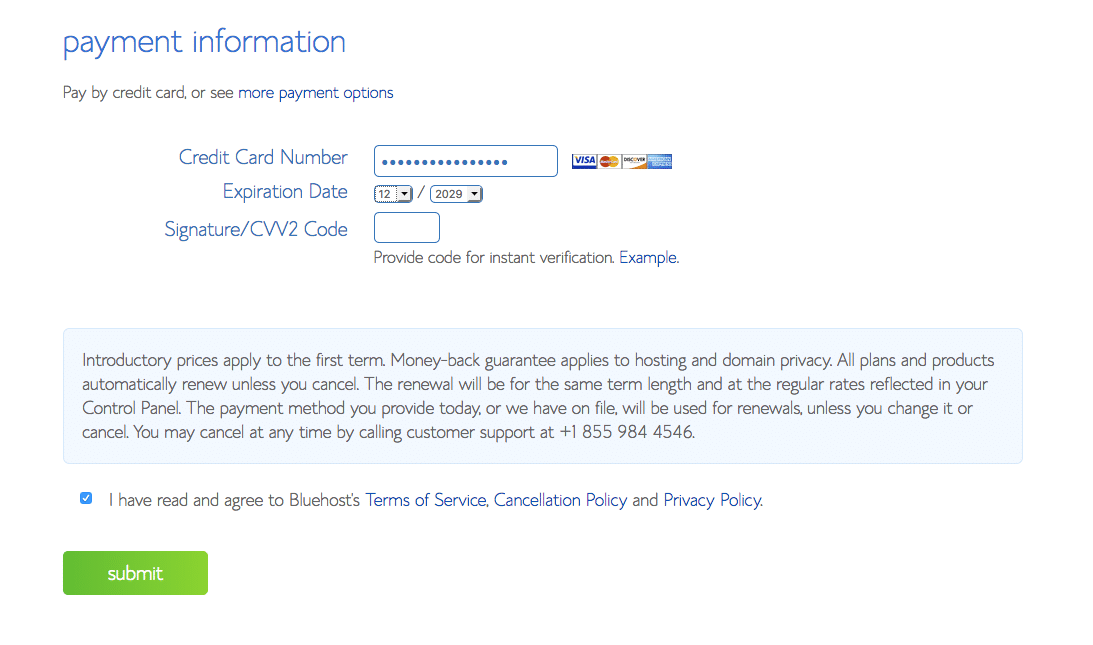 Congratulations! You've signed up for web hosting and have your domain!
Now you will be emailed your Bluehost account information. Keep this email filed away for future days. It contains information that you will find valuable if you make changes to your site. If you're like me, I referenced them often in those first weeks of blogging.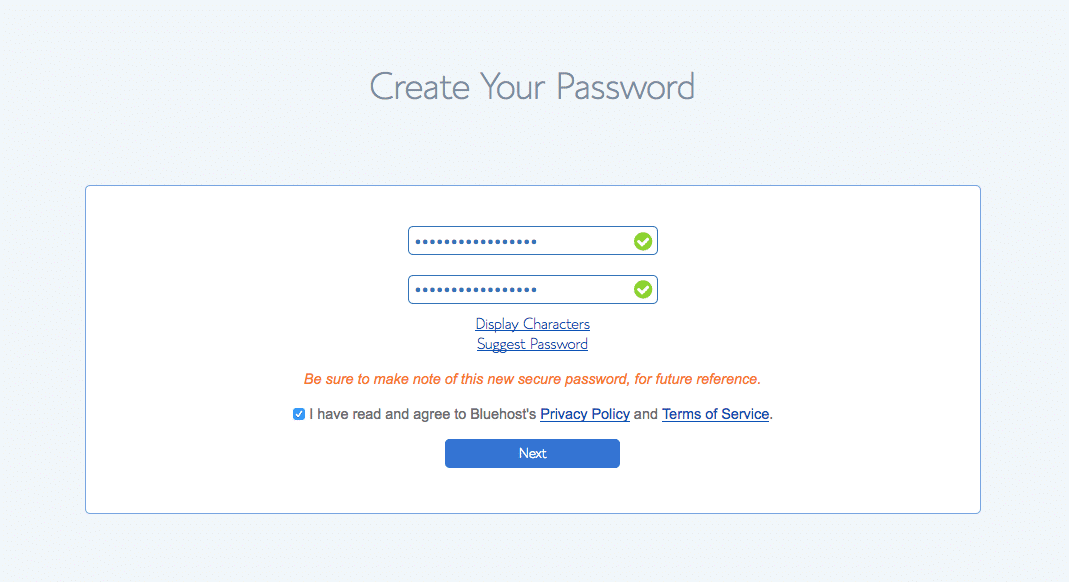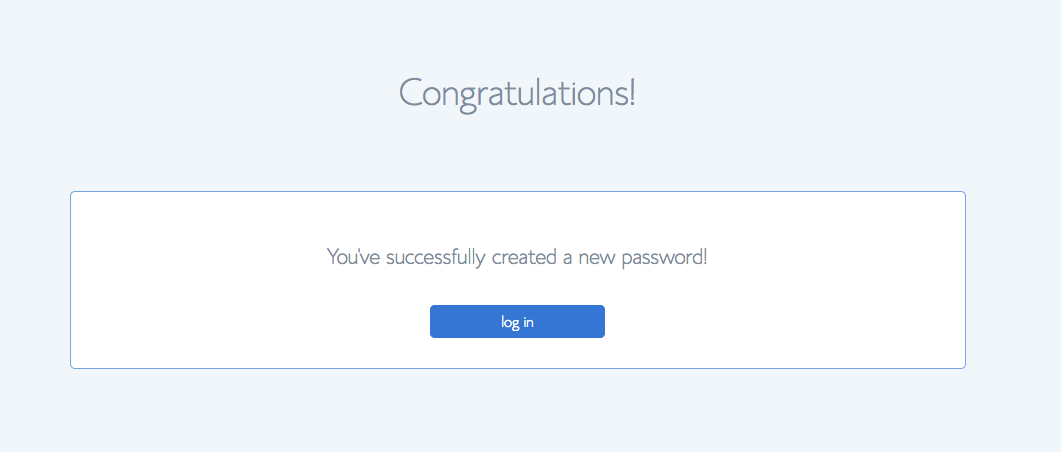 4. Install WordPress
The last part is extremely easy and will ultimately create yourself a blog on WordPress!
First, you will be prompted to choose a free theme. A theme is how your blog will look once you start posting. It's what makes your blog look like a well designed page. You can find lots of free themes or paid ones. Right now, choose a free theme and continue on with setting up.
In the future, my favorite themes are from Restored 316 Designs (I'm using the Darling theme!).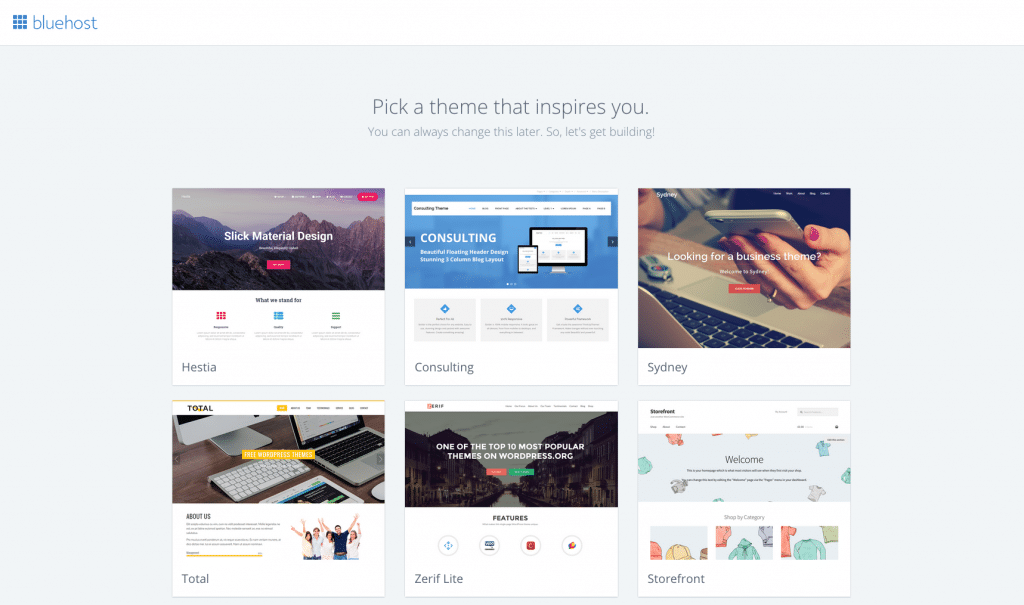 Once you choose a theme you'll be ready to start writing. This is where it gets exciting!

Now you'll be taken to your WordPress Admin Panel. Choose 'Business' as your WordPress site.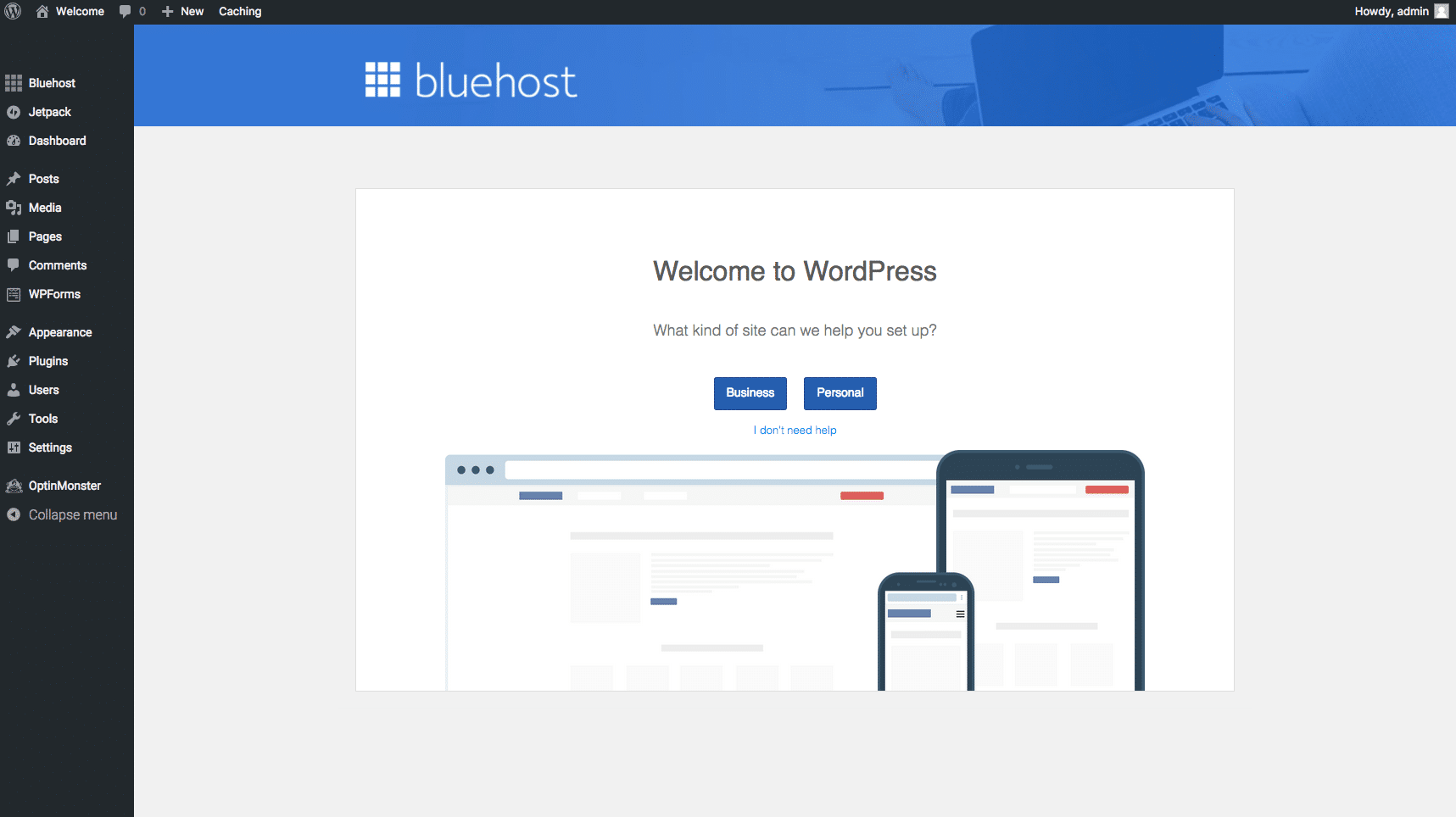 You officially have a blog! I love that Bluehost now includes a "Coming Soon" page as a default. It wasn't an option when I started.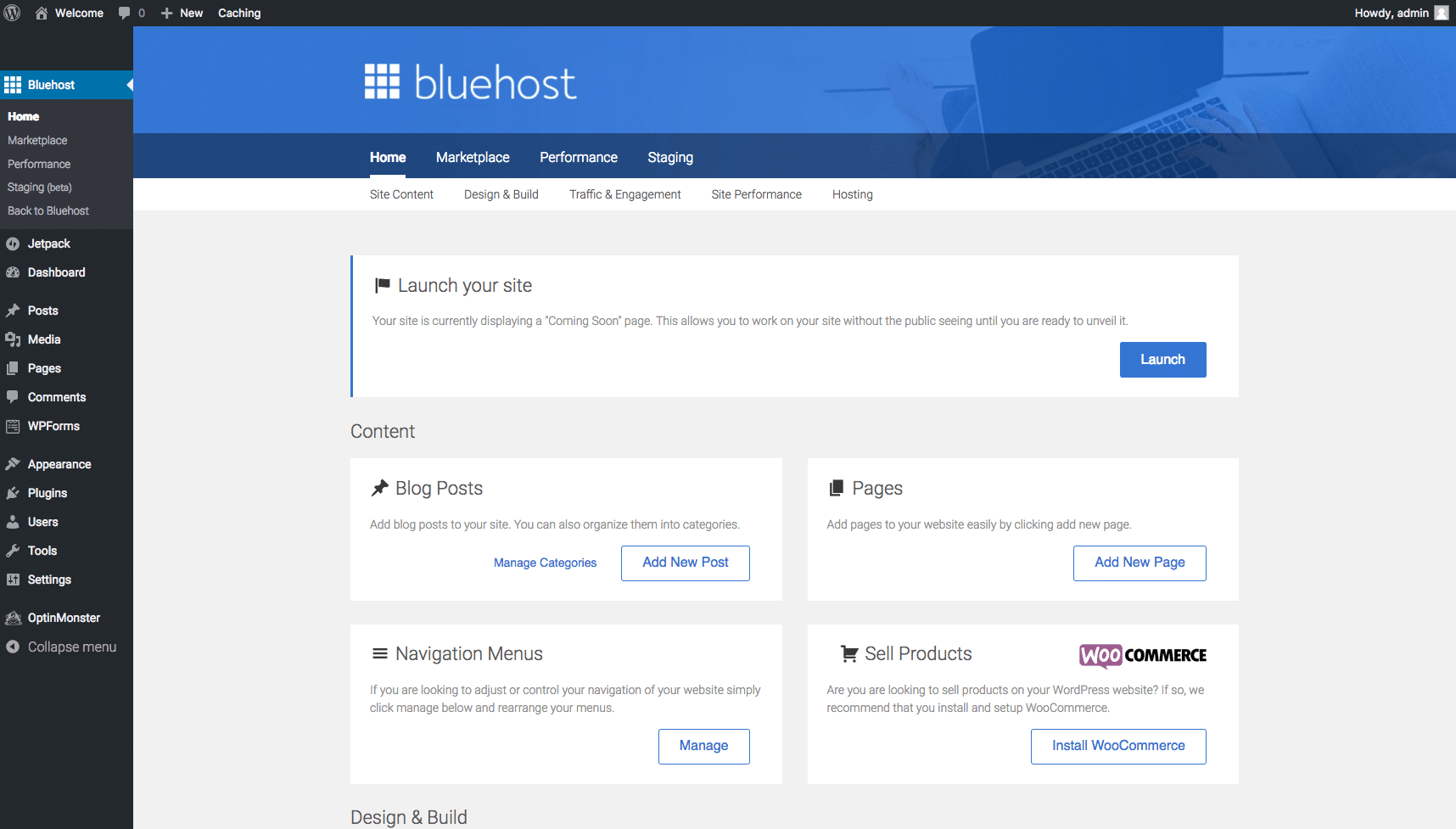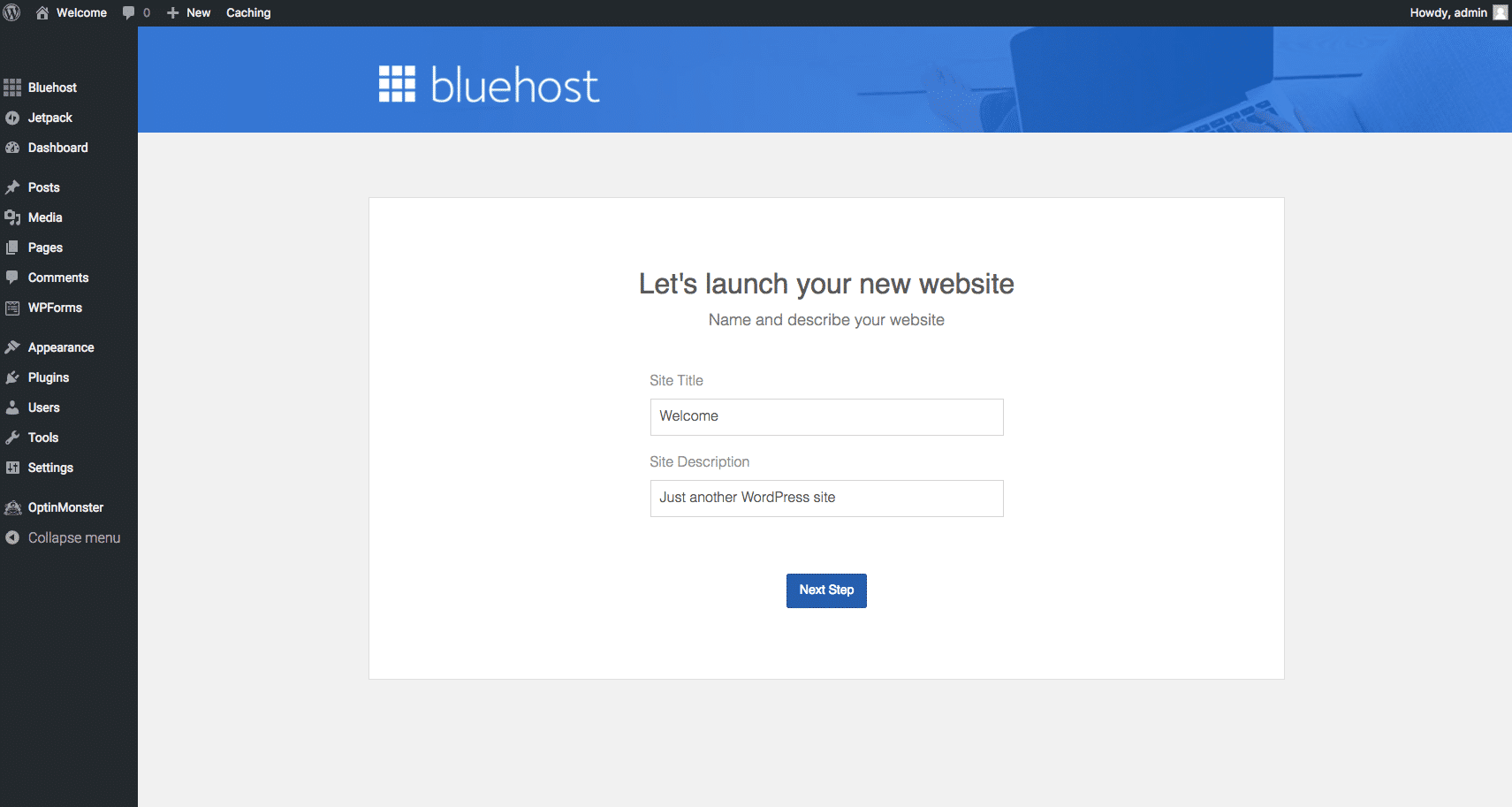 Choose your domain from the drop down (it should be the only option). Continue with the prompts in MOJO Marketplace. You should receive an email with your WordPress.org login. Keep it stored nearby!
Enjoy your new blogging adventure! I can't wait to hear about it. 🙂
---
Avoid the top 9 mistakes all new bloggers make!
Additional Blogging Resources for you: