This oven baked fried chicken is super easy to make! It's perfect for so many dinner ideas. Simply shake and bake!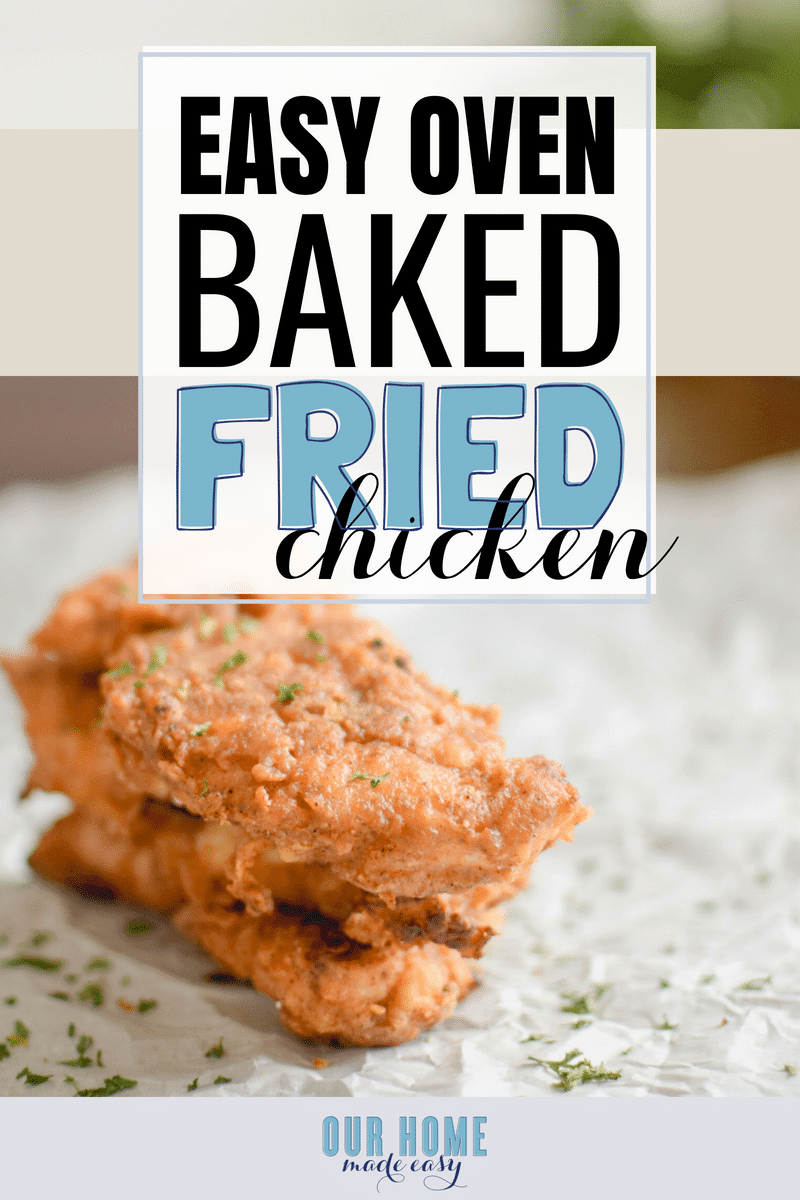 Do you ever have one of those easy dinner staples that just works for everything? If you don't, my friends I want to introduce you to a recipe that is the ultimate protein for 99% of dinner dishes. Okay, it might not really be that high, but you get my drift.
It's the Swiss Army of all dinner ideas— the oven baked fried chicken.
My mother in law introduced us to this super easy shake n' bake dinner about 6 years ago. Since then it's been a regular staple in our meal planning routine.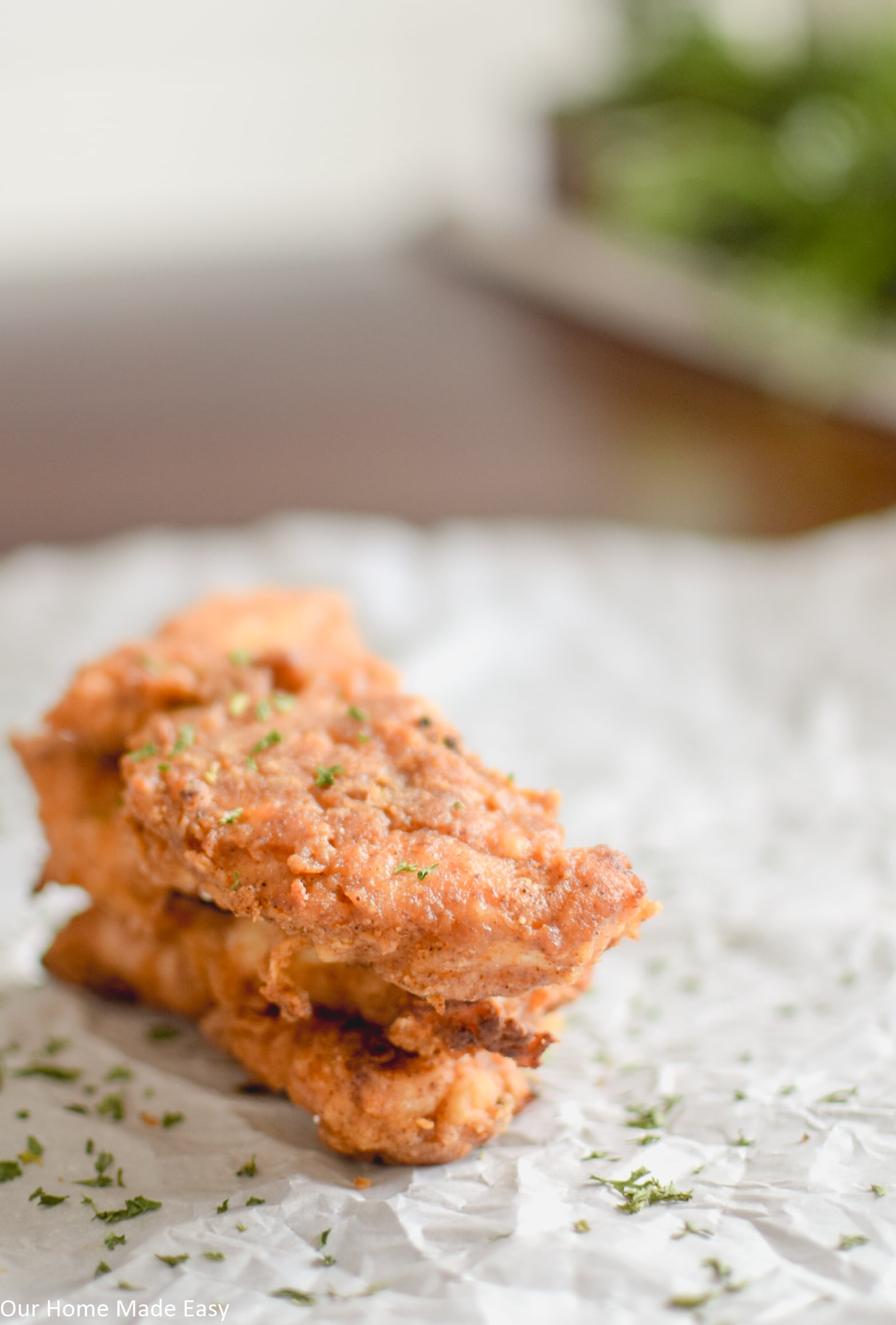 It has the best combination of crunchy outside, like fried chicken, and tender inside. Plus, it's not super greasy.
Other Posts I Think You'll Enjoy:
Oven Baked Fried Chicken
Simply toss your chicken in a bowl of milk (or use a gallon bag) before you leave in the mornings and it's ready for you when you arrive home.
Once you're ready to make the chicken, all you have to do is combine the spices to make your own homemade version of a 'Shake n' Bake!' But it's super quick & easy to do. [You'll have enough coating for about 2 pounds, adjust it as needed!]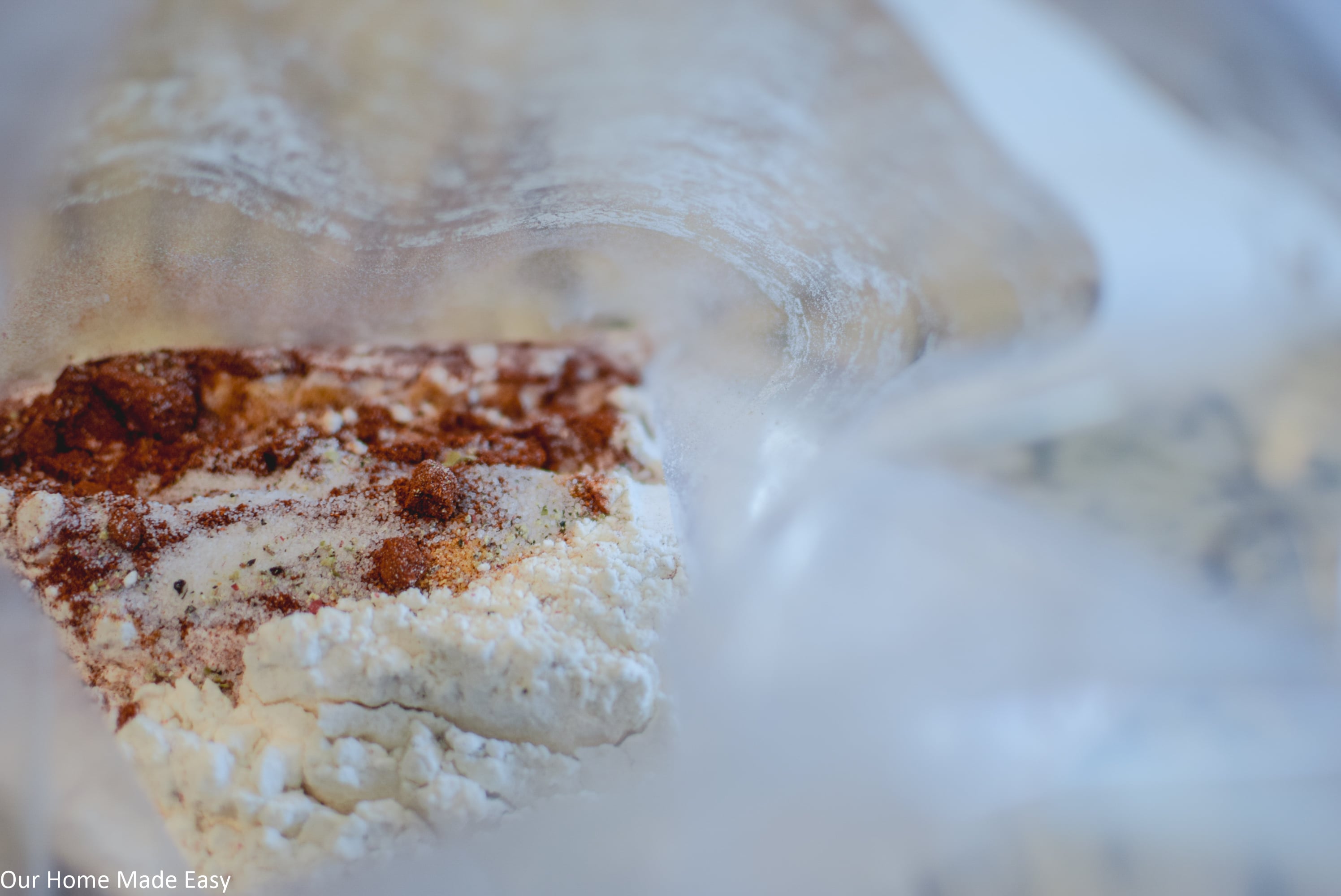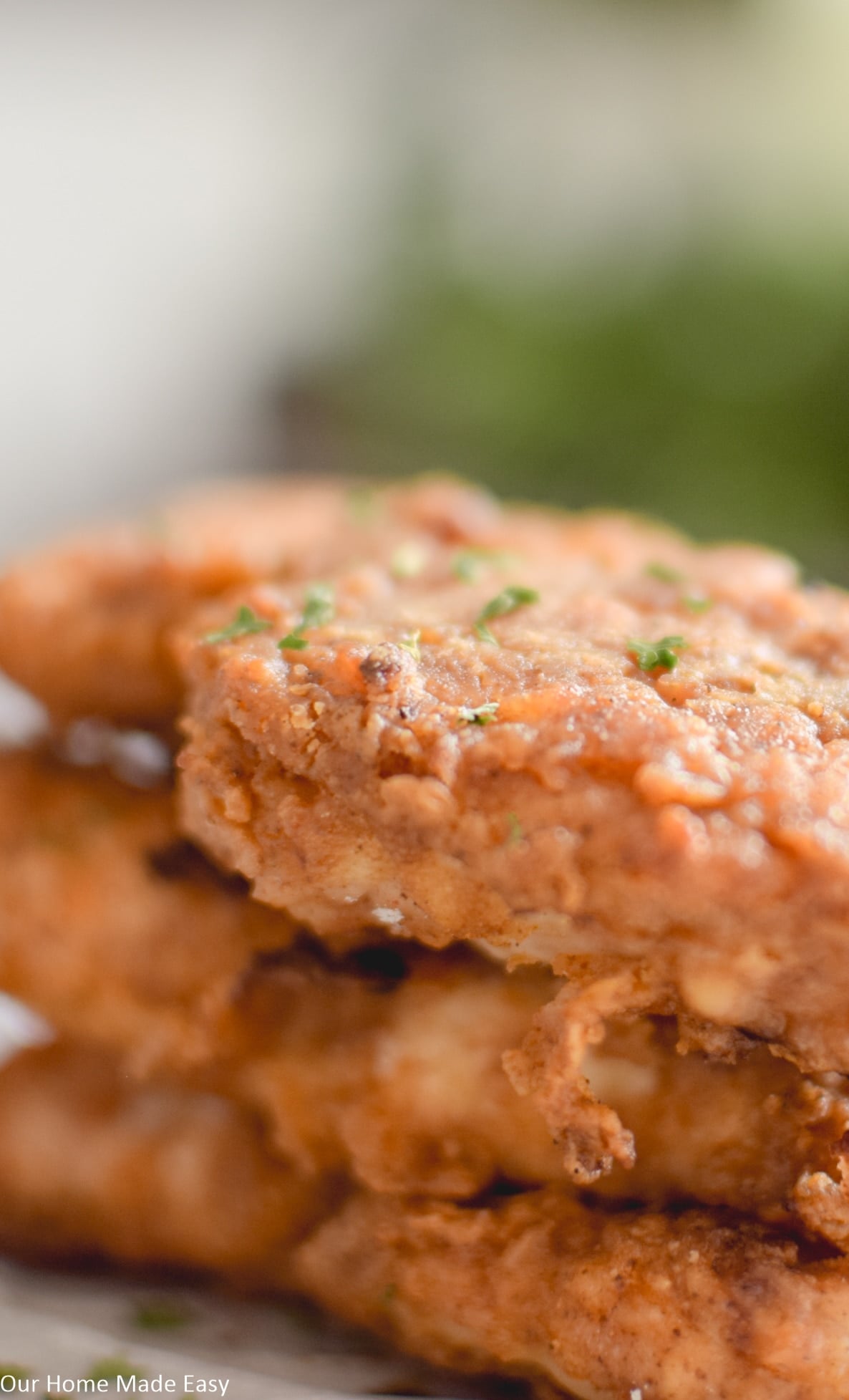 Need some dinner ideas?
You could serve the chicken with…
A pretty mixed salad (our personal favorite)
Caesar Salad
Spaghetti for Chicken Parm
Alfredo & Sauce
With a Fresh Veggie
Mashed Potatoes & Gravy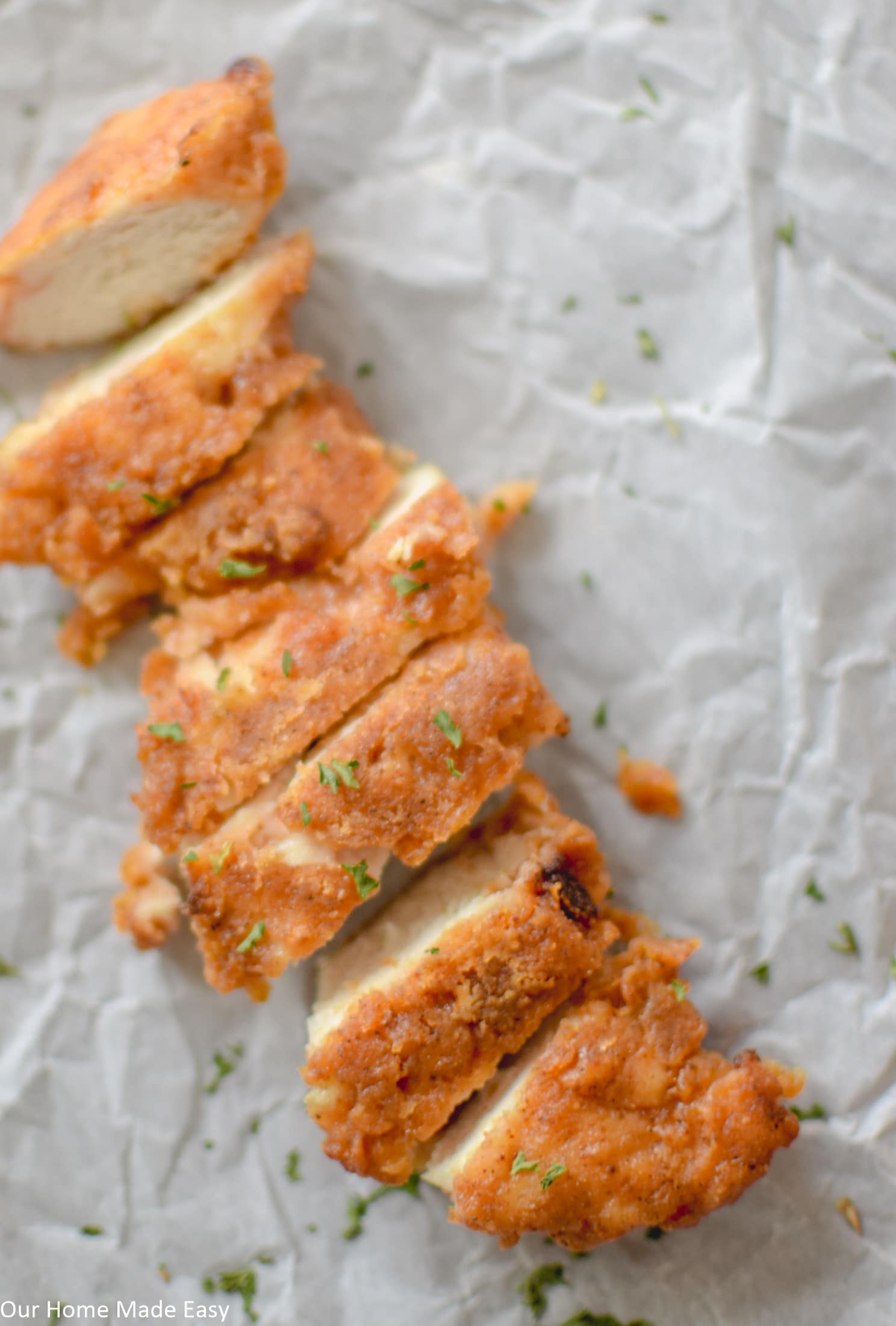 What makes it 'fried' chicken?
You'll melt butter in the bottom of 2 13″ x 9″ glass pans. By baking the chicken and then flipping it halfway, you get this yummy crust– but without any oil.
Clean-up is a breeze. Since you're shaking on the coating, you won't dirty a bowl. The glass pans come out sparkling clean in the dishwasher (but I still give them a good pre-rinse).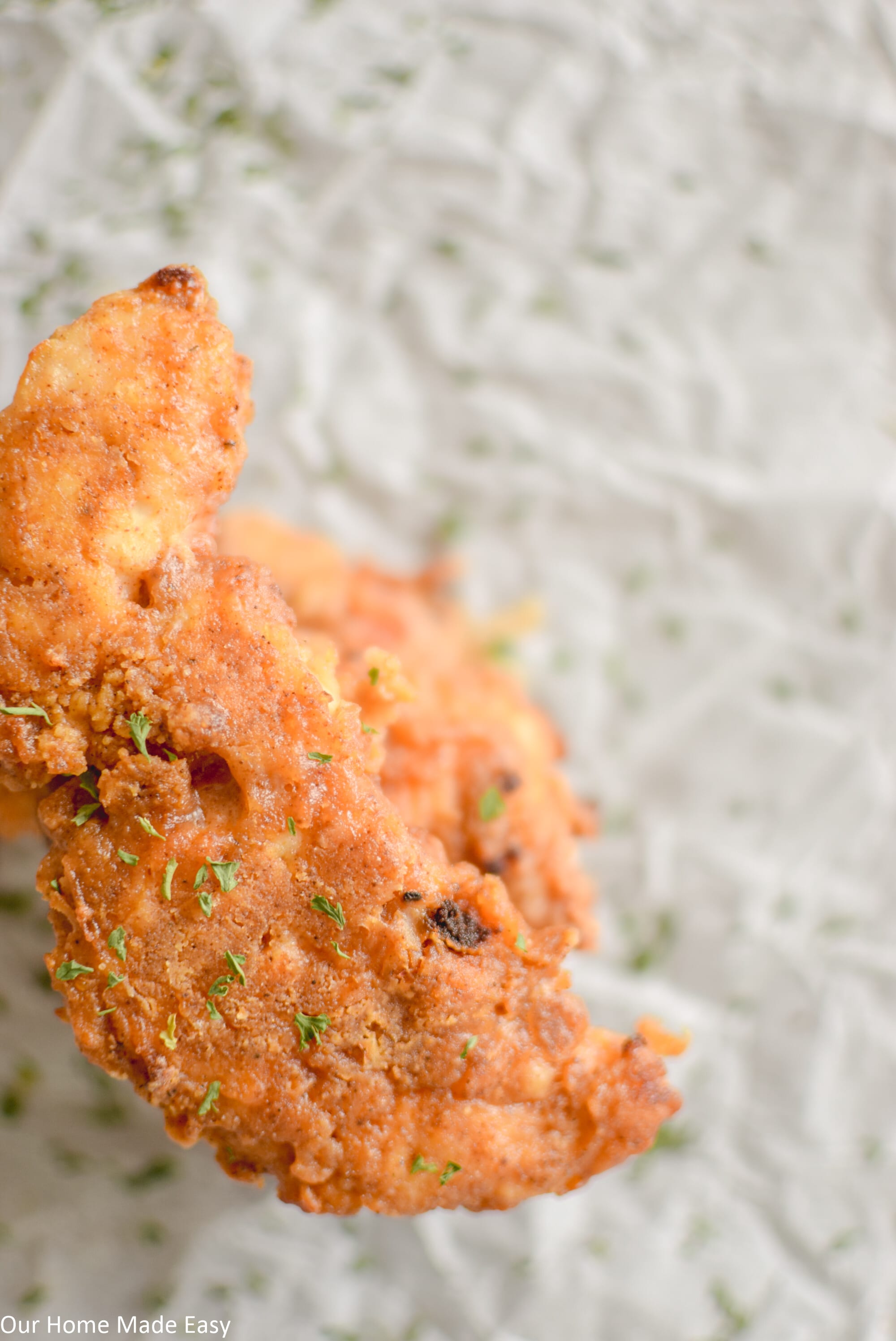 And best of all?
It reheats really well, so we always look forward to lunch leftovers!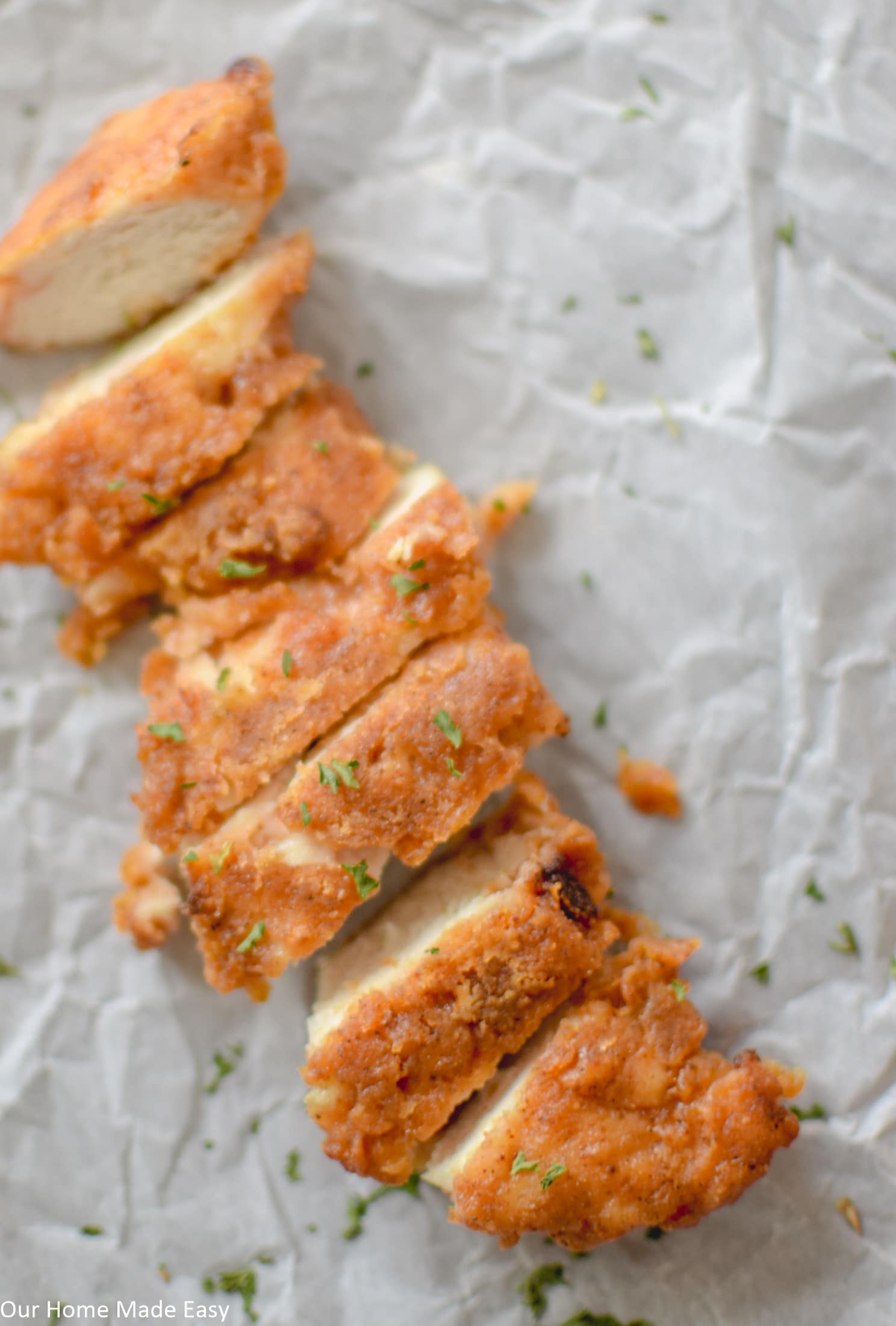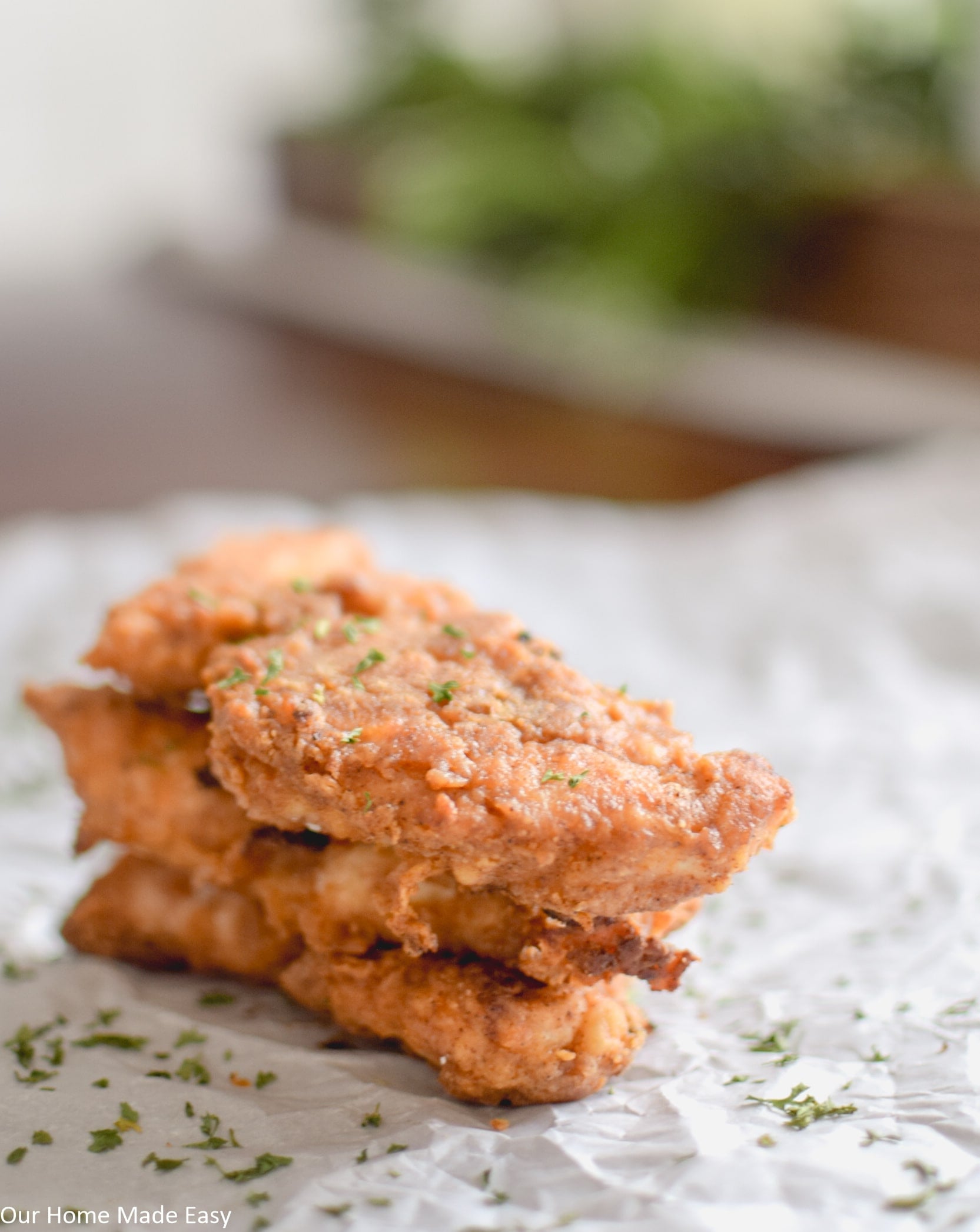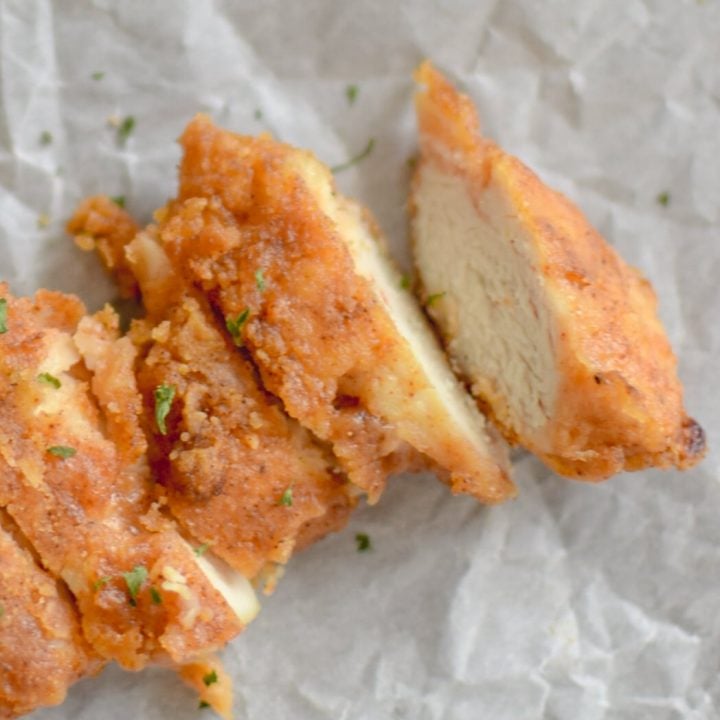 Oven Baked "Fried" Chicken
Total Time:
1 hour
55 minutes
A healthier alternative to classic fried chicken, these tender and juicy oven baked chicken tenders are coated in a perfectly seasoned breading. This recipe makes enough for leftovers for lunch the next day.
Ingredients
2 lbs Chicken Tenderloins, Thawed
2 cups Milk, Enough to cover chicken in bowl
2 cups Flour
1 tsp Salt
2 tbsp Seasoned Salt
1.5 tsp Black Pepper
1 tbsp Paprika
1/2 cup Butter, cut in half
Instructions
Soak chicken tenders in milk for at least 30 minutes
Preheat the oven to 400 degrees.
In a gallon bag, mix together the Flour, Salts, Pepper, and Paprika
Cut 1/2 stick of butter in each of your 13" x9" glass pans. Melt butter in preheated oven.
Spread the butter across the entire bottom of the pan. Make sure there aren't any dry spots.
Shake excess milk off the chicken and completely coat each piece with seasoning mix
Place each piece in the glass pan
Bake for 20-22 minutes. Flip the chicken and bake for another 15-18 minutes or until internal temperature reaches 165 degrees
Forgot to plan dinner?
No sweat! With my
pantry staples cheat sheet!
PIN FOR LATER: