These Cheesy Stuffed Pasta Shells are the perfect family dinner recipe! They are easy to make and you can add in your own favorite toppings!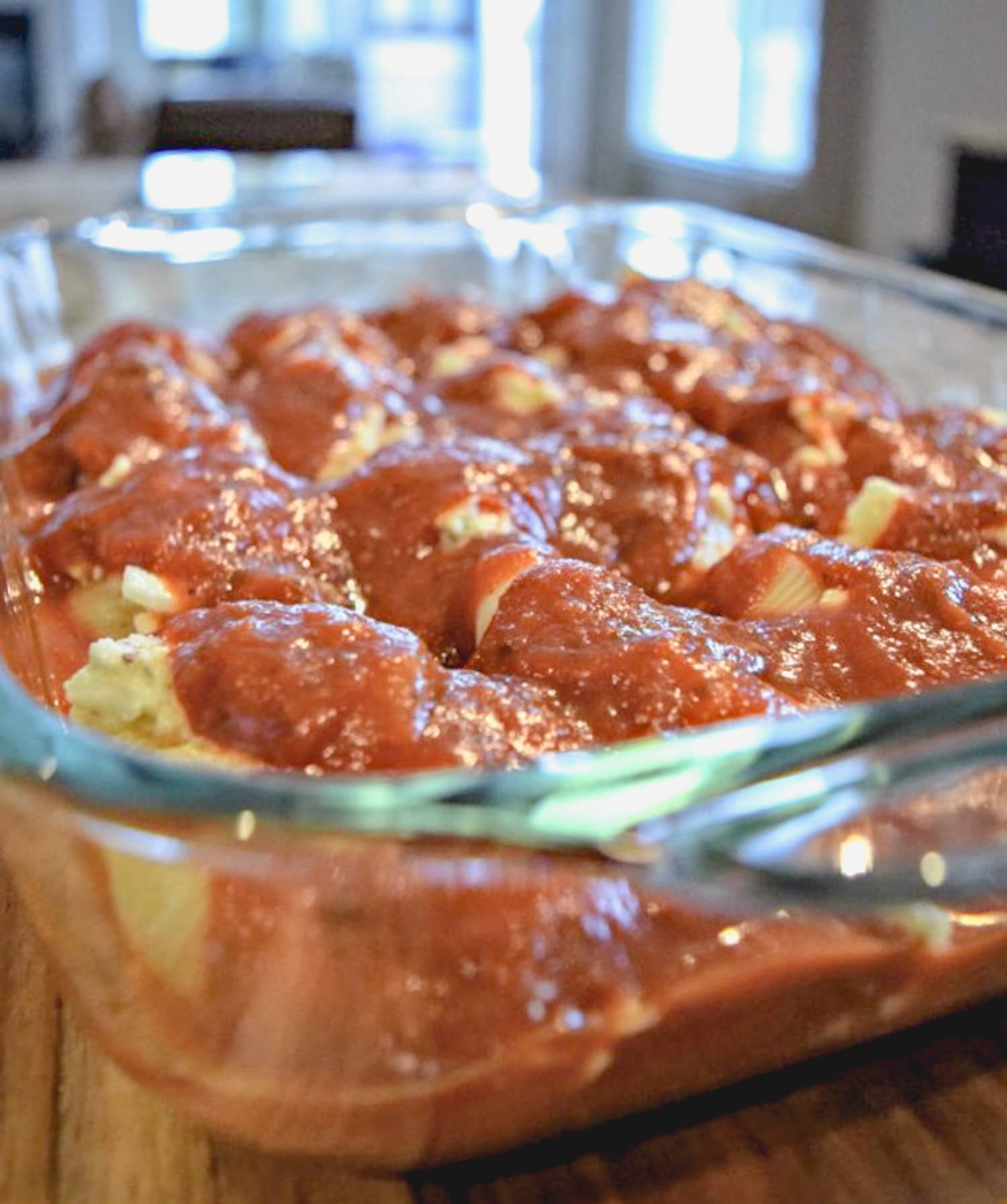 Can we talk about the Midwestern's love for good Italian comfort food? Is there a lasagna that you cannot get enough of these days? One of our favorites is cheesy stuffed pasta shells. They are great to prepare for a big dinner and can be prepped ahead of time. After all, how can your family turn away gooey cheesy pockets of pasta? Ours can't!
These shells are our go-to when we have company over for dinner. If your family is anything like mine, the last place I want to be is in the kitchen and making a mess when company arrives.
I struggle with messes in our house whether we have visitors or not. So when I know that I'd like things to be a little more put together than usual, I find recipes that can be prepped and tossed in the oven quickly.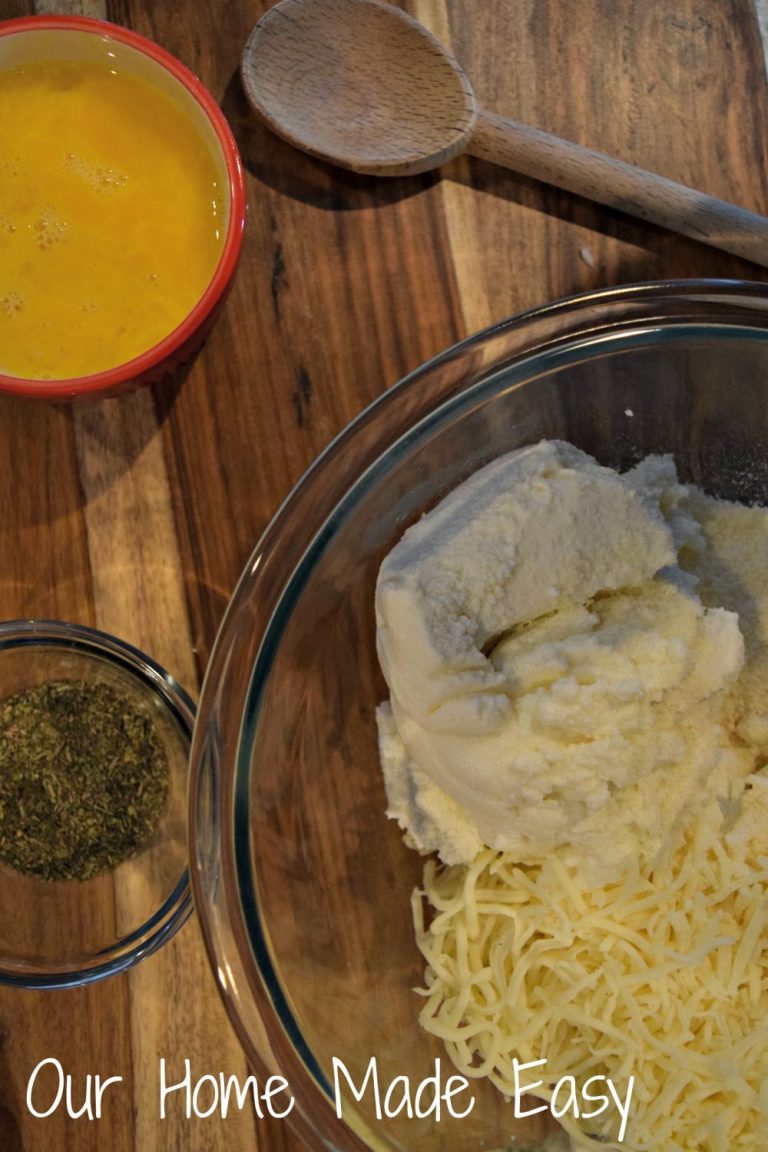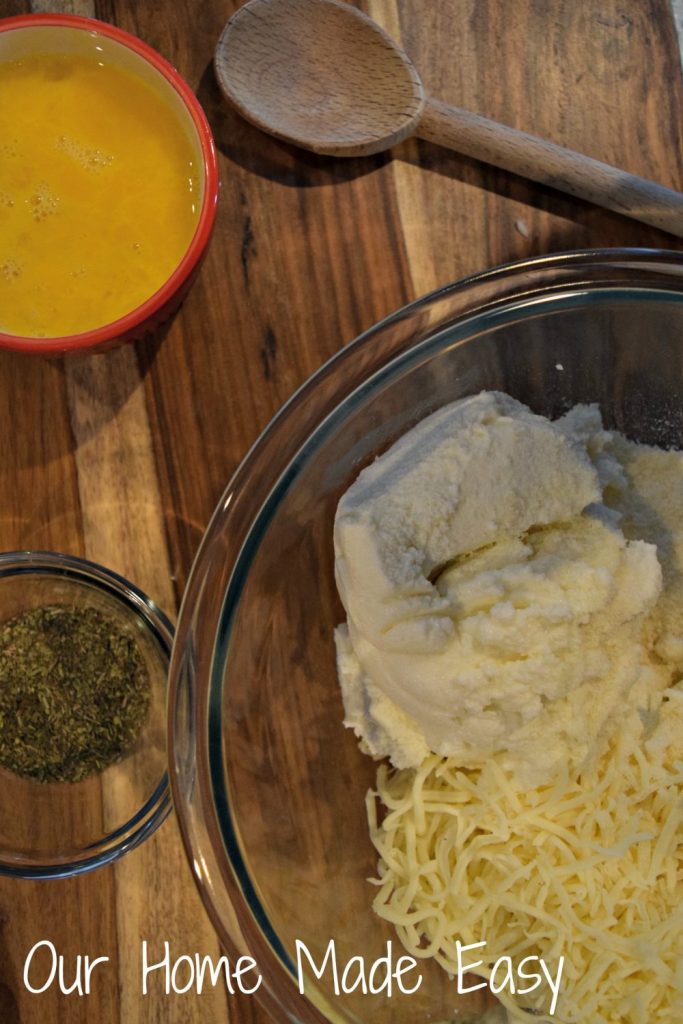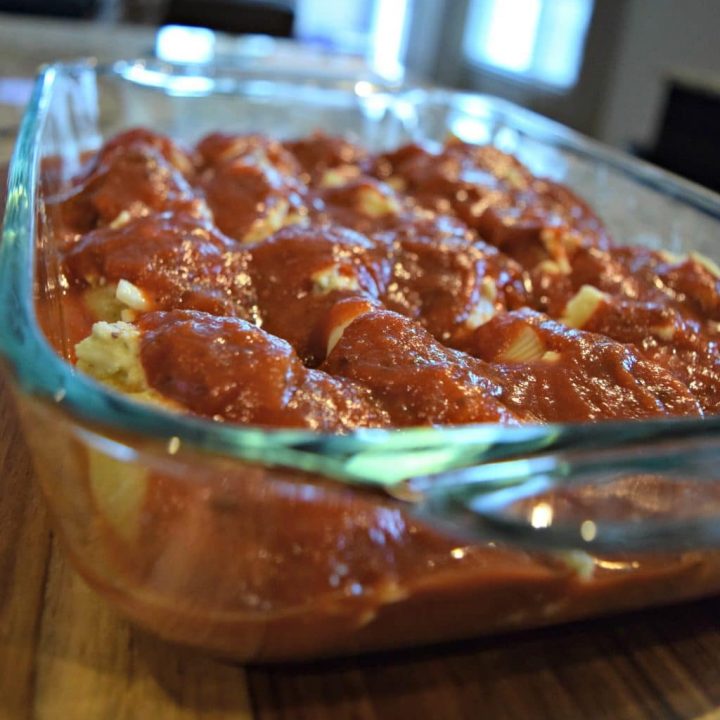 Cheesy Stuffed Pasta Shells
Yield: 8 servings

Prep Time: 35 minutes

Cook Time: 30 minutes

Total Time: 1 hour 5 minutes

These cheesy stuffed shells are a simple, delicious weeknight dinner the whole family will love!
Ingredients
8 ounces ground beef, , browned & drained
25 Large Pasta Shells, , cooked al dente (about 1 box)
15 ounce container of Part Skim Ricotta Cheese
3 eggs beaten
1 1/2 cups of mozzarella cheese, , reserve rest of bag for topping
1/4 cup grated Parmesan cheese
1 Tablespoon Italian Seasoning
2 - 26 ounce jars of your favorite Pasta Sauce
Instructions
Preheat oven to 350 degrees.
Boil batches of shells in a pot until cooked al dente. Place cooked shells on plate while the next batch cooks.
Brown the ground beef and drain. Set aside to cool.
In a large mixing bowl, mix together ricotta cheese, beaten eggs, mozzarella cheese, Parmesan cheese, and the Italian seasonings. Add in ground beef. Mix well.
Pour 1/2 of a pasta sauce jar into the casserole dish. Spread the sauce across the bottom of the pan.
Spoon mixture into cooked pasta shell.
Place filled pasta shells on top of the sauce in the casserole dish.
Spread remaining pasta sauce across all the shells.
Bake uncovered for 30 minutes.
Sprinkle remaining mozzarella and Parmesan cheeses. Cook another 10 minutes or until bubbly.
Notes
Optional: Substitute spinach for the ground beef to taste preference.

My husband is convinced that you cannot have enough cheese in these shells. We have three types of cheese in the filling and if you have any extra, you'll toss them on top after baking. I promised you cheesy shells!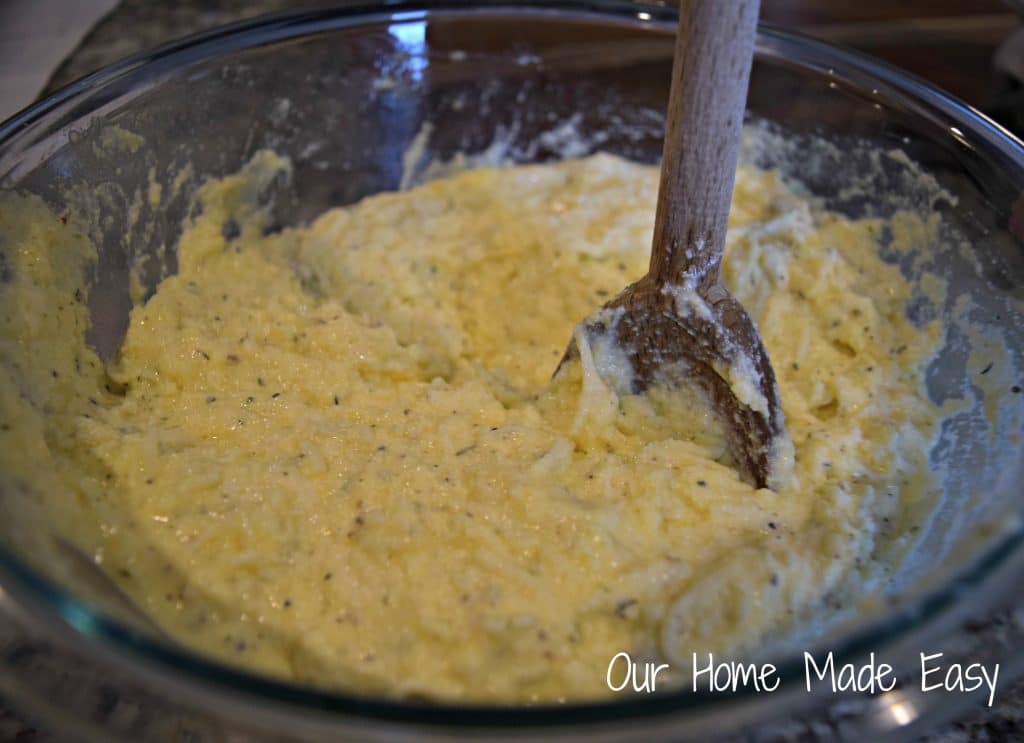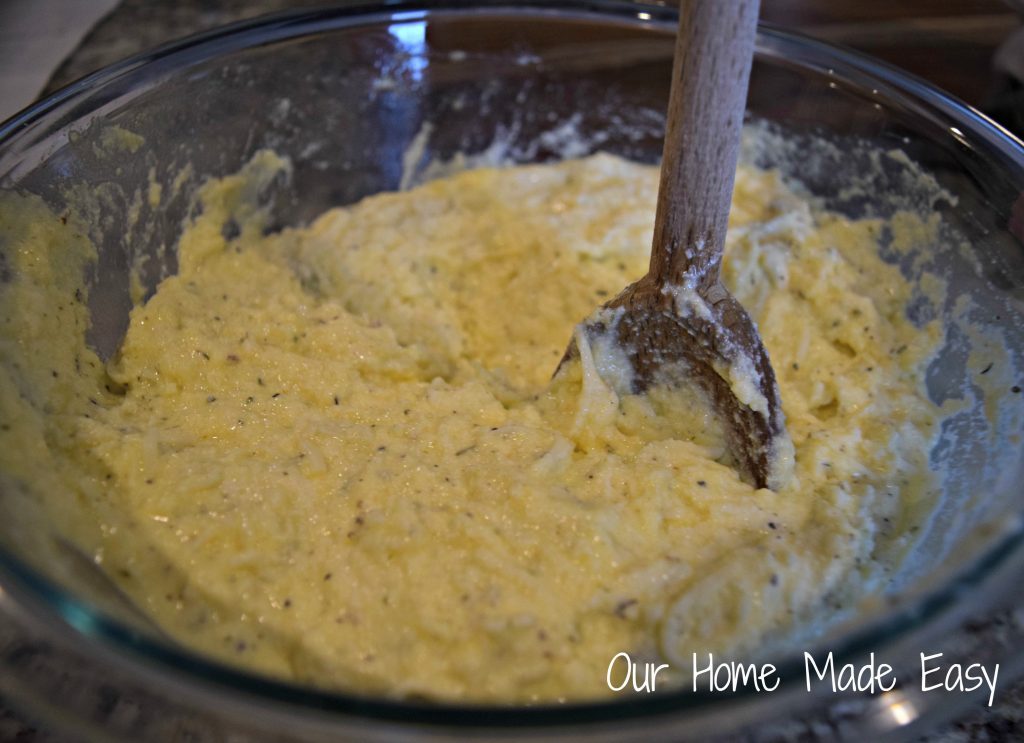 Everything mixed together before adding the ground beef. For those who enjoy spinach, toss it in at this step. Our family enjoys adding it in addition to the ground beef. However, spinach would be a great substitute for my vegetarian friends!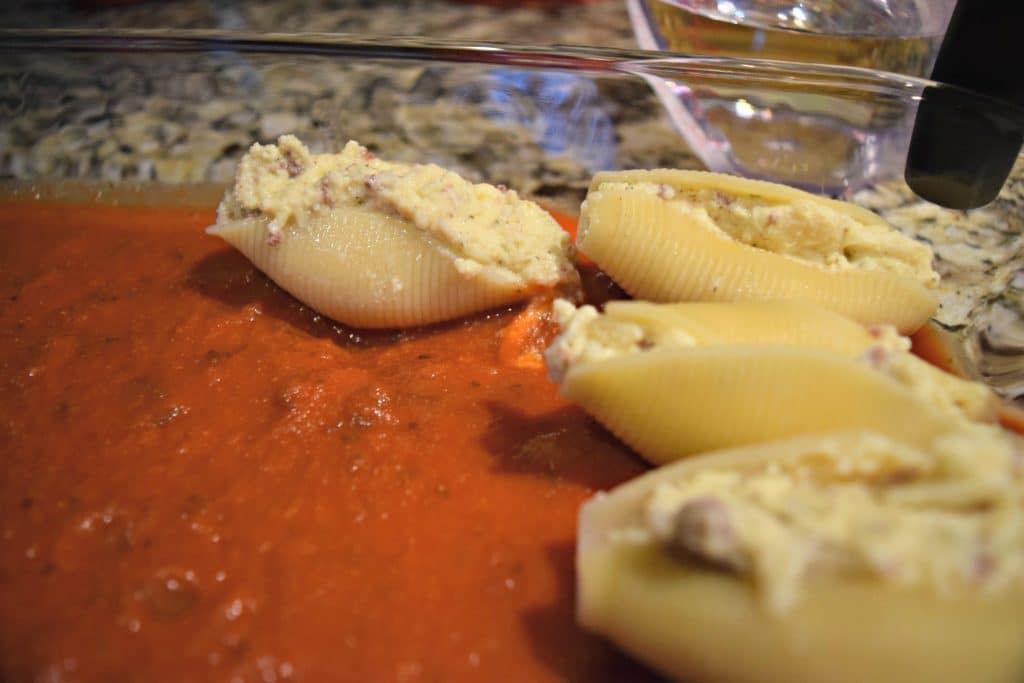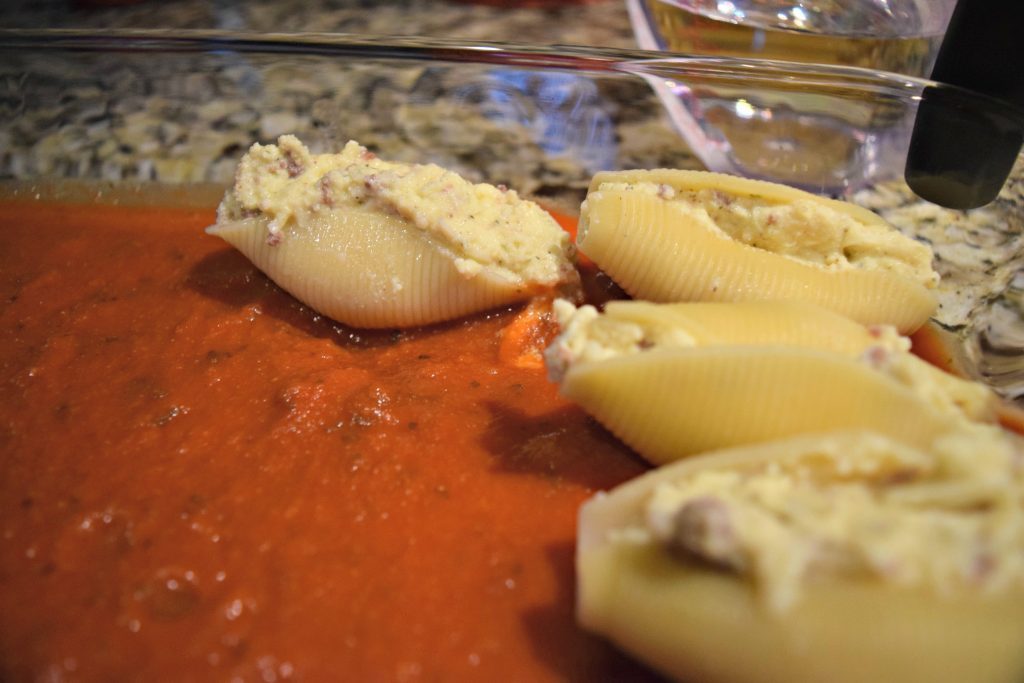 Little pockets of deliciousness are starting to fill up the casserole dish! Cook the entire large shells box al dente.
Depending on how you place them in the casserole pan, you can fit up to 25 filled shells.
Cooking extra shells allows for you to choose only the best cooked shells. Our family encounters several broken pasta shells in the boiling process.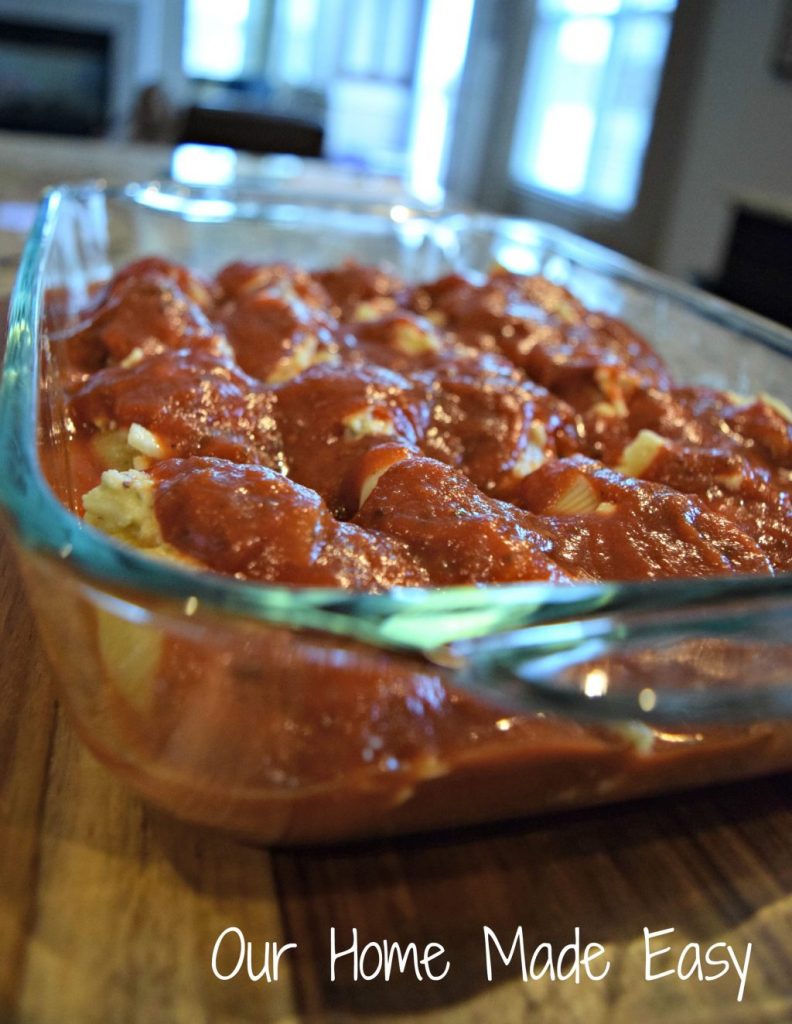 Ready to be baked! I bake them uncovered for 30 minutes. After 30 minutes, I open the oven and sprinkle on more mozzarella cheese and grated Parmesan.
They are usually ready to go after 10 additional minutes. Note– if you prep these ahead of time and place them in the refrigerator, add 10-15 minutes of additional cooking time.
Keep an eye on the internal temperature of the inner shells to make sure that they are heated through.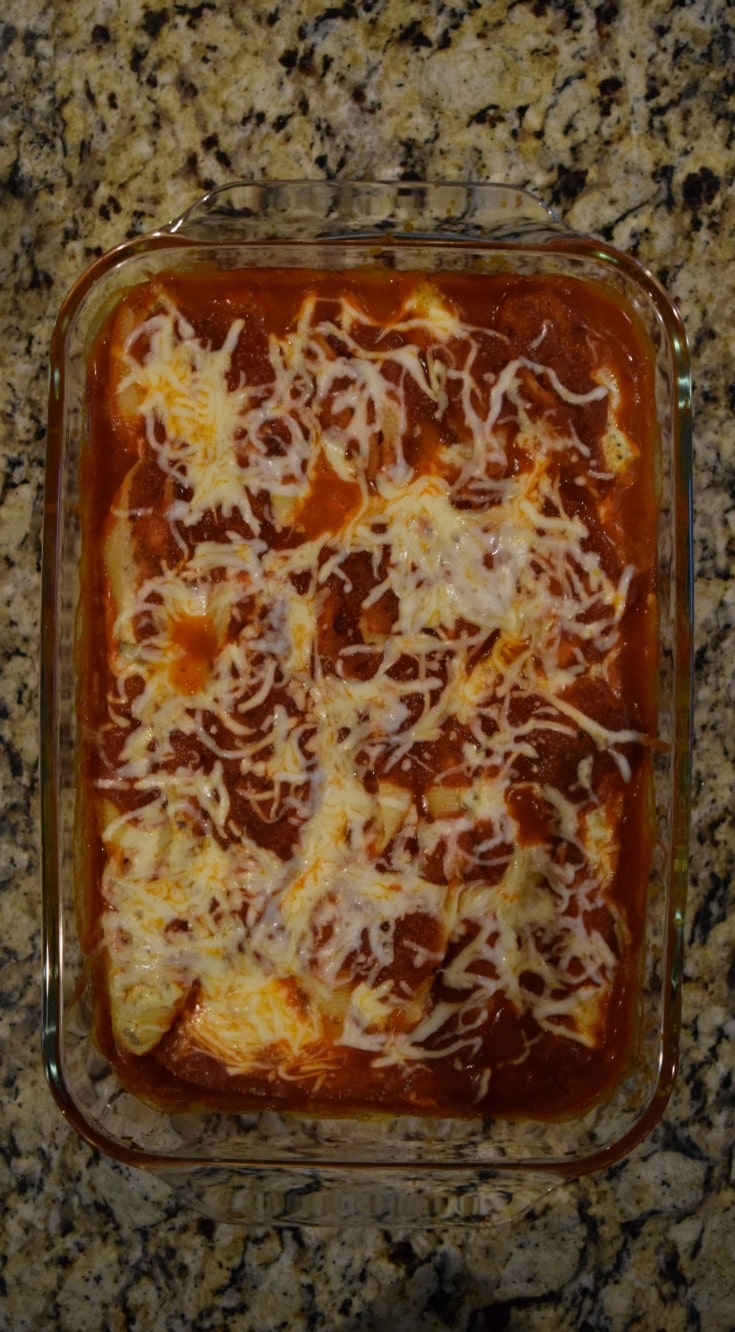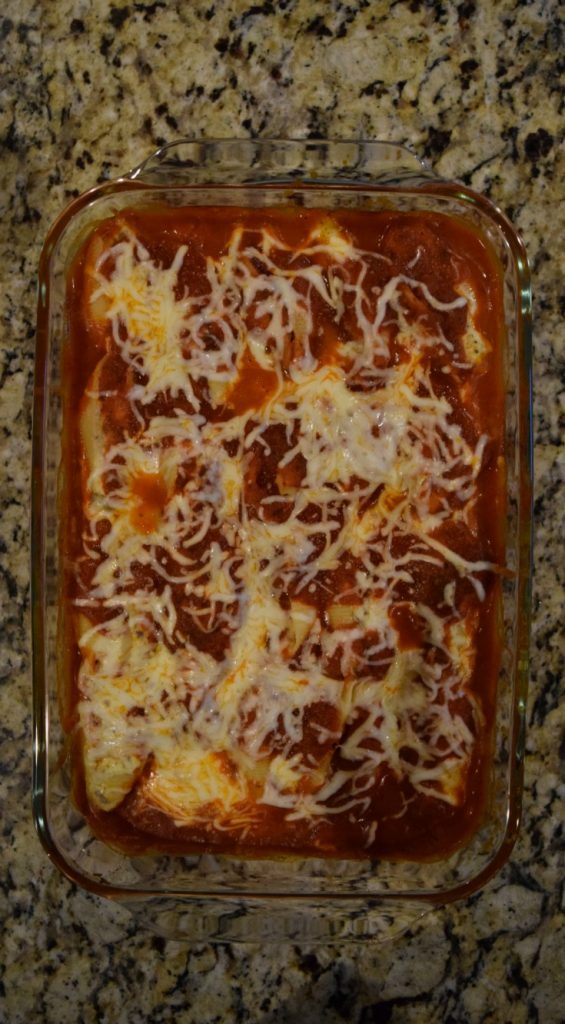 Out of the oven and bubbly! By this point my little girl was clamoring for DINNER. I usually let the shells rest for a few minutes after I pull them out of the oven.
---
GET YOUR FREE PANTRY STAPLES CHEAT SHEET HERE
PIN FOR LATER: