The annual celebration of Read Across America is coming up quickly! This day celebrates Dr. Seuss' birthday on March 2nd! I grew up an avid reader and I am doing all that I can to pass along my love of reading to my toddlers. In our house we don't have the attention span for Dr Seuss yet! In the meantime, here is our list of our favorite books for our family.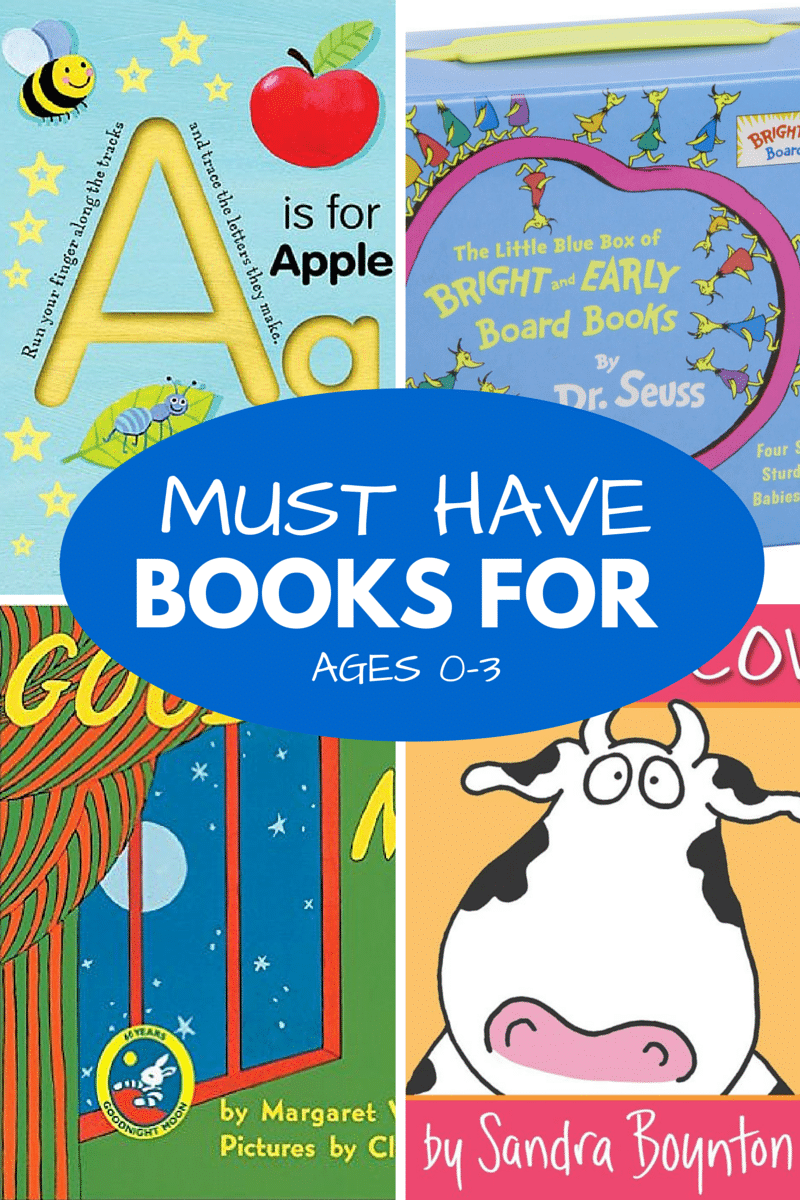 These books are listed in no particular order. All are equally loved and completely dependent on the mood of our oldest! Right now we love thick board books that the baby can chew on and the toddler can easily flip the pages. The 'more delicate' books are sitting on the third shelf. Our bookcases are already filled with books, I can't wait to discover more favorites with the kids! (This post contains affiliate links. Please see my Disclaimer for additional information!)
Without further ado, our favorite baby & toddler books:
The Very Hungry Caterpillar
by Eric Carle
I am taking this opportunity to show off baby artwork. We love 'The Very Hungry Caterpillar!'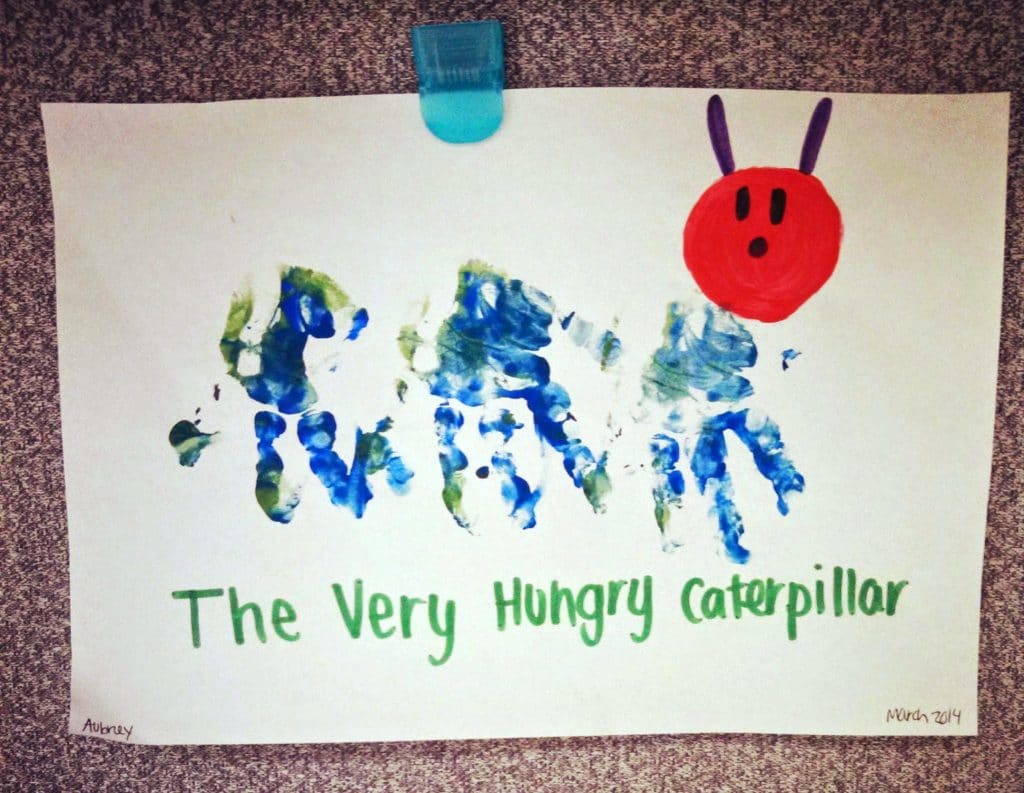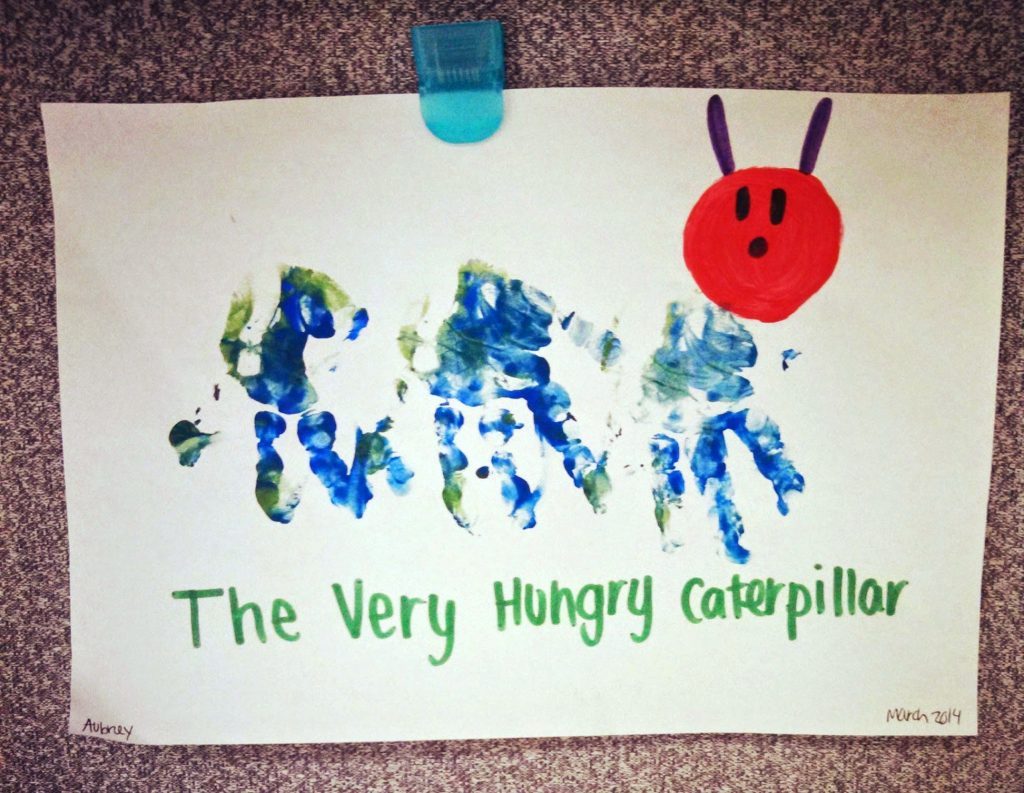 Pat the Bunny Deluxe Edition (Pat the Bunny) (Touch-and-Feel)
by Dorothy Kunhardt
'Pat the Bunny' was a favorite of MINE. My mom found it when I was pregnant and picked it up for us. I thought it was so silly and never imagined that it'd become a family favorite. My mother in-law skips over the beard page when possible. Since our oldest knows Grandma avoids the scratchy beard face, she makes sure that Grandma scratches it at every visit!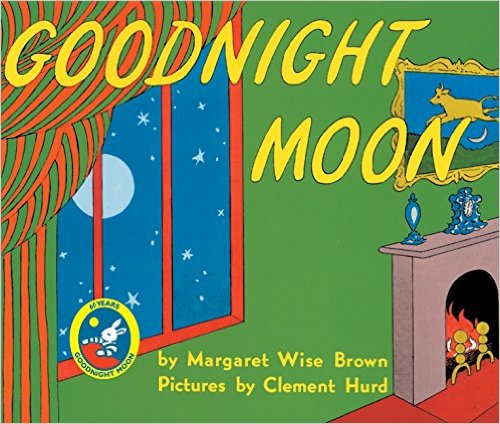 Goodnight Moon
by Margaret Wise Brown
Such a classic for us. It's great to read at bedtime when the babies are snuggled in their beds.
Love You Forever
by Robert Munsch
This book leaves me so torn. I always think about reading it, then I remember what a crying mess Mommy turns into when actually reading it. I love it, but I can't control the floodgates! Can you imagine the confusion this causes to little people?!
Playtown
by Roger Priddy
Lift the Flap books are ALL THE RAGE at our house right now. We have as many flap books as Amazon sells filling the living room bookshelves. They aren't made to be read like chapter books, but somehow we manage to thread together a long story that needs to be repeated several times a night.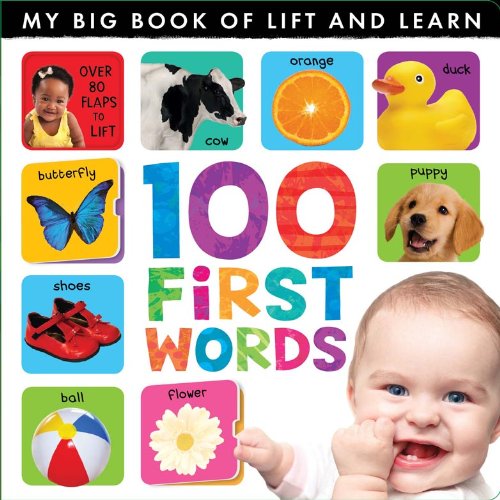 100 First Words (My Big Book of Lift and Learn)
by Tiger Tales
Another Lift the Flap book that we love. It's great for learning first words and as the kids get older, it's great to have them tell us what they are looking at in the book.
Colors (Bright Baby)
by Roger Priddy
We've read this book every night for several months. Even though it was ideal for a baby, our toddler likes to thumb through it and yell out the colors. The pictures are great and we don't mind reading it each evening at bedtime.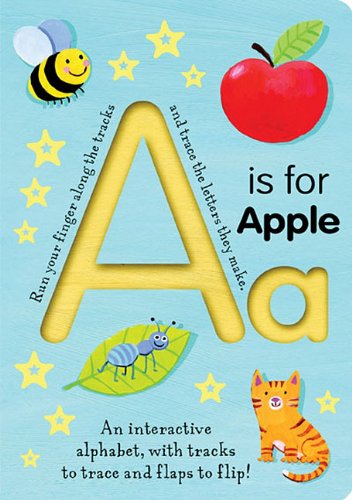 A Is for Apple (Trace-and-Flip Fun!) (Smart Kids Trace-and-Flip)
by Georgie Birkett
This book is great for learning the alphabet and encouraging interaction with more flaps! We also learn how to trace the alphabet without any pressure of a pencil and paper.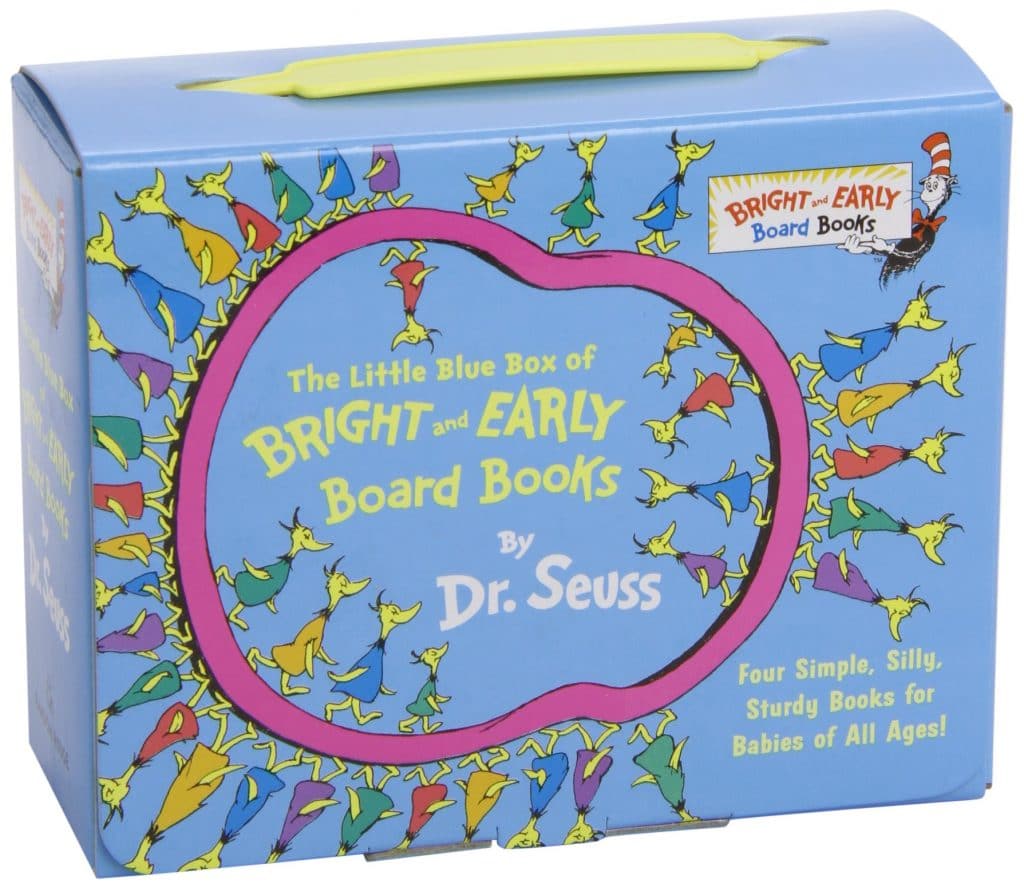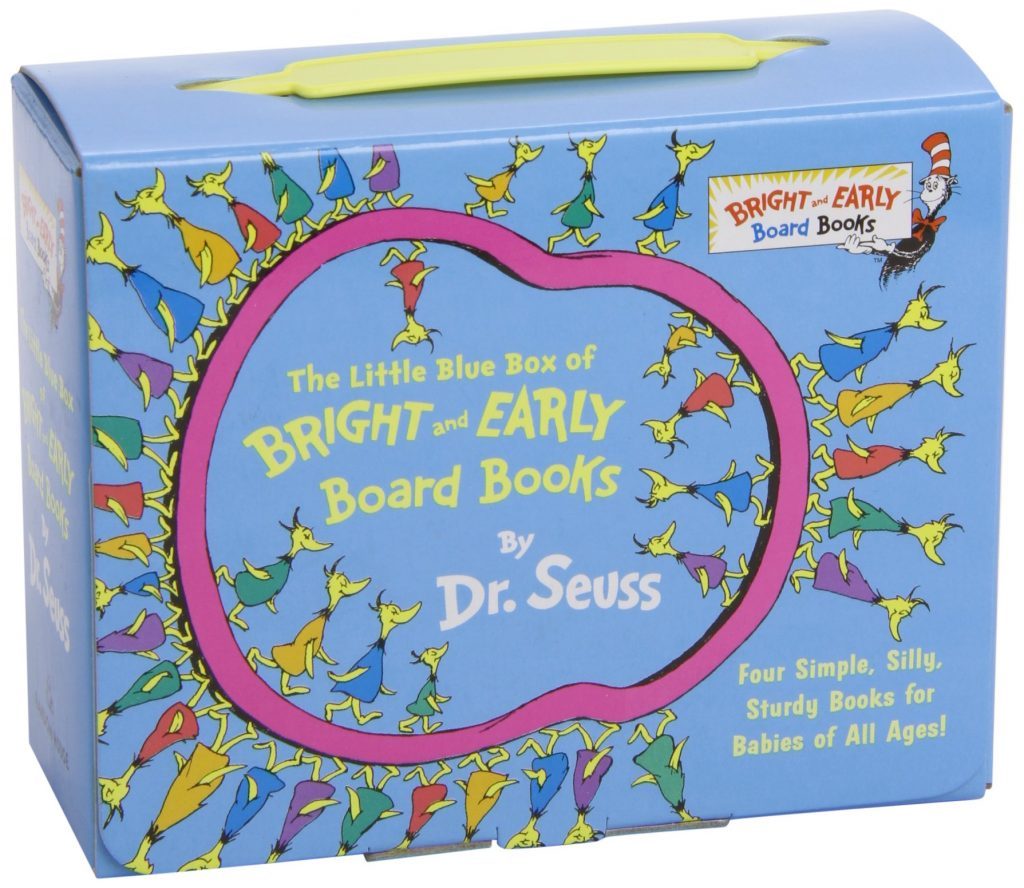 The Big Box of Bright and Early Board Books About Me (Big Bright & Early Board Book)
By Dr. Seuss
These are great introductory books for baby. They don't require the attention span of traditional Dr. Seuss books. They are thick boards so that you don't have to worry about a toddler ripping the pages!
Corduroy
by Don Freeman
Because it was one of my favorite books? Shouldn't your favorites deserve a spot on the bookshelf? I feel like my enjoyment of a book shines through when I am reading it.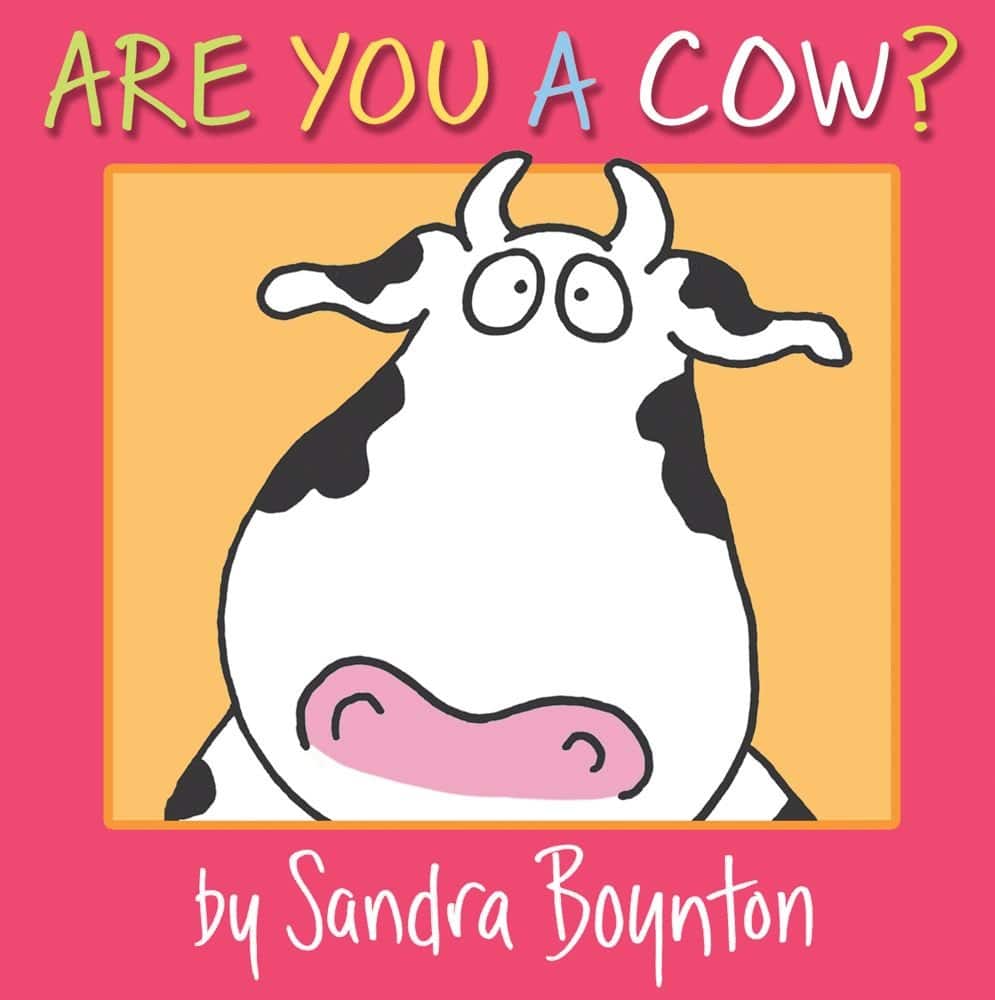 Are You a Cow? (Boynton on Board)
by Sandra Boynton
There were 3 months when we couldn't get away without reading this book SIX times a day for each mom AND dad. Like other parents, we've gotten this one memorized. I am embarrassed to admit that occasionally our little girl will yell "I'm a Chicken!" in public and one of us will respond. It has to look odd, but it always guarantees a toddler belly laugh.
How are you planning on celebrating Dr. Seuss' birthday? Did you pass along your favorite childhood stories to your children?