Summer Flowerbeds Update– Without Wasting a Weekend!
Ahhh… it's been 90 degrees and sunny here in Michigan for a few weeks now. It almost reminds me of the warm and sunny summers living on the Gulf Coast. All I need is a beautiful beach and sitting on the bay and I'm set! Snapping back to reality, we are enjoying an empty Ann Arbor, that's when the tens of thousands of college kids move away and leave downtown to the locals. It's a wonderful atmosphere– but missing the beach! 😉 While we are enjoying summer, we've also been working on fixing up a few outdoor spaces, let me show you our flowerbeds!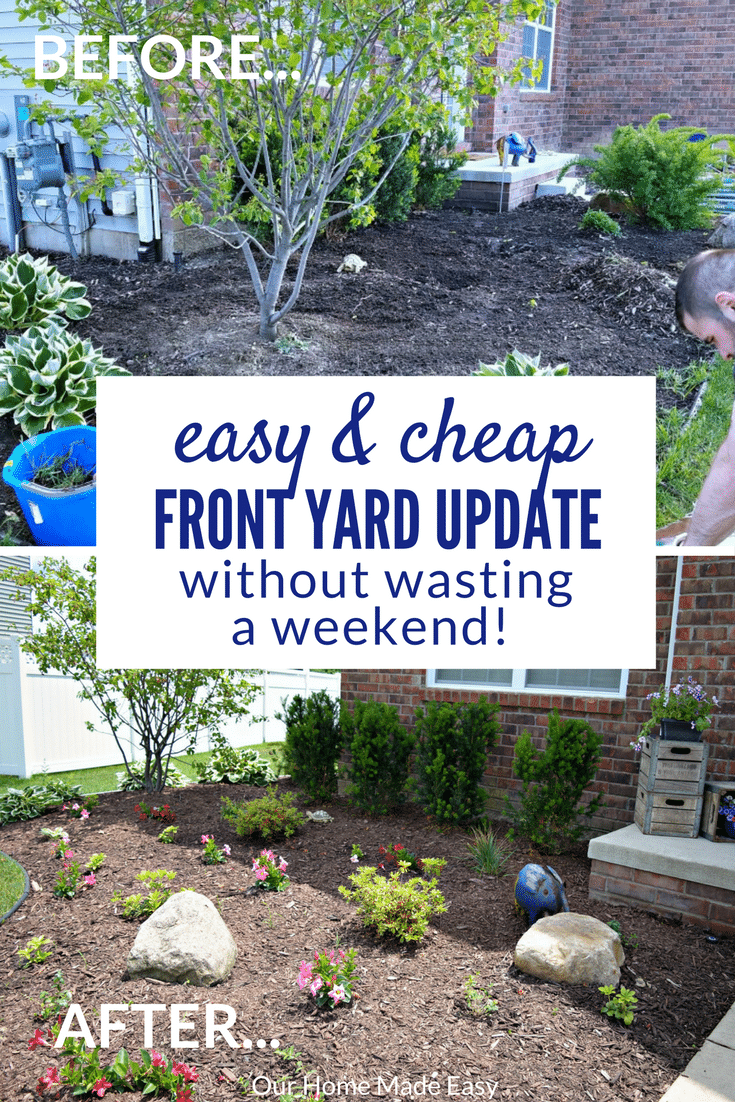 (This post contains affiliate links. See my Disclaimer for additional information.)
Admittedly, we haven't done much to this space since we moved in. The house was a new home build and came with zero yard! It didn't even have a great final grade. While we knew this going in, it was still an enormous expense to lay down sod and do a small bit of landscaping.
See the compete front porch 'After' right here >>> Simple Front Porch REVEAL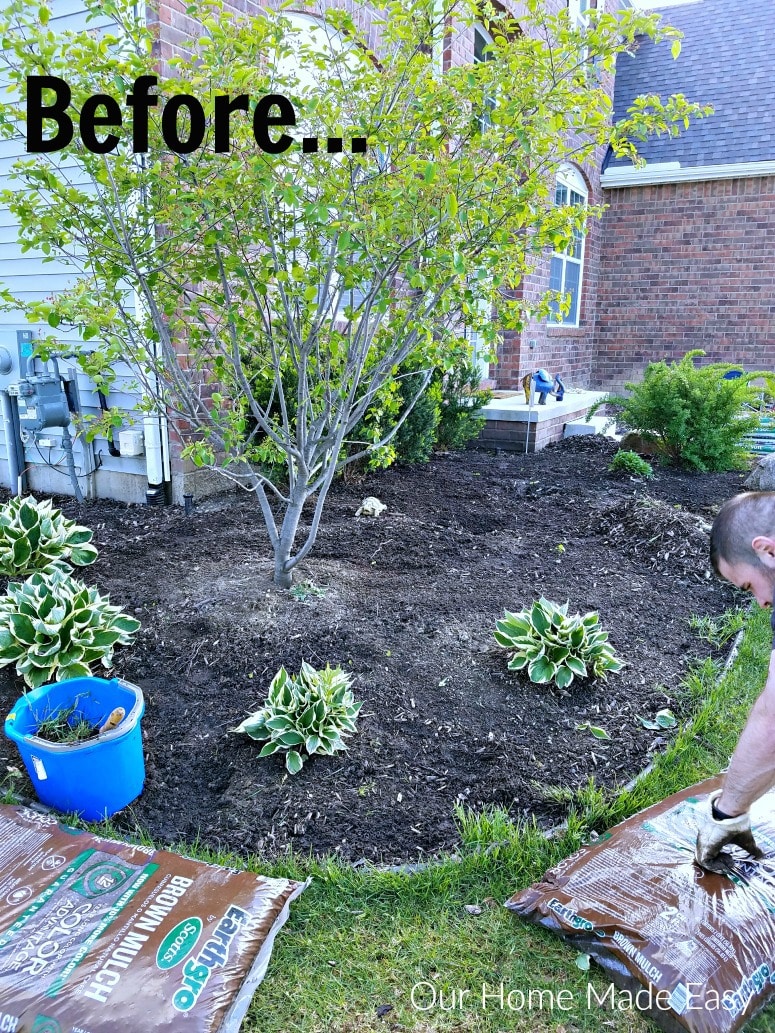 Since that initial landscaping, we haven't done much else. Once or twice a year I get ambitious and weed a little bit, but I always get frustrated about not having enough time to devoting outside.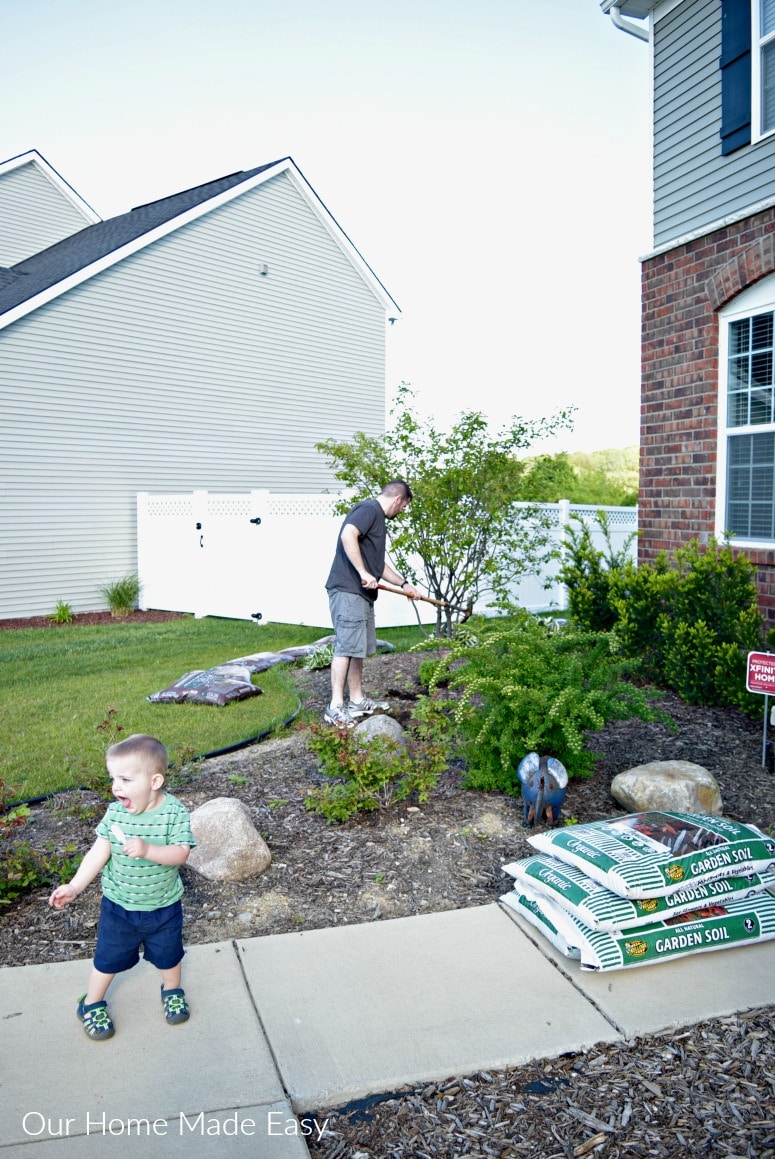 This year we decided to do things different with the small flowerbed in the front and without spending too much money or taking too much time. We started on a Monday after dinner time and after 3 nights of work, the flowerbeds looked like new.
One of the biggest struggles for us is devoting an entire weekend to yard work. It's hard labor, sweaty, and someone has to run after the kids. This year we broke out the work over a week. Granted it rained 2 nights of the week, so it was a mud bath instead of sweat. But it made it easier.
We gave the kids their beach shovels and let them dig along side of us.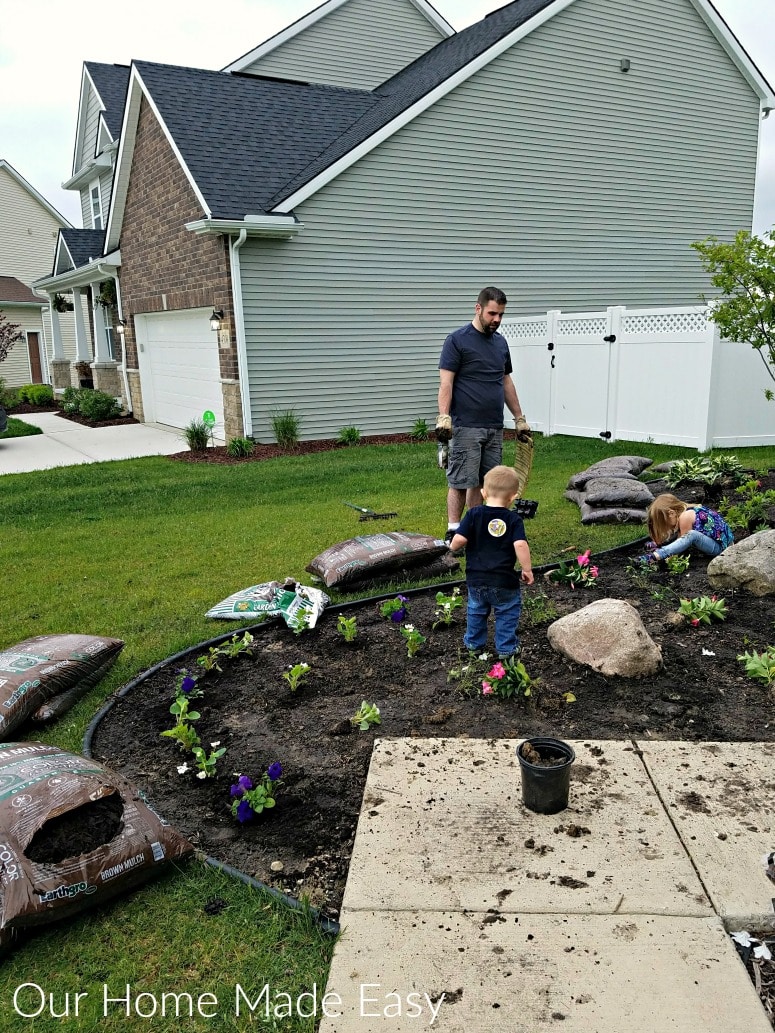 What did we do to the flowerbeds?
First, we pulled away old mulch. This seemed like 'extra' work, but it made the space like a blank canvas and allowed us to dive in and really see what wasn't working and where we needed to add new plants.
Then, Jordan pulled out two dead rose bushes, old lavender bushes, and a few other items that simply died since last summer. I was hoping to keep the rose bushes and transplant them to the small area on the side of the house, but it didn't happen.
You guys, Jordan really dislikes the rose bushes. I don't understand it.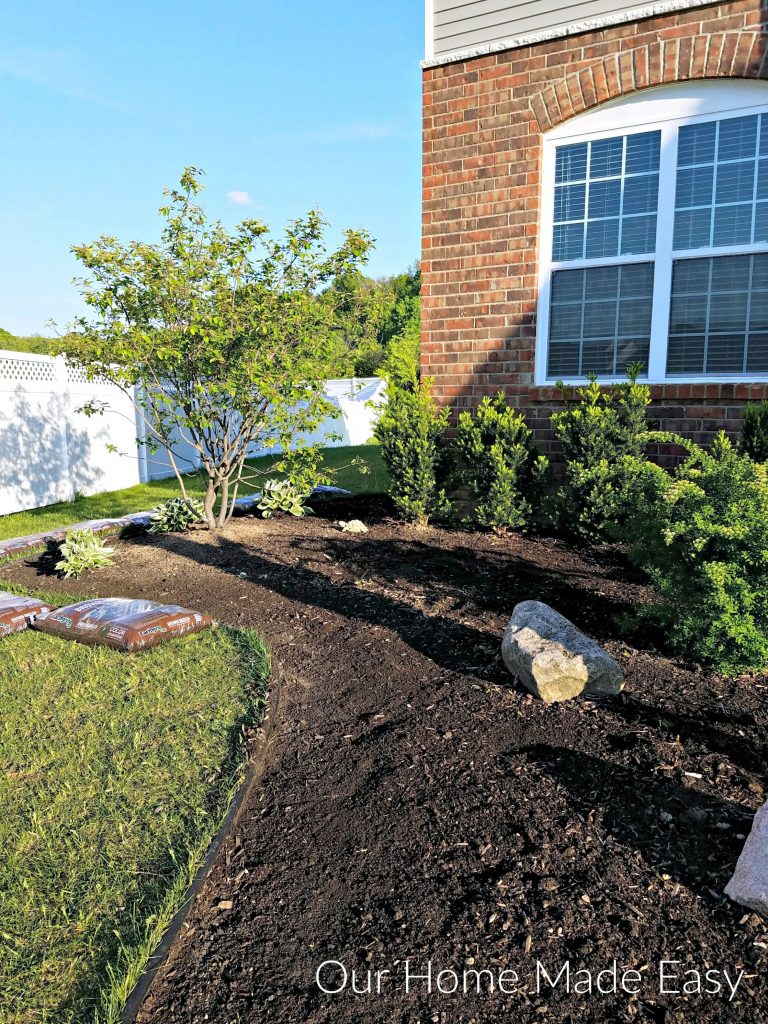 Instead, we took a large, non-flowering bush and moved it from the front-center area to the area behind the tree. Now it fills in the empty spots where there used to be tall grass.
Once we had everything removed and re-homed what we could, we trimmed down the shrubs under the window. Then we started to fill in the entire flowerbed with new plants and introduced new potting soil to give my plants a fighting chance. 🙂
After the plants were in place, we placed a super thick layer of brown mulch across the flowerbeds. Jordan debated buying the inexpensive mulch or choosing the new rubber mulch at Lowe's. Since we had a limited time to knock out the project and didn't do much research on the rubber mulch beforehand, we chose the inexpensive mulch. Perhaps we'll be prepared next summer and know if the rubber mulch is worth it!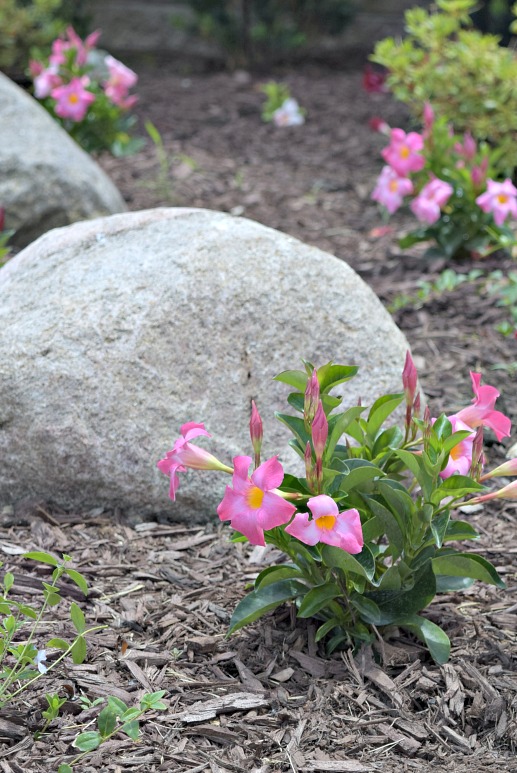 I added a new hosta plant along side the existing ones. We planted 2 new azaleas to give some full-ness to the flowerbed. I chose white azaleas so that each year I could change out annual colors and not worry about being stuck with bright pink azaleas and never being able to choose something else.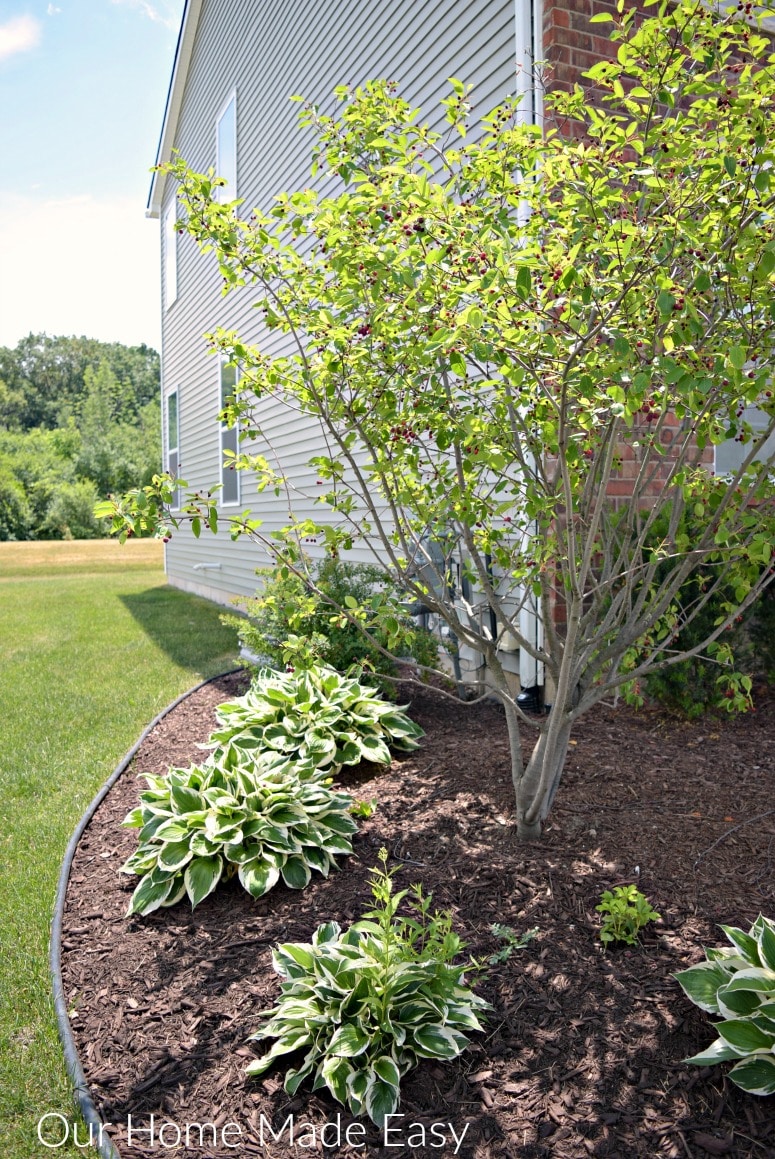 To give some ground cover, we planted a dozen or so ground covering vines. We also planted 2 ornamental grasses in front of the back shrubs. I'm hoping they start growing here to add interest to the yard!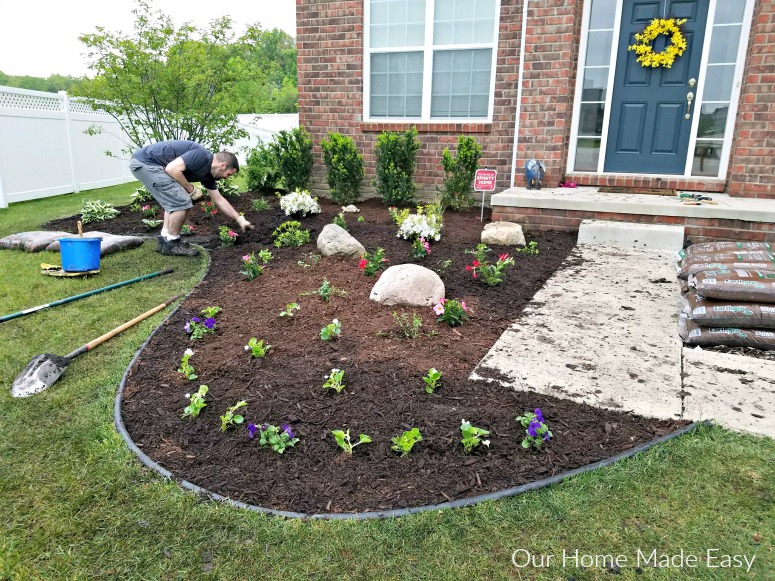 Flowerbeds Cost Breakdown:
15 Bags of Brown Mulch: $30
Potting Soil: $10
Annual Flowers: $55
2 Ornamental Grass Plants: $12
Hosta: $6.50
2 Azaelas: $39.98
Vine Plants: $12
Total Cost: ~$165
And that's it! It was a lot of work to split up over a week. But I am so happy to have done it during the times we would've been sitting inside watching TV. We had a productive week (albeit wet), the kids wore themselves out "helping us," and I only had to scrub the bathtub 2 nights! This was so much easier than feeling like we wasted a whole weekend on nothing but yard work.
Check out our front porch jazzed up for summer!