In this house we love personalizing everything. I've always said it's what we took from living in Mississippi and Alabama when we moved back up north. While I love a great monogram, my adoration of personalization also reaches to creating easy projects that the kids help pick out! Now that it's warmer, Owen needed a new summer blanket and we couldn't resist an opportunity for letting him pick out something he liked and momma could make. AND IT'S SO EASY!
(This post contains affiliate links. Please see my Disclaimer for more information)
I sewed Owen & Aubrey super cute
winter blankets for Christmas-time
last year. I think they were less than $10 apiece! Now, it's summertime and admittedly, Owen still sleeps with that flannel, batting filled blanket. It's held up so well, but the Christmas reindeer are telling me to get with the months, mom.
We made a run for the fabric store and guided Owen to a few different fabric choices. Thank goodness he choose cute little airplanes. And he was so excited that he was able to choose. It was cute– until he decided he needed several fabrics to hold. 😉
When I was thinking of how to create a summer blanket, I thought I'd make a merge of my 30 minute baby blanket with the sizing of the cozy winter blanket, and substitute in cotton rather than flannel. Super clear, right? But the outcome is well loved, I promise!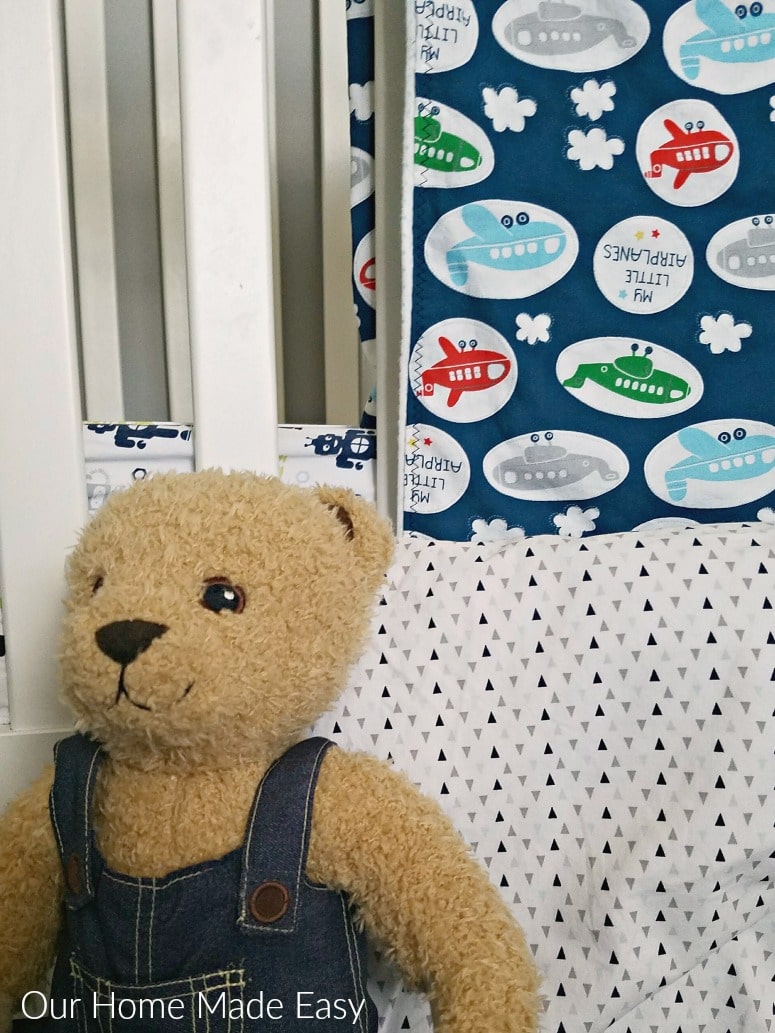 How to Sew the Easiest Summer Blanket Ever
 Supplies Needed (affiliate links provided for convenience)
1.5 yards of Cotton Fabric (I used this one)
1.5 Yards of Flannel Fabric (I used this one)
Thread (I used White and Navy Blue)
Tools:
Using the steps outlined in the
30 minute baby blanket tutorial
, I created this blanket. You'll want to have the cutting station at the fabric store cut you equal amounts of flannel and cotton. I was a bit nervous about using cotton, but theme remembered how soft Owen's
toddler pillowcases
became after one or two washings.
This blanket is the same size as the winter blanket tutorial. I asked for a 1.5 yard cut on each fabric. Since I wanted it to be light in coverage, there isn't any batting in between layers. If you don't need such a large blanket, I think 1 yard of each fabric would work well, as the bolt is 42″-44″ wide and would still give you a large blanket.

Sewing this Summer Blanket
1. Pre-wash your fabric. To save time later, I like to toss the fabric in the laundry as soon as we arrive home, even if I don't know when I will have time to start the project. When a free moment pops up, I can start sewing– without having to wash & dry!
3. Don't forget to press the blanket before you topstitch!
 4. Top stitch in a fun pattern over the blanket. To save time, I use the default zig-zag stitch. My
sewing machine
offers more than 70 stitch options and some of them are really pretty. BUT, I don't always have extra time to spend in front of the sewing machine.
And that is it!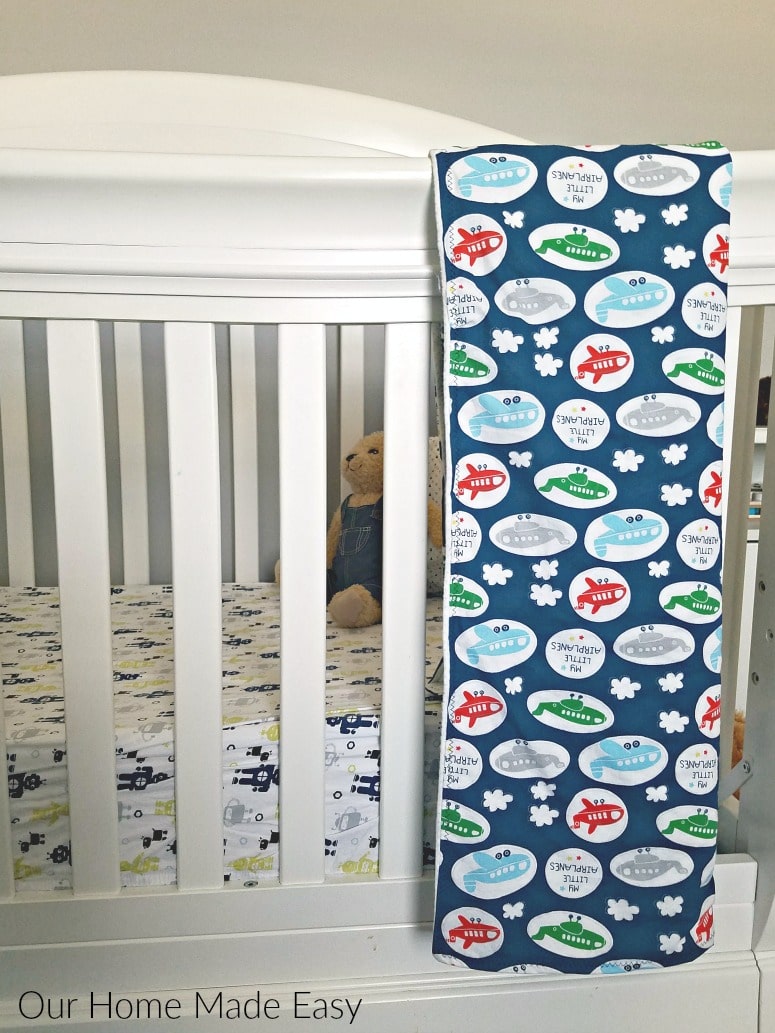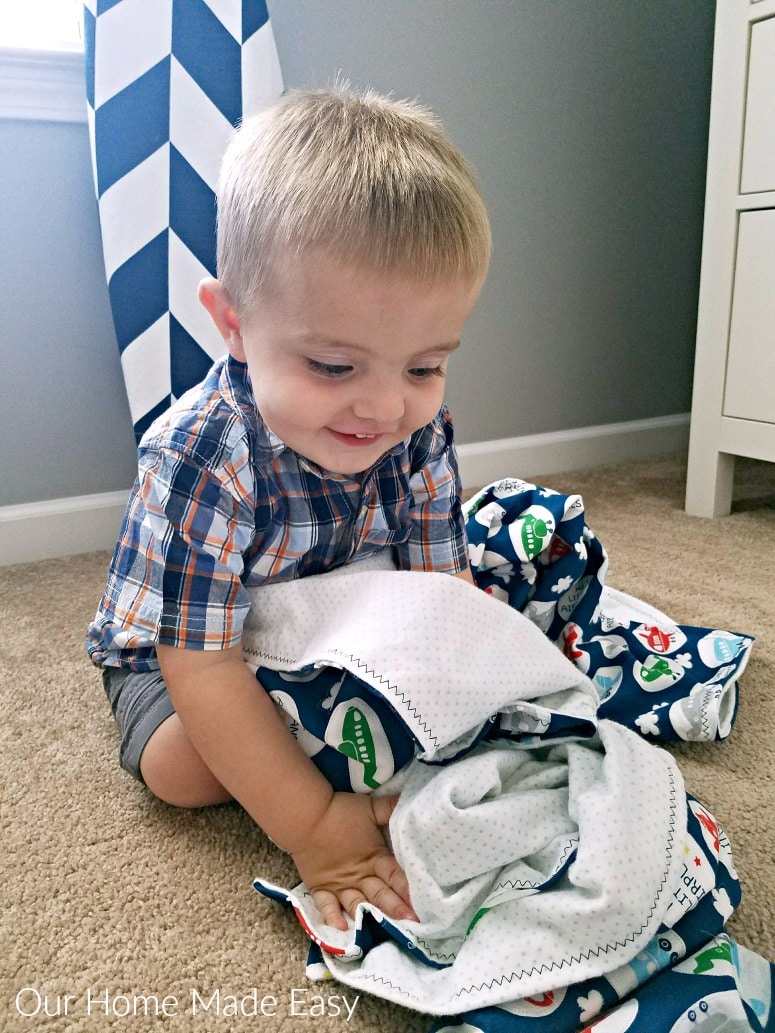 This summer blanket is super simple for even the most beginner sewists! It's perfect for daycare nap-times, and keeping the kids covered, and not worrying about them having something too thick. To make this as simple as possible, pre-order your fabric and launder your fabric as soon as you arrive home. Then, it will be ready to piece together when you have a few free minutes!