Does the winter chill take over your home for about 5 months of the year? Us too! Even if it's semi-nice out, you'll still find me curled under a blanket. Today I am going to show you how to make a fun and totally personalizeable flannel blanket. Now the kids (& you) will be warm, but you won't need to sacrifice your home style when you pick out the fabric!


The kids are getting old enough where Christmas is super magical and I love that. Jordan & I are such saps when it comes to making sure we set up traditions, make memories, and find ways to help others. For an A+O memory this year, I thought maybe I could whip up their very own Winter flannel blanket.
This idea is based on my 30 Minute Baby Blankets but I changed it up by adding a layer of thick batting to make these super cozy, thick, and warm!
Supplies Needed
(This post contains affiliate links. Read my disclaimer page for more information.)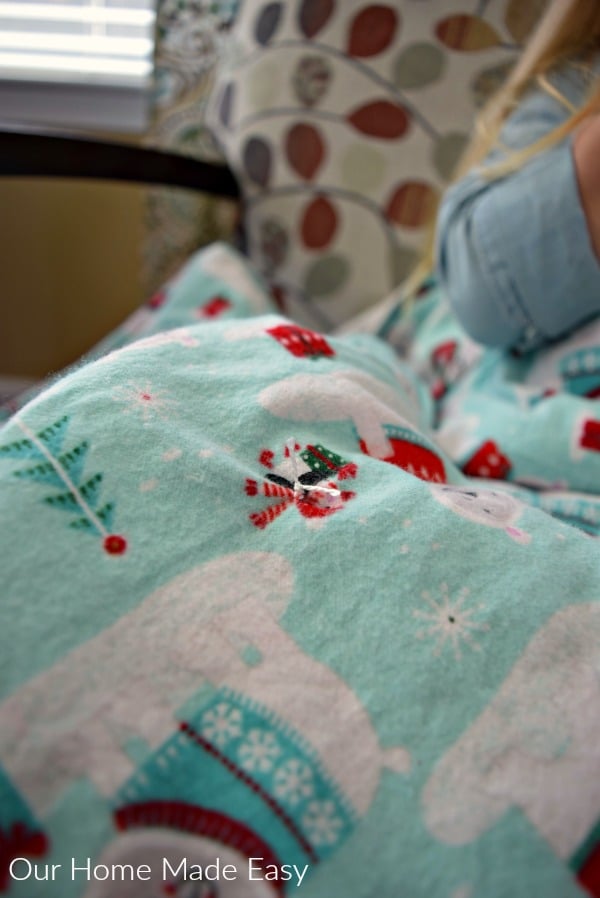 Before you go shopping, decide how big you'd like your blanket to be. For the kids, I decided to use 1 bolt width (~42″) by 2 yards length. These turned out super long (ya know, like 7 feet). If I were to do them again, I'd choose 1.5 yards and adjust the batting amount needed.
Since these were for the kids, Aubrey chose the print fabric for her & Owen. Owen agreed by enthusiastically hugging the bolt. Luckily, I found this fabric for 50-60% off and picked them up for less than $2.50 a yard!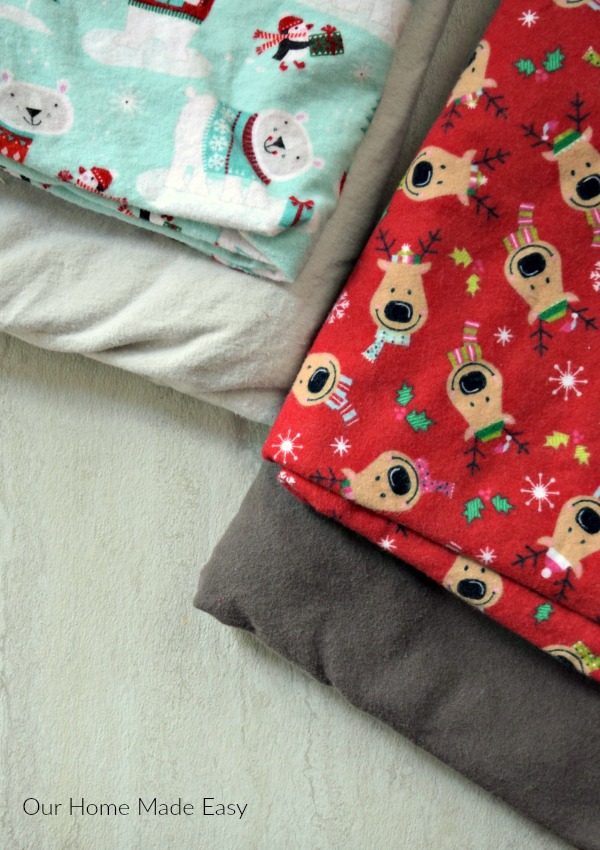 Prep the Fabric
Start by pre-washing your flannel. I always do this as soon as I get home with the fabric. This allows me to start working on the blankets when I have the free time. Otherwise, I'd have a few minutes (aka naptime) and then realize I couldn't do anything because they hadn't been pre-washed. So to save that wasted time, I like to get it out of the way!
Once your fabric is pre-washed quickly clip off any hanging threads. you don't have to get them all, but get the larger ones out of your way.
Choose to Personalize your Flannel Blanket
To add a special extra touch, you can quickly add an initial or simple image on your fabric. If you need a step by step tutorial on this, check out my Easy Applique for Beginner's post! << It tells you everything!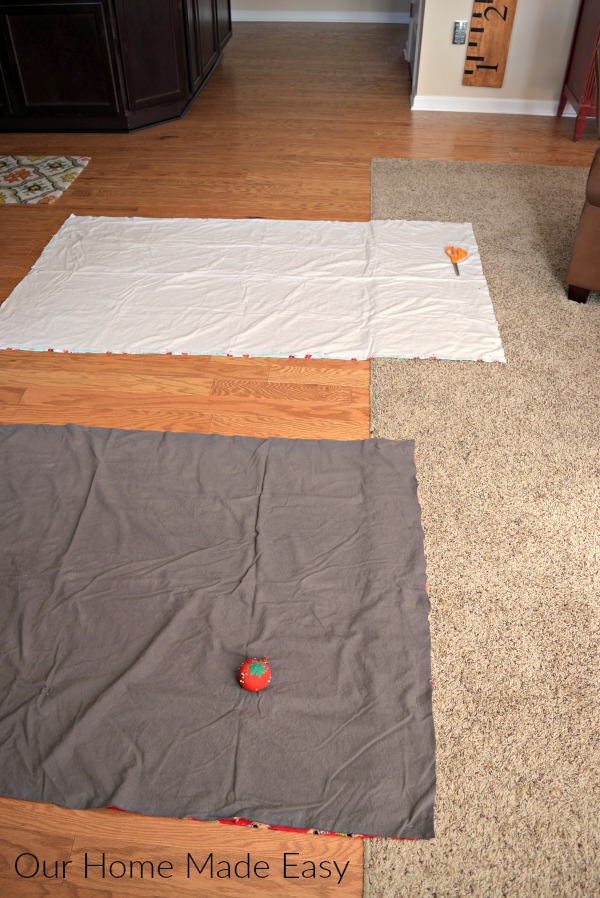 Assemble Your Blanket
Take your flannel and match right sides together. Quickly pin them in place. Make sure to leave plenty of room to insert the batting by leaving a very large opening. Like super large. 😉
Sew around the outer perimeter with thread. I use an inexpensive white thread and use my straight stitch at its default settings. Snip off the 4 corners to help the blanket lie better. Anytime you can remove excess fabric, it's a wonderful thing.
Turn the blanket inside out so that now, it looks like your blanket! Make sure to push out the corners.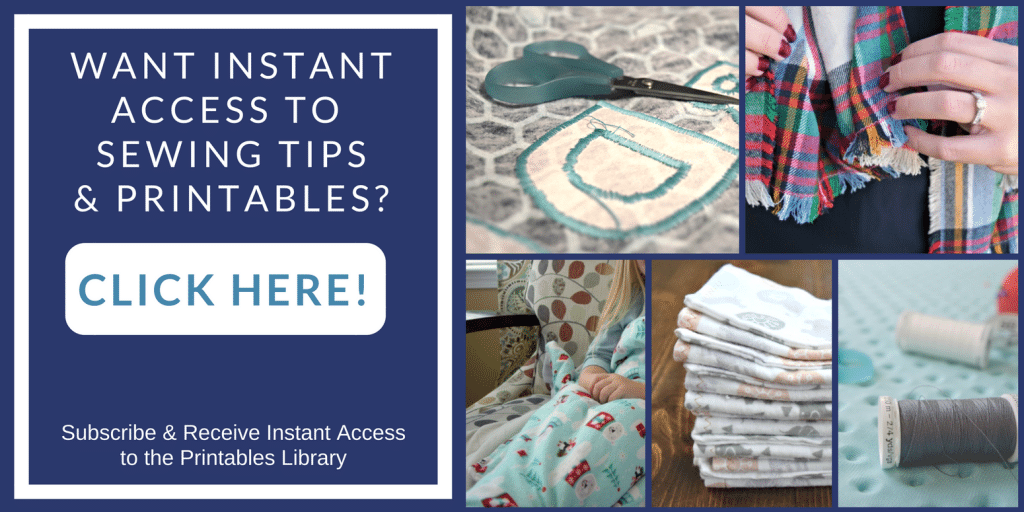 Insert the Polyester Batting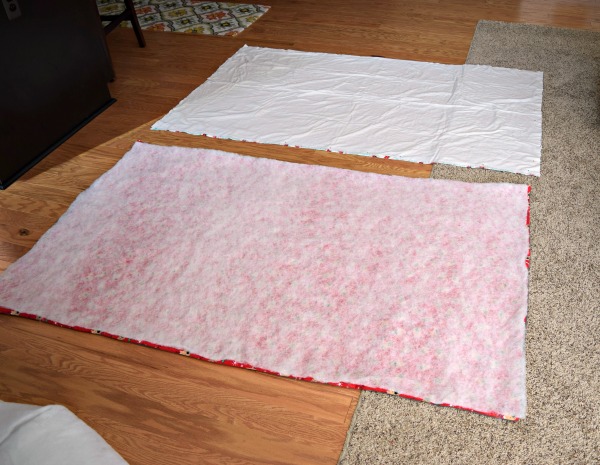 With your blanket assembled and turned out correctly, lay your batting over the blanket. Trim the batting so that it fits within your blanket. If you cut it too large, the batting will scrunch up.
Next, stuff your batting inside the blanket. I found the easiest way to do this is to insert the batting in slowly and not crumbled up. Then, take a straight pin and pin one corner flush in the top corners by your opening. By doing this is the corners closest to you, you can smooth out the rest of the blanket. It's super simple this way.
As you move down, or away from your top pins, adjust the batting to be flush against the inner edges. I pinned as I went so that it didn't move after I adjusted it.
Press the Blanket
To help keep everything in place before the last sewing, quickly run a hot iron over the blanket and edges. I found that it helped keep the batting in place and smoothed it all out as I applied the pressure. Press close your blanket opening.

Top Stitch the Flannel Blanket
Close up the blanket opening with a straight stitch. Some people prefer to catch the opening in their top stitch, but I'm not that good. And I wash their blankets every week, so durability is a must. Therefore, an inconspicuous straight stitch it is.
Next, sew a decorative stitch, in a coordinating thread, over the top of the flannel blanket. I always choose a zig-zag stitch because it's super quick and uses minimal amounts of thread. I found that the batting shifted slightly during the process, even if it was pinned. Overall, it stayed in place, didn't bulk up anywhere and laid flat throughout the entire process.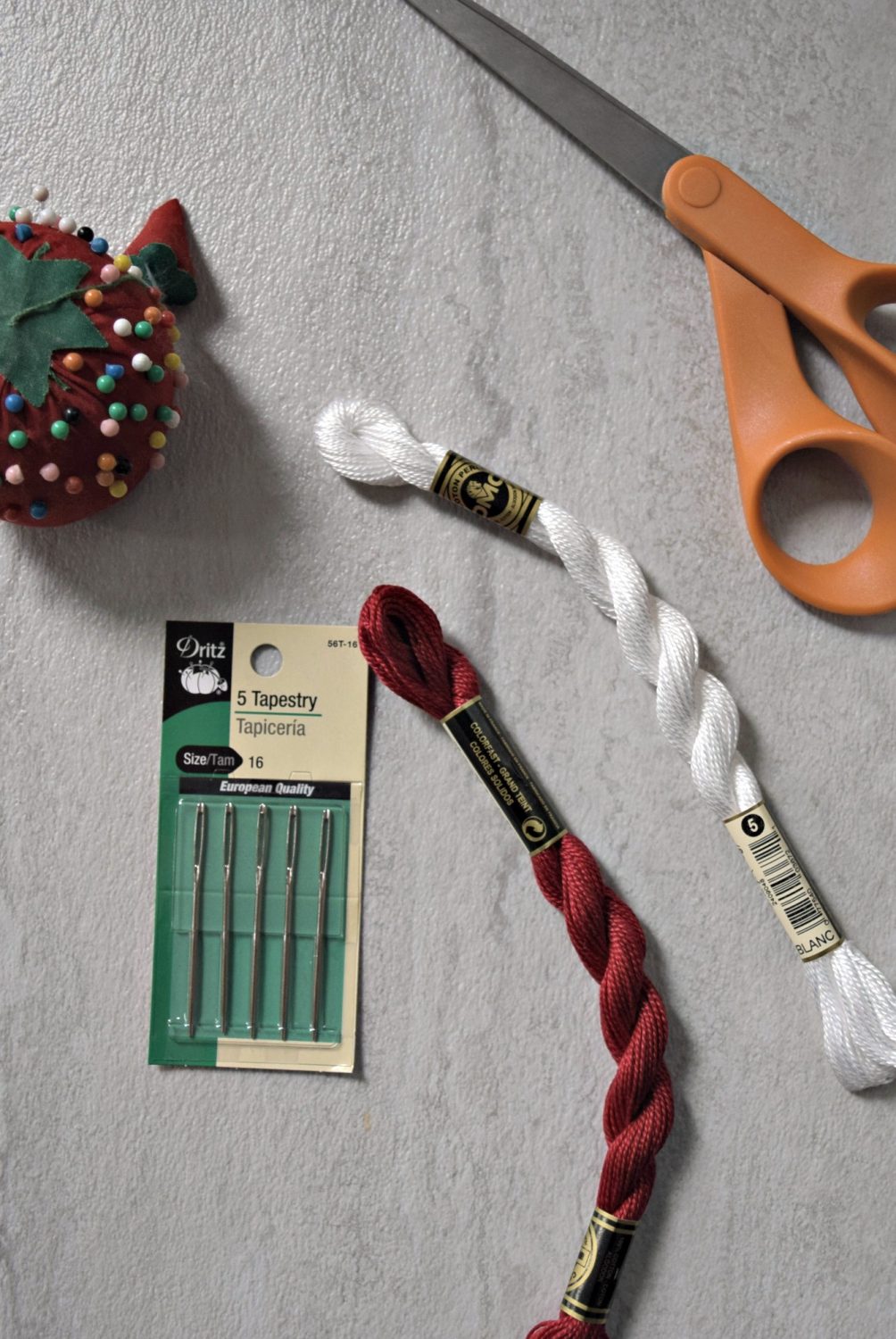 Hand Tied Knots
To keep the batting from moving– ever, add several hand tied knots with inexpensive embroidery floss. It's super easy. I referenced this hand tie tutorial, because it explains it so well.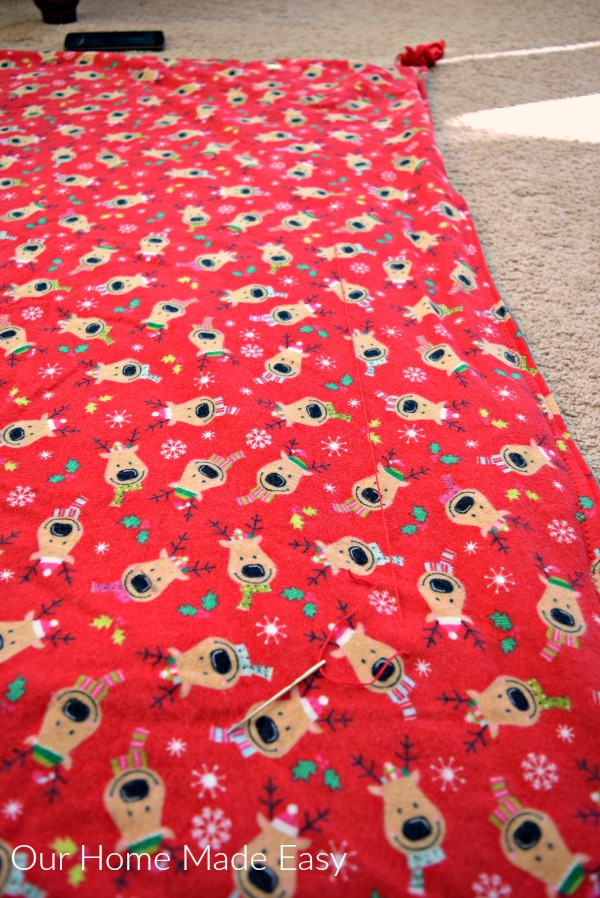 I simply undid my embroidery floss and threaded 3 knots per row and repeated it 4 -5 times. The polar bear was super easy, the pattern repeated just often enough that I knew where I needed to hit next. It was pretty cool to have this long run of thread (Jordan was super confused watching me do this) and snipping it in between each spot.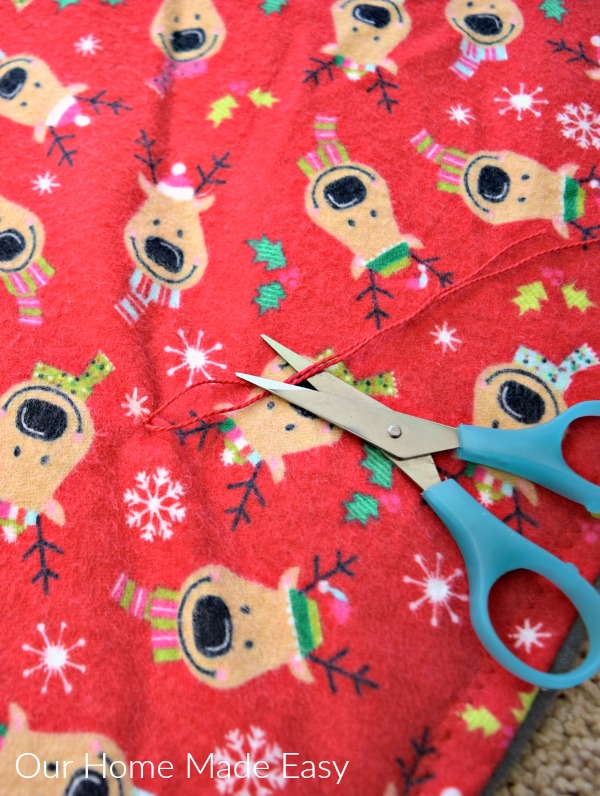 I tied each knot four times, well because.
And that is it! How cute is this easy winter blanket? Best of all with coupons, I pulled both out for less than $20. Yay!
Do you think they like their new blankets?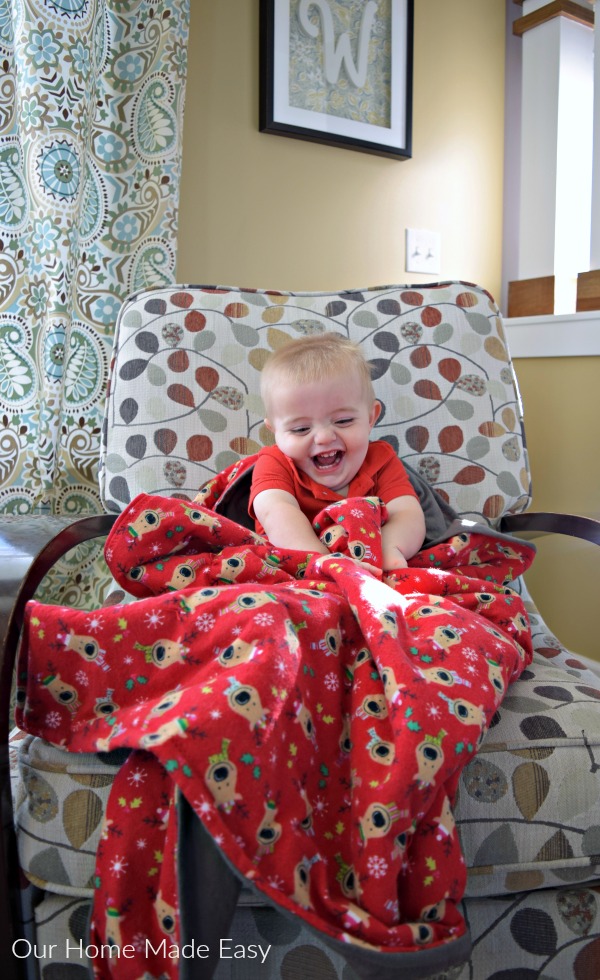 and older sister couldn't be left out either!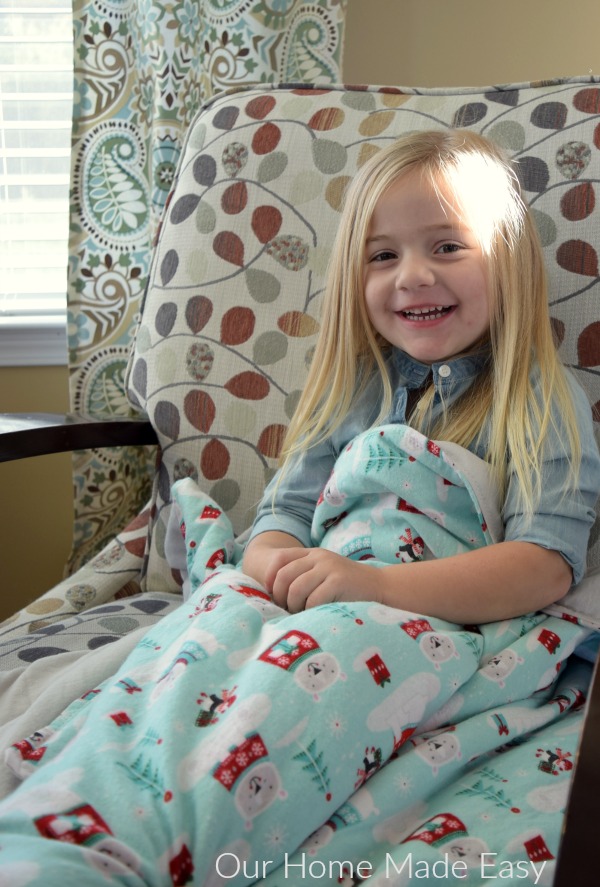 You can definitely make these without busting your budget! Make two coordinating flannel blankets and use the same embroidery floss to save even more money! If you pre-wash the fabric ahead of time, you can easily knock these out during naptime and have some happy little ones when they wake up!
Want to remember this post? Pin for later!