Easy Mickey & Minnie Mouse Halloween Costumes!
Good morning!!! Are you in the home stretch of Halloween costumes? We wrapped our costumes up on the way to our first Halloween event (yes, really)! With only a week until the big night of Trick or Treating, these are costumes that your kids can be wear and you'll knock out in no time at all! Let's take a look…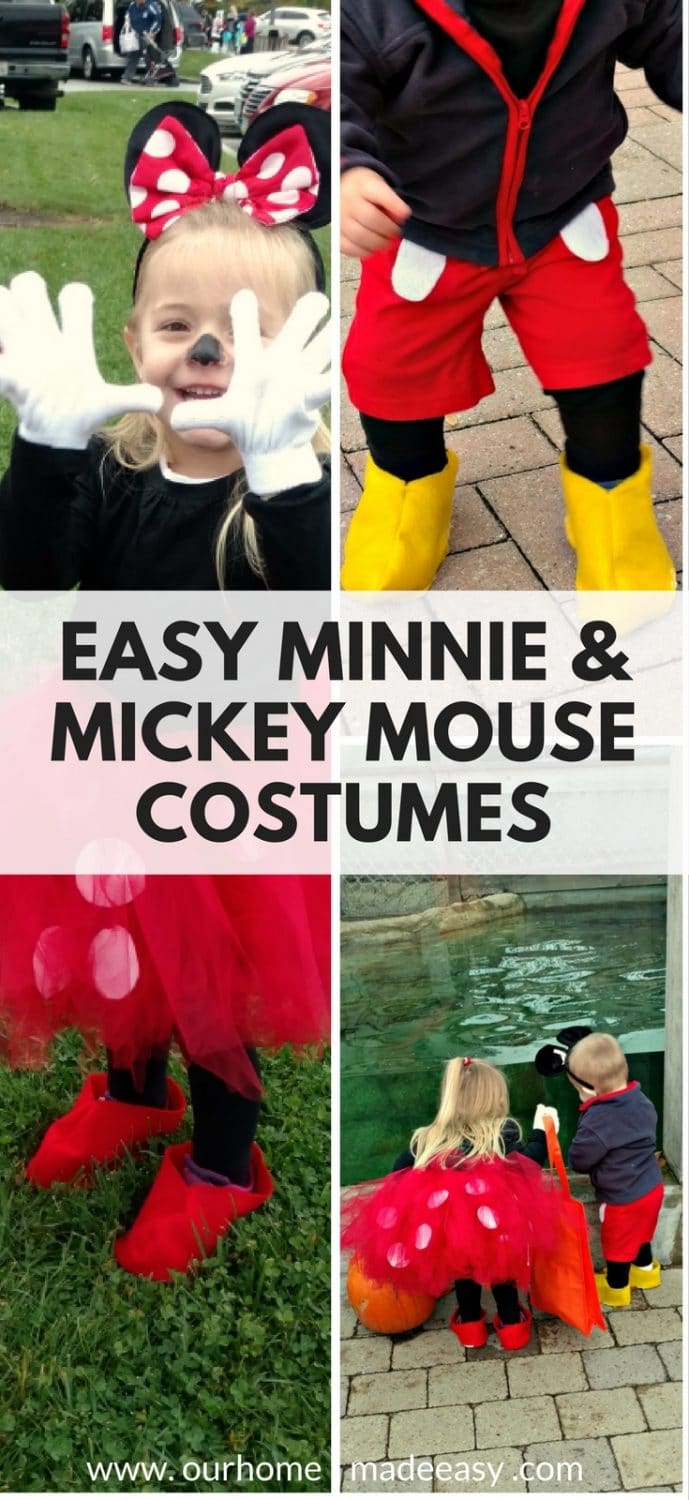 Did you remember last year's Starbucks Halloween costume? Well this year, Aubrey told us what she was going as Minnie Mouse, so I went with it! Poor Owen, he was Mickey Mouse by default. 😉 But I promise, he enjoyed himself on our outing. << As soon as he was well covered in blankets and a jacket. You know, these late October days in the midwest can be so tricky.
Last Friday the four of us took the day off from work and daycare to attend our first Little Boo at the Zoo. It was so much fun walking around to the different stations. If the kids were older, we would've done even more in the activity stations. Since we were zoo member's already and had purchased our boo tickets ahead of time, we entered in the zoo very quickly. However, by the time we left, the line was super long. Next year you'll us there early again! 🙂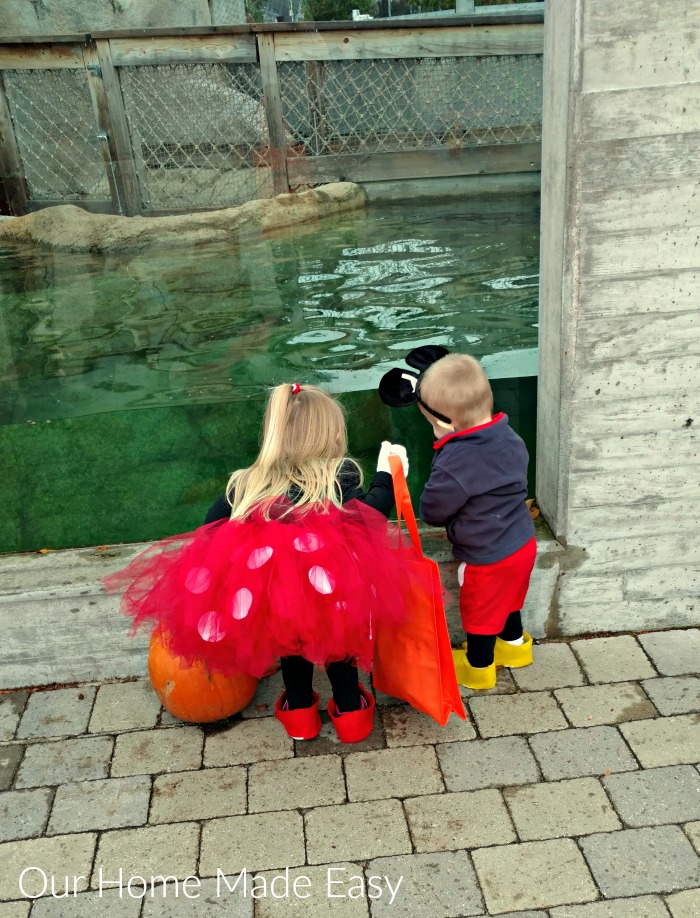 (This post contains affiliate links. If you shop from my blog, I may be compensated for clicks or purchases that you make. Thank you for supporting 'Our Home Made Easy!' Read my disclaimer page for more information.)
Back to these costumes, let's talk about how easy they were… It required almost no sewing other than the shoe covers (totally optional) so any busy parent can do it!
The most difficult part of this costume? It was finding toddler sized white gloves that would fit both kid's hands! Luckily I found them online at K-Mart and we picked them en route to Little Boo at the Zoo.
Let's make these Minnie Mouse & Mickey Mouse Costumes!
Supplies Needed for Minnie Mouse Costume
Red Tulle (You'll need at least 3 rolls depending on size)
Red Felt (1/2 yard)
Black Face Paint
Supplies Needed for Mickey Mouse Costume
Black Leggings (Sorry Owen– he used a pair of Aubrey's old slim pants)
Red Shorts (We already had a pair from the summer)
Yellow Felt (1/2 yard)
Black Face Paint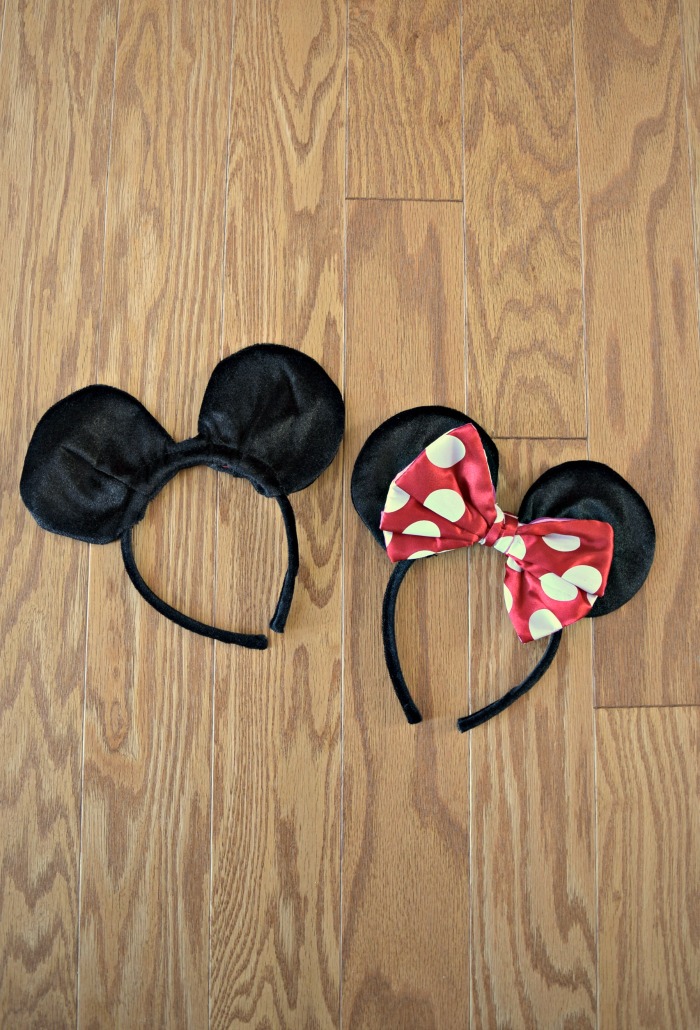 Budget Friendly Mouse Ears!
I bought these and were super impressed. The Minnie Mouse ears have a reversible bow so that if you choose pink you can use the other side. My plan was to hand make each ears, but when I saw these, I knew I couldn't do it ( and be frustration free) for less than $9!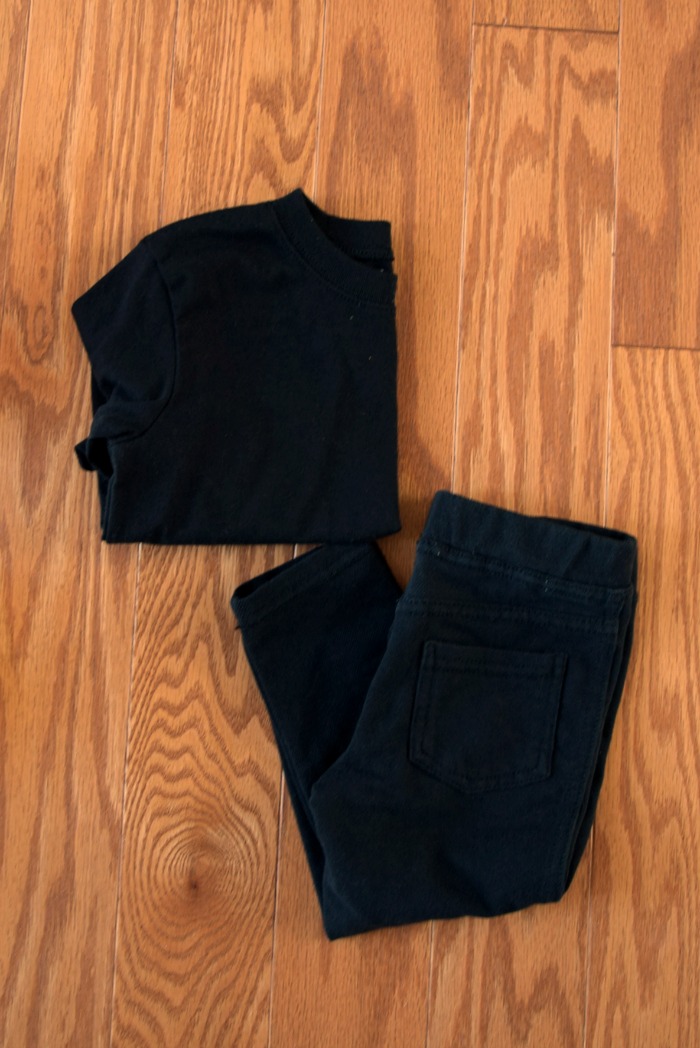 Creating the Shirt and Leggings look
This is embarrassingly simple. I bought Aubrey a plain black shirt and leggings. It was harder finding a little boy 's plain black shirt! Luckily I found this one for him and then used an old pair of Aubrey's leggings! Little boy pants are so baggy and that's not what I was going for here.

How to Make Minnie Mouse Tulle Skirt
I made the tulle skirt following several Pinterest tutorials online. For reference, for our 4T sized toddler, I cut each strip 22 inches long. Once the skirt was assembled, I had Aubrey try it on before I started the next step. To make the skirt as easy as possible, I'd recommend using the tulle on a roll. I learned the hard way (I ran out and had to buy a roll), it's so much easier than buying it on the bolt.
Double check that the skirt fits correctly before moving to the next step. Using a drinking glass, trace several circles on the white felt. Cut out the circles. Flatten the skirt so that you can see the entire area. Place the white circles over the skirt to get an idea of how you'd like them to spread out.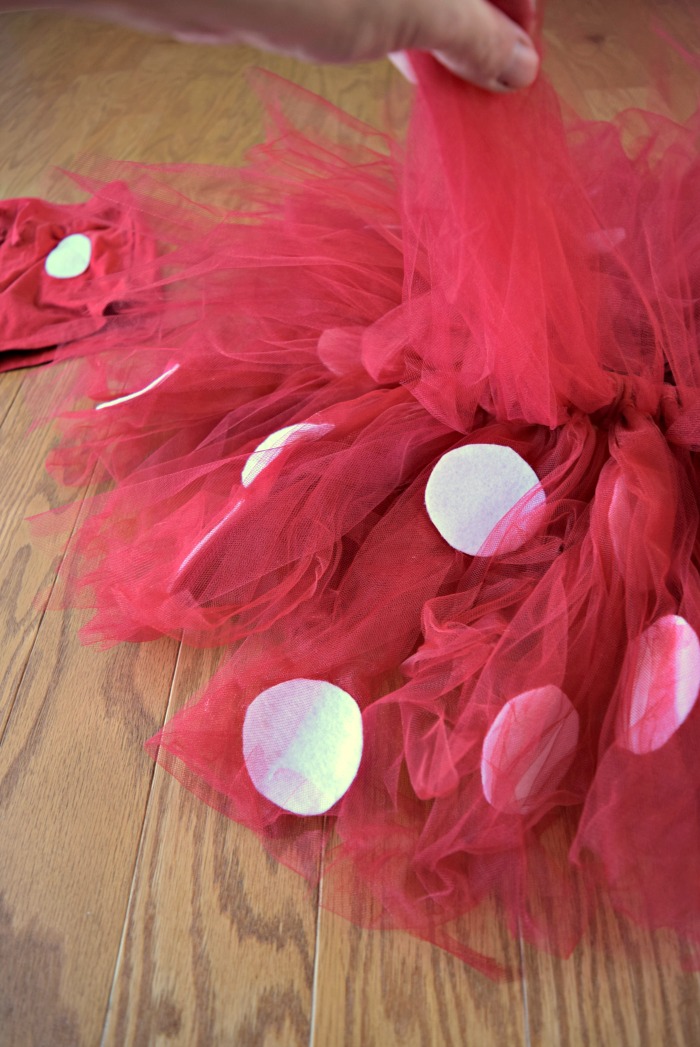 Next, you'll want to use the spray adhesive and spray the white felt and press down on the tulle. If you look at mine, I clipped together every third tulle piece so that the polka dots actually lived under the first layer of tulle. Once the circles were applied, I released the clipped tulle and let it fall over the skirt, creating a hidden polka dot appearance.
Either option of directing applying the adhesive on the tutu, or creating an upper layer is your choice.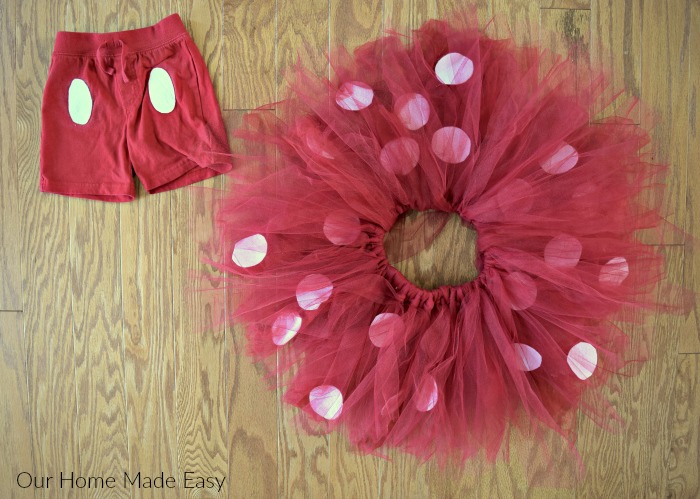 How to Make Mickey Mouse Shorts
For this, you'll want to find plain red shorts. What is it about kid's clothing and always have designs?! Thankfully, he had these from this past summer.
Trace two ovals on your white felt. Cut them out and place them over the shorts. Use the spray adhesive on the felt and apply to the shorts. Let dry for a few minutes.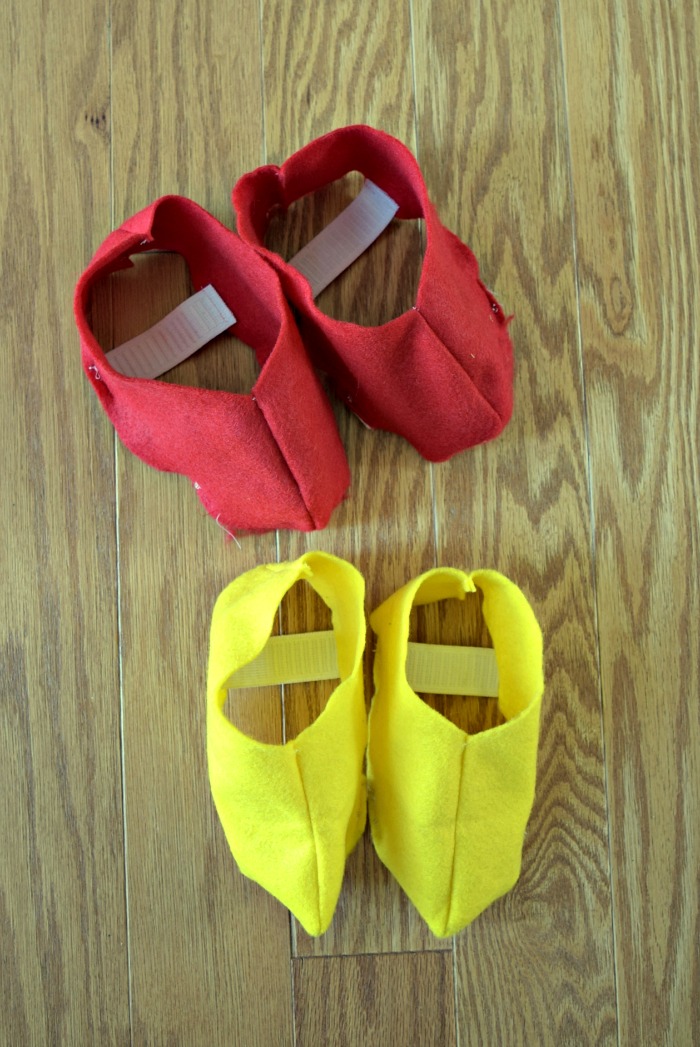 How to Make the Shoe Covers
I originally made these for Mickey only, but once Minnie saw them, she needed a pair too! For this part, I used a tutorial from Camp Clem. She makes them look super easy… and they were!
The only issue to be aware of is making them big enough when you cut the shapes out of the felt. Start obscenely bigger than you think and keep sewing in the heel until you get where you need to be.
The 2 strips of elastic made them functional for the zoo trip. Bonus? I threw them in the wash (in a net bag) once we arrived home and they held up so well. These will even be going to the daycare parties and the real trick or treating!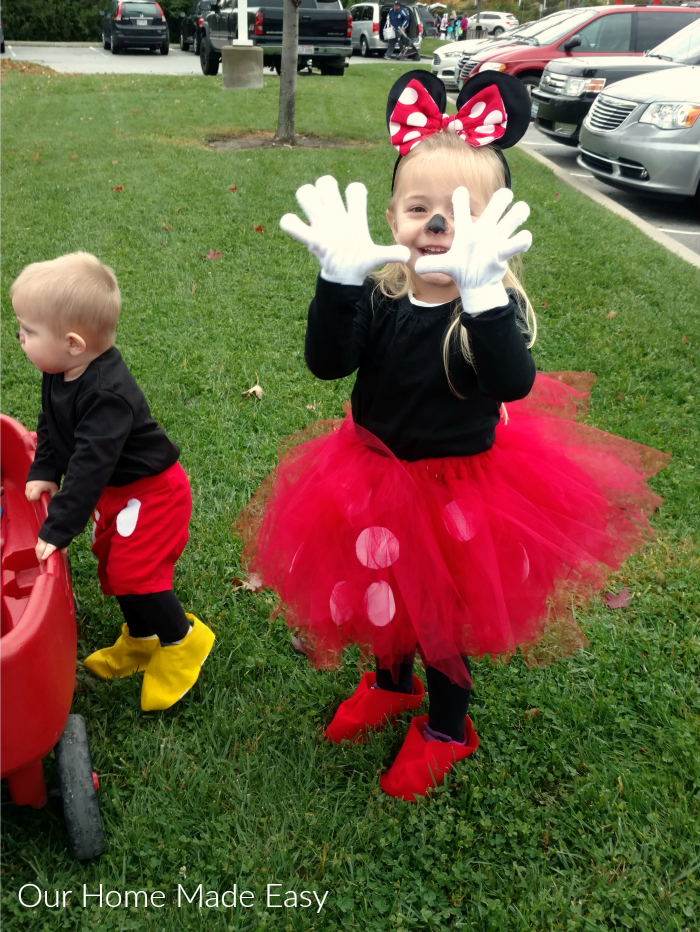 Finish off the Costume!
Pick up a pair of toddler white gloves and finish off with some black face paint for cute little noses. The gloves were especially helpful up here in Michigan where the weather was soooo cold for Boo at the Zoo! Neither Aubrey or Owen complained about wearing gloves. 🙂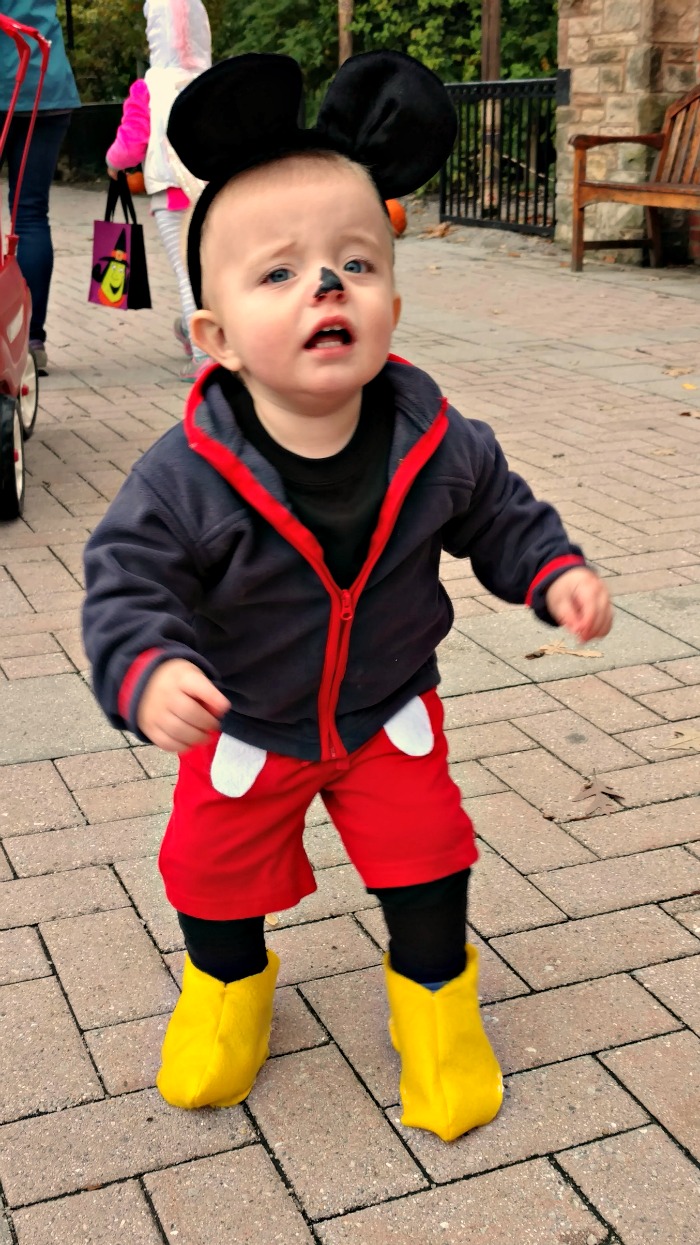 What are you doing for Halloween??