Where to Start Decluttering in Your Home Today
Feeling overwhelmed by the stuff in your home? Here is where to start decluttering your home today! It's free to do and only takes your time. Don't worry about organizing until you declutter your home first. Start here!
(This post contains affiliate links. Please see my Disclaimer for more info)
Are you over walking into a house that feels like the stuff is taking over? As if another toy on the floor or another stack of papers will set you over the edge?
I totally get it. It wasn't long ago, that after walking into the house from a long day at work that I was DONE with the stuff.
I was done with the piles of artwork, mail circulars, and piles of the kids' clothes that were constantly being outgrown.
Too much stuff.
I knew something had to change— and it had to be me. I slowly started decluttering the house, one area at a time. And that's what led to the incredibly popular 6 Week Declutter Challenge. More than 10,000 women have taken what I learned of "quick wins" and turned their own homes into better-organized places.
It's been great.
But what isn't so great about talking about decluttering?
Where to start!
And for that, I wanted to share some really great quick wins that you can do to declutter your entire house starting today or this weekend.
(hint, hint, this pairs well with that FREE declutter challenge! Sign up if you haven't already!)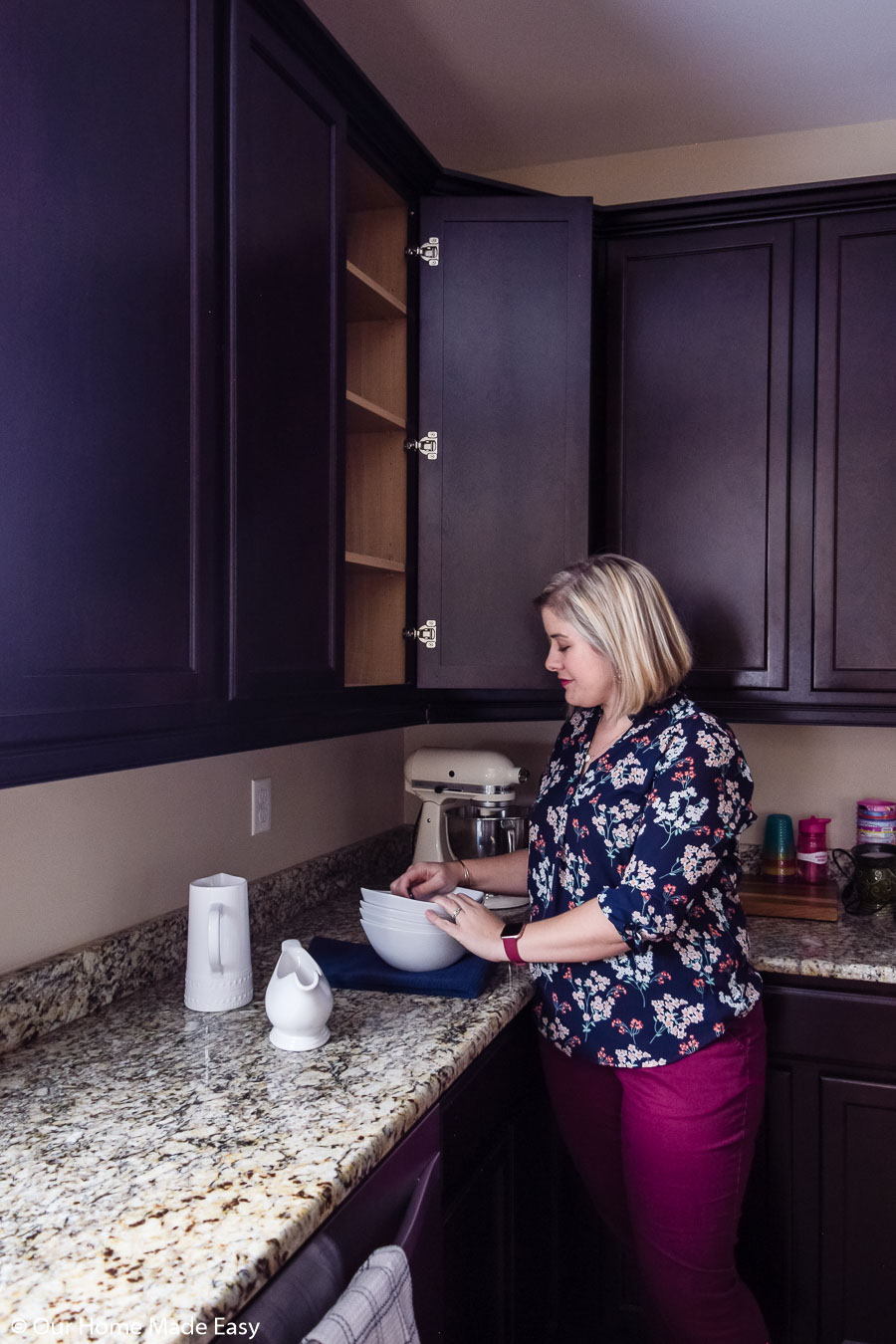 Where to Start Decluttering Today
First, if you haven't read the 6 Reasons Why You Need to Declutter, please do! It will help get into the right mindset about how clutter & "stuff" affects your life at home.
Not only will start to declutter your home allow you touch just about everything in your house, but it's also a great tool if you are moving soon (like we did last year!) or if you want to start getting your home more organized but haven't started yet.
The best thing about decluttering your home is that it's completely free to do. You don't need to buy fancy bins or clear organizing containers to clear out your clutter. The only true cost is your time, which is why I highly recommend spending less than 20 minutes a day doing it!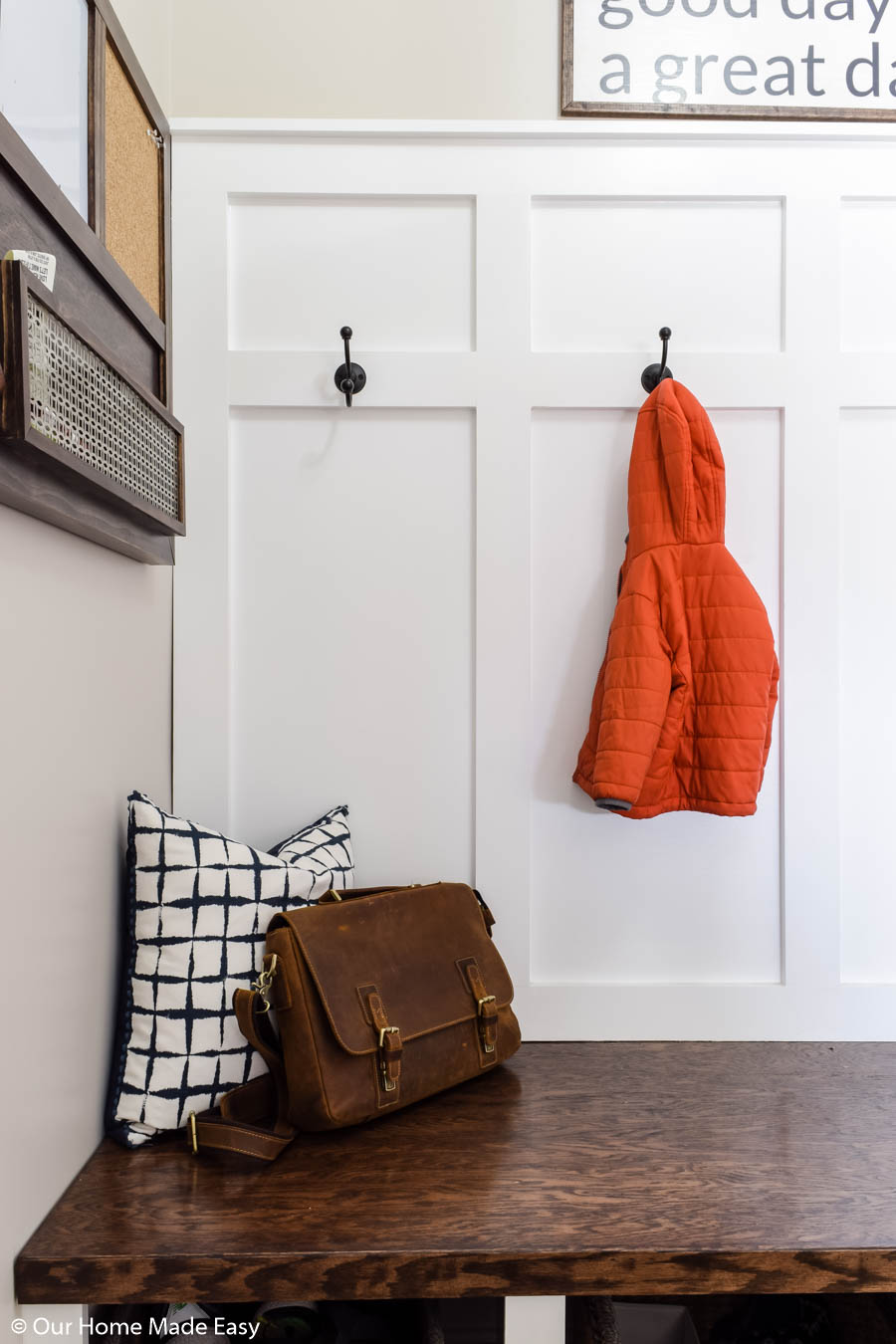 Before you start…
One last tip before you start your own decluttering spree— when you start decluttering a space, remove everything from the area.
Then decide:
Do you still like/use the item? If yes, keep it and place it in the best room/area in the house
Is it broken? Dispose of it appropriately
Is it useful, but no longer to you? Have a donate box ready to go for items that still have lots of life!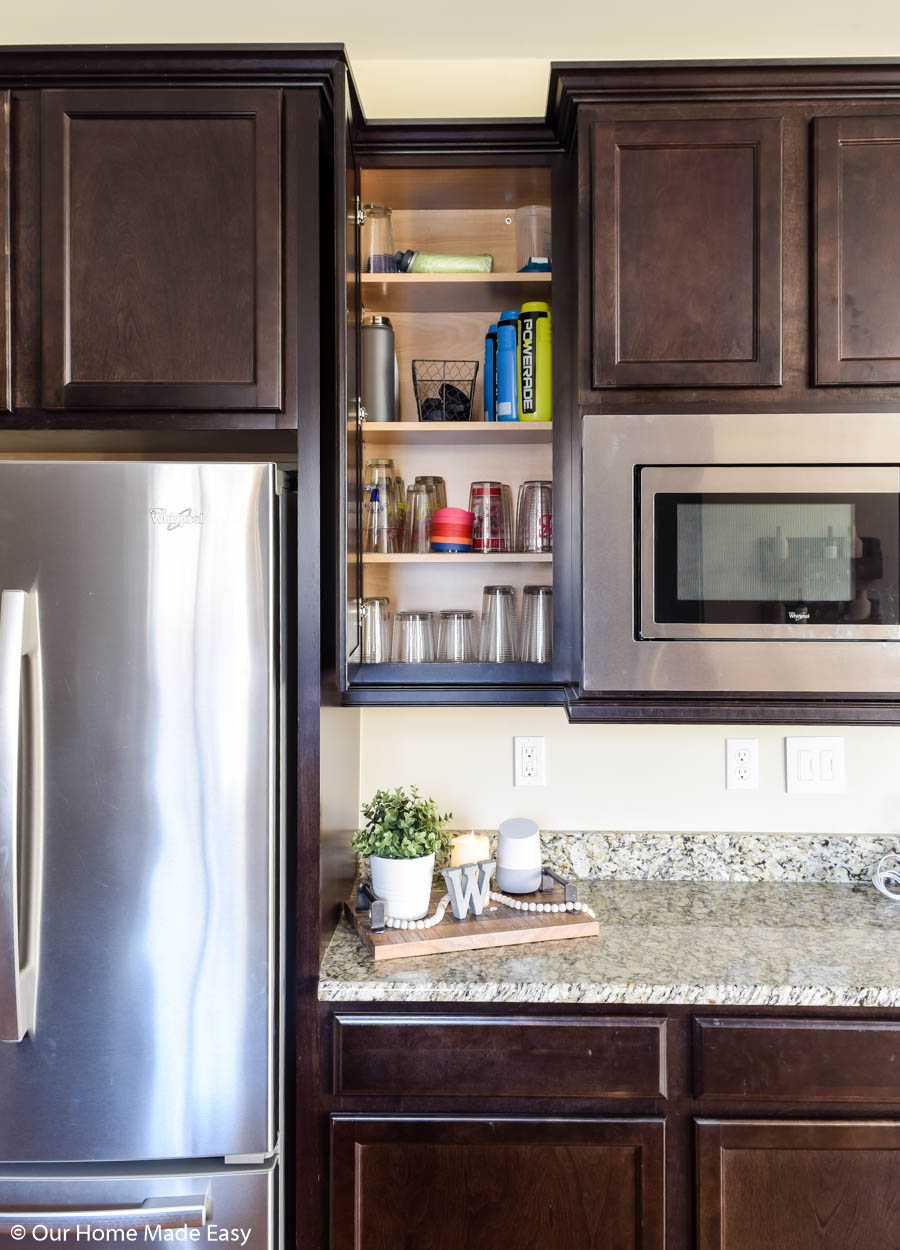 How to Get Started Decluttering in Your Kitchen
Start by pulling everything out of the cabinets and wipe them down while they are empty. Then start decluttering drinking glasses, mugs who were missing lids, and serving ware that we really didn't need anymore.
After the glasses and serving ware, move onto small appliances. If they still work, donate them. If they don't recycle or dispose of them.
Lastly, once your appliances are clutter-free, start clearing the clutter from your pantry and refrigerator!
Read about My Favorite Free Trick for Decluttering Cabinets & Kitchen Organization here…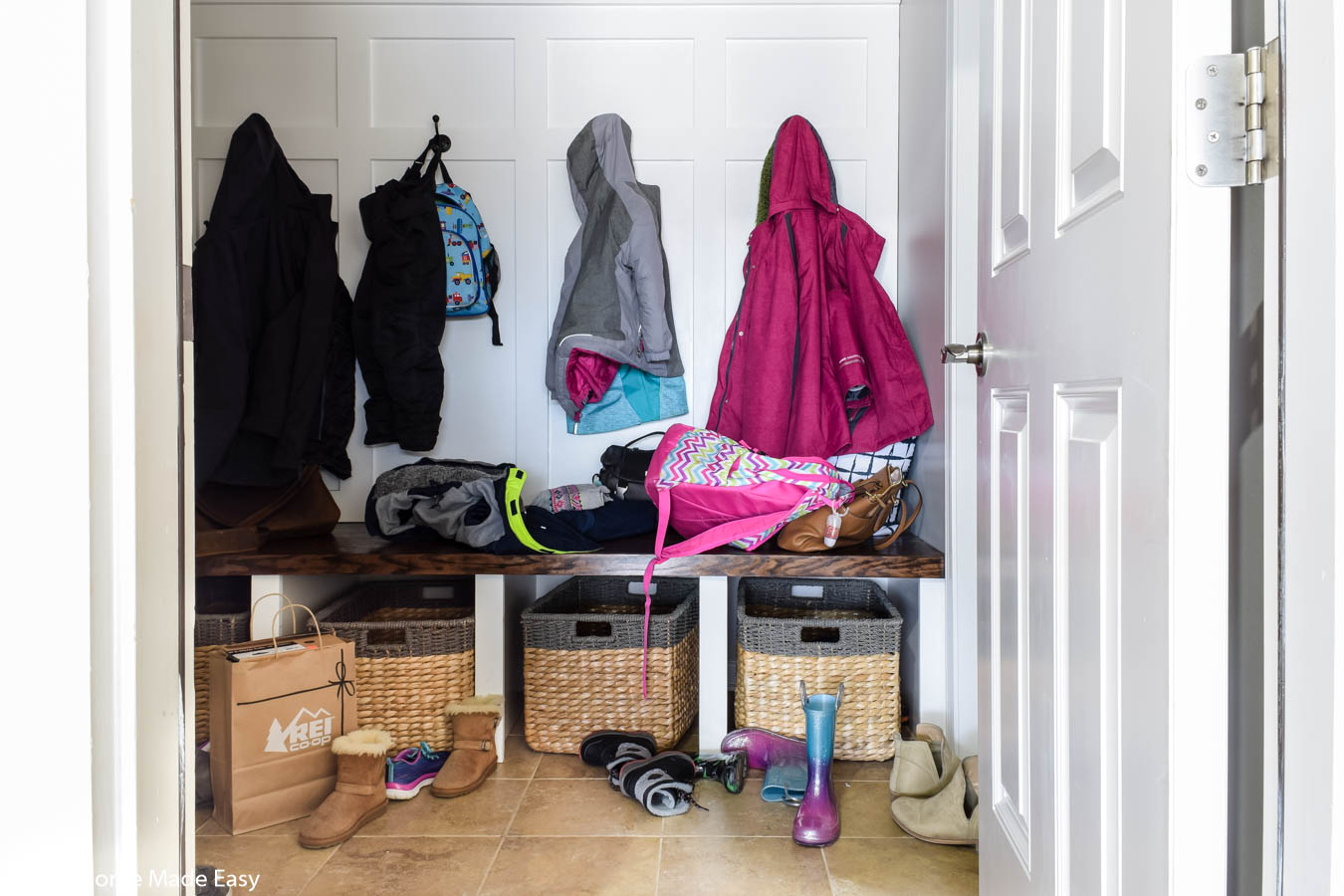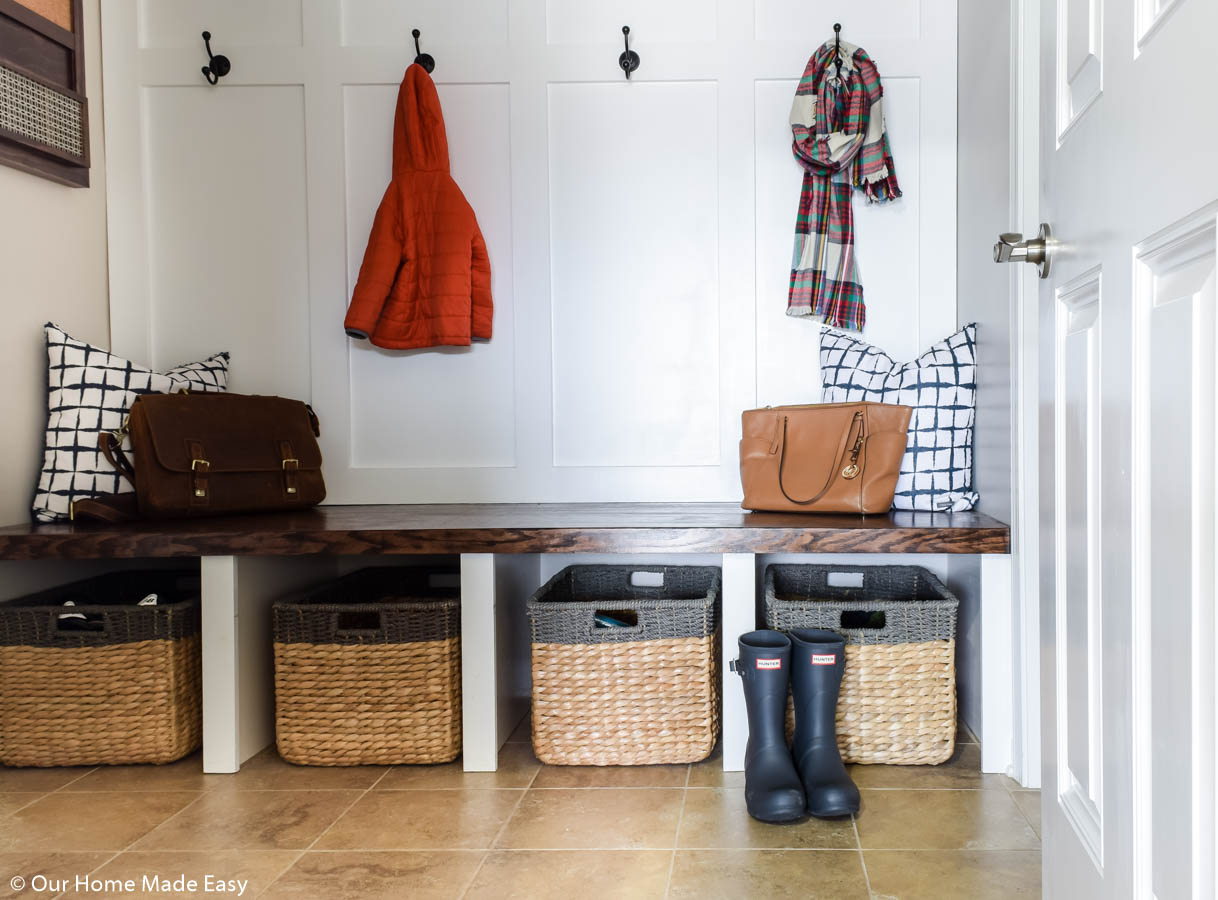 How to Get Started Decluttering Your Mudroom
Whether you have a small wall area or a small room, it's important to declutter your mudroom often. I usually take a large blue IKEA bag and gather up all the items that need to go upstairs to our rooms.
Most of the time, it's shoes and left behind jackets. Sometimes we'll bring in stuff from the car that we bought and it needs to be put away, too.
While I'd love to blame everyone else– usually I'm one with the most to clean out! Between needing work shoes & shoes to wear outside for school pickup, I can set the room up for disaster rather quickly!
Once you have everything moved out of the space, give it a good sweep. After I broom sweep, I always use this awesome cleaner to do my hard floors! (Yes, I know it will vacuum everything dry, too but I till like to give it a head start!)
Read more about how to declutter and organize your mudroom here…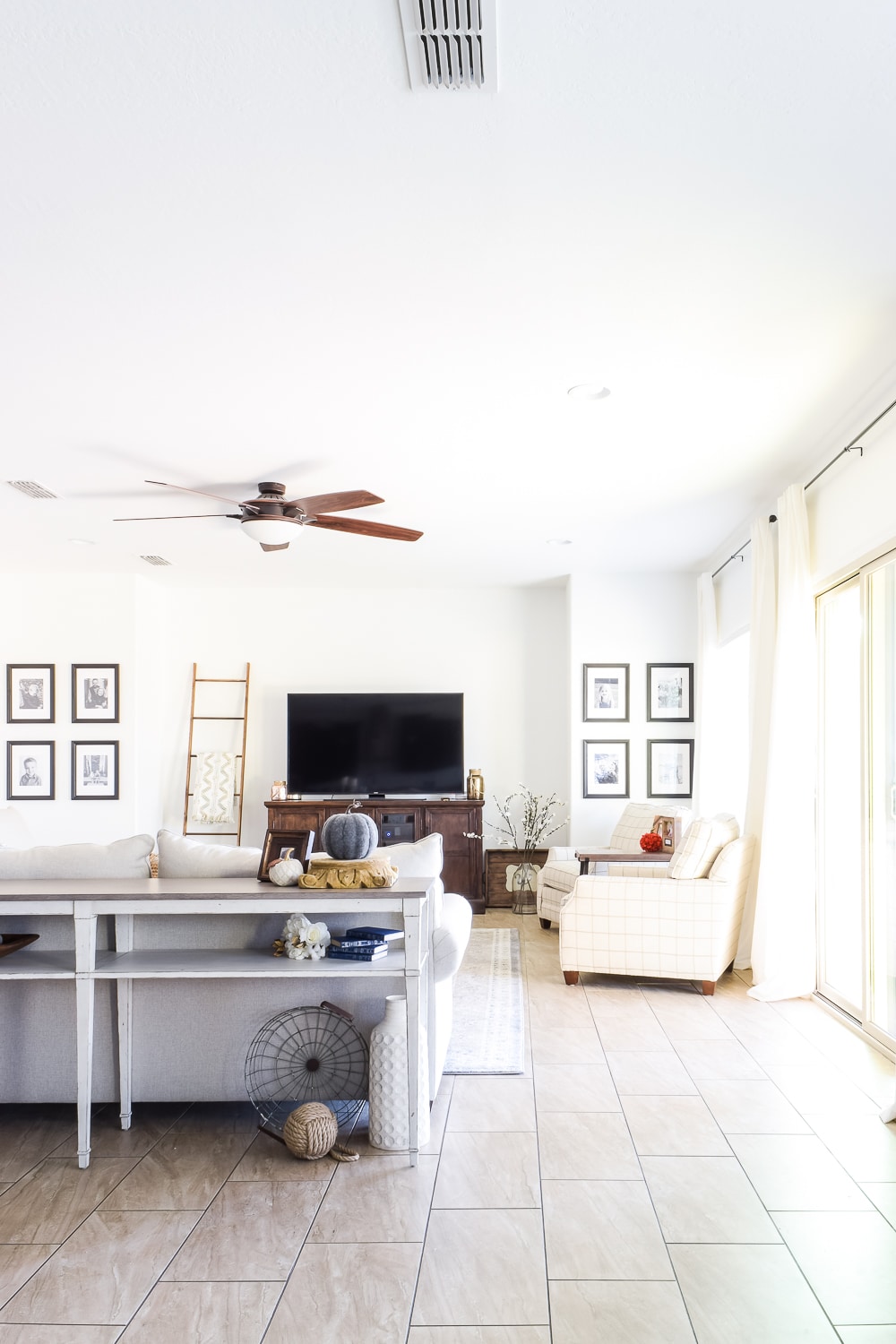 How to Get Started Decluttering in Your Living Room
If your living room feels overwhelming with toys lying on the floor or piles of papers, it's to declutter! Remember, you're allowed to throw items away that are no longer needed by you (feel free to add them to the donate pile!)
Start by decluttering old & broken toys, then move on to the grown-up piles of papers or picture frames.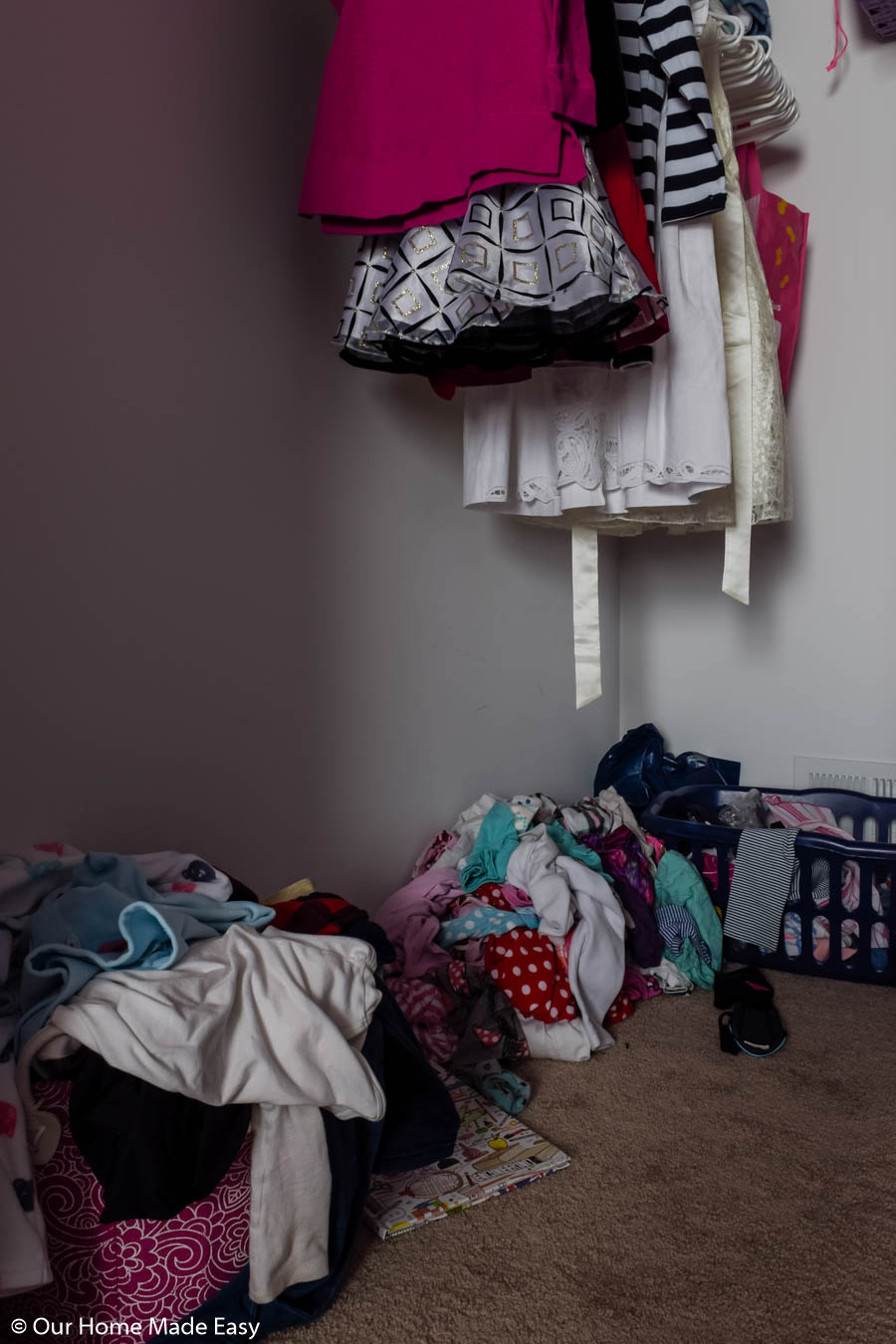 How to Get Started Decluttering Your Kids' Clothing
Use the two tub system!
Buy one large plastic tub and place it in your child's closet. If you have two kids, keep two totes in the room. Open each dresser drawer and pull out items that no longer fit or are out of season. As the clothes need to be packed away simply place it in the empty tote. Once the tote is full, start the next step, and place it in storage. Bring out another empty tote to take its place! [Have lots of clothes that need to be donated? Don't forget to grab a plasti garbage bag and fill it up too!]
Read more about how to organize your kid's clothing here…
Psst… Have you already decluttered the kids' closets? Check out the AFTER of that small bedroom closet above with this super easy DIY makeover!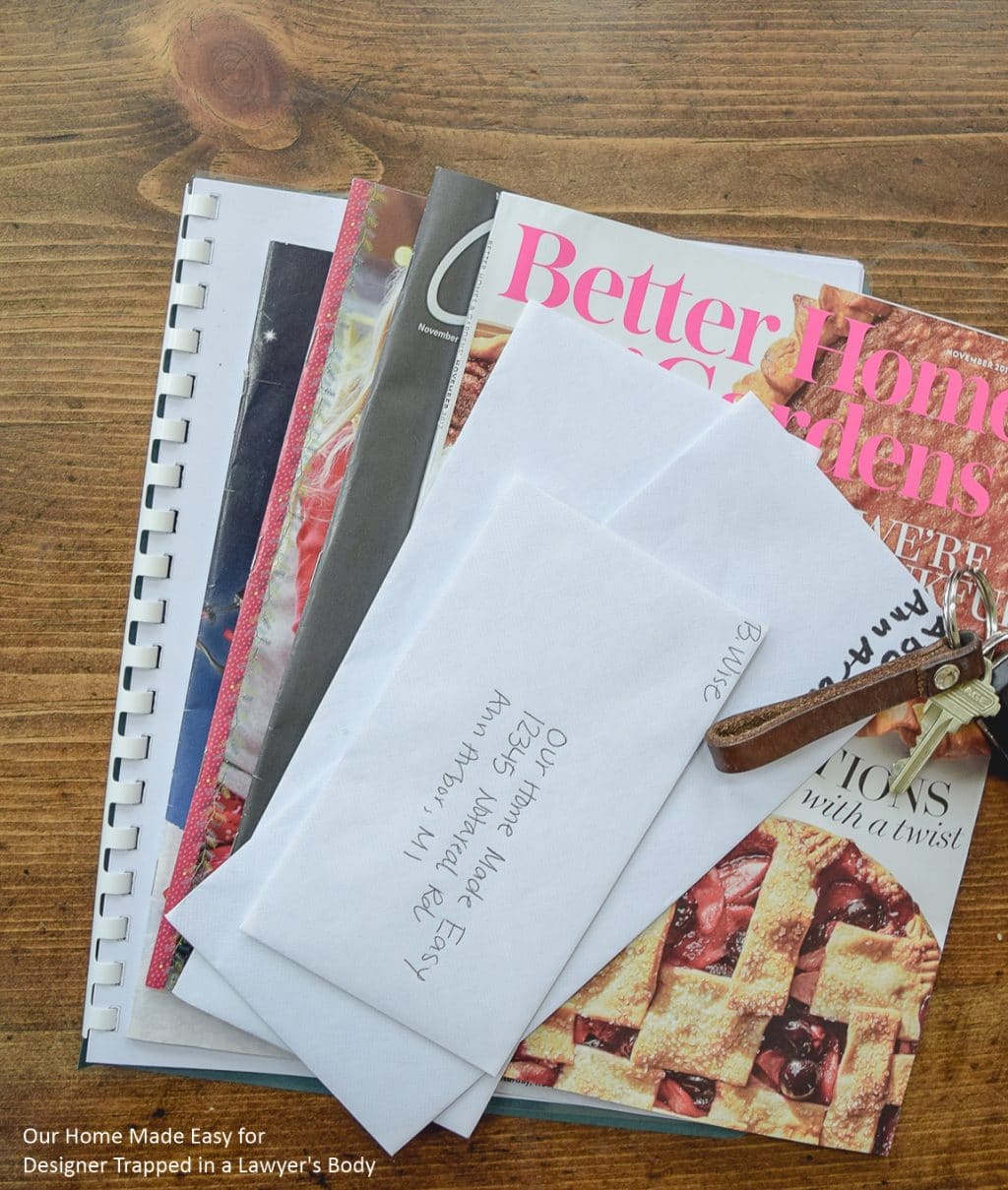 How to Get Started Decluttering Your Paper Piles
If you come home with arms filled with another ad for Arby's, Target, or another credit card offer and absolutely dread how they end up piled on the kitchen island, here is one simple & easy trick. Open your mail and go through it standing next to your trash can. This allows you to toss everything away asap without passing go, without making a short stay on the kitchen counter.
Read more about Conquer Paper Clutter: The Secret to Sorting Mail and Papers here…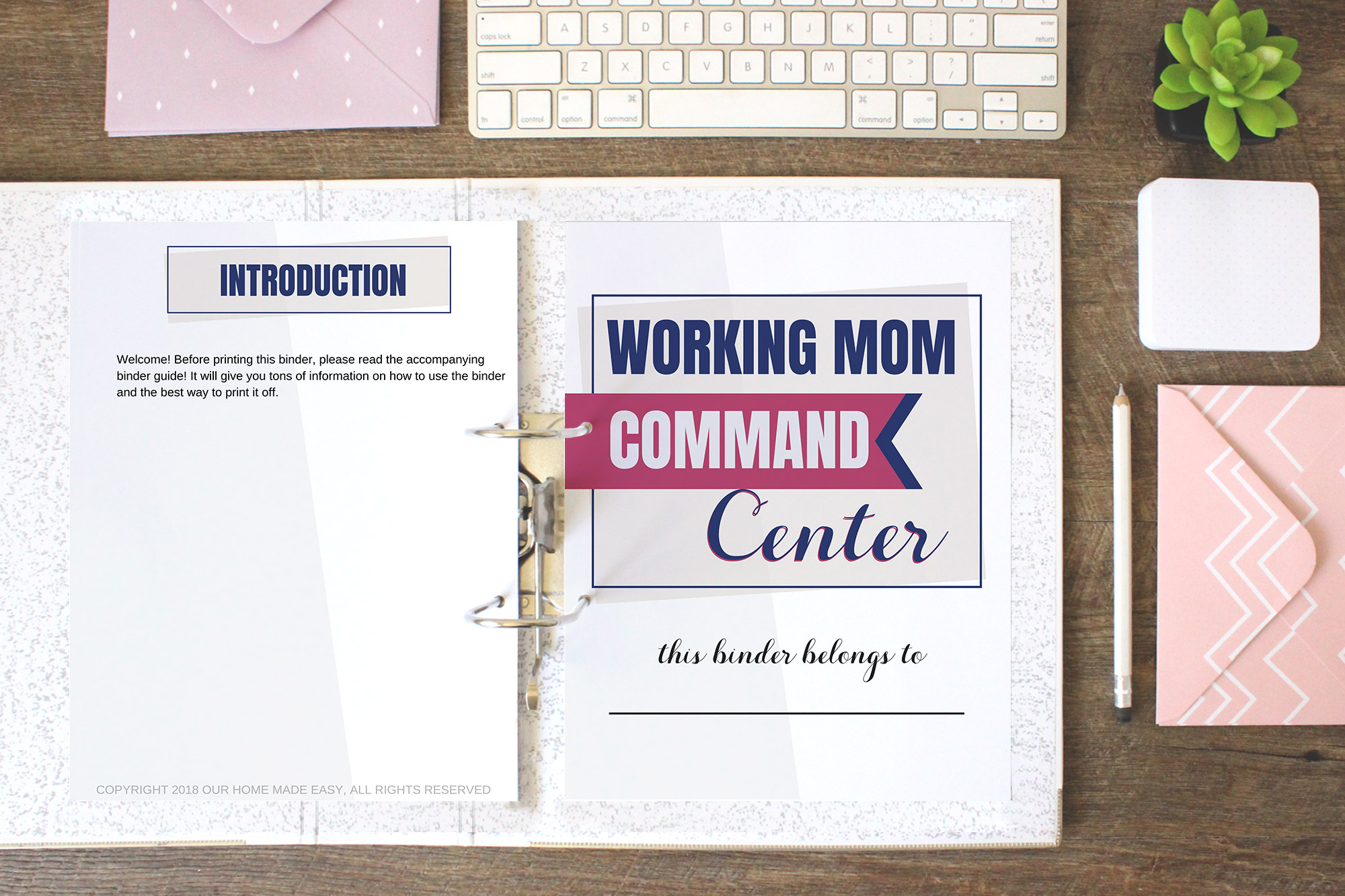 Take the Next Step by Organizing Your Papers!
If you need more paper pile help, you'll love the Working Mom Command Center. The Working Mom Command Center will empower and enable you to reign in the chaos of your home. You'll have the ability to focus on improving your daily life– not spend your time worrying about paper clutter or losing hours looking for that one receipt. The Working Mom Command Center is the one-stop-shop that you've been waiting for…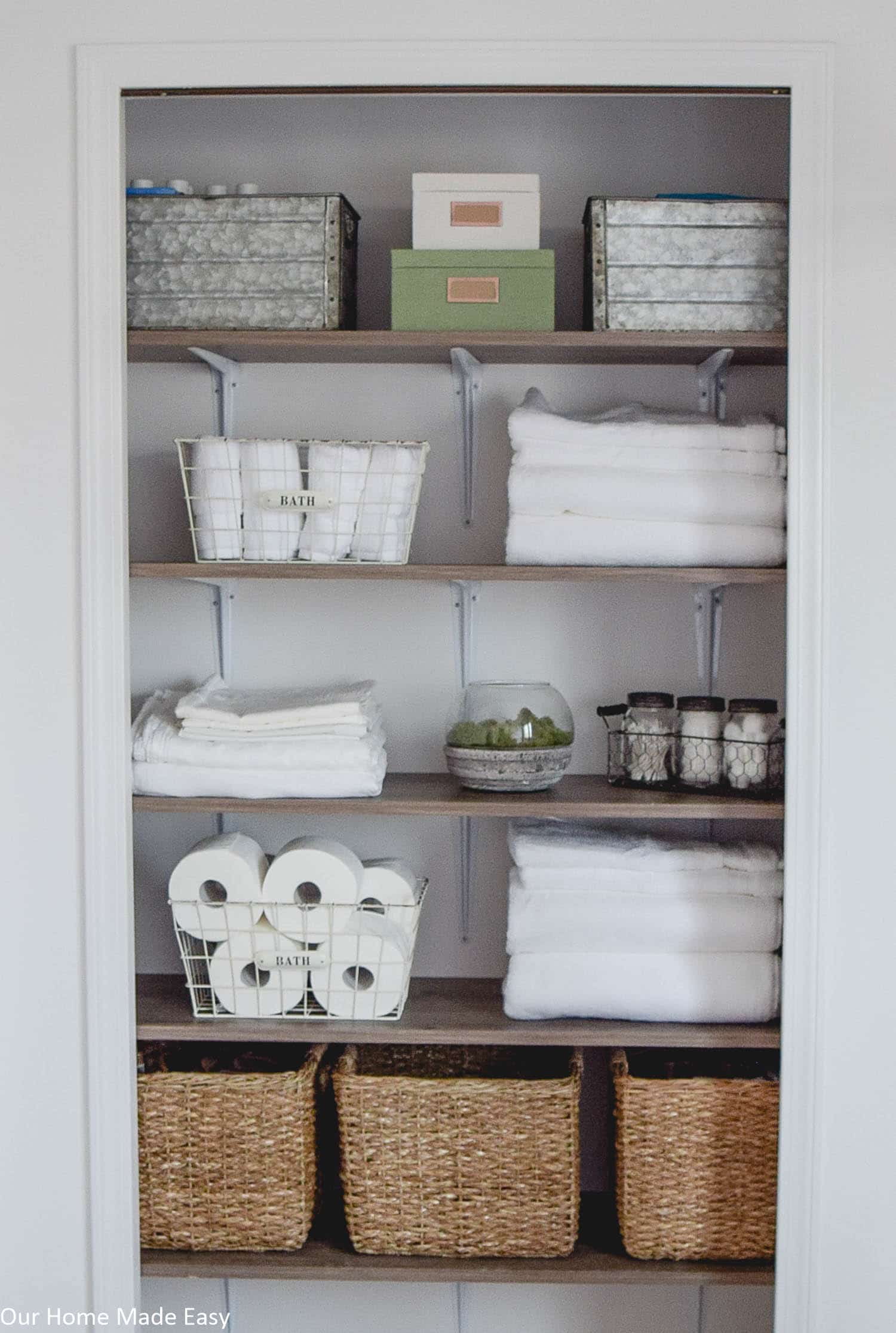 How to Get Started Decluttering Your Closets
Start by focusing on one closet at a time. This could be a linen closet, a hall one, or even your master bedroom closet. Pull all the items out of the closet and decide whether it's still usable & wanted, if so, decide if it's in the right place. Once you have gone through everything in the space, place it back in the closet. Now you're ready to organize it!
Love closet makeovers? You'll like this DIY Bathroom Linen Closet Makeover!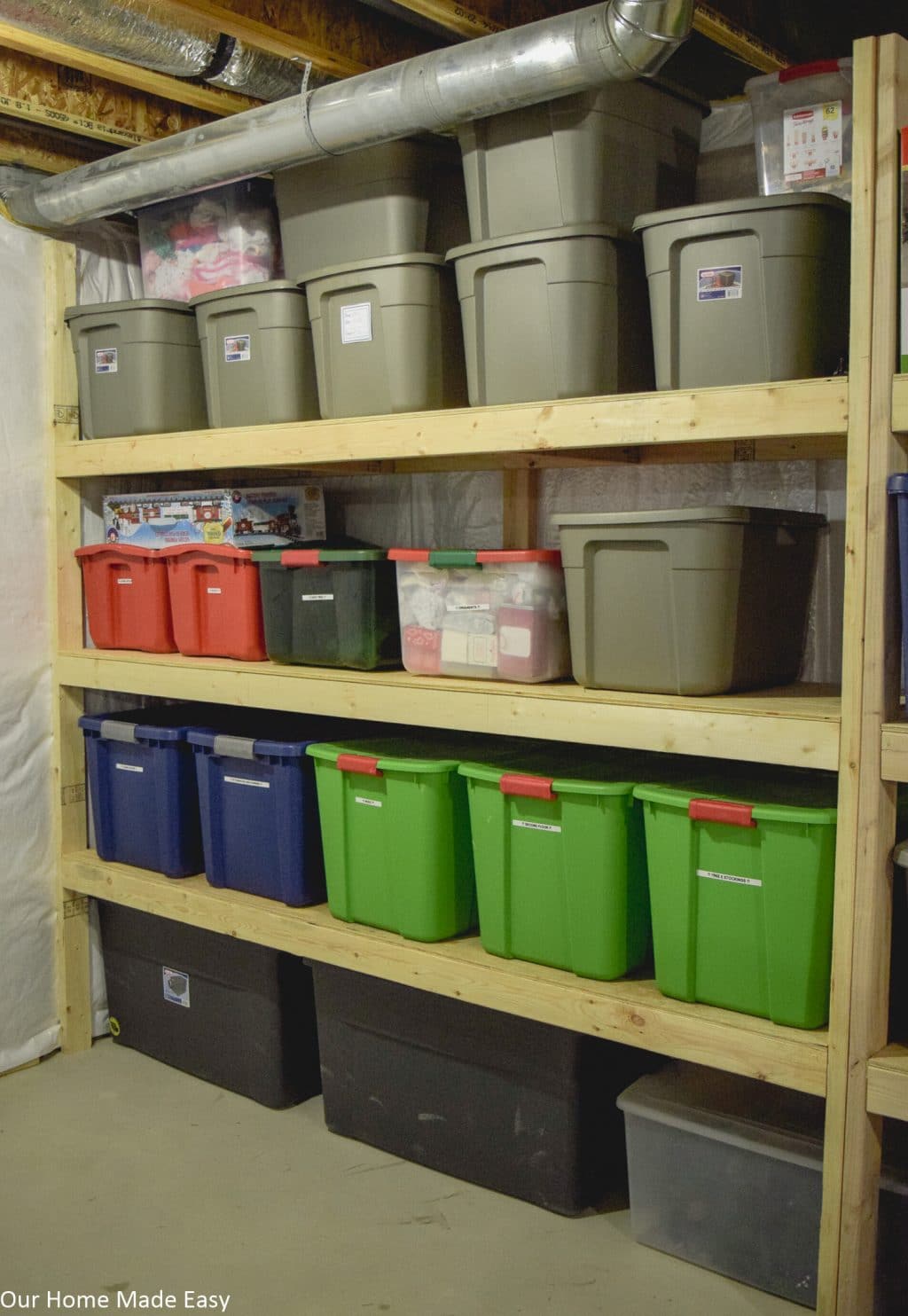 How to Get Started Decluttering in Your Storage Areas
This one is super tricky because it can lead you down a hole… quickly! To speed it up, declutter your garage, holiday decorations, and keepsakes at separate times. This will allow you to focus on one type of item without spending too much on the keepsakes.
Once you have decluttered your space, you can start organizing your basement storage with these 3 easy ideas!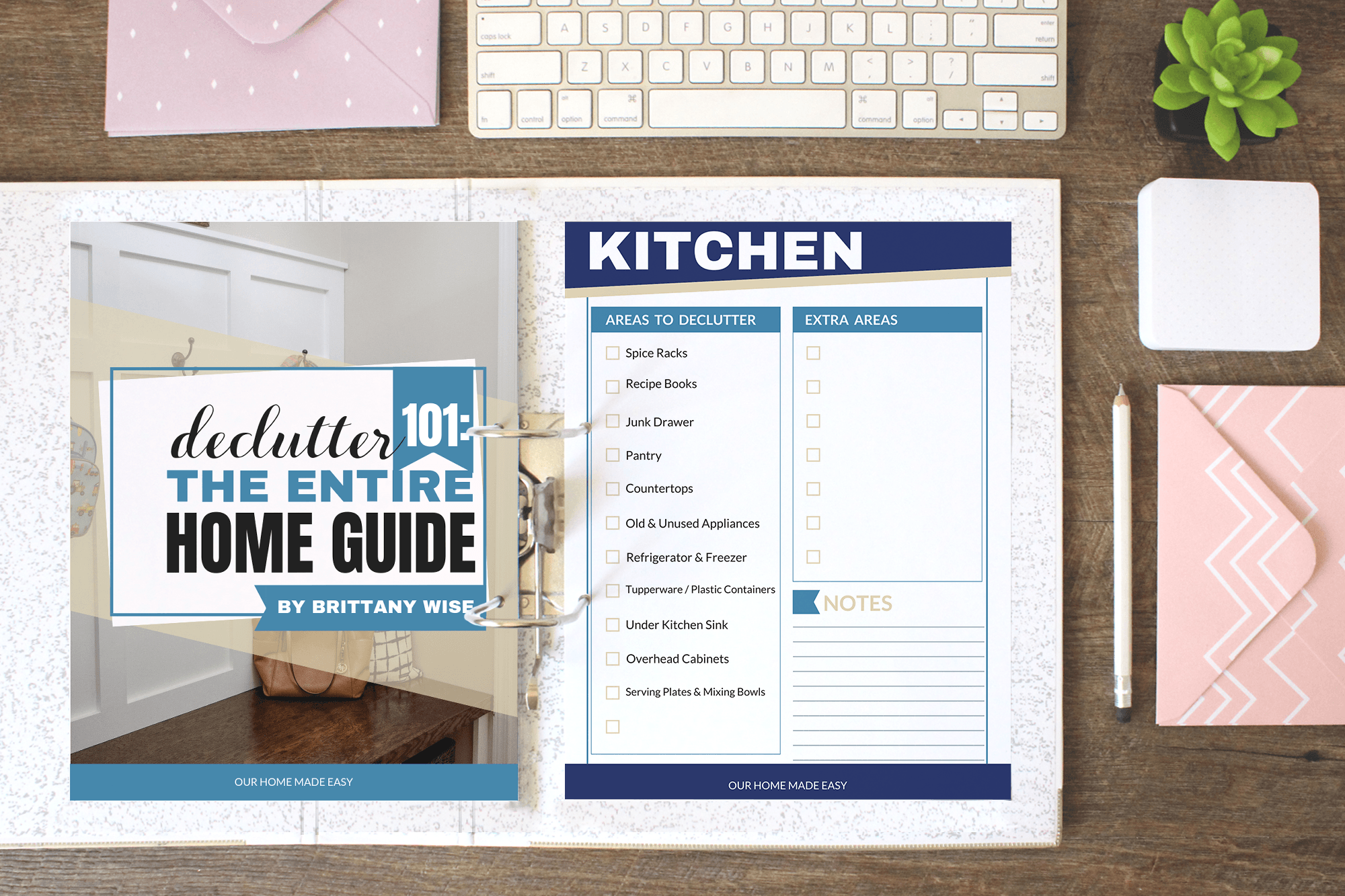 Where to Find Decluttering Books
Do you find yourself needing some extra step by step help decluttering? I completely understand. And for that, I truly think joining the 6 Week Declutter Challenge is the answer along with reading a decluttering book.
Here are my favorite decluttering books
If you need more instant and quick wins, definitely read my 75 Things to Declutter Right Now. You can literally follow the path of the list throughout your home in one weekend!
Are you ready to stop feeling so overwhelmed, too?
I have to tell you something first– decluttering your home won't happen overnight or even in a weekend. Who has time for committing several hours a day and sticking with it?
Don't miss the free 6 Week Declutter Challenge. It's perfect for busy moms who simply want bite-sized chunks of areas to declutter every single day. With daily emails and weekly inspiration, I hope to inspire you to achieve your decluttering goals this year! Whether you have a big move coming up or simply want a really good reason to clean the house, please join us!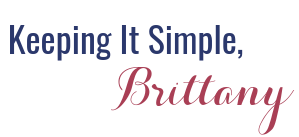 JOIN MORE THAN 10,00 OTHER MOMS IN THE FREE DECLUTTER CHALLENGE HERE!
PIN FOR LATER: