How To Make Easy Butter Pecan Brittle
Here is an easy recipe for butter pecan brittle! Making candy should be easy and I'm going to add a slightly healthier twist to it!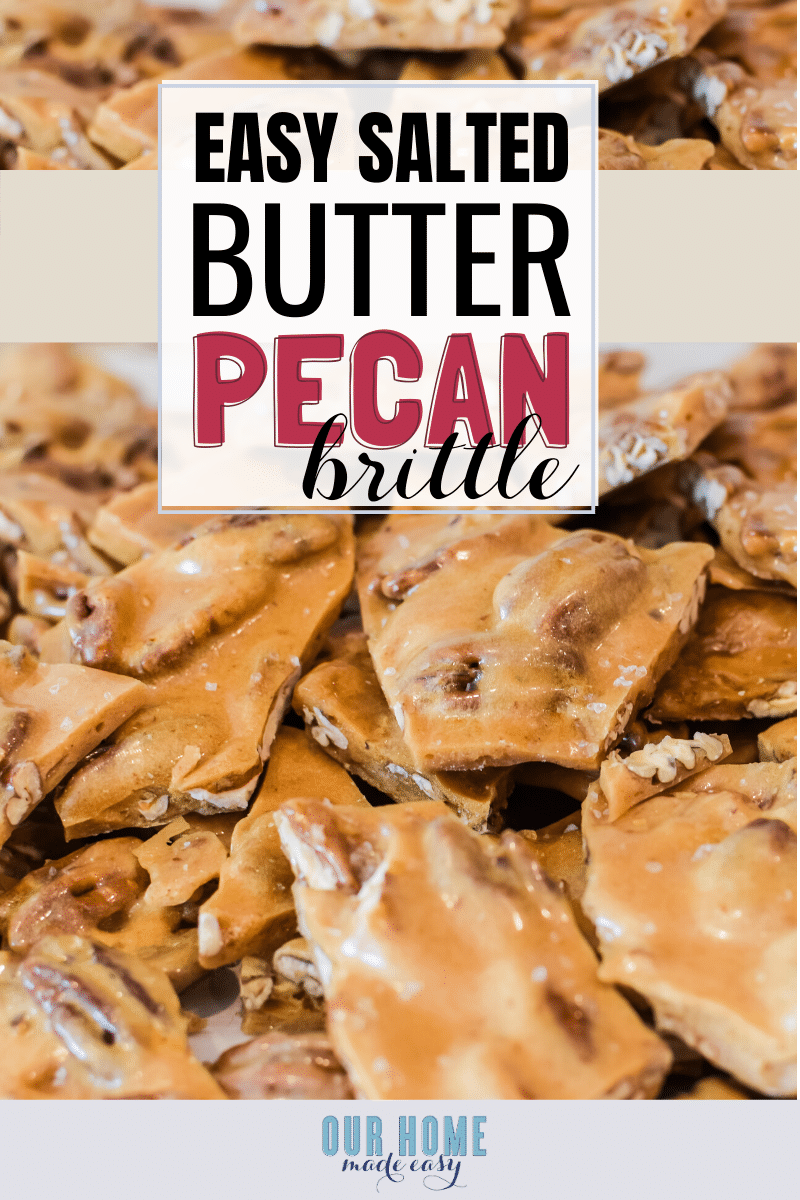 (This post contains affiliate links. Read my disclaimer page for more information.)
Did you know that our wedding favors were Southern Pecan Pralines made from the BEST little kitchen in Alabama?
I loved the salty & sweet flavor combination that is uniquely found only in the deep South. Since we can't readily order pralines from Punta Clara, I wanted to try and recreate something similar– but only a butter pecan brittle version.
Butter Pecan Brittle Recipe
Butter Pecan Brittle is one of those treats that once you have it, you'll want to know how to make your own! Luckily, it's pretty simple to make. This recipe is such a great change-up from the usual or expected brownies or cake.
When it comes to candy making, so many people are leery– but I promise, it's easy and super impressive for potlucks.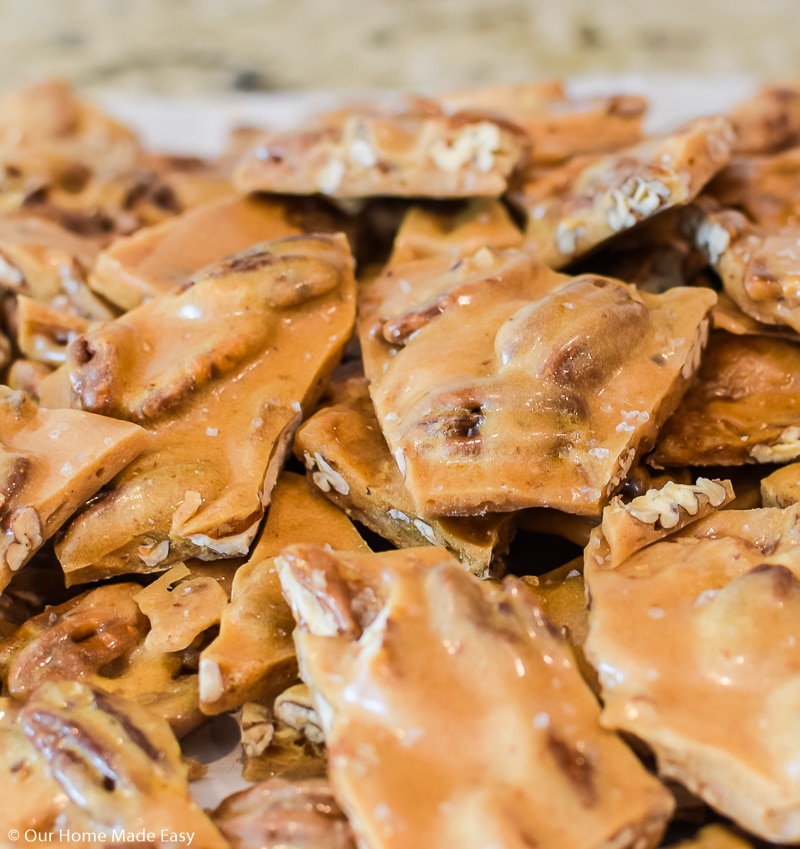 There are only a few items that you need to make the pecan brittle recipe. Invest in a good candy thermometer. I'm on my third candy thermometer and the one I have now is holding up really well. Keep that thing protected!
Second, you need two baking sheets lined with parchment paper, and third, a large non-stick pot. Using a non-stick pan seems to keep everything from burning while cooking and makes cleanup easier.
When the recipe calls for you to not stir, it's serious business. DO NOT stir! When the recipe tells you to stir, you better stir with your wooden spoon like there is nothing else to do. It never fails, when it's time to stir, someone has to use the potty, my husband is asking for something, and I receive a text message.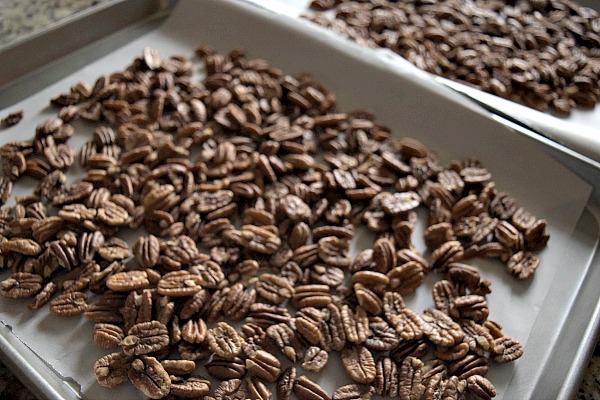 Pecan Brittle Recipe Ingredients
–Freshly Toasted Pecans
–White Sugar (I use half Splenda– keep reading)
–Light Corn Syrup
–Water
–Unsalted Butter
–Baking Soda
–Pure Vanilla Extract
–Sea Salt for sprinkling, (I go a little heavy)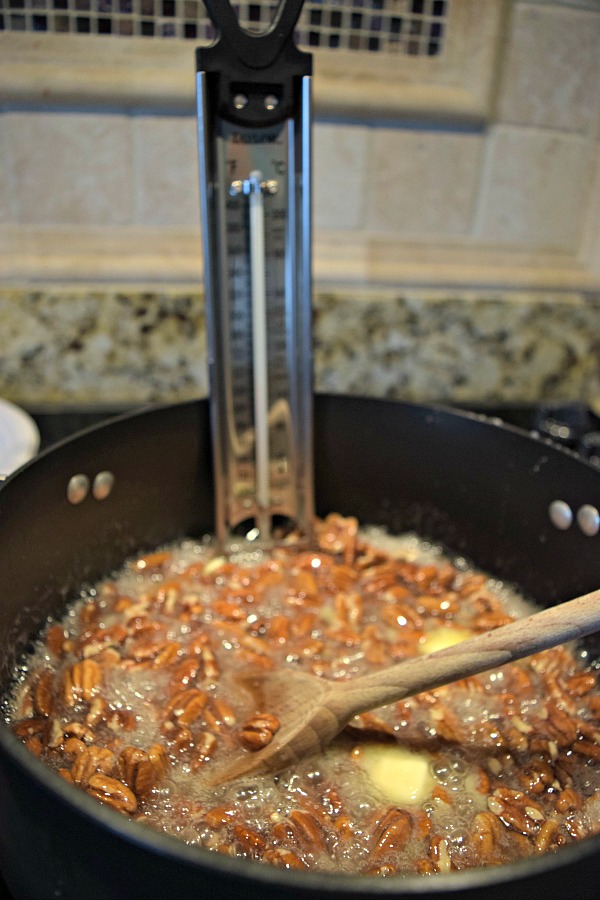 What Is The Difference Between a Southern Pecan Praline and Pecan Brittle?
Pecan Pralines are soft in texture while Brittle is extremely hard and cracks in your mouth. Pralines are made with brown sugar and heavy whipping creams while Brittle uses white sugar and corn syrup. You'll find that Pecan Pralines are cooked on the stop to a lower temperature and then dropped by heaping a spoonful onto a sheet pan for cooling. Brittle is cooked on the stove to 305 degrees which causes the brittle effect.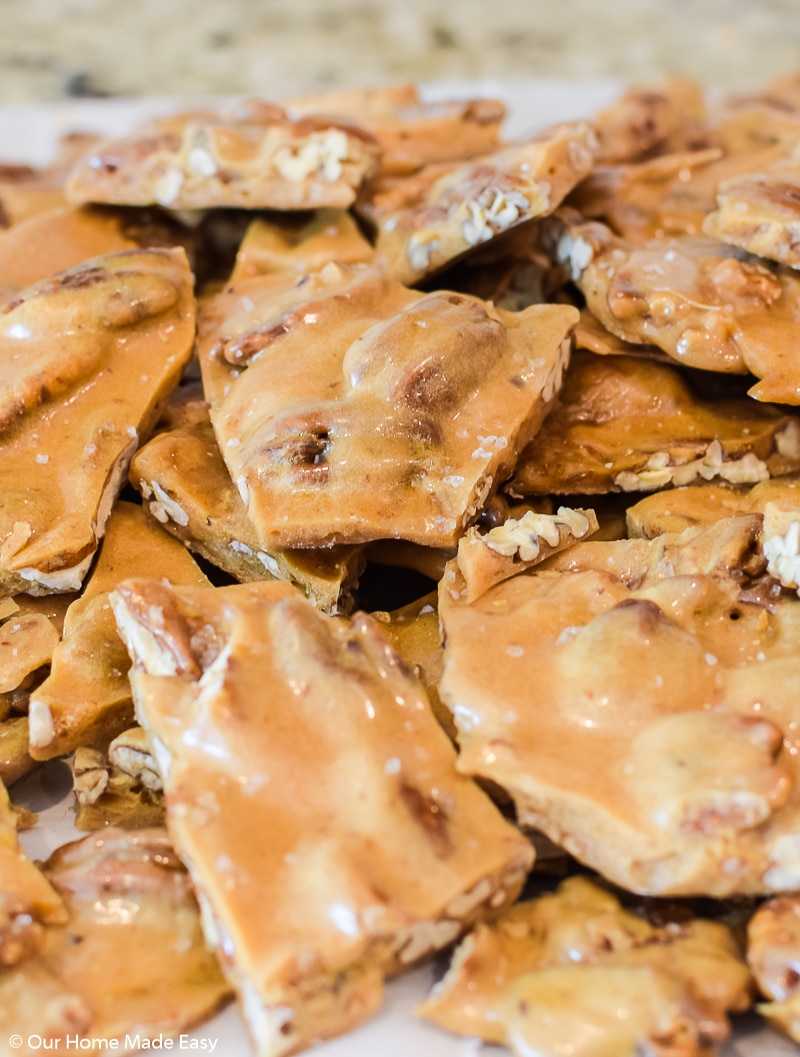 Pecan Brittle Recipe Pro-Tips
I will repeat this several times, a great candy thermometer and a non-stick 3.5-quart pot are your best friends for making this nut brittle turn out so well!
Be prepared to never stop stirring once the pot heats up to 230 degrees all the way to 305 degrees
The pot is HOT! Be careful when spreading the brittle onto the countertop
Phone a friend– it's easiest to have one person pour the brittle and have another smooth out the brittle using a wooden spoon at the same time. Have the person smoothing be the one who sprinkles the sea salt over the brittle.
Do not double this recipe. I've tried doubling multiple times to save myself time but I've never been successful. There is too much candy to stir and the way it cooks just doesn't give the "right" consistency. Now I will double my pecans in the toasting step to save time and use later for a second batch.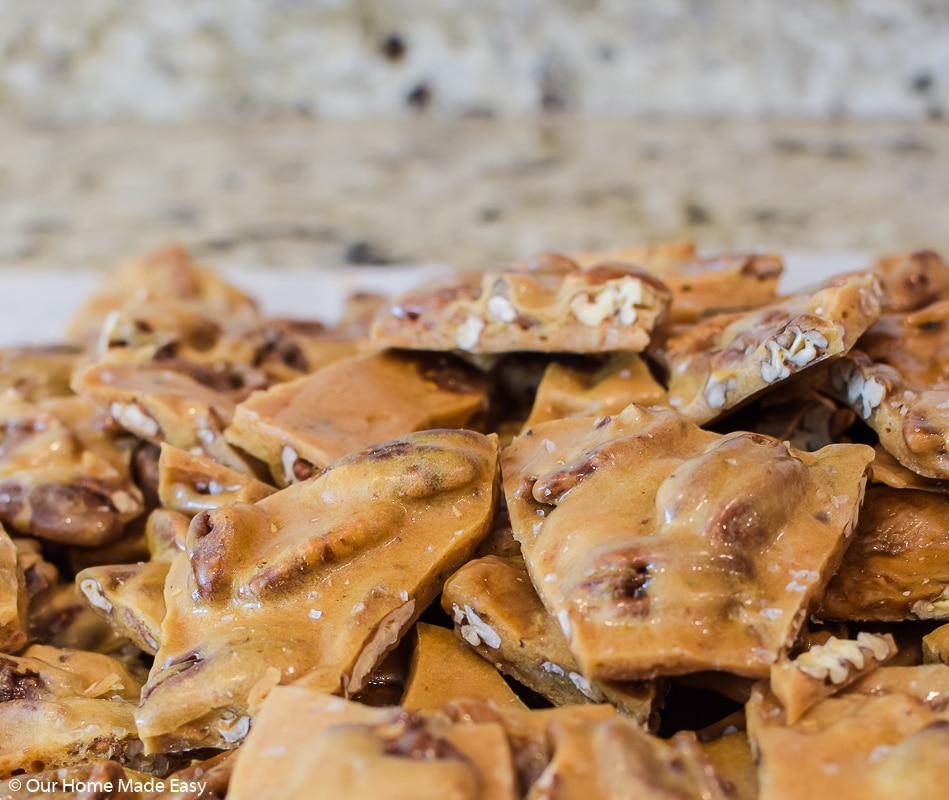 Frequently Asked Questions
Can I Substitute Other Nuts? Yes! While I haven't tried it personally, you should be able to substitute cashews to make cashew brittle.
Can I use Splenda? Yes! I always sub out 1 cup of sugar for 1 cup of Splenda. It makes a slight bit healthier with no effect on the candy making. Note: I've never used 2 cups of Splenda to completely replace the sugar yet.
Why is my Pecan Brittle Chewy? If your brittle didn't reach 305 degrees, which is the hard crack phase, your candy will not harden. It's imperative to use a candy thermometer throughout the entire cooking process
Other Desserts I Think You'll Enjoy: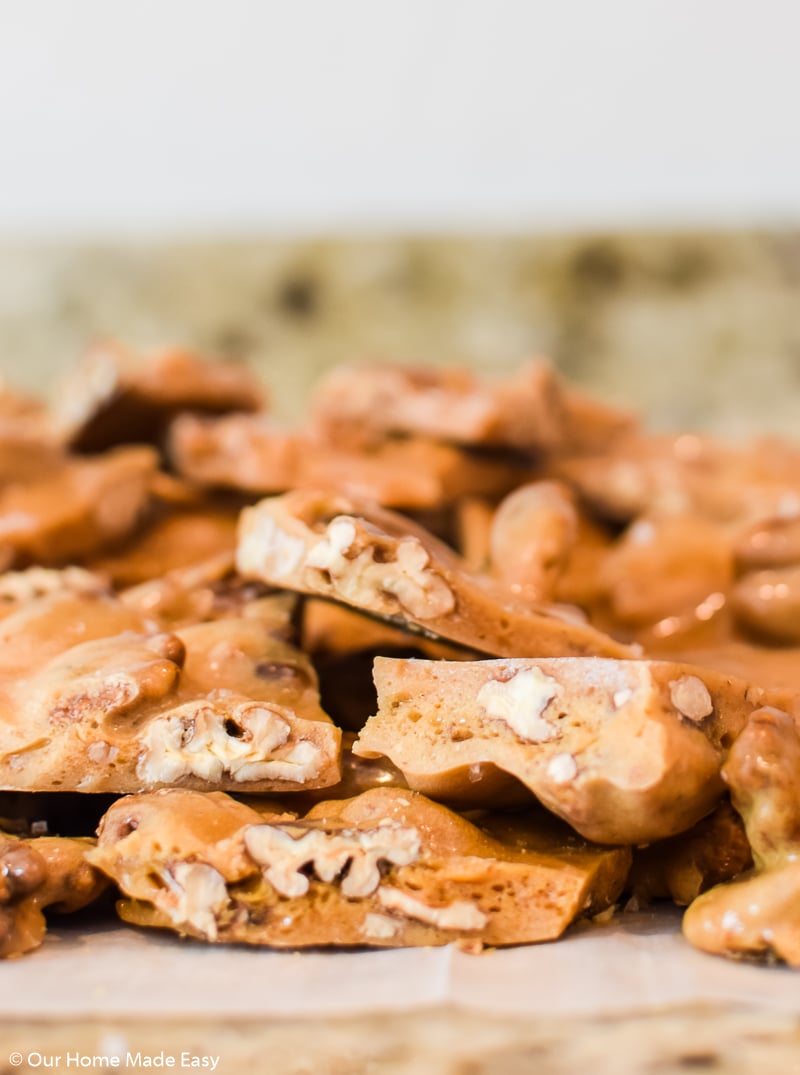 Storage Suggestions:
Once cooled, store brittle in a closed container. If making ahead a few days, keep your brittle stored in the refrigerator to maintain freshness. Let it warm up to room temperature before serving.
Butter Pecan Brittle is a great gift idea for someone who is hard to shop for or may not need more "things" in their home. If you do give it as a gift, I like to break up the brittle into large pieces and place them in a cute gift box. There is something luxurious about receiving homemade goods presented well!
Tools Used to Make Butter Pecan Brittle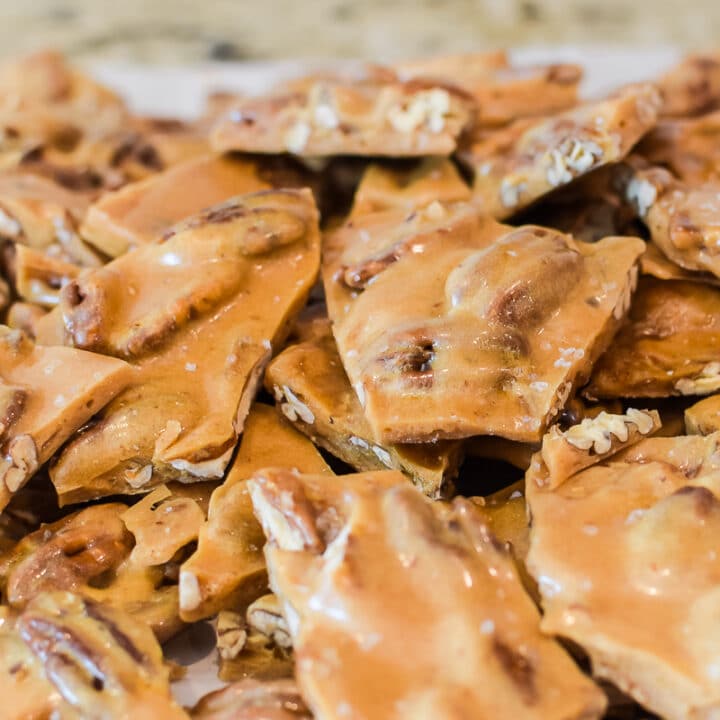 Easy Butter Pecan Brittle Recipe
Additional Time:
30 minutes
Total Time:
1 hour
5 minutes
This super easy butter pecan brittle recipe is perfect for any special holiday!
Ingredients
3 cups of pecans
2 cups granulated sugar
1 cup light corn syrup
1/2 cup water
1/2 stick unsalted butter
2 teaspoons baking soda
1 Tablespoon pure vanilla extract
Sea Salt for sprinkling, (I go a little heavy)
Instructions
Preheat oven to 350 degrees F.
Line 1 baking sheet with parchment paper.
Spread pecans on a baking sheet lined with parchment and toast in the oven for 5 minutes, until the pecans are fragrant and snap when broken. Set aside.
Combine sugar, corn syrup, and water in a non-stick 3.5 quart or larger saucepan over medium heat, stirring occasionally until the sugar is dissolved and the mixture is clear. Depending on your stove top, this may take 10 minutes or more.
Put a candy thermometer in the pan, increase the heat to medium-high and cook without stirring until the mixture reaches 230 degrees F on the candy thermometer.
Once this happens, add the butter and toasted pecans.
Stir the mixture constantly until it reaches 305 degrees F. It will bubble and be incredibly hot, so be careful. When it reaches the desired temperature, it should be caramel colored and fragrant. You will stir for several minutes.
Remove from heat and stir in baking soda and vanilla. The mixture will bubble, so it is again important to use caution. If the mixture hardens too quickly, put it over either the still-warm burner or low heat until it comes back together.
Pour the mixture onto parchment paper. Smooth out with a wooden spoon. Sprinkle Sea Salt over the brittle.
Allow the brittle to cool for at least 30 minutes before breaking into bite-sized pieces
Notes
To make this healthier, substitute 1 cup of Splenda sugar substitute in place of 1 cup of granulated sugar. Keep the other cup of sugar to maintain 2 cups of sugar/Splenda.
For best results, stir in baking soda & vanilla when the pan is on a trivet next to your parchment paper. This will make the pour easiest.
For best results, use a 3.5-quart non-stick saucepan.
When you make this recipe, please tag me @ourhomemadeeasy and leave a review!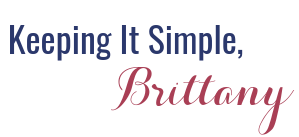 PIN FOR LATER: