Butter Pecan Brittle is one of those treats that once you have it, you'll want to know how to make your own! Luckily, it's pretty simple to make. This recipe is such a gret change-up from the usual or expected brownies or cake. When it comes to candy making, so many moms are leery– but I promise, it's easy and super impressive.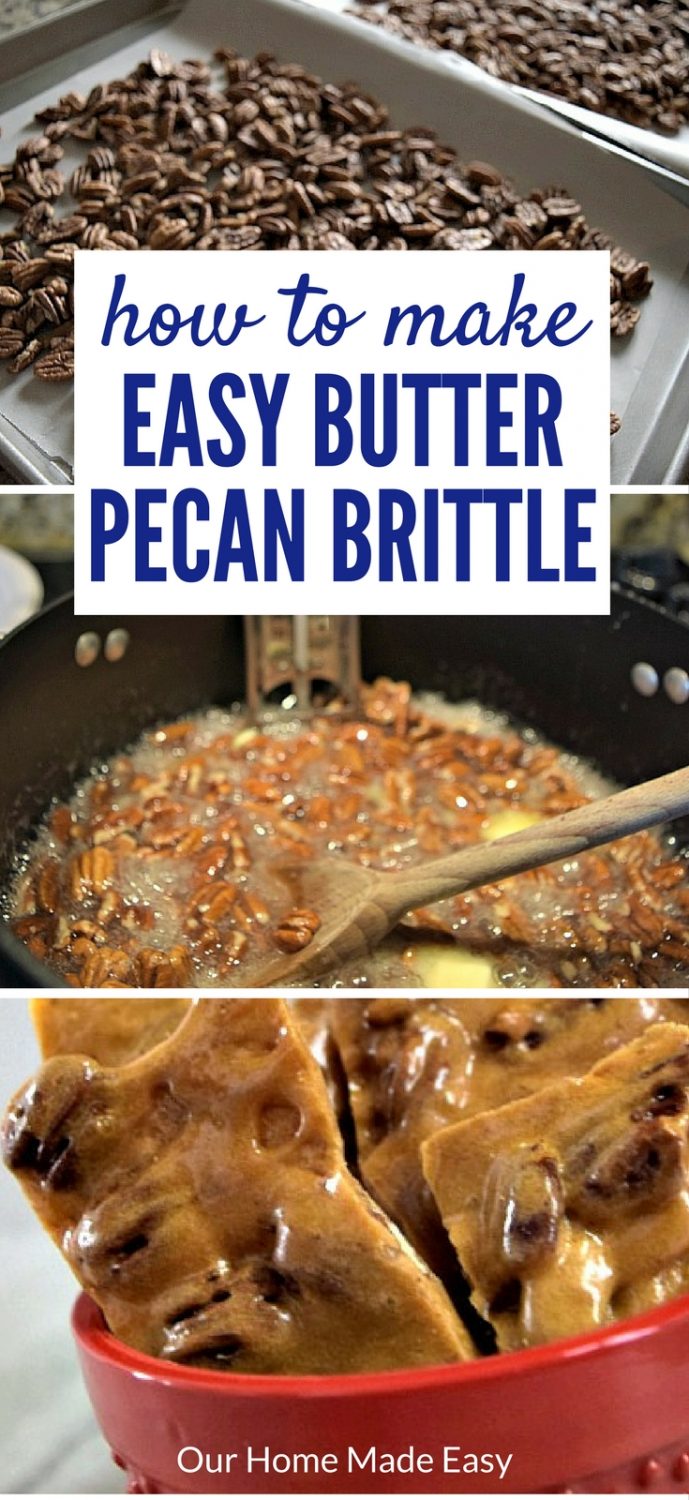 (This post contains affiliate links. If you shop from my blog, I may be compensated for clicks or purchases that you make. Read my disclaimer page for more information.)
We all know that I like to bake and have a strong dislike for cooking… Baking is an exact science and that I can get behind, but cooking? It's so ad-hoc to me. It makes me nervous! So you can imagine my hesitation with making CANDY. But this butter pecan brittle is SO GOOD, you'll have to try it, too! And if I can "sweeten" the deal– I made it a tad bit healthier. Yay!
A good friend of ours made this pecan brittle. I had never eaten homemade brittle and thought "WOW, can we have more?!" So I sent my husband to find the recipe. We use the Butter Pecan Brittle recipe from a fellow Southeastern Michigander,  Pies & Plots . I've made it several times now for special occasions. This last time, our sweet neighbor shoveled our ENTIRE driveway when it snowed while we were at work. I thought, this woman needs to know that we appreciate her. Therefore, that means I should make her something! 🙂
There are only a few items that you need to make the brittle. Invest in a good candy thermometer. I'm on my third candy thermometer and the one I have now is holding up really well. Keep that thing protected! Second, you need two baking sheets lined with parchment paper, and third, a large pot. It just makes things easier.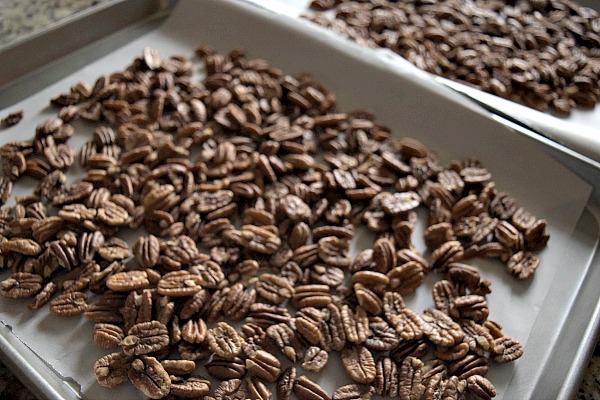 Who knew pecans could look so good? Occasionally a few disappear in between baking and brittle time, I'm not pointing fingers or anything…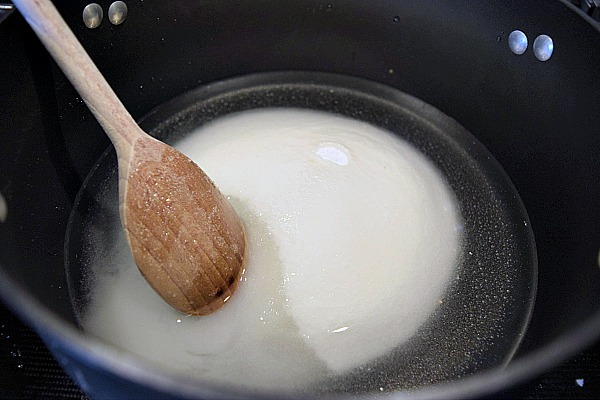 When the recipe calls for you to not stir, its serious business. DO NOT stir!  When the recipe tells you to stir, you better stir with your wooden spoon like there is nothing else to do. It never fails, when its time to stir, someone has to use the potty, my husband is asking for something, and I receive a text message.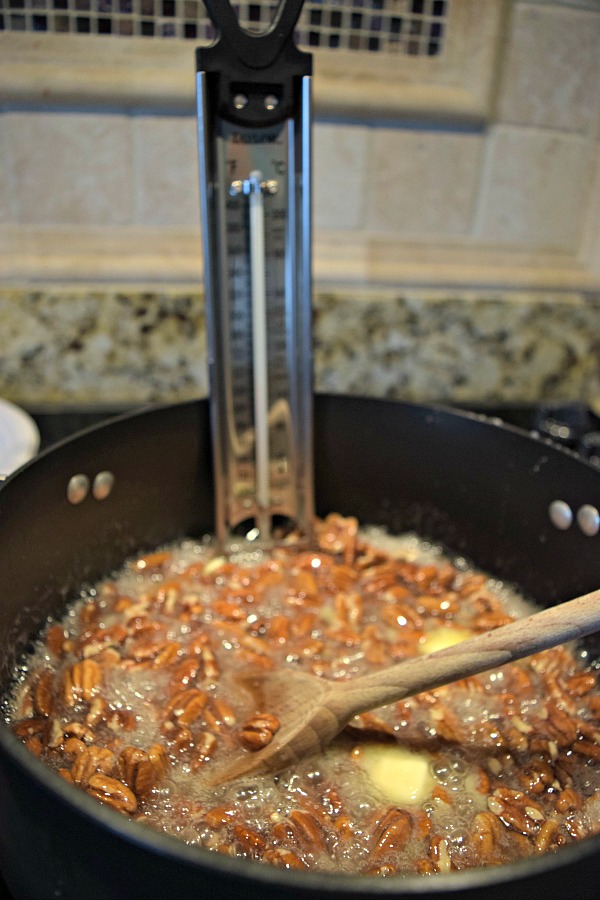 I usually need a sous chef for the pouring out of the pan. One of us holds the pot and the other hurriedly pulls and drags the brittle across the countertop. Then, you have to be quick and pull it kinda, sorta thin and have the second person sprinkle sea salt. I usually hold the pot and am VERY generous with sprinkling the sea salt. 🙂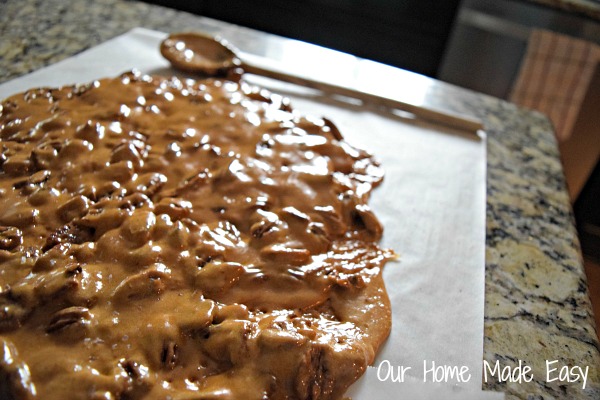 So how did I make it a teeny bit healthier? Here is the secret- I used 1 cup of Splenda in place of 1 cup of sugar. Don't get me wrong, its by no means healthy, but its a small step in the right direction. Each time I make it, I get bolder in my use of Splenda. When I am successful in increasing more Splenda and can lower the sugar needed, I'll update this post.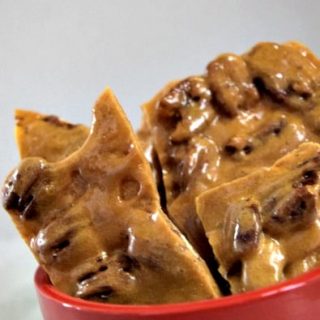 Easy Butter Pecan Brittle Recipe
Yield: 20 pieces

Prep Time: 10 minutes

Cook Time: 15 minutes

Total Time: 25 minutes
Ingredients
1/2 stick unsalted butter
3 cups of pecans
1 cup granulated sugar
1 cup Splenda sugar substitute
1 cup light corn syrup
1/2 cup water
2 teaspoons baking soda
1 Tablespoon pure vanilla extract
Sea Salt for sprinkling, (I go a little heavy)
Instructions
Preheat oven to 350 degrees F.
Line 1 baking sheet with parchment paper.
Spread pecans on baking sheet lined with parchment and toast in oven for 5-7 minutes, stirring occasionally, until the pecans are fragrant and snap when broken. Set aside.
Combine sugar, corn syrup, and water in large saucepan over medium heat, stirring occasionally until the sugar is dissolved and the mixture is clear. This may take 10 minutes or more.
Put a candy thermometer in the pan, increase the heat to medium-high and cook without stirring until the mixture reaches 230 degrees F on the candy thermometer.
Once this happens, add the butter and toasted pecans.
Stir the mixture constantly until it reaches 305 degrees F. It will bubble and be incredibly hot, so be careful. When it reaches the desired temperature, it should be caramel colored and fragrant. This process will take time.
Remove from heat and stir in baking soda and vanilla. The mixture will bubble, so it is again important to use caution. If the mixture hardens too quickly, put it over either the still warm burner or low heat until it comes back together.
Now you see,  butte rpecan brittle isn't hard to make, it simply take some attention. It's a wonderful treat to take to a family get-together or give as a gift. If you do give it as a gift, I like to break up the brittle in large pieces and place in a cute gift box. There is something luxurious about receiving homemade goods presented well!
Items Used to Make Butter Pecan Brittle
(affiliate links included for convenience)