Super Easy Cake Pops [Easter Dessert Recipe]
These cute cake pops are super easy to make one afternoon. The hardest part? Waiting for them to be ready! Don't miss 25 more easy Easter treats, here!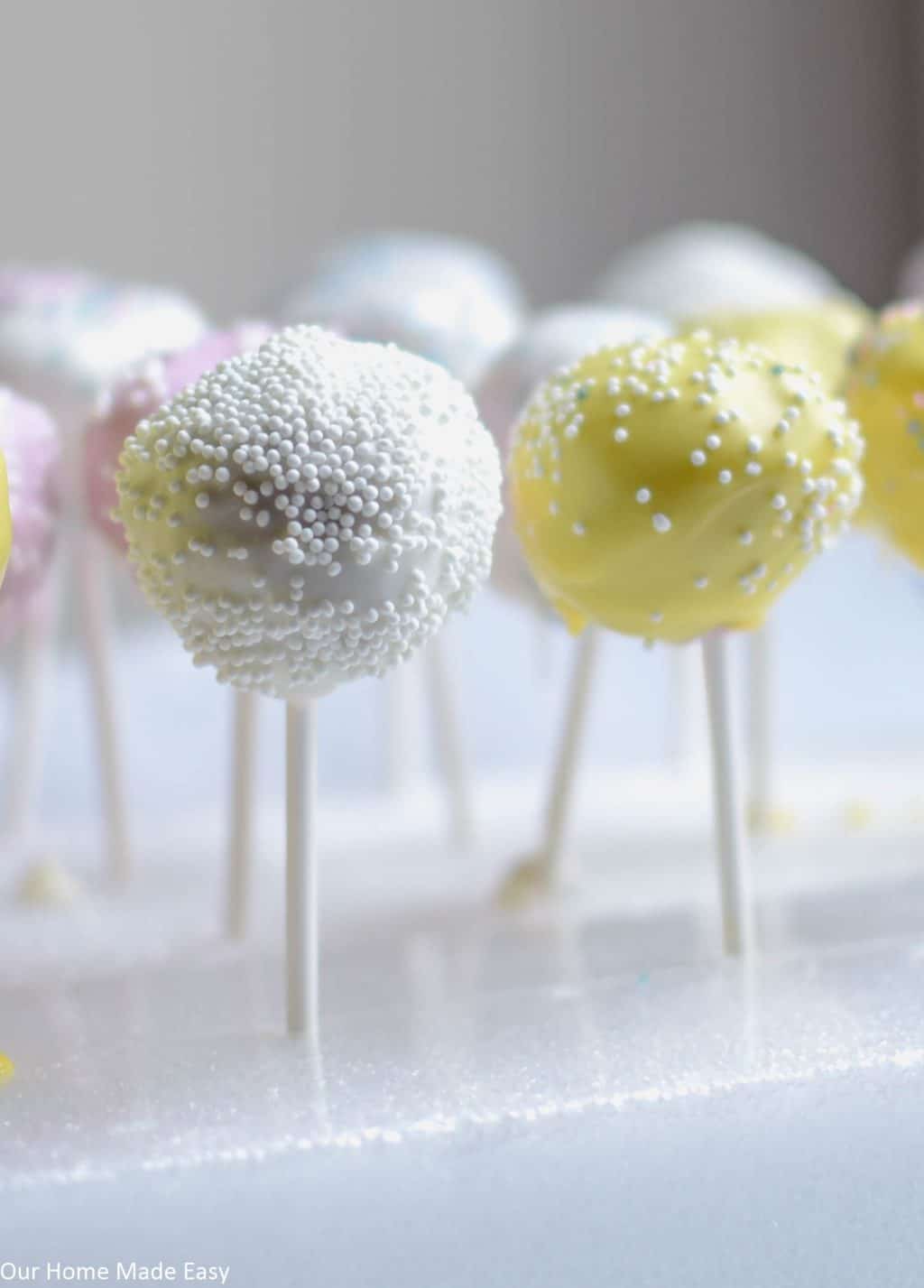 (This post contains affiliate links. Please see my Disclaimer for more information)
Who doesn't love cake?
Such a silly question, right?
Who doesn't love those super cute little cake bites on a stick?
I love cake pops because they are a treat for the kids and for me— well we are only eating a fraction of a piece of cake, so it's great way to enjoy sweets without overindulging.
I'm slightly addicted. 🙂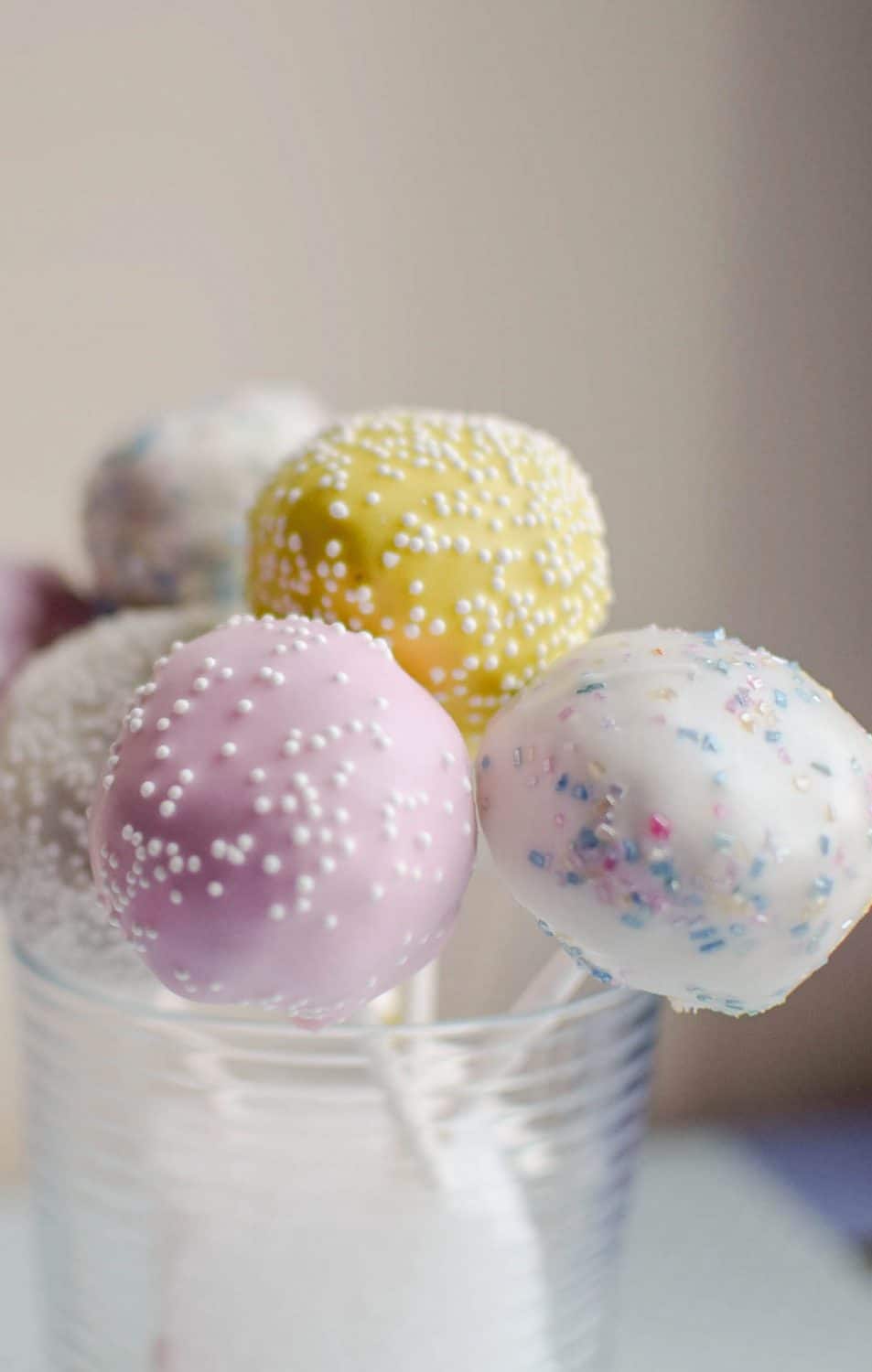 If you need an easy Easter dessert recipe, these will be your go-to favorites. You can change them up for any holidays by changing out the cake mixes, frosting flavors, and outer shell colors.
Other Posts I Think You'll Love:
How to Make Easy Cake Pops
For this recipe, I wanted to make a cake pop for Easter. I went with lots of pinks, yellows, & whites.
The first thing you will want to do is bake a cake in a 13″ x 9″ pan.
Once it's baked, let it cool to room temperature.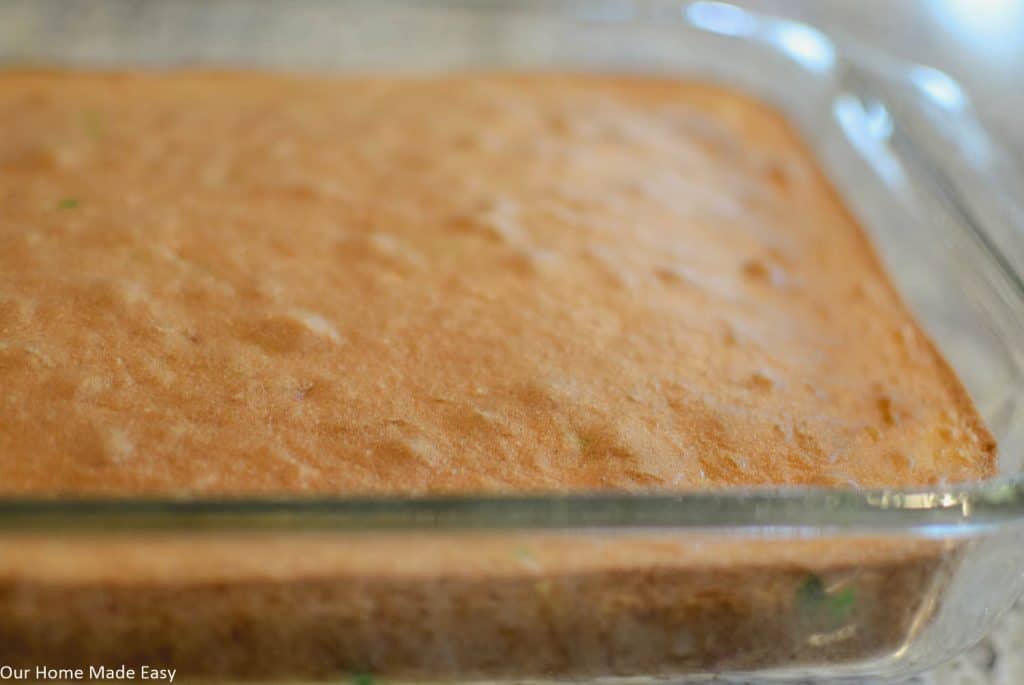 Then the fun starts. 🙂
You'll cut the cake into large sections and place in a large bowl. Then add in the icing.
Then you smush it all together!
While you could definitely use your hands to combine it all, I found it easier to let a mixer do the work.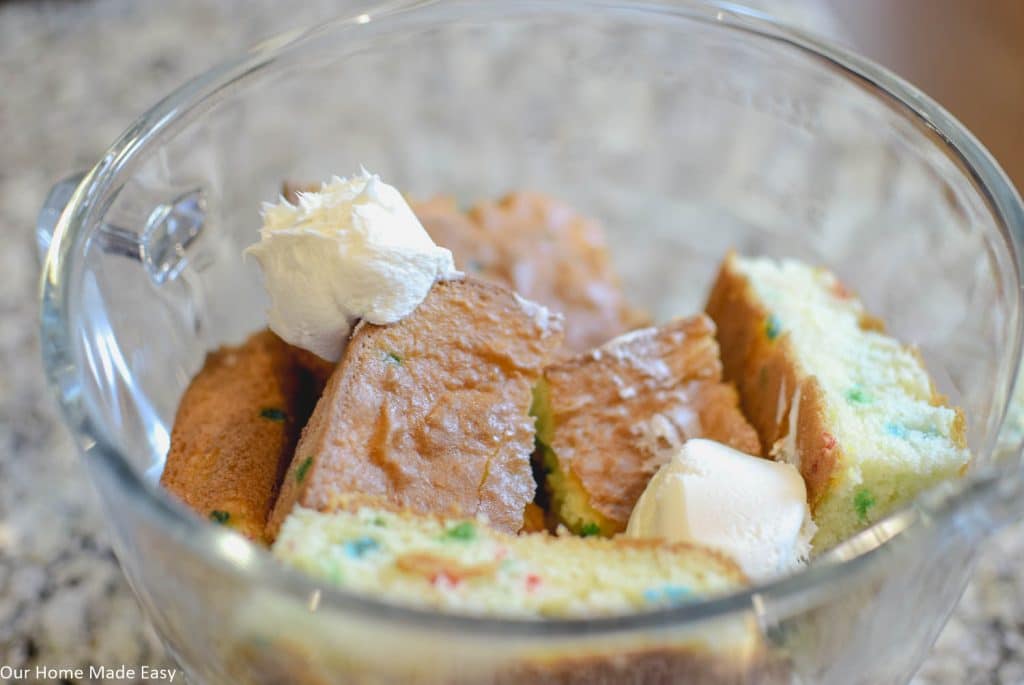 I've tasted my way through a few cake pop recipes and it seems like the less frosting there is, the better the cake pop. So perhaps the hardest part of these projects isn't waiting for the cake to cool, it's limiting yourself to a small amount of frosting in the cake!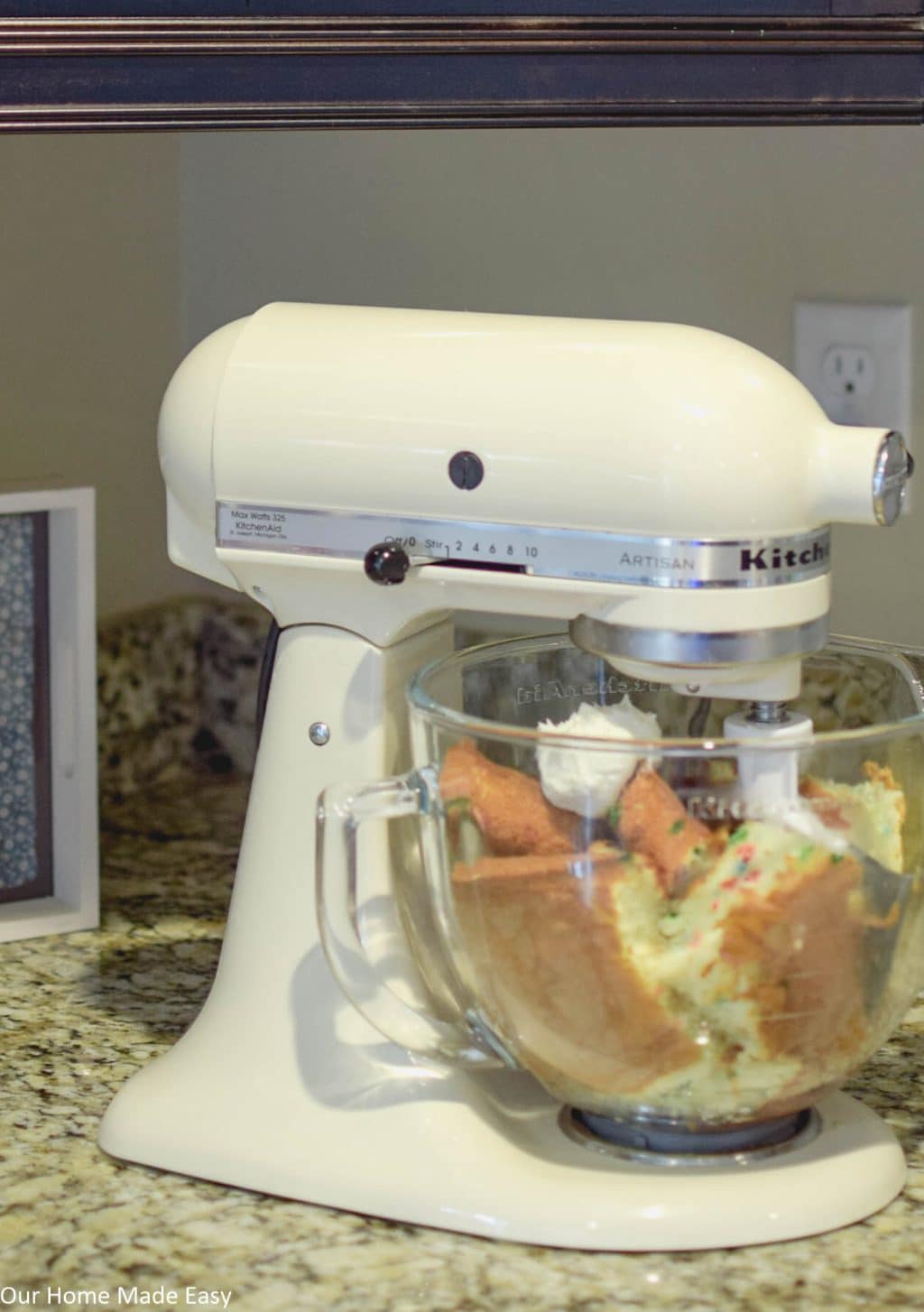 Once they were combined, I use a cookie dough scoop to portion / shape them into cake pops.
Once they are in the cake pop form, you will place a treat stick in the top center of all the cake pops.
Helpful hint: After rolling the balls, melt a few candies melts in the microwave. Dip the end of the treat stick in the candy and then into the cake pop. It will help keep them on the stick!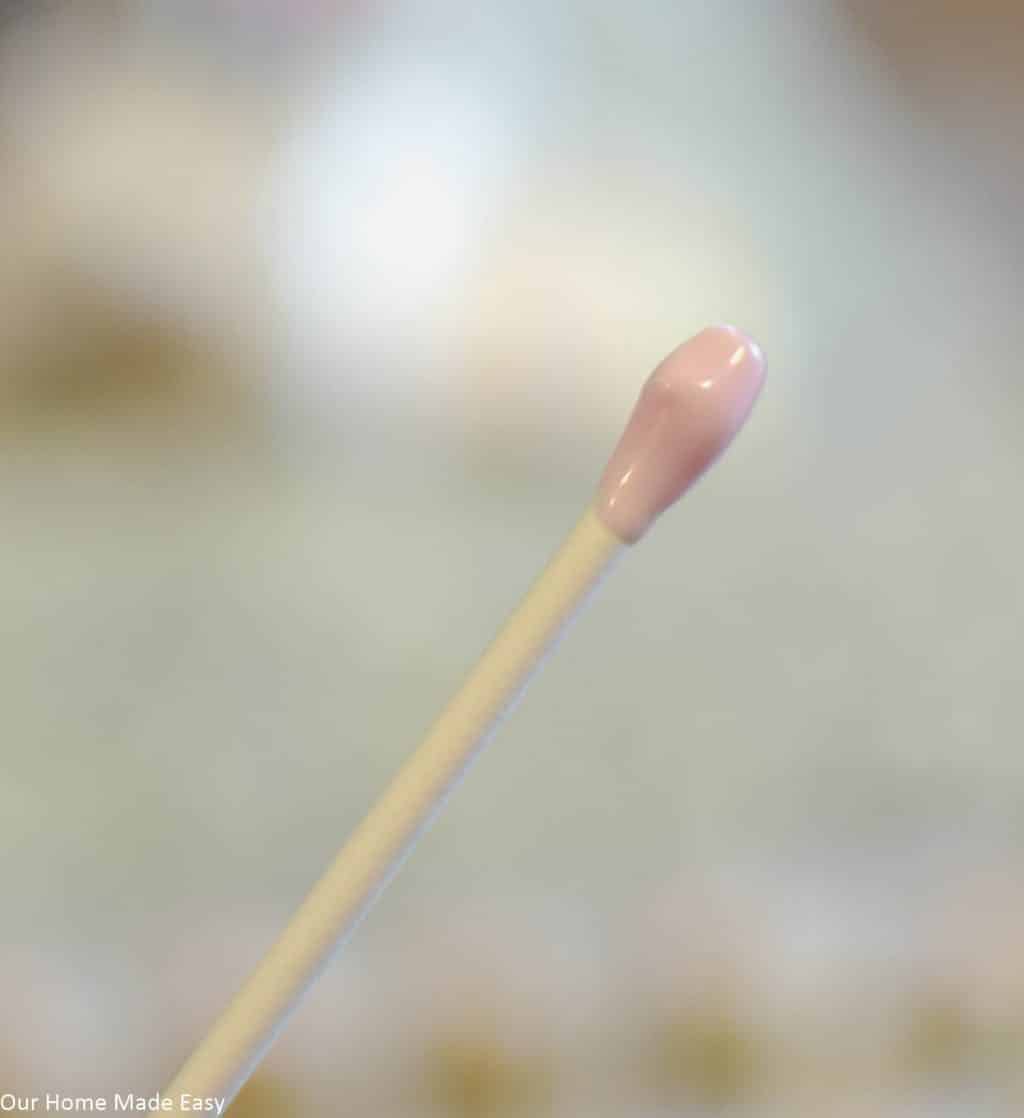 These guys are ready for the freezer for a few minutes.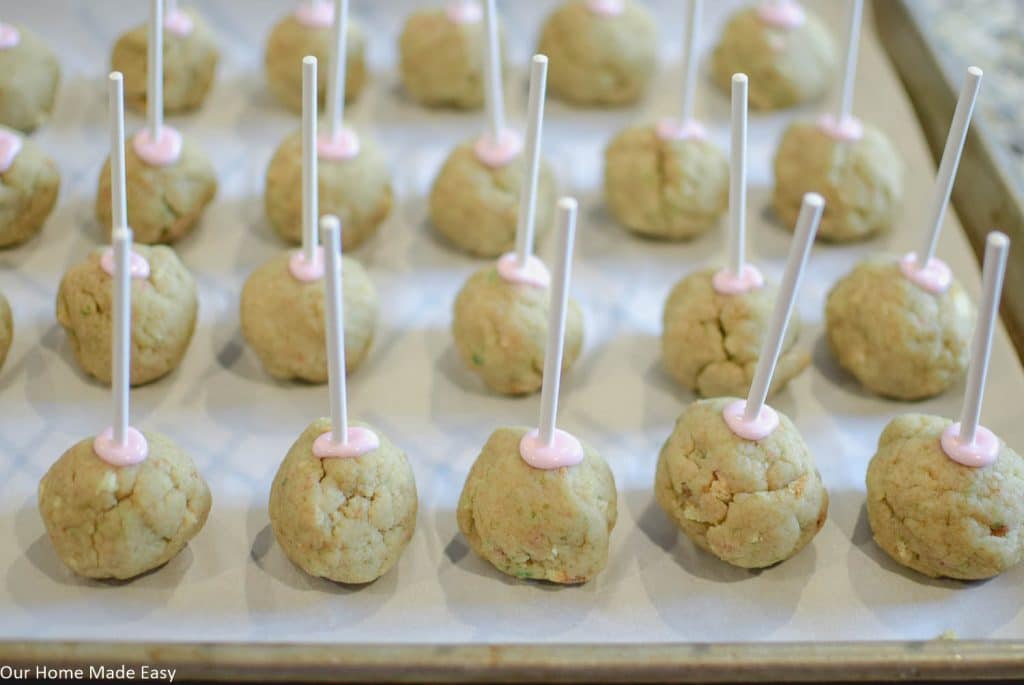 After hanging out in the freezer, it's time to start dipping the cake pops!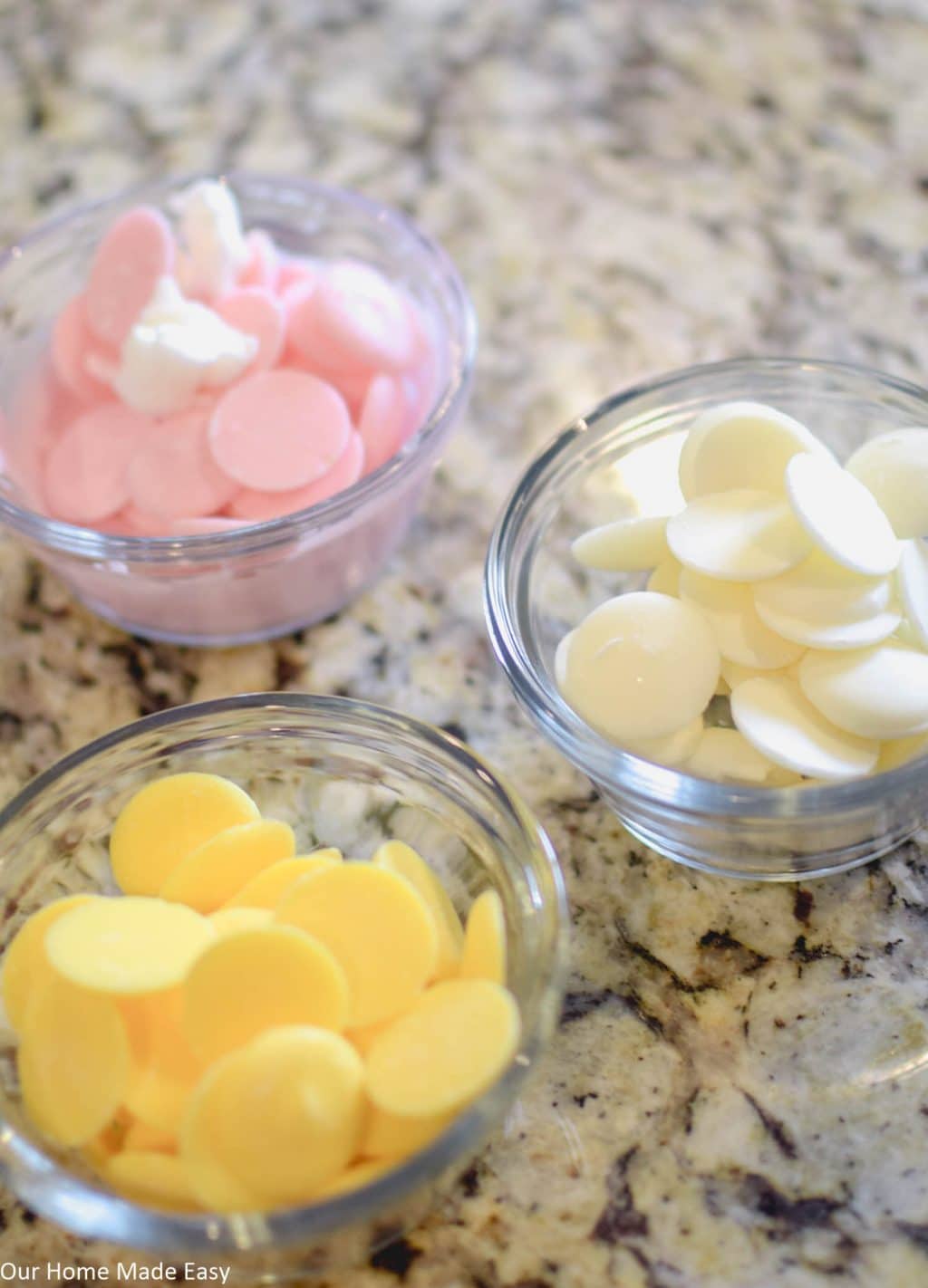 When you heat the candy melts, use small but deep bowls. You'll be able to dunk the cake pops without having to heat up too much candy melts at one time.
To keep the cake pops upright after dipping, I poked them into a styrofoam block.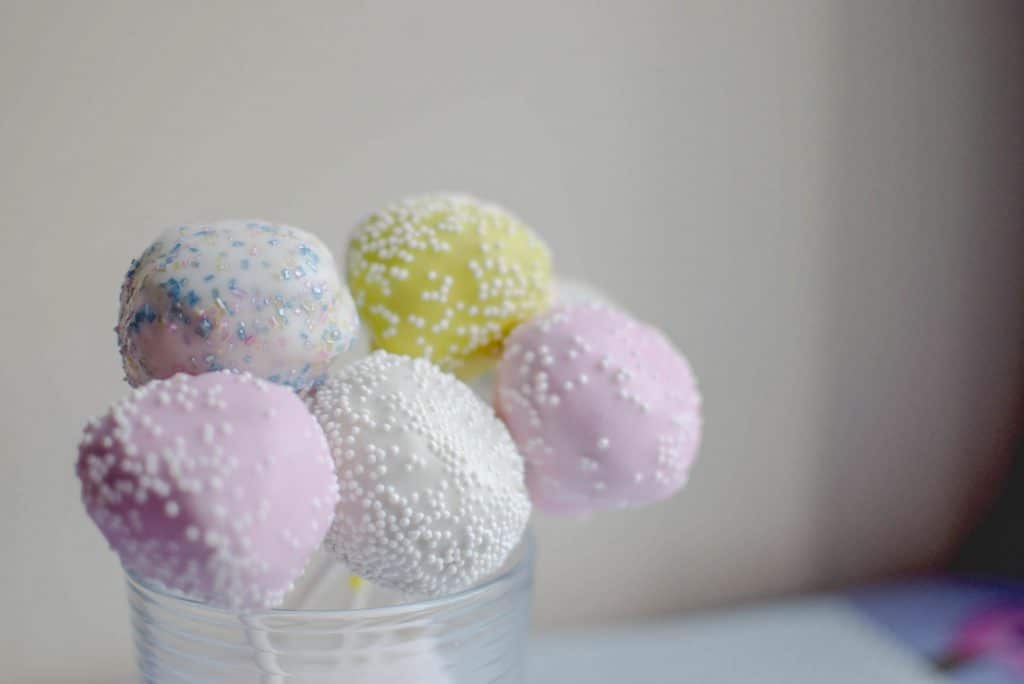 Totally worth the wait in the freezer 🙂 🙂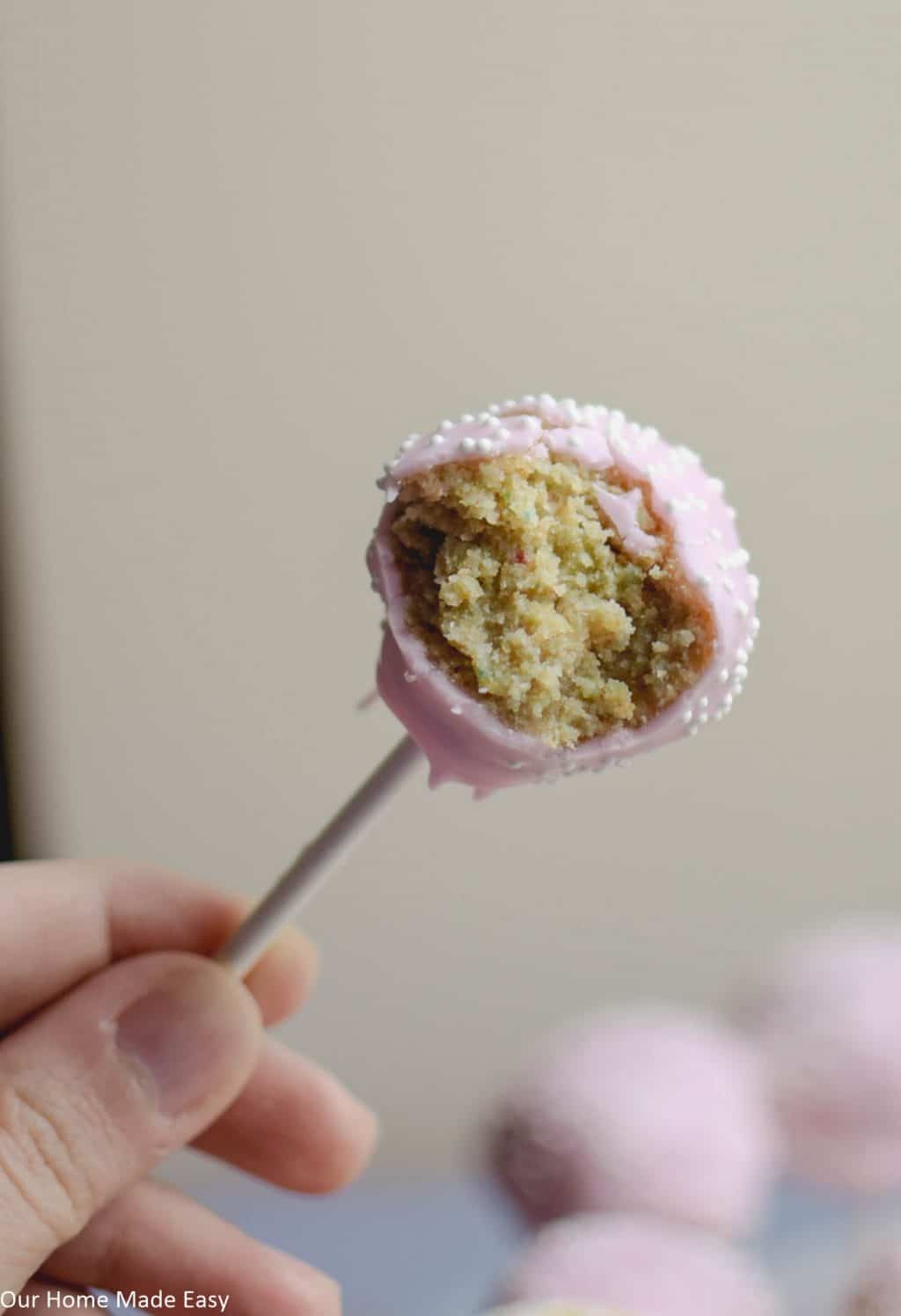 Aren't they super cute and perfect for any holiday? If you haven't made cake pops before, run to your store and pickup a box of cake mix or candy melts. They are that great!!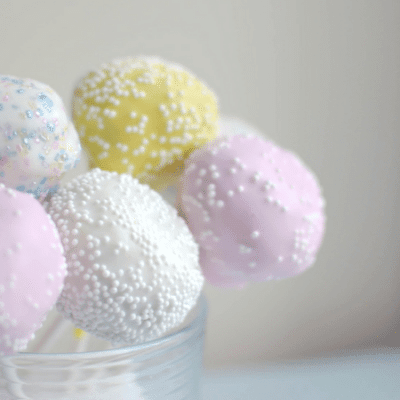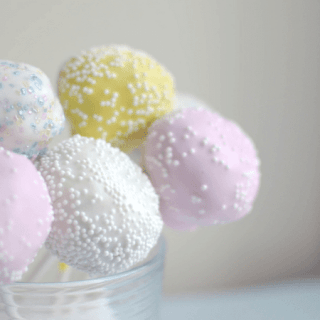 Easy Easter Cake Pops
Freezing Time:
45 minutes
Total Time:
1 hour
45 minutes
These Easter cake pops are the perfect Easter treat! Super easy to make (and even easier to eat!), the kids will love these sweet, poppable treats.
Ingredients
1 Box Cake Mix, Baked , Bake in a 13" x 9" pan
2.5 tbsp Frosting
1-2 Bags Candy Melts, Various Colors (Will need about 14 ounces)
2-3 tbsp Crisco Shortening, 3 tbsp per 14oz of candy melts
20-25 Sticks
Various Decorations
Instructions
Bake Cake according to instructions and allow to cool to room temperature
Cut cake into large sections and place in a large bowl
Mix in frosting and combine well
Using a cookie scoop, form 1" balls from the dough mix. Set the balls on a cookie sheet.
Place one stick on the top of each ball. Freeze for 45 minutes to firm up the cake pops
In a very small bowl, melt candy melts in the microwave, check & stir after every 30 seconds. Stir in the Crisco until smooth
Working in small batches out of the freezer, dip each cake pop into the candy melt.
Optional: Add sprinkles or non-pareils, or other decoration
Place the cake pops in styrofoam block to keep upright
Notes
These will last 2-3 days in a covered container.

PIN IT FOR LATER: