Easy No Bake Cookie Dough Dessert
I love chocolate chip cookie dough. Do you? It's my favorite part of making chocolate chip cookies at home. So you can imagine my excitement when my mother-in-law made this dessert. I was hooked. Its like cold cookie dough but in a totally safe, no risk for Listeria kind of way! It's been 8 years since she made it and it's still a big favorite in our home. If you have a family event, make it in the morning when you have some free time. It will be ready for you party time.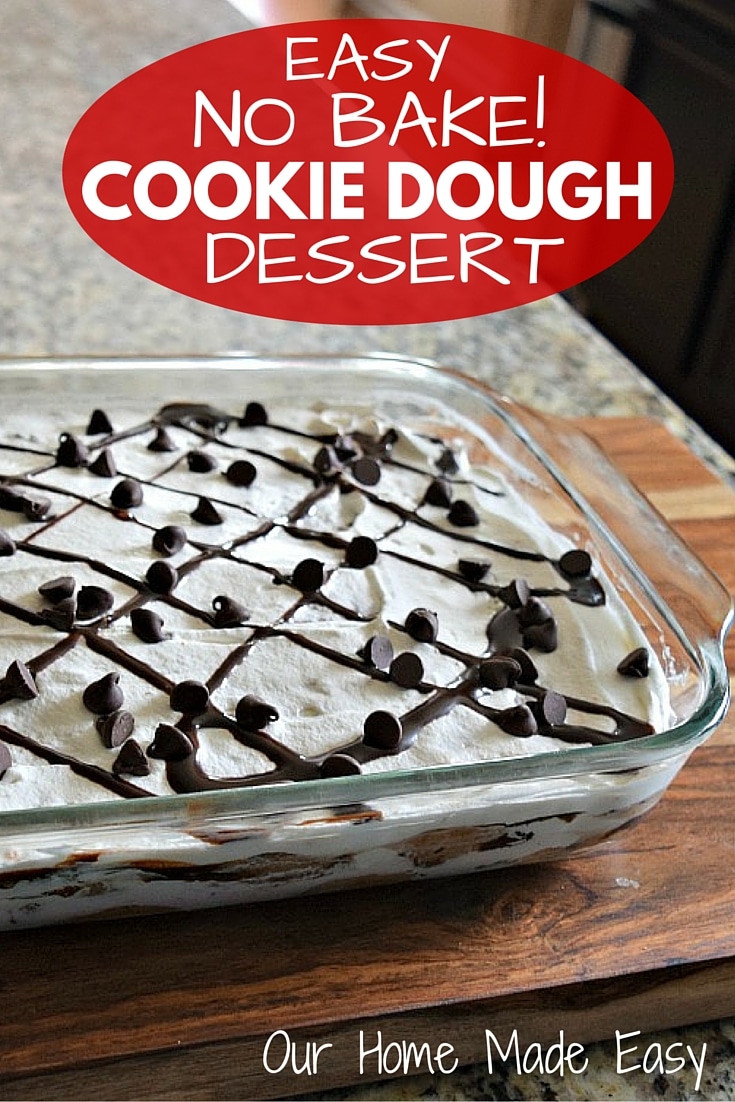 First off, how creamy do you want this dessert to be? A little creamy? Buy two containers of whipped cream! How about receving an "OMG, that is sooo good!" reaction? Go ahead and pick up a third container. Use one container for each layer!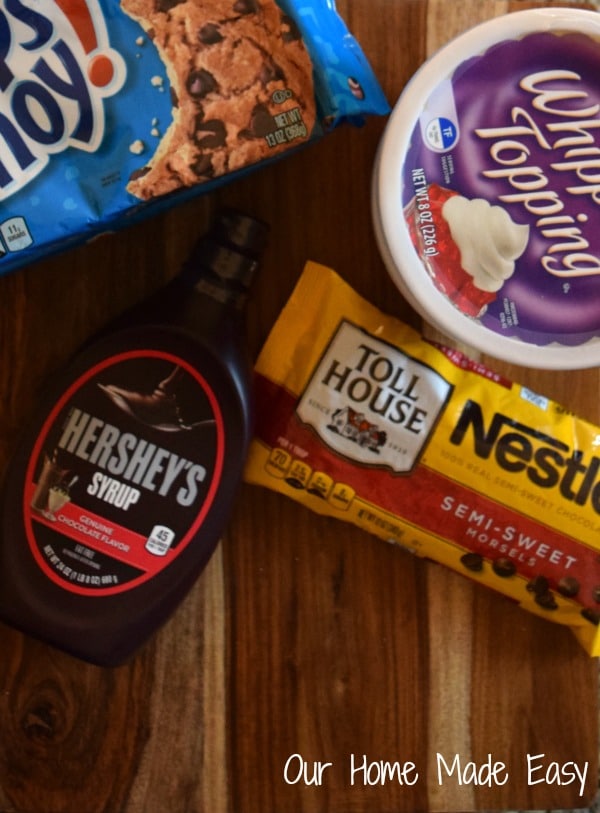 You'll want to dip the chocolate chip cookies in milk for just a second. Then layer them out in the pan. While I was making these, Jordan asked if I could toss in some Oreos. Since we never have extra cookies laying around (boo! I know), I told him maybe next time.
If I did add the Oreos, I'd keep the same amount of cookies and add in Oreos on top of the first layer of cookies and before the whipped cream. I think one layer of Oreos would suffice in addition to the original cookies.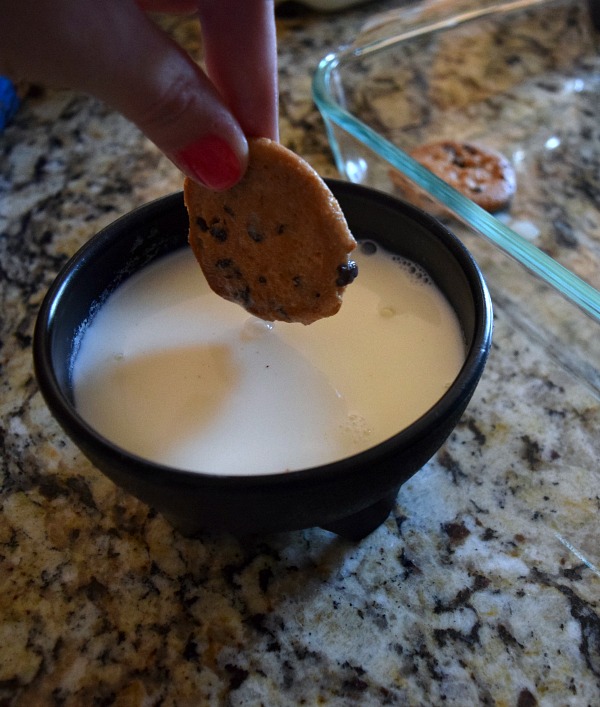 You will use almost all the cookies in the two packages if you layer the cookies three times. I only tell you this so that if you have a toddler at home who insists on sharing the cookies, you'll know that you can only share 2…3…or 4. She was pretty sly in trying to swipe one while I wasn't looking. She is lucky that she is cute, she survived the stealthy cookie nabbing.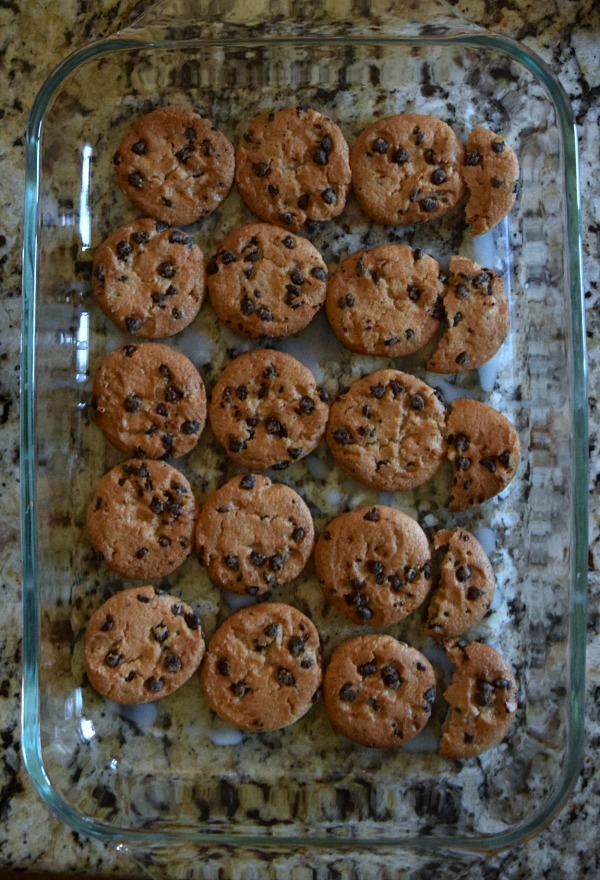 Now you'll layer either one half or one full container of whipped cream. If you buy 2 containers, use half. Bought 3? Spread the entire container across the cookies. Drizzle the chocolate sauce across the pan and top with a 1/3 cup of chocolate chips. My mother in law likes to use mini chips. I didn't have any on-hand so I used regular sized chips. This would be the place to add caramel, pecans, M&MS, or any other fun toppings!
Layer the cookies & toppings two more times and finish off with a full container of whipped cream. Decorate the top!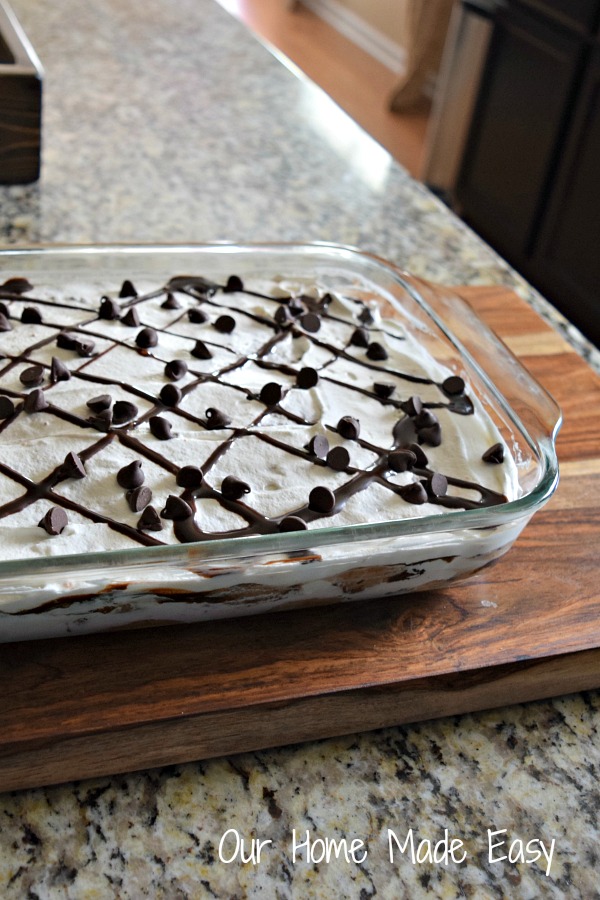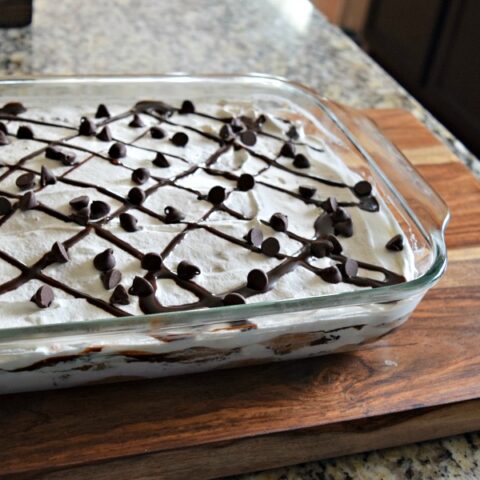 Easy No Bake Cookie Dough Dessert
This sweet and delicious no-bake cookie dough dessert is an easy treat! You just need a few ingredients (and a little patience) for this yummy cookie dough treat.
Ingredients
2 - 15 oz boxes Chocolate Chip Cookies
2 cups milk (enough for dipping)
2 tubs of Whipped Cream (3 for extra creamy), divided & thawed
Chocolate Sauce
1 cup Chocolate Chips (mini or regular)
Instructions
Dip the chocolate chip cookies into the milk and layer across the bottom of a 13"x 9" dish. Break the cookies to fit the pan.
Top with one half of a softened whipped cream container.
Top the whipped cream with chocolate sauce and 1/3 of the chocolate chips. Repeat layers twice, using one full container of whipped cream for the topping.
Finish off with chocolate sauce topping and chocolate chips.
Chill in the refrigerator for at least 2 hours before serving.