My Favorite Free Trick for Decluttering Cabinets & Kitchen Organization
My favorite trick for decluttering cabinets & kitchen organization! It costs nothing and is the best way just to start organizing when you feel overwhelmed!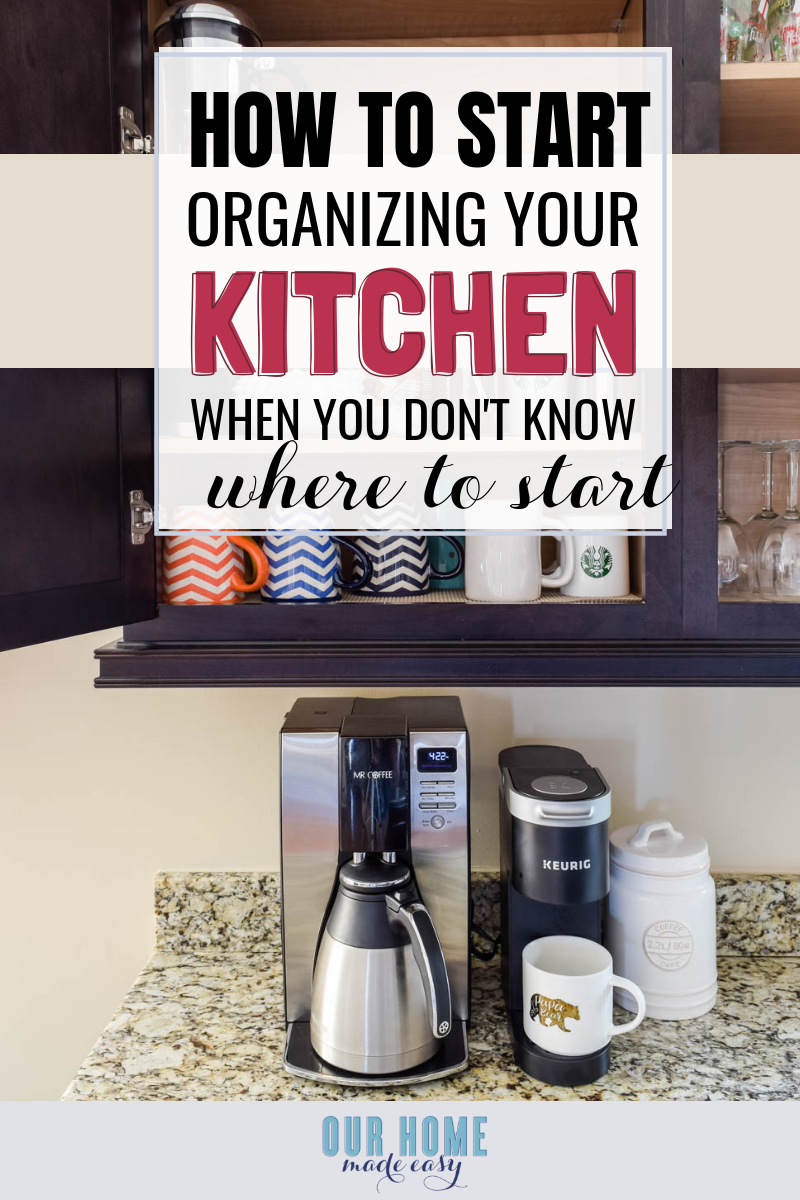 (This post contains affiliate links. Please see my Disclaimer for more information)
Today I am kicking off 'Clear the Clutter,' a 5 Week Organization Challenge with a few other awesome bloggers! Over the next 5 weeks, we will be organizing our homes with you!
Make sure to check out my co-hosts tips as well!
Kitchen Decluttering Checklist
Decluttering Tips for the Kitchen and Pantry
Decluttering Cabinets & Kitchen Organization
Kitchen Decluttering & Organization
Organize your entire home with the free Organization Challenge calendar! Grab it at the bottom of this post!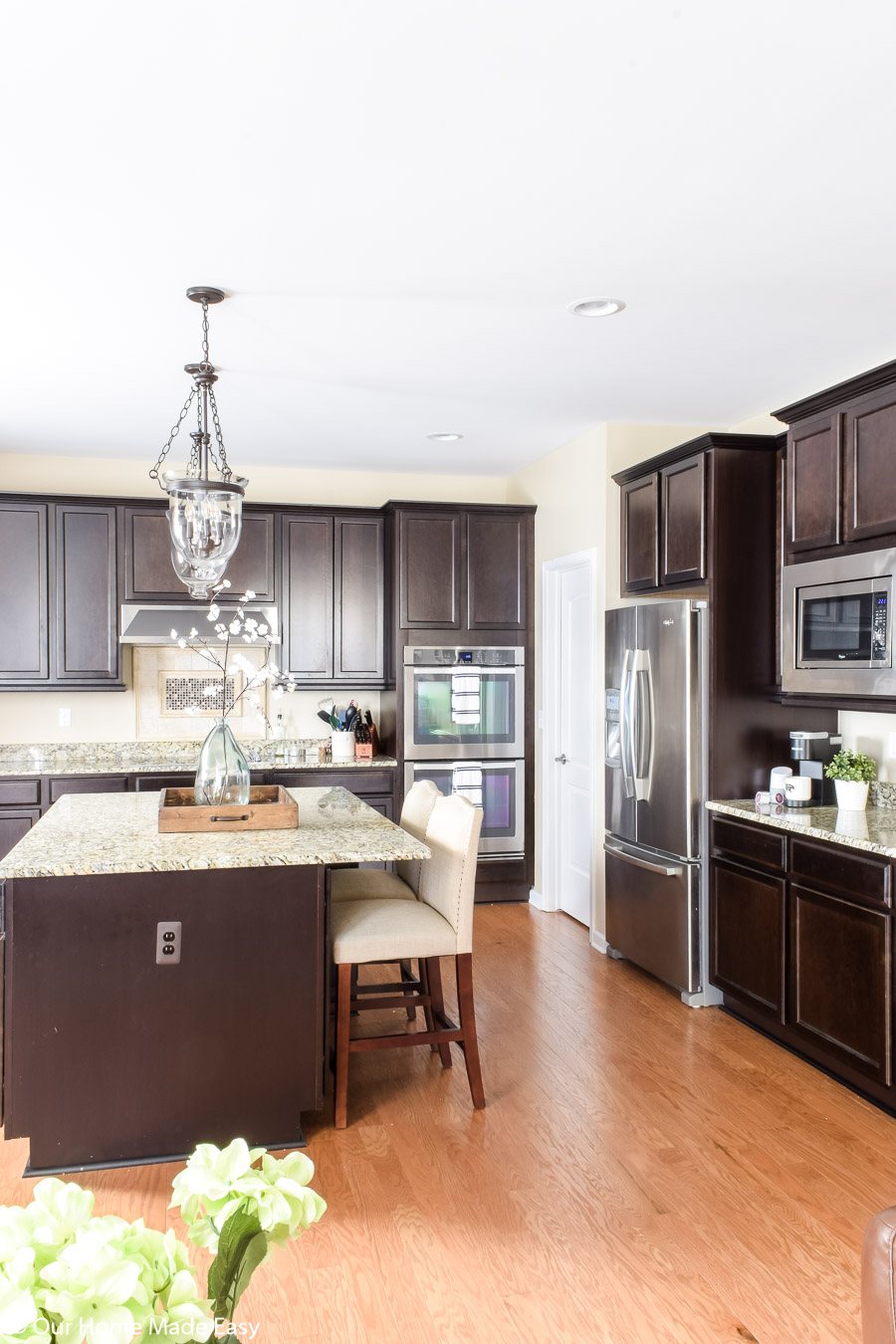 This week we are starting in the kitchen.
And I have to tell you, whew. Our kitchen could use a lot of organization. Today, I wanted to share one of the biggest ways you can start organizing your kitchen today and it doesn't cost a single dollar!
If you are thinking about starting to organize your own kitchen and unsure where to start, I think you'll really like how simple this strategy is.
Yep. We are going for the free, but totally simple way to organize.
Let's get started!
My Favorite Free Trick for Decluttering Cabinets & Kitchen Organization
If you're anything like me, I find that as I buy a new appliance or dish, I end up stacking it somewhere that has room. Literally, our cabinets are filled by when I buy something, not necessarily by items that belong together.
OR, we set items in the cabinets when we moved based on the size of the cabinet, not actually how we were going to use the item.
After years of living in our home, we are left with a variety of items in different spots across the room. Serving ware is mixed with Costco sized coffee containers and random pitchers…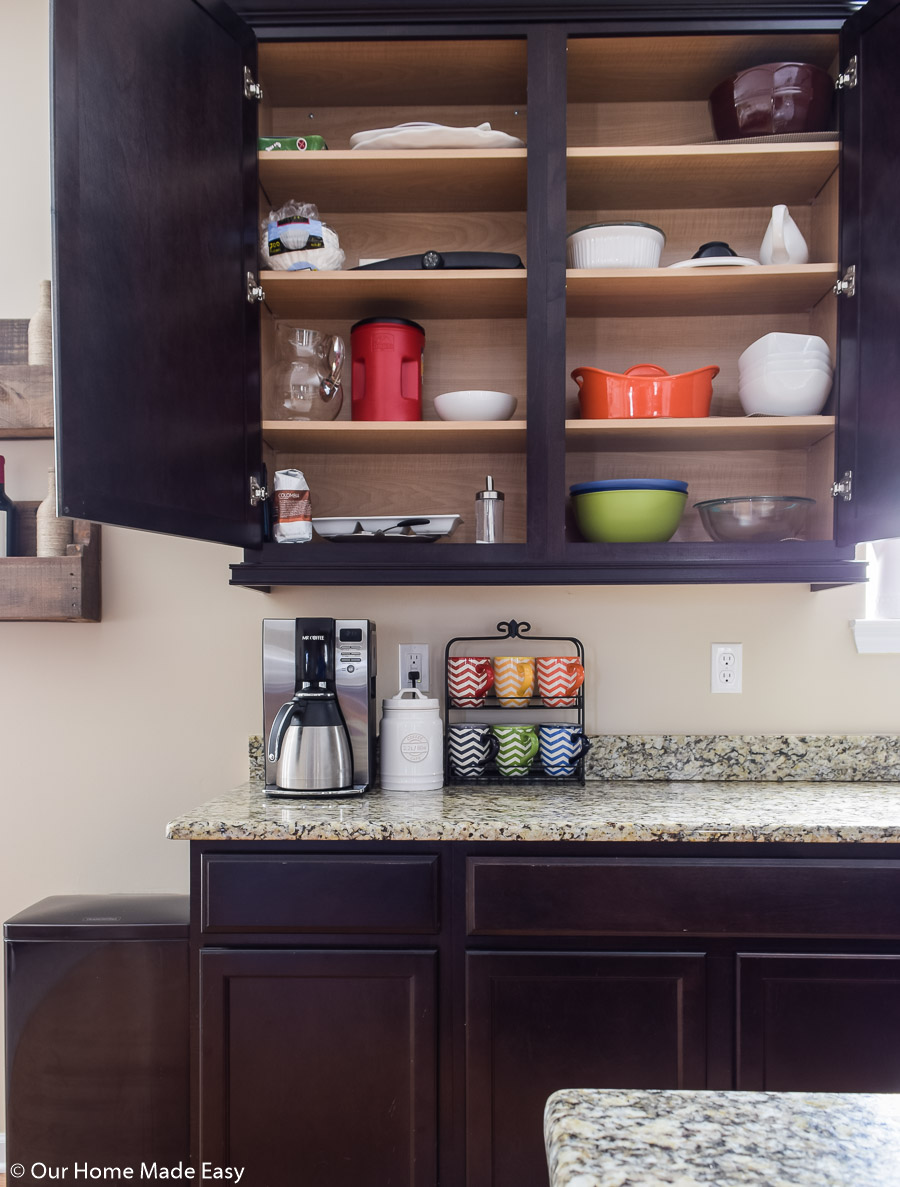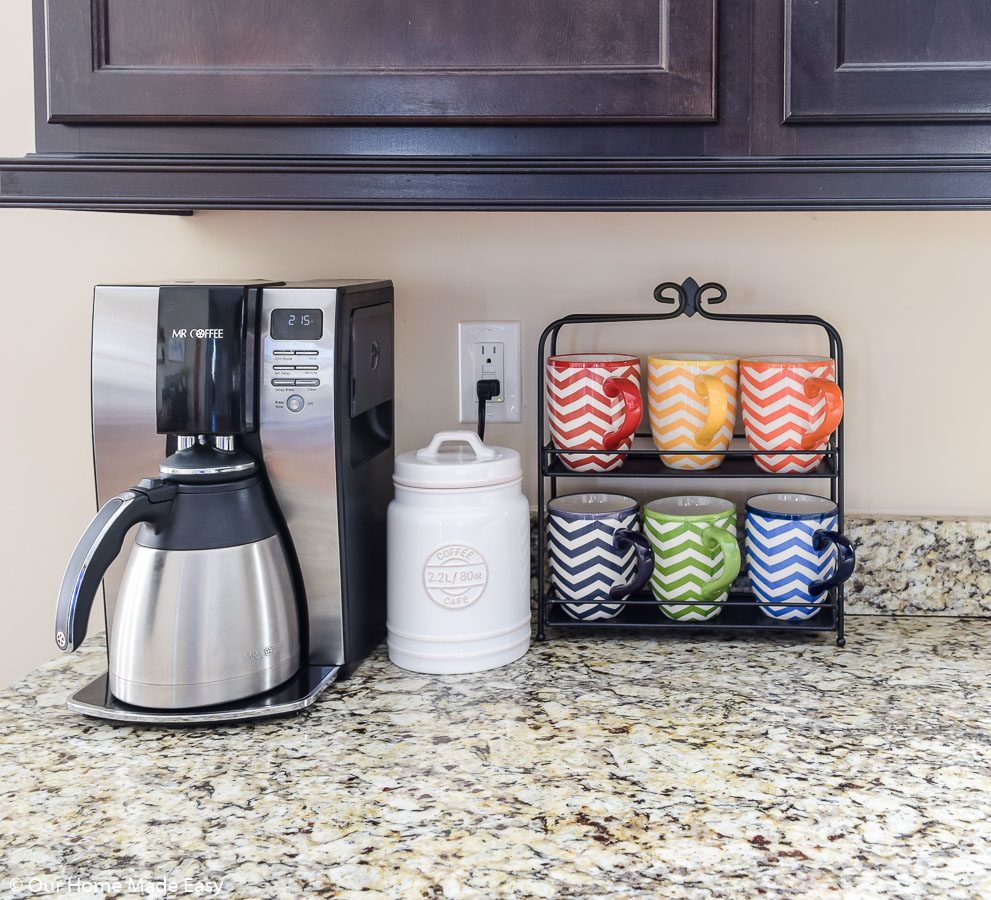 Learn from our mistakes, please.
This week, I am focusing on organizing our kitchen by moving the items I already have into better spaces. Like our coffee pot. When we moved in over 4 years ago, we set it here so that it was close to the trash for emptying. We filled in the cabinets above the coffee pot with serving ware and a bulk coffee grounds.
The coffee filters were in the drawer near the coffee pot. ?‍♀️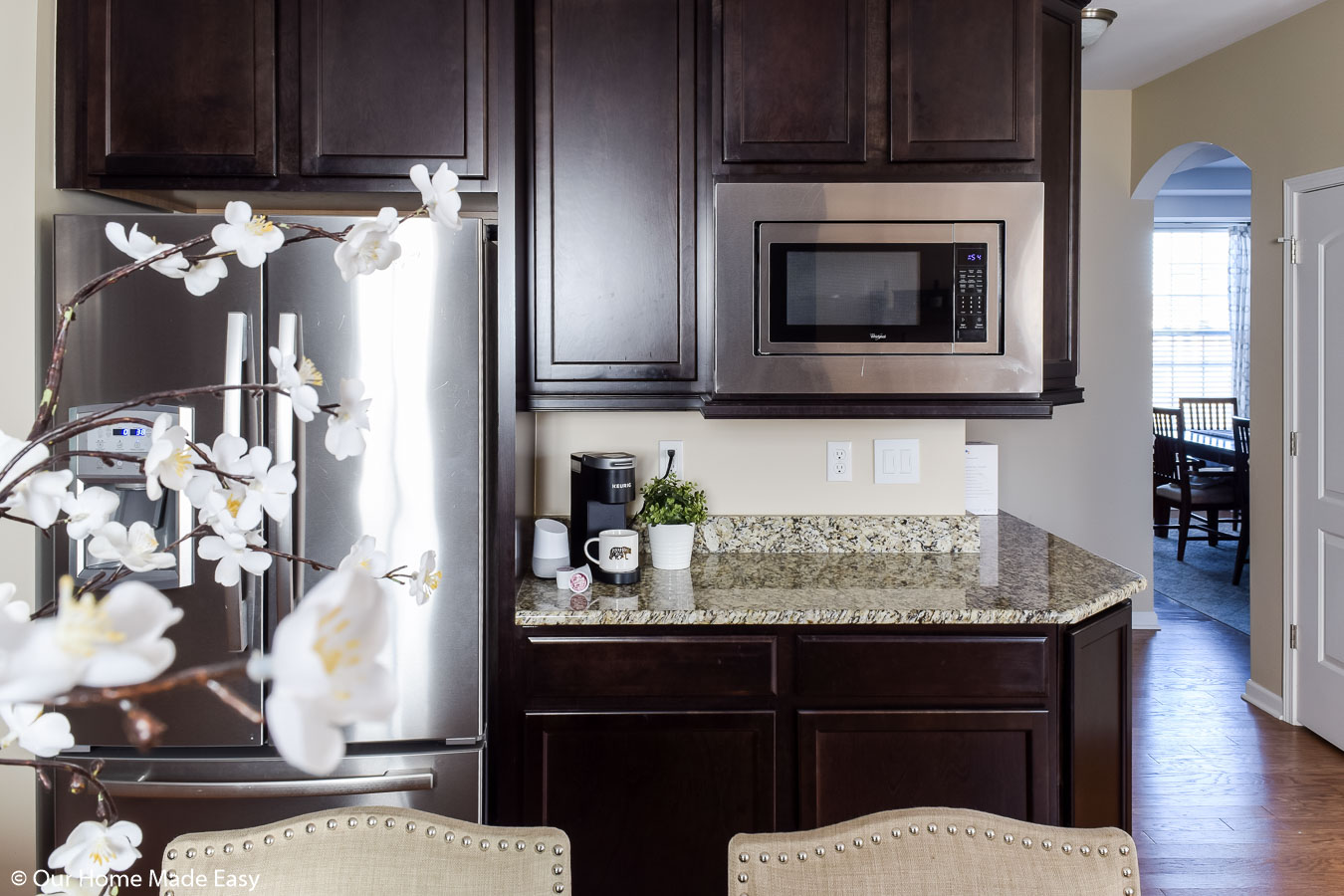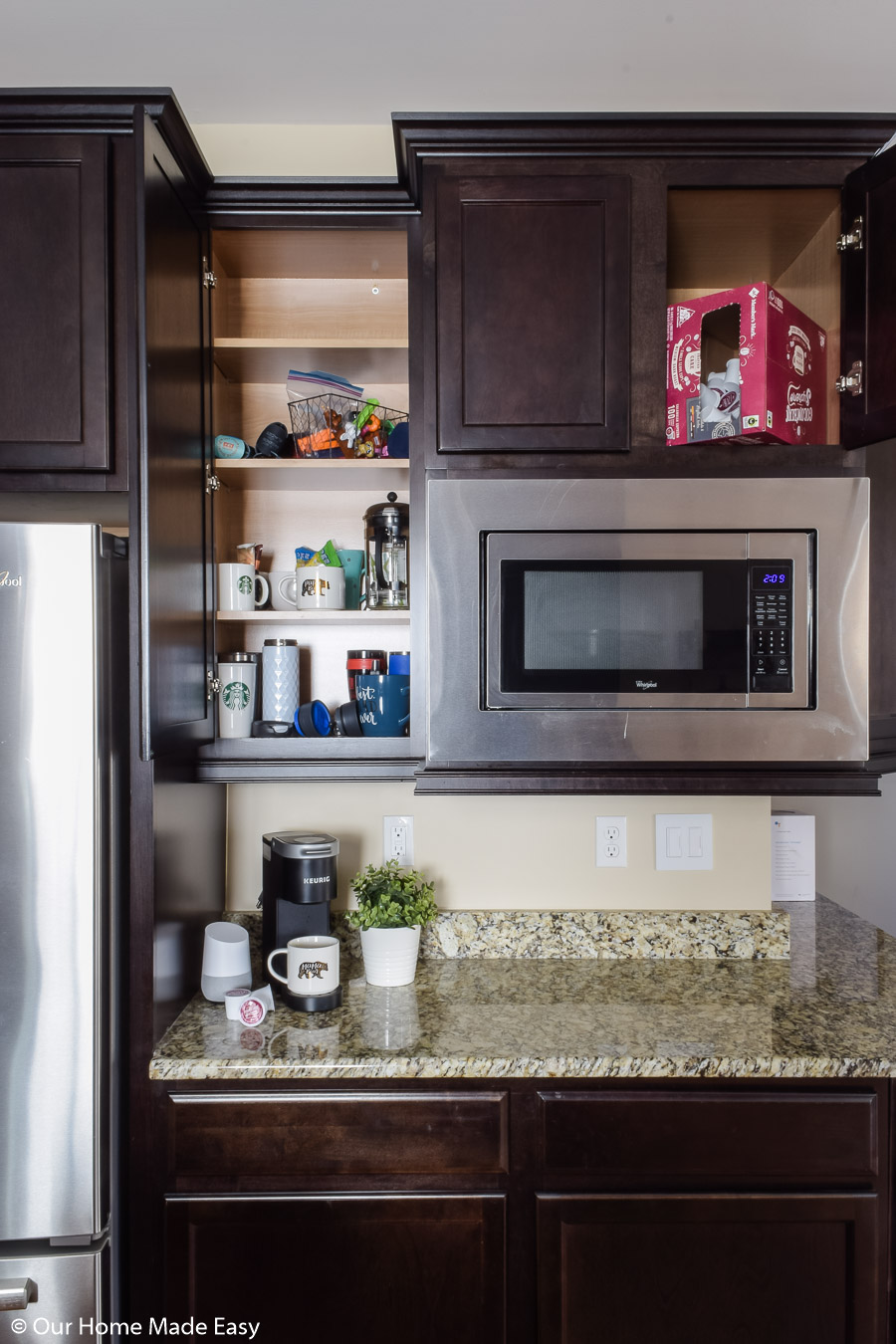 However, our coffee mugs are clear across the kitchen, near the refrigerator since there was a slim cabinet that looked like it could fit the mugs well enough.
Then, we bought a Keurig machine. I set it down in an open spot of the countertop. No, where near our coffee pot.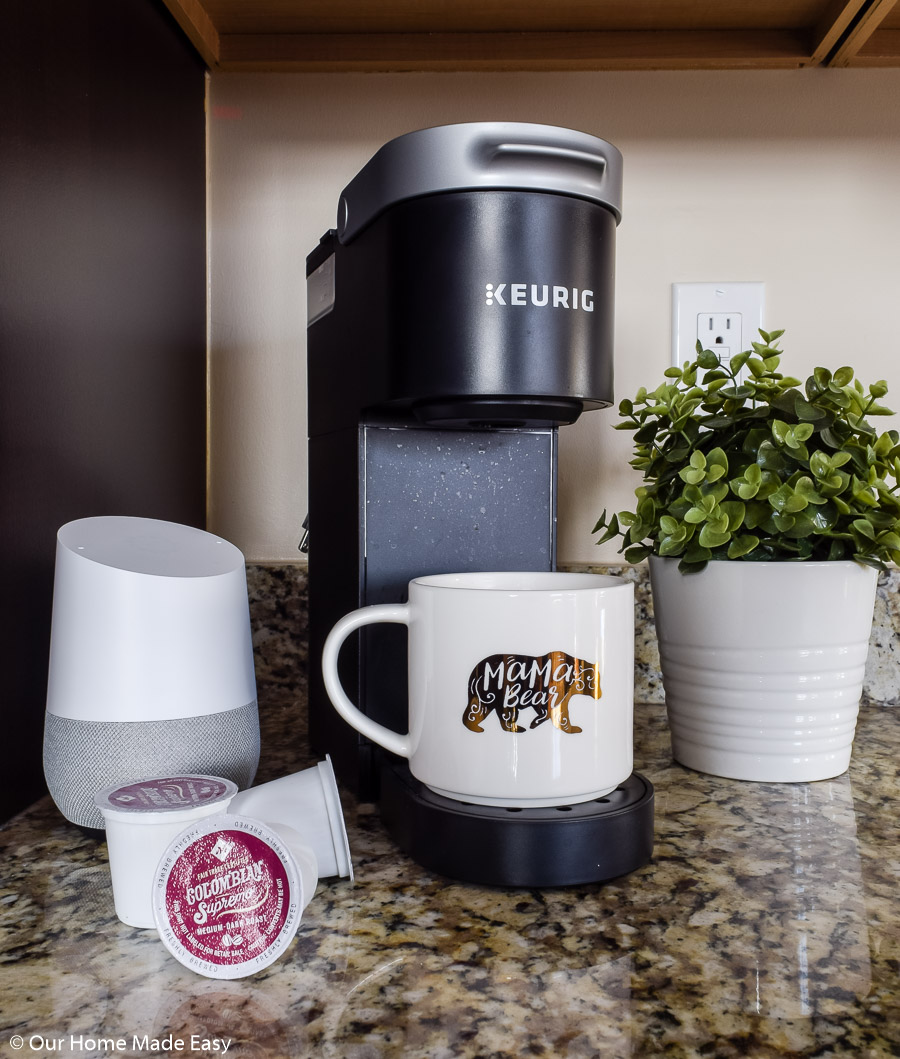 To complicate matters more, we had our glasses near the dishwasher, but nowhere near the refrigerator. When we were thirsty, we'd walk towards the refrigerator, remember that we needed a glass, walk back across the room, grab a glass, then walk back over to the refrigerator.
We thought we'd need the bigger cabinet space since we had so many glasses. But we were walking around too much.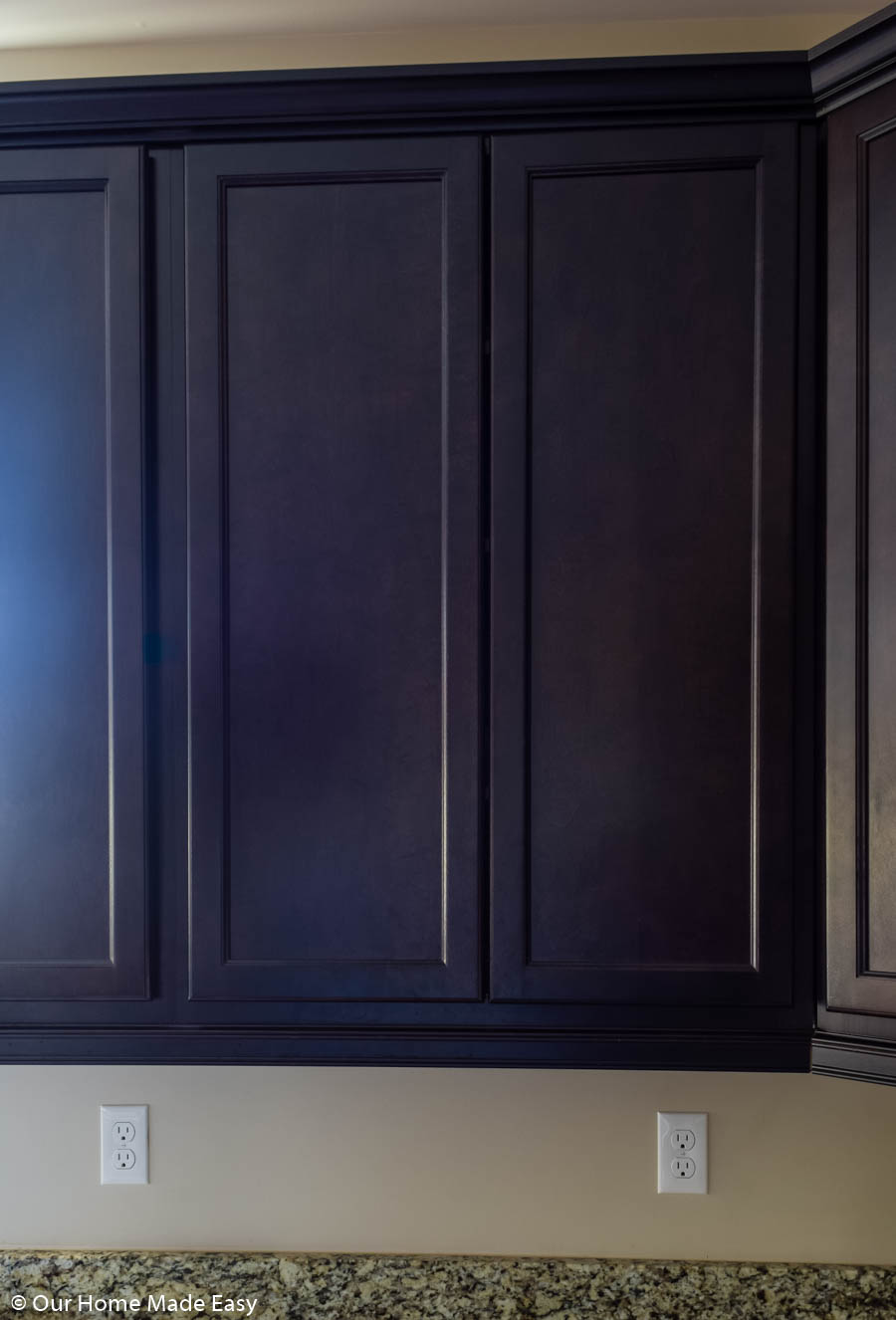 How are we going to start decluttering and organizing first this week?
We are going to move our drinking glasses near the refrigerator, where they are really needed. Then, we are going to create a small coffee station where we can grab a cup of coffee– without walking all around the kitchen!
But first- we had to make a mess.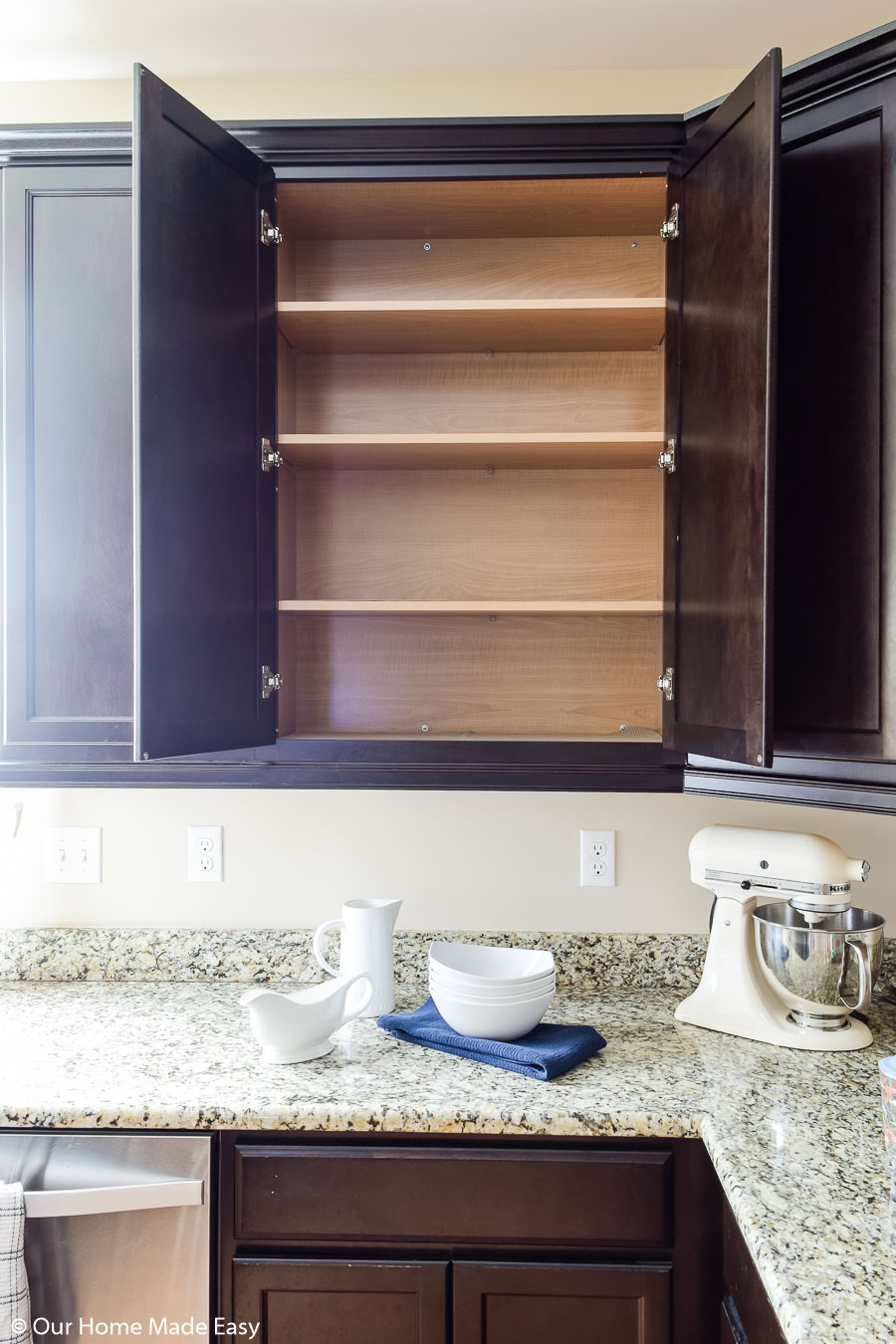 We pulled everything out of the cabinets and wiped them down while they were empty. Then we started decluttering drinking glasses, mugs who were missing lids, and serving ware that we really didn't need anymore.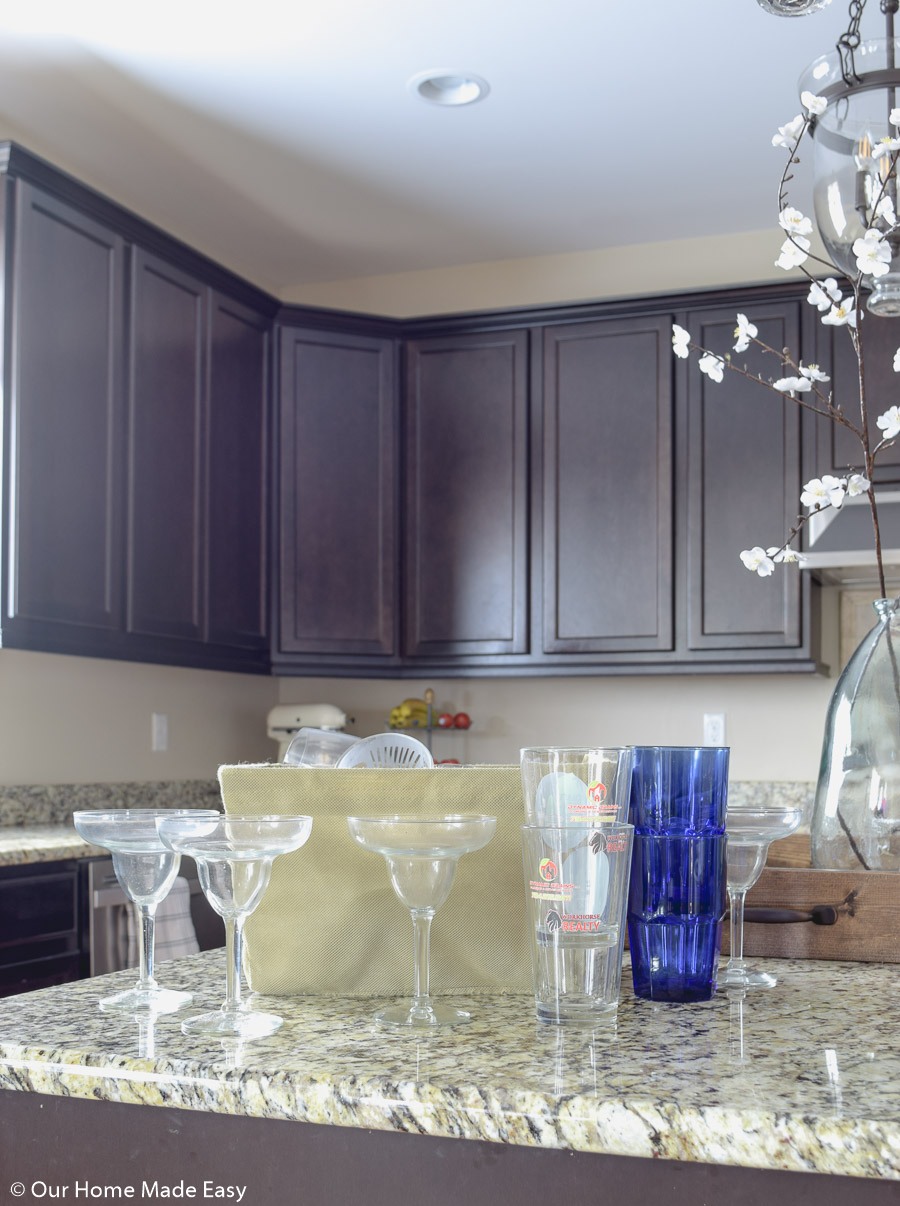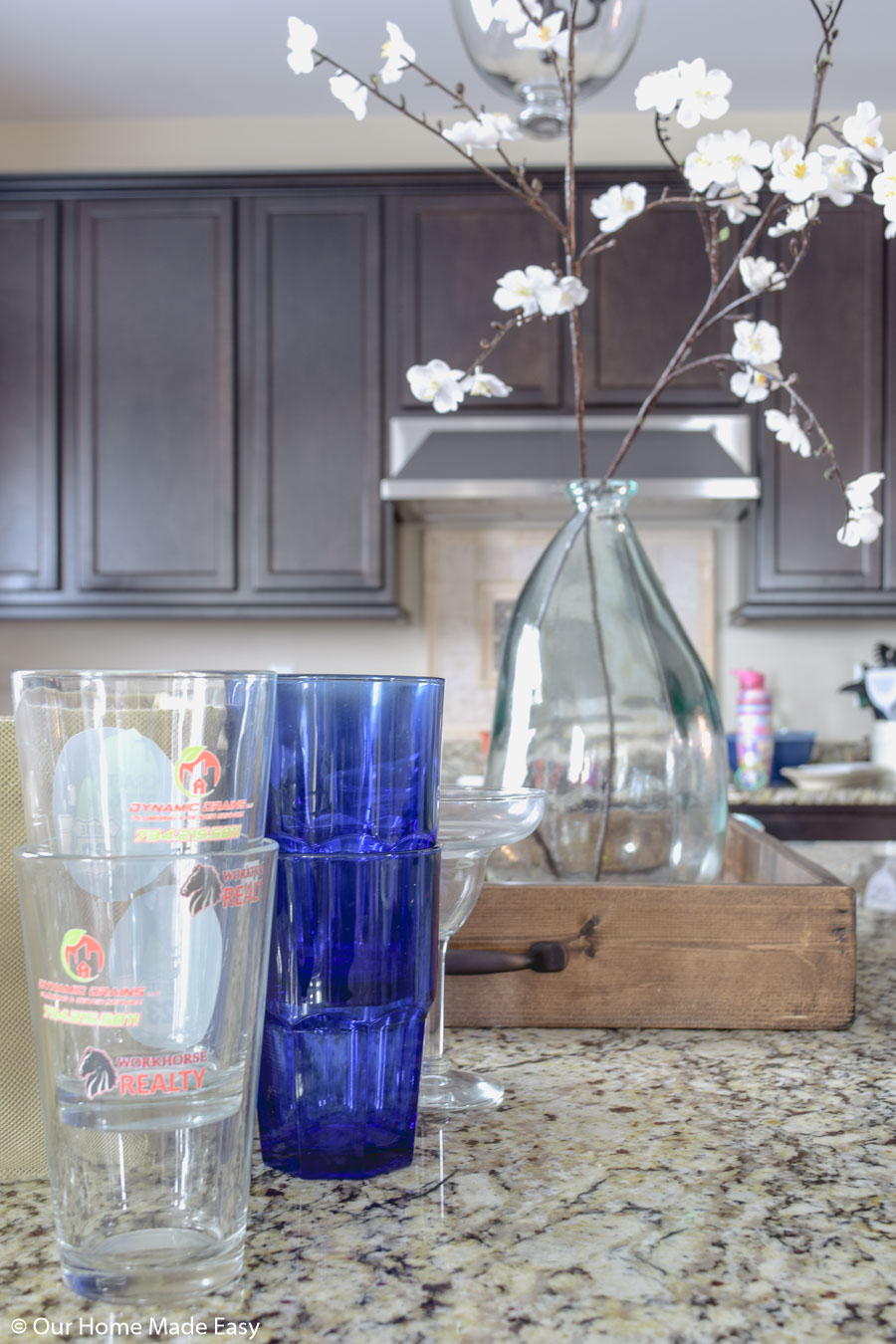 Then we recycled the old glasses. Some were from running races, craft beer walks, or winery tours. We have quite a collection of our running for brews adventures. 🙂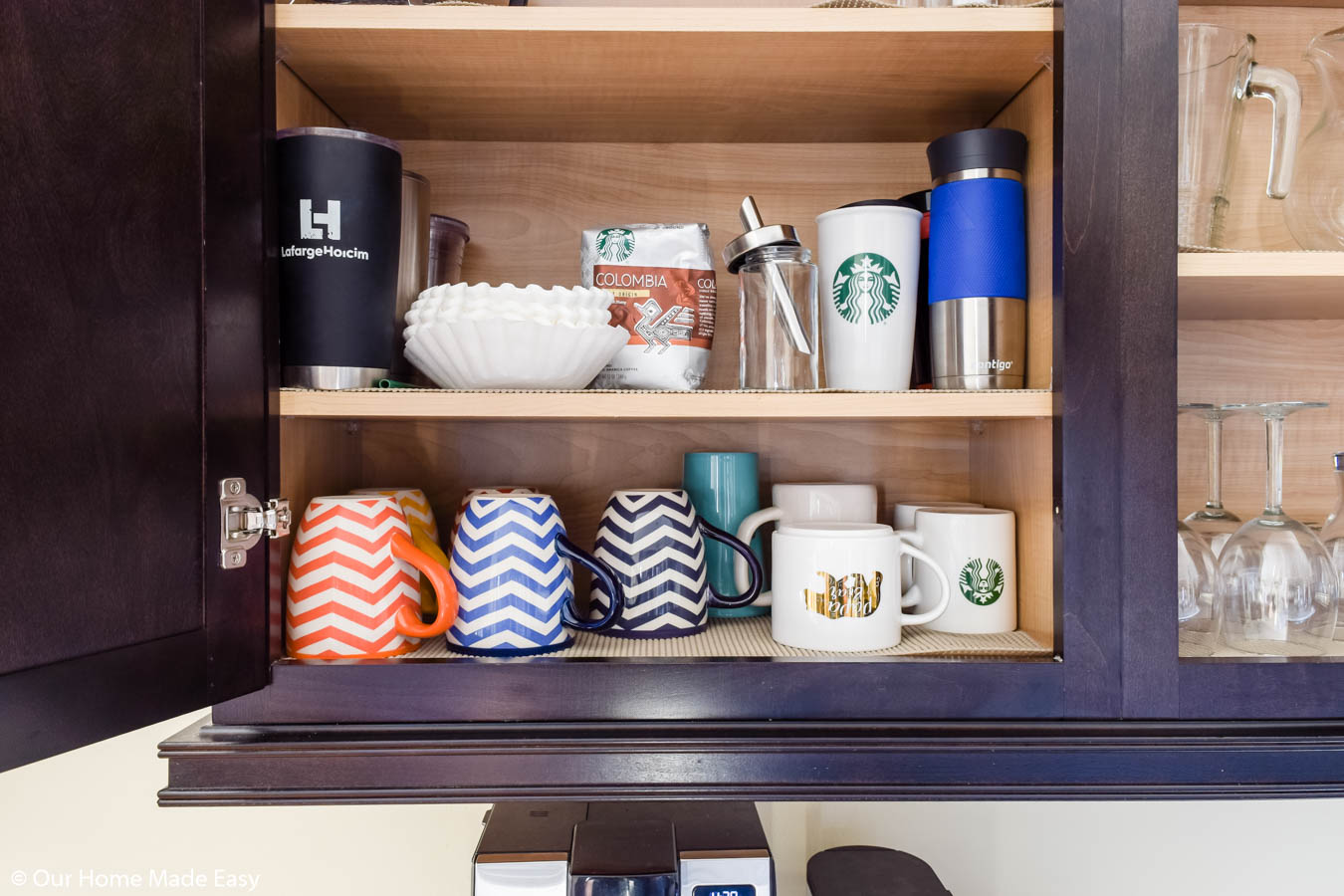 Then, we moved the mug rack off the countertops & into the cabinets. We started putting away the things that we use most often down low. Everything else started getting put away in the upper shelves.
Where the serving ware used to be, we put the wine glasses, the wine opener, and pitchers.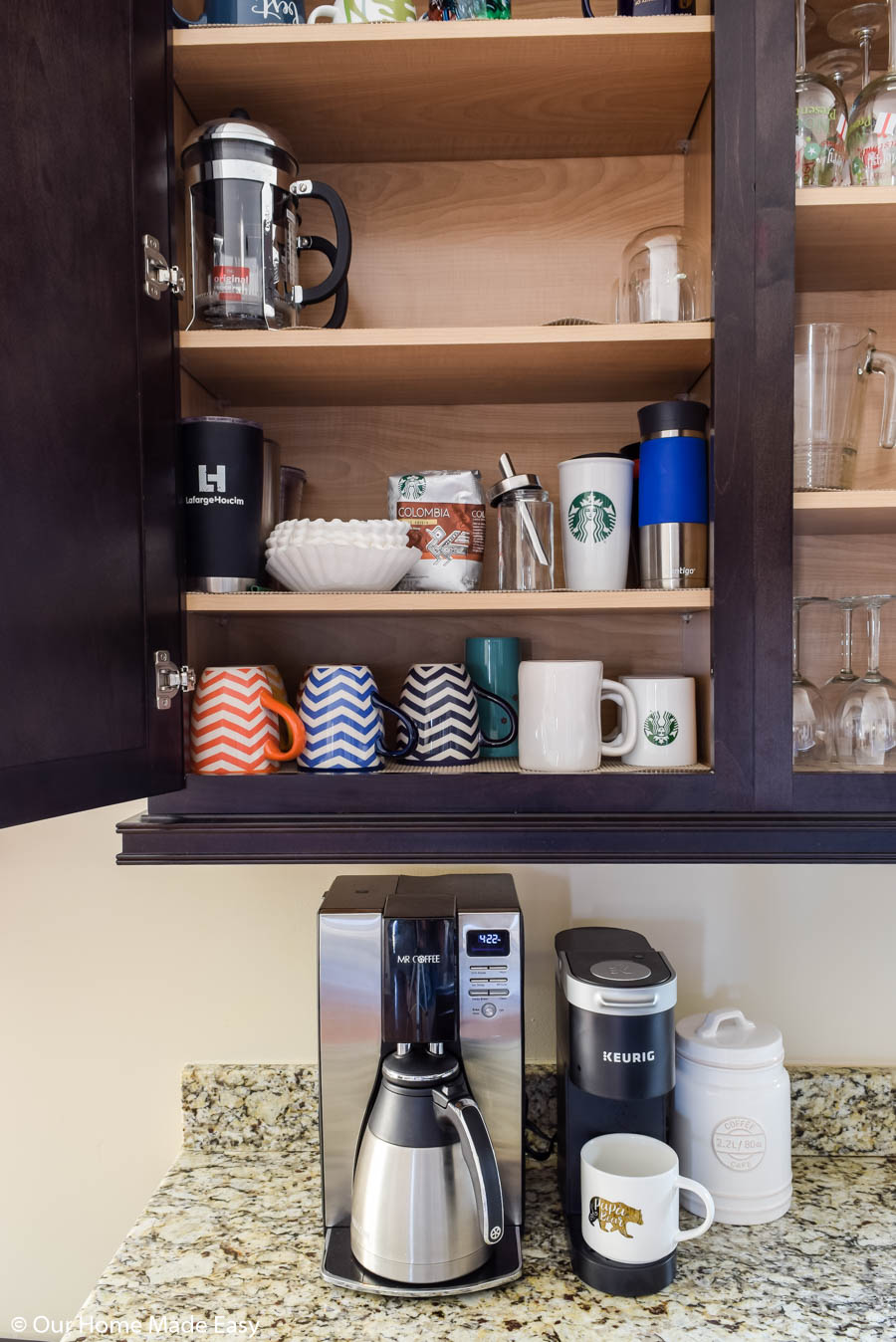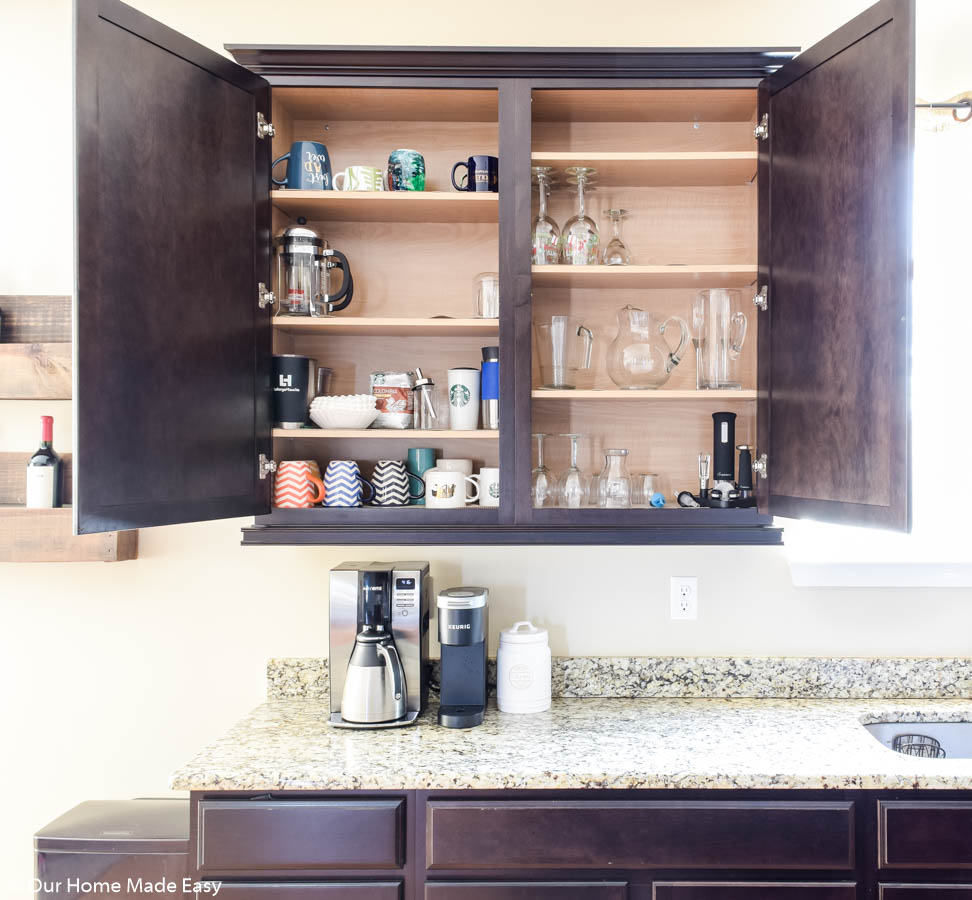 Now, the Keurig machine is near the coffee pot, the mugs are above and unless we need creamer, everything is in one spot! No more doing laps around the kitchen island at 5 am in the morning.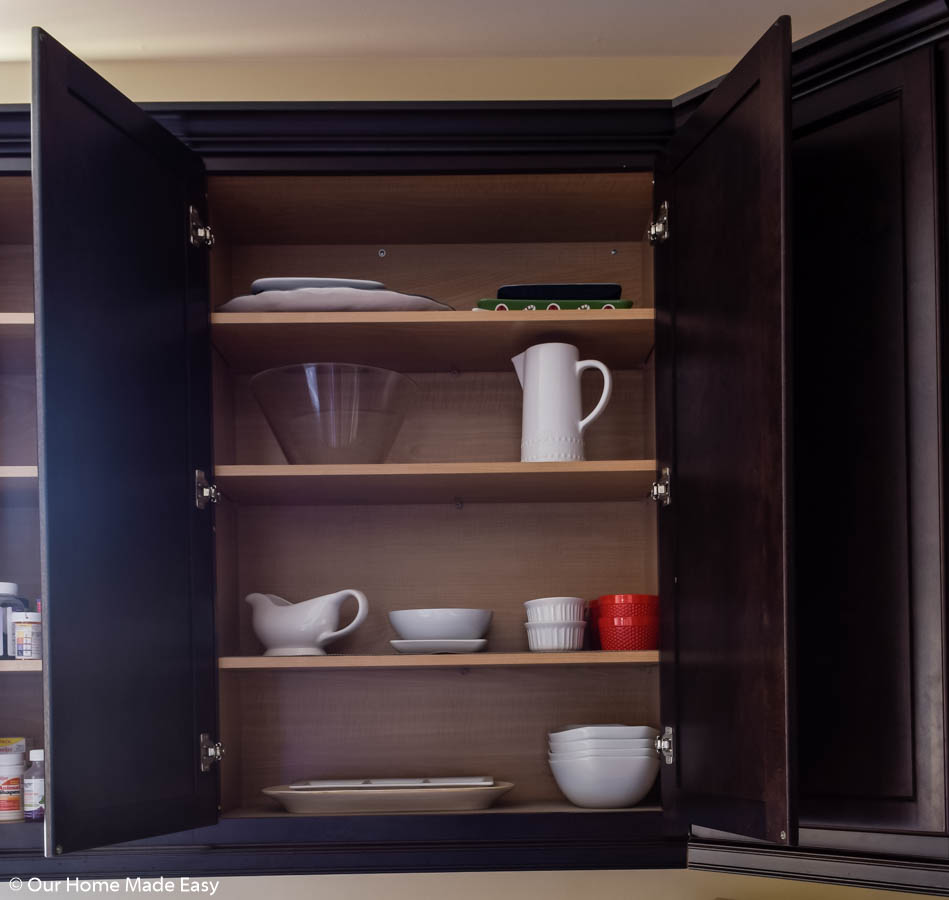 Then our serving ware was moved over to the drinking cabinets. I am hoping that since they are by the oven, I'll actually remember to use them! It's been a bad habit of mine just to use the closest bowl rather than the right bowl.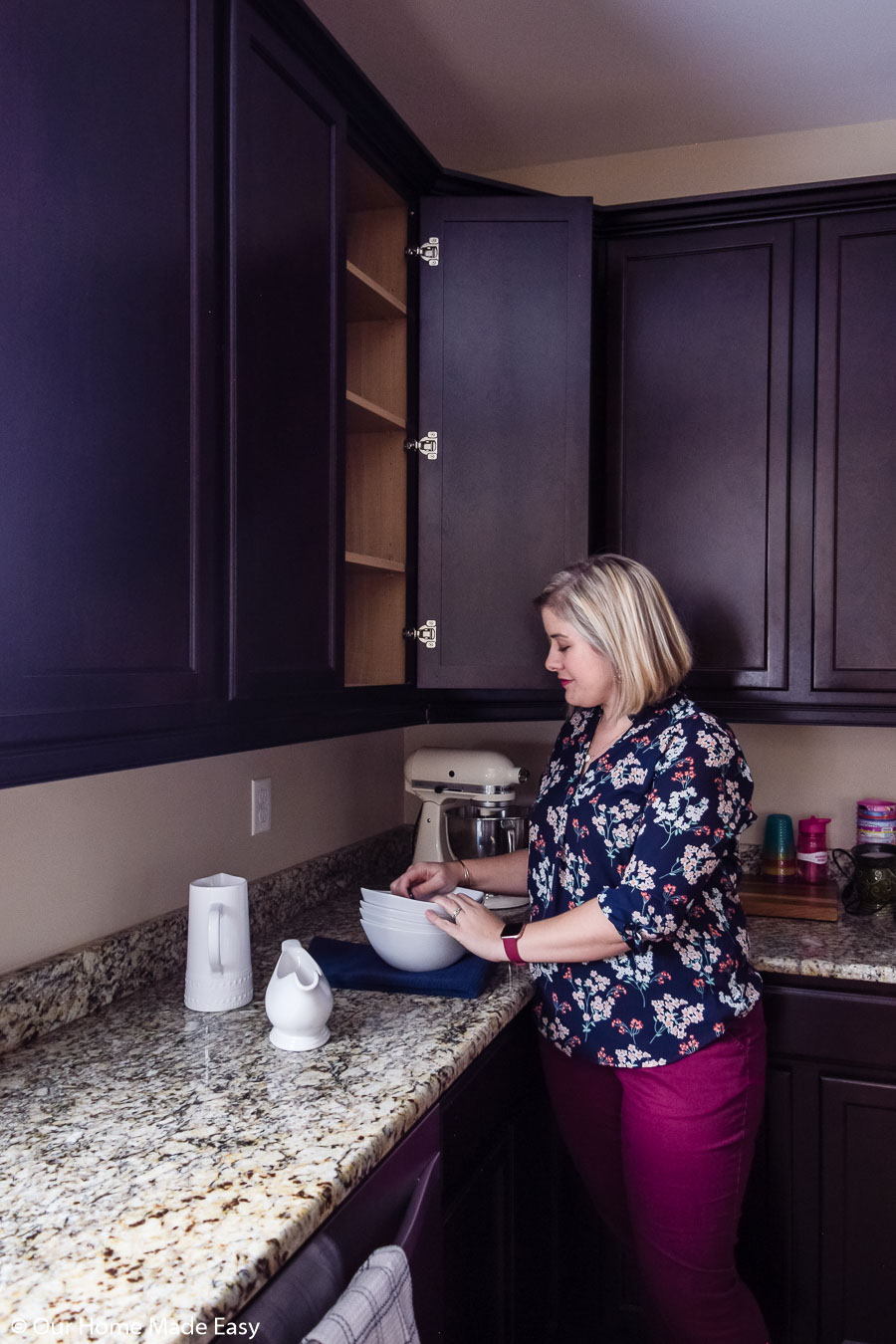 Real story of the cabinet? The dishwasher was running– I really have a few more bowls & dishes, but Sunlight + Michigan + January are hard to come by! I had to snap a picture quickly!
Over near the fridge, we moved all the glasses. Even after decluttering the extras, we were a little worried about how they would fit. Turns out, they fit just fine!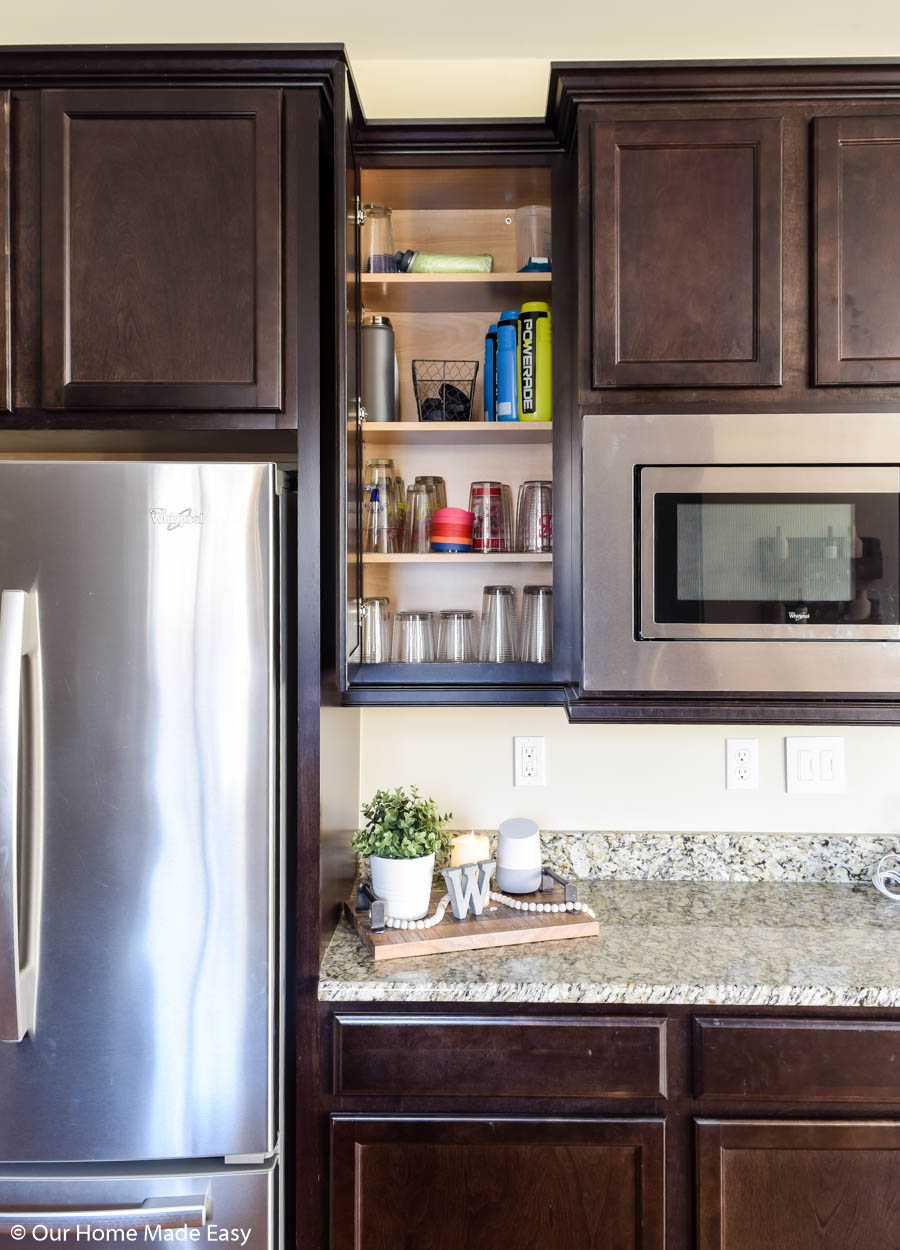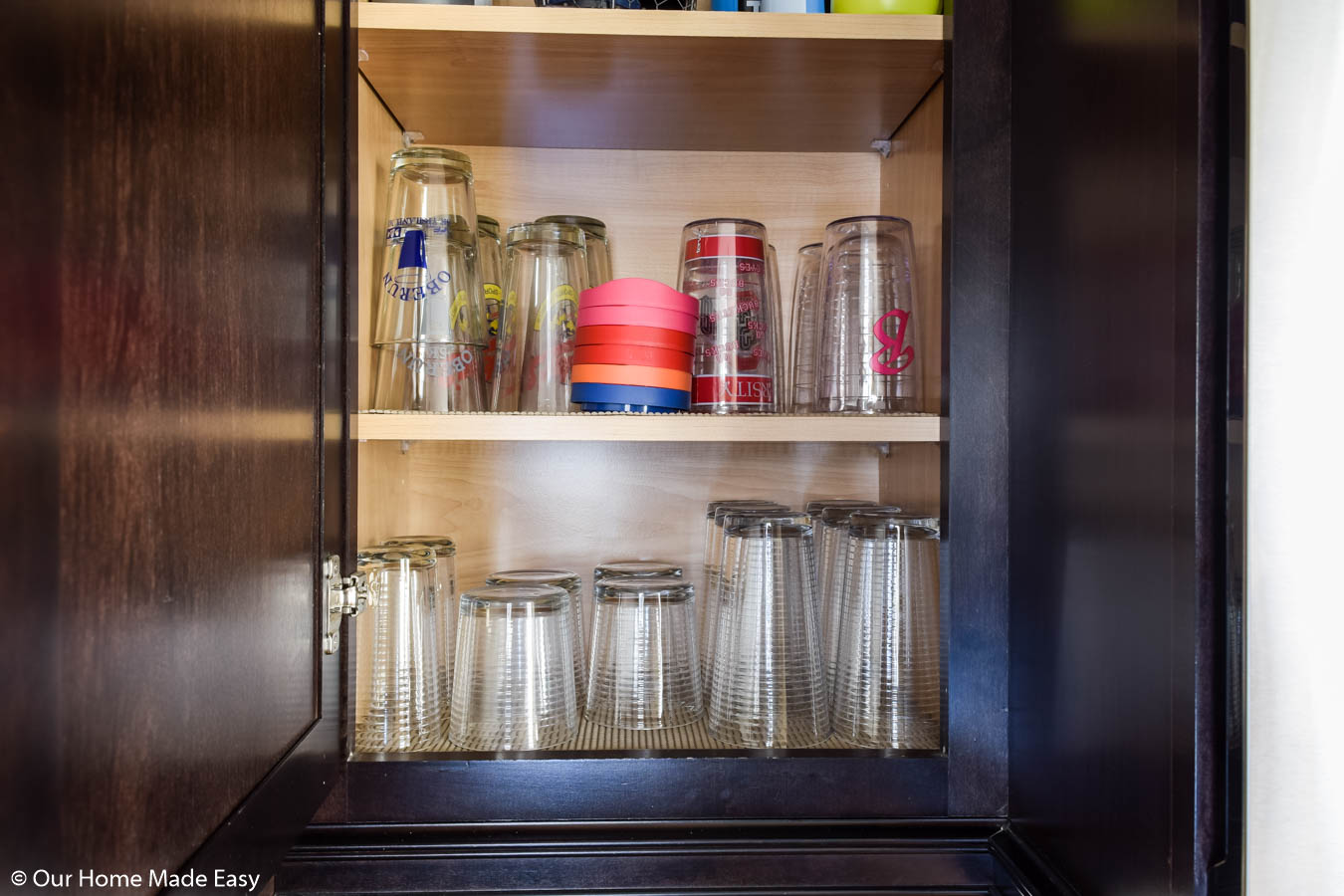 And maybe finally, I will remember to use all those pretty dishes I've picked up over the years. It's like a new kitchen for me.
SHOP THE ROOM:
And that is week #1 of the Clear the Clutter Challenge!
What can you do today that will help you organize your kitchen? Let me know in the comments below!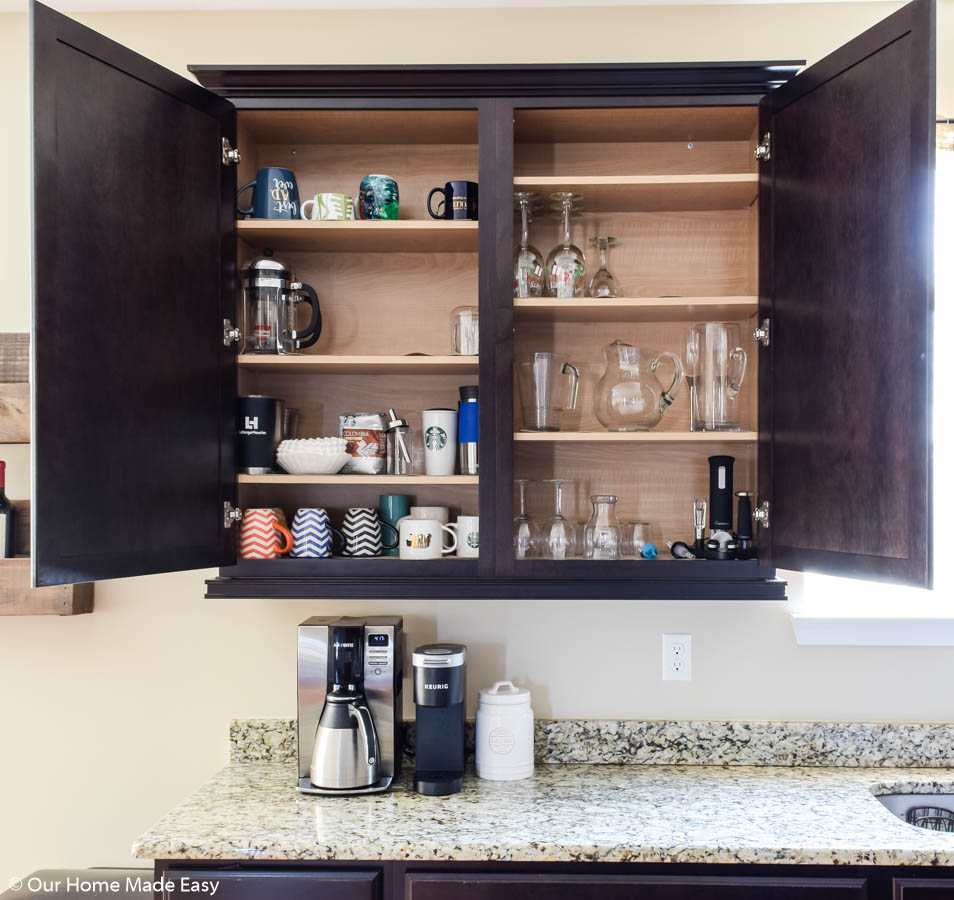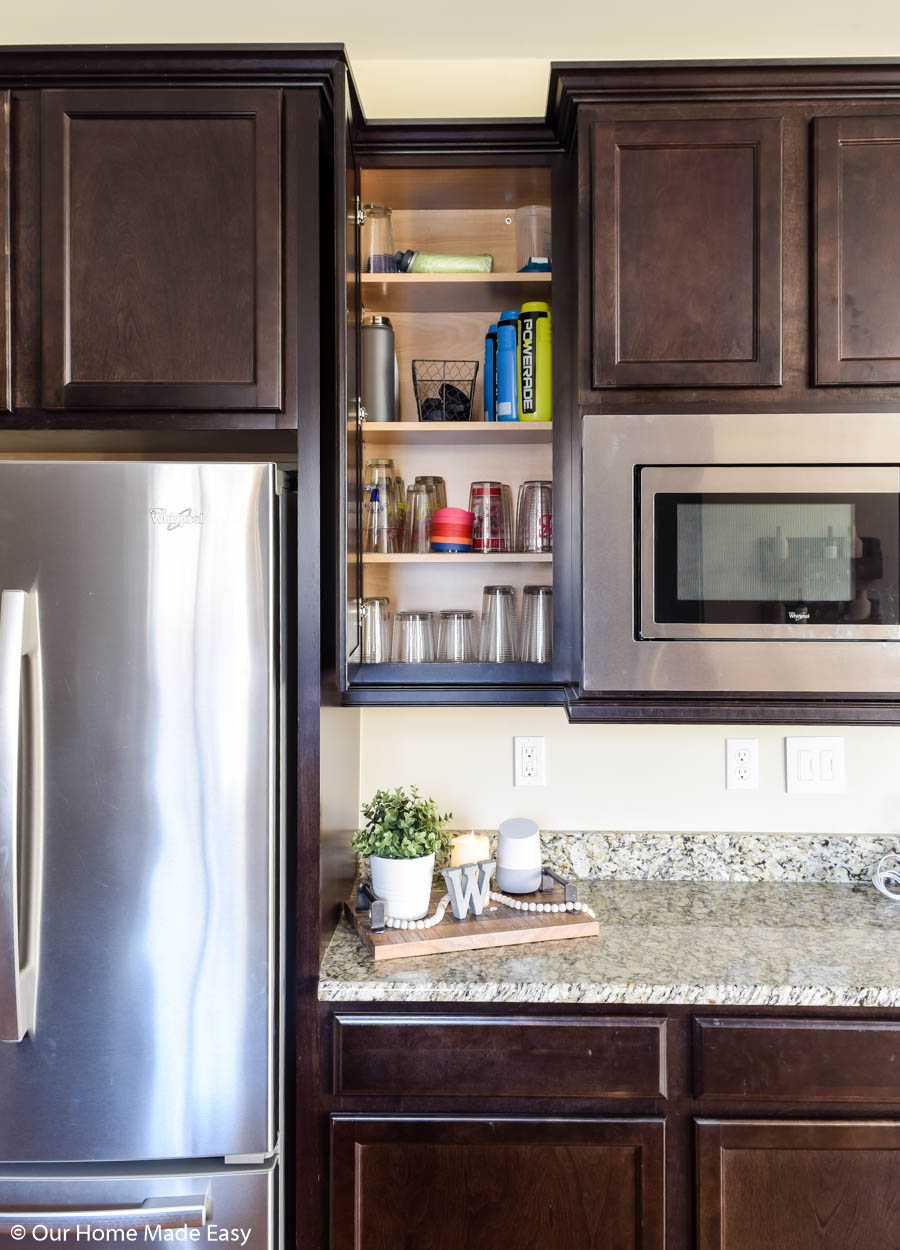 And don't forget to grab your copy of the Clear the Clutter Organization Calendar! It will walk you through each room of your home over the next month.
I am so excited to have you join us for the challenge!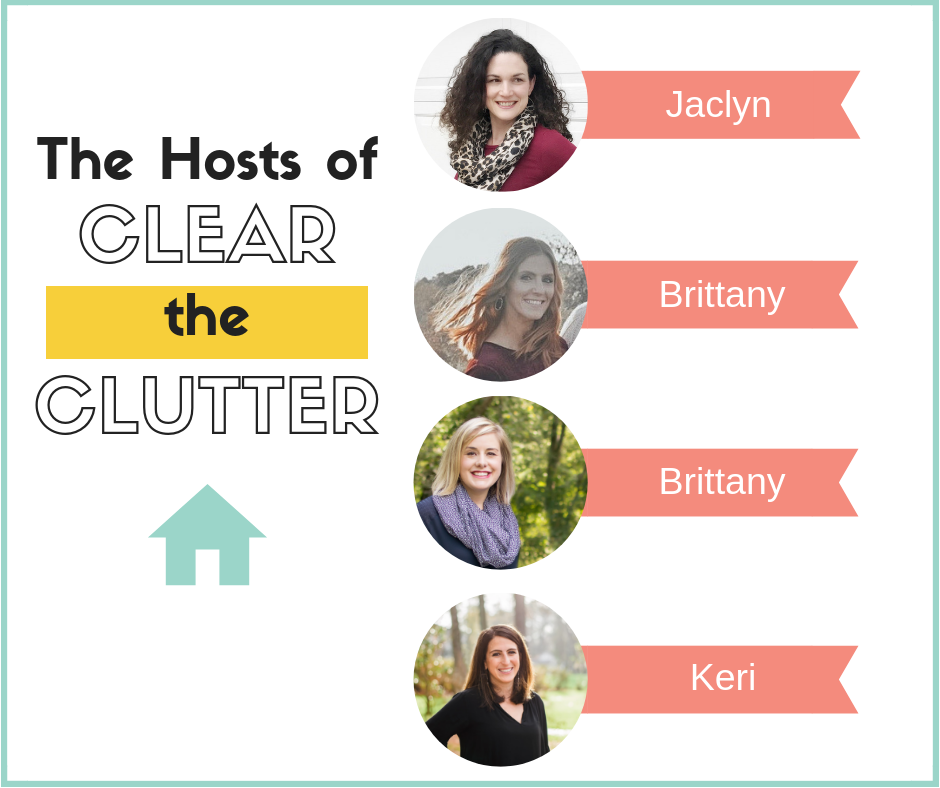 Meet the Hosts of the Clear the Clutter Challenge
Jaclyn lives just outside of Cleveland, Ohio. She is a mom of three + married to her college sweetheart. She blogs about family activities and traditions, home decor, and favorite finds at Coffee, Pancakes, and Dreams.
Brittany is the face of Dreams + Coffee, a lifestyle blog focused on family, fitness, healthy living and style. She has a passion for staying fit, eating healthy, pretending to know a thing or two about fashion, and most importantly, spending quality time with her husband and daughters. She is thrilled to be living out her passion for writing and editing through the blog as well as through her freelance writing career.
Brittany is passionate about helping everyday women create extraordinary homes the easy way! As a busy working mom, she understands that when possible, getting something done is better than making it perfect. She & her family live in Ann Arbor, Michigan in a home they built 5 years ago. Brittany writes at Our Home Made Easy where you'll find quick dinner recipes, easy DIY projects, and home decor inspiration that anyone can create!
Keri lives outside of Charleston, South Carolina with her husband and three kids. She is passionate about helping moms step out of survival mode and into a thriving life. She believes moms can thrive, even in the messy parts of motherhood. Keri shares helpful tips for your home life, family life, and personal life over at Keri Lynn Snyder.
PIN FOR LATER: