The Easiest Way To Clean Your Floors: Our Bissell CrossWave Review!
I'm sharing my secret for the easiest way to keep your hardwood and tile floors clean! The Bissell Crosswave is the quickest way to keep all floors clean when you are too busy to mop and vacuum!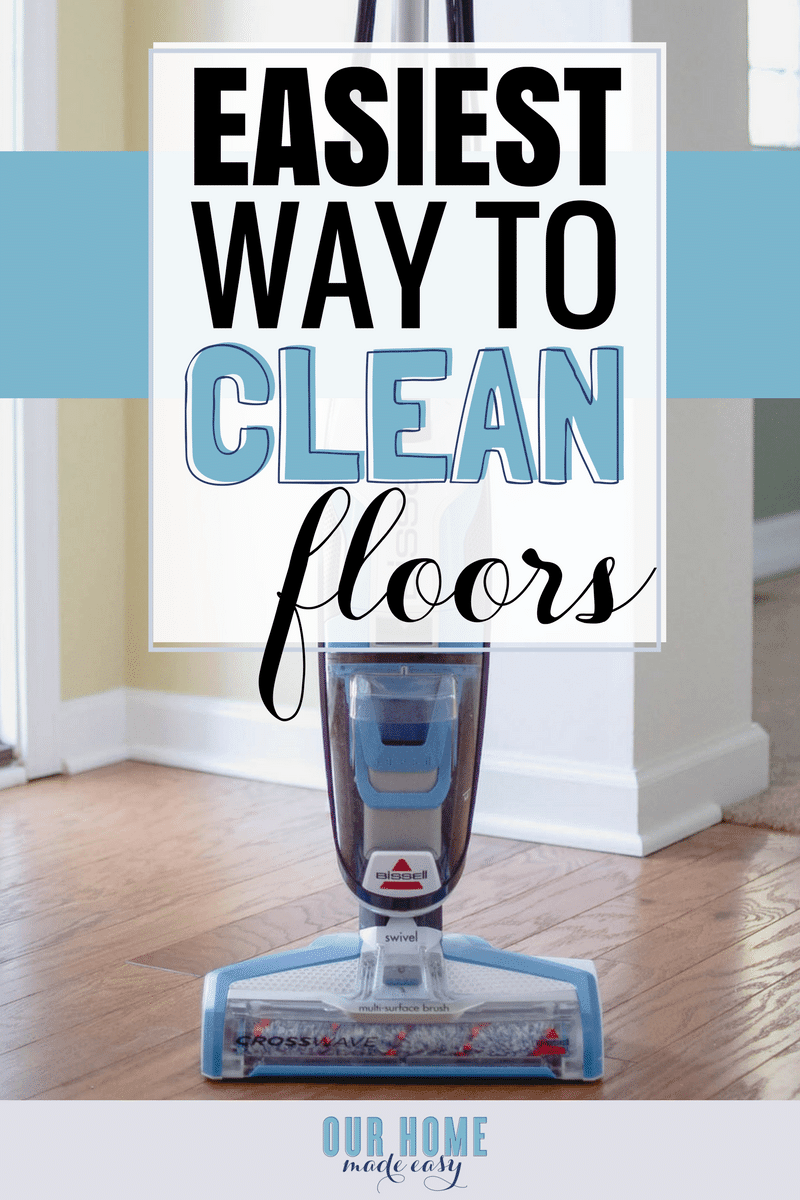 This post contains affiliate links. Please see my Disclaimer for more information.
It's time for another week of sharing probably more than you'd ever want to know about our home… I hate mopping so it doesn't happen often. Unless Jordan breaks out the blue bucket and finds a mop, we aren't doing much about the floors.
I'm shamefully embarrassed and ready to say "You guys, we are like really busy, how on Earth did our moms do this?"
We used to mop every month or two and when we had special occasions came up around the house. It was a true struggle to not only find the time to mop, then wait for all that water to dry. [It might have been more often when we had tots in the crawling stage…might have been? Those days are hazy 🙂 ]
While it seems like we broom sweep once or twice a day, we could never get it clean enough for mopping it well.
Inevitably, one of us would try to mop and the other would attempt to hold back curious little ones. Oh and then the mop water. I really didn't like that we had to constantly put our mop back into the dirty water just to clean another area of the floor.
And I was always confused with the best way to dispose of the dirty mop water. What were we supposed to do with it? Pour it down the drain of the kids' bathtub? I was always worried about the dirt & chemical residue left behind when it sloshed into the tub. I never felt like any amount of swishing hot water from the faucet cleaned up the drain.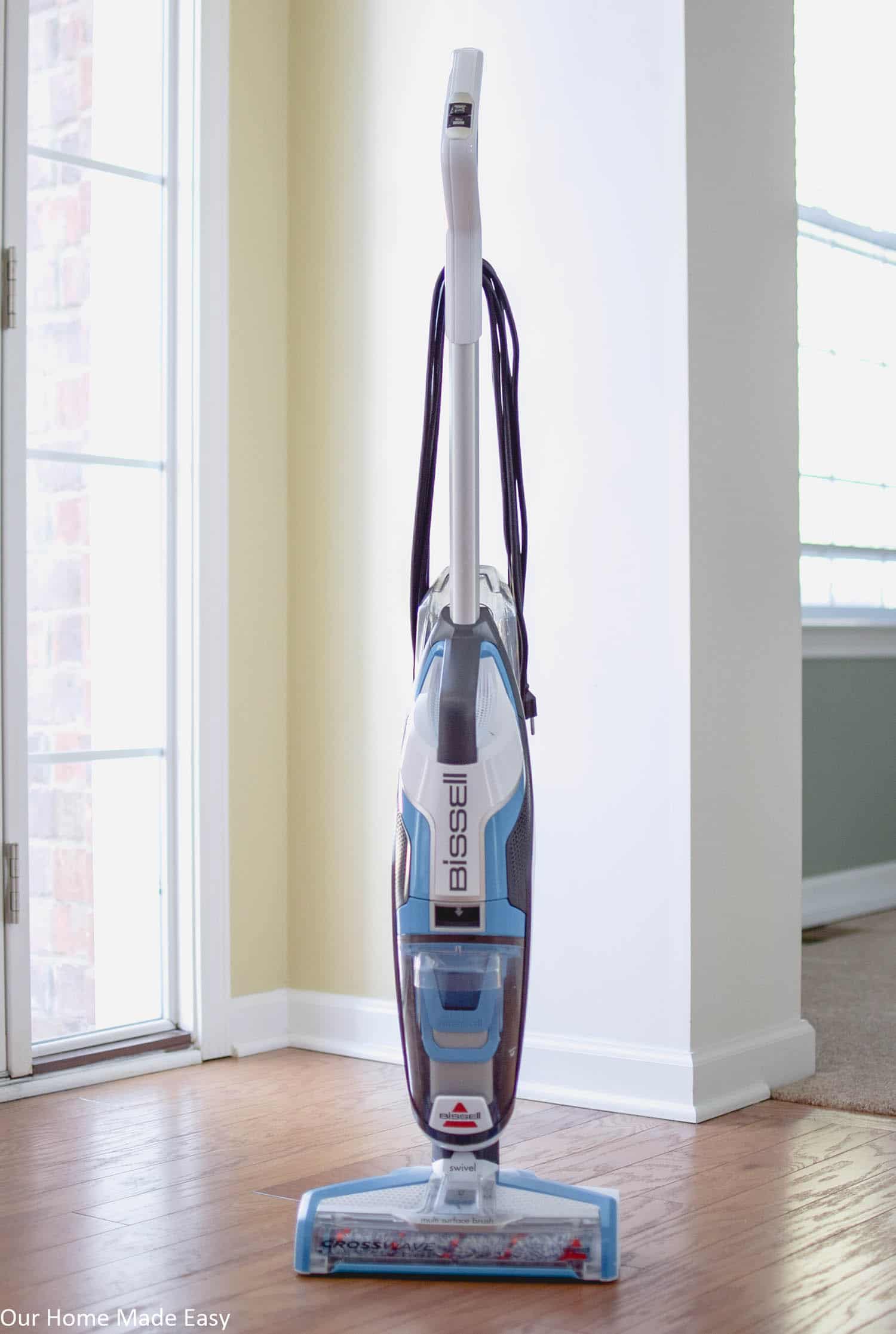 How to Clean Floors the Easy Way
Several months ago Jordan saw an ad for the Bissell CrossWave Floor & Carpet Cleaner. He loves cleaning more than I and he loves finding new gadgets. But we didn't buy it right away. We were both a bit hesitant about the price and we already had a cordless Dyson vacuum. How could it be different?
In case you are wondering, this post is definitely not sponsored by Bissell. They have absolutely no idea I exist, I'm just a major fan of this cleaner! And if it was a sponsored post, I'd share my real thoughts anyways. I'd never want to waste your time on something that didn't work well for all moms.
We watched a few videos on how the Bissell CrossWave worked and were intrigued. Did it really do everything the tutorial said it did? In case you haven't seen the video, they show the CrossWave vacuuming & mopping the floor in one sweep. Oh, and it sucks up the water so that the newly mopped floor is completely dry. Whoa.
So we decided to take the chance and order it. After all, we'd love to have cleaner floors with the convenience of a vacuum. That seems totally reasonable, right?
How did the Bissell CrossWave Work?
Ohmigosh. It's amazing! I tell everyone about it because not only does it work well, but it saves us so much time cleaning! Instead of sporadic mopping of our hardwoods & tile flooring, we consistently mop 2 times a week.
Now, Jordan (yep, still him! 😉) can run the CrossWave in the evenings after dinnertime and on Sunday afternoons after we've deep cleaned our kitchen countertops.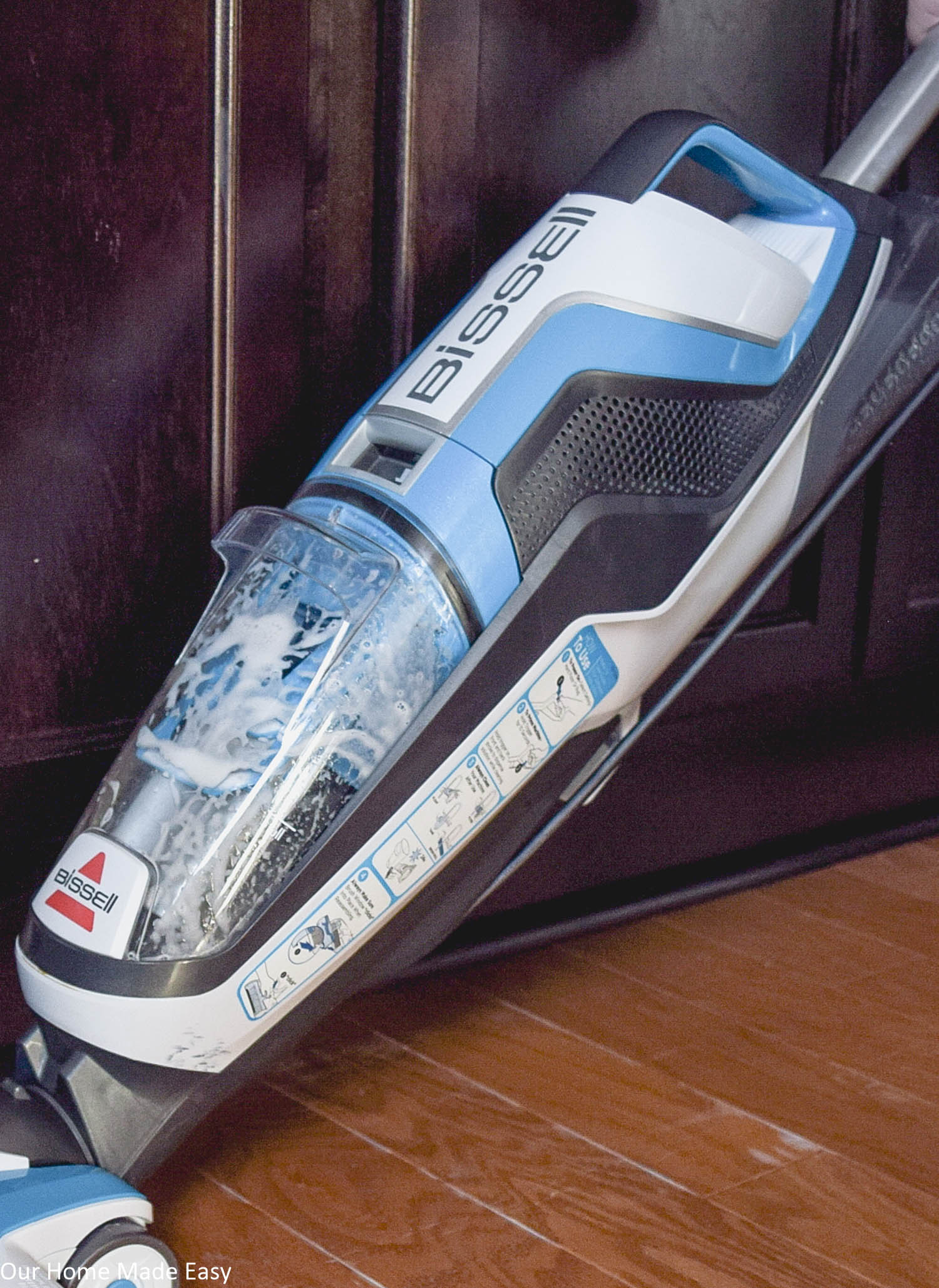 Does it Really Dry After Mopping?
So I tried to capture an "in-motion" picture, but the wet swipe dried up within a minute. Yes, it mops and sucks up the water with almost zero moisture left behind. That means I can tell the kids to go play and I don't have to worry about setting up a wall of chairs and pillows to keep them out of the kitchen or dining rooms.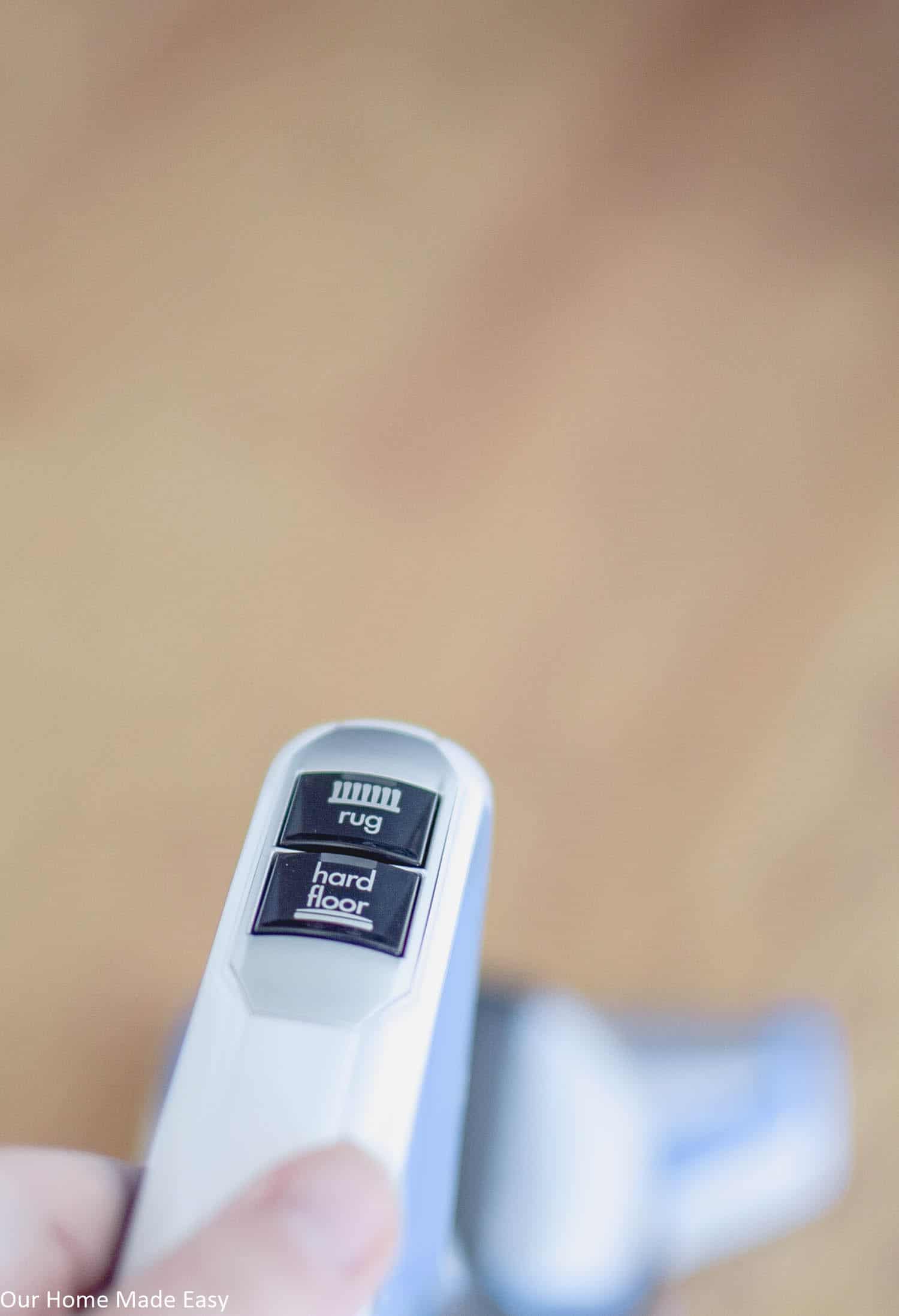 What is the Carpet Cleaning Like?
As for the advertised carpet cleaning function, it's really for area rugs. While we've purposefully avoided buying nice area rugs since our little ones are still so young & messy, we still try to keep them clean & in good condition. I don't really want to buy more cheap rugs, this mama wants something nice once we move past the throwing food on the floor stage!
We've used the area rug cleaning solution and the regular all-in-one solution on the area rugs. If Jordan is already vacuuming & mopping, it's super easy to move over to the carpet and clean them. All you have to do is click the button from 'hard floor' to 'rug.'
Bonus– the carpet cleaning solution smells really fresh. 🙂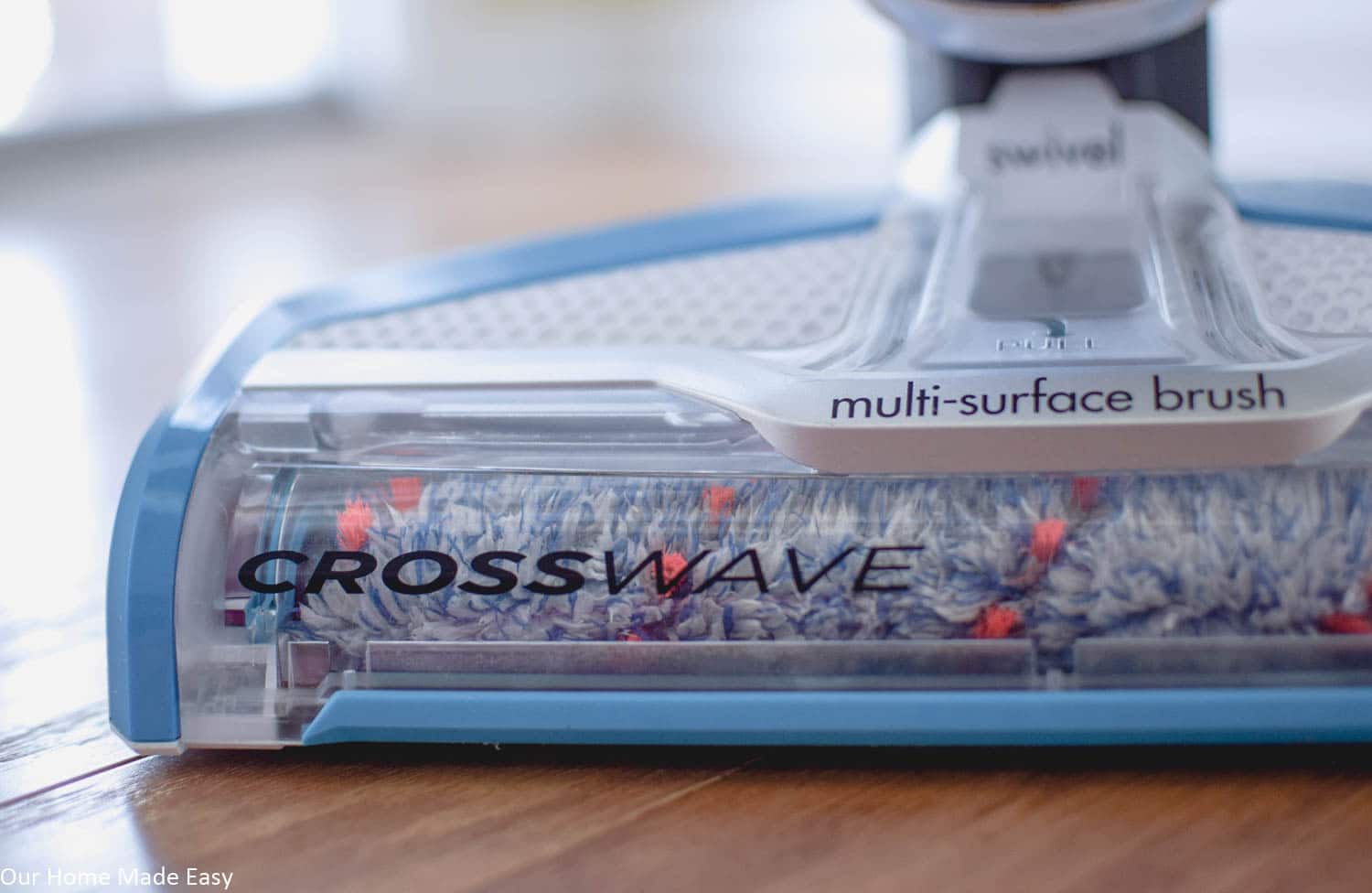 The Only Downside?
You have to clean the brush of the CrossWave under warm water when you've finished. It isn't hard, but it takes about 30 seconds to rinse it out and then you let it air dry overnight.
You'll also need to empty the dirty water reservoir and take a paper towel to wipe out the bristle brush holder, too.
If you don't love the 1-3 minutes of clean-up, I wouldn't recommend the CrossWave. However, if you are open to rinsing a bristle brush and having mopped & dry floors, this is one of the best things ever for your home!
Another option to consider– if your home doesn't have a large amount of tile or hardwood flooring, you probably don't need another appliance. But if you do have 2-3 spaces of hard flooring, this is one of the easiest ways we've found to keep the floors looking good without much effort.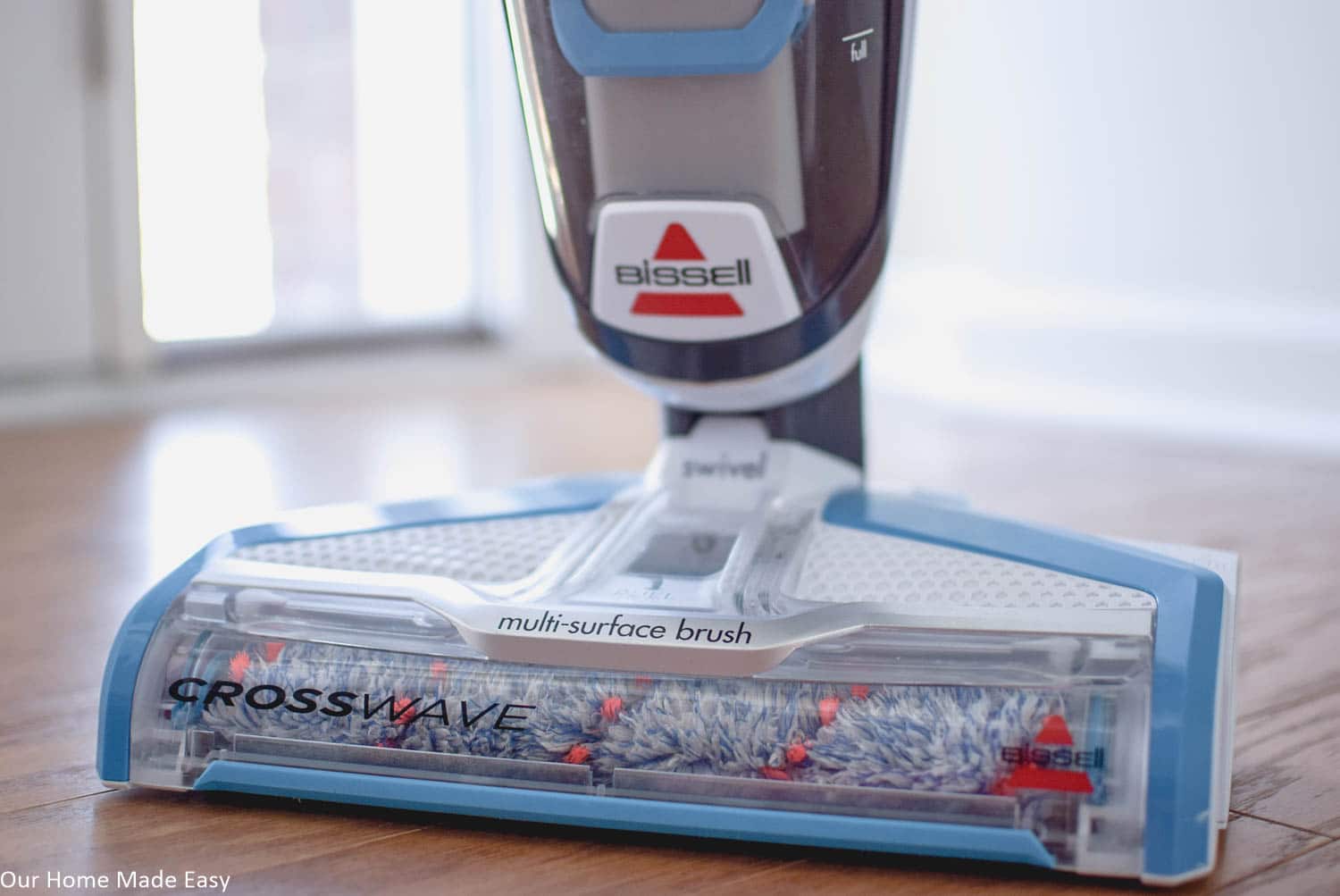 If you find yourself needing a quick & easy way to clean your floors, I'd highly recommend the Bissell CrossWave. Even though the price tag is higher than we expected to pay, the convenience factor and always having clean floors has truly paid off. While I'm not a spokesperson for Bissell, you always know that when I find something that makes life way easier, I'll happily share it with you!
Want to Remember this for later? Pin it!