DIY small bedroom closet organization for a small budget! Makeover your closet in just one day save money compared to professional closet companies.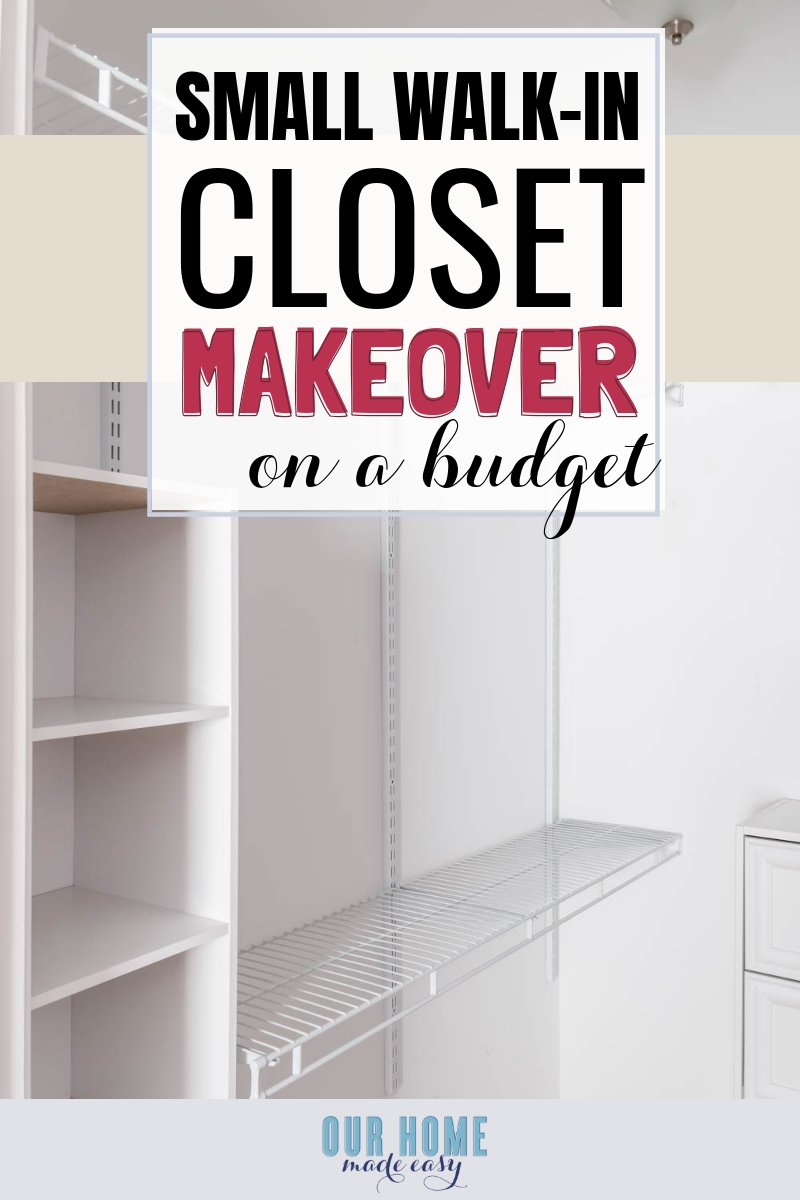 (This post contains affiliate links. Please see my Disclaimer for more information)
Today starts Week #4 of 'Clear the Clutter,' a 5 Week Organization Challenge with a few other awesome bloggers! Over the next week, we will be organizing our homes with you! Last week we organized my jewelry and included several DIY jewelry organizers for anyone who needs an easy way to start organizing. The week before, we organized our mudroom.
Make sure to check out my co-hosts tips as well!
How to Organize Toys Inexpensively
Shared Kid's Room Organization Tips
Organize your entire home with the free Organization Challenge calendar! Grab it at the bottom of this post!
When we built our home over five years ago, we initially planned for Aubrey's room to be the guest room since it was furthest from our room. She was only 3.5 months old when signed papers to build.
But closer to the move-in date, we I, decided that she should be in her now room since it had a walk-in closet and could help store all her baby things.
And that seemed like a great plan until you actually looked into the closet. It's 4′ wide, by 6′ deep, with a door that opens into it.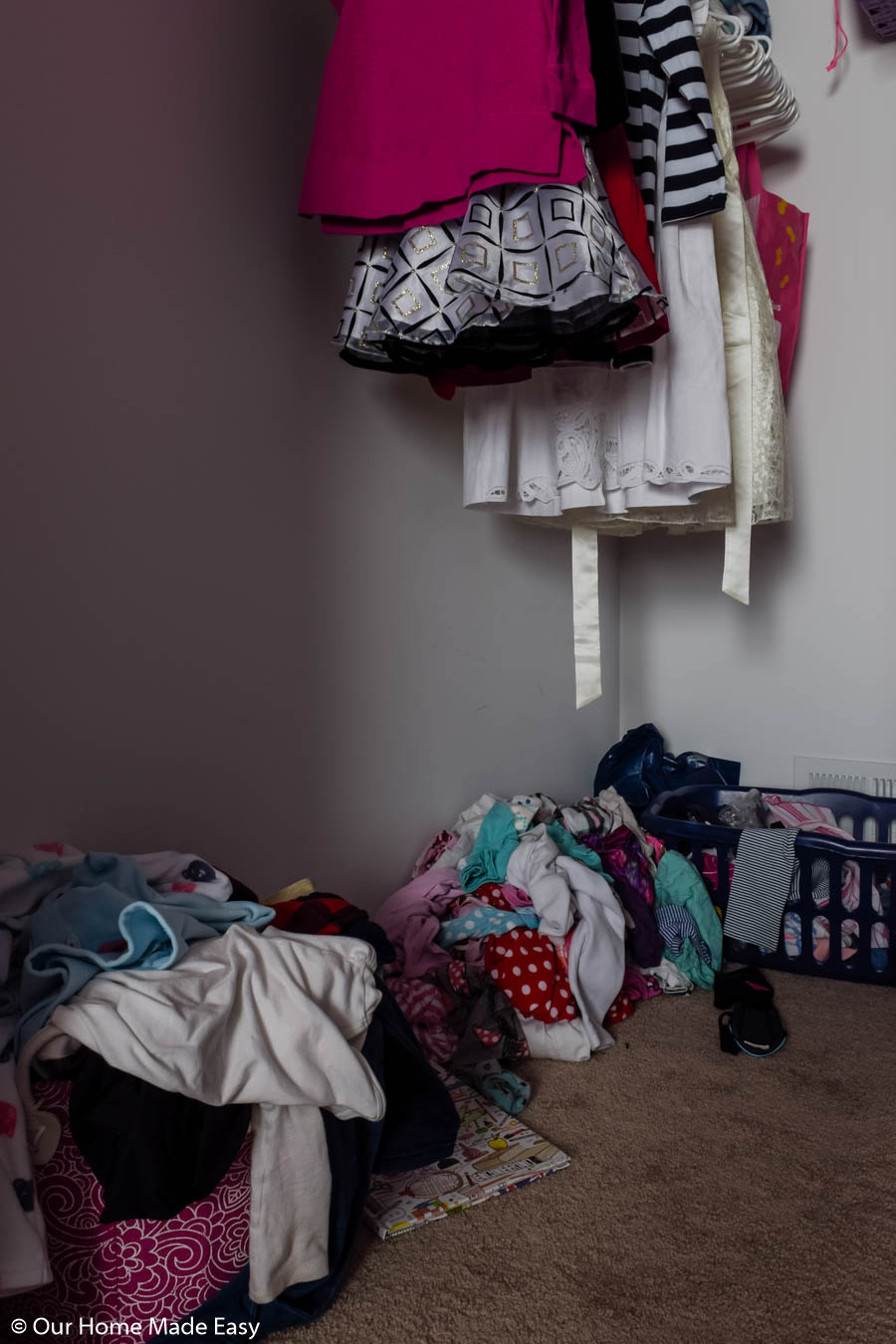 It's almost completely unusable space with that door. When you look into the closet, you cannot have anything that sticks out further than 12 inches from the wall, for the first 22 inches of the closet.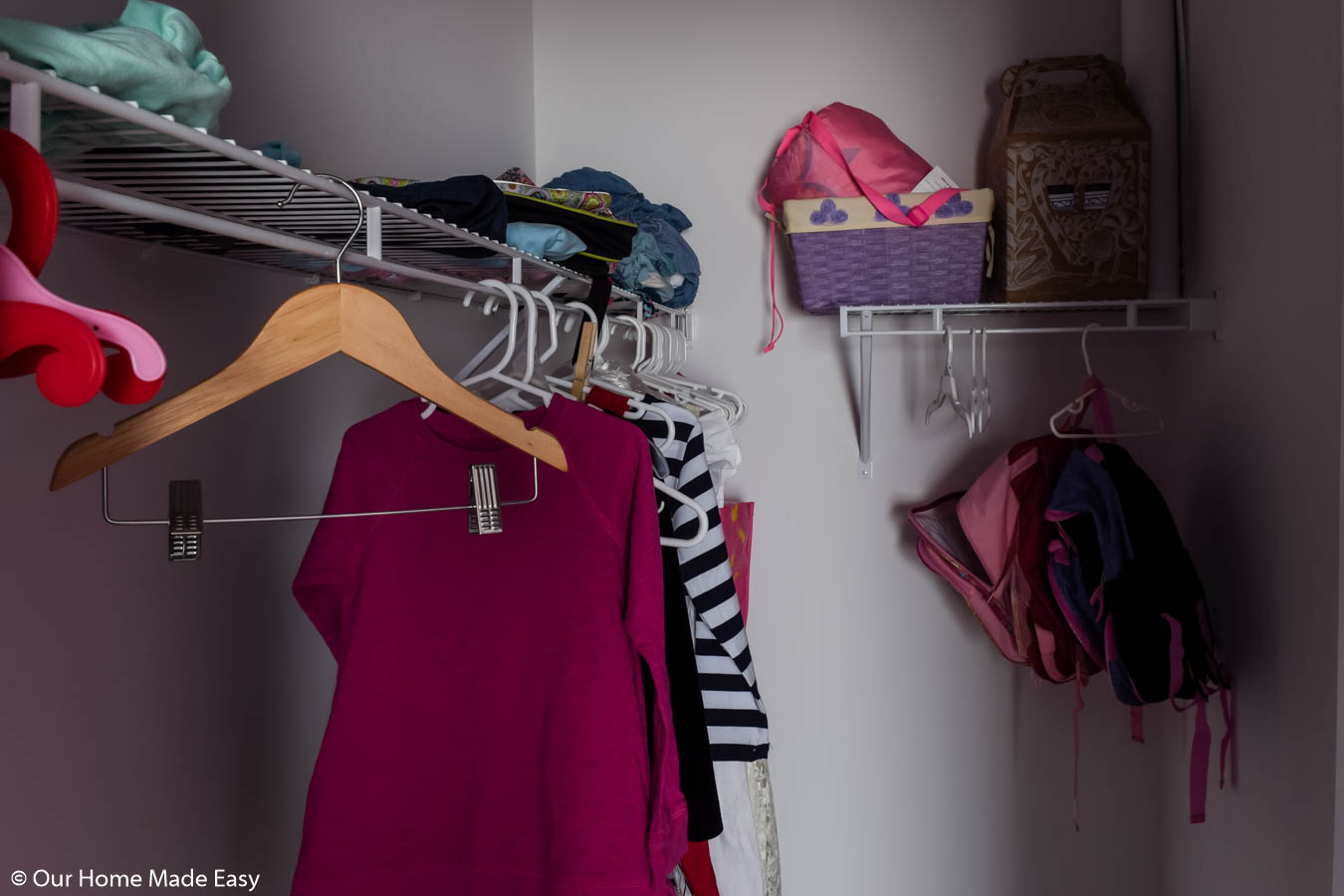 In case you were wondering, the standard hanger, shoulder to shoulder, is 22 inches wide.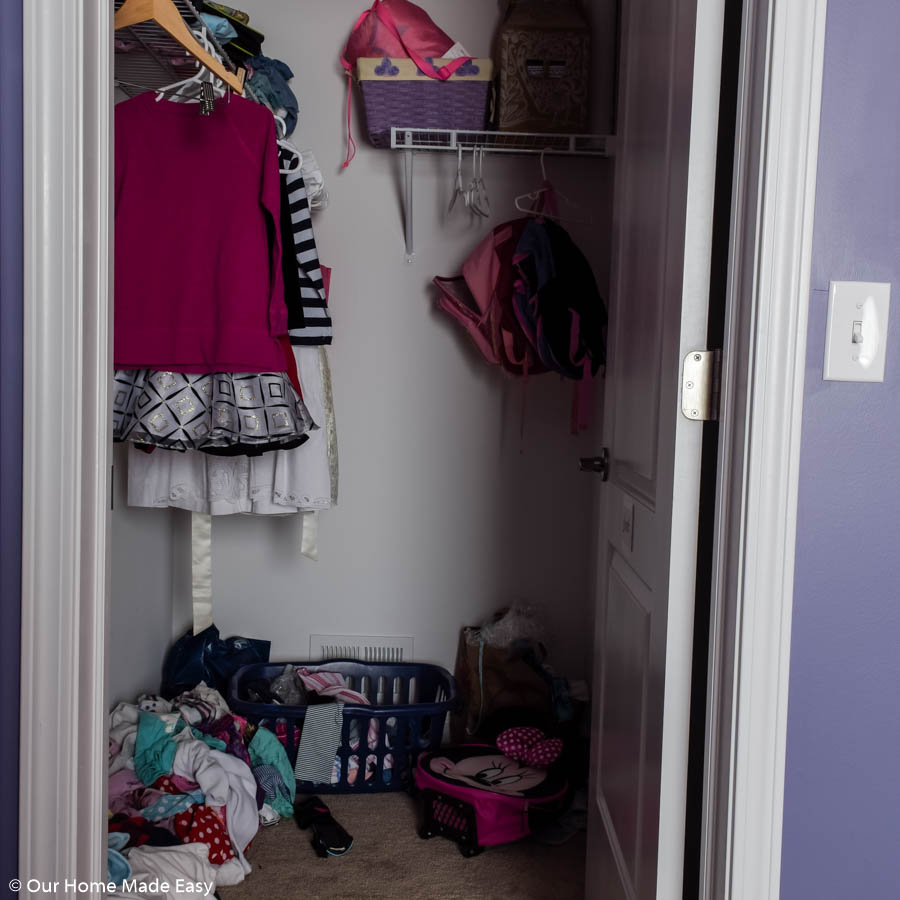 DIY Small Bedroom Closet Organization
Over the past five years, we've kept Aubrey's hamper, outgrown clothes, and clothes-to-be-worn in the closet. That's it. All of her clothes that she regularly wears belong in a dresser in her room. It's been kind of a 'close it and forget about it' situation.
Until this week.
We really wanted to get her large dresser out of her room to give her more play space and FINALLY make that closet somewhat functional.
Week # 4 seemed like the perfect time to take on the project!
Initially, we went to The Container Store to help us design the closet. Since it's so awkward, TCS had just one option and we didn't love it. Or the price tag, but that's okay.
The Container Store has awesome products, but we didn't think spending so much on a 5-year-old's closet was the BEST use of DIY funds. And something that the store's design didn't offer? We wanted Aubrey to have a lower set hanging to help encourage her to hang up her clothes and keep them organized. They were planning the lower space for something else entirely.
So we went back to the drawing board, and thought "What if we did this ourselves, what would it look like?"
And "How much would it cost?"
So we did.
Here is the finished closet!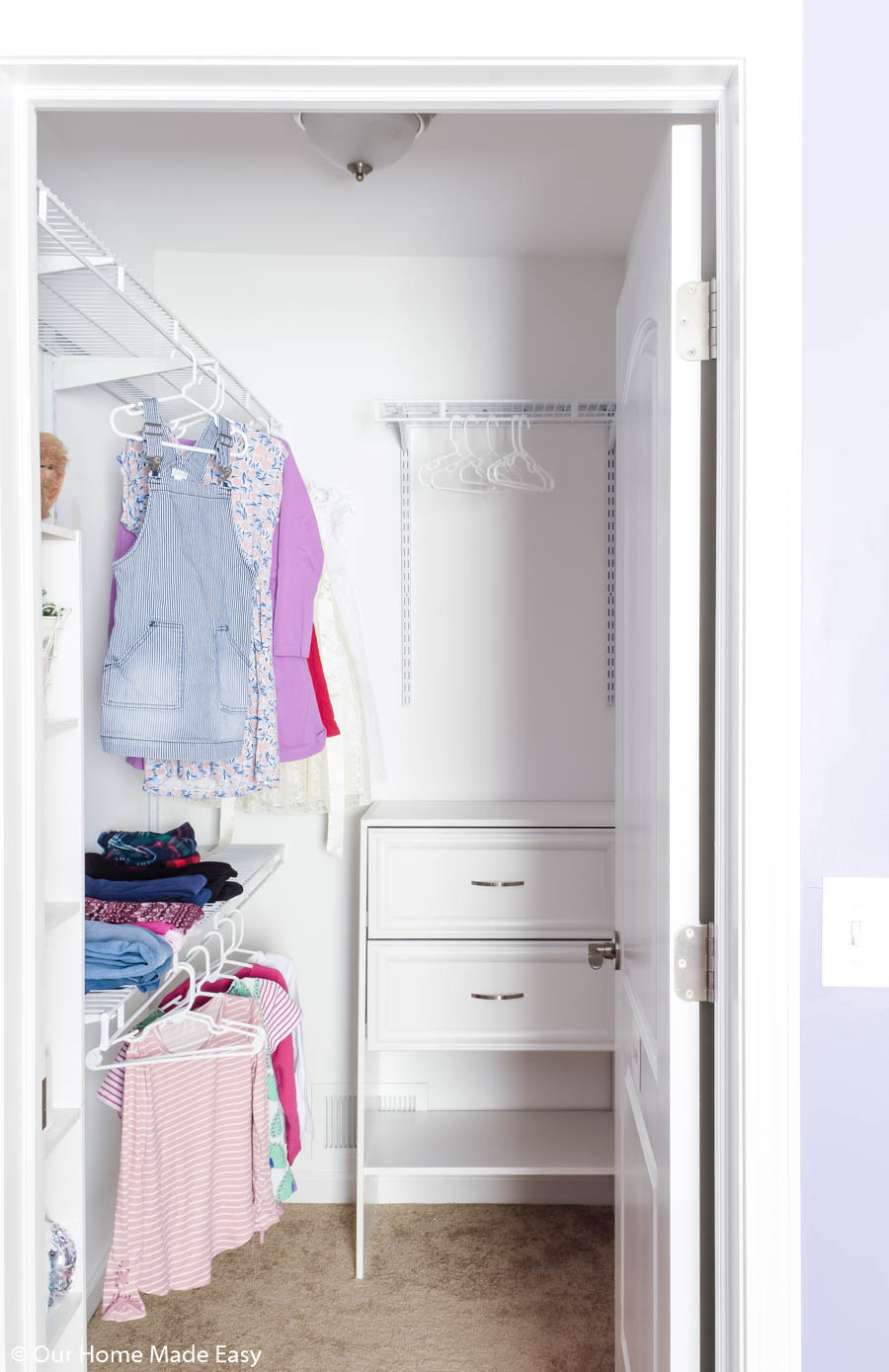 We were able to turn every single inch of the room into some form of usable space. I really want to move-in. 🙂
First, Jordan removed the existing shelving and hardware. Then he patched the holes and sanded them down.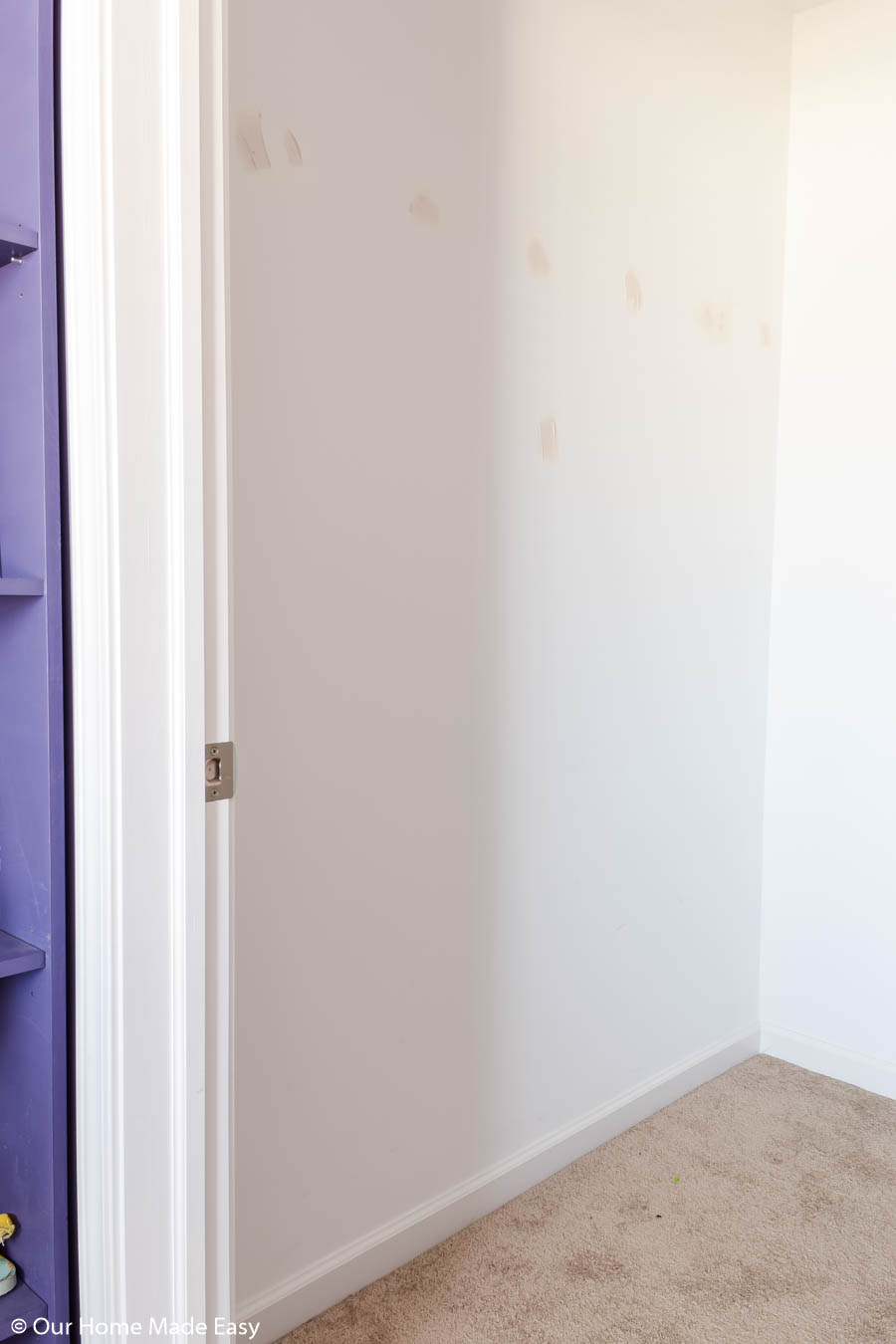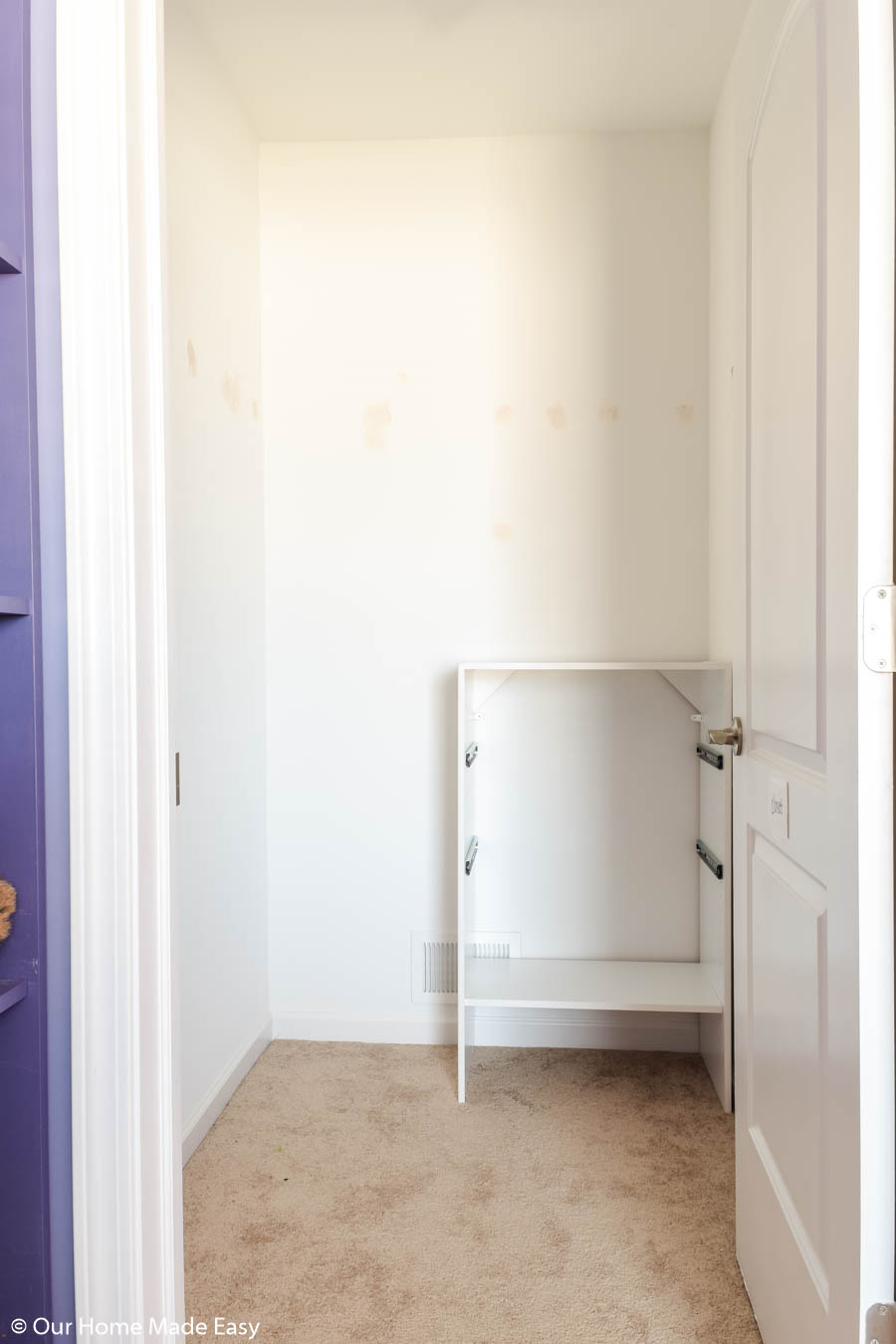 Now, Aubrey doesn't need to have the dresser outside in her room since the drawers store everything that cannot be hung or placed on the wire shelving. Jordan built this unit and then added 2 drawers. It was about 50% of the cost of the entire project, but totally worth it.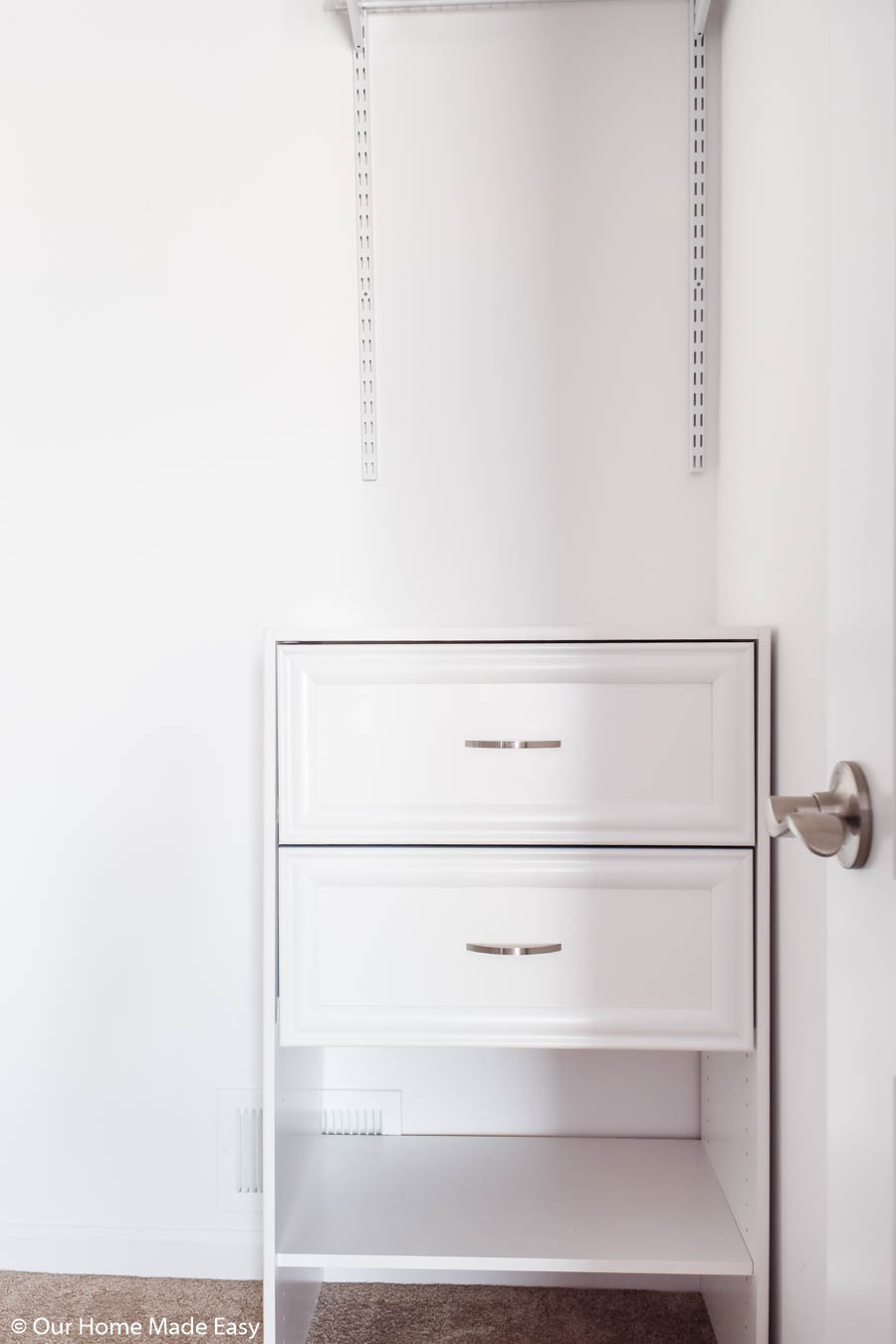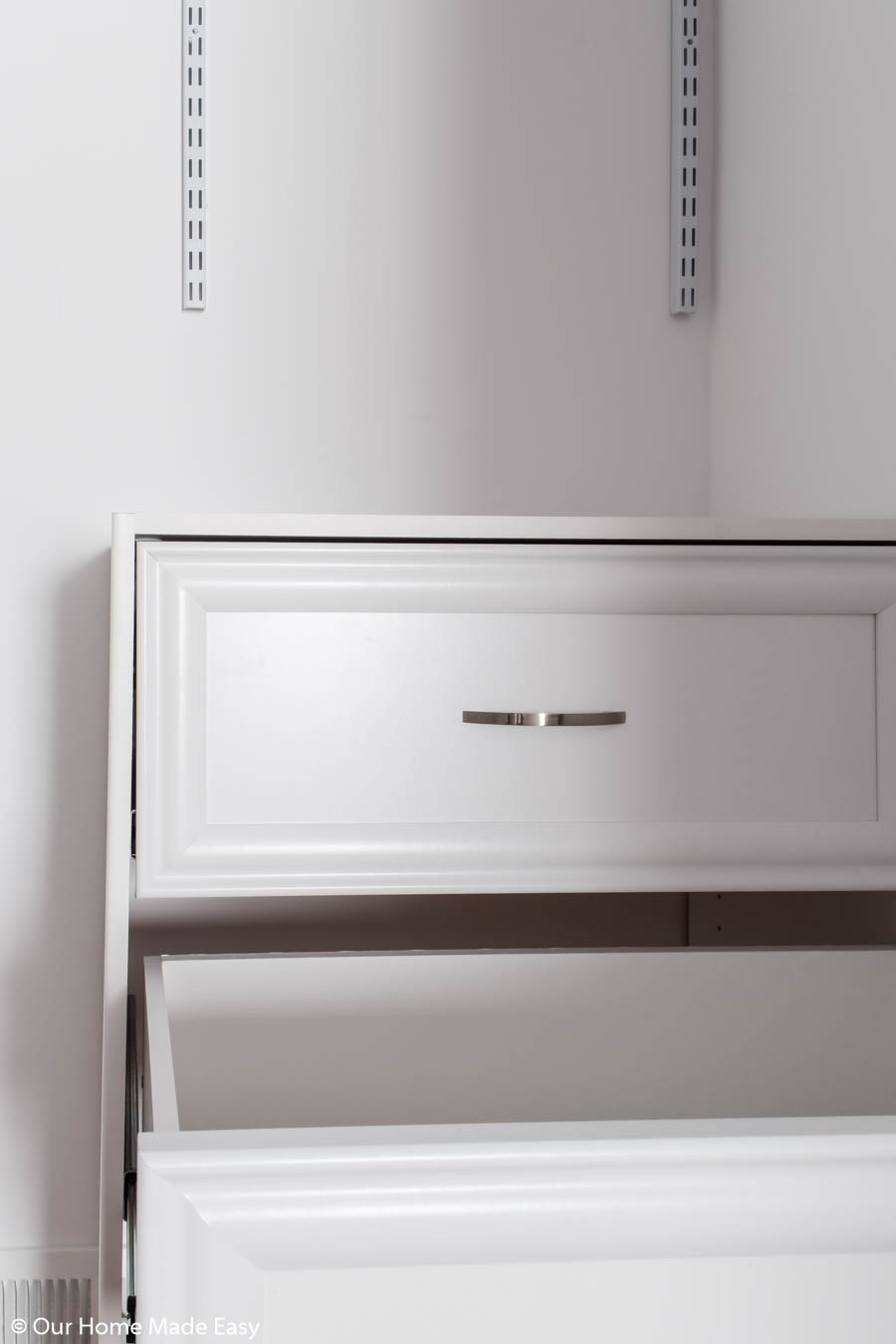 We chose adjustable wire racking to give us (and future grown-up Aubrey) some flexibility to how to arrange the shelving. Since we did choose the adjustable racking, we were able to reuse the wire shelving already installed in the closet!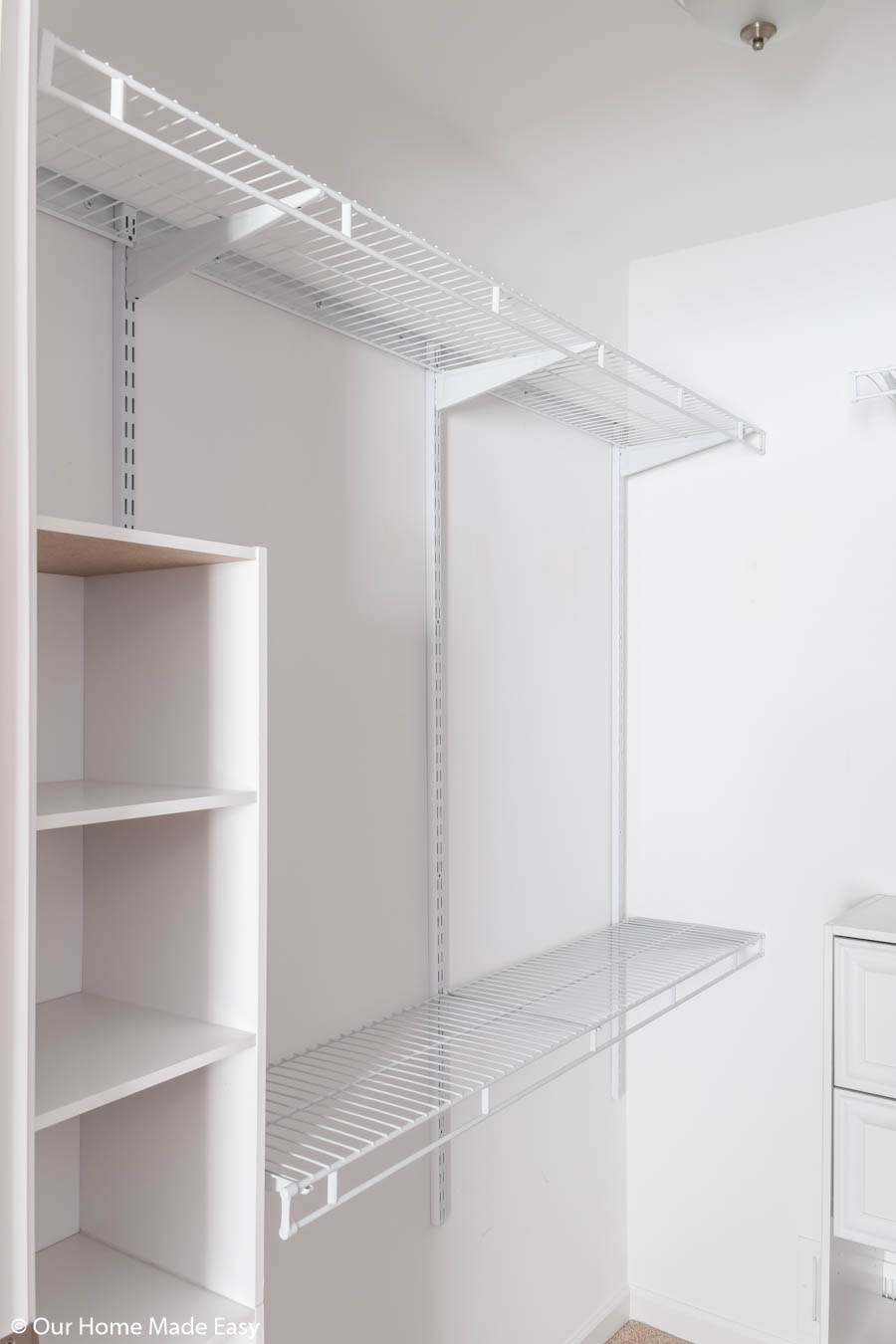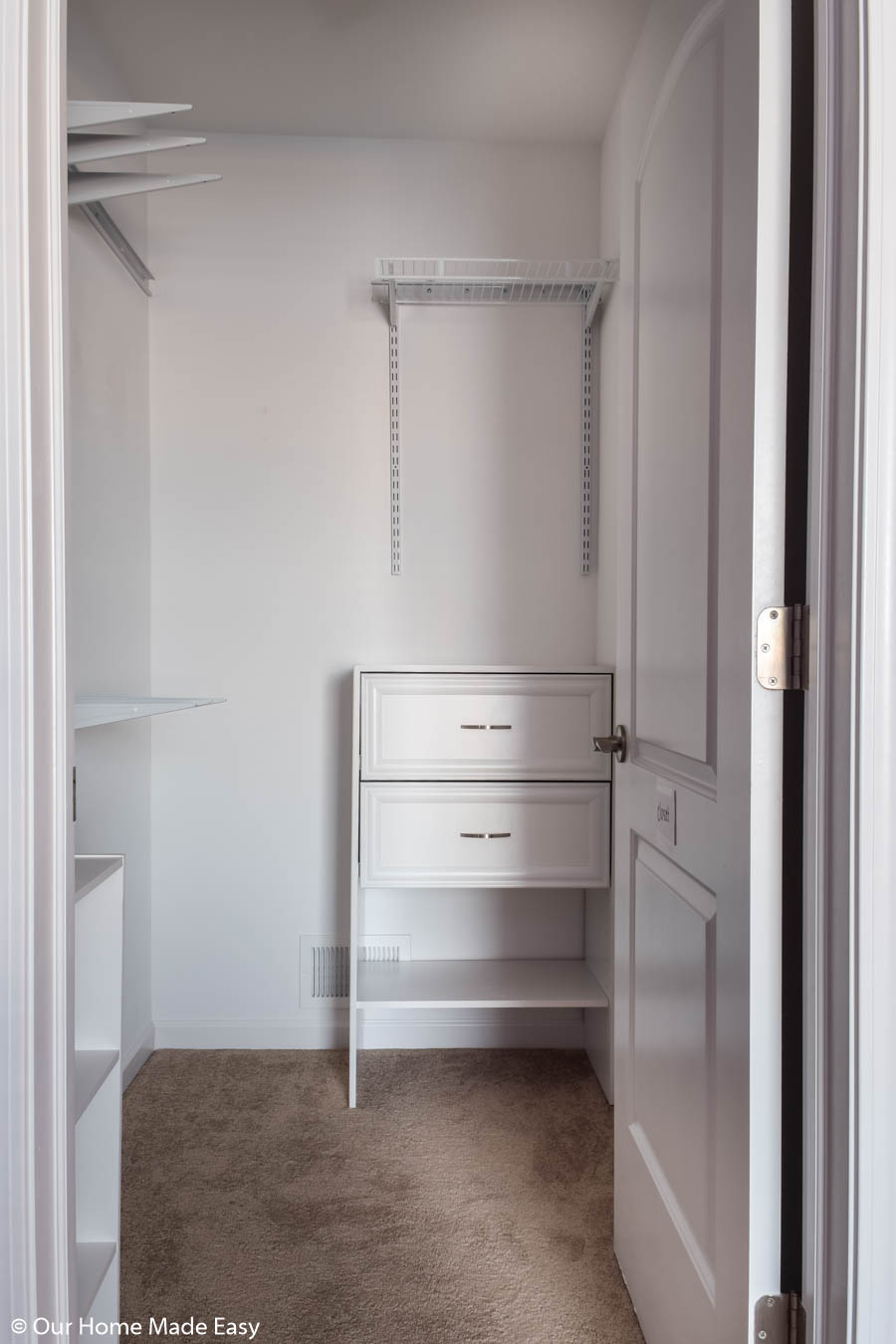 That top piece and short side piece? Reused! Not only did we save some money, but it's also exactly what we would've needed and was already cut for the hanging space.
To make the space useful at the front of the closet, we installed stackable shelving cubes that are perfect for small jewelry boxes and trinkets. [We stacked 2 of these units and attached them to the closet system]
And it helps keep all hangers from colliding with the door. Now we know that anything hung after that section will work. We are hoping it keeps everyone a little less frustrated.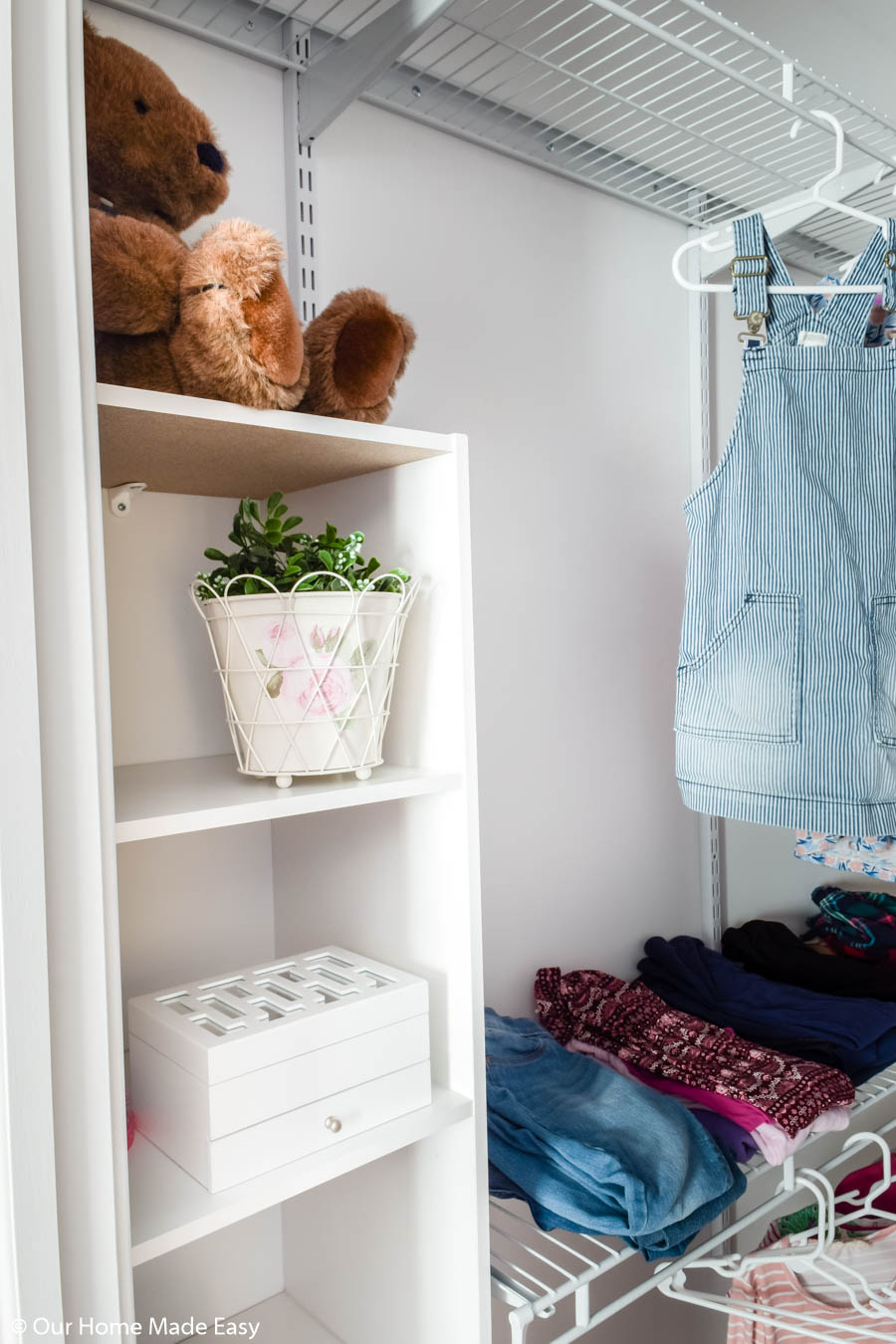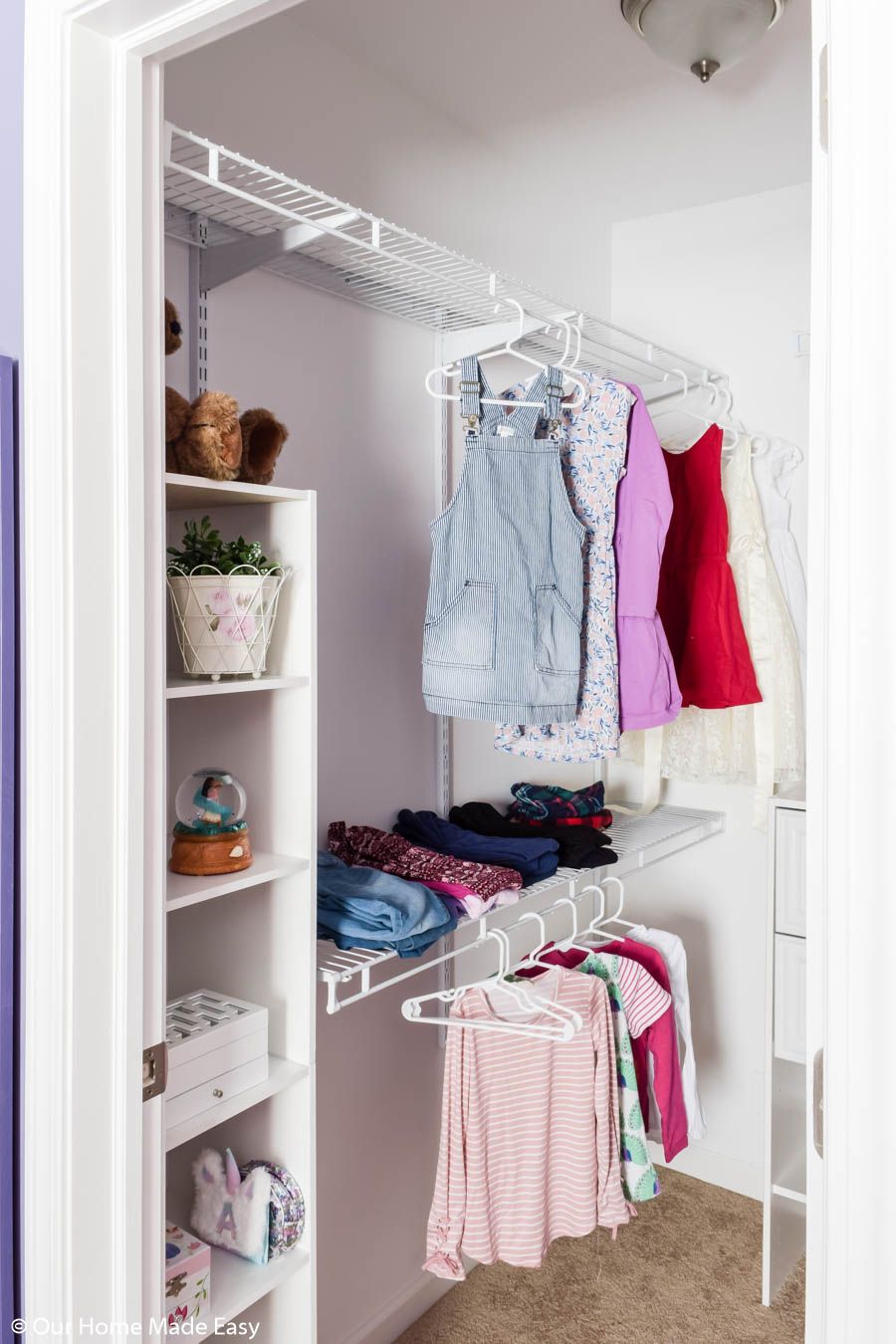 Jordan used the ClosetMaid brand for the inside of the closet. We discovered that we could DIY it on our own terms, for a much more reasonable price than what The Container Store initially offered us.
Don't get me wrong, I would LOVE a professionally designed closet plan for our master closet. #FutureGoals
The total cost of this DIY small bedroom closet makeover was just under $300.
And if you need a quick reminder…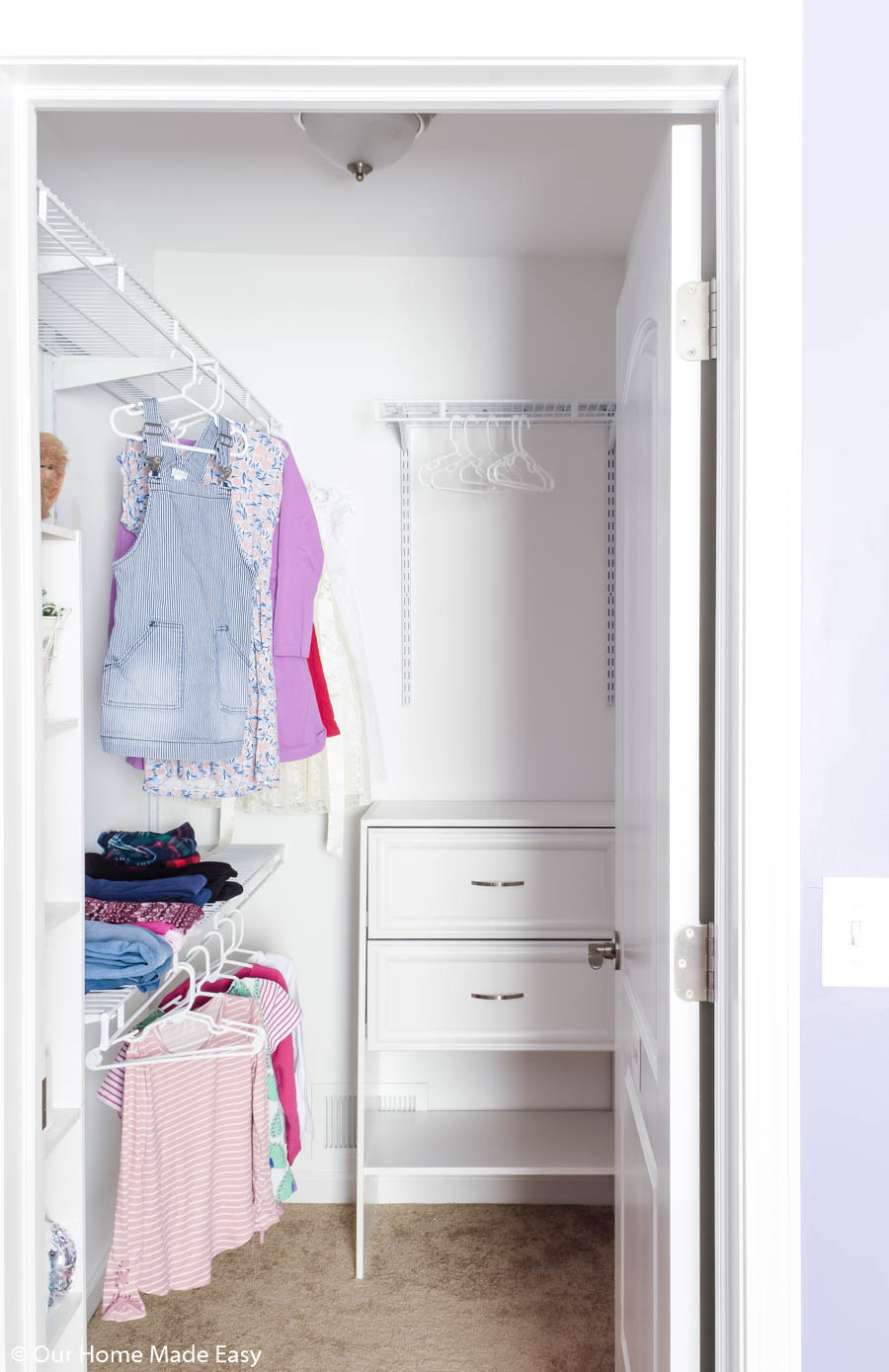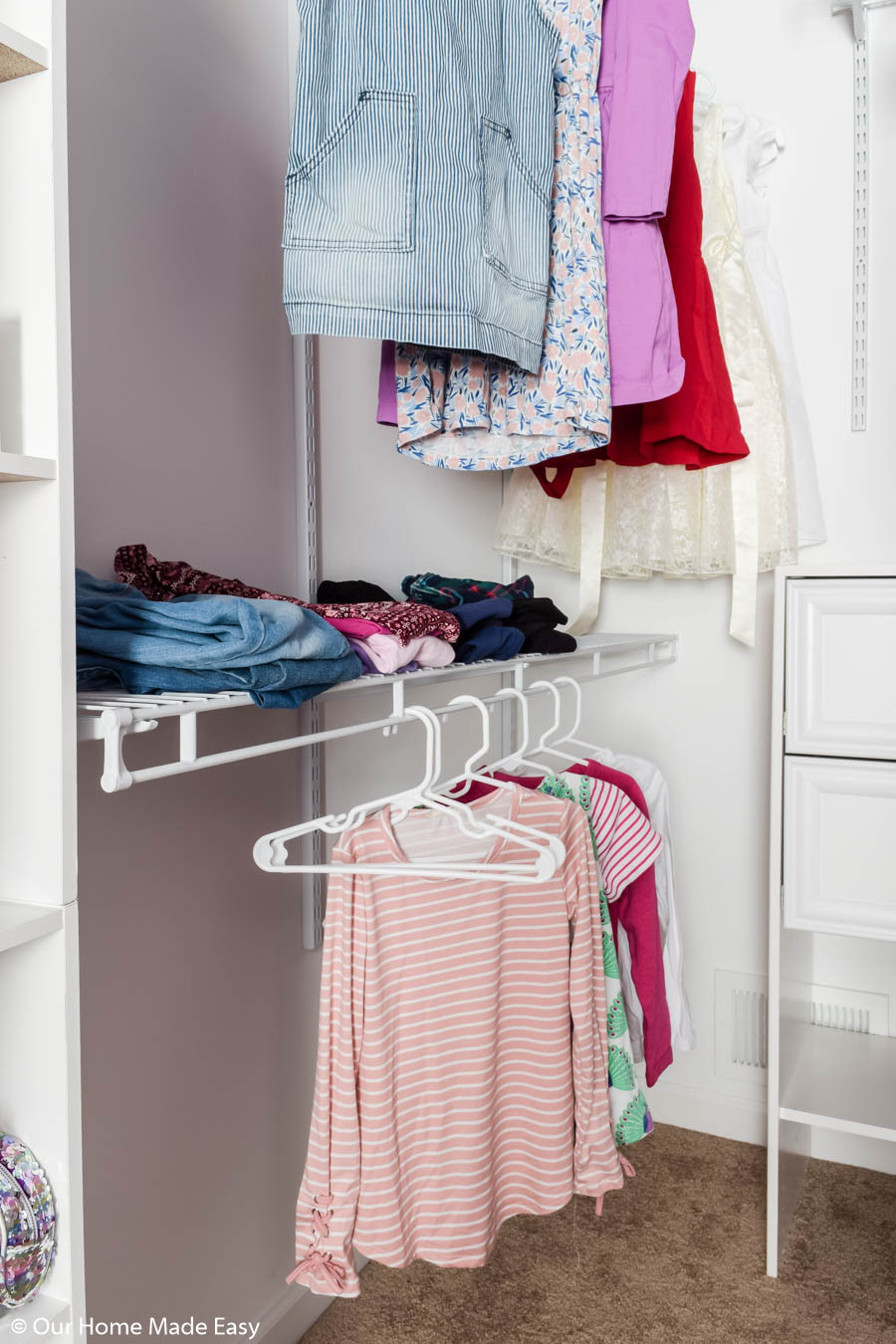 And that is week #4 of the challenge! Are you ready to declutter and organize your bedroom closets? Let me know in the comments below!
And don't forget to grab your copy of the Clear the Clutter Organization Calendar! It will walk you through each room of your home over the next month. Even if we officially finish the challenge, you can follow along anytime.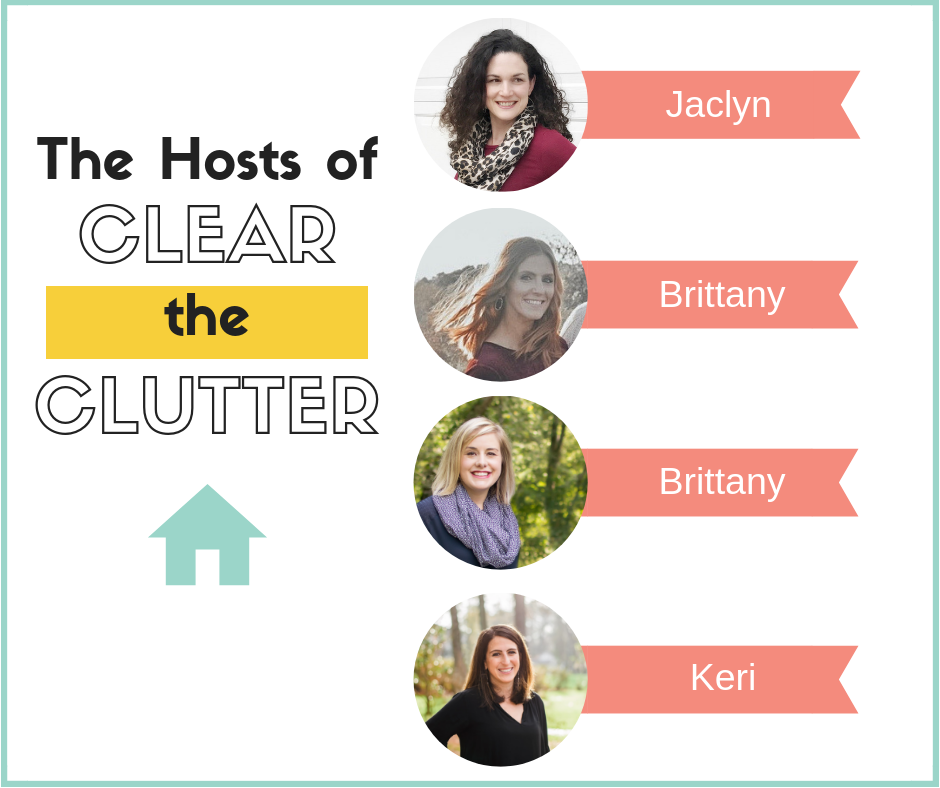 Meet the Hosts of the Clear the Clutter Challenge
Jaclyn lives just outside of Cleveland, Ohio. She is a mom of three + married to her college sweetheart. She blogs about family activities and traditions, home decor, and favorite finds at Coffee, Pancakes, and Dreams.
Brittany is the face of Dreams + Coffee, a lifestyle blog focused on family, fitness, healthy living and style. She has a passion for staying fit, eating healthy, pretending to know a thing or two about fashion, and most importantly, spending quality time with her husband and daughters. She is thrilled to be living out her passion for writing and editing through the blog as well as through her freelance writing career.
Brittany is passionate about helping everyday women create extraordinary homes the easy way! As a busy working mom, she understands that when possible, getting something done is better than making it perfect. She & her family live in Ann Arbor, Michigan in a home they built 5 years ago. Brittany writes at Our Home Made Easy where you'll find quick dinner recipes, easy DIY projects, and home decor inspiration that anyone can create!
Keri lives outside of Charleston, South Carolina with her husband and three kids. She is passionate about helping moms step out of survival mode and into a thriving life. She believes moms can thrive, even in the messy parts of motherhood. Keri shares helpful tips for your home life, family life, and personal life over at Keri Lynn Snyder.
PIN FOR LATER: