DIY Ideas on How to Organize Your Jewelry
DIY Ideas on How to Organize Your Jewelry for good! Declutter and organize your jewelry so that you can quickly find what you need in the mornings! Includes several DIY Jewelry organizers for you to make yourself.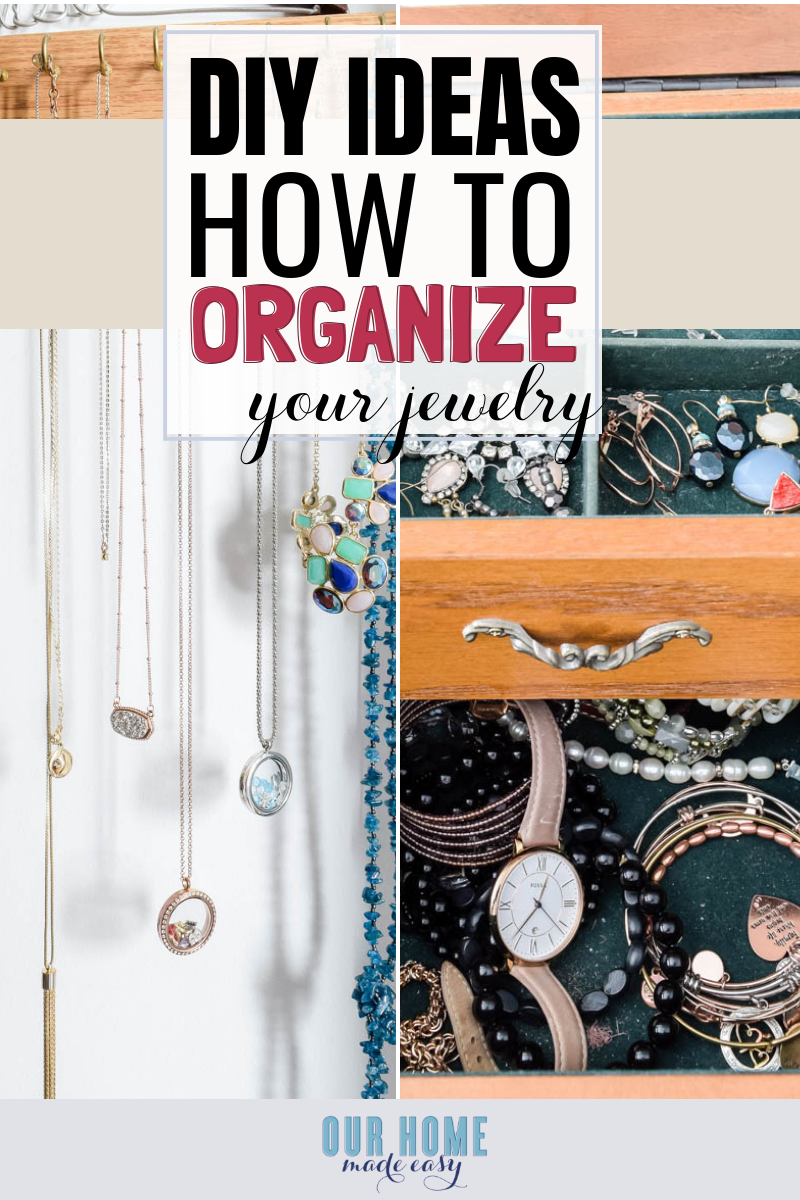 (This post contains affiliate links. Please see my Disclaimer for more information)
Today starts Week #3 of 'Clear the Clutter,' a 5 Week Organization Challenge with a few other awesome bloggers! Over the next 2 weeks, we will be organizing our homes with you! Last week we organized our mudroom and showed you how to organize any size mudroom in just a few steps for anyone who needs an easy way to start organizing.
Make sure to check out my co-hosts tips as well!
How to Declutter Your Clothes – Konmari Method
Decluttering Tips for the Master Suite
Organize your entire home with the free Organization Challenge calendar! Grab it at the bottom of this post!
Do you have a piece of furniture that somehow travels through life with you? Even if it's not something you'd ever think to keep?
For me, it's this jewelry organizer. From about 2002. My parents gifted one to each of my sisters and me for Christmas one year while we were still in high school.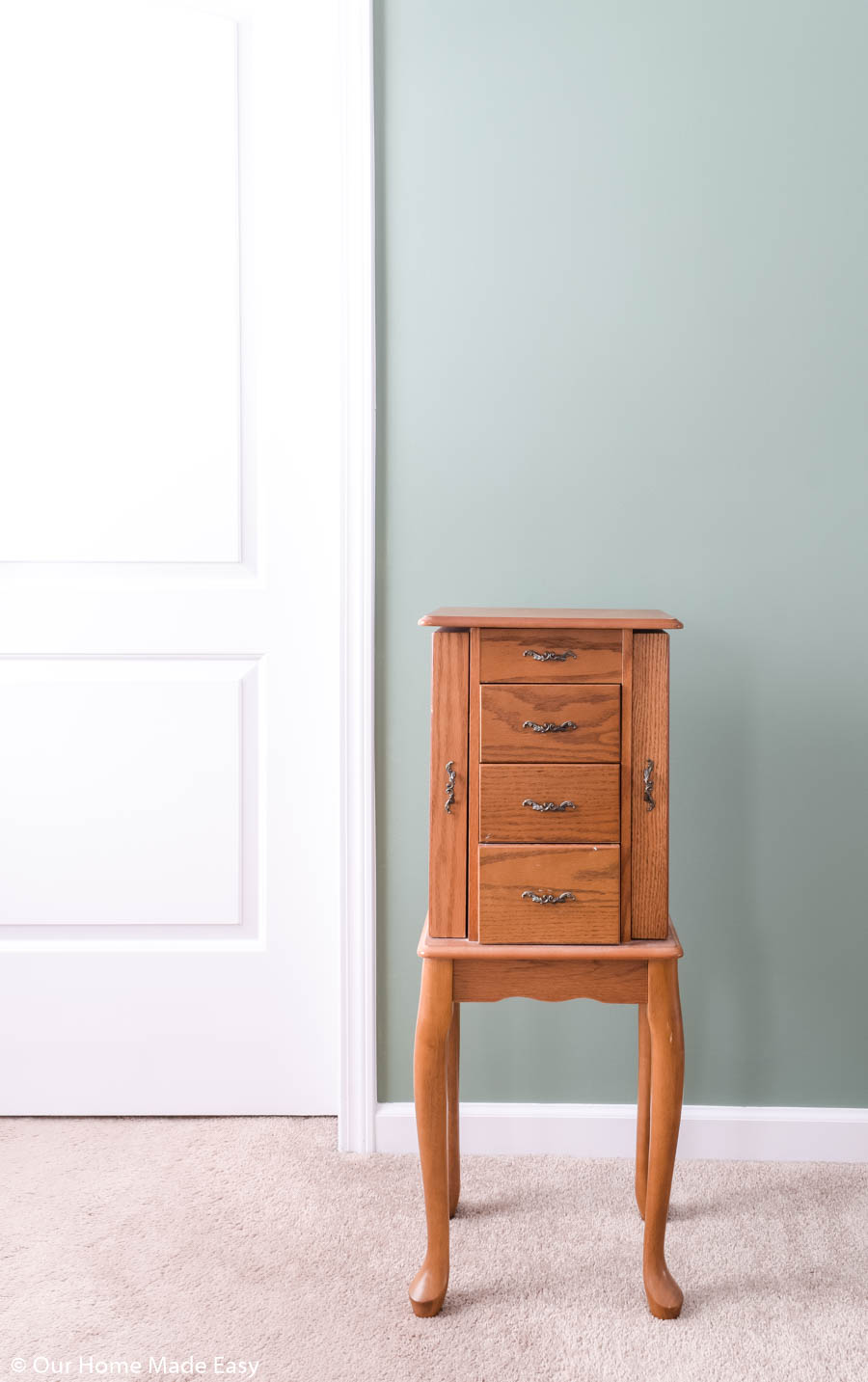 Perhaps they were trying to tell us something about how our bedrooms looked when we were 16? 😉
This oak jewelry organizer has survived numerous moves around the University of Toledo, a cross country move to Biloxi, Mississippi, then Daphne, Alabama, and now– it's in Ann Arbor.
And it's still pristine from the outside. Who knew?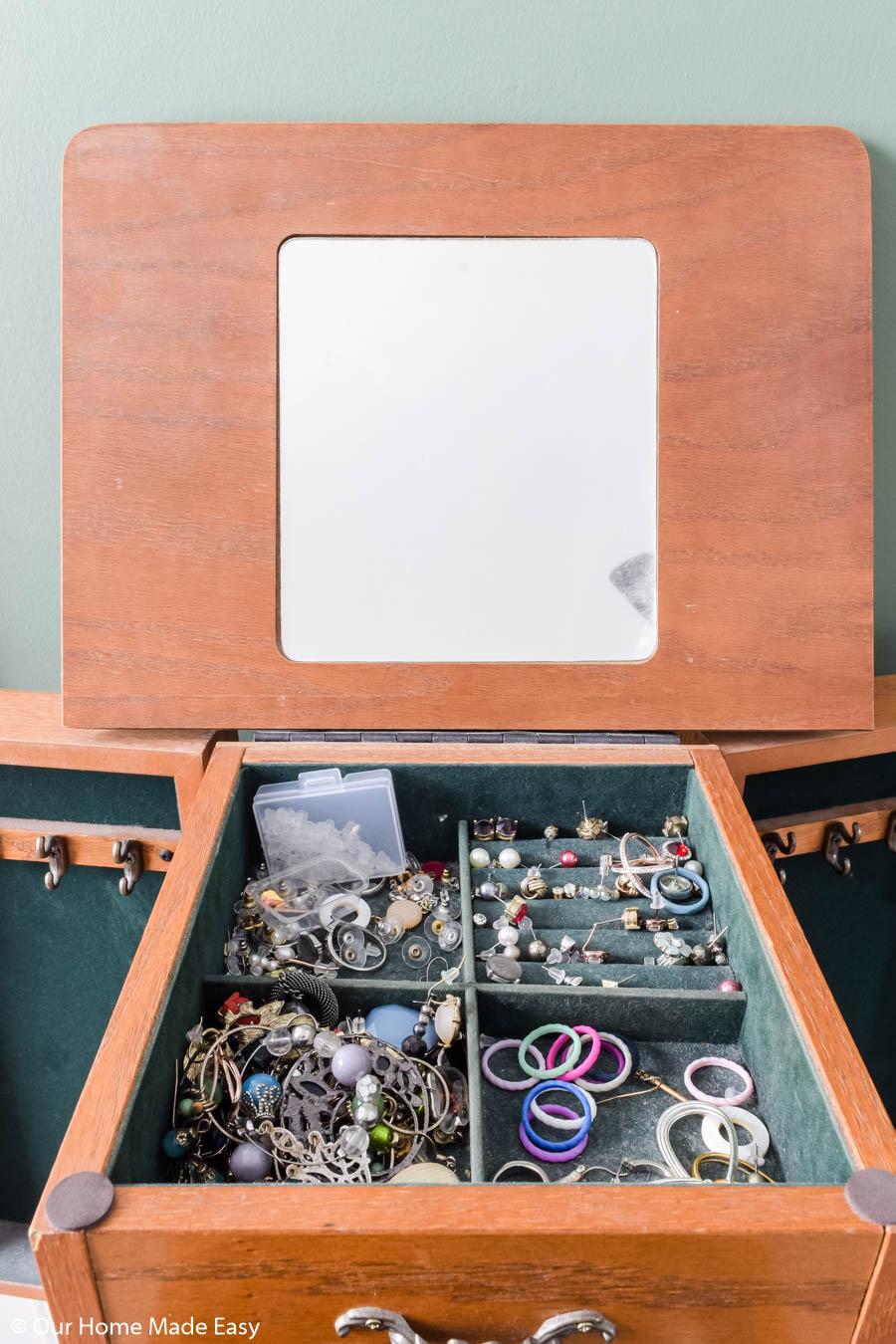 But the inside?
Well, it's a little messy. itty bitty. ?
I kinda sorta have categories for the earrings on top, but really, the world goes in, but nothing ever leaves. Hoops in one square, danglers in another, posts in the top right, and all the other stuff.
Don't worry, I'm not giving away the Wise family heirlooms over here. We have hundreds of thousands in student loan debt. The fanciest jewelry you'll see is the occasional Alex & Ani bracelet gifted over the years. 🙂
Since this week of the challenge is devoted to our bedrooms, I couldn't help but think of this poor organizer and how nothing ever gets taken out of it. Really– when we relocated to Ann Arbor, I had the moving company tape it closed, contents and all!
Also needing some decluttering love? My collection of necklaces.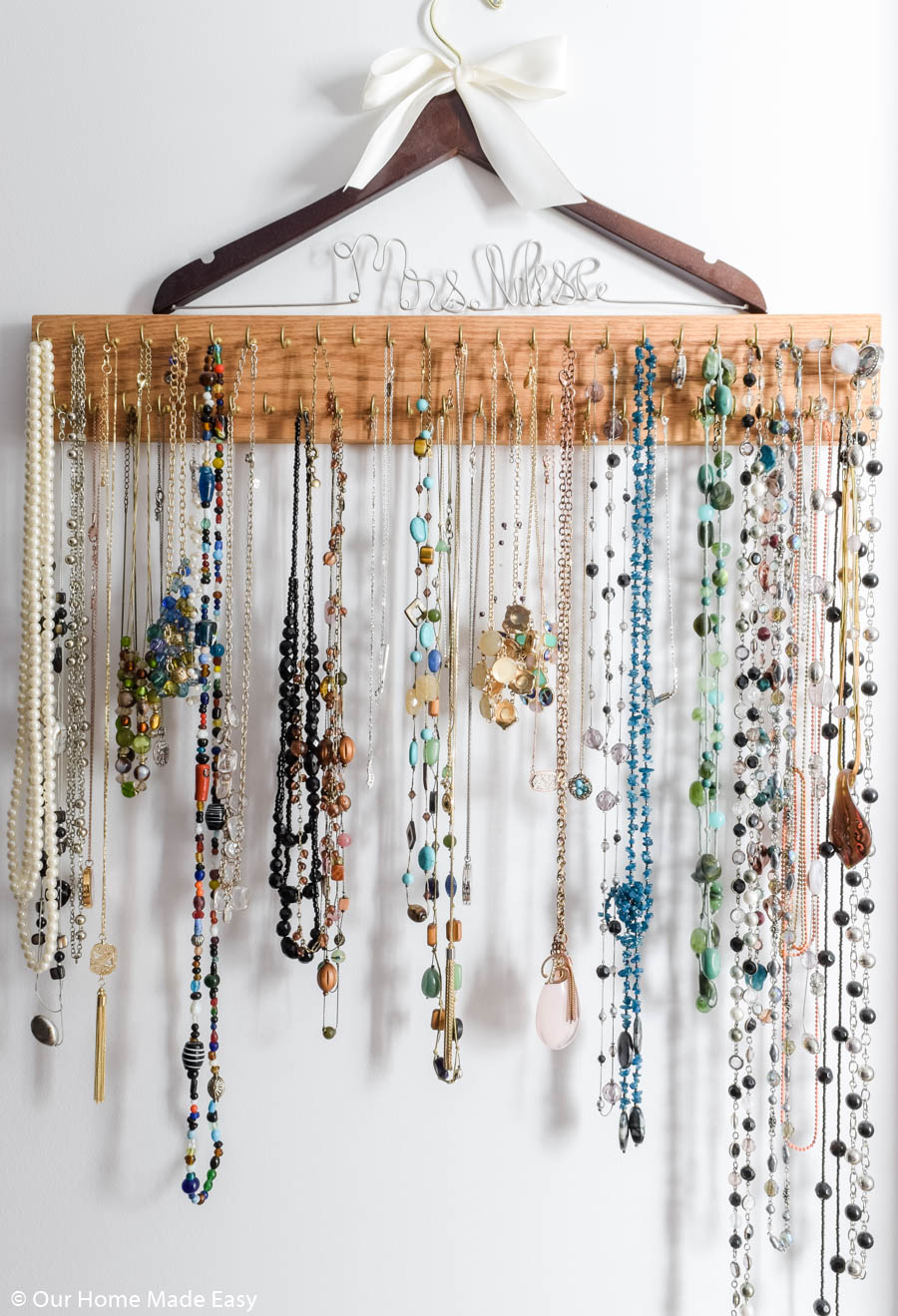 Isn't that the best way to use the 'Mrs.' hanger from our wedding?
Again, always a collector– never a declutter-er…
What is it about jewelry?
My dad made this necklace organizer for me several years ago and like the armoire, it's traveled around the Midwest & Gulf Coast.
But it's time to start clearing out!
And here it goes!
DIY Ideas for How to Organize Your Jewelry Box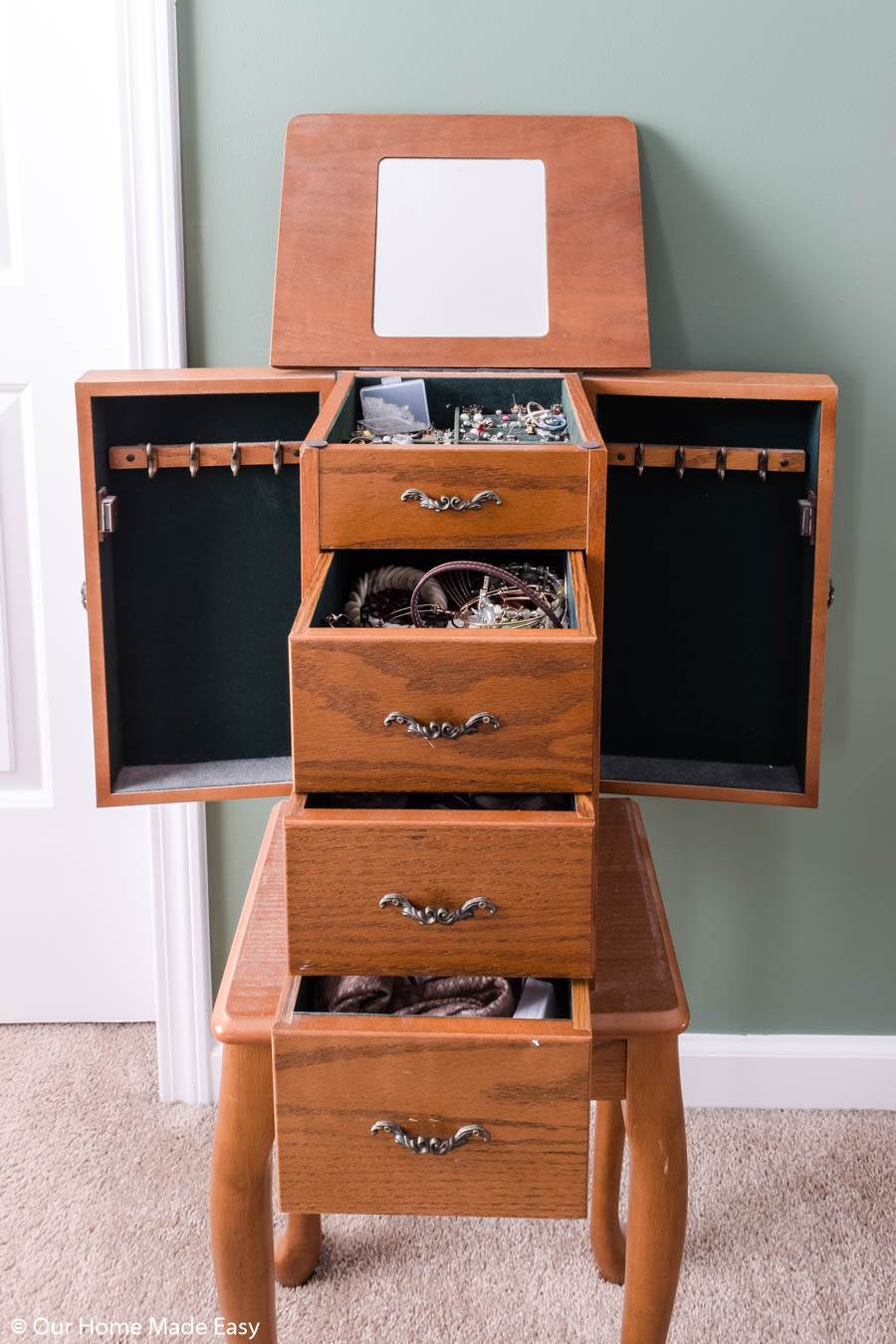 As I cleared out the earrings, I started giving several pairs back to Aubrey. Somehow over the past year, she started slipping her own earrings into my armoire! After Christmas, she is now the proud owner of THREE small jewelry boxes (thanks Grandmas!) and has lots of room to store her things.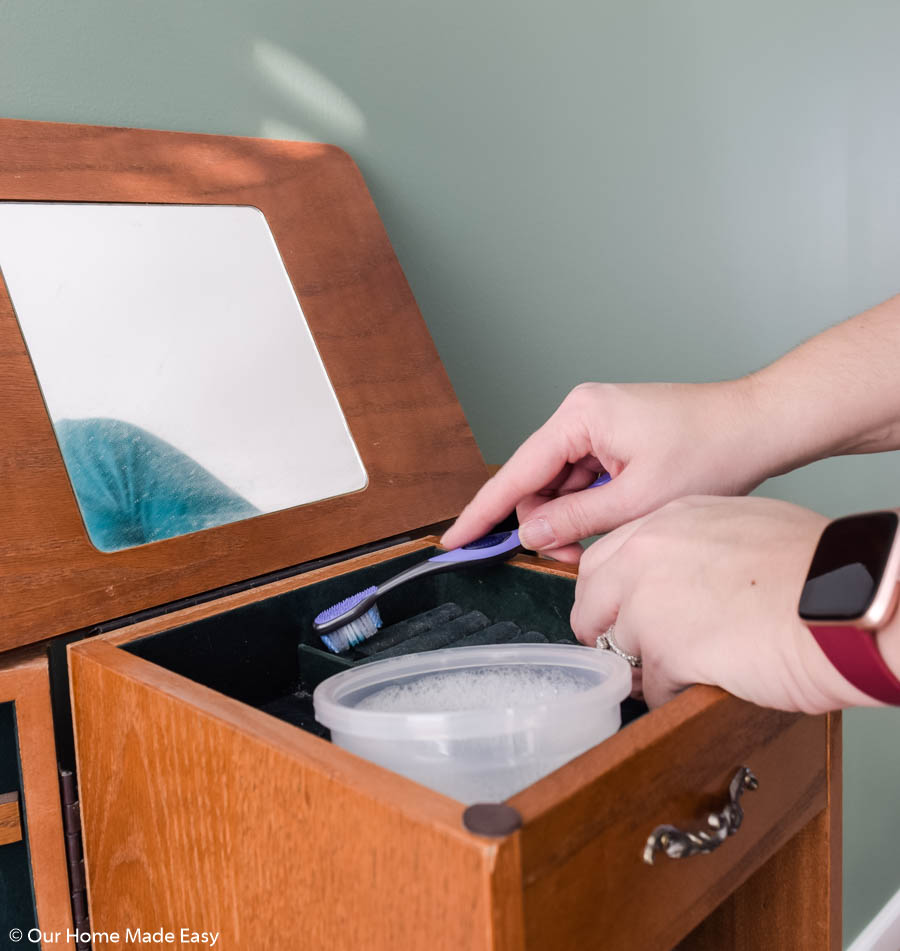 Once I cleared out the entire box, I took cleaned it with some warm water, dish soap, and an old toothbrush.
For those of you wondering why I'm choosing to declutter my jewelry rather than keep it— my taste has evolved over the years or I have some sentimental memory behind some of the pieces. Some were necklaces, earrings, or bracelets of weddings I was a bridesmaid. However, I've never found an occasion to wear these pieces in the last ten years. I've decided to donate them to an organization that could use them.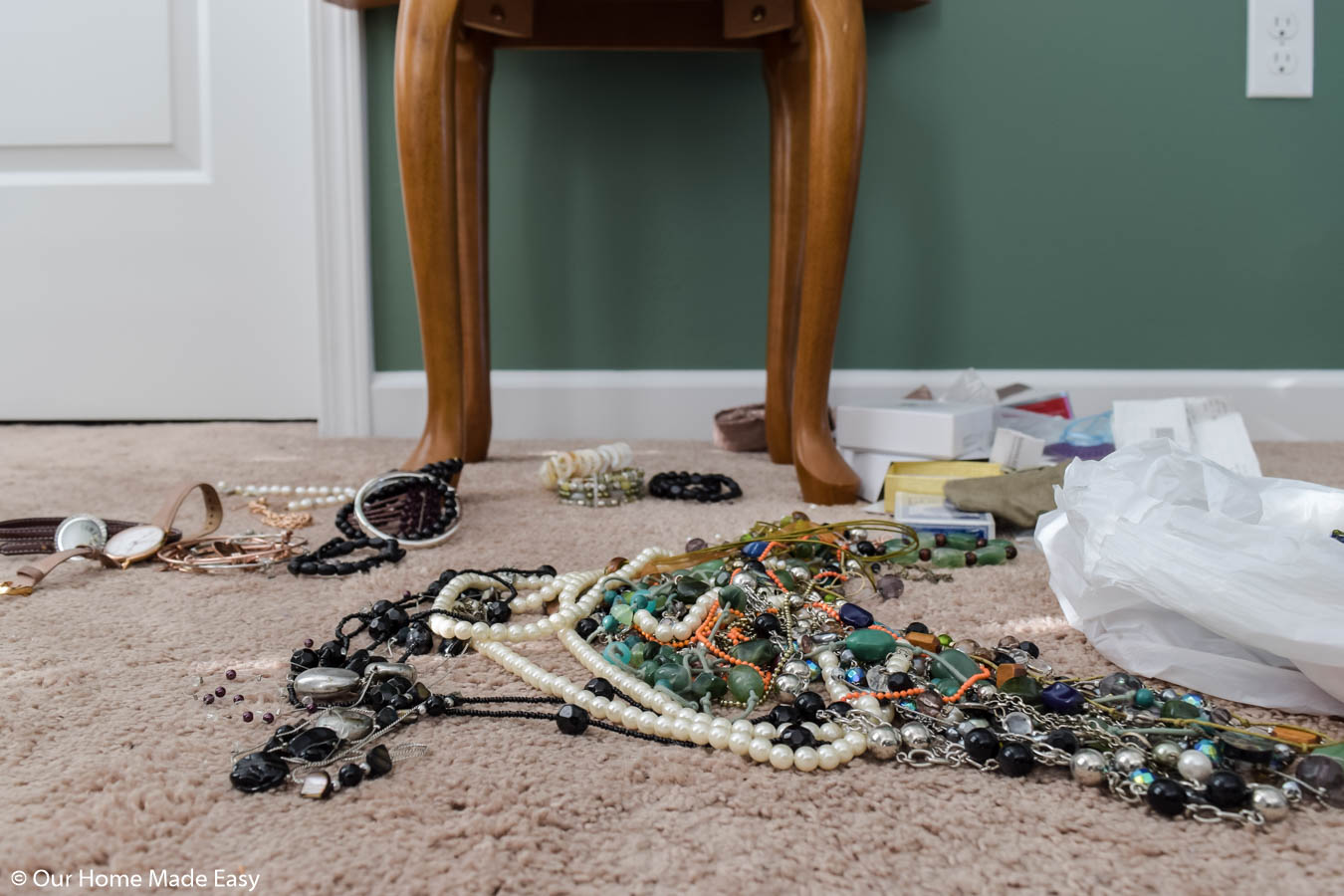 That plastic bag? Full of bracelets and earrings!
And honestly– I was spending too much time searching through my jewelry box in the morning. Every day, jewelry is the last thing that I put on before I walk out of the house. Since I'm already dressed, I know which necklace I want to wear for the day. Looking through jewelry I was never wearing was costing me too much time.
Finished!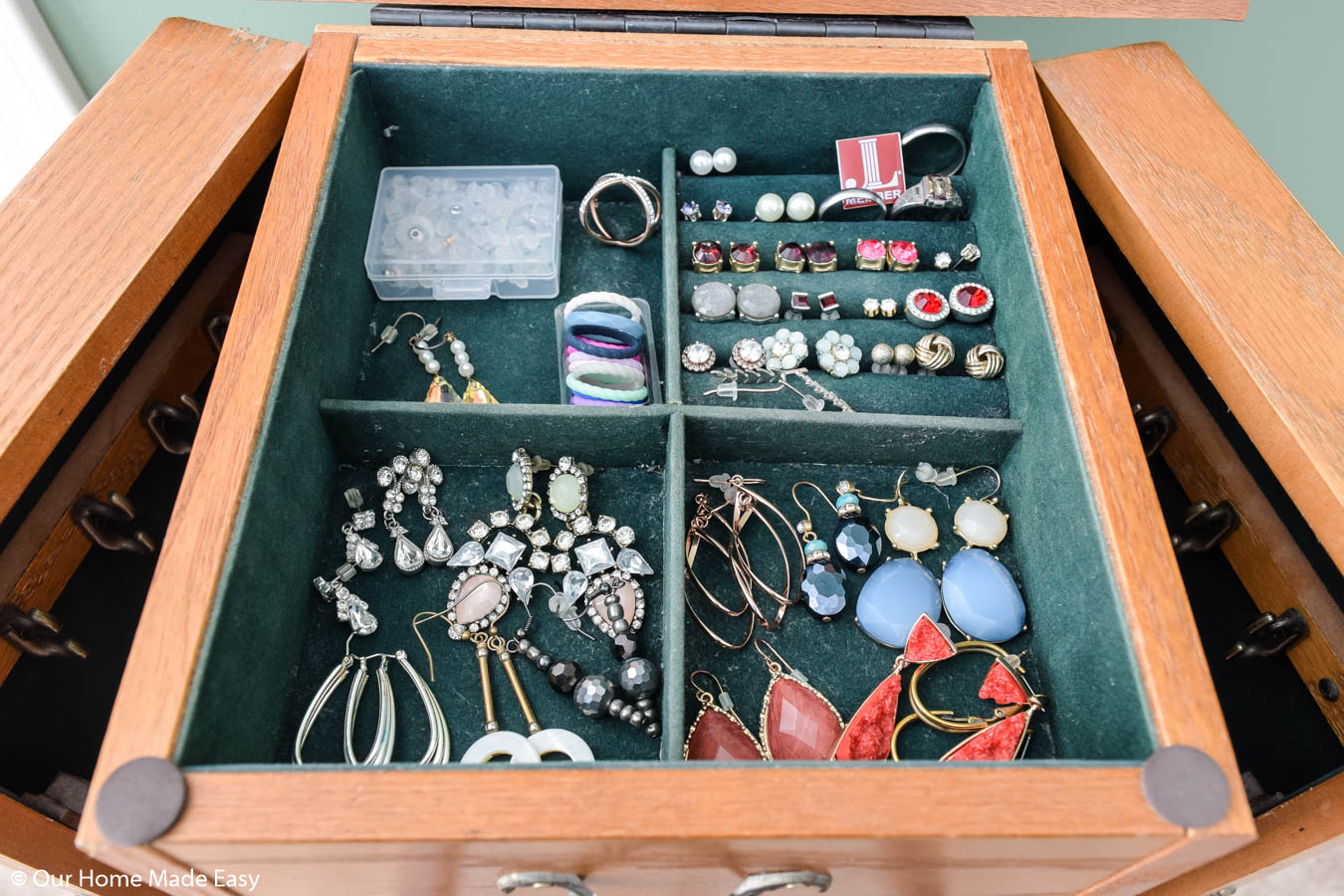 I use the Qalo rings for workout days!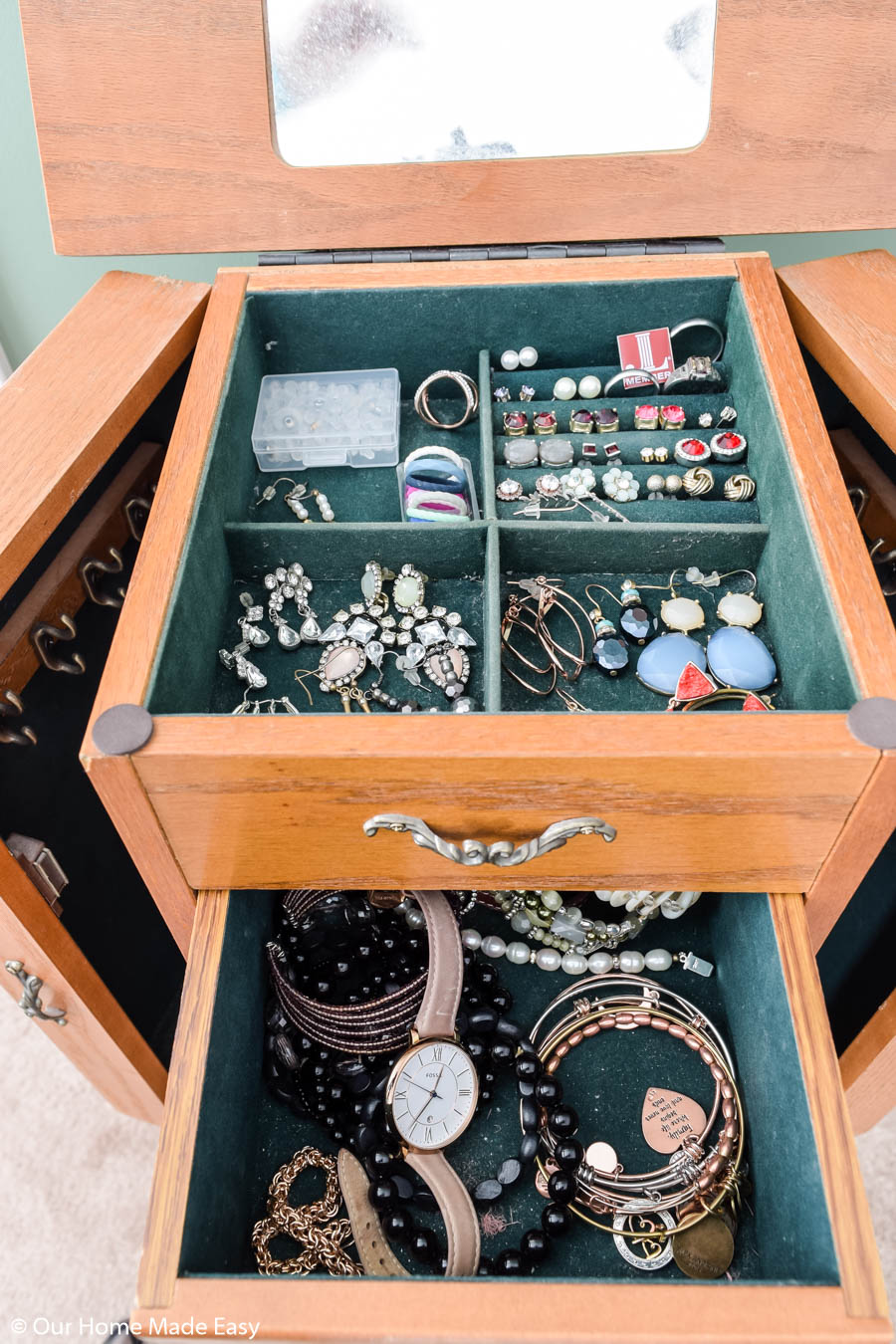 Whew, that feels good.
Now, the earrings are organized by silver and rose gold rather than post type.
I kept a few sentimental pieces, like my custom made wedding jewelry, our engineering pinkie rings, and even my high school ring.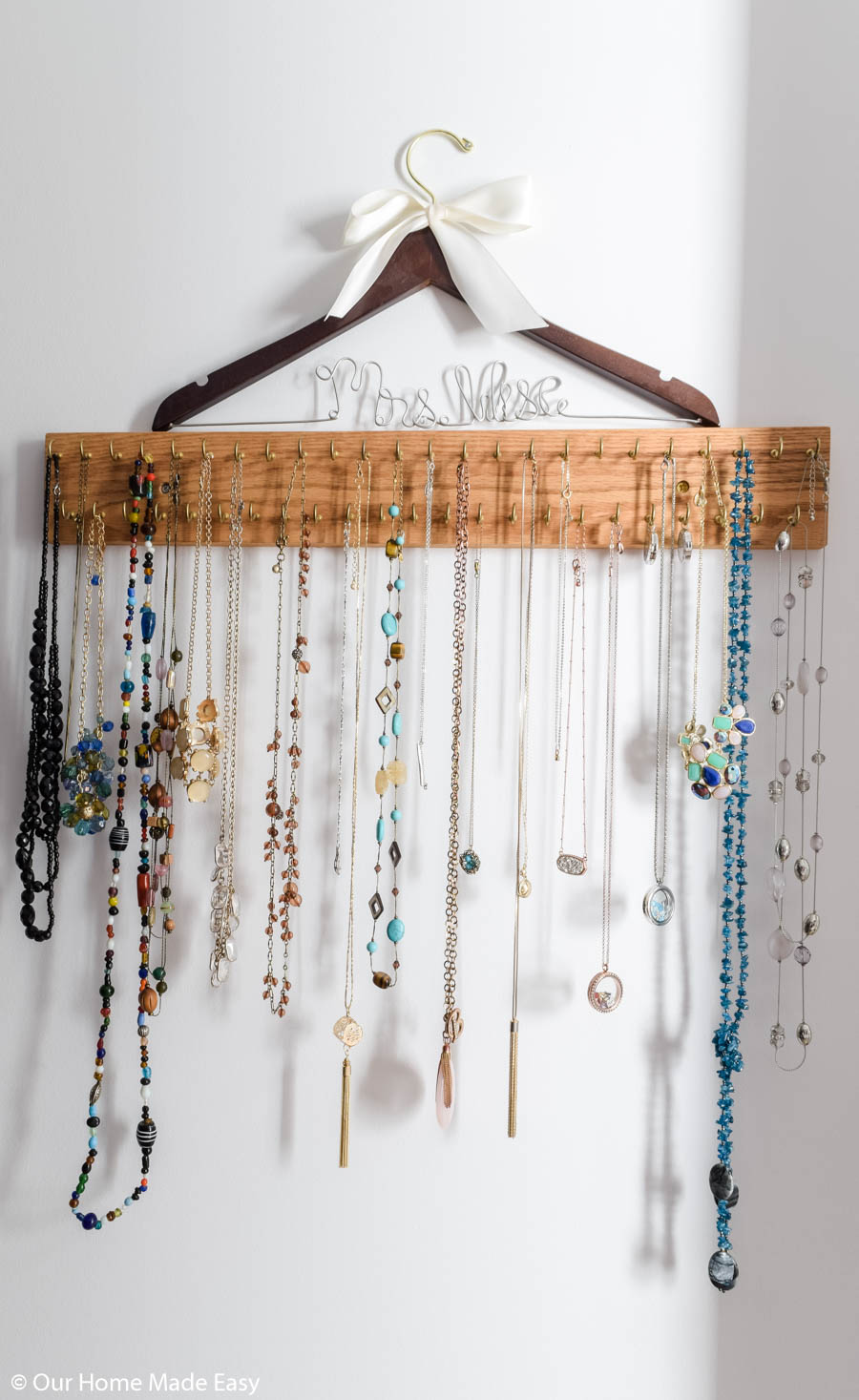 I decluttered more than twenty necklaces. Most were worn, tarnished, or simply no longer my style. At one point in college, I was the queen of having a necklace that went around your neck twice for every single outfit.
But I haven't worn one in that style for years.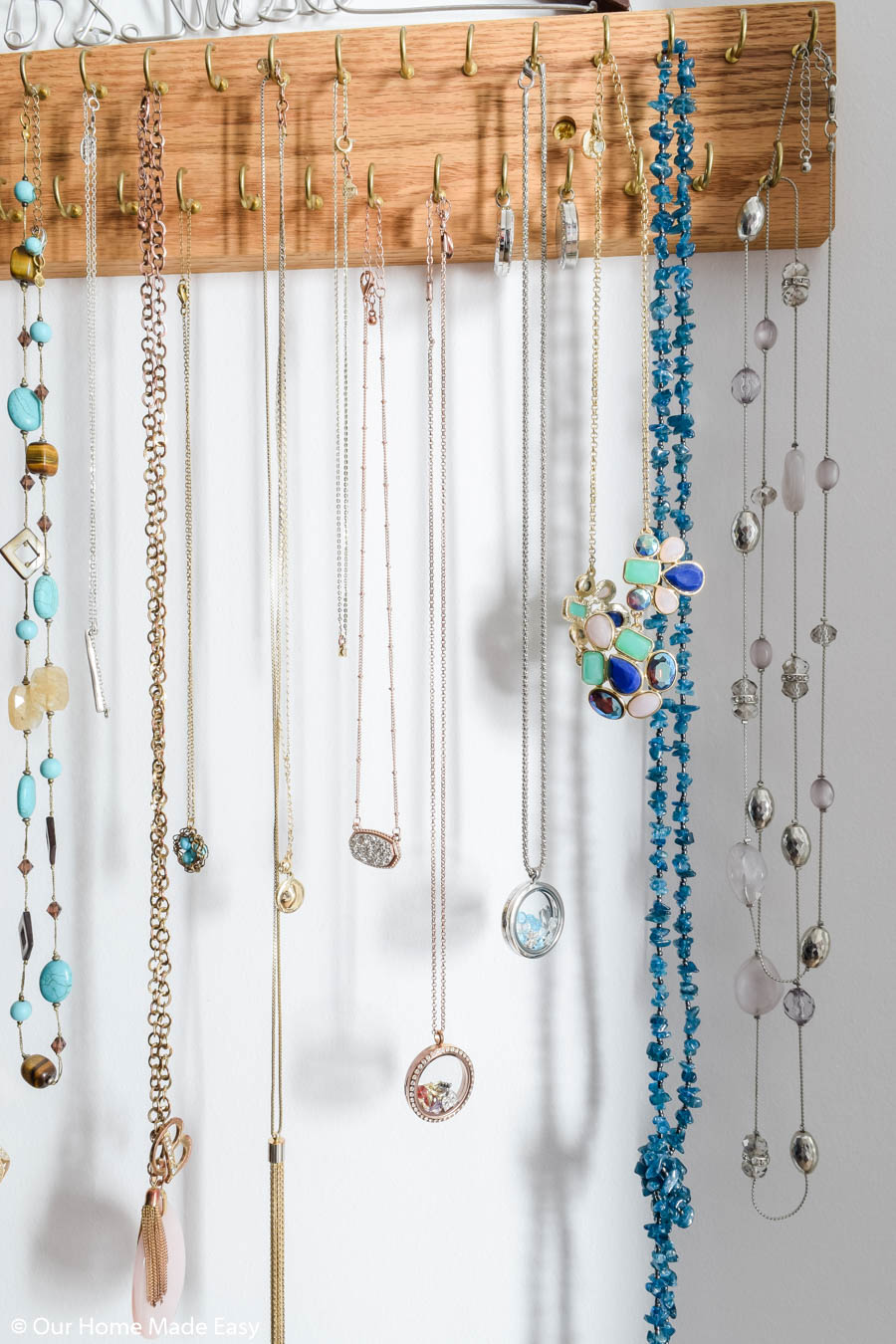 Now I feel better about finding exactly what I want in the mornings before work. And this also gave me a fun excuse to try on numerous items to see if they still worked for me. Who doesn't love to dress up when you're in your thirties?
If you are wanting to DIY organize your own jewelry box, I found several great projects for you to start! Simply click on any of the links below to be taken to the project page.
And that is week #3! Are you ready to declutter and organize your jewelry? Let me know in the comments below!
And don't forget to grab your copy of the Clear the Clutter Organization Calendar! It will walk you through each room of your home over the next month.
I am so excited to have you join us for the last few weeks of this challenge!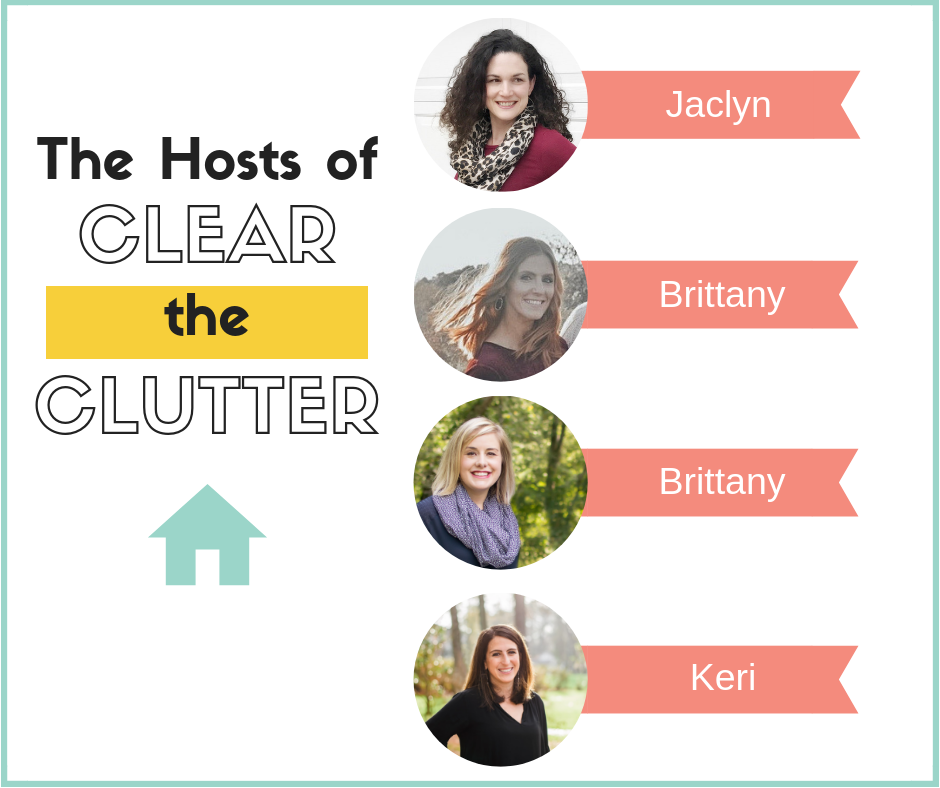 Meet the Hosts of the Clear the Clutter Challenge
Jaclyn lives just outside of Cleveland, Ohio. She is a mom of three + married to her college sweetheart. She blogs about family activities and traditions, home decor, and favorite finds at Coffee, Pancakes, and Dreams.
Brittany is the face of Dreams + Coffee, a lifestyle blog focused on family, fitness, healthy living and style. She has a passion for staying fit, eating healthy, pretending to know a thing or two about fashion, and most importantly, spending quality time with her husband and daughters. She is thrilled to be living out her passion for writing and editing through the blog as well as through her freelance writing career.
Brittany is passionate about helping everyday women create extraordinary homes the easy way! As a busy working mom, she understands that when possible, getting something done is better than making it perfect. She & her family live in Ann Arbor, Michigan in a home they built 5 years ago. Brittany writes at Our Home Made Easy where you'll find quick dinner recipes, easy DIY projects, and home decor inspiration that anyone can create!
Keri lives outside of Charleston, South Carolina with her husband and three kids. She is passionate about helping moms step out of survival mode and into a thriving life. She believes moms can thrive, even in the messy parts of motherhood. Keri shares helpful tips for your home life, family life, and personal life over at Keri Lynn Snyder.
PIN FOR LATER: