The Perfect Formula For Last Minute Dinner Ideas
Don't stress! This perfect formula for last minute dinner ideas will have you making dinner in no time! Includes a free pantry staples checklist and more than 13 easy dinner ideas for when you simply don't have any idea what to make!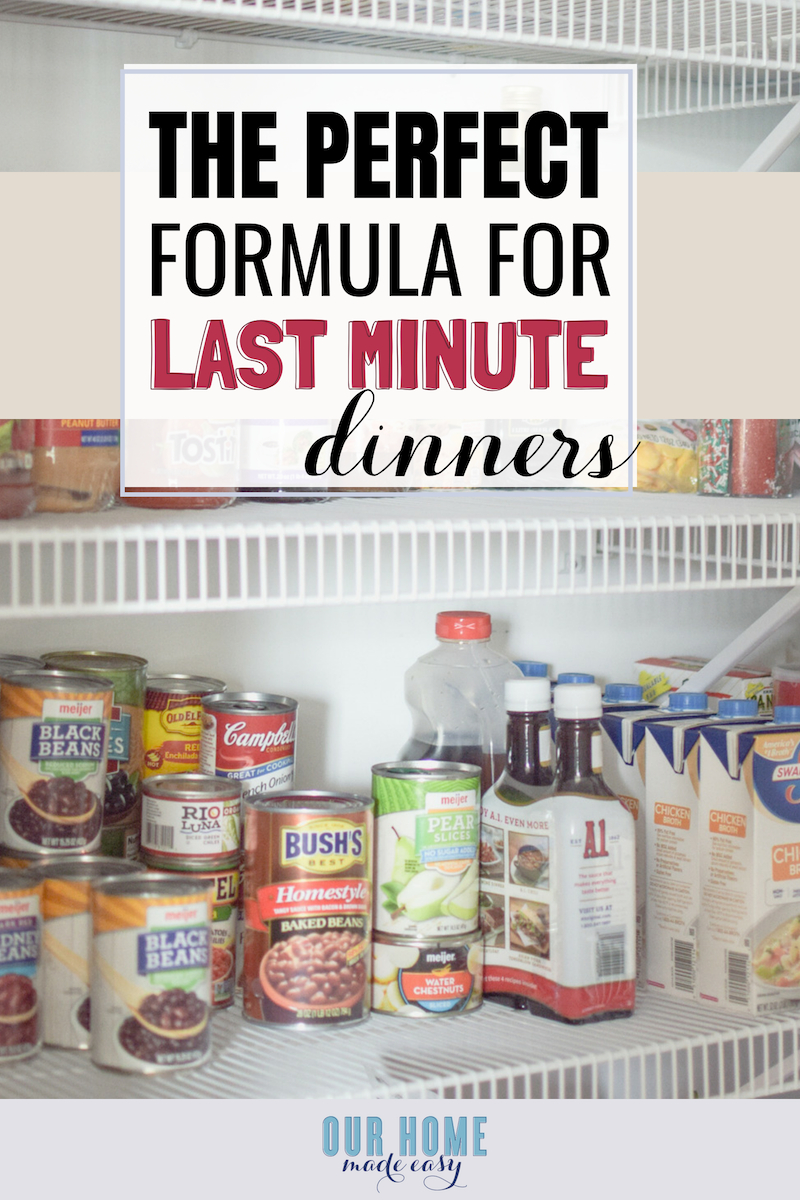 Have you found yourself arriving home after a long day at work and wondering what in the world you're going to make for dinner? You're not alone. But being exhausted doesn't mean you can't throw together something really good with a few ingredients– just follow a really simple formula.
Not planning doesn't mean that you're forced to stop by the drive-thru on the way home.
Planning last minute dinners not only save your budget but can help your waistline. Total win-win, right?
And I can't wait to share it with you!
But first, I'm going behind the scenes here in the Wise house— our pantry!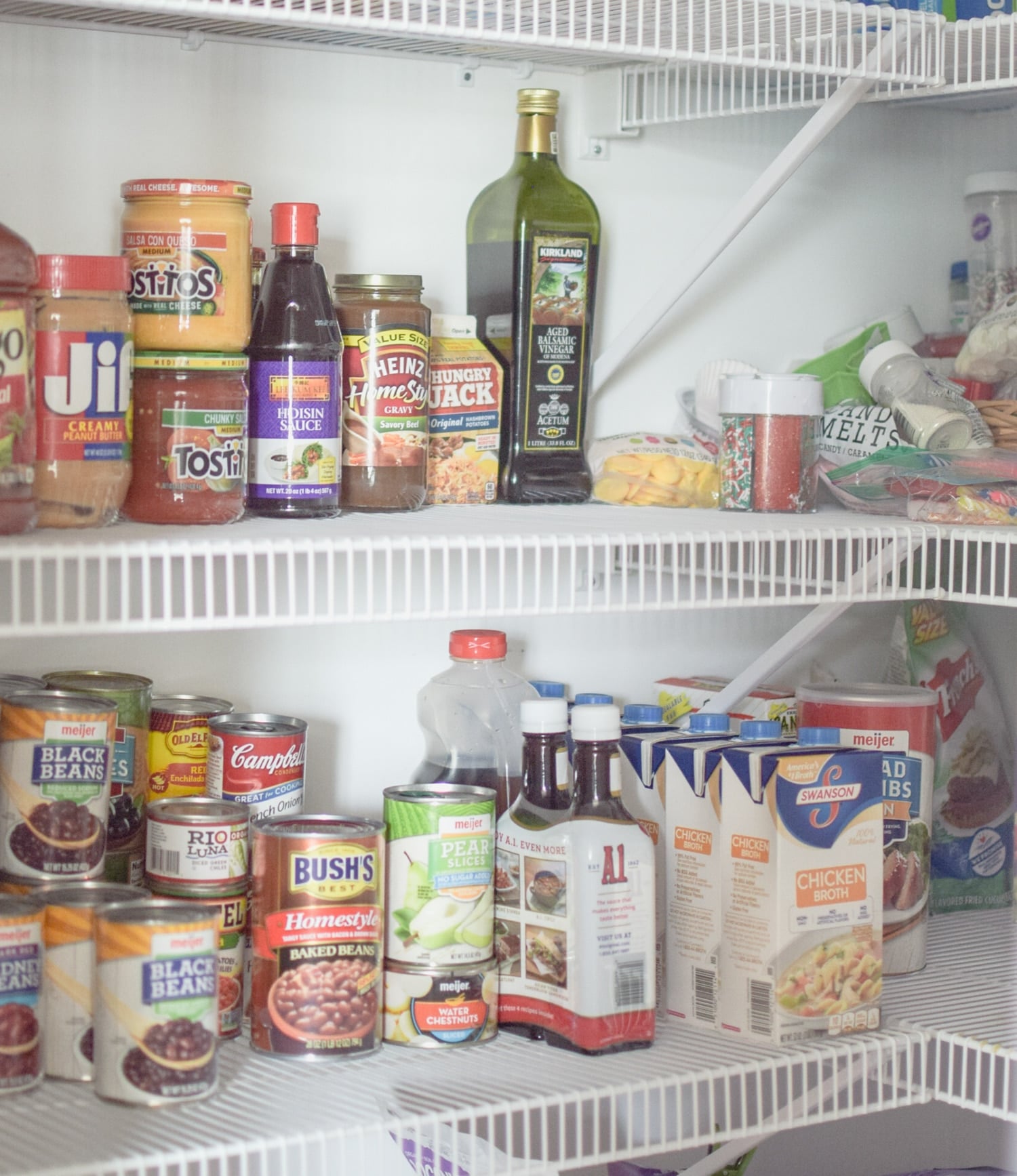 It's not pretty, but it's organized for us.
Inside our pantry, we keep the basic pantry staples on-hand in case a new recipe doesn't go as planned and we need to make dinner quickly. Since we always use the same basics each week, I like to stock up at Costco or Sams Club to save $$. If it's not fresh produce items, it's going into our pantry every Sunday morning.
Related: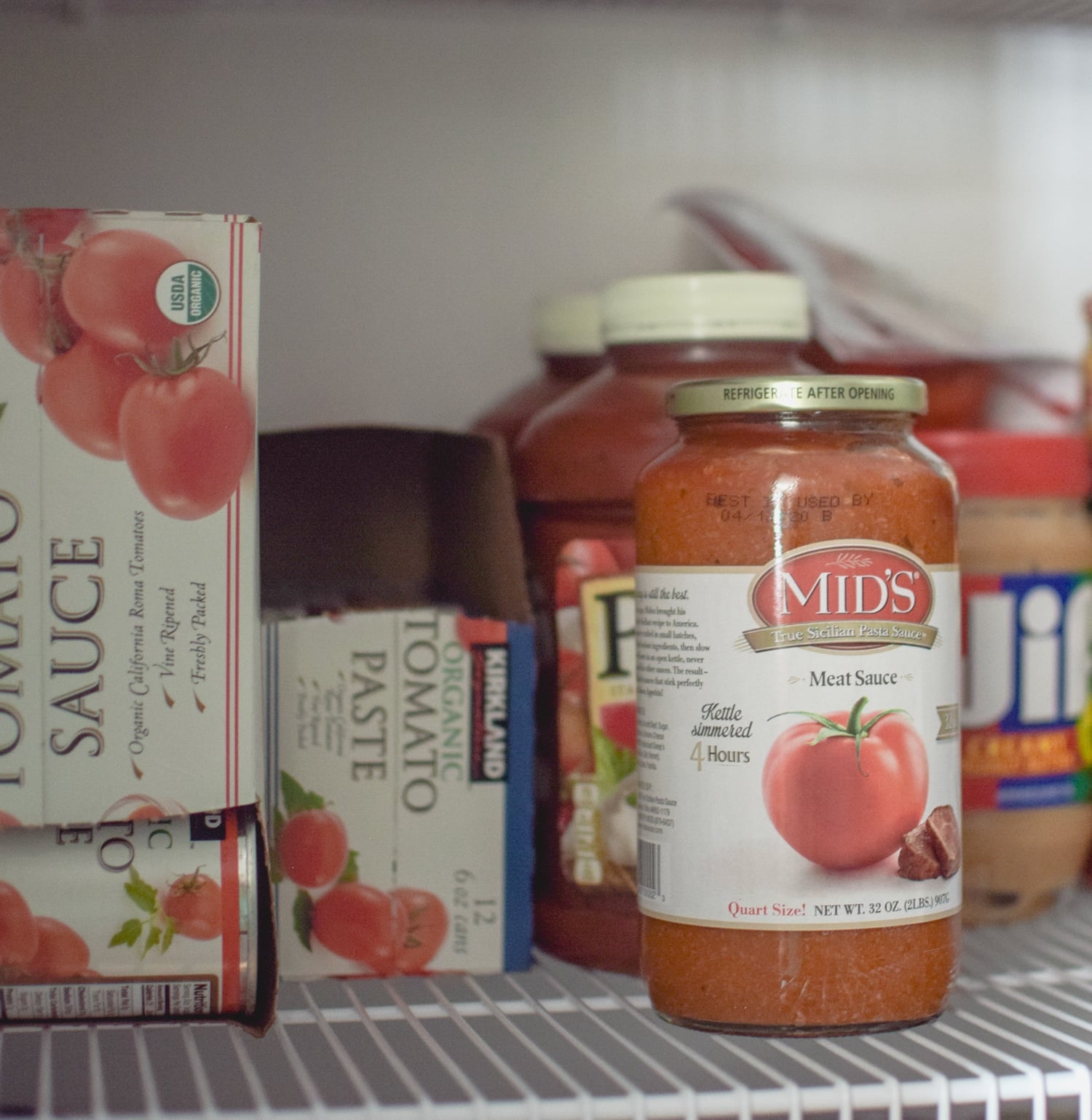 Last minute dinners do not need to be hard!
The next time you are staring at your pantry, think of it as a simple formula—
My favorite formula for creating dinner with whatever is in the pantry:
Protein Choice + Grain / Pasta + Canned Veggies + Spice = Dinner
You can definitely add more spices or veggies, but with this basic formula, you can make some really great dinners with just a few pantry staples!
How Can I Make Cheap Dinner Ideas?
While you're looking for last minute dinner ideas, I completely understand that you aren't wanting to spend a ton of money to feed your family. In the ideas below, I think you'll find quick & easy cheap dinner ideas.
My favorite ways to save money on dinners quickly:
Shop the Weekly Sales Ad
Stock Up on Canned Veggies When They Go on Sale (Various Beans, Tomatoes, etc…)
Buy Meat in Bulk at Costco or Sam's Club
Buy Frozen Veggies Over Fresh to Keep Them Longer
Buy Spices in Bulk at Costco or Sam's Club (I like to DIY my pizza sauce and add flavor without spending so much on those little jars!)
Use Only Seasonal Veggies
Buy Vinegar Based Dressings On Sale for Quick Marinades.
Other Posts I Think You'll Like:
Keep reading to the bottom for pantry staples cheat sheet!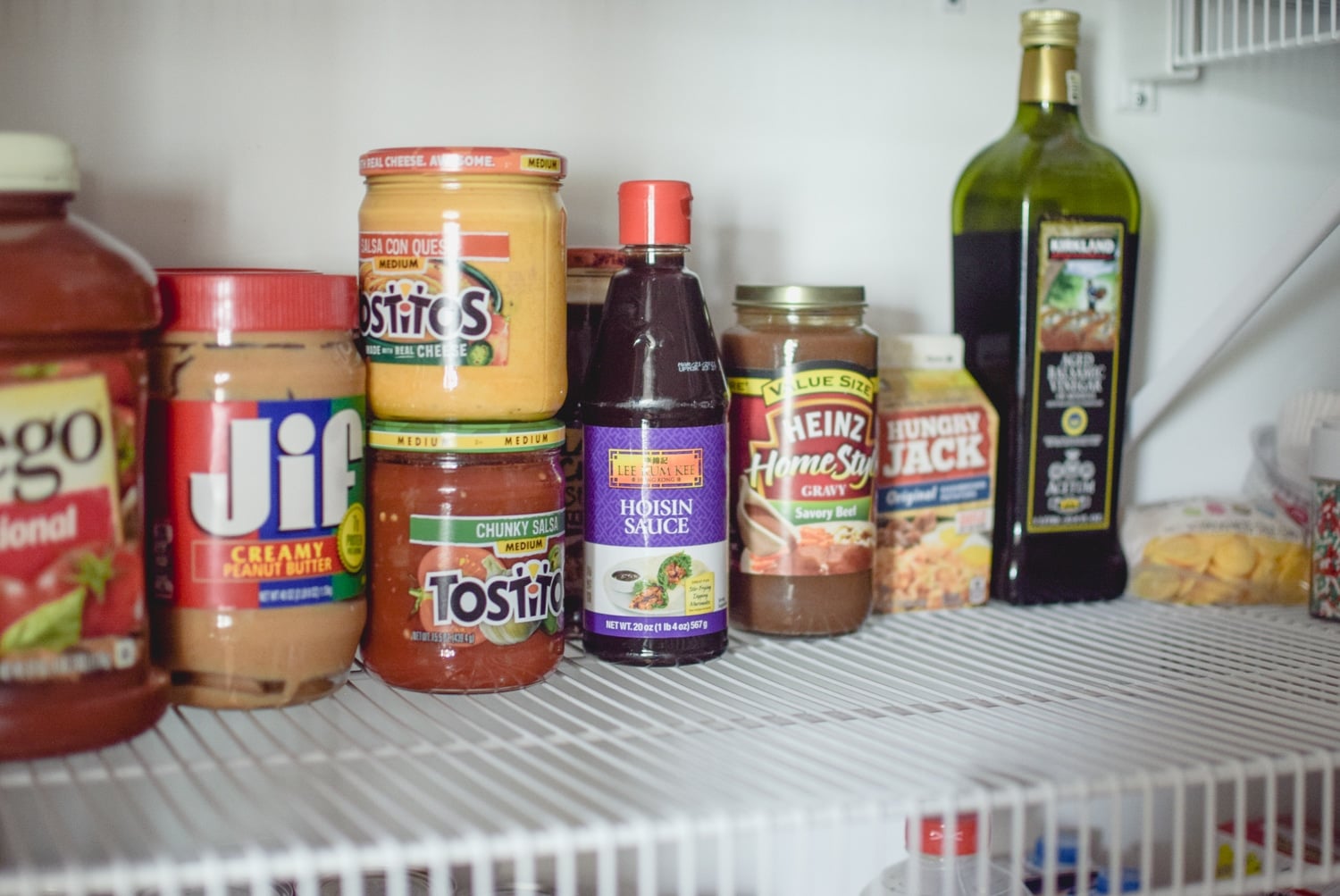 13 Easy Last Minute Dinner Ideas
Using the perfect dinner formula and some pantry staples, I brainstormed a few last minute dinner ideas. These are based around pantry staples. Feel free to mix in what you have on-hand!
Beef:
Hamburger Stroganoff: Ground Beef + Egg Noodles + Onions + Sour Cream + Salt & Pepper
Italian Polenta Dish: Ground Beef + Pan Fried Polenta + Chunky Pasta Sauce
Chili: Ground Beef, Tomato Sauce + Fresh Veggies on Hand + Salt/Pepper/Garlic/Onion Seasonings (add hot sauce!)
Oven Baked Nachos or Tacos: Taco Seasoned Ground Beef + Shredded Cheese + Tortilla Chips + Tomatoes / Avocado / Lettuce /Onions/ Black Olives
Baked Spaghetti: Ground Beef + Spaghetti Noodles+ Pasta Sauce + Mozzarella Cheese + Italian Seasonings
Tater Tot Casserole: Ground Beef + Tater Tots + Any On-Hand Cheese + Cream of Mushroom Soup
Chicken:
Chicken Gyros: Grilled Chicken + Pita Bread + Tomato/Onion/Lettuce + Tzatziki Sauce
Oven Baked Fried Chicken: Chicken Tenders + Potatoes (on the side) + Flour & Seasonings
Chicken Fried Rice: Chicken + Pre-Washed Quinoa + Chicken Broth (in lieu of water) + Frozen Vegetables + Scrambled Eggs + Soy Sauce/Garlic /Salt/Pepper
Sheet Pan Chicken: Halved Chicken Breasts + Potato (in lieu of Grain) +Any Fresh Veggies On Hand + Garlic & Italian Seasoning in Butter
Breakfast for Dinner:
This idea came from the Our Home Made Easy Facebook readers! If you haven't already joined us, please come over, like the page, and join the conversation!
Traditional Breakfast: Sausage, Bacon, Eggs + Hashbrowns, + Onions + Hot Sauce / Cheese
Chicken & Waffles: Baked Fried Chicken + Frozen Waffles / Waffle Mix + Syrup
Pancakes: Sausage / Bacon + Instant Pancake Mix + Fresh Fruit
If you have extra veggies, feel free to add them in! Need to sub out all the meat? No problem– add 2 more veggies or a lentil.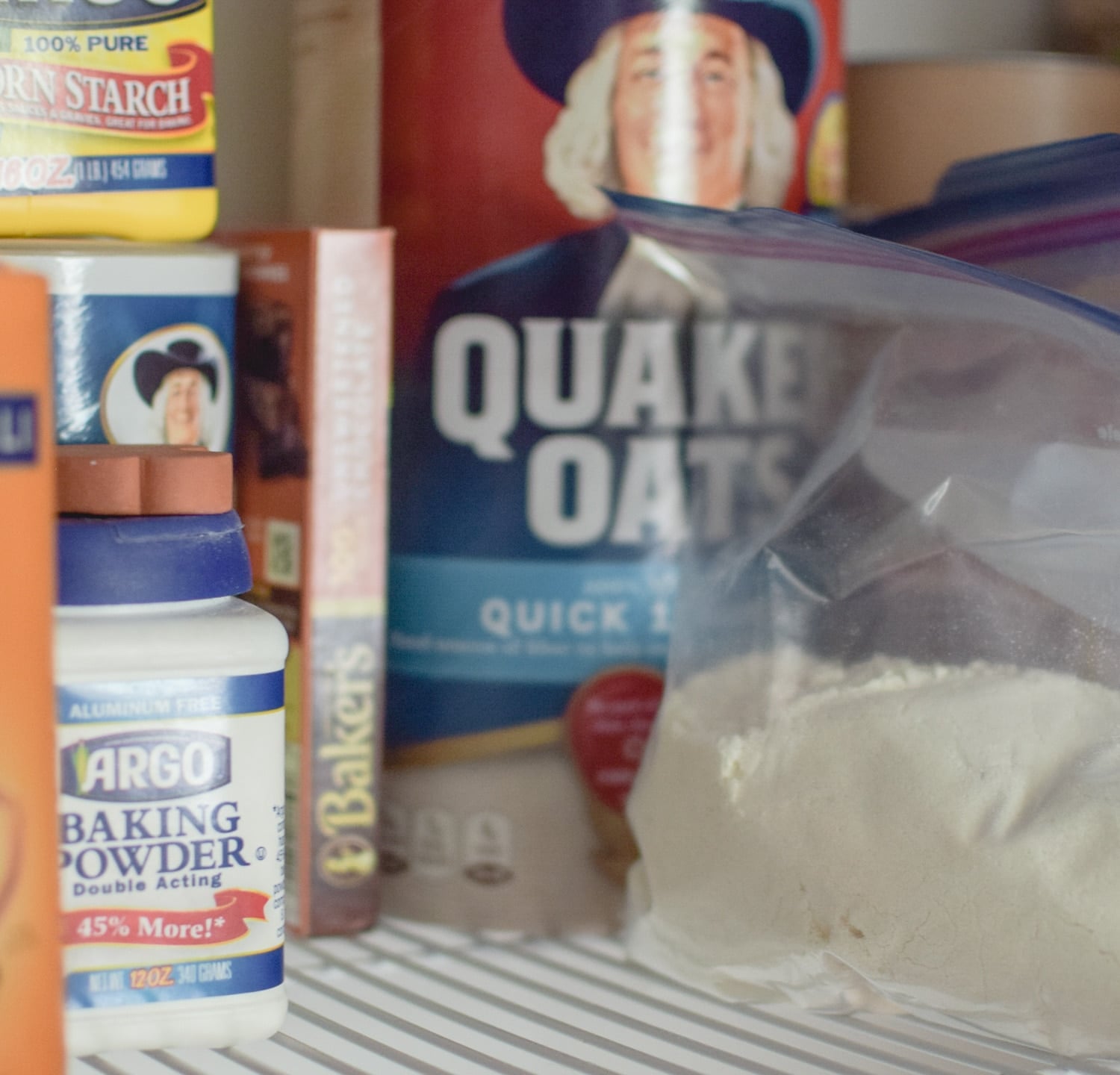 When it comes to planning last minute dinner ideas, you'll quickly find that you can thrown just about anything together at a moment's notice. Grab your copy of the pantry staples cheat sheet for keeping your pantry well stocked for those times when you just need something.
Don't worry- there are also baking items included since you'll always need a few basics on-hand for an impromptu chocolate chip cookie or treat.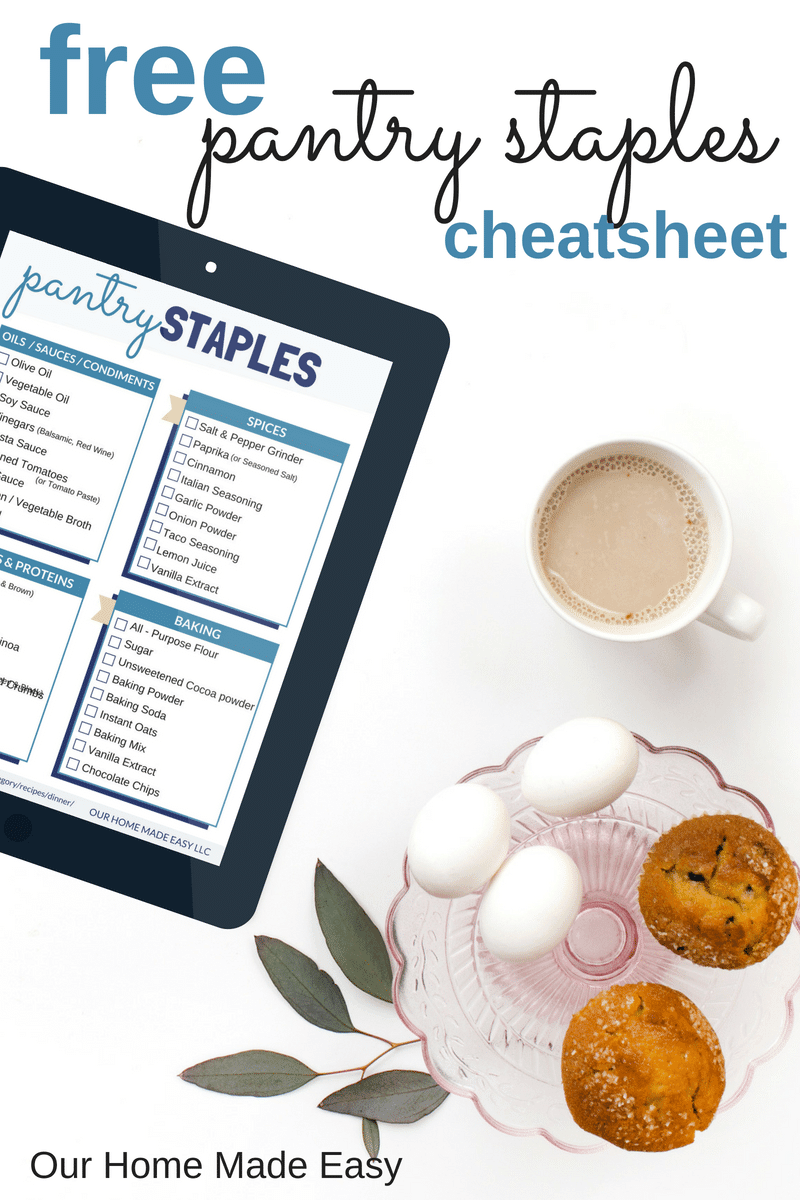 Here is to another busy year of back to school chaos and getting into the groove of new routines! I hope that if you find yourself in a "What should we have for dinner?" situation, this will help you out with ways to make dinner that your family will enjoy and you'll feel satisfied prepping for them!
GET YOUR FREE PANTRY STAPLES CHEAT SHEET RIGHT HERE!
PIN FOR LATER: