Salisbury Steak is such a great comfort food classic! This comfort dish isn't complicated, simply cook & watch the entire family eat it all gone. Make it up quickly with this recipe!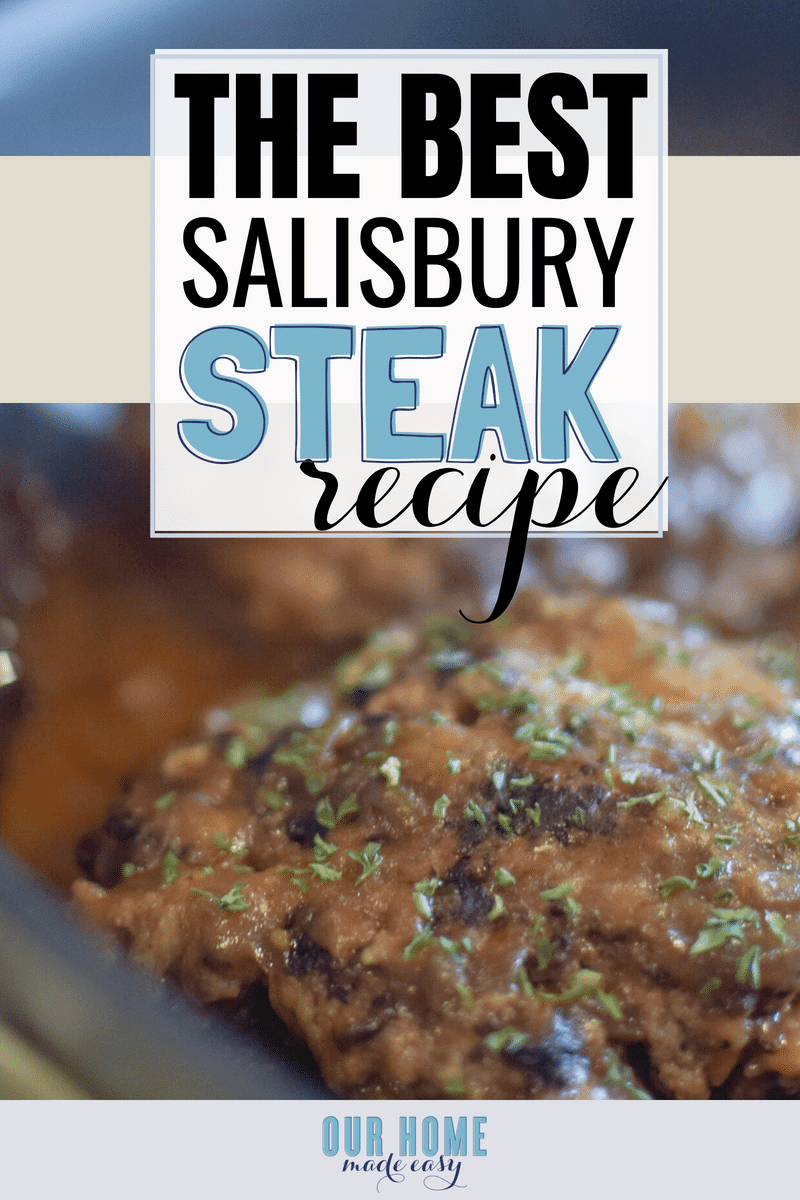 Do you have a special tradition for birthdays around your house? I'd love to tell you we do something fun & adventurous on our birthdays, but really we are pretty boring. 🙂
For us, I always like to ask the kids (& Jordan!) what they want for dinner and I'll do everything I can to 'make it work.'
Owen always asks for chicken nuggets & french fries. We compromise with this amazing oven baked fried chicken recipe and I'll run to the store for some frozen fries.
Aubrey on the other hand, always chooses meatloaf or Salisbury Steak with homemade mashed potatoes.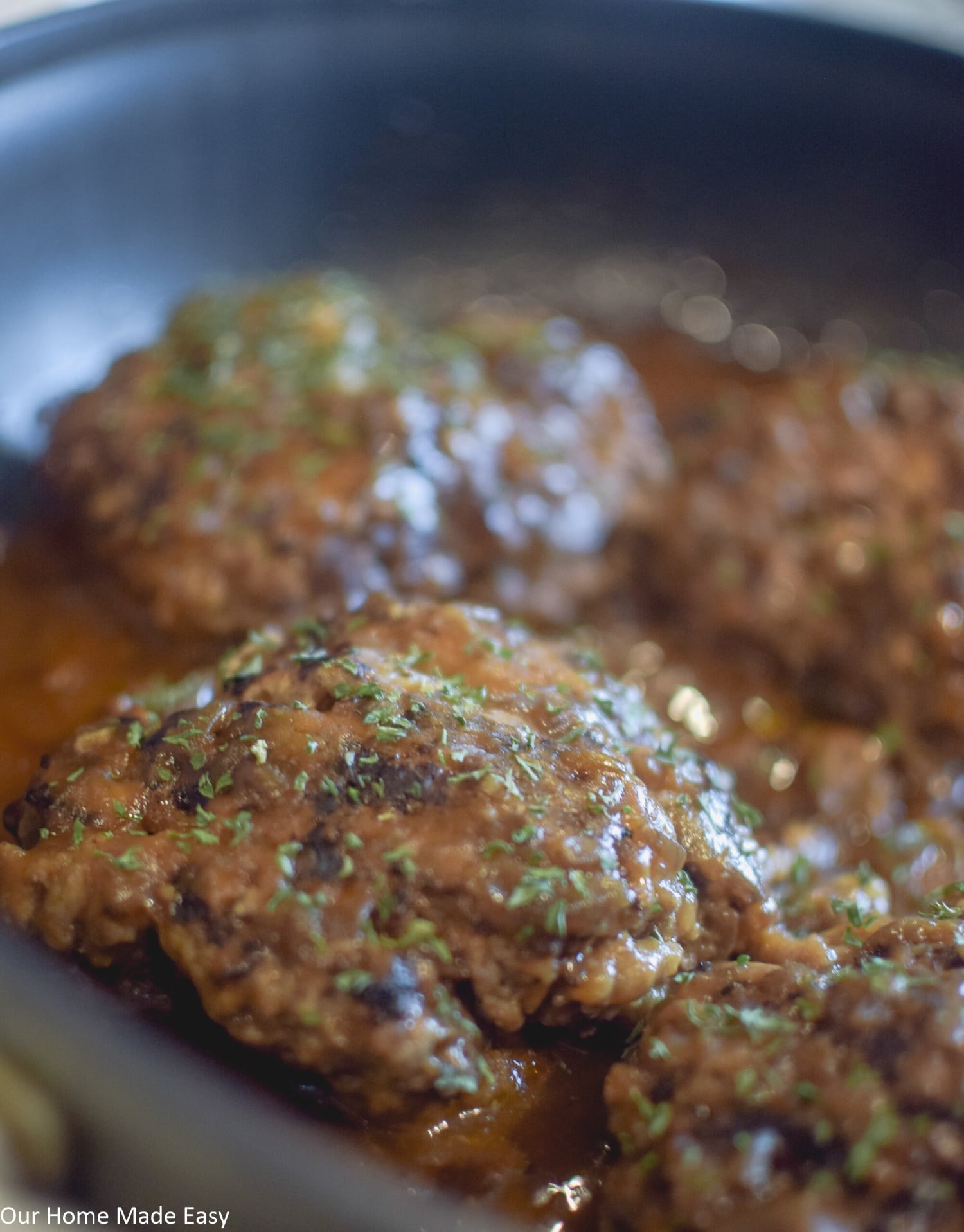 And I happily oblige because who doesn't love comfort food? Even at the end of July. 🙂
(If you're wondering what Jordan requests, it's always an over the top cheesecake. 2018's was this amazing Cheesecake Factory Knock-Off Red Velvet Cheesecake. I cheated sped up the process by using Red Velvet Cake Mix)
Since I've never shared the recipe that we love for Salisbury Steak, I thought it was well overdue!
Forgive me the delay.
It's such a goodie and a dinner that I know everyone will love. Plus, it makes for some pretty yummy leftovers thanks to all that gravy. #indulge
The Best Ever Salisbury Steak Recipe
Serve it alongside mashed potatoes, steamed green beans, or corn on the cob!
Adapted from The Genius Kitchen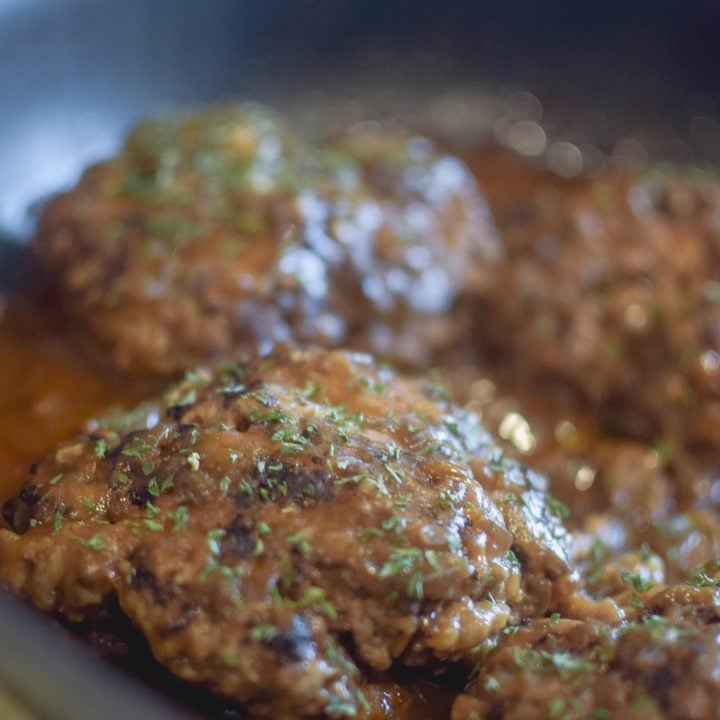 The Best Ever Salisbury Steak Recipe
Yield: 4

Prep Time: 10 minutes

Cook Time: 25 minutes

Total Time: 35 minutes

A classic comfort food, this easy Salisbury steak recipe is made with a delicious gravy that's packed with flavor. It's a must-try recipe.
Ingredients
1 Can French Onion Condensed Soup, , Divided
1/2 cup Plain Breadcrumbs
1 Egg
1/4 teaspoon Salt
1/8 teaspoon Pepper
1 lb Ground Beef, Lean
3/4 tbsp Flour
1/4 cup Ketchup
1 tbsp Worcestershire Sauce
1/2 teaspoon Mustard Powder
3/4 cup Water
Instructions
In a large mixing bowl, mix together 1/3 cup of the Condensed Soup, bread crumbs, egg, salt & pepper. Add in ground beef until well combined.
For best results, use, a stand mixer.
Heat a skillet on the stove at Medium-High heat. Form the beef mixture into 4 oval patties
Sear both sides of the Salisbury Steaks, approximately 4-6 minutes on each side. Drain excess fat, if needed.
Meanwhile, mix together the remaining Condensed Soup & Flour. Then add the remaining ingredients to make the gravy. Whisk together to make sure all clumps are removed.
Flip over the Salisbury steaks. Pour the gravy sauce over the meat.
Cook covered for 20-25 minutes until internal temperature reaches 165 degrees. Turn the meat occasionally to avoid the gravy sticking.
Notes
You can double the meat and add an extra can of onion soup (and spices) for leftovers! Simply cook up in a second pan and halve the gravy mixture between the 2 pans.

If you need to cook the Salisbury Steak longer, add in extra water to avoid the gravy becoming too thick.

Do you have a birthday tradition you do in your family? Share them in the comments!
GET YOUR FREE PANTRY STAPLES CHEAT SHEET HERE!
PIN FOR LATER: