Organize Your Spice Rack: What Spices You Need (and Which Ones to Toss)
Tired of a messy, disorganized spice cupboard? Here's how to organize your spice rack and know exactly what you need to make awesome meals.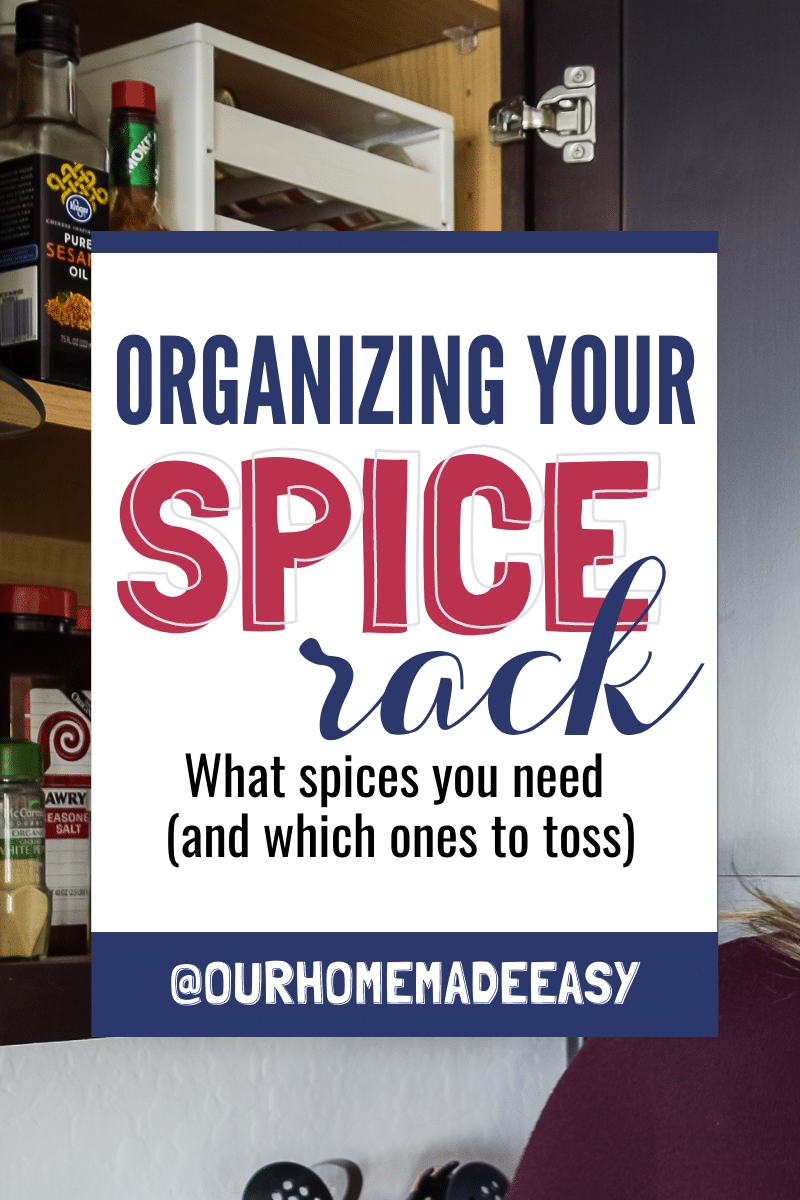 Even the newest cook knows that it's important to organize your spice rack. Spices make a massive difference in every dish. They add flavor, brightness, and change the whole mood of a meal. Spices are a crucial ingredient!
I don't know about you, but organizing my spice storage has historically been one of my least favorite kitchen areas to tackle, despite loving the flavor that those spices bring to my food. I didn't really know the best way to store spices, and they rarely come in uniform containers. I'd often end up with a mishmash of tiny jars and bottles falling out of the cupboard.
I know everyone's kitchen is different—maybe you use a drawer for your spice storage or have one of those nifty pull-out spice cupboards. But no matter what your spice storage looks like, here are the best ways to store spices and organize your spice rack!
Organize Your Spice Rack: The Most Important Spices to Keep on Hand
Like every good organization project, organizing your spice rack starts by going through what you have and paring it down to what you really use and want to keep.
Having moved a few times now, I can tell you that kitchen items get tossed every time I've moved, especially spices. They can break open in the move and get messy. They're small, and it's one of those things that you think, "I'll buy more later."
Plus, shifting from humid areas to desert regions can make all your food storage go through changes. Spices become stale and clumpy, and they lose their flavor.
I've come to embrace a few essential spices that I regularly use in my cooking and then either substitute, skip, or buy tiny quantities of the rest, like when I need them for a special recipe. So if you're organizing your spice storage, what are the essential items to keep? What spices are must-haves for every kitchen?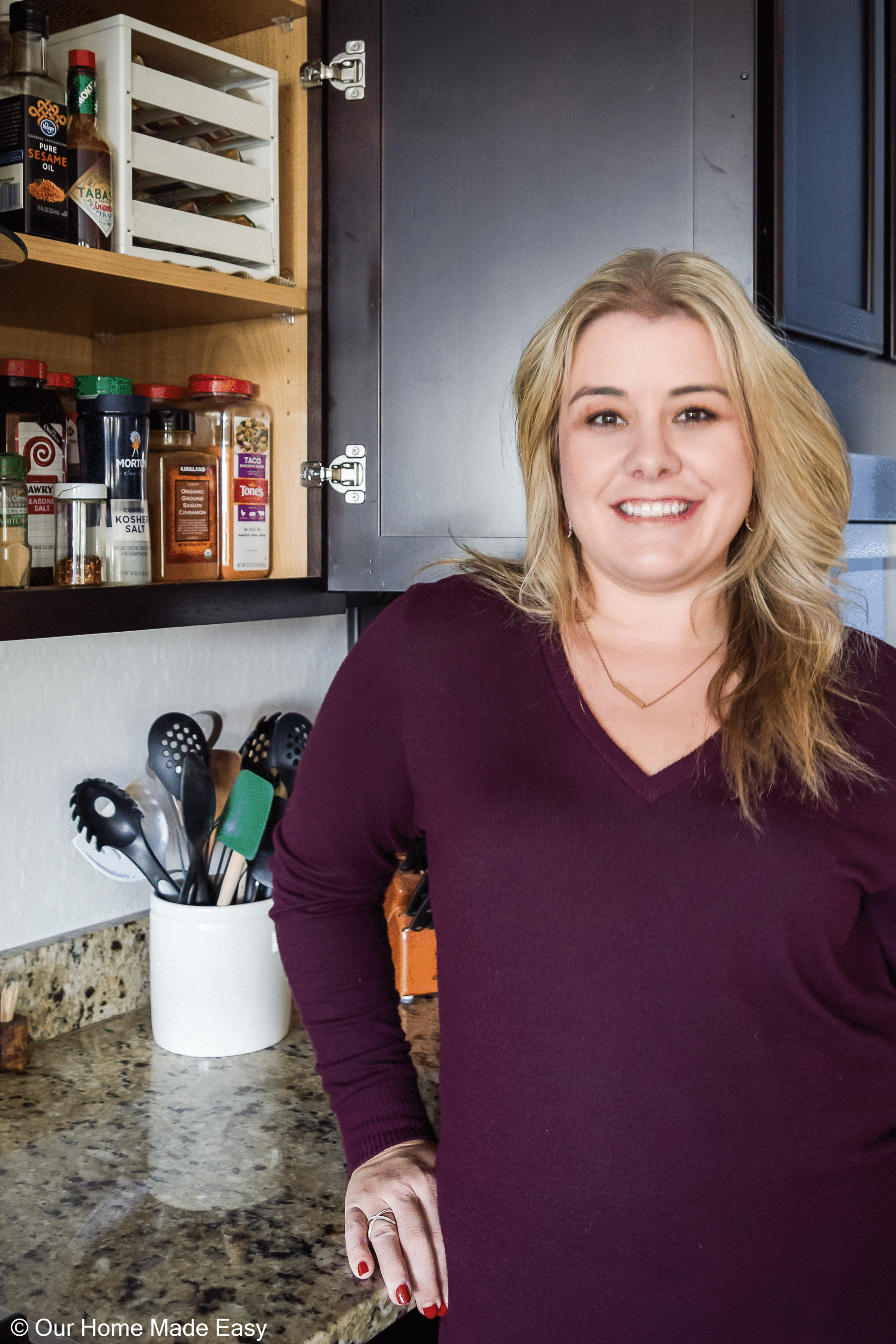 Must-Have Spices for Most Cooks
Most cooks prefer to have the following spices on hand. Now, that said, your family might have other spices that they prefer. Food is often very personal, with certain dishes passed down for generations. So this certainly isn't an exhaustive list for everyone—add and subtract those items that you absolutely love.
Salt
Salt is pretty straightforward and used by nearly every cook in some form. Choose the salt you prefer—iodized table salt, kosher salt, flaky sea salt, or Himalayan sea salt. Ordinary table salt or kosher salt seems to work the best, but play around to find your favorite fit for baking and cooking.
Black Pepper
Some cooks prefer white or green pepper for specific recipes, but most dishes turn out great with classic black pepper. Peppercorns are tiny fruit that is dried and ground into the spice. Pepper happens to be the most popular and traded spice in the world. It tastes stronger and brighter when freshly ground, so it's worth it to invest in a pepper grinder.
Cinnamon
Of all the baking-related spices, cinnamon is the most popular and versatile. It's used in pies, cakes, cookies, atop oatmeal, fruit, and many Middle Eastern and African dishes. Cinnamon is from the dried bark of a tree, which is ground into a powder.
Cumin
Cumin is distinctive, earthy, and used in many dishes. It's popular in Latin American foods, as well as Middle Eastern dishes. A small amount of cumin goes far, but it's one of those ingredients that's hard to swap out for something else, especially in taco seasoning.
Garlic Powder
Garlic powder is another essential spice for your spice rack. You can choose from courser, granulated garlic, or garlic powder, but it's definitely an excellent spice to keep on hand. Garlic adds that extra layer of flavor to pasta sauce, curries, potatoes, soups, and pretty much anything else you can think of.
Paprika
Paprika is a mild spice that comes hot, smoky, or sweet. It's made from ground red peppers, so it's pretty mild, but it adds a nice flavor. I like to use paprika in my oven-baked fried chicken recipe. It adds nice color to dishes too.
Red Pepper
If you like things spicy, keep red pepper flakes in your spice rack. These flakes are made from dried, ground peppers (mostly cayenne). If your family isn't big on heat, you may want to skip red pepper flakes because their primary purpose is to give dishes a kick. (Personally, I'm not a huge fan of heat, so I don't keep much on hand, but you may love it.)
Seasoning Spice
Almost every spice rack needs a nice flavorful seasoning blend. If you're watching your salt intake, there are plenty of salt-free varieties, like Mrs. Dash. There are also many different seasoned salts out there. Most have a blend of garlic, salt, pepper, paprika, and onion powder, but some also feature citrus, MSG, and other flavorings.
With these basic spices, you should have a great start for your spice rack. I know it's tempting to buy a wide variety of spices or a pre-filled rack, but what often happens is you end up storing a bunch of jars you don't need or use.
Instead, I recommend selecting the spices you want and know you'll use frequently and regularly. Not only will it help your food taste fresher and better, but you'll have an easier time organizing your spice rack.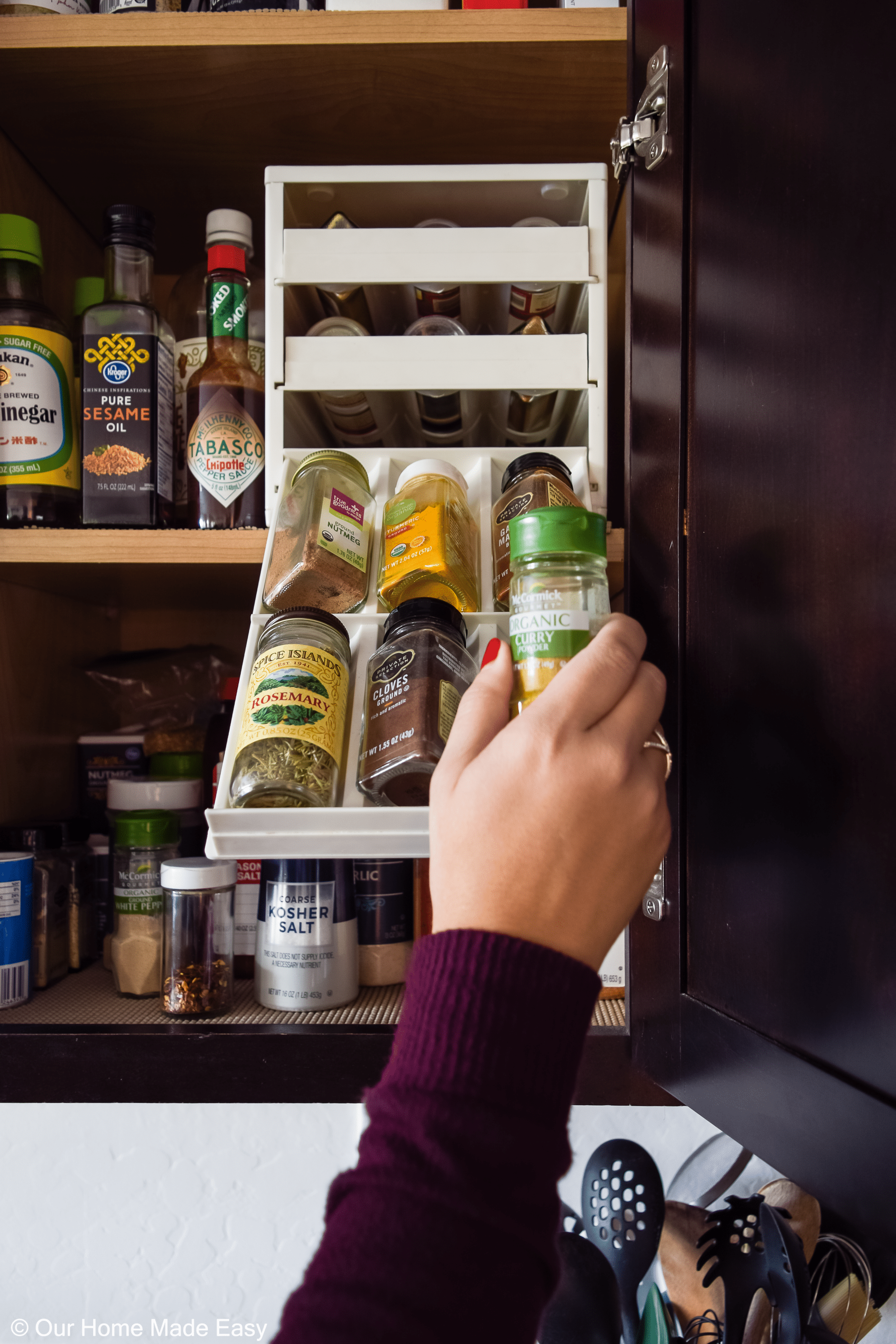 What Other Spices Should You Keep in Your Spice Organizer?
Once you've figured out your essential spices, you can branch out to other blends and varieties. Depending on the types of recipes you like to cook, you may want to keep several other spices in your storage.
Middle Eastern Cooking Spices
If you cook a lot of Turkish, Indian, and Middle Eastern dishes, you may want to keep the following in your spice rack:
Cumin
Turmeric
Curry Powder
Peppers
Mustard Seed
Fennel
Ginger
Garlic Powder
Dried Cilantro
Cardamom
Garam Masala
Mediterranean Cooking Spices
Many Italian, Greek, and Spanish flavors include herbs as well as spices. When possible, opt for fresh herbs (for better flavor), but you can always keep some dried herbs as a backup. For Mediterranean flavors, include:
Red Pepper Flakes
Garlic Powder
Onion Powder
Dried Rosemary
Dried Basil
Dried Oregano
Lemon Pepper
Thyme
Paprika
Southern Cooking Spice
Southern cooking is full of comforting flavors, spices, and seasonings. When we lived in Alabama, I loved the ribs, comforting casseroles, fried shrimp, and of course, macaroni and cheese. For southern flavors, try these spices:
Chili powder
Nutmeg
Garlic Powder
Red Pepper
Seasoned Salt
"Old Bay" Seasoning
Cajun Blends
Onion Powder
Cumin
Thyme
Dill
Oregano
Asian Cooking Spices
Do you cook a lot of stir-fry dishes or "fake out"? There are so many options in Japanese, Chinese, Korean, and Thai food. If you like spicy dishes, there are plenty of choices (and even if you prefer less spicy like me, there are still some great recipes). Stock up on:
Ginger
Garlic Powder
Onion Powder
Sesame Seeds
Five-Spice
Cinnamon
Basil
Lemon Grass
Red Pepper
Coriander
Latin American Cooking Spices
Foods from Latin America are always top-rated. Most families love tacos, enchiladas, slow cooker barbacoa, and tamales. If you love trying your cooking skills with dishes from Mexico, Brazil, Guatemala, and Peru, then stock up on these items in your spice rack:
Cumin
Chipotle Pepper
Taco seasoning blend
Oregano
Onion Powder
Garlic Powder
Cilantro
Cloves
Cinnamon
Adobo
Baking Spices
Avid bakers may want to keep certain spices and flavorings in their spice rack too. If you're a big fan of baking, keep these items in your spice storage:
Cinnamon
Nutmeg
Cloves
Cardamom
Ginger
Pumpkin Pie Spice
Vanilla (beans or extract)
Almond extract
Of course, there are many other types of cooking and specific areas you could explore, but this gives you an overview of what to keep as you organize your spice rack. Remember not to run out and purchase every spice for every imaginable dish.
Keep in mind the meals your family has in regular rotation, and store spices for those recipes. If you decide to try cooking a new recipe that calls for something you don't have, buy the smallest quantity possible to make sure you like the dish first.
How Long Do Spices Last?
Spices almost always have an expiration date printed on the original bottle. If you decant your spices in uniform jars, jot down the date on a small sticker on the bottom.
Are you unsure if a spice has expired? Give it a smell. Spices should smell fresh, clean, and strong. If a spice smells like sawdust, then it's probably time to get rid of it.
Spices and herbs should appear vibrant and colorful. Over time they can get dull because they lose their oils (where the flavor is stored). If a spice looks grey or flat, it's probably time to purge it and get something fresh.
As a general guideline, most spices only last 1-2 years in optimal conditions. Dried herbs will actually last a little longer, but they're rarely as flavorful or bright as fresh. Salt will keep forever.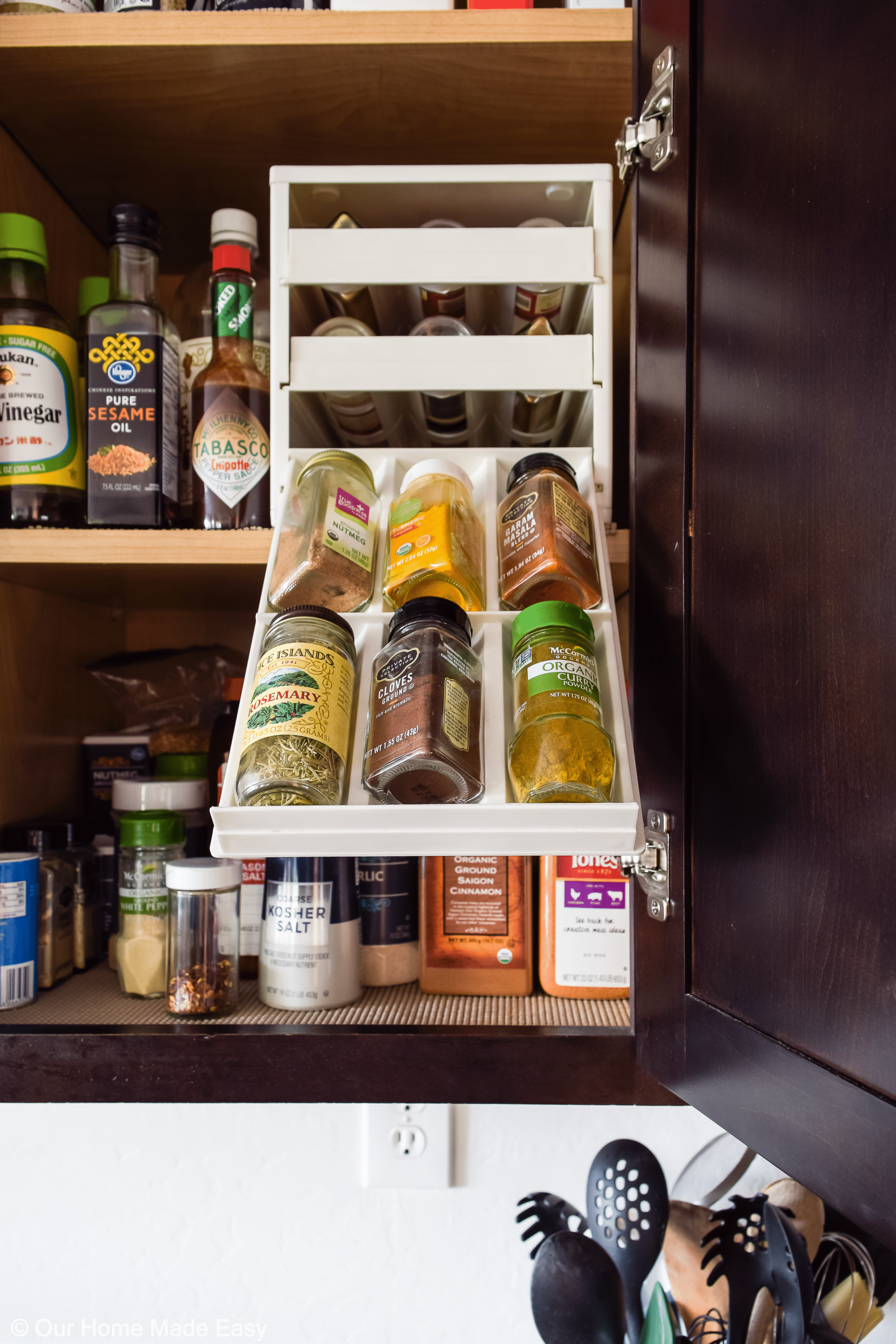 How to Store Spices Properly
If you want your spices to stay as fresh and long-lasting as possible, then it's time to figure out how to best store your spices. Now that you've pared down to the items you need, you should be left with a manageable number of jars or containers.
Depending on your space, you have many different spice organizer options, as I'll explain below. But the best way to keep spices organized is to put them in similar jars or containers. However, not all jars are created equal.
Tins and metal containers can rust and even give your spices a metallic off-taste. Glass makes a better storage container. Look for jars that seal airtight in a uniform height, size, and shape. Look for spice jars that feature lids for shaking or pouring spice too. This makes it easier to season when you need just a pinch of something.
Spices should be stored somewhere cool and dark. Watch out for humidity too. If spices cake or look off in any way, don't keep them. Spices don't really go bad, in that they probably won't make you sick, but they also won't taste good if they're stored out in the open of your hot kitchen.
How to Store Herbs
What about herbs? While not everyone thinks of herbs when they consider spice storage, herbs are commonly sold right alongside the spice shelf at the grocery store.
What's best when you store parsley, sage, rosemary, and thyme (or dill, basil, and oregano)? You have a couple of options, but I recommend buying the smallest quantity possible and using it up quickly. Some herbs like parsley and chives have almost no flavor when they're dried. In this case, you can use them for color or skip them altogether.
Other herbs, like rosemary, dill, and thyme, have a little stronger flavor, but it's definitely different than fresh herbs. If you plant a garden at all, herbs are a great item to grow—even in a porch planter. That way, you always have access to fresh flavor.
Of course, in the winter, you'll end up needing herbs for a recipe and won't have a garden supply. For those times, you can either buy a small amount of fresh herbs at the grocery store (and keep them in an herb saver in the fridge) or get some herbs in frozen cubes.
You can also make your own herb cubes by freezing chopped herbs in olive oil or broth cubes. Then all you need to do is pop a cube in your recipe to finish it off.
Spice Organizer Ideas for Every Kitchen
If you're ready to organize your spices, look for a practical organizer that will hold your uniform jars. There are plenty of options to choose from, and it all depends on your herb storage space and kitchen setup.
Countertop displays or stove-top racks seem like a great idea, but keep in mind, spices are sensitive to heat and light, so a cupboard or drawer is often a better storage option.
For spice organizers, you could any of the following:
Be sure to measure your space and then select the spice organization option that fits the area.
If you choose to decant your herbs and spices into uniform jars, don't skip the labeling. There are many cute spice jar labels, and it will make it so much easier to find what you're looking for (rather than opening jars and sniffing to guess). Be sure to include a little sticker with the expiration date on the bottom to rotate out any spices past their prime.
Organizing your spices will make meal prep so much simpler! You'll always have exactly what you need at your fingertips, and you won't have to worry about spices falling out of the cupboard or cluttering up your storage space.
"Other Posts I Know That You'll Love"
Have you noted some items for your spice cabinet? I hope you found this list useful! I'd love to hear your personal favorites through the comment section below!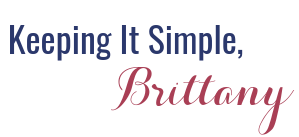 PIN FOR LATER: