The Ultimate Pantry Staples List to Make Delicious Weeknight Dinners
Wondering how to make great weeknight pantry meals? Here's a pantry staples list and guide to making delicious meals from pantry ingredients.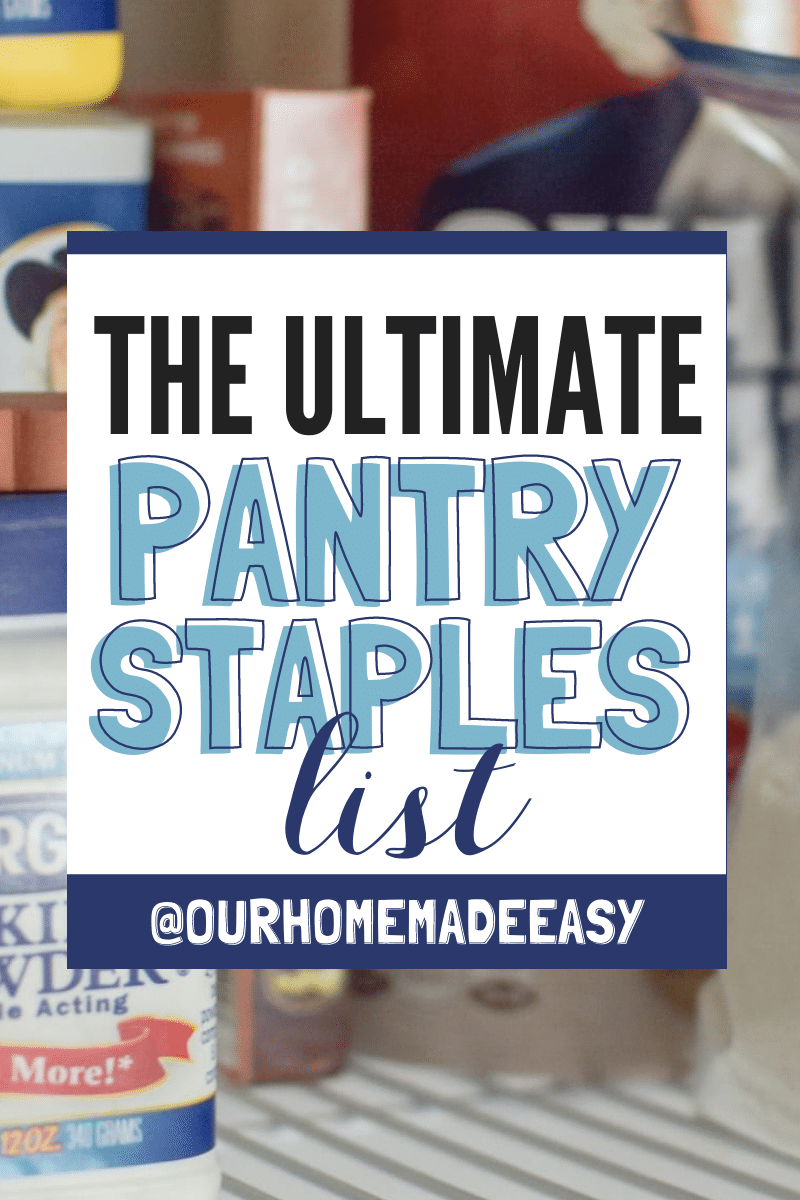 Do you ever have those weeknights where cooking feels insurmountable? Without a well-stocked pantry, you KNOW you're going to find yourself waiting in a fast-food line with kids in tow. That's why you need a pantry staples list.
Like all families, we treat ourselves to the drive-thru now and again, but most of the time, I rely on meal prep to get us through those busy weeknights. Unfortunately, sometimes life gets in the way, and there I am, trying to whip together a semi-nutritious meal out of the pantry.
But luckily, I've come up with my go-to pantry basics list that I always keep on hand. From there, it's easy to make delicious weeknight dinners. For a free, printable version of the pantry staples list, click here:
In the meantime, don't miss this ultimate list of pantry staples and ingredients to help you make delicious weeknight dinners.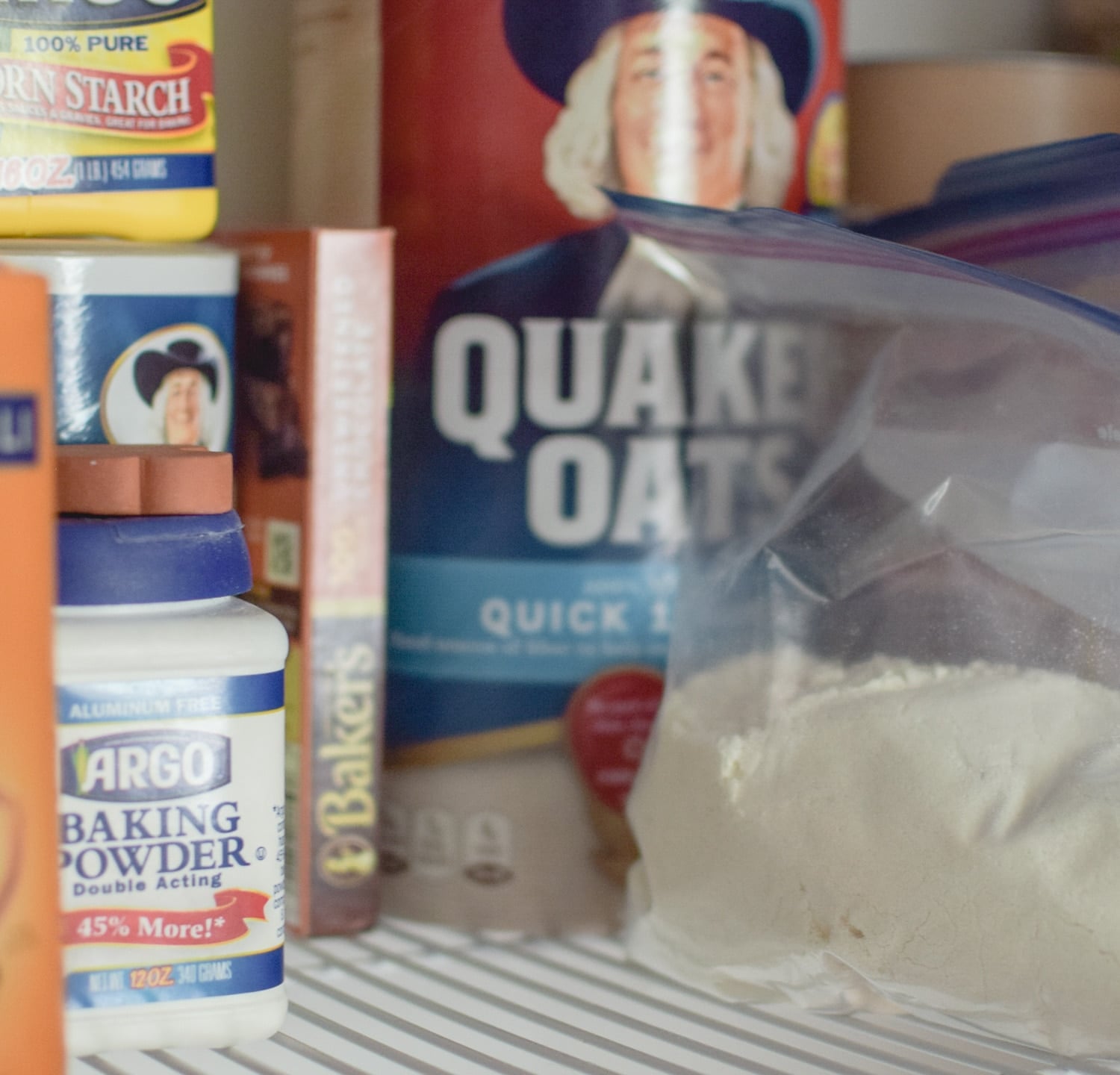 Pantry Meals 101
So you're eyeing the pantry and trying to figure out how to make "dinner" out of a box of cereal, half a jar of peanut butter, and a package of tuna fish. Don't worry! With a few basic items from this pantry staples list, you'll always have exactly what you need for delicious meals right on hand.
The trick with pantry dinners is to keep it simple. Keep the items from this essential pantry staples list on hand so you can create a variety of easy, yummy dinners at any time. If you do your regular meal prep, pantry dinners are a great way to supplement your meal planning.
Now admittedly, in my meal prep, I've had a few dishes that didn't quite work out before. I've also had some meals that were so good that we ate more than planned (and didn't have any leftovers for the rest of the week). Those times are when the pantry staples list comes in handy.
When I make pantry meals, I like to think of the rounded meal components:
A protein (tuna, beans, raw nuts, canned chicken)
A starch (rice, pasta, quinoa, grits)
A vegetable (green beans, canned peas, carrots, corn)
Sauce (soy, pasta sauce, dressing)
From there, building out a yummy meal is easy. I usually start with whatever I have in the fridge (which, admittedly, might not be much) and build it out from there.
I like to keep basic sauces and condiments in the pantry in case we run out of something. Usually, I keep olive oil, soy sauce, vinegar, and hot sauce on hand. It's nice to store extra unopened salad dressing, mayonnaise, and a few other basics if we forget to order something in our grocery delivery.
I've also added a lot of baking ingredients to the pantry staples list. Breadcrumbs and flour make good coatings for chicken or fish. Other bakery staples like vanilla and baking soda are helpful to keep on hand in a pinch.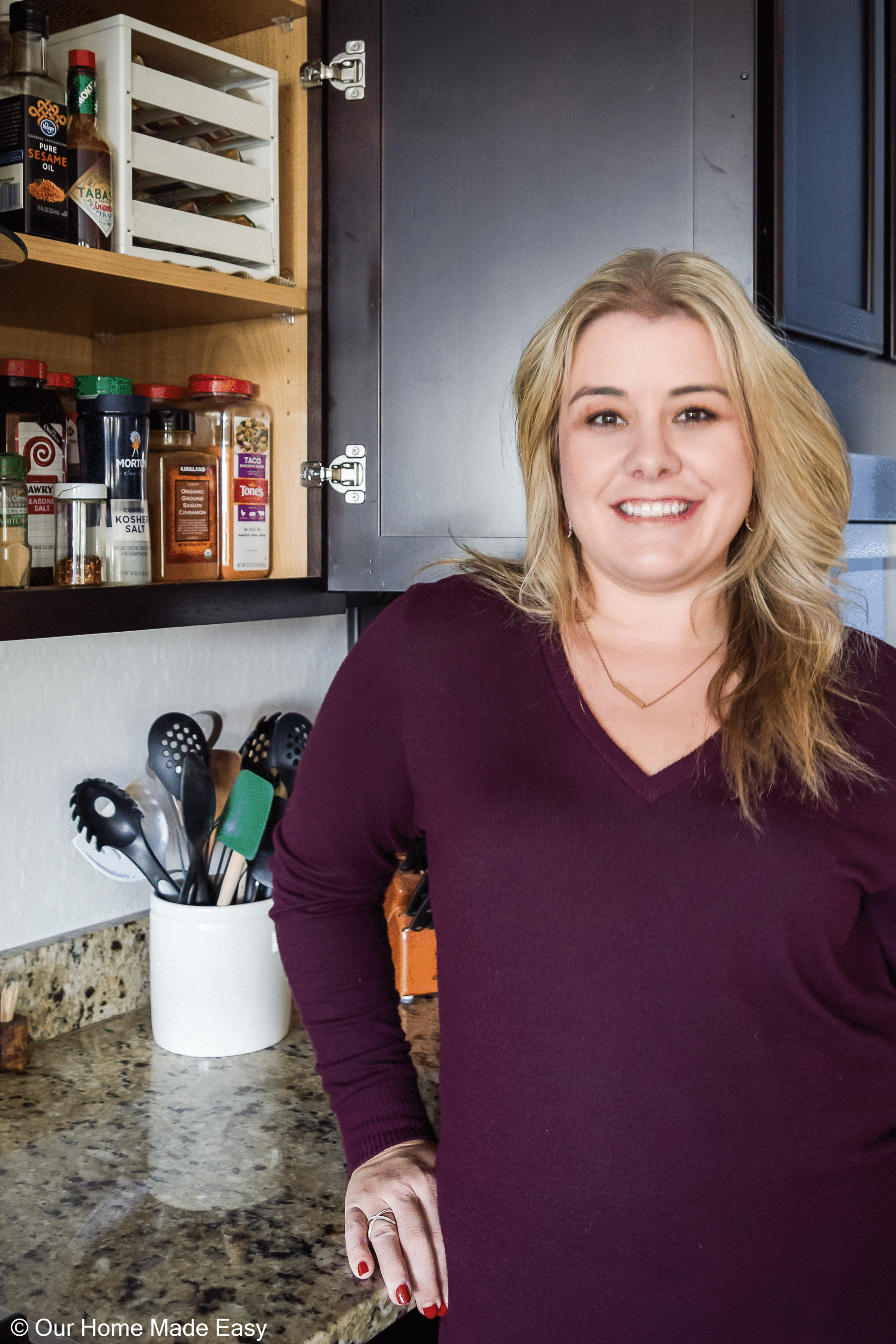 How to Make Simple Weeknight Pantry Meals
You might be looking at your pantry and feeling like, "nothing goes together." Never fear! Once you start stocking up on the pantry staples list, you'll have enough to round things out. Sometimes it takes a little creative thinking.
For example, if I have a bell pepper and celery in the fridge, I can use tuna fish and mayonnaise to make a simple tuna salad. Add some crackers and canned pears, and it's a yummy, kid-friendly meal.
If we have some cheese and tortillas, I'll use a can of beans from the pantry with taco spices to make quesadillas (bonus points if there's another pepper in the fridge).
I might use quinoa, rice, or pasta as a base and then add some canned beans, sauce, or a protein like tuna for a simple but filling bowl. Italian dressing can make a delicious pasta salad with jarred olives; if you have frozen vegetables, add them to round out the dish.
The other pantry meal that's always a favorite is soup. I always keep pasta sauce, broth (chicken and vegetable), and noodles in the pantry. With a can of vegetables or beans, you can make an easy and filling soup. Quinoa makes an excellent base for meatless chili, along with tomato sauce, kidney beans, and a can of corn. Of course, it never hurts to keep a couple of cans of regular soup (like Progresso or Campbell's) on hand too.
I also keep oatmeal, polenta, and raw nuts in the pantry. Hot cereal is an easy and satisfying meal that the kids like too. If you have canned fruit (or even jam), you can stir it in for sweetness. Add some raisins, maple syrup, and a dash of cinnamon.
I generally keep baking goods on hand too. It's a rare weeknight that I'll feel like whipping up a batch of cookies on the fly, but once in a while, the mood will strike. I love desserts (check out my dessert recipes here), so it's nice to have some basic ingredients to satisfy a sweet tooth.
If for some reason, I can't make it to the store or we run out of freezer meals, I know I've stocked up on the items from my ultimate pantry staples list, so I don't worry about getting a meal together quickly.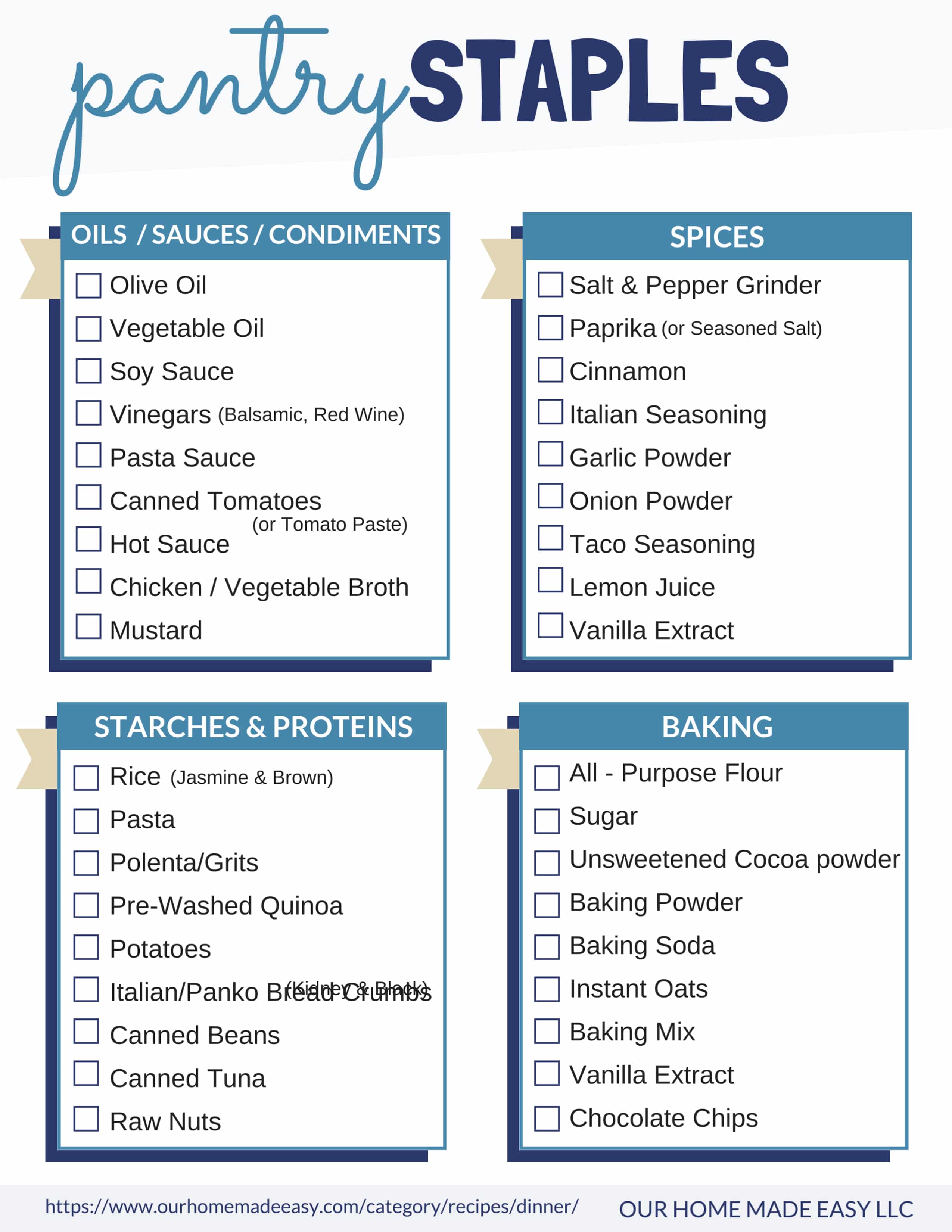 The Pantry Staples List: Kitchen Essentials for Weeknight Pantry Meals
So what should you keep in your pantry for easy weeknight meals? You can get my basic printable list of pantry staples here.
Below I've broken down the pantry staples list by category and added some extra items to the basics. I recommend slowly stocking up on these items by buying a couple each week when you grocery shop. From there, you'll end up with a very well-rounded pantry full of all the kitchen essentials you need for weeknight pantry meals.
Oils, Sauces, & Condiments for Your Pantry
Include the basics from my printable list of pantry essentials like olive oil, soy sauce, vinegars, and pasta sauce. In addition, I like to have:
Tomato Sauce
Jarred Pasta Sauces and Cheese Sauces
Pesto
Soups Including Tomato and Instant Varieties
A Variety of Broths: Vegetable, Chicken, Beef, Tomato
Condiments Including:

Mustard
Ketchup
BBQ Sauce
Mayonnaise
Italian dressing
Asian dressing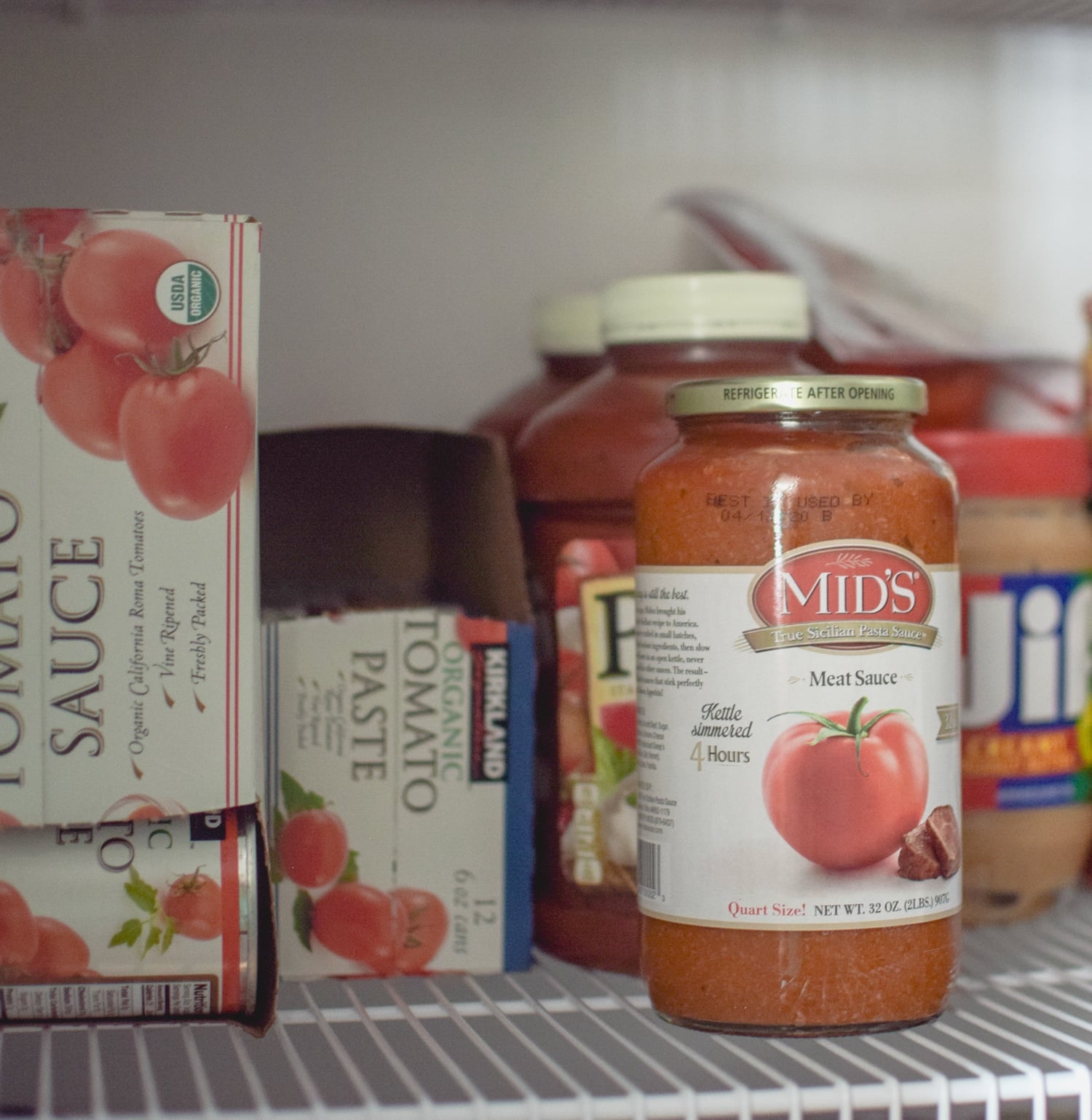 Starches & Proteins to Keep in the Pantry
Starches and proteins will form the base of most of the best weeknight pantry meals. If you're watching carbs, you could rely on beans, tuna, and nuts as the base of your meals. For my starches, I typically include:
Crackers like Saltines and Ritz
Pasta Including Gnocchi, Spaghetti, and Pasta Shells
Quinoa (Look for The Pre-Washed Type)
Rice (We Like Jasmine and Brown Rice)
Potatoes (Both Instant and Canned
Ramen Noodles
Spaghetti-O's
As for proteins, I find that they really help keep us full and add heartiness to any meal. Yes, meatless chili or tuna packets aren't as good as roast beef or baked chicken, but these pantry proteins are filling and enjoyable in a pinch. For proteins you may want to keep:
Tuna in Packets or Cans
Canned Shrimp or Clams
Beans like Black, Pinto, Chickpeas, and Quick-Cooking Lentils
Peanut Butter (Almond Butter or Tahini)
Powdered Peanut Butter
Spices to Keep in Storage
I keep a few spices in my pantry to help add flavor to pantry meals. The spices and flavorings help to make pantry meals feel a little more special and "fancy." If you're wondering what spices to keep and how to organize your spice rack, don't miss my spice rack organization post. Spices I keep in my pantry include:
Salt & Pepper
Paprika (or Seasoned Salt)
Cinnamon
Garlic Powder (or Italian Seasoning)
Onion Powder
Taco Seasoning
Lemon Juice
Vanilla
Canned Fruits & Vegetables to Store in the Pantry
While we don't eat many canned fruits or vegetables, it doesn't hurt to keep a few cans in your pantry for those nights when you need to whip up a meal in a hurry. I know they're not quite as good for you as fresh or frozen, but canned will do in a pinch. I suggest:
Beans
Potatoes
Mixed Veggies
Corn
Apple Sauce
Fruit Cups
Peaches
Pears
Oranges
Pumpkin
Baking Goods to Keep on Hand
Some people think of a pantry as a single cupboard; others may have a walk-in pantry with lots of storage for extras. Either way, I believe that it's good to make room for some baking supplies if you need a quick dessert. In addition to the flour, sugar, and general baking goods on my pantry staples list, I suggest keeping:
Powdered Milk
Creamer
Shelf-Stable Almond or Soy Milk
Coconut Milk
Brown Sugar
Frosting
Baking and Cake Mixes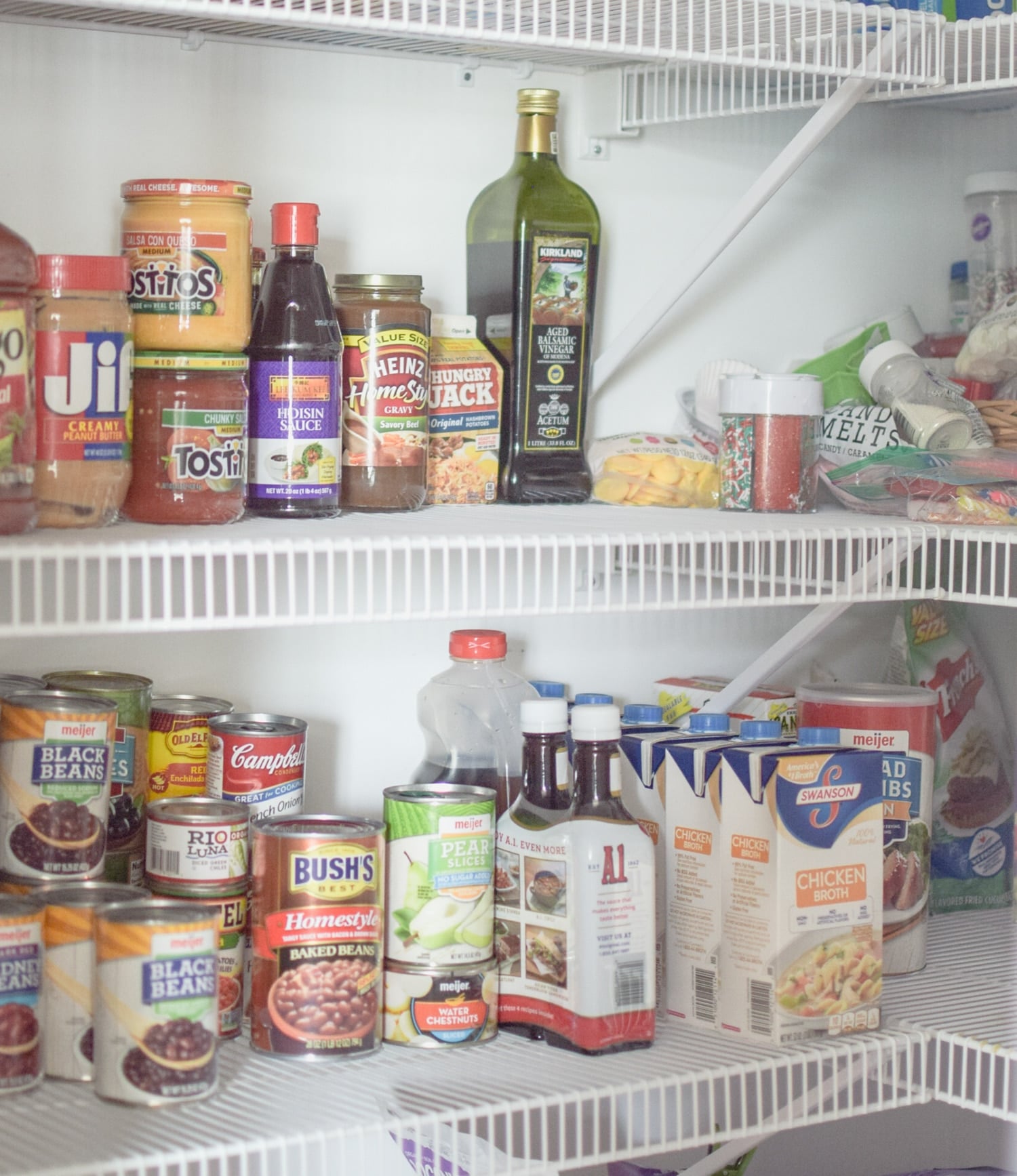 Other Foods to Keep in the Pantry
If you have space in your pantry for some other foods, you may want to round out your supplies by keeping some extra boxes and bags of treats, items for lunches, and grab-and-go foods (like granola bars). While we don't do popcorn for dinner most of the time, you never know when it might sound like a great idea. Treats and snacks to keep in the pantry:
Granola Bars
Energy Bars
Fruit Snacks
Dried Fruit
Trail Mix
Popcorn
Mixed Nuts
Sunflower Seeds
Salad Toppings
Cookies
Salsa
Dip Mixes
Pudding or Jell-O cups (or mixes)
Chips
Cereal
Coffee
Paper Goods (Towels, Toilet Paper, Plates)
How to Stock Up Your Pantry
If your pantry is small (like a single cupboard or small shelf), you may want to focus on just the items on the pantry staples list. If you have more room, though, slowly buy the other items and fill in the gaps so you can have a variety of options for weeknight pantry meals.
A few tips that I've found helpful are never to buy items that your family doesn't really like. Don't buy multiples (even when they're on sale) if you aren't sure that your kids or spouse will eat them. You can fill up your pantry with all kinds of items, but if no one wants to eat it, then it will expire or go to waste.
Another important tip is to rotate items regularly. Buy them in small quantities, especially if you are a pretty small family. Always put the newest items to the back and pull the oldest upfront. Go through your pantry every six months or so and toss things that are past their expiration date.
Work in some of the pantry staples list into your weekly meal rotation. For example, use pasta or rice in casseroles or enjoy the fruit for dessert. That way, you're always using the items in your pantry, and they aren't just sitting there waiting for a rainy day.
If you're just setting up a pantry, take it slow. Buy a few pantry staples each week when you shop, and soon you'll have a well-stocked pantry that's perfect for any weeknight!
Other Posts I Know That You'll Love
How about you? How did you brilliantly turn a leftover turkey into a tastier recipe? Tell me in the comments!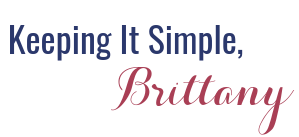 PIN FOR LATER: