Who needs only 7 layers? This quick & easy taco layer dip is perfect for your next party! Start with a simple base and keep adding layers of your favorite toppings.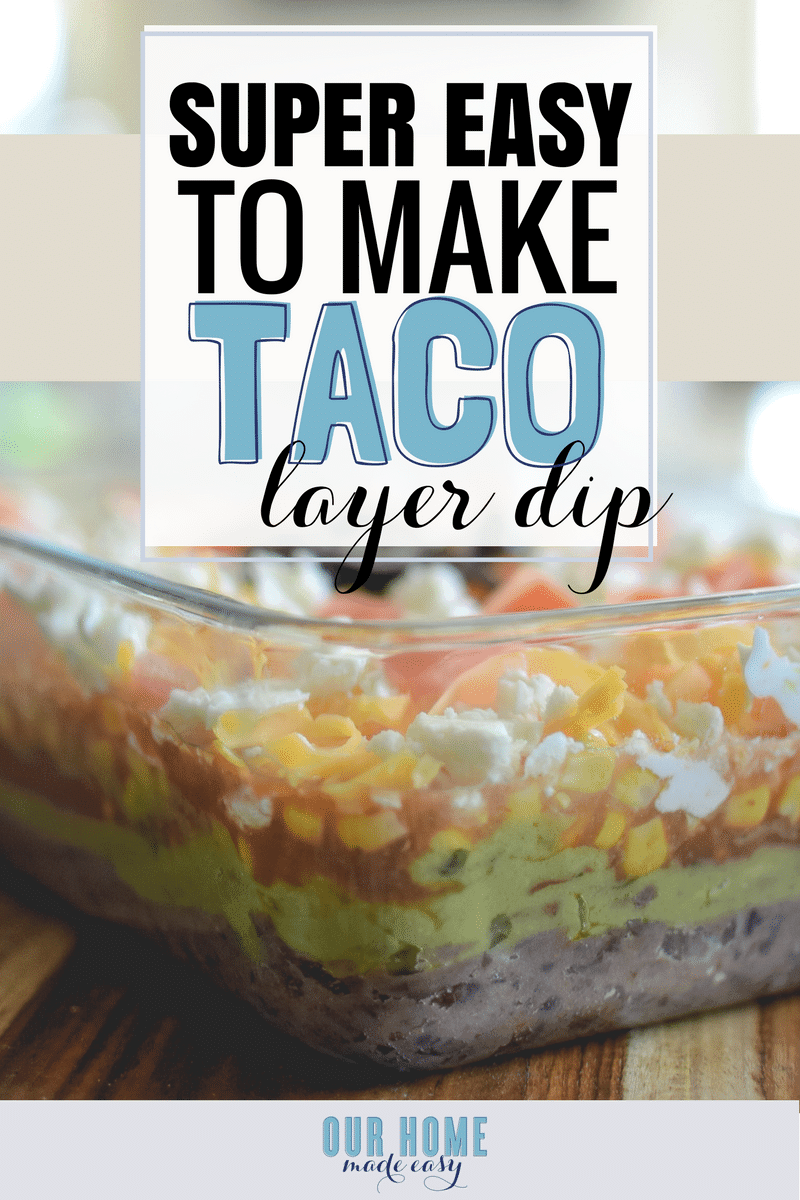 (This post contains affiliate links. Please see my Disclaimer for more information)
While I'd love to say that I made this purely for upcoming Cinco de Mayo, it'd be a total lie! We love any combination of cheese, guacamole, salsa, and tortilla chips. The Wise family has an unhealthy love for tacos!
On Sunday afternoons I like to make a fun snack for that time in-between lunch time, post nap, but hours too early for dinner time. Sometimes I'll whip up a quick guacamole or give the kids a little cup of veggie straws. #balance 😉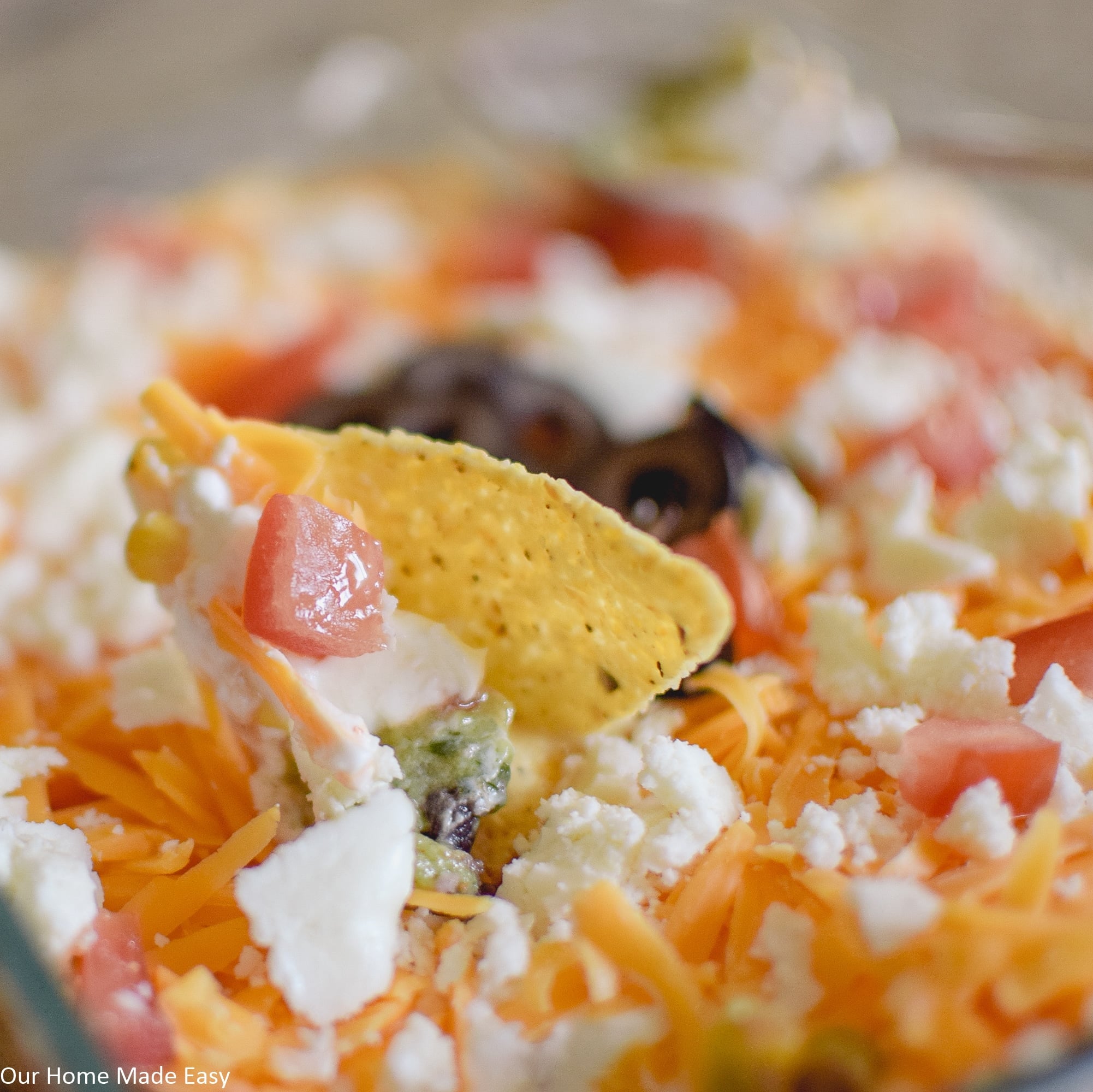 Check out my favorite taco recipes here!
2 Ingredient Slow Cooker Chicken Tacos |15 Minute Tortilla Strips | Pork Enchilada Tacos | Taco Burger Sliders
This week I wanted to make a new dip that would complement Sunday evening's chicken tacos– a fun taco layer dip!
But I have to tell you– I cannot be anywhere near refried beans. They make me cringe at just the smell of them. So for this dip I used black beans and I really loved the substitution!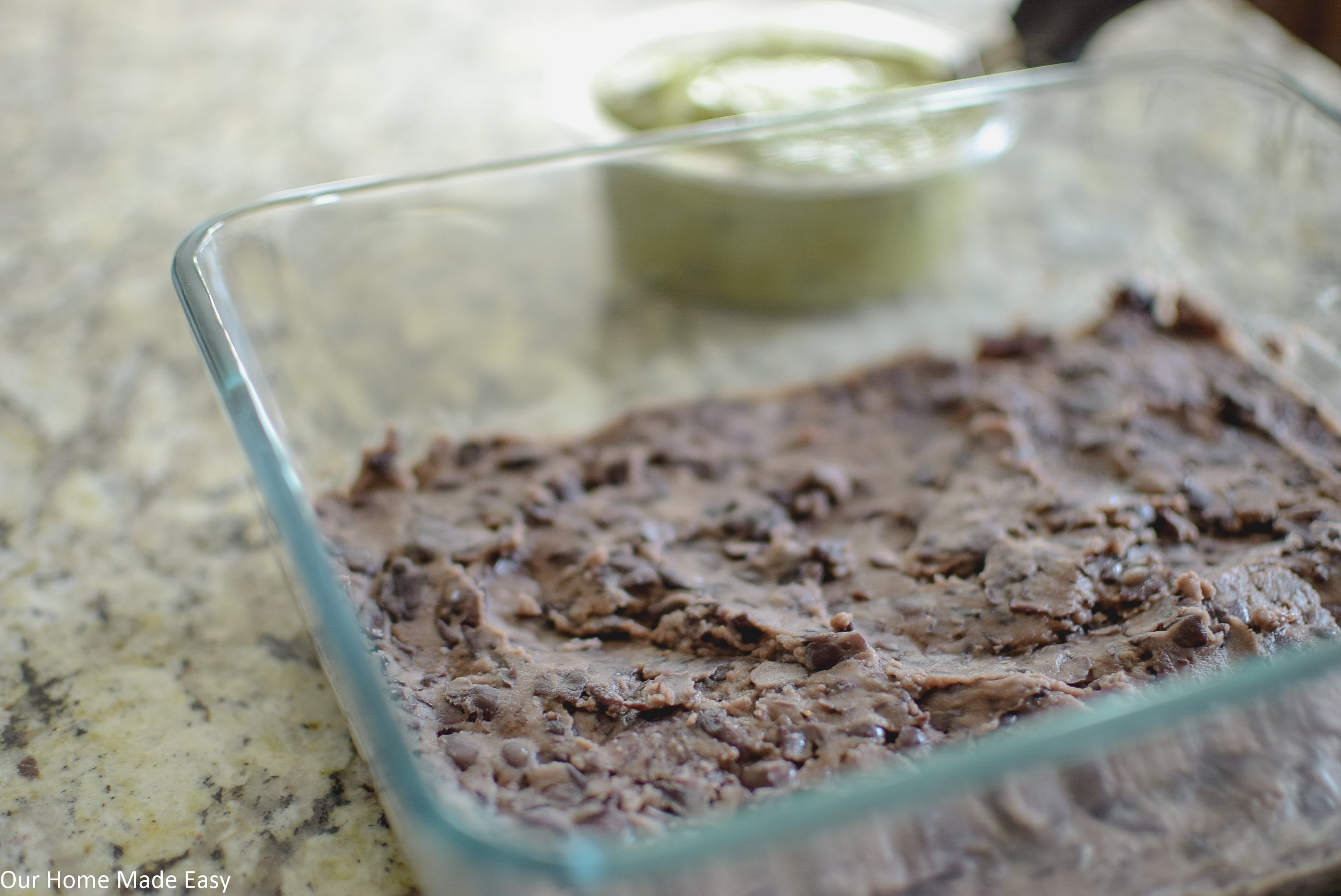 And it turned out really good! All 4 of us enjoyed it a little too much. 🙂
For the future, Jordan requested more heat to the dip. To add more spice, you could add in chopped onions, green chilies, a hot salsa, or top with jalapenos. My mild Midwestern heart loved the flavors without the heat.
Once I made the dip, I chilled it the fridge for a few hours to set it up. If you're pressed on time, you should be able to chill it for 45 minutes to an hour and be good to go.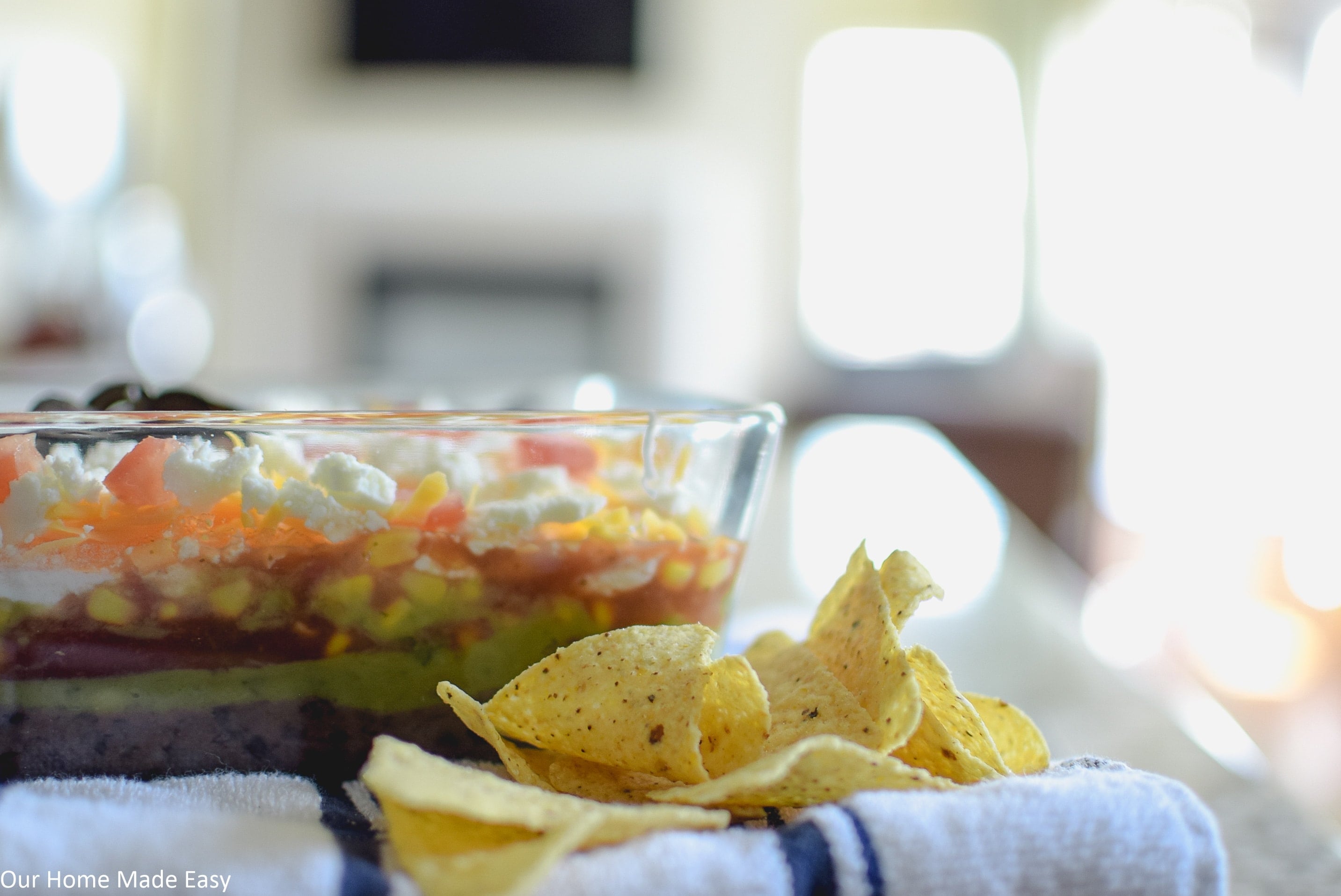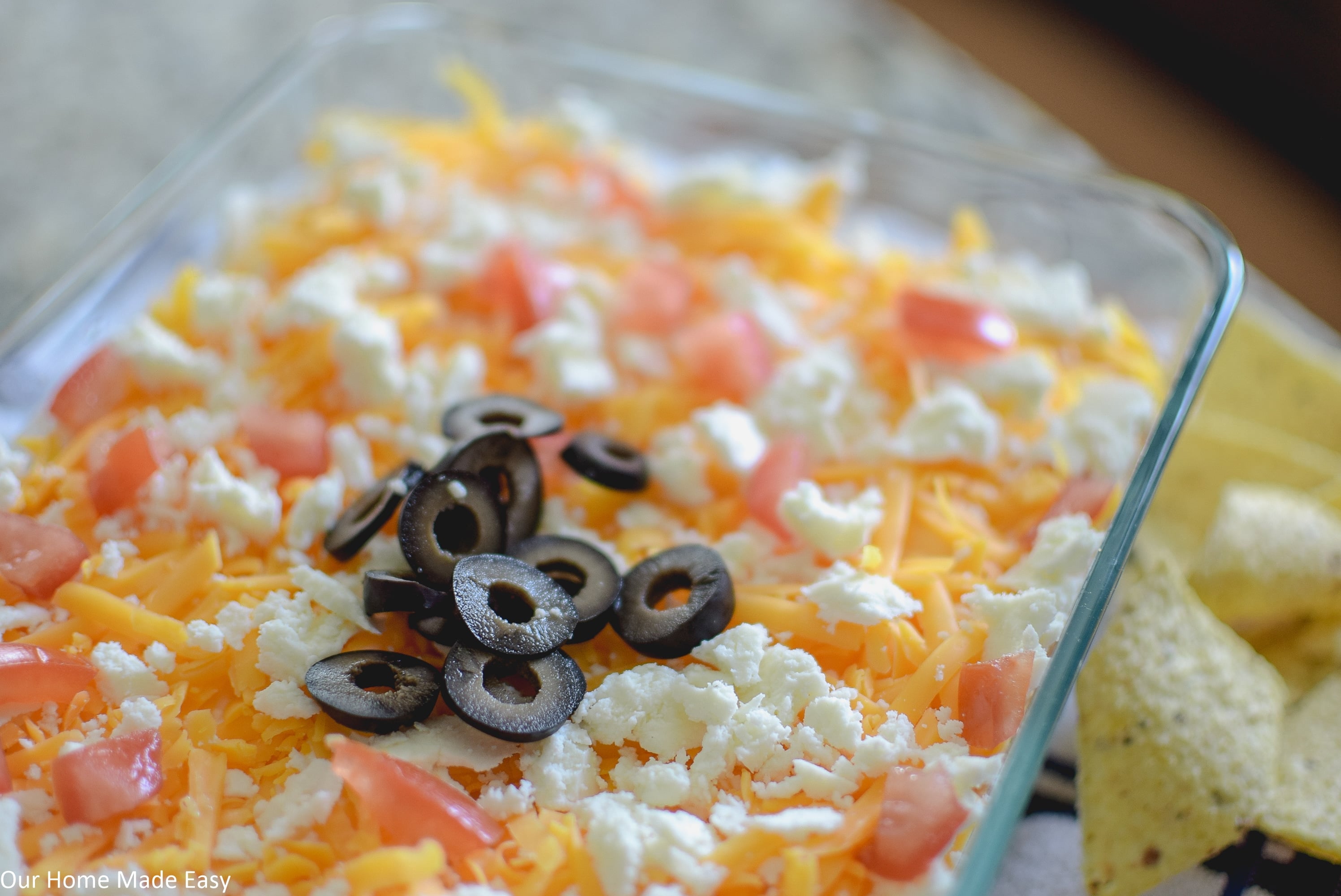 Wondering how the guacamole held up? It stayed bright green since it was completely topped with other ingredients. Even the day after it was still in good shape!
Want to make this dip even easier to make? Use a small offset spatula to smooth everything in place. For the salsa & sour cream, I spooned both out in sections around the surface and then smoothed it out with the spatula.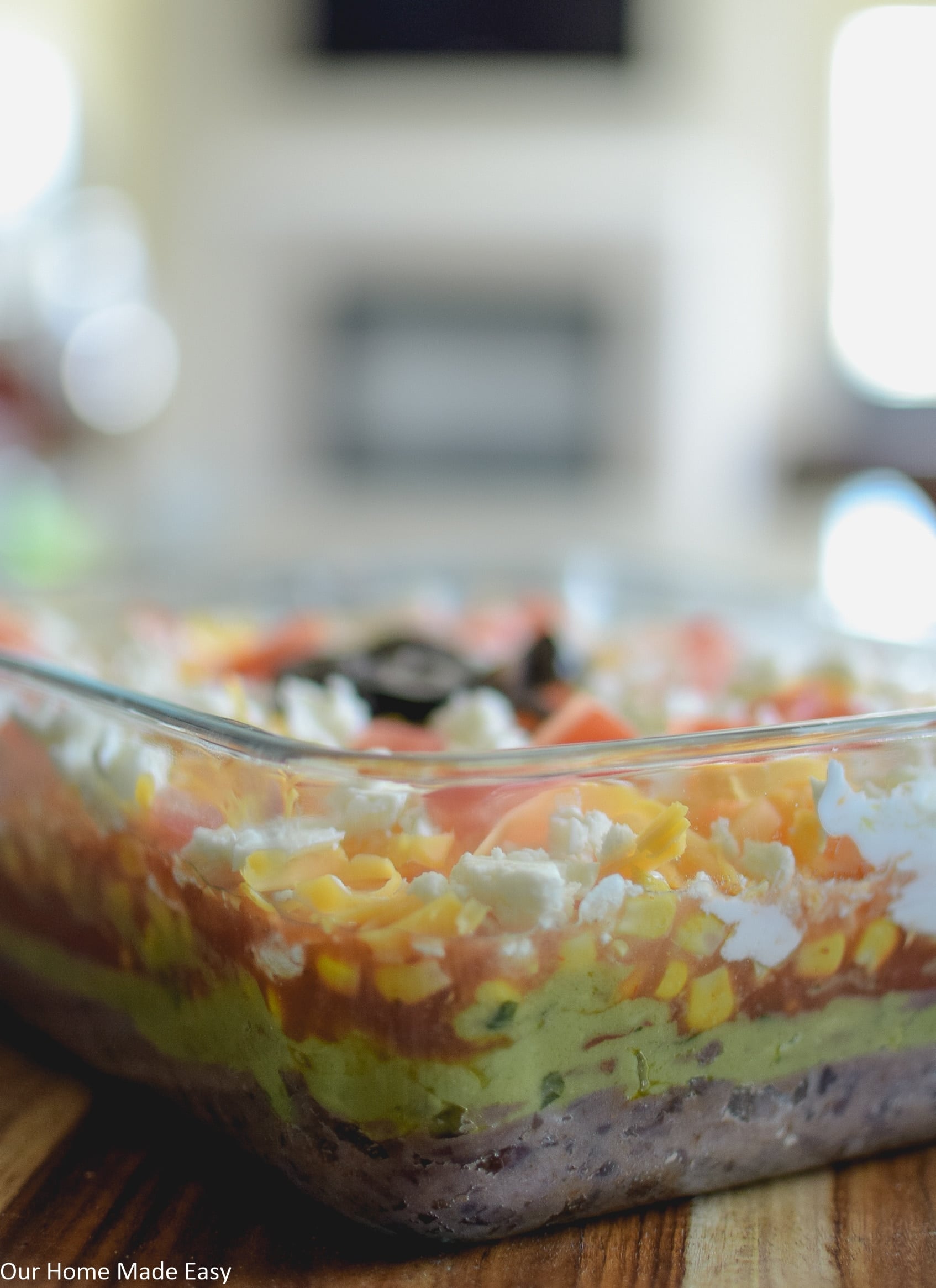 Sources: Large Rectangular Glass Bowl | Wood Cutting Board | Offset Spatula
Aren't those layers super pretty? For cheese, I grated some cheddar and crumbled queso fresco. But your could easily add in your favorite cheese combination.
And there are so many to add! I used what we had on-hand, but here are a few other options to use:
Black Beans
Refried Beans
Guacamole
Sour Cream
Plain Greek Yogurt
Salsa
Corn
Cheddar / Monterrey Jack / Queso Fresco
Cojita Cheese
Scallions
Chopped Onions
Black Olives
Green Chilies
Sliced Jalepenos
Chopped Tomatoes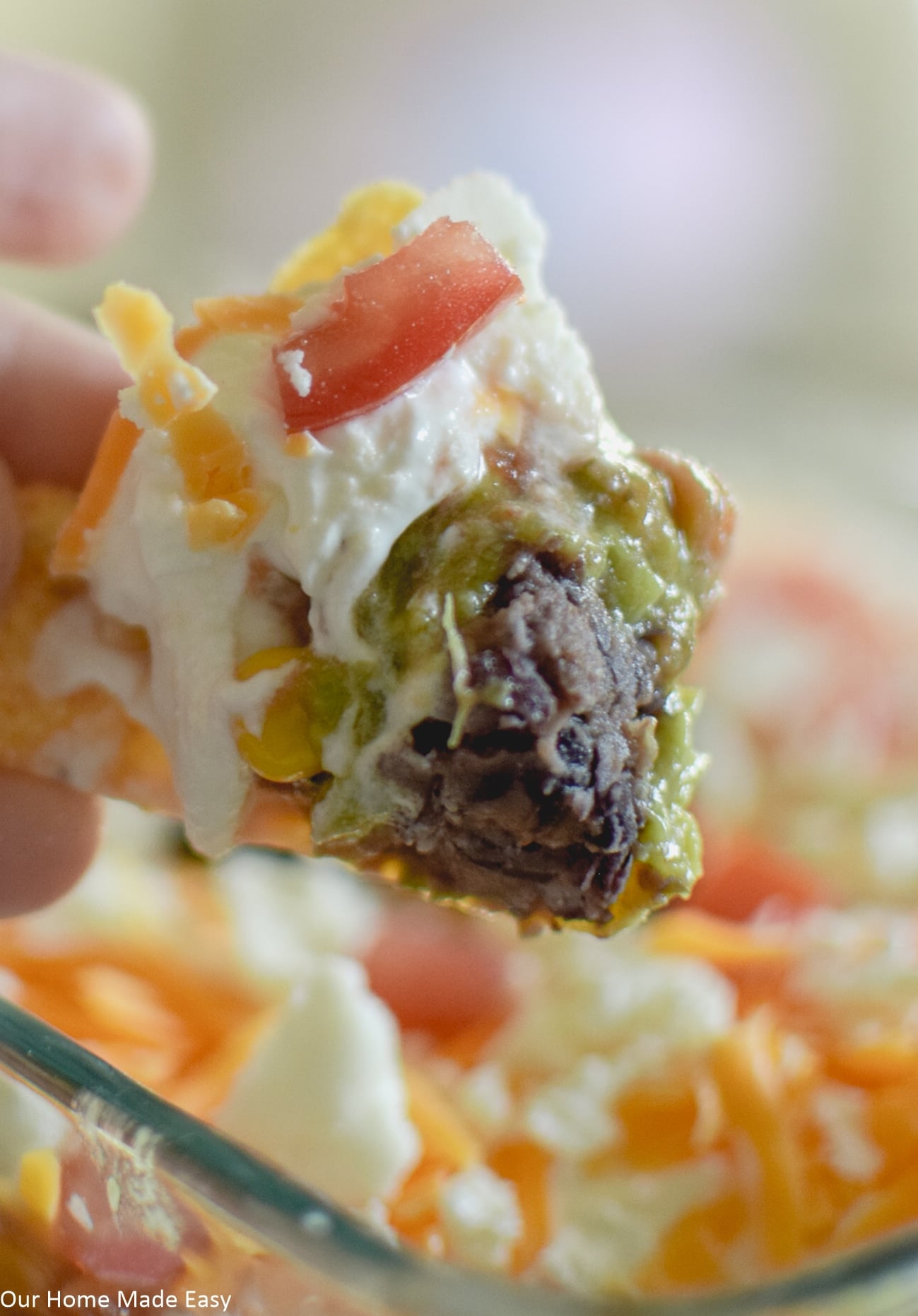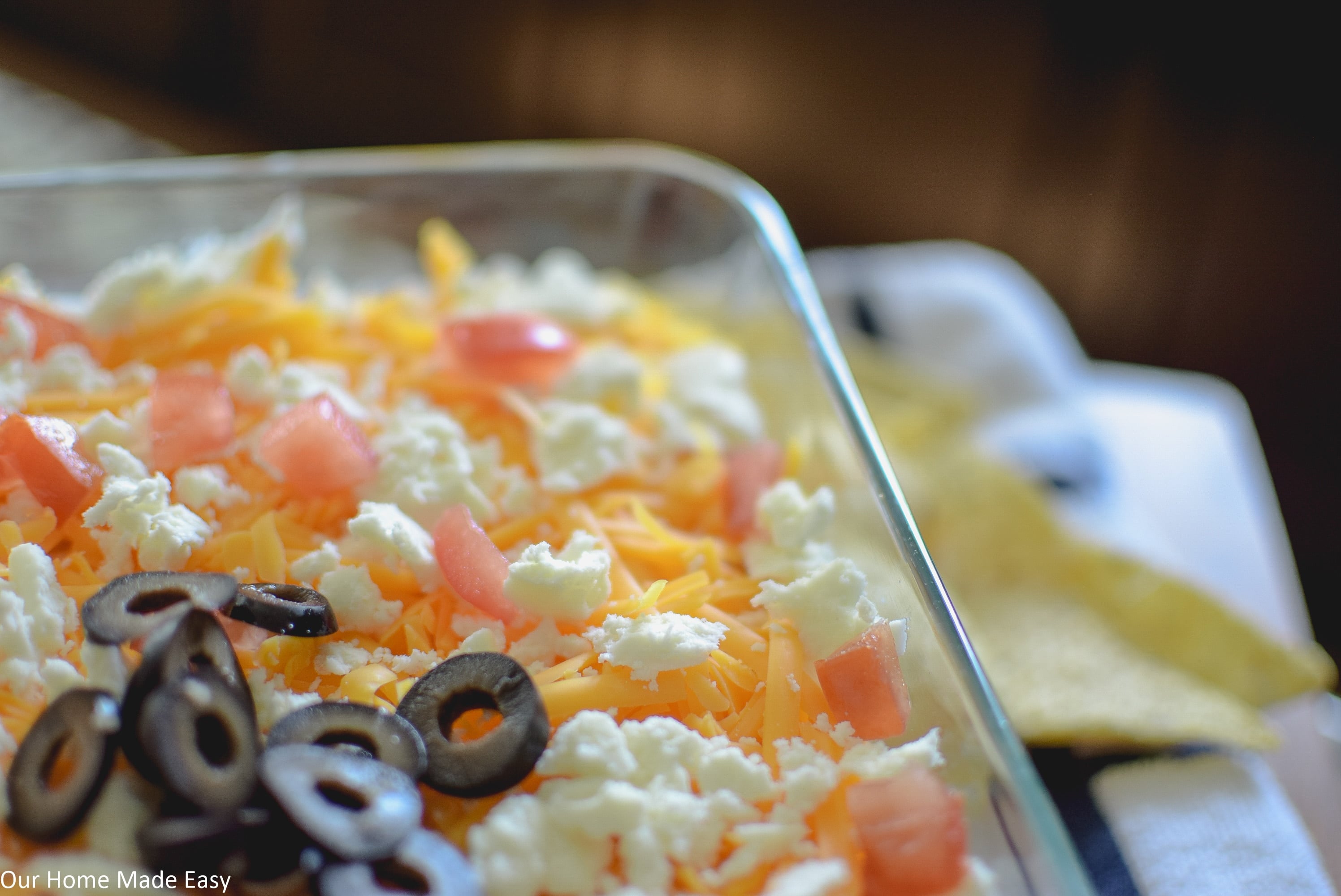 Happy dipping!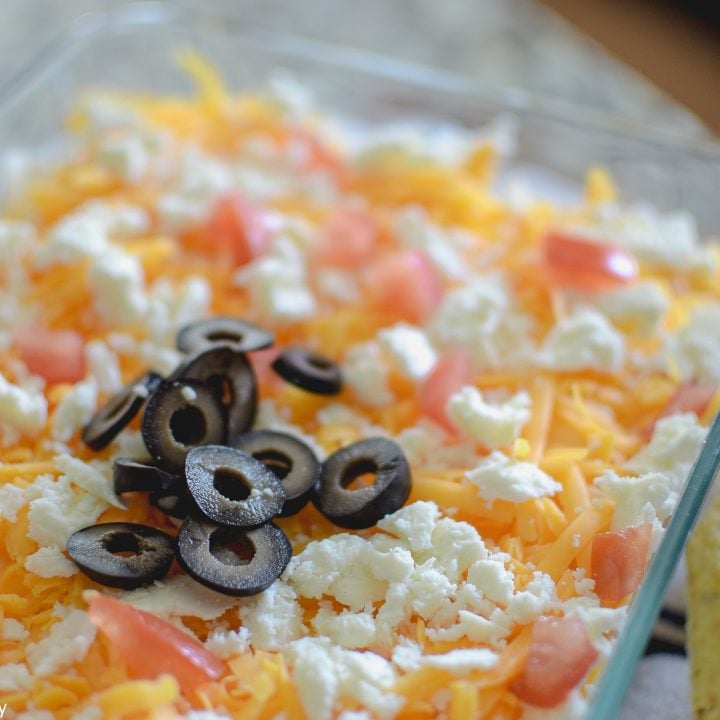 Quick Taco Layer Dip
This quick & easy taco layer dip is perfect for your next party! Start with a simple base and keep adding layers of your favorite toppings
Ingredients
2 cans Black Beans, Drained & Rinsed
1.5 tbsp Taco Seasoning
2 tbsp water
1-2 cups Guacamole, Use Prepared to Save Time
1 cup Corn, Drained
1 cup Salsa
16 ounce Sour Cream
1.5 cups Cheddar Cheese, Grated
Additional Toppings, Layer on your favorites!
Instructions
Mix together the black beans, taco seasoning, and water
Using the tines of a fork, mash the black beans to a paste and layer the bottom of your dish
Top with remaining ingredients.
Chill for 45 minutes to 1 hour and serve immediately with tortilla chips
Notes
Add in spices & heat to make the dip to your taste.
Additional toppings for a meal: Browned Ground Beef, Shredded Chicken, Black Beans, Refried Beans, Guacamole, Sour Cream, Plain Greek Yogurt, Salsa, Corn, Cheddar / Monterrey Jack / Queso Fresco, Cojita Cheese, Scallions, Chopped Onions, Black Olives, Green Chilies, Sliced Jalepenos, Chopped Tomatoes