Easy No Bake Chocolate & Peanut Butter Bites
These no-bake peanut butter bites are perfect for when you want a snack on the run! They are the perfect energy bites that are salty and sweet.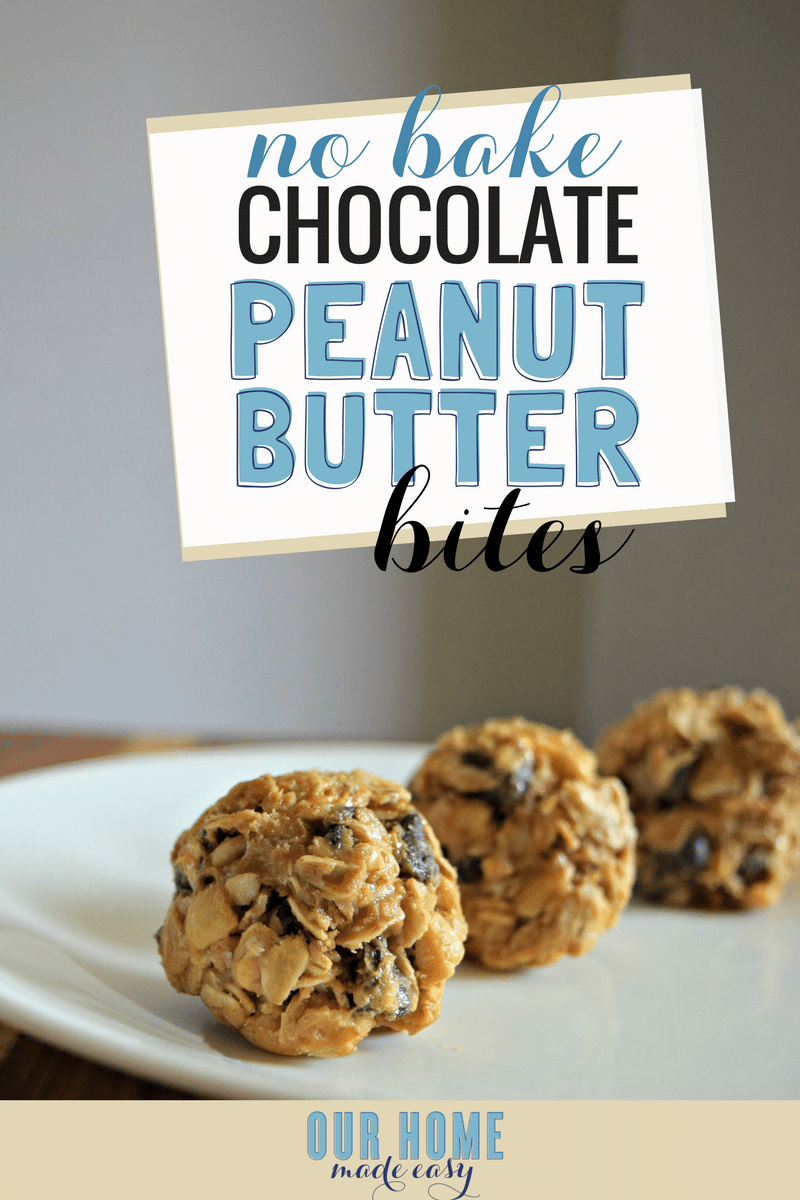 (This post contains affiliate links. Read my disclaimer page for more information.)
Have you seen the popular Pinterest pins showing no bake protein bites? They look so good in the pictures, but most moms don't have all the ingredients on hand. Yes, it is great to be uber healthy, but not great when you decide to make the Pinterest recipe at 9pm on a Wednesday night and you don't have chia seeds lying around in the pantry!
If you want to dip your toes into the energy bites recipes, I have one for you! And you can make the base with what is already in your pantry. When you knock it out of the park and develop a recipe containing negative calories and have 36 grams of protein a piece, CALL ME.
For this recipe base, you will need oats, honey, and peanut butter. Anything else is up to you! We have a wonderful friend who gave us local honey from their bee hive. Local honey is wonderful for my hay-fever allergies and I try to eat it as much as possible. Plus, it's DARN delicious. Thank you, Wendy!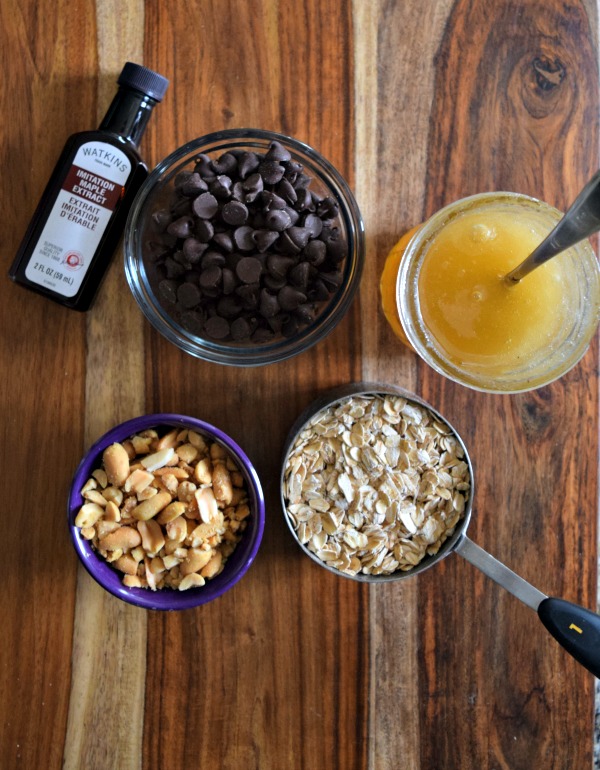 In the recipe below, I call for vanilla extract. As you see in the picture above, I used maple since I didn't have vanilla in the pantry. Both are tasty options!
Related:
We've been making these peanut butter bites for more than 4 years, now. The bites were a solution for busy mornings when we need breakfast but did not have time at work to eat something. I made these Sunday nights and they were portioned out for the mornings. Since the bites are both a little salty and sweet, they are perfect as a go-to for breakfast or a treat after dinner.
Each time I make them, I vary the sweet additions based on what is in the pantry!
Sweets:

chopped chocolate
butterscotch chips
macadamia nuts,
cranberries,
agave nectar
mini chocolate chips
mini m&ms
cocoa powder
toasted coconut flakes
Healthy Alternatives:

flavored protein powder
chia seeds
crunchy peanut butter
wheat germ
cashews
chopped peanuts
Flavorings:

vanilla extract
maple extract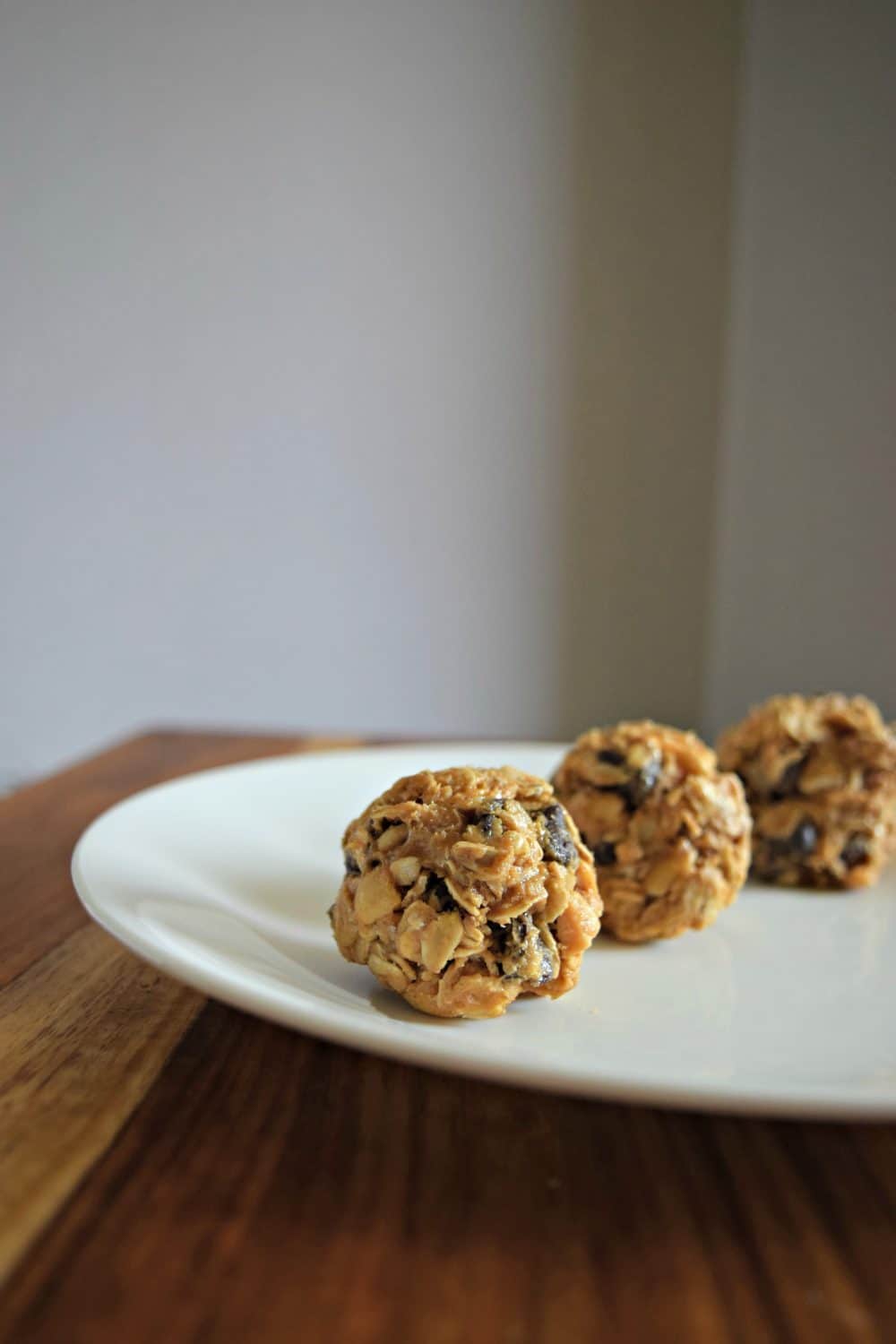 To make even sized bites, I use my cookie scoop to portion out the bites. Once I portion them I do a quick hand roll and then they maintain their shape.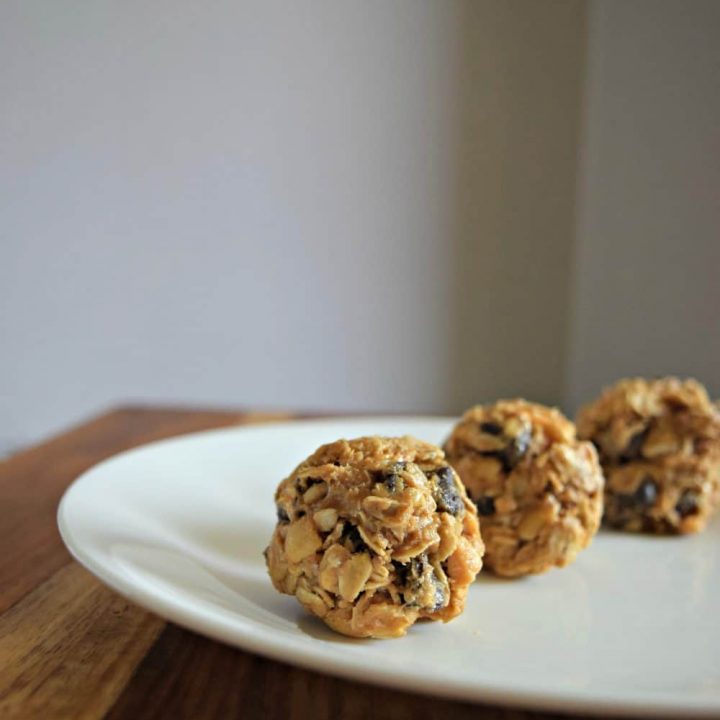 No Bake Chocolate & Peanut Butter Bites
Total Time:
1 hour
15 minutes
Ingredients
2 cups of old-fashioned oats
1 cup of peanut butter
1/2 cup of  nuts
3/4 cup of chocolate chips
1/2 cup of honey
1 teaspoon vanilla extract
Instructions
Mix all the ingredients together in a small mixing bowl until well combined.
Cover and chill in the refrigerator for at least an hour.
Form the mixture into 1 inch balls. Store in refrigerator for up to 5 days.
Items Used to Make Easy No Bake Peanut Butter Bites