This family likes to eat quick meals but not fast food meals. Does that even make sense? For us, quick meals usually mean something sandwiched between pita or tortillas. I am not going to apologize for it, we love tacos! To change up from the ground beef, cheese, and sour cream kind, we use pork, black beans, and enchilada sauce. SO GOOD. And you'll agree. Add it to your meal plan this week!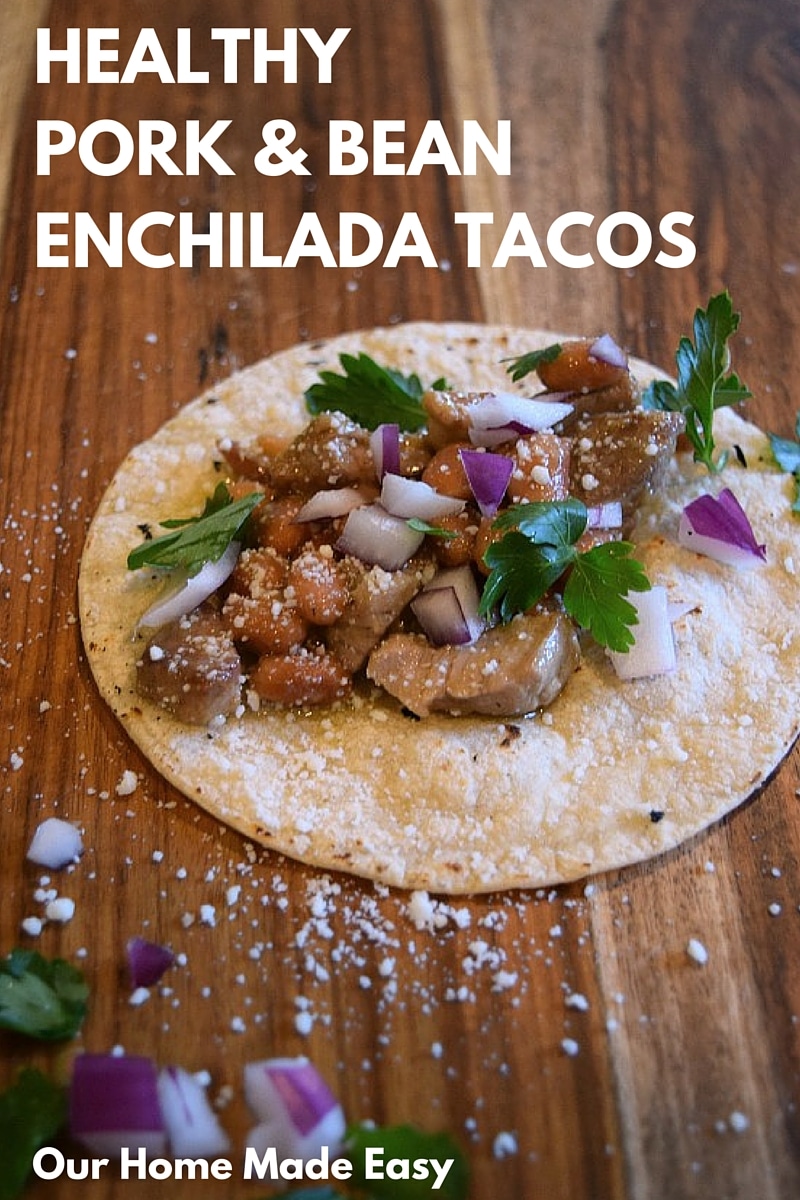 The inspiration for this recipe came from the Real Simple magazine. Rather than keep the physical issue, I pinned the recipe. To this day it one of my most repinned images on Pinterest! (This post contains affiliate links. If you shop from my blog, I may be compensated for clicks or purchases that you make. Read my disclaimer page for more information.)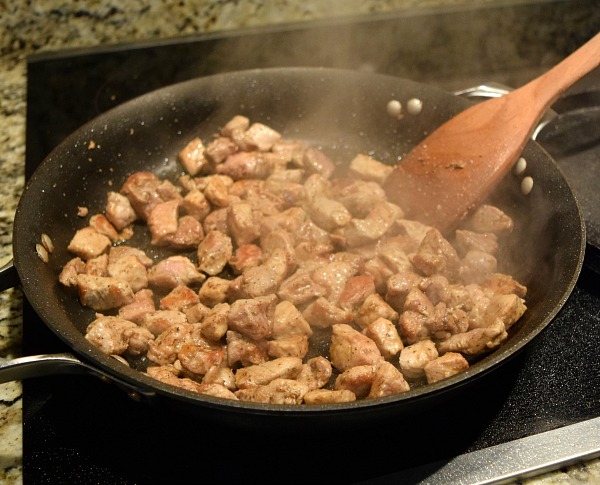 So this looks like chicken, but its pork cubed into bite sized pieces. I suppose you could slice it ala fajita style. For us, bite size pieces work best with little toddlers. A majority of my cooking with Pork is in slow cooker, roast form. It makes me feel more accomplished when I prepare something a different way. Silly, perhaps, but give this mama a small break! Anyways it's sizzling with the pork, spices, and oil.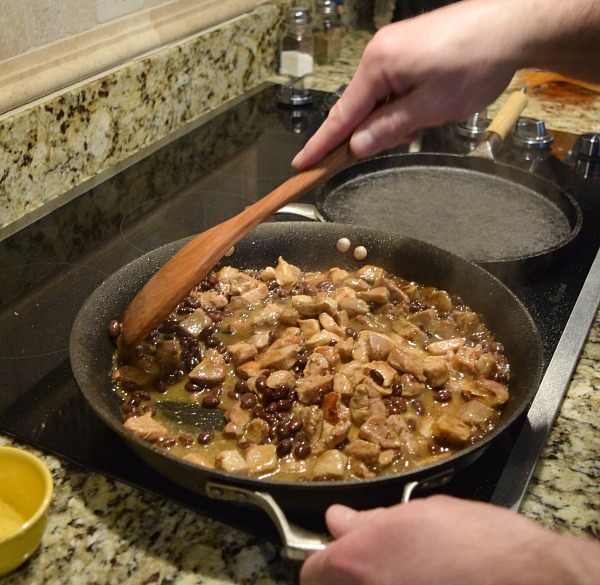 Next you will add in the black (or pinto) beans and enchilada sauce. At this point things may not look super appetizing, but I promise, they are a great change from the usual taco! ** Real Simple recommends Pinto Beans, they are pretty awesome too!**
I am still addicted to the cast iron tortilla warmer. No limp taco shells over here. They bubble up perfectly over the cook top and make for a crispy but still soft tortilla. If you haven't used one before, warm the cast iron warmer on the stove on medium heat. Set a tortilla directly on the warmer. Flop over when it starts to bubble. Remove a few seconds later.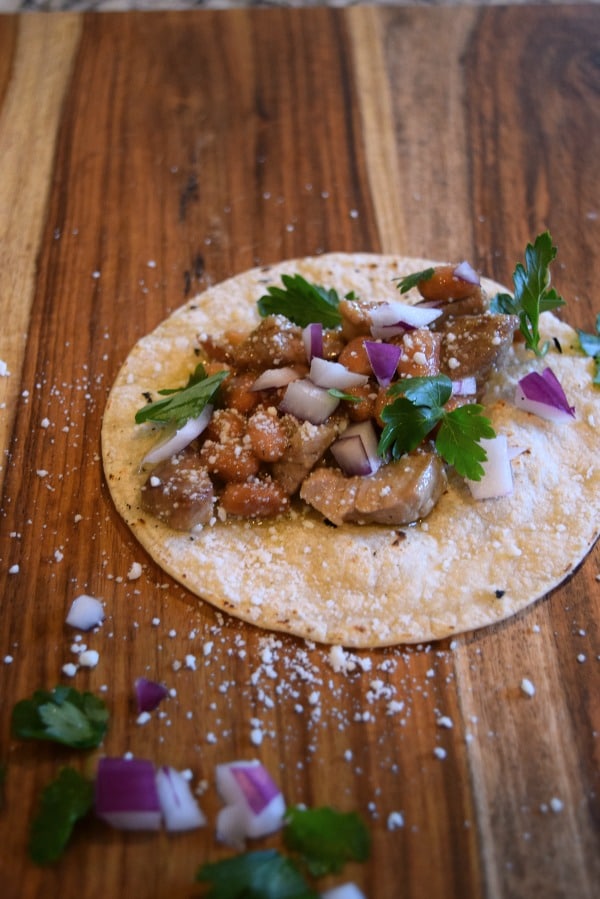 We used corn tortillas to give these more flavor. Doubling up the tortillas allowed us to pick up the taco and handle it easier. Definitely not necessary, just a word to the wise. And if you want to splurge, the cojita cheese makes them even more delicious! 🙂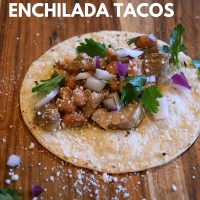 Pork and Black Bean Enchilada Tacos
Ingredients
3/4 pounds of pork loin, cut into 1 inch pieces
1 teaspoon ground cumin
Salt & Pepper to taste
2-3 Tablespoons olive oil
1 15.5-ounce can black beans, rinsed  (Or Pinto, just as tasty!)
¾ cup green enchilada sauce
12 corn tortillas, warmed
1/2 cup of crumbled Feta or Cotija Cheese
¼ small red onion, sliced
Optional Garnish: Lime Wedges, Cilantro, or Cortija Cheese
Instructions
Season the pork with the cumin, salt, and pepper.
Heat the oil in a large skillet over medium-high heat. Add the pork and cook, turning occasionally, until golden brown.
Add the beans and enchilada sauce. Cook, stirring occasionally until the pork is completely cooked through and the beans are hot, 4 to 6 minutes.
Spoon out the pork and beans onto two tortillas doubled up.
Top with the cheese, onion, and your optional garnishes.
Notes
Leftover Tip: This recipe doubles easily for lunch leftovers!
Adapted from Real Simple