These no-fail Fall decorating ideas are perfect for when you are short on time! The best parts about Fall decorations are making your home warm & cozy!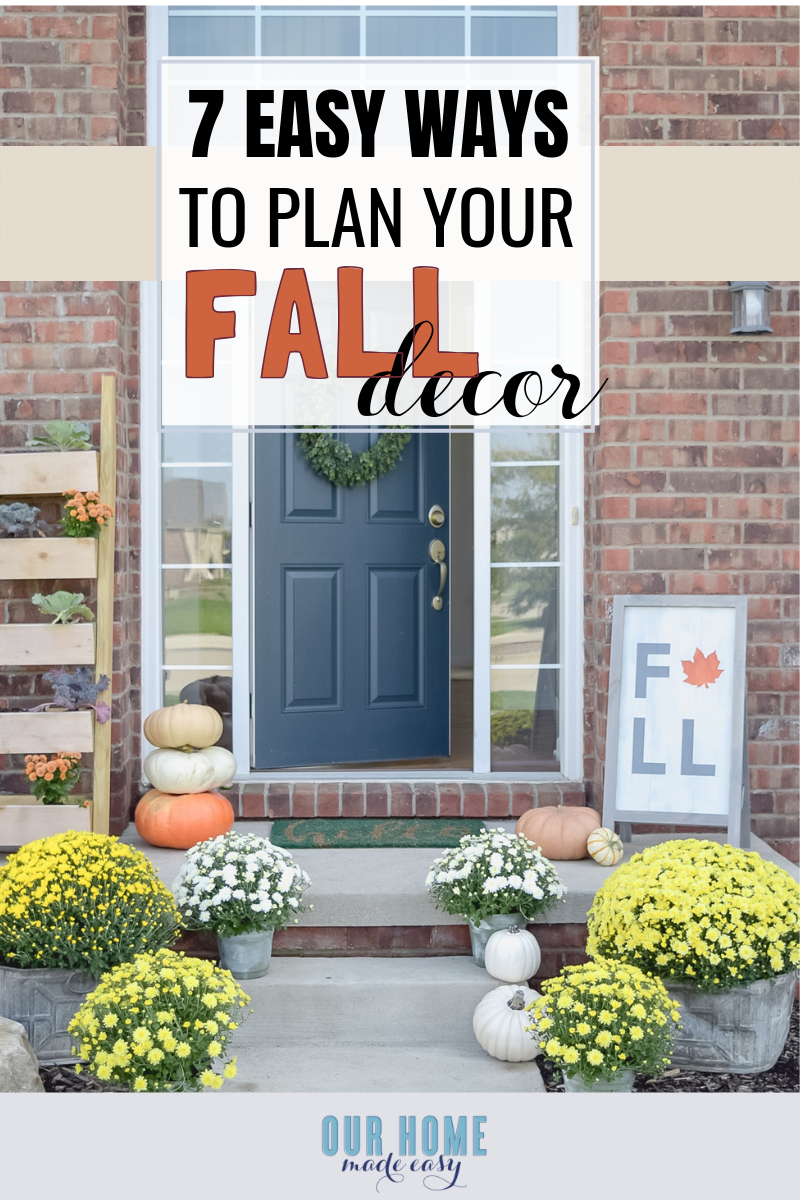 (This post contains affiliate links. Please see my Disclaimer for more information.)
There is nothing like the Fall that makes for the start of one of the best times of the year. And if you love scrolling through Pinterest as much as I do, Fall decor is one of the best things ever. But who has time to do it all?
Today I wanted to share my favorite Fall decorating ideas that take virtually no time. You can plan these over your lunch break throughout the week and be decorating by Saturday morning (or sooner!)…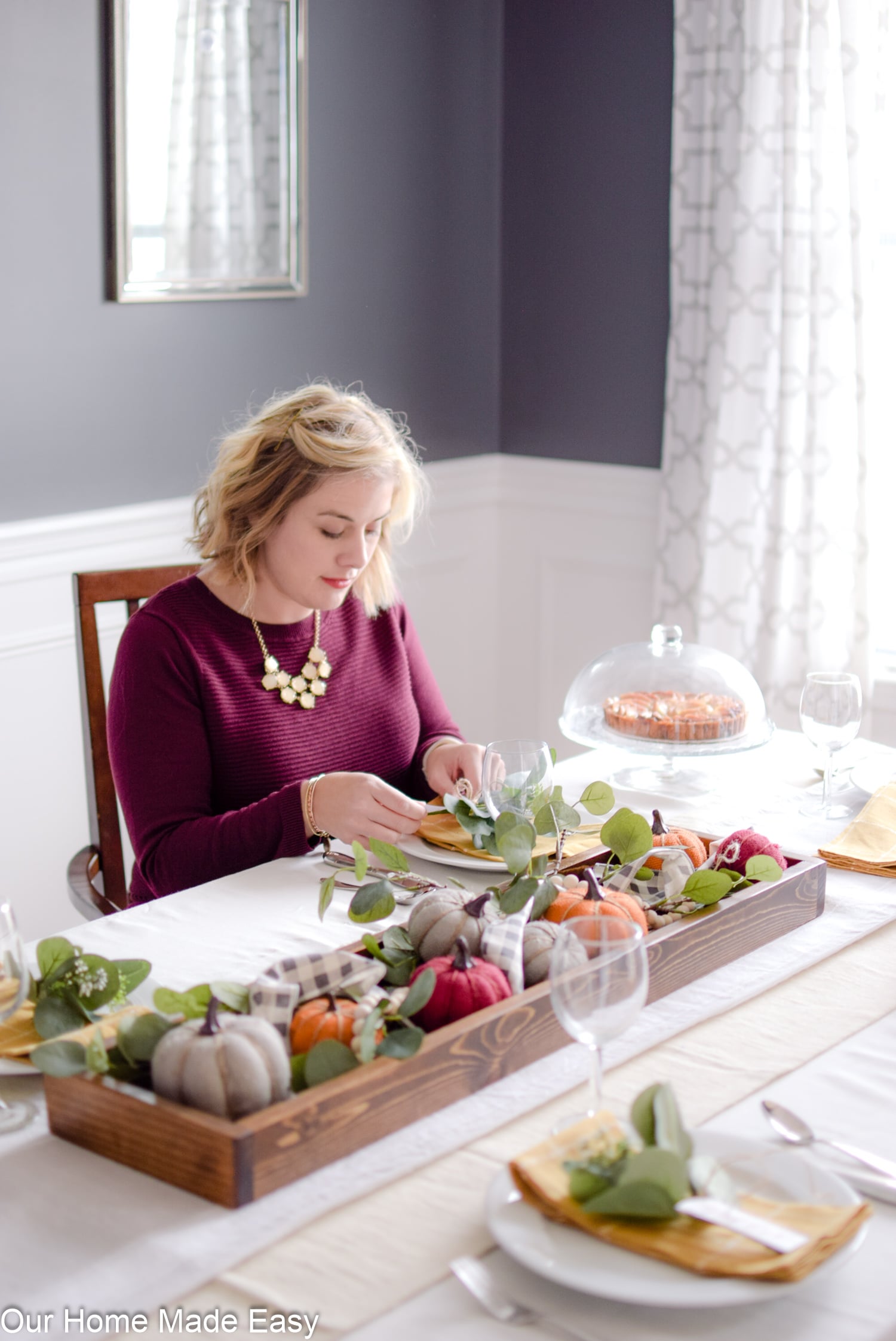 7 Easy Fall Decorating Ideas
If you're feeling like you want to dive into fall decor, but are short on time, I wanted to share my favorite easy Fall decorating ideas!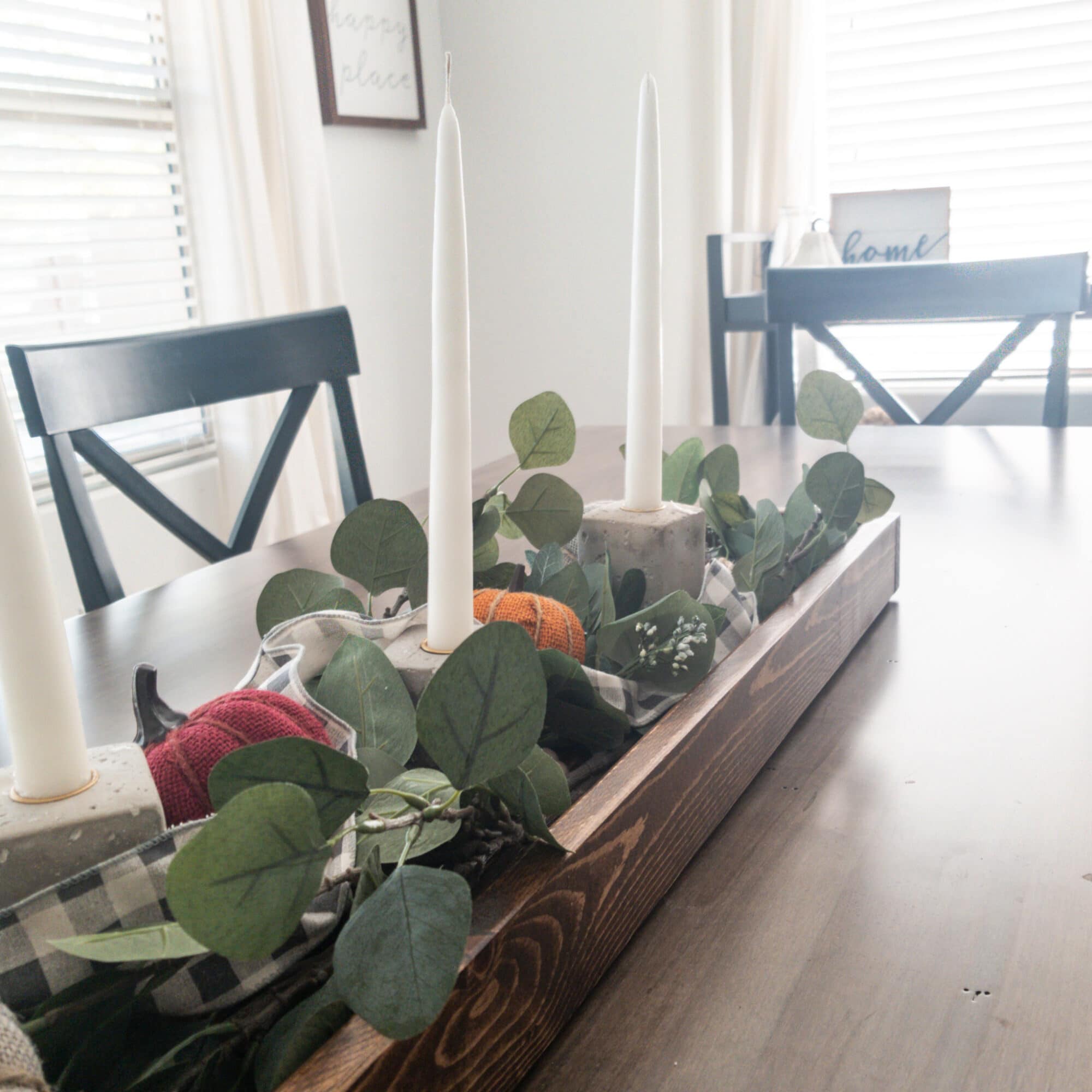 Decorate with Small Touches
If the thought of displaying decorations makes you feel overwhelmed, choose to start with building some neutral colors. Use these basics in small touches. Think white, ivory, or orange pumpkins. A few years ago I went all out with my Great Pumpkin Family Room. Since then, I've focused more on picking up a few items here and there that can feel less overpowering.
I use white pumpkins just about everywhere to balance all the golden colors! As a bonus, I can use them every year regardless of what is trendy for the year. This is my absolute FAVORITE place to buy white pumpkins.
Ways to Add Fall Decor with Small Touches:
Add Fall garland over a sofa table, mantle or centerpiece. It's like the decor in a box answer! (Target, this one, and Michaels are my favorite places!)
Add fabric pumpkins in wood bowls
Add small white pumpkins on your shelves or in baskets
Add a wreath on mirrors or on hall doors (DIY a wreath in just TWO STEPS here!)
Swap out greenery with gold or orange/red sprigs. Keep the same vases out on the shelf!
Buy a few pillow covers to go over your existing couch pillows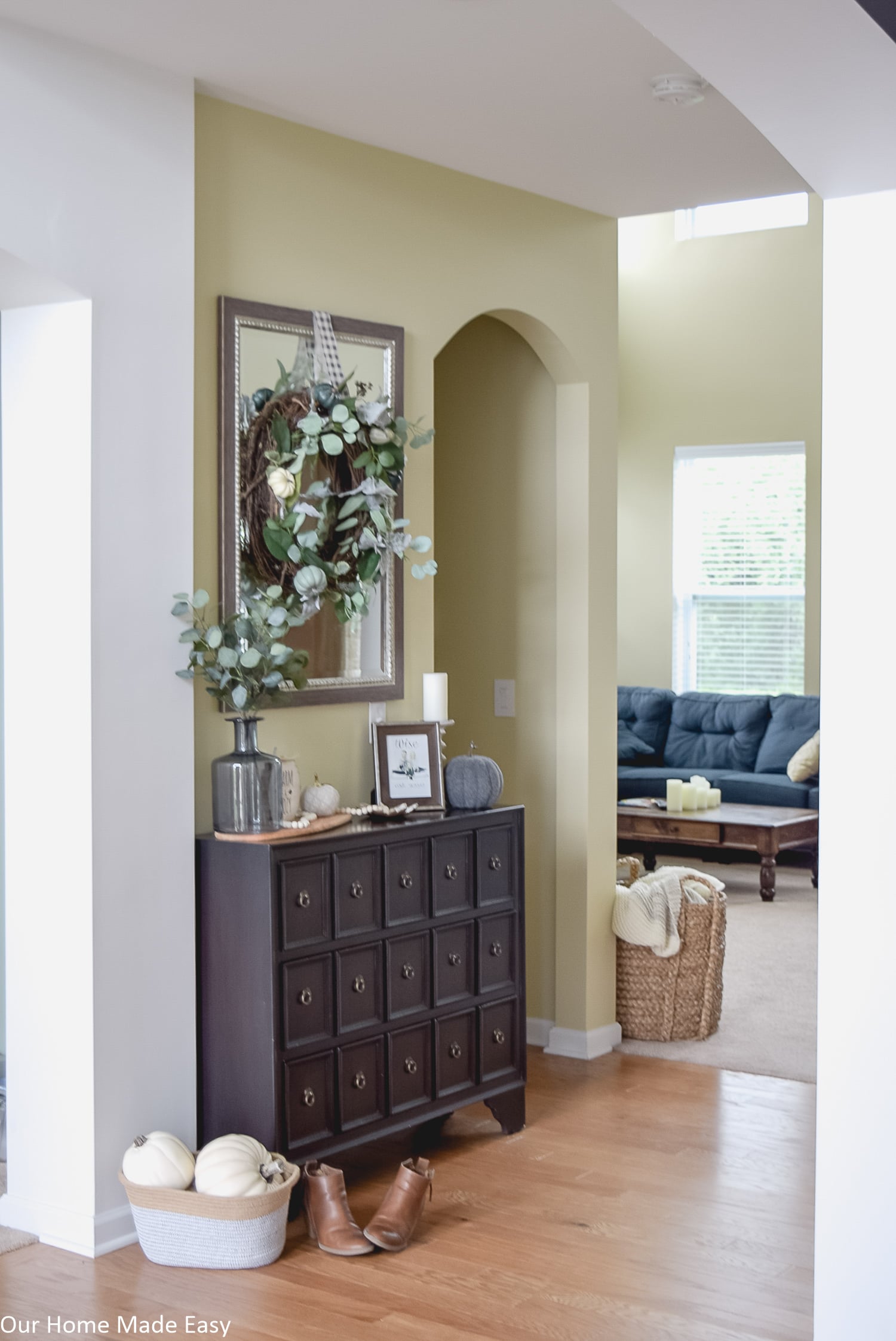 Use Ribbon Everywhere
Just like my favorite $10 Christmas Tree Trick, I use seasonal ribbon to jazz up my decor. You can buy one or two rolls each year to change up your decor without actually having to overhaul all your decor.
For the best look, find a wide 2″+ wire ribbon.
Ways to Use Ribbon for Fall Decorations
Cut a piece to add in a centerpiece
Faux "Hang" Wreaths (I use this ALL THE TIME!!)
Use as a filler in lanterns

Decorate Your Front Porch
Decorating my front porch is single-handedly my FAVORITE way to decorate for Fall. There is something so enjoyable to pulling up to our house after a long day at work and feeling like we are HOME.
It's a great feeling and I want to share that with you.
Easy Front Porch Decorating Ideas: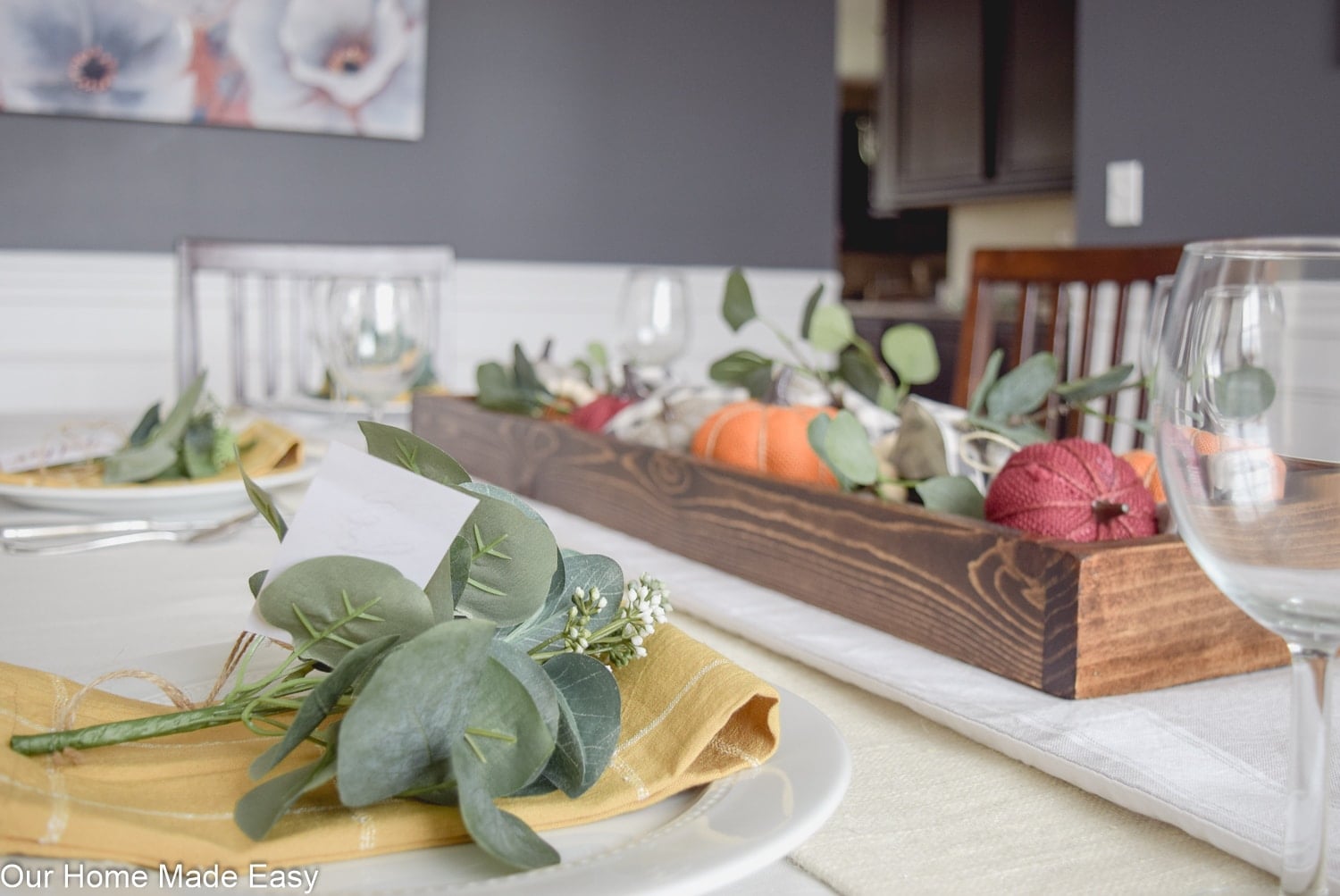 Add Decor That Lasts For Months
If the thought of changing out your decor each month exhausts you, stay far away from Halloween decor! Otherwise, you'll feel compelled to remove it November 1st and it's still too early for Christmas decor.
If you're short on time and energy, decorate for the entire Fall season with golden colors.
Unless you're totally psyched for all things Halloween or are hosting a Halloween party, skip the bright purple, black, silver, and orange colors.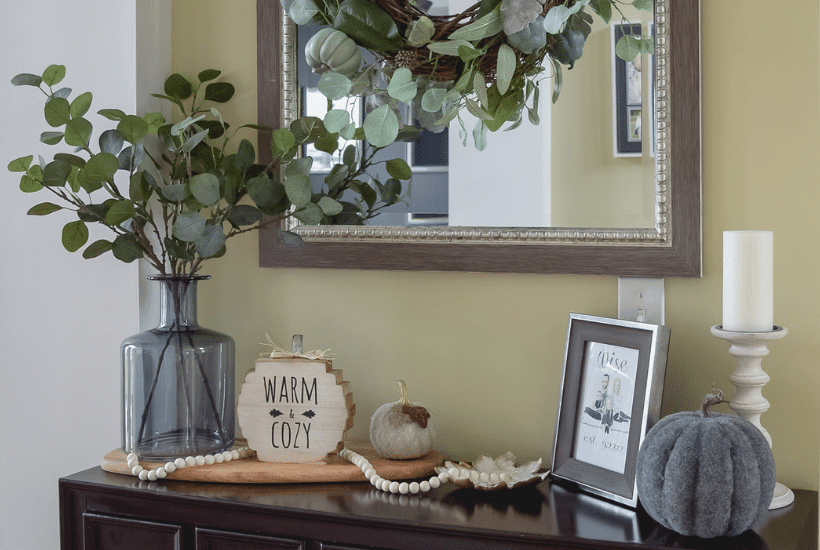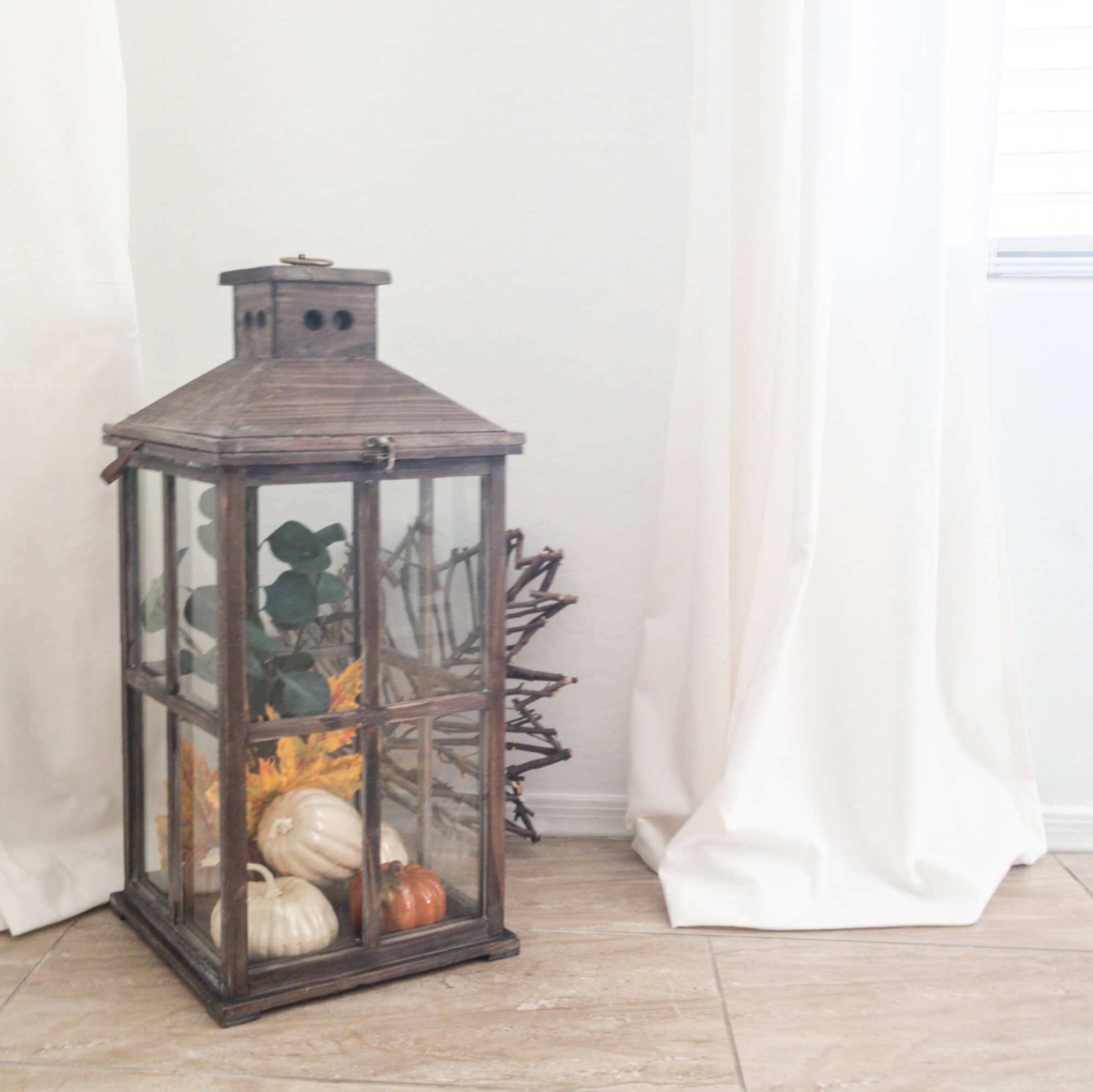 Repurpose The Basics That You Already Have!
Before you run to the store and buy more holiday decorations, take a look around at what you can use for the season.
Yesterday afternoon, I took this lantern and filled it with some leftover pumpkins. I plan on adding more & more things as I unpack my holiday totes. Those little pumpkins have moved around several rooms throughout our Michigan house and these days they are in the lantern in Arizona.
Each year you can change the way you use your items. What may work in the foyer one year, may create a pretty collection in a coffee table tray, on a shelf, or in a lantern.
Once you've identified which basics you can use, then you can start shopping to fill in any new items or incorporate a new trend. Keep reading to see my favorite way to snag FREE Fall decor!
Items to Repurpose For Fall Decor:
Vases
Lanterns
Trays
Fabric Napkins (Layer them on top of serving ware, trays, or centerpieces! They double for cozy!)
Blankets
Wreaths (Add ribbon!)
Books (Style like binding colors together next to a pumpkin!)
Candles & Candle Holders
Mirrors
Wood Cutting Boards
Turn a Garland into a Wreath with some string or wreath wire
Whatever works for you!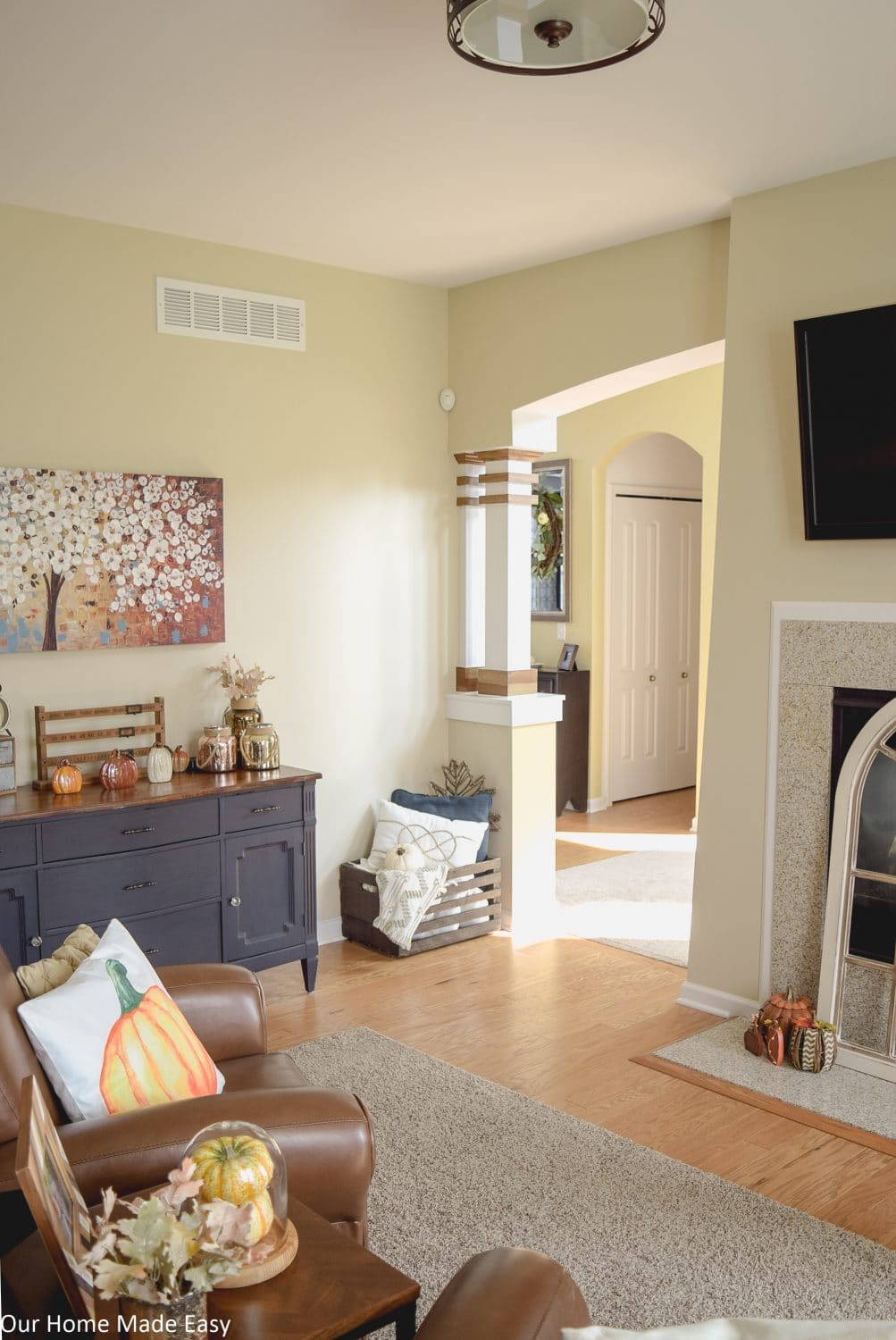 Host a Girls Night Decor Swap
Spend virtually nothing on Fall & Christmas Decor by hosting your own decoration swap! Plan for a much-needed Girl's Night by texting your friends to bring over a laundry basket of their still useable decor.
You'll get some new-to-you decor and then you'll be able to declutter the stuff you no longer want! It's such a win-win for easy decor ideas!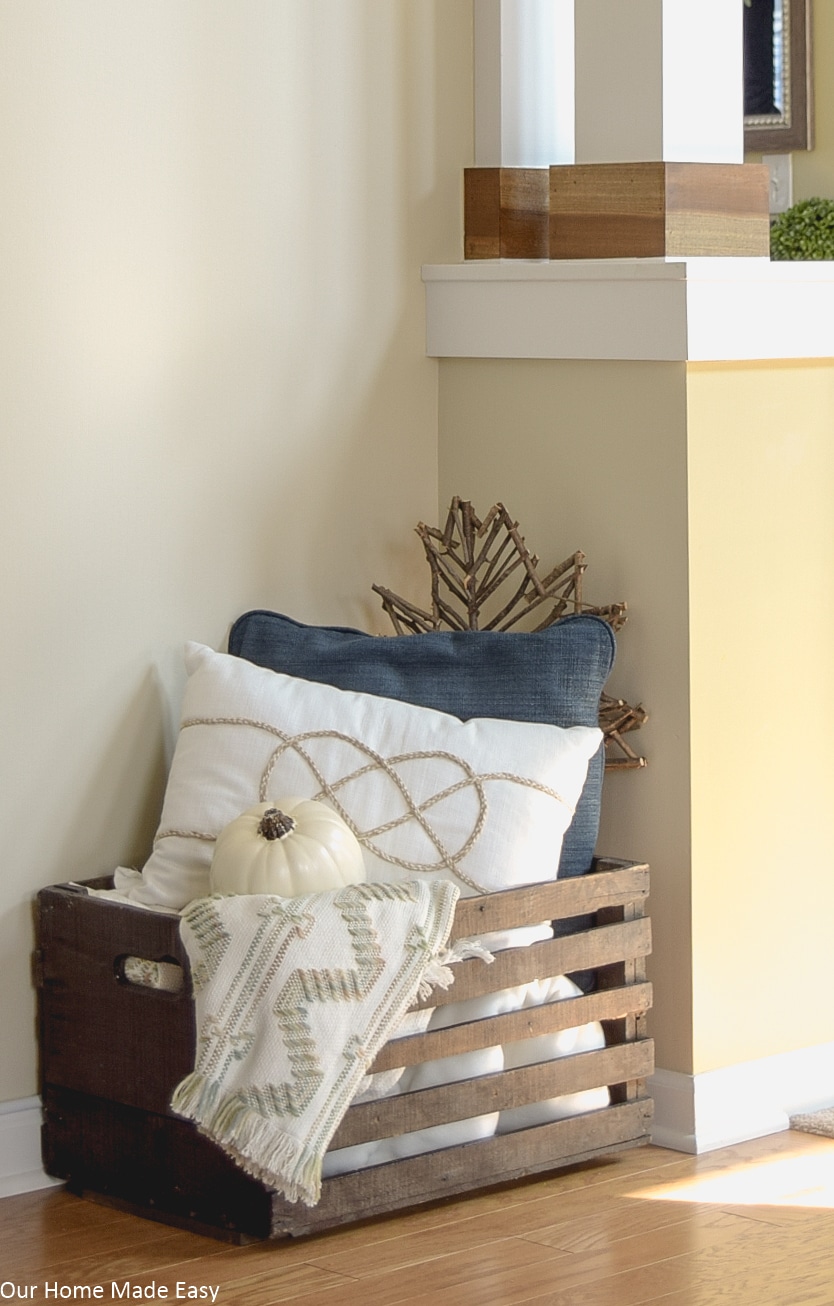 Focus on Creating Cozy
The "thing" about Fall decor is really about welcoming in cooler evenings by creating a home that feels cozy. Think of lots of pillows and throw blankets. You can leave them on your couches or toss them in a basket.
If you have a mirror, hang a wreath with ribbon to build an extra layer of coziness.
If you have a candle holder, layer it behind some pumpkins and fall decor to build a pretty vignette.
Keep each collection of baskets, couches, or tabletops neutral with a few pops of color. This will help you build up that coziness factor without making you feel like everything is mismatched or competing for attention.
Simple Ways to Add Cozy To Your Home
Layer a Larger Welcome Mat Under your regular Coir Welcome Mat
Layer Wreaths On Mirrors
Pile on Neutral Pillows in thick textures like yarn or fringe
Hang Seasonal Artwork (Use Command Strips and art from Smallwood Home!)
Hang a scarf in your mudroom on a hook or across a chair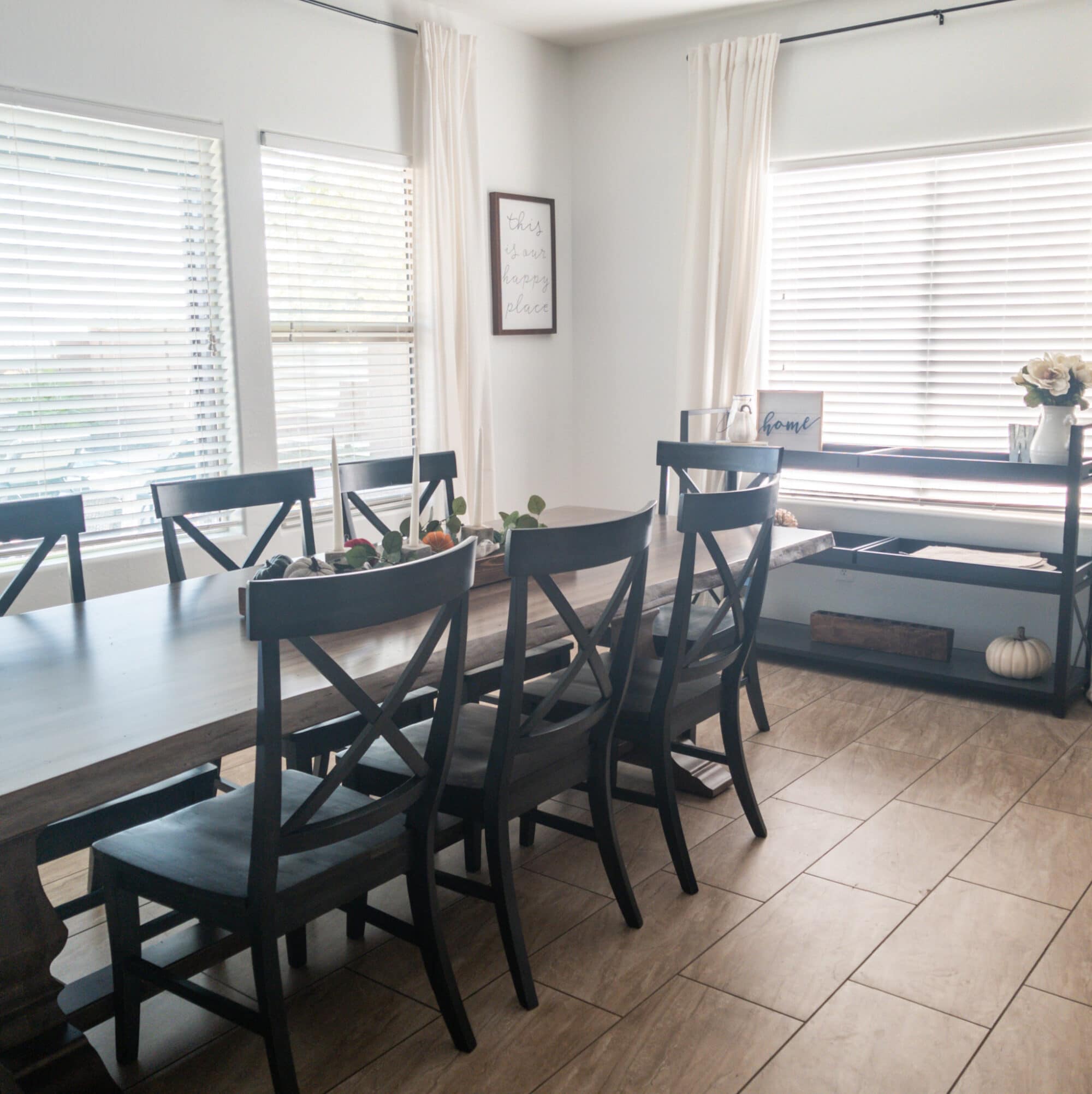 I hope these Fall decorating ideas helped spark a little excitement to a really busy part of the year.
Don't forget that this year always passes much quicker than we expect. Spend just a little bit of time to jump start that cozy feeling in your home with Fall decor. Spend the rest of the season crossing off items on your fall bucket list!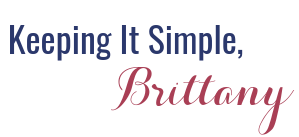 PIN FOR LATER: