My Favorite $10 Trick For Updating Our Christmas Tree
This easy trick for changing up the Christmas Tree for less than $10 works on ANY size tree! Choose your style and start decorating!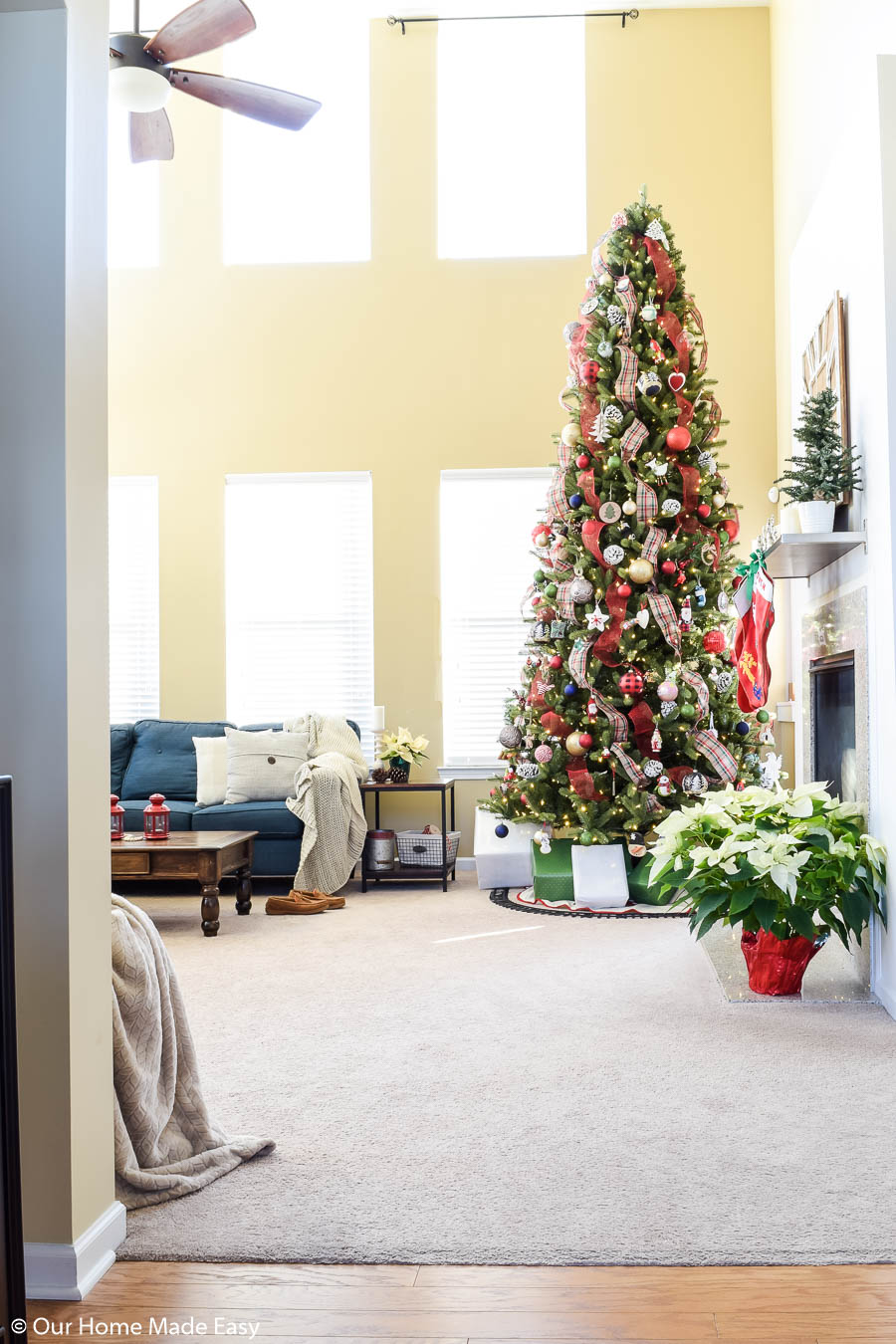 (This post contains affiliate links. please see my Disclaimer for more information)
A few weeks ago I shared our dining room looking simple and ready for the holiday season. Since then, I've been wanting to catch a few photos of our Christmas tree for you. Between everyday life, it just hasn't happened. 🙁
But thankfully, the stars aligned, the kids were distracted, Jordan ran an errand, and I got a few minutes to myself to share our living room with you.
Come on in!
Do you ever have a decorating trick that you love to share with everyone? You can think of mine like all Midwestern-ers, I'll tell you how I got it on sale. #Ohio
When it comes to the Christmas tree, I've found that I can change things up, but without breaking the budget. While you've stopped by here today, not only did I want to share our Christmas tree with you, but I also wanted to share how I did it on sale. Because…#Ohio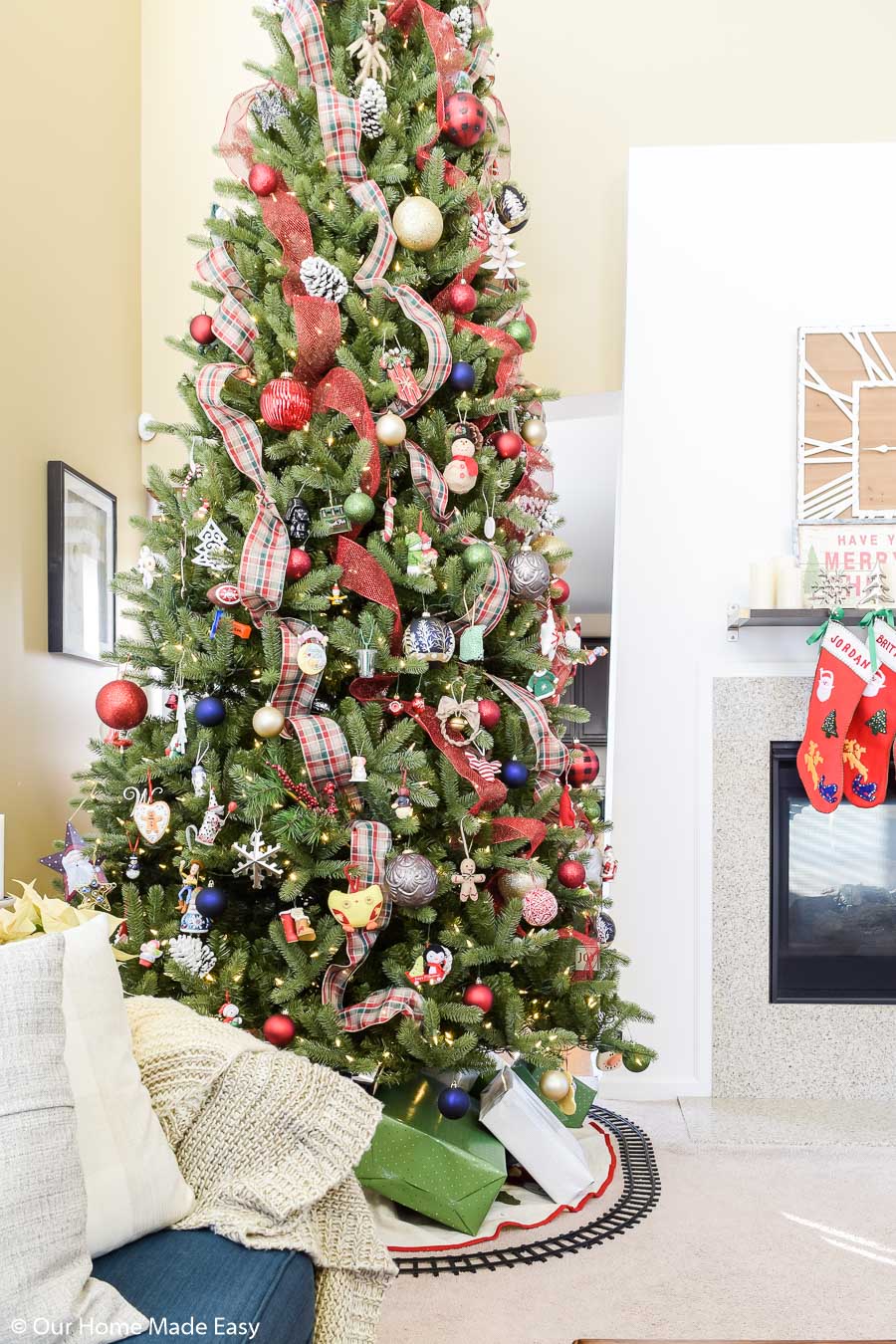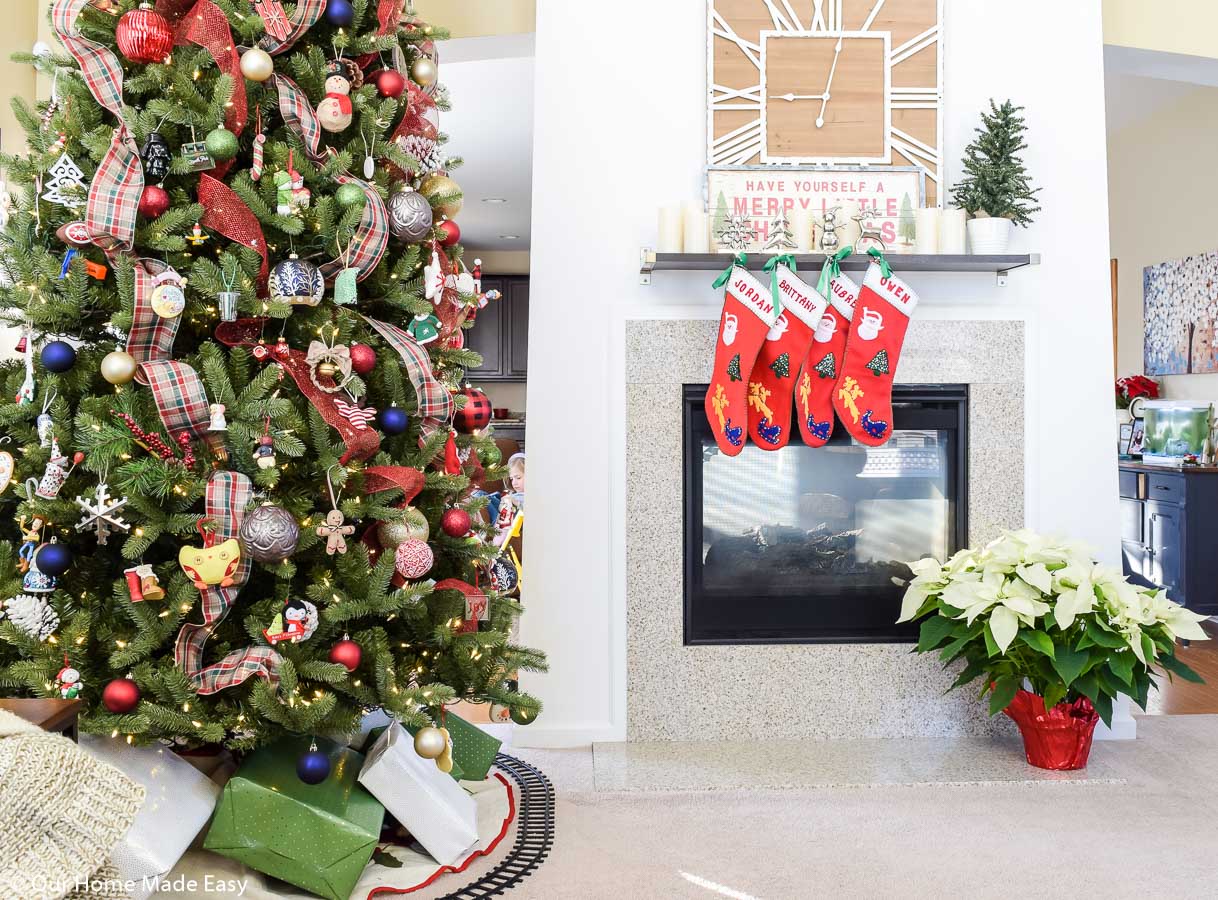 You might remember the 12 foot Christmas tree from year's past. When we bought it, we didn't have the option for colored lights. And that always left me a little sad because the Christmas trees of my childhood were always brightly colored, twinkly, and full of homemade ornaments.
SHOP THE ROOM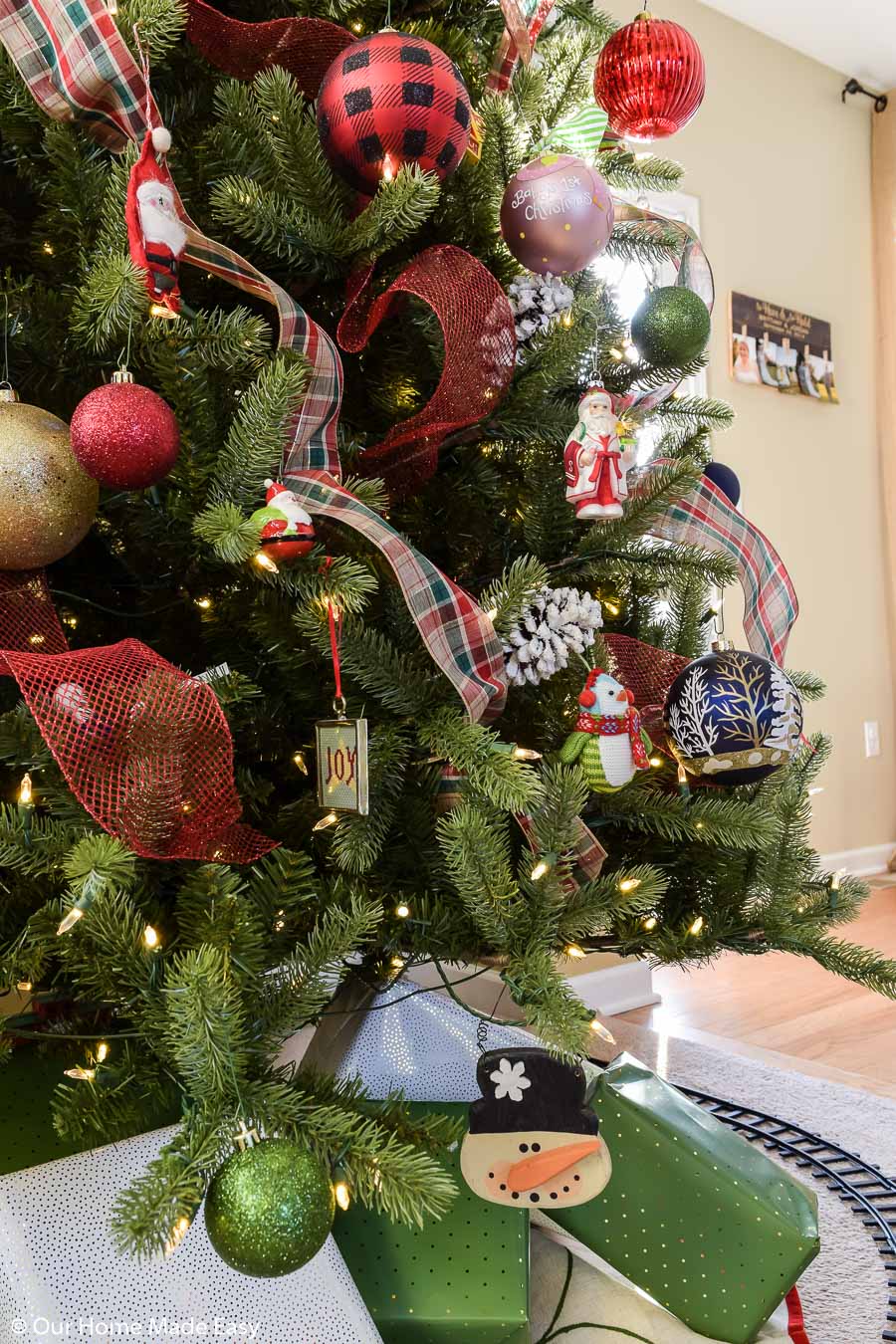 This year, we discovered that alternating between clear lights and multi-colored lights on a 12-foot tall tree was now an (affordable) thing! I put our old tree for sale, and a few hours later it was gone! That allowed us to buy a little bit fuller tree that now had the colored lights.
The kids love changing between colored lights and the twinkly clear ones. And I feel a little nostalgic. Unless you're Jordan, who just likes the plain, clear lights on all the time, we are all pretty happy. 🙂
Did I mention the tree comes in like 9 color changing modes to drive any parent crazy? I keep telling myself, they are only little once, they are only little once…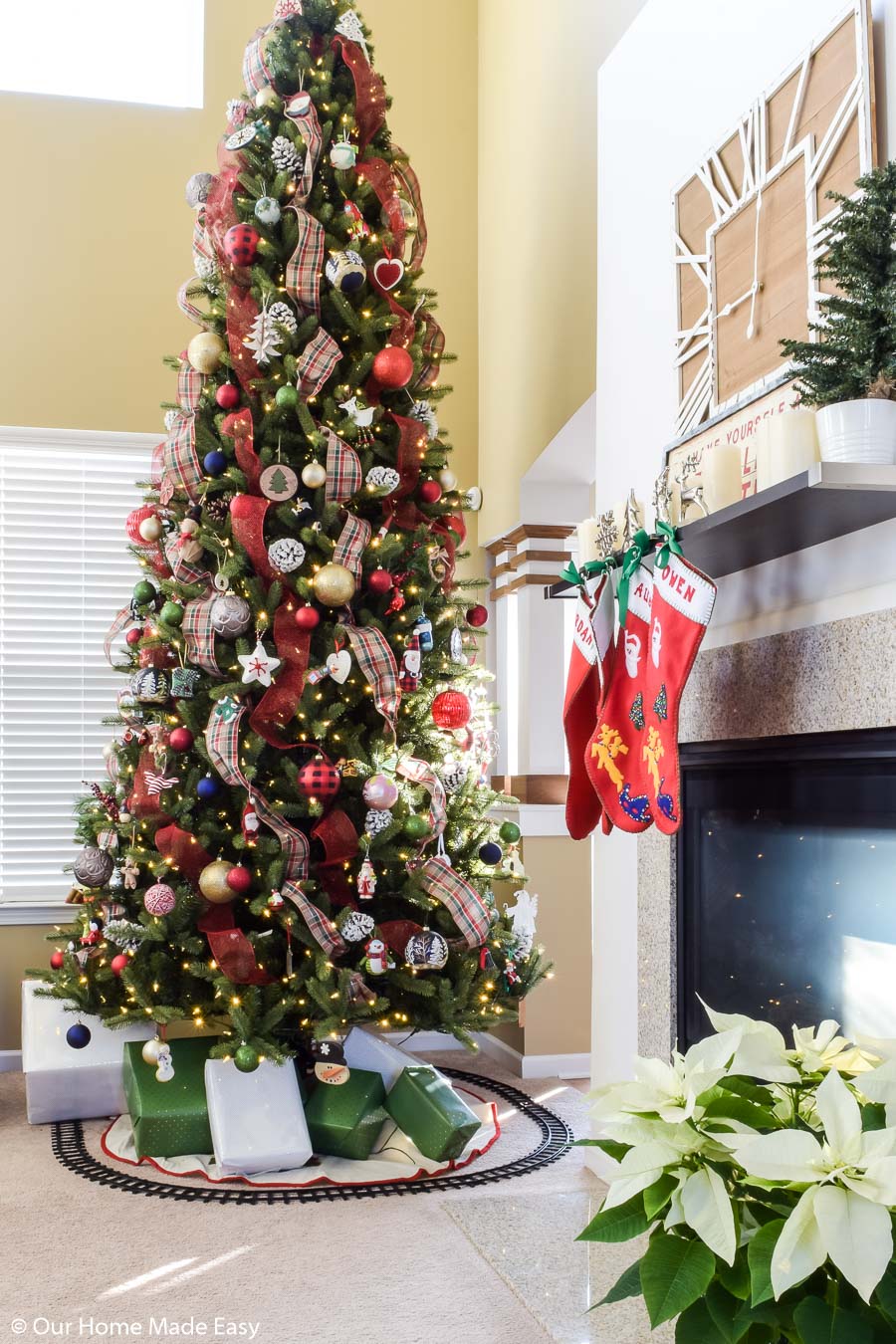 When we were setting up the tree this year, I naturally started thinking about how we were going to decorate it. It's never an expensive change out, just something to keep it looking fun & festive. And that's when it occurred to me that you might want to know what I do.
If you already know this, skip it! 🙂
But if you don't know my quick trick, it's shamelessly simple, I promise.
Here is my favorite $10 Trick for Updating the Christmas Tree
I just change out the ribbon. Totally quick, simple, and relatively painless. Each year, I like to run over to Joann Fabrics or Michaels and buy a couple of rolls of ribbon. For about $4 per roll, I can add some pizazz to the tree for less than $10 (especially if you're using coupons!).
3 Ways to Change Up the Ribbon Each Year
I wanted to use a few examples of the past years to show you how you can change up your Christmas tree every year without getting bored. And unless you want to, no extra ornaments necessary.
You Can Use Deco Mesh
Cut large, 18″ pieces of wired Deco Mesh and tuck the ends into the tree like this year: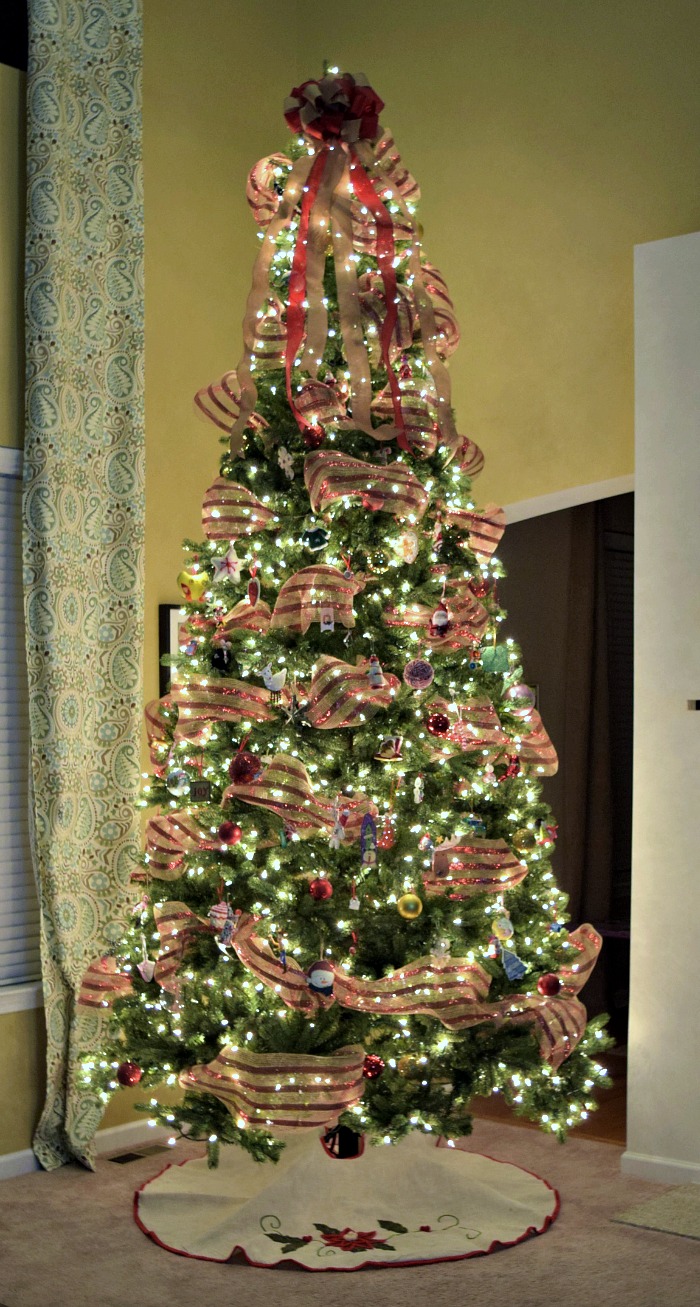 This was our first year with such a large tree. I thought the deco mesh helped 'fill-in' all the empty spots that we had. It was our second year in our current home, we had a 2 year old, a 5-month-old Owen and I had ZERO energy to decorate. It was perfect for us and lasted two years!
You Can Make Bows
Last year, I bought 2 rolls of wired ribbon, used my bow maker, and DIY'd dozens of bows!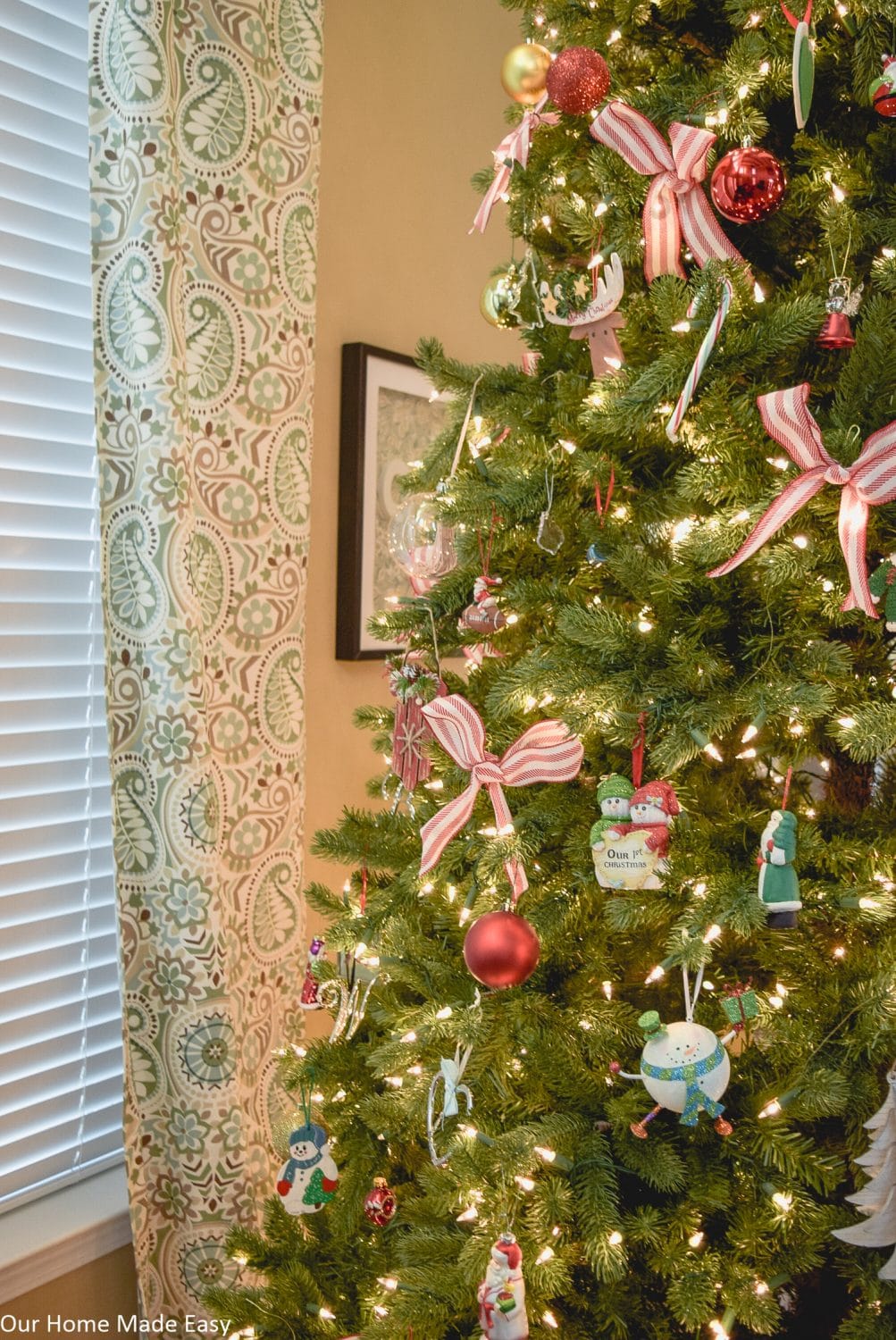 The bows were a lot of work, but wow! For about $10-12, it was a big change from the deco mesh. I spent one Saturday evening making the bows and then tying them all into place. They would've lasted this year, and actually, that was the plan until…
I discovered that the ribbon I bought this year did not look good next to the bows from last year.
You Can Tuck In The Ribbon
This year, I started from the top and let the ribbon fall to the ground. Then, I tucked the ribbon into the tree at a slight angle. And then repeated for alternate colors.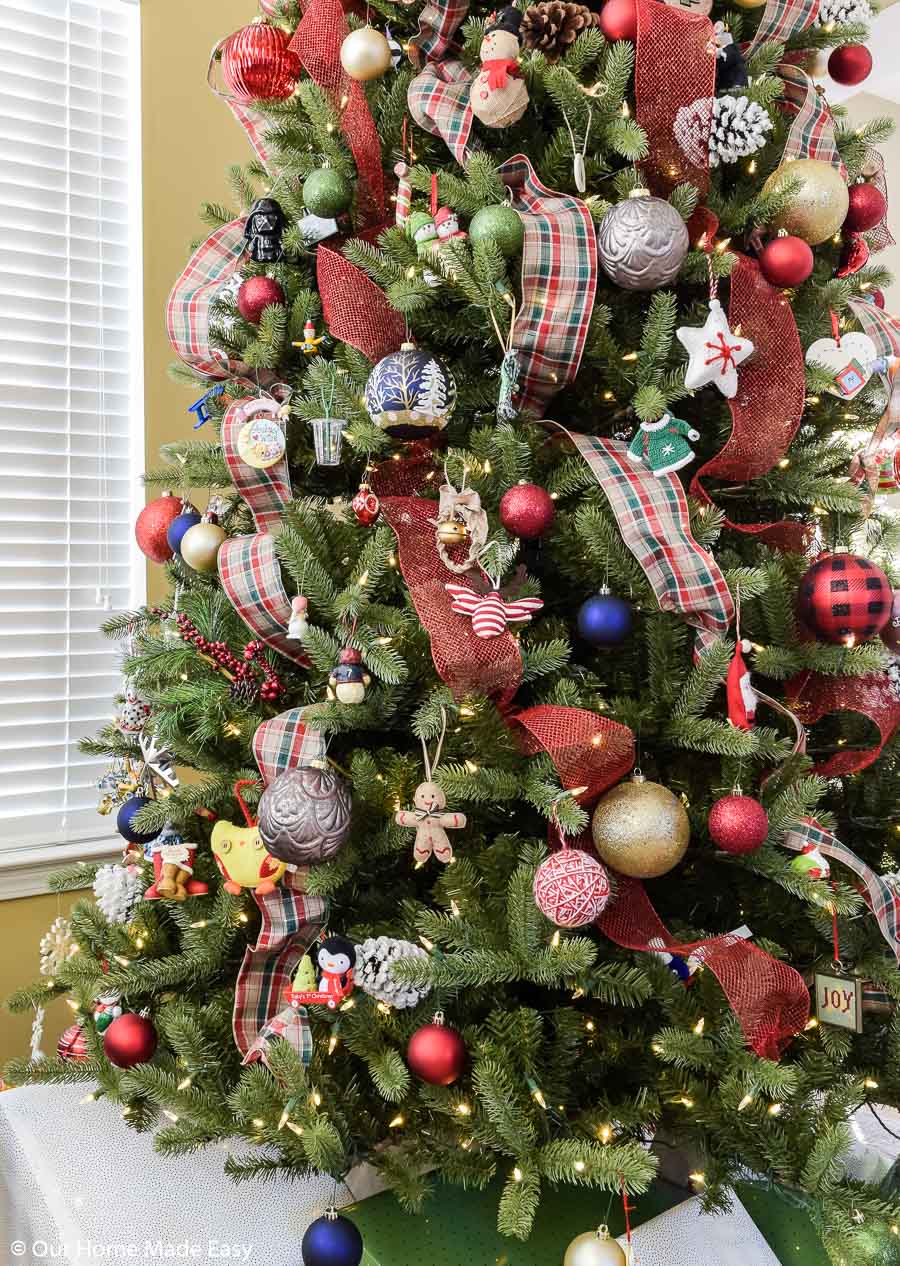 We opted to not have a tree topper this year. Over the years we've used a large cascading bow made at Michael's It was perfect for the deco mesh, but looked too heavy last year. This year it just seemes easy enough to leave the top 'naked.' In this case, naked isn't too bad. 🙂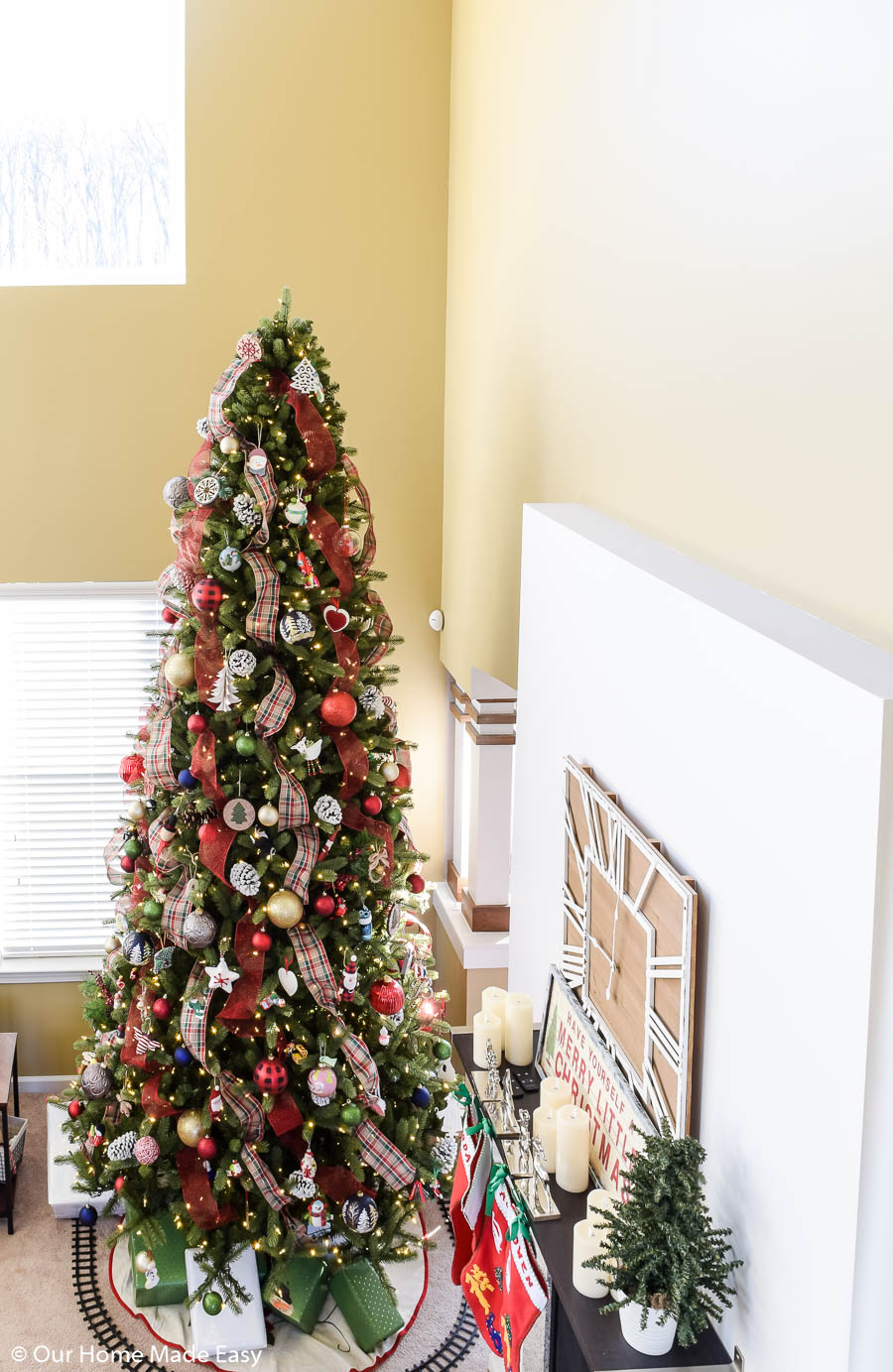 What do you think? Each year, I'm spending about $10 for a pretty big impact on the tree!
I take any leftover ribbon and use it to refresh our wreaths. A quick loop around the wreath holder and instantly everything coordinates. I'm also using extra ribbon in baskets or trays. It's a great way to avoid wasting it all.
I hope that if you find yourself feeling inspired, you can quickly add in some new ribbon that changes everything but doesn't cost much money. Thank you so much for stopping by today, I appreciate it. If you haven't already downloaded your own copy of the FREE Holiday Organizer, please do so. It's a small gift from me to you!
GET YOUR FREE HOLIDAY ORGANIZER HERE!


PIN FOR LATER