Hallelujah, it's finally time to share my Christmas tree with you!  Today is a big day over here, I'm sharing our tree along with almost 50 other awesome bloggers! If you're new here, "Hi!" I'm Brittany and over here I share easy crafts, decor, and occasionally simple recipes for those moms looking for an easier solution to running their homes.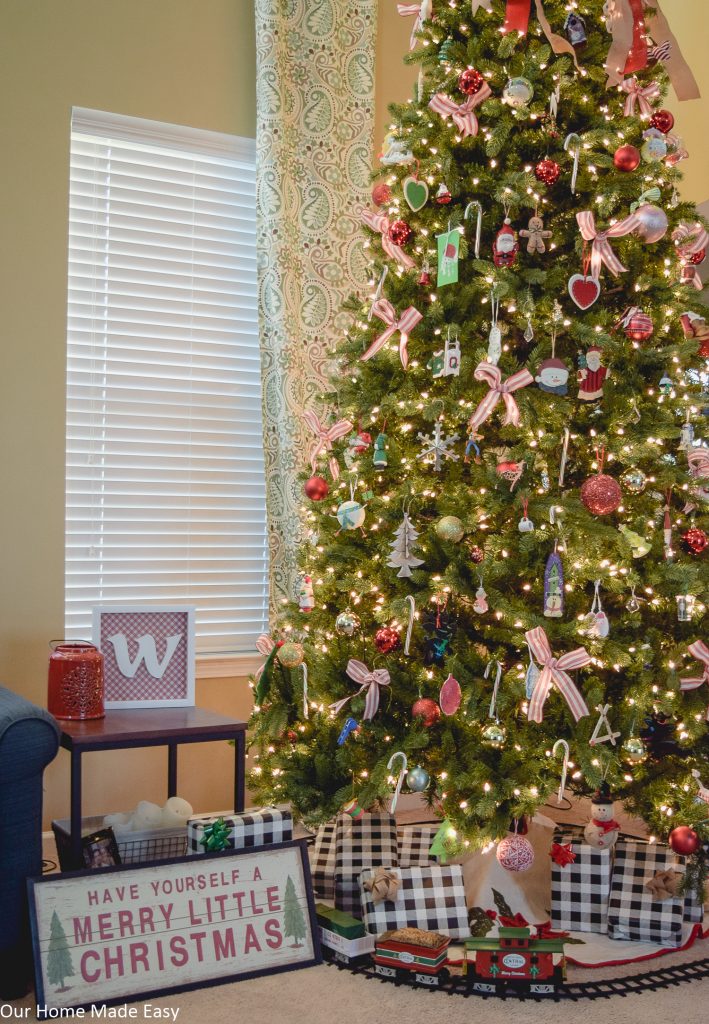 This post contains affiliate links. Please see my Disclaimer for more information
I wish I could share with you that I was staying up until the last minute last night decorating our Christmas tree. Or that we waited until December. Nope, we've been enjoying our tree for almost 3 weeks and  it's been amazing.
There are far worse ways to enjoy a hot cup of coffee in the mornings! We decided that since we have an artificial tree, we'd enjoy it this year and take a good portion of the holiday stress off our hands by decorating early. #bestdecisionever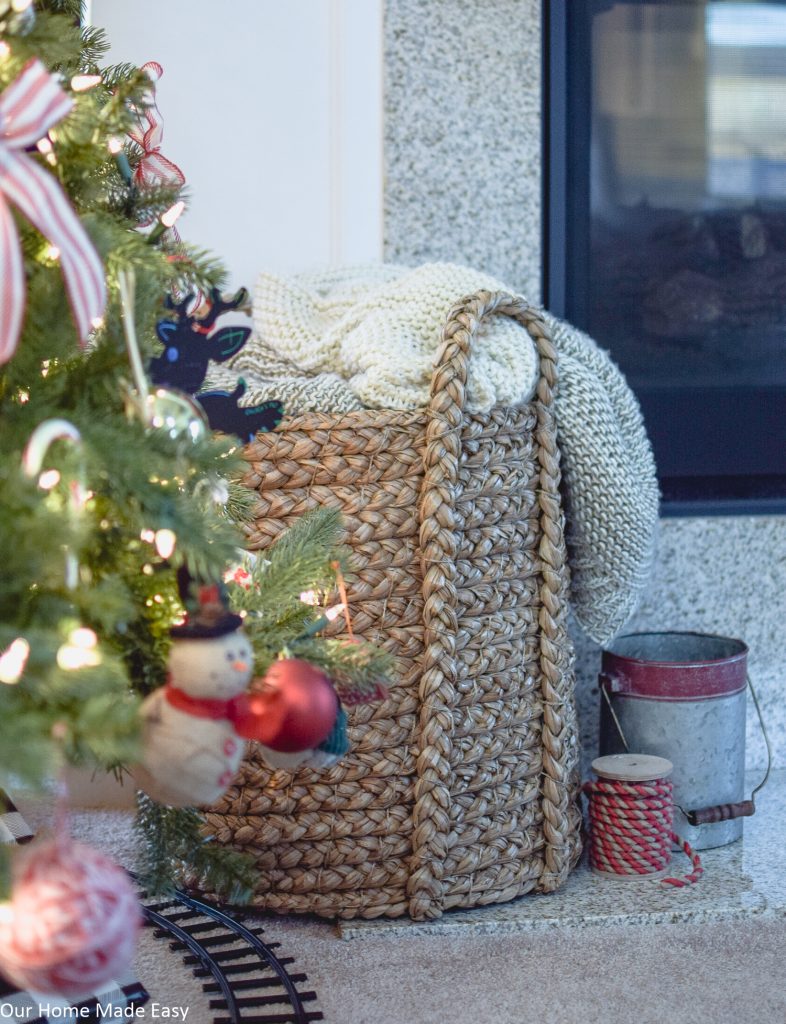 Grab a hot cup of coffee with me this morning and take a tour of our Christmas tree in our living room. We are excited to have you!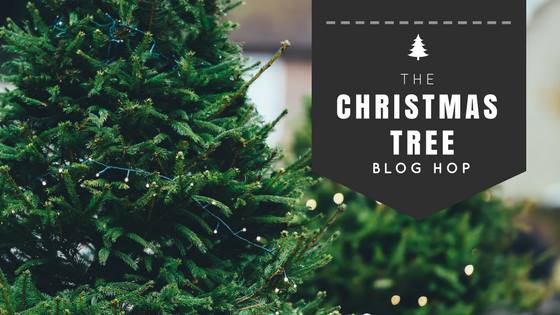 Welcome To Our First Annual Christmas Tree Decor Blog Hop!!
We have almost 50 talented home bloggers joining up to share their decorated Christmas Trees with you! So grab a cup of your favorite beverage, settle in and get comfortable because you are going to love the beautiful Christmas Tree Decor shared today!
Let's Meet The Hosts!
Michelle | Our Crafty Mom | Allison | Upright and Caffeinated
Angela | Simply Beautiful By Angela | Annie | All Things Big and Small
Brittany | Our Home Made Easy  [you're here!] | Chloe | Celebrate and Decorate
Cindy | County Road 407 | Colleen | Life on Kaydeross Creek
Denise | My Thrifty House | Eileen | Sand Dollar Lane
Erlene | My Pinterventures | Jaclyn | The Dotted Nest  
Jeannee | Centsably Creative  |  Vicki | 2 Bees In A Pod 
Jolene | Create Pray Love  | Kim | Day to Day Adventures
Kim | Made In A Day | Kristie | Teadoddles
Leanna | Faeries and Fauna | Maria | Simple Nature Decor
Marie | The Inspiration Vault | Mary | The Boondocks Blog
Meegan | What Meegan Makes | Meg | Green With Decor
Melissa | Welcome To The Woods | Donna | Modern On Monticello
Morgan | Charleston Crafted | Nancy | Slightly Coastal
Nicole | Madness and Method | Pam | P.S. I Love You Crafts
Shirley | Intelligent Domestications | Stephanie | Abbotts At Home  
 Wanda | From House To Home | Yami | The Latina Next Door
Jenn | Loveland Lodge  | Christene | Keys To Inspiration
Libbie | A Life Unfolding  | Jaclyn | One Thousand Oaks
 Jennifer | 2 Bees In A Pod | Sarah | The Project Pile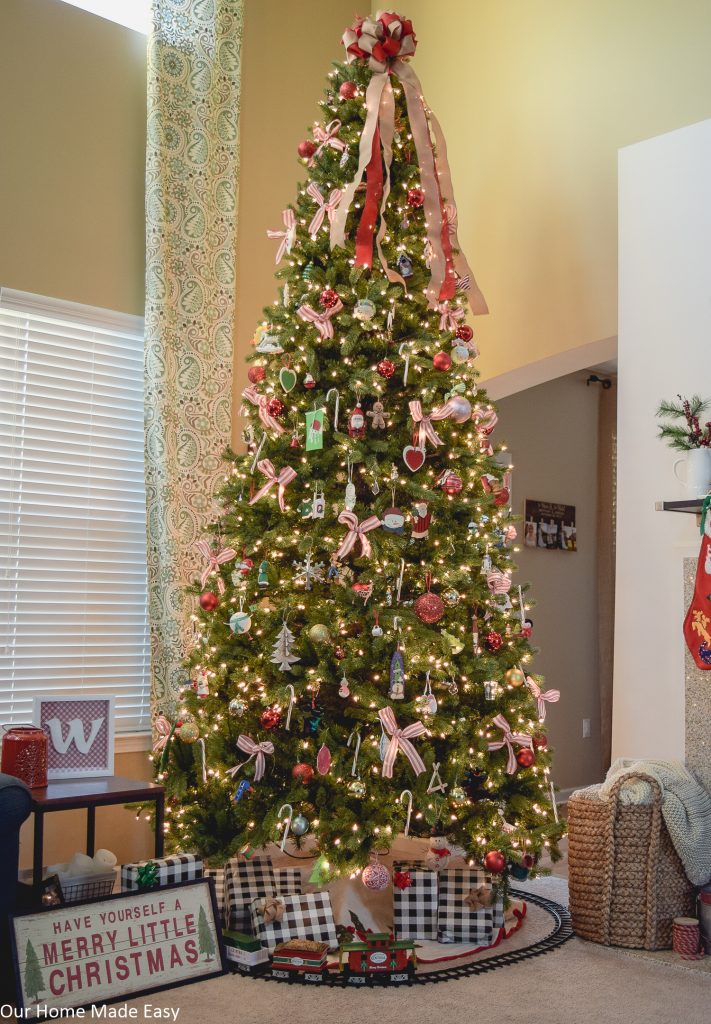 If you're new to our home,our ceilings are almost 19 feet tall in the living room. We chose a 12 foot tree 3 years ago from Lowe's to see the larger size would look better in the room than our usual 7.5 foot live Christmas trees.  While I'm still not sure if it's perfect for our space, it's certainly convenient to pull out of the storage containers each year.
Owen & Aubrey are obsessed with trains. Trains we pass along the rode driving, Thomas the Train movies, and even trains running above our heads in restaurants. If they can find a train, they are in love.
Knowing this, Jordan found this Polar Express Train set from Amazon last year. It's perfect for the kids since it runs all day and says a few cute sayings. 🙂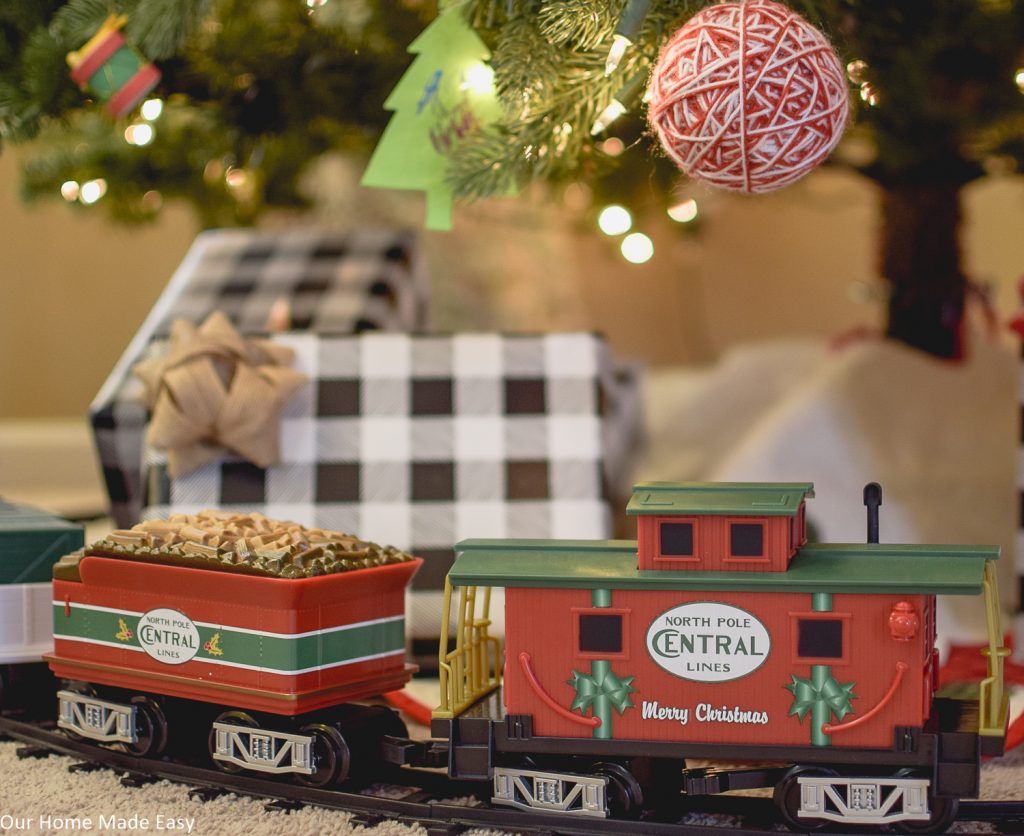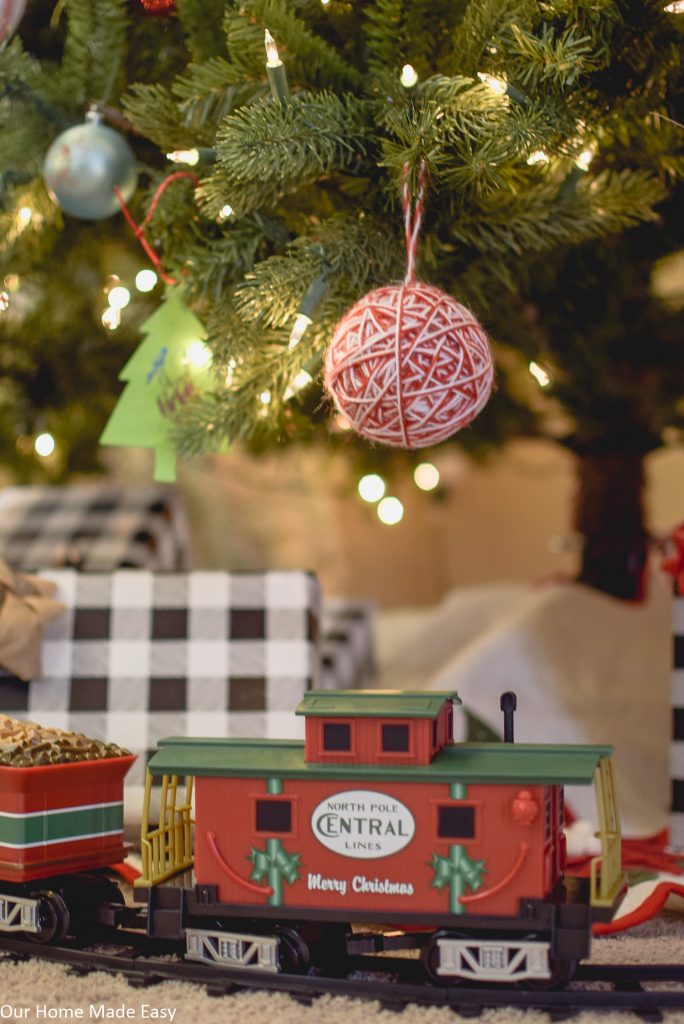 We aren't very specific or fancy when it comes to decorating. Aside from a Target pack of shatterproof ornaments, you'll find each ornament was gifted to us throughout the years.
Jordan (my husband) & I continue that tradition by making sure each of our little ones receive a new ornament each Christmas!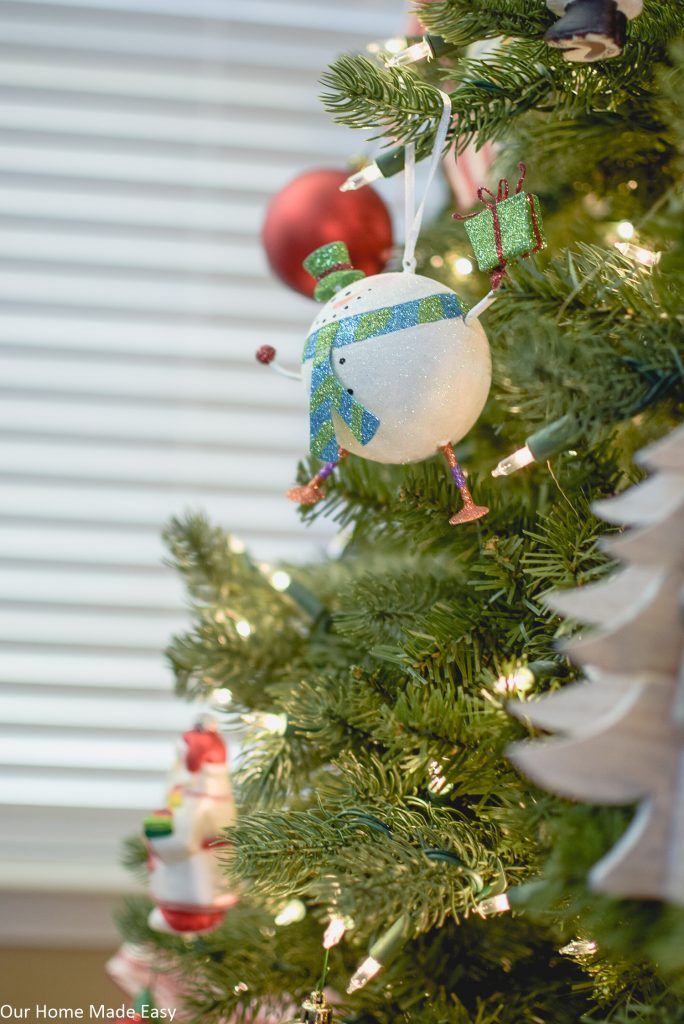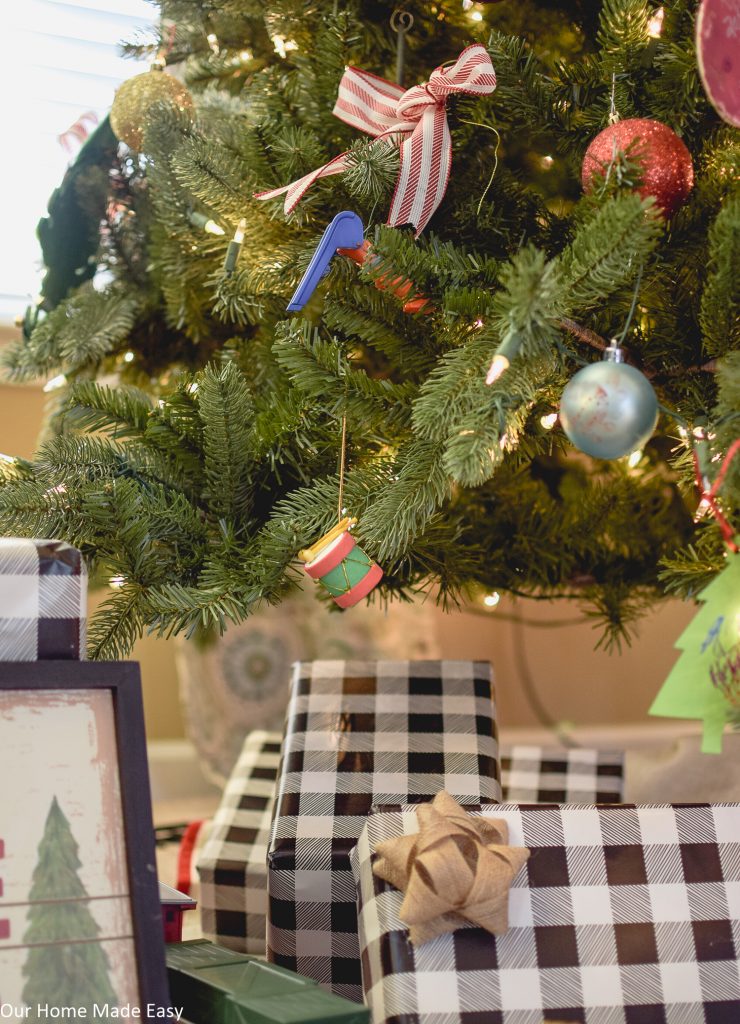 Since our ornaments stay the same each year, I changed it up by making my own bows. While it was a little bit of a learning curve, I knocked all 36 bows in one evening while watching football. Once I was done, I was convinced it was totally worth the effort.
Now, I'm on a bow extravaganza trying to make a new bow for everything!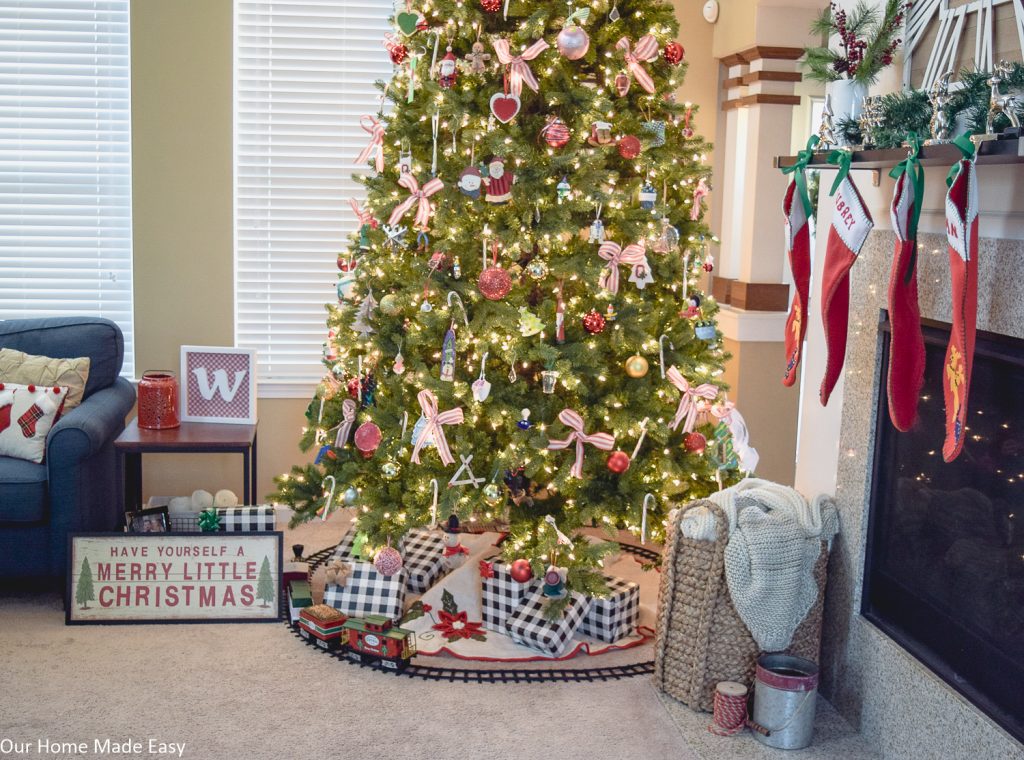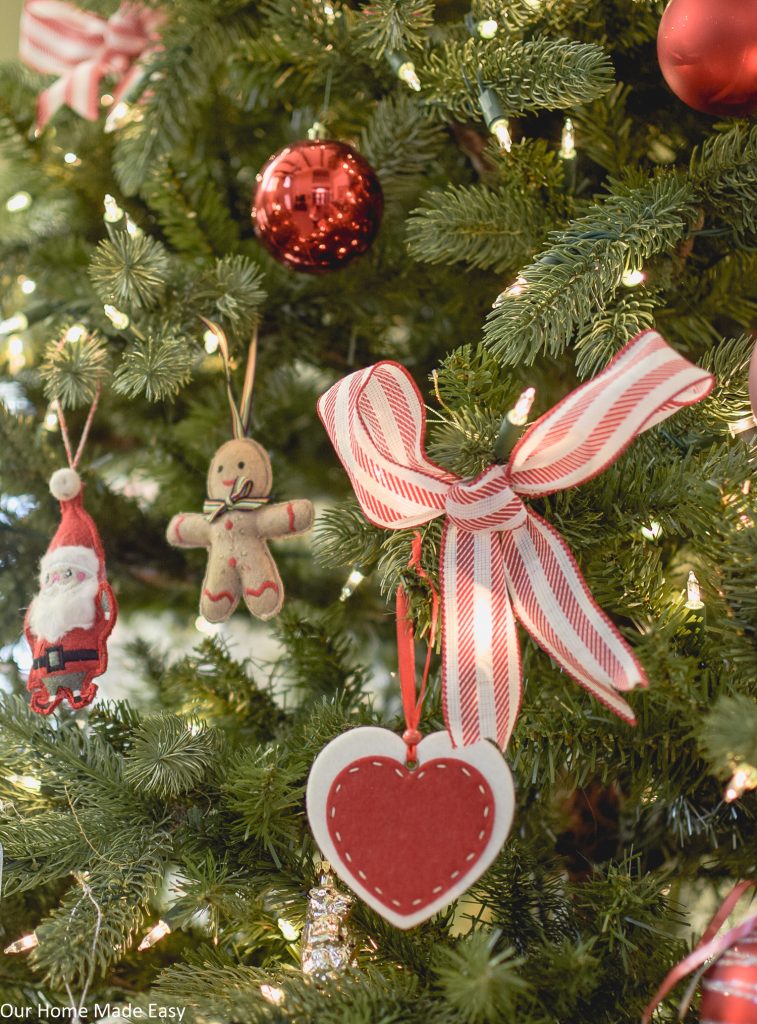 I've been on a sign kick lately. Can you believe that large wood sign was only $9 at Michael's? Total steal. I'm not sold on leaving it next to the tree yet. I'm thinking it could look really nice on our faux-mantle.
Recognize that monogram shadowbox? It's interchangeable for every season. I added in my Christmas-y scrapbook paper and voila! Instant Christmas decoration.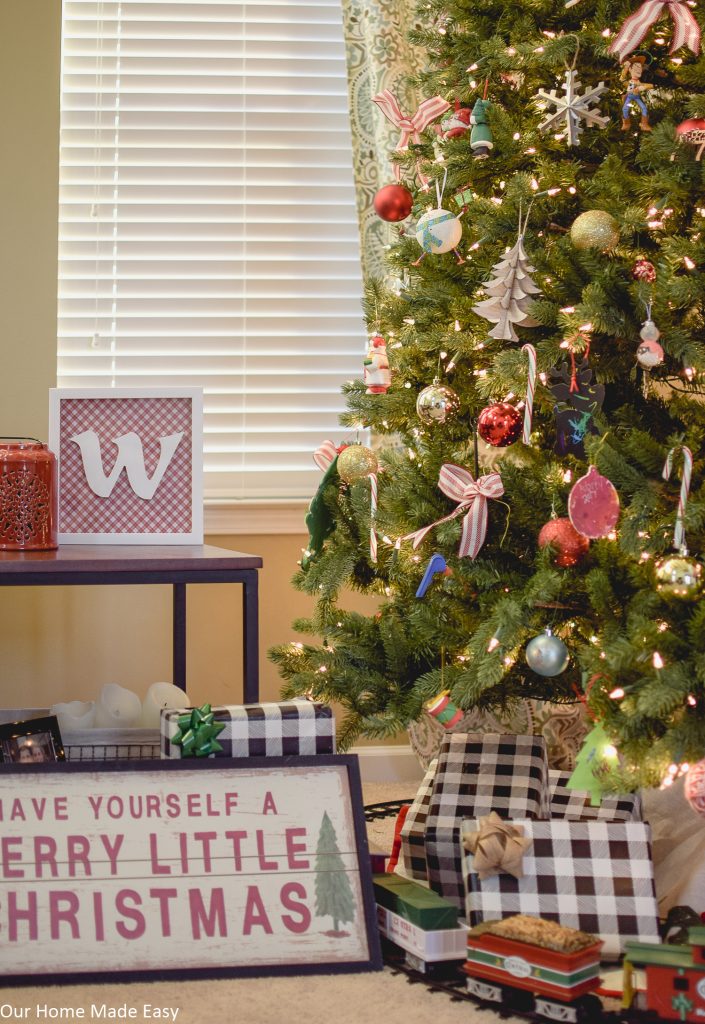 This big basket is full of cozy blankets. While winter hasn't officially hit Michigan yet, you can bet that you'll find me in the evenings bundled up!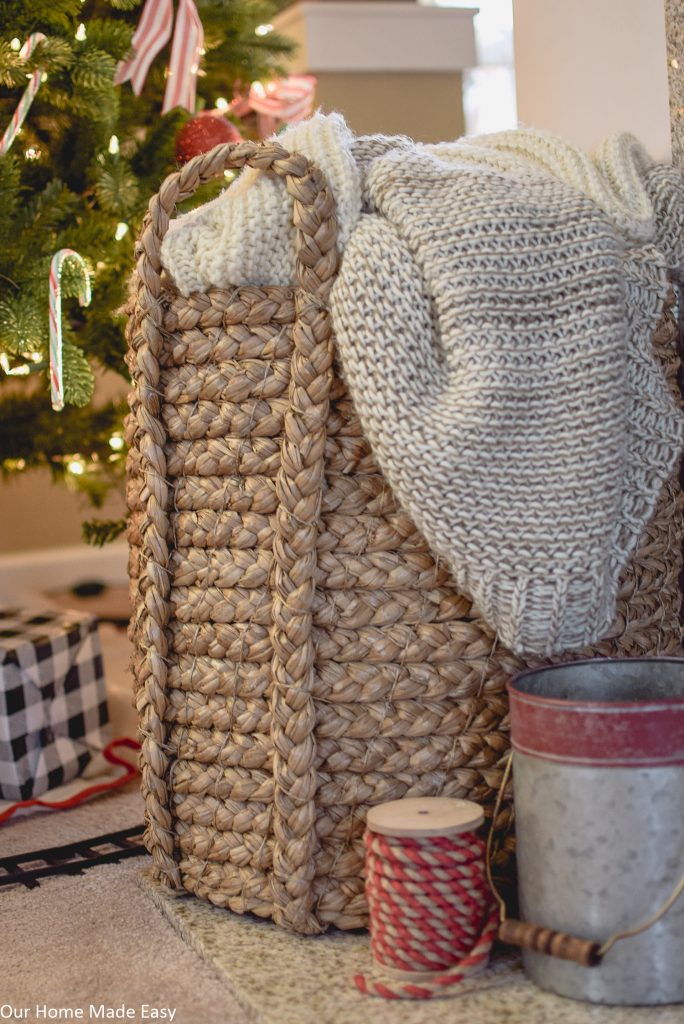 Thank you so much for stopping by our home today! Please continue on the hop and see the other beautiful Christmas trees from bloggers all over the country!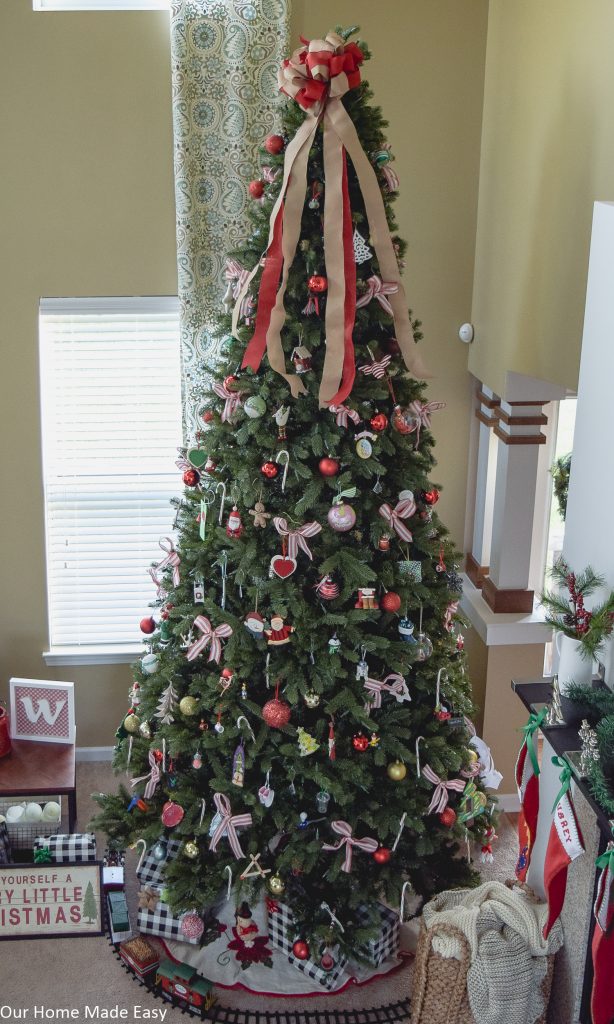 Christmas Tree Sources
Now let's check out the rest of the beautiful Christmas Trees!