Simple Christmas Dining Room [Cozy Holiday Home Tour]
Our simple Christmas dining room decorations are ready for Christmas morning! Come on in and join us for a pretty dining room home tour!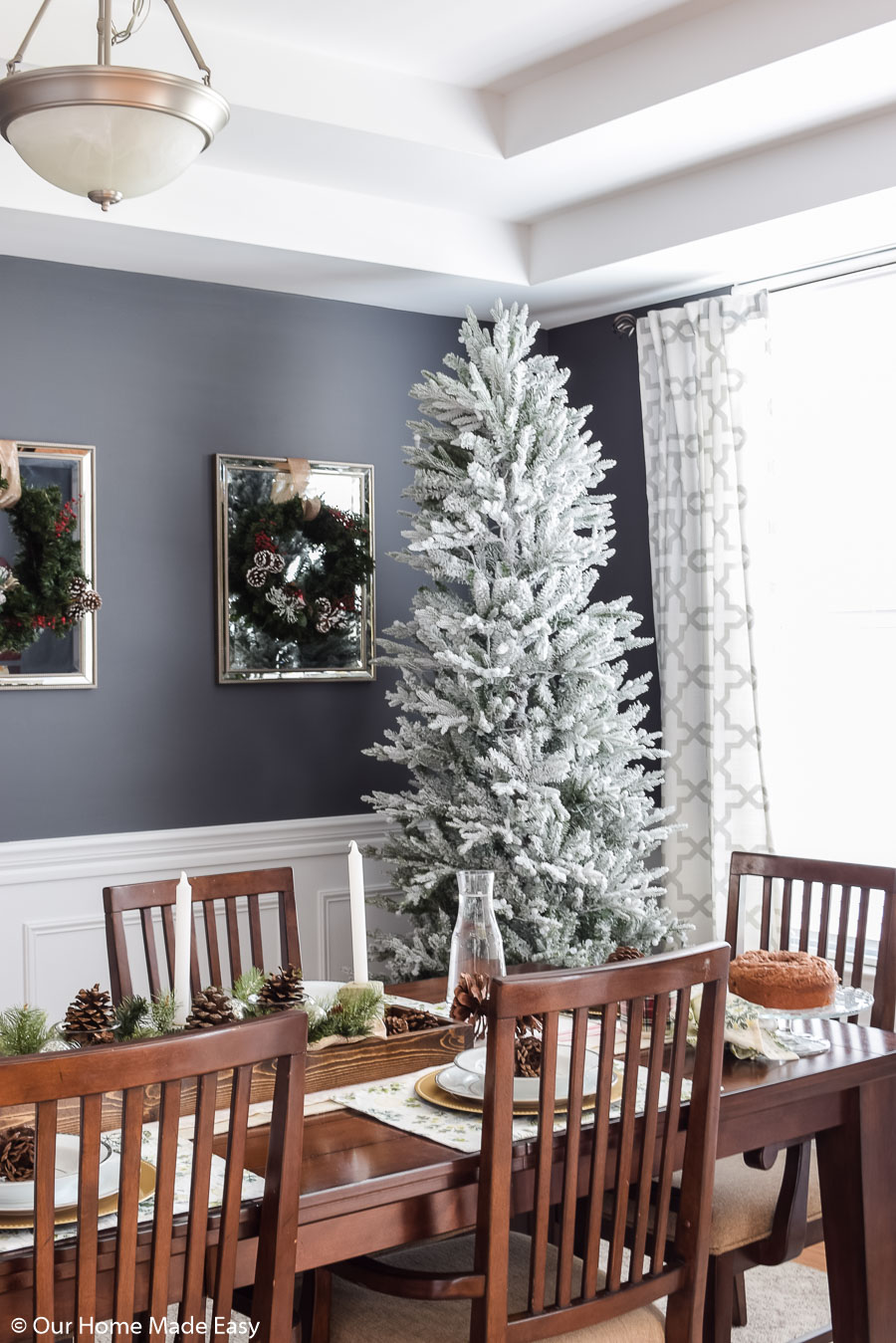 (This post contains affiliate links. Please see my Disclaimer for more information)
Welcome to our home! If you're new here, I'm Brittany and this is Our Home Made Easy. I am thrilled to show you how simple projects can turn into beautiful spaces! Since my husband & I are both working parents of two little ones, we love to improve our home— but it can't take much time.
I am so thrilled that you stopped by our home today.
We live in Ann Arbor, Michigan. We experienced our first snowfall earlier this month, so it's no secret that our family has been feeling in the Christmas spirit for quite a while. But now that's finally past Thanksgiving, I can show you one of my favorite rooms this year, our Dining Room!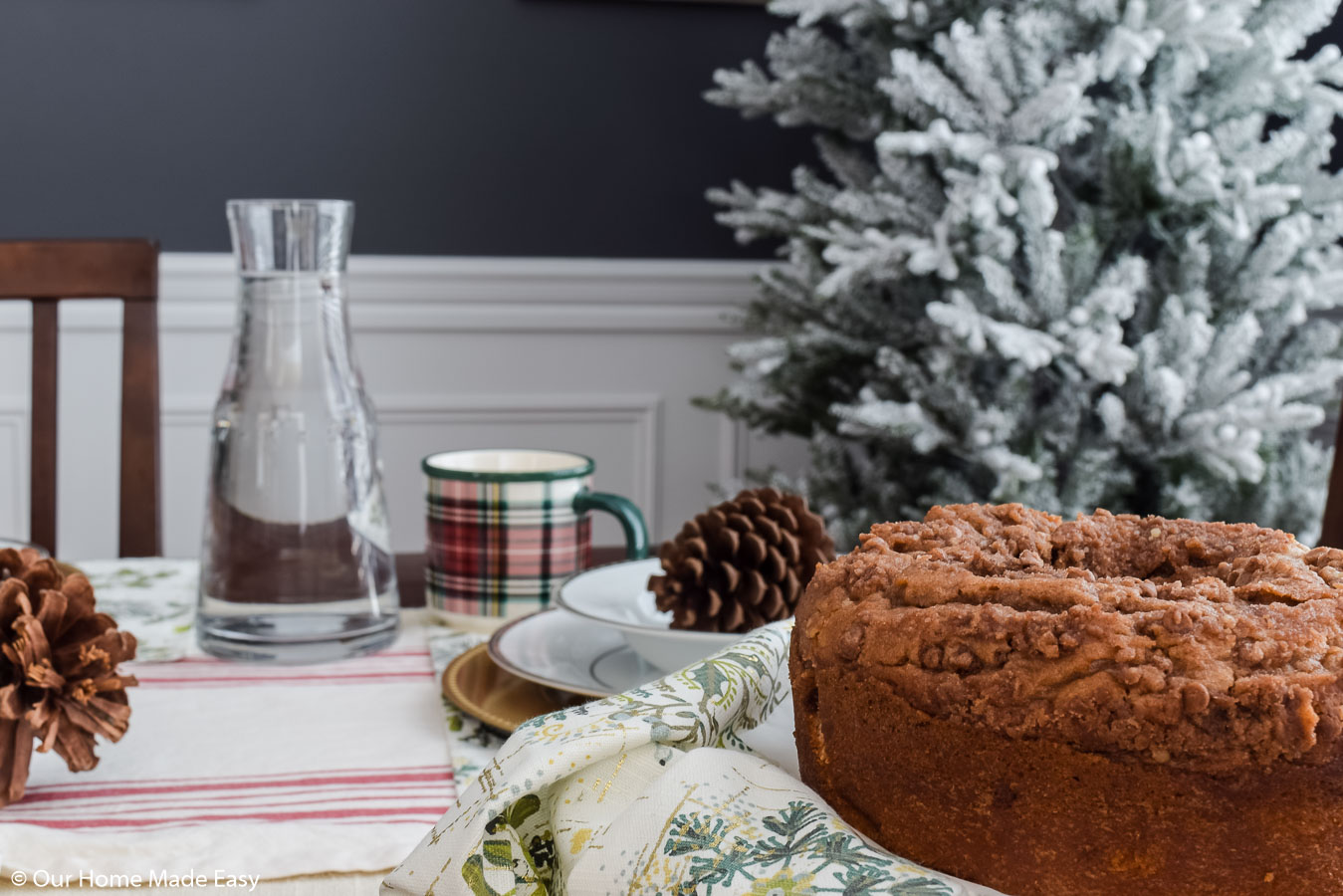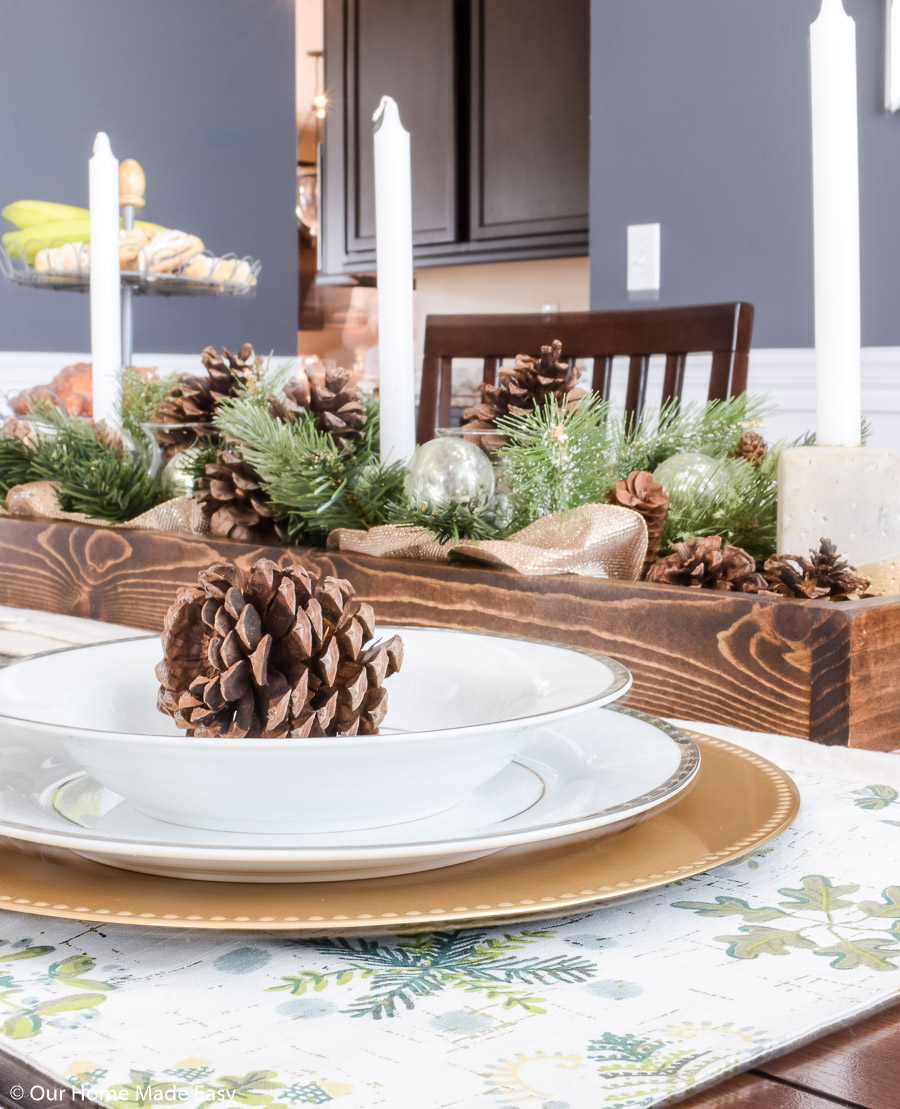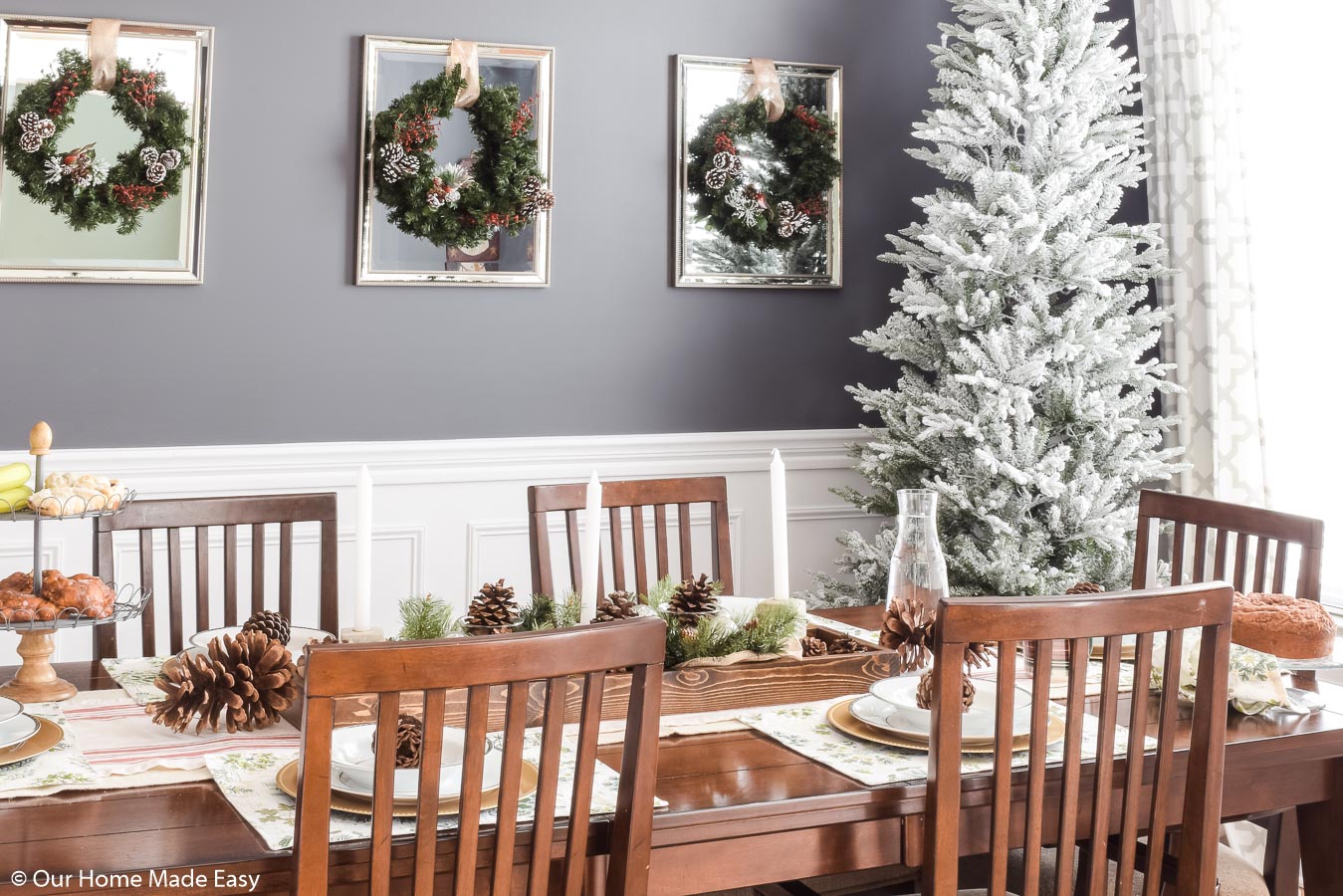 As adults, my husband & I have never lived in the same state as our family. We've lived in Northwest Ohio, Mississippi & Alabama Gulf Coast, and now in Michigan. Thus, we've learned to embrace cozy, quiet Christmas mornings with our family. And one of our favorite ways to do that is a yummy breakfast after opening Christmas gifts.
And let's be honest—with little ones, it's more like a second breakfast for them.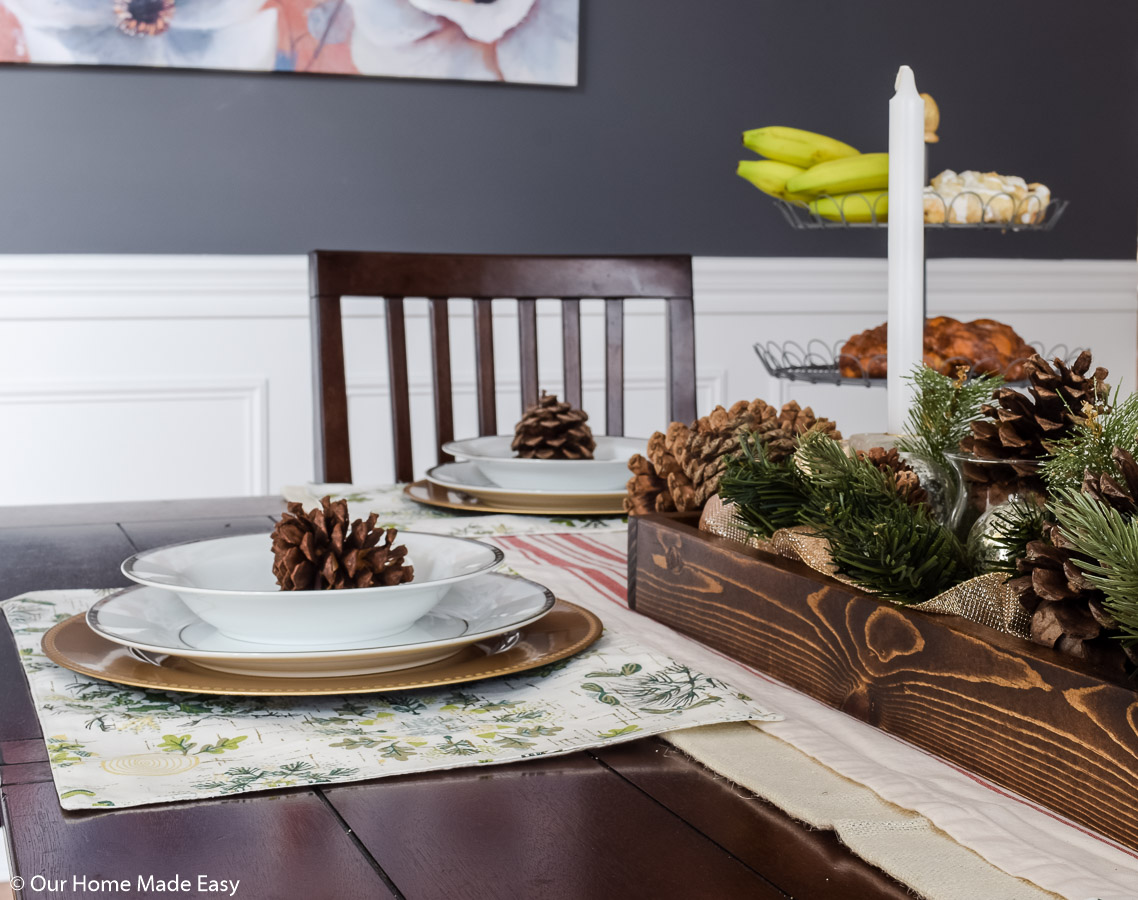 Each year we like to prep as much ahead of time so that come Christmas morning, making breakfast is the last thing on my mind.
We'll usually prep our easy but oh so yummy breakfast casserole Christmas Eve evening and pop it into the oven while the kids are opening their stockings.
If Jordan's mom is joining us (she is this year!), we'll add a few more breakfast options. Really, it gives me an excuse to try out a new recipe or treat.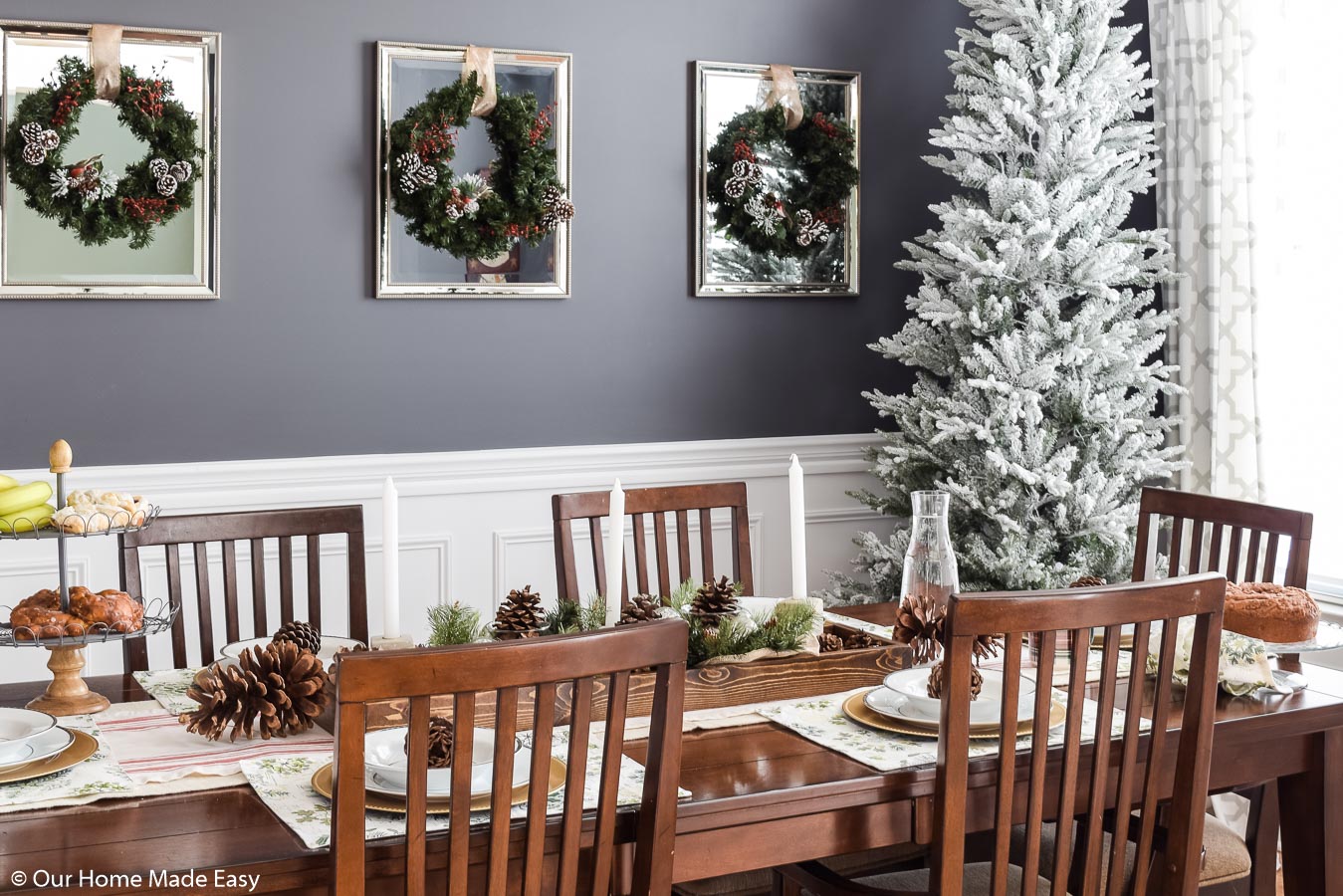 Our Simple Christmas Dining Room Decorations
Inside the dining room, I added a new flocked Christmas tree. Since we spent Thanksgiving in Arizona with my parents, I knew that I didn't have a lot of time to decorate this year.
Last week, my friend Emily posted her 24 favorite flocked Christmas trees and I couldn't help but look around and convince myself that we needed one ASAP. It was something I'd been debating to myself over the past few years and after window shopping online, I decided to find one.
Thankfully, after we arrived home from vacation this week, our Lowe's had a few in-stock. I went for an unadorned look to make life simpler and avoid the stress of finding ornaments that would look great. #FlockedRookie
I cannot wait to show you what it looks lit up. Crossing my fingers I can write a post about it soon.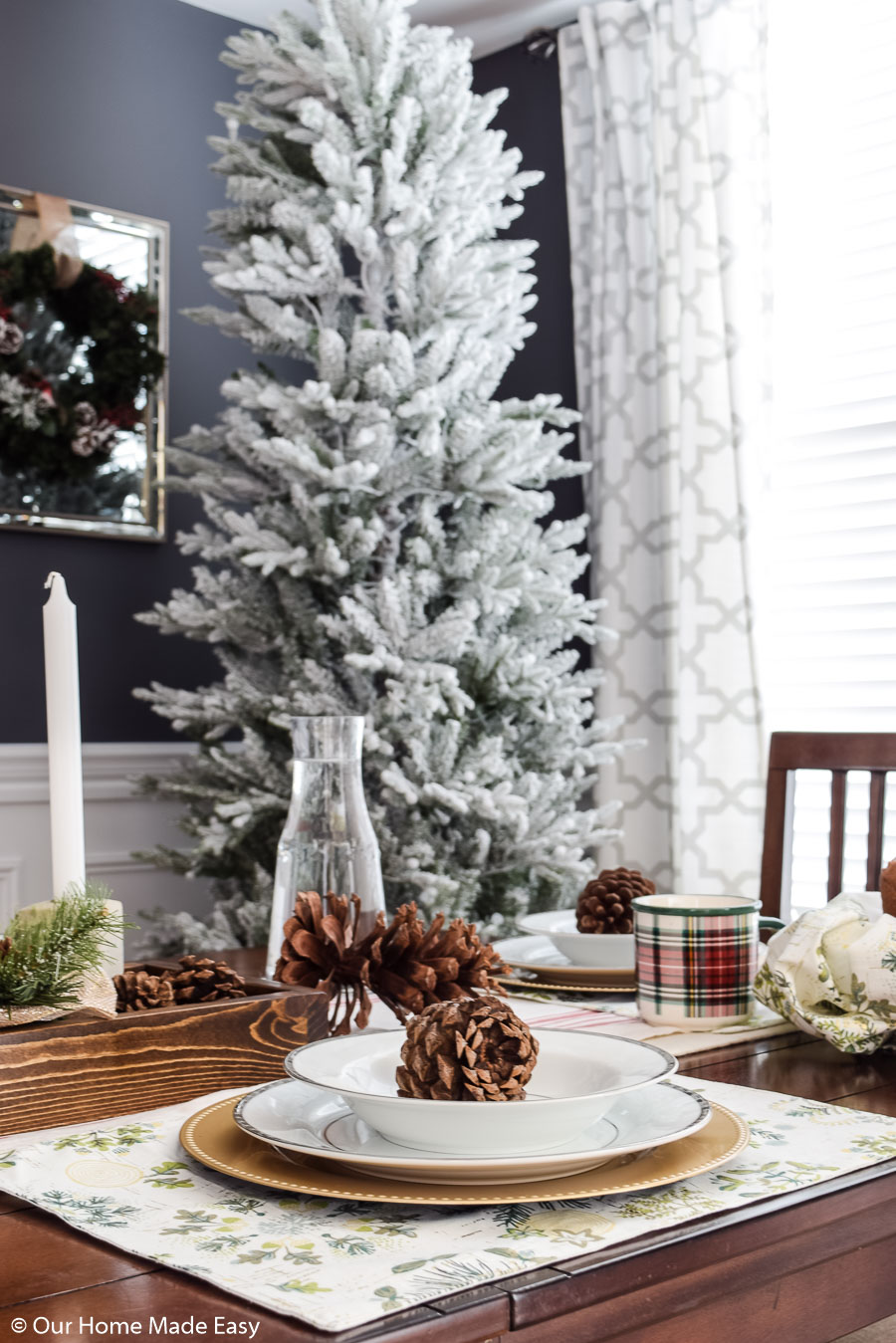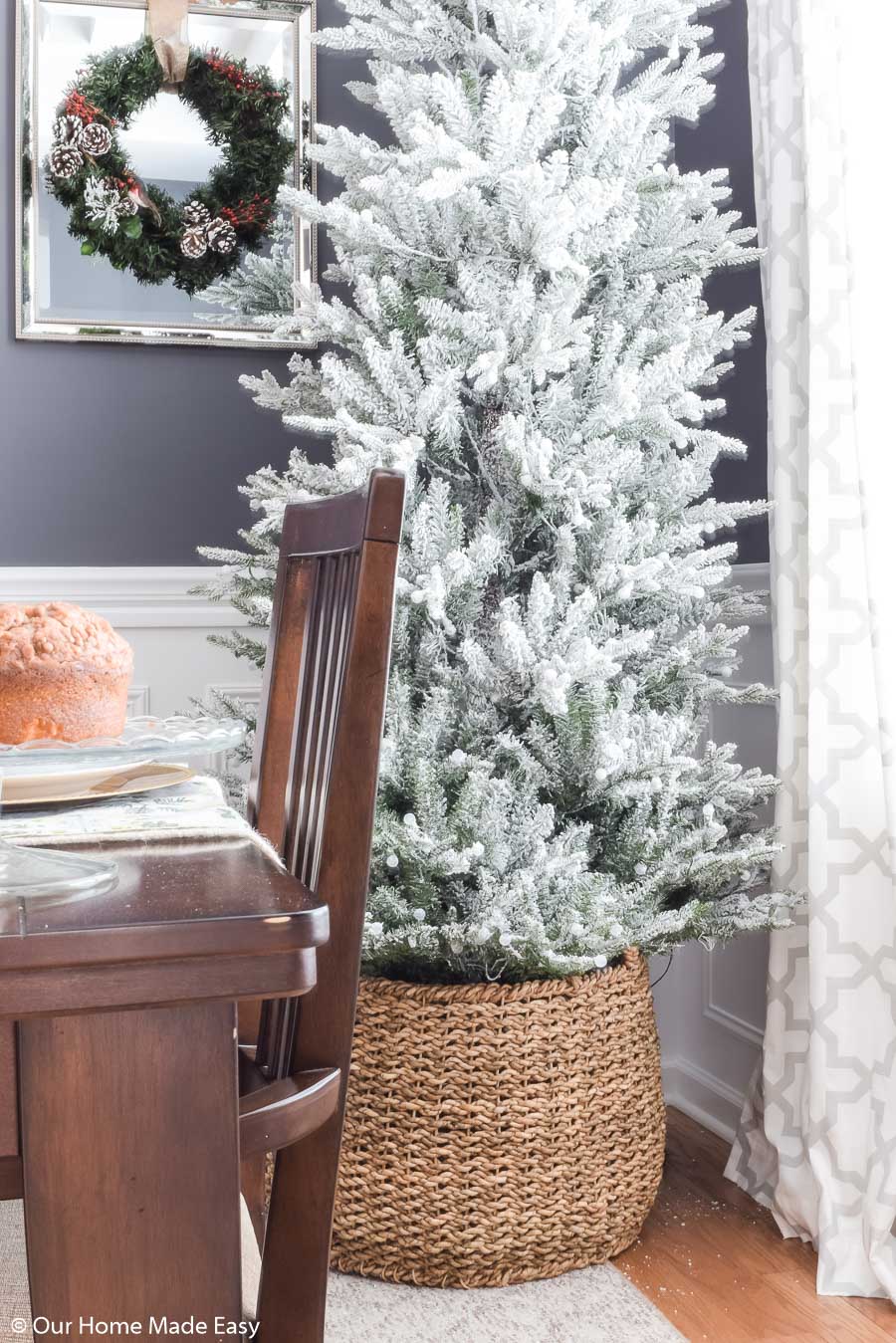 Do you like it?
I'm totally digging the simplicity in that corner!
Last year I saw that one of my favorite home bloggers, Lauren from Bless'er House popped her real Christmas tree into a basket, and it was like voila! I couldn't wait to try it out this year in this basket, albeit, with our very fake, no-watering required tree.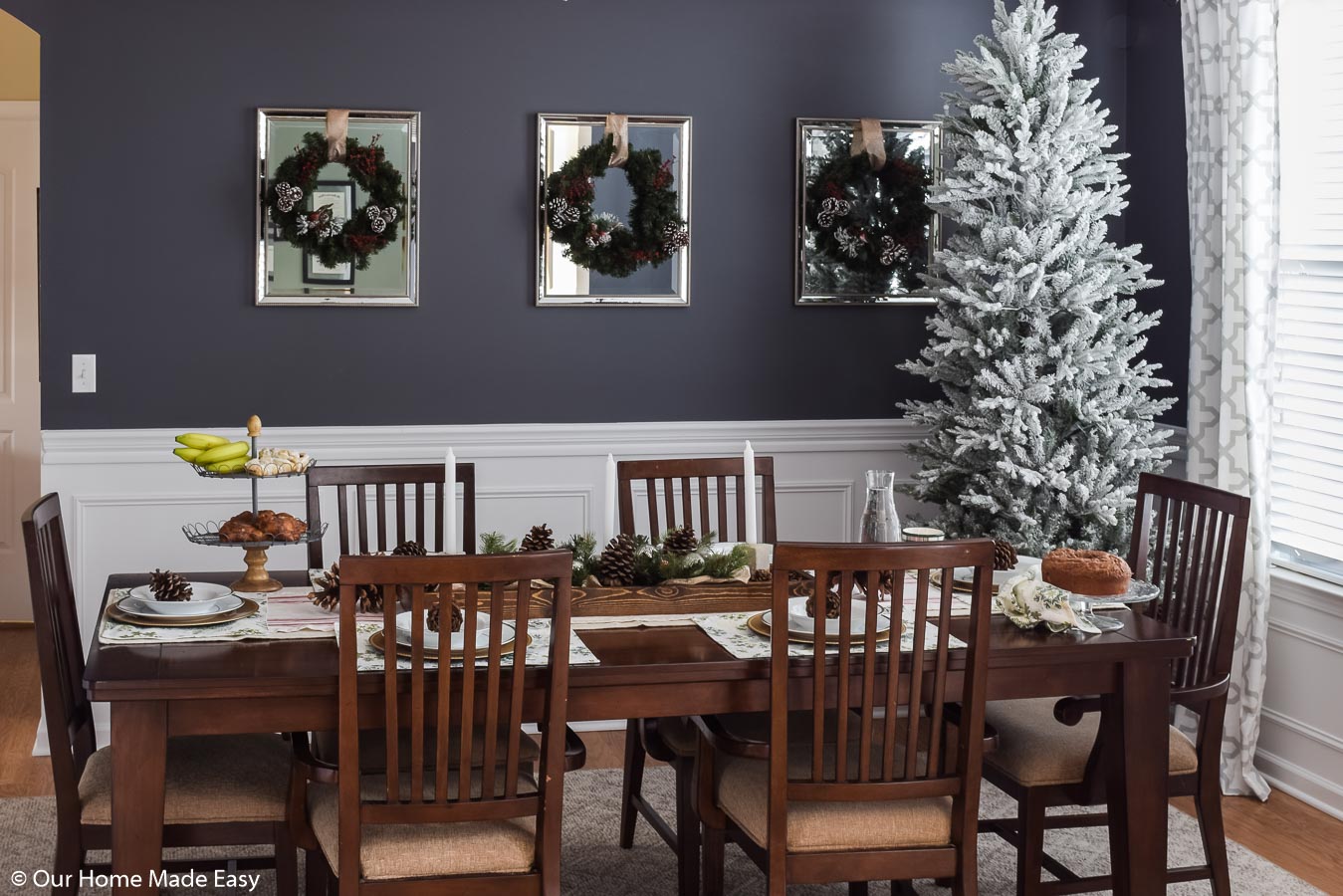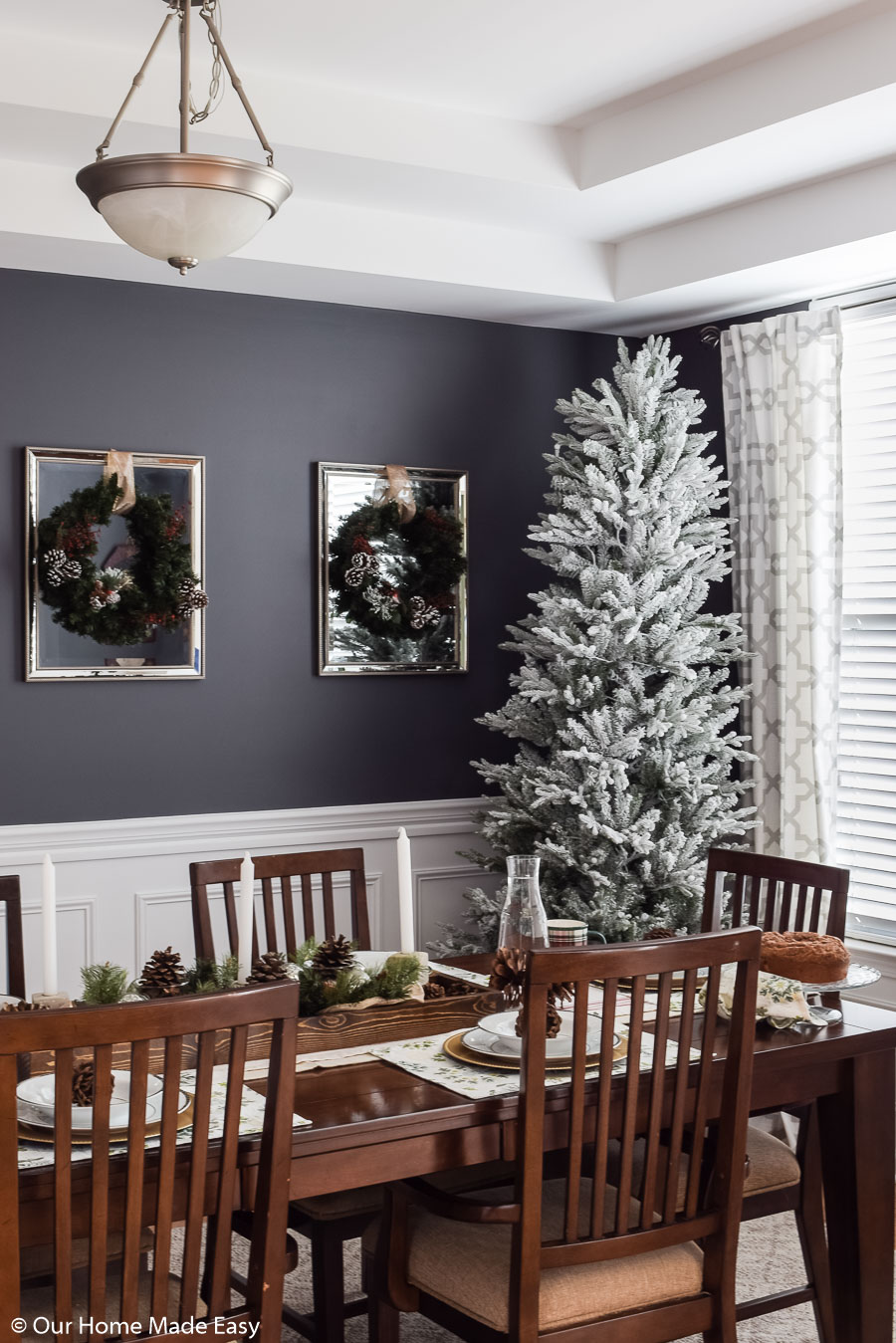 I hung up the trio of Christmas wreaths on our mirrors. I made them a few years ago for just a few dollars apiece. All these years later, they are still holding up!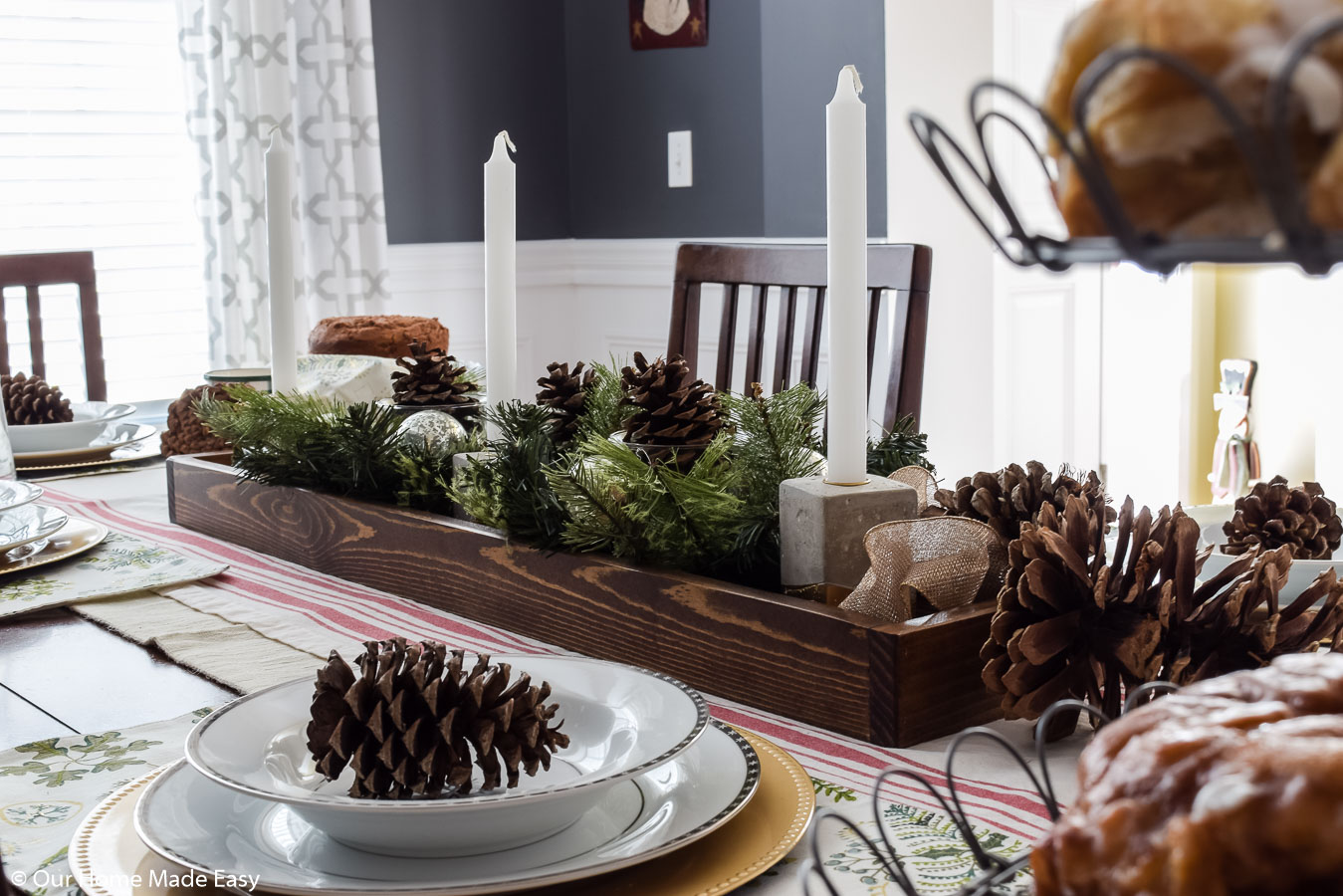 As always, I kept the simple DIY tray my husband made for me last year. If you've been awhile for a while, you know how I love picking it up at dinner time and instantly clearing the space. Likewise, for after dinner. I almost look put together when I drop it back on the table.
I found a few small wreath centerpieces, popped them in and filled in the rest of the space with scented pine cones & and a small piece of wired ribbon. It's simple and works well through January. [Story of my life, find the décor that lasts more than few weeks!]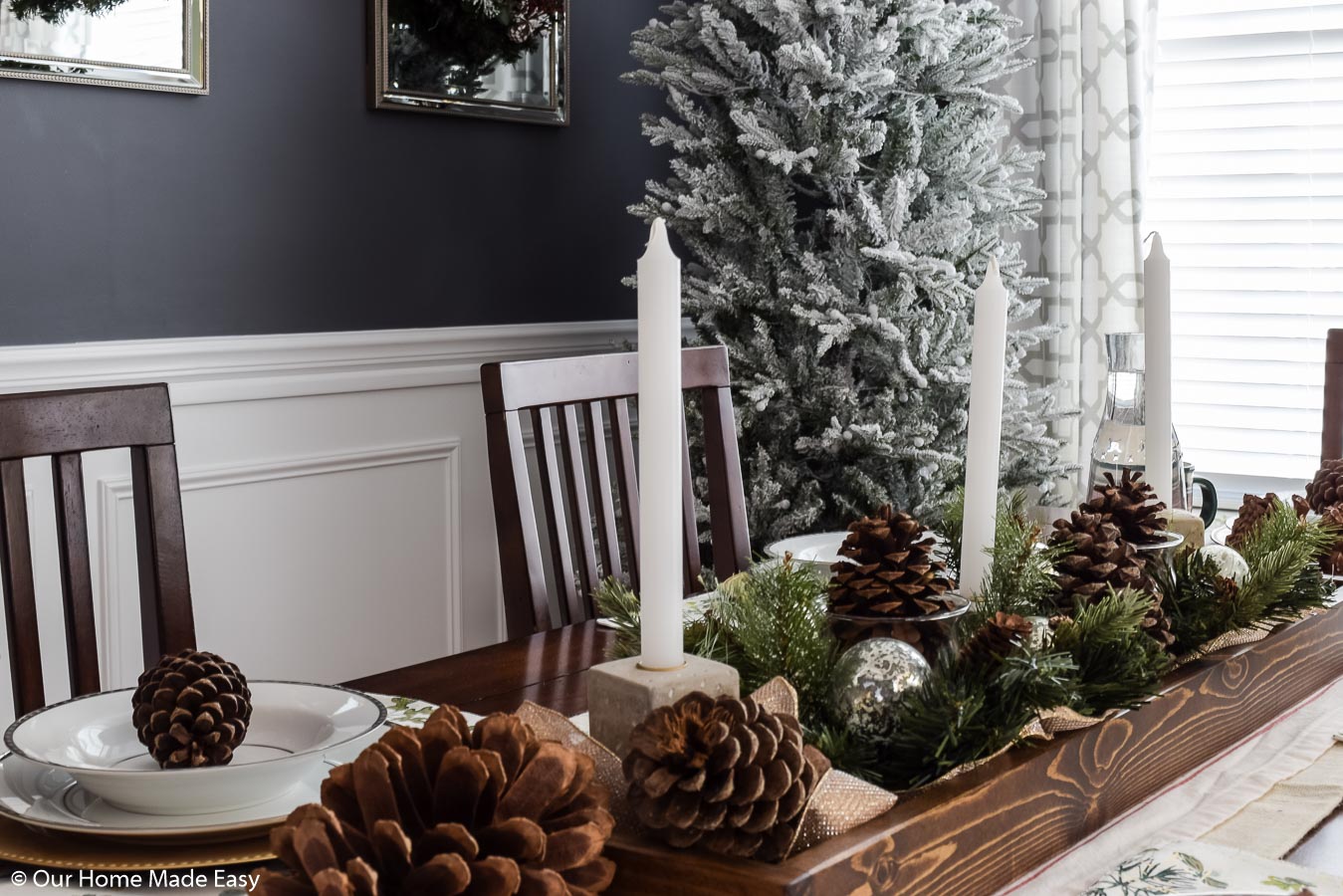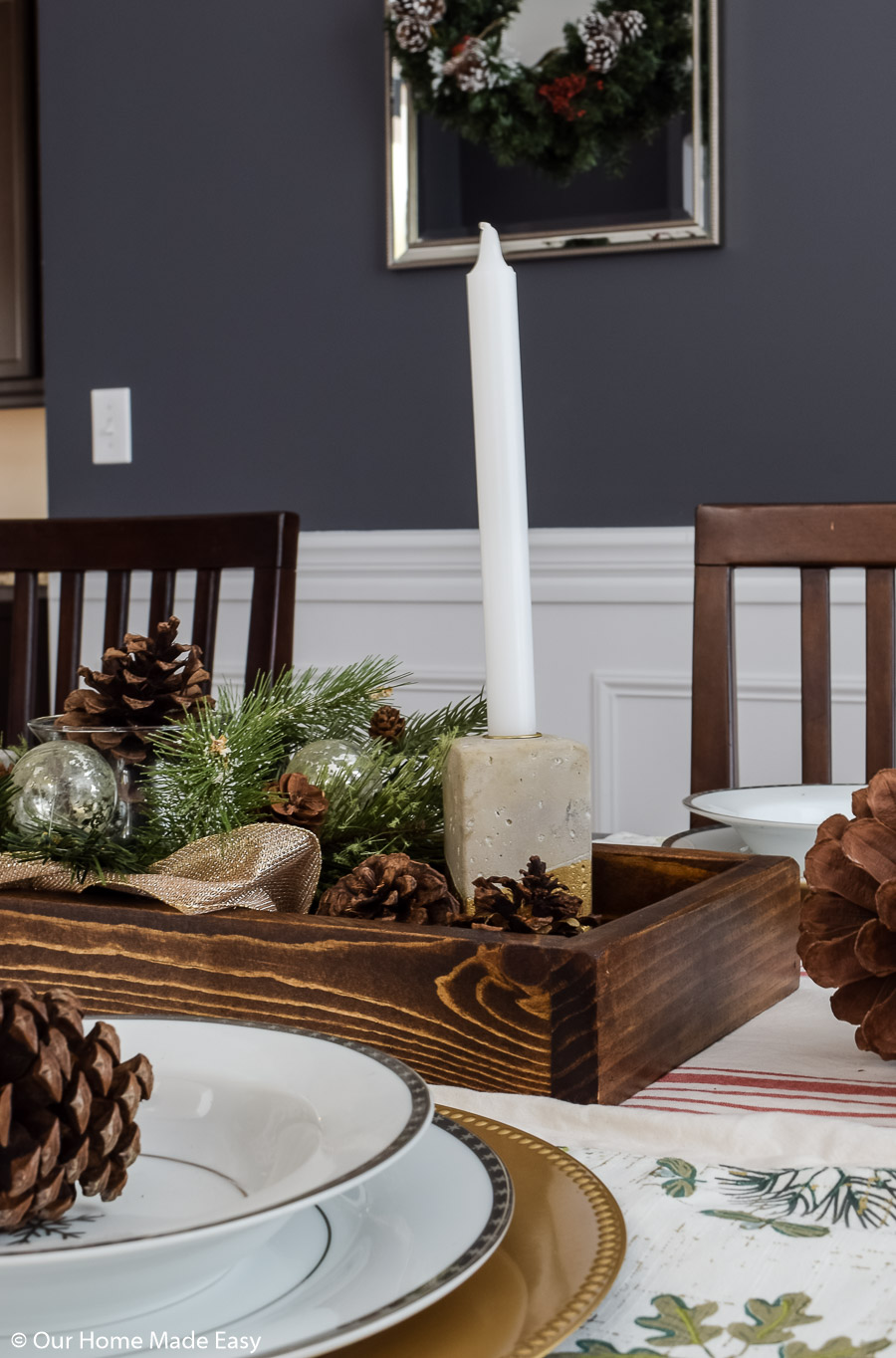 We bought the plates and bowls back before we were married! They only come out at Christmas time to use. Which seems so silly, really. We should use them more. [Notes to myself]
Now all that is left is to gather the kids around the table and bring out some of those prepped breakfast dishes!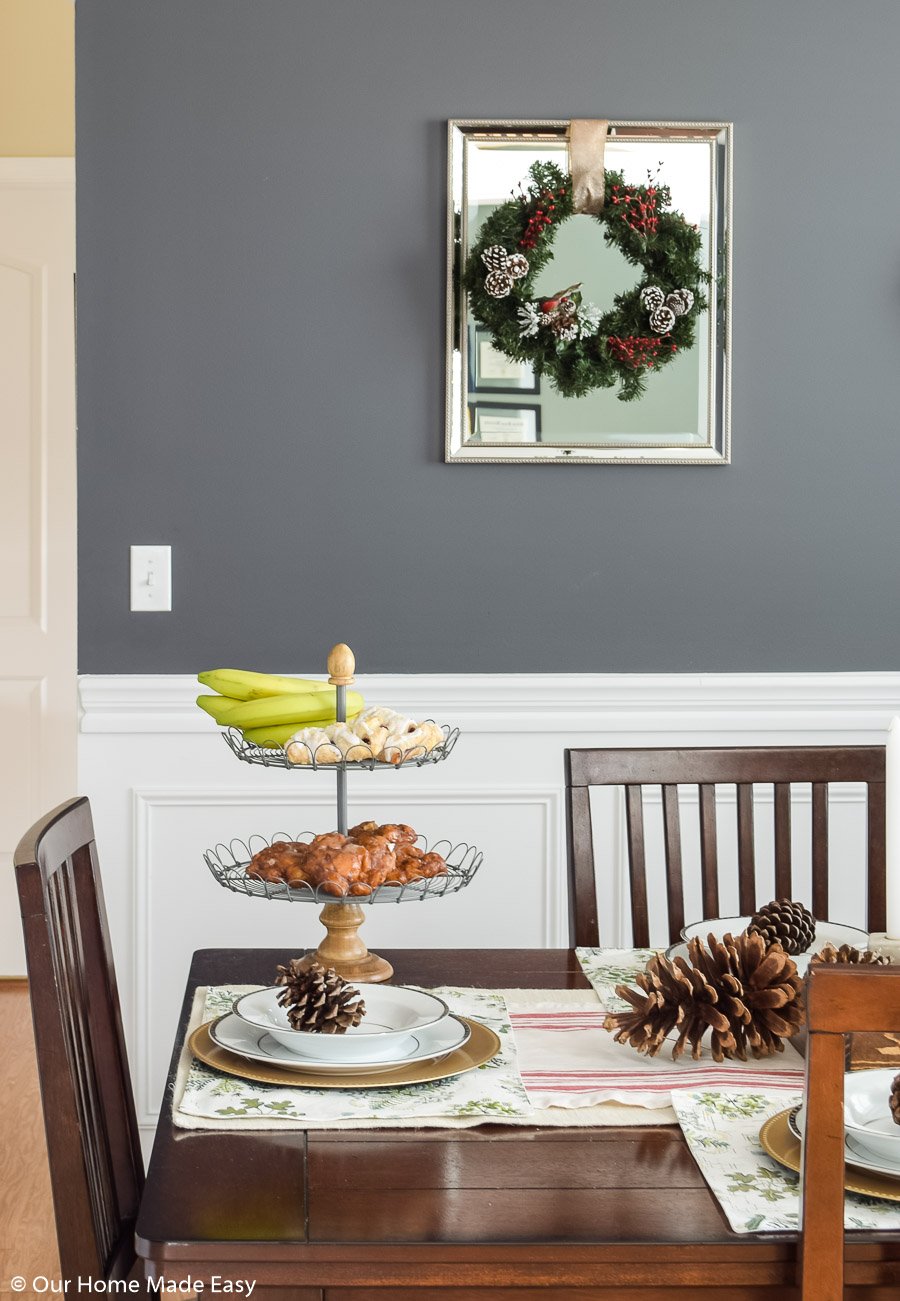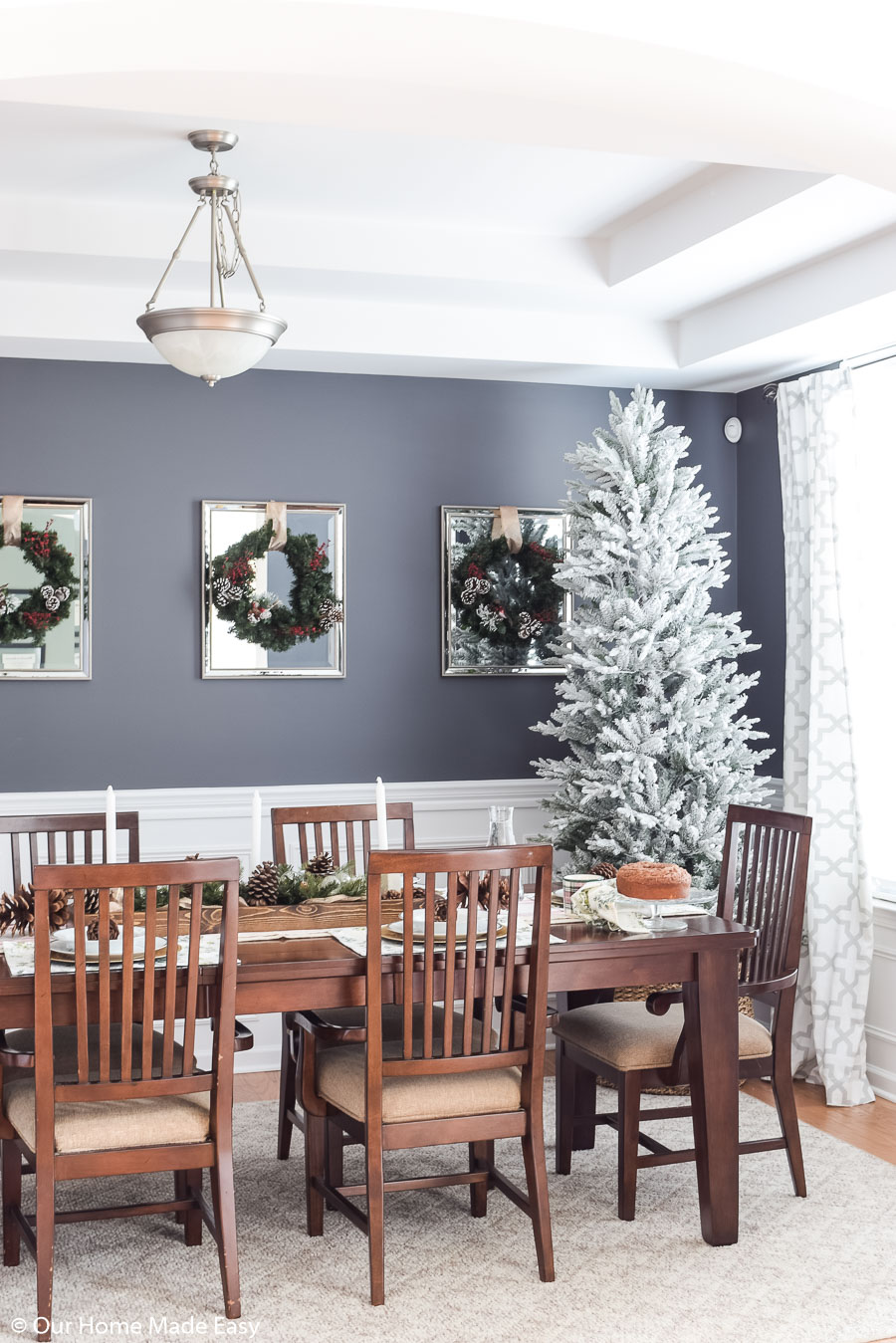 SHOP THE ROOM HERE:
Thank you so much for joining me today! Be sure to check out the rest of the stops along the Cozy Holiday Home Tour. I'm so lucky to have beautiful friends who also enjoy the season!
PIN FOR LATER: