Make this quick Christmas wreath for just a few dollars! They look great hanging together in a dining room.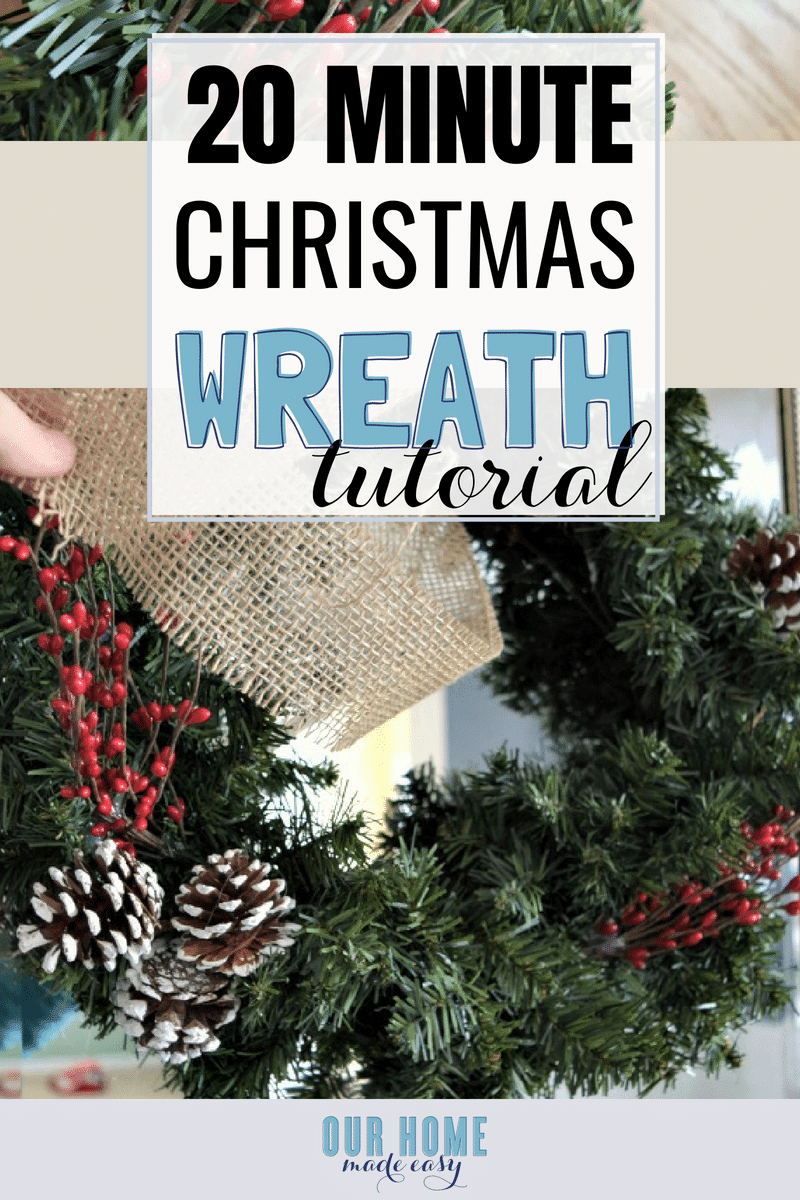 This post contains affiliate links. If you shop from my blog, I may be compensated for clicks or purchases that you make. Thank you for supporting 'Our Home Made Easy!'  Read my disclaimer page for more information.
Hey all! This weekend we had 70+ degree temps on Friday and then so much snow Saturday afternoon. Sigh… so typical in Michigan. 🙂 Since the weather is yelling "Bring on winter!" I felt compelled, well to do just that. So in a short break of winter bluster weather, I ran out to make my first DIY project for our Christmas decor. And the best part? I spent less than $10 on each one! Check out how I made these DIY Christmas wreaths here!
I chose the wreaths as my first Christmas DIY because the dining room needed some attention and I thought the blank space of the mirrors seemed like a great place to start. But the problem was, I needed three of whatever I'd find and we all know that Christmas decor can quickly become overwhelming in appearance and add up $$$ quickly.
Here is a view of the before….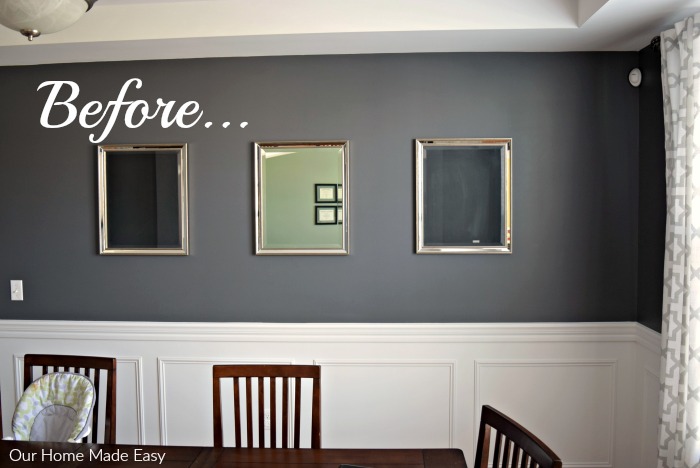 Aren't those mirrors begging for attention? I was more than happy to oblige 🙂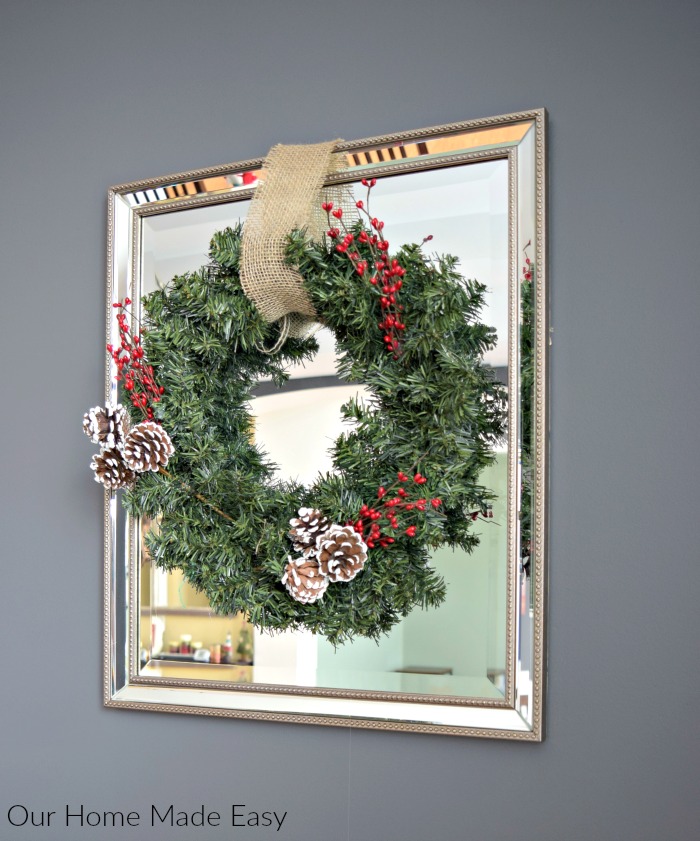 Supplies Needed for DIY Christmas Wreath
Choose Your Wreath and Picks
I found these wreaths at Michaels for only $2 apiece! Yes, so I scooped up 5. Plan on seeing lots of greenery in my our home this month… because I love a deal 🙂 Then, I found a great selection of picks at Jo-Ann Fabrics. The pine cones were $1.60 apiece and the red berries were about $1.20. Picks are so dangerous because they are so inexpensive alone, but quickly add up as you spruce up your wreath.
If you aren't familiar with picks, think of them as ornaments for anything and everything. I love the ability to change out the picks if they become damaged or as my style changes. You can apply them quickly to whatever project you're working on (wreath wire or hot glue) and they always add that extra little touch on any project.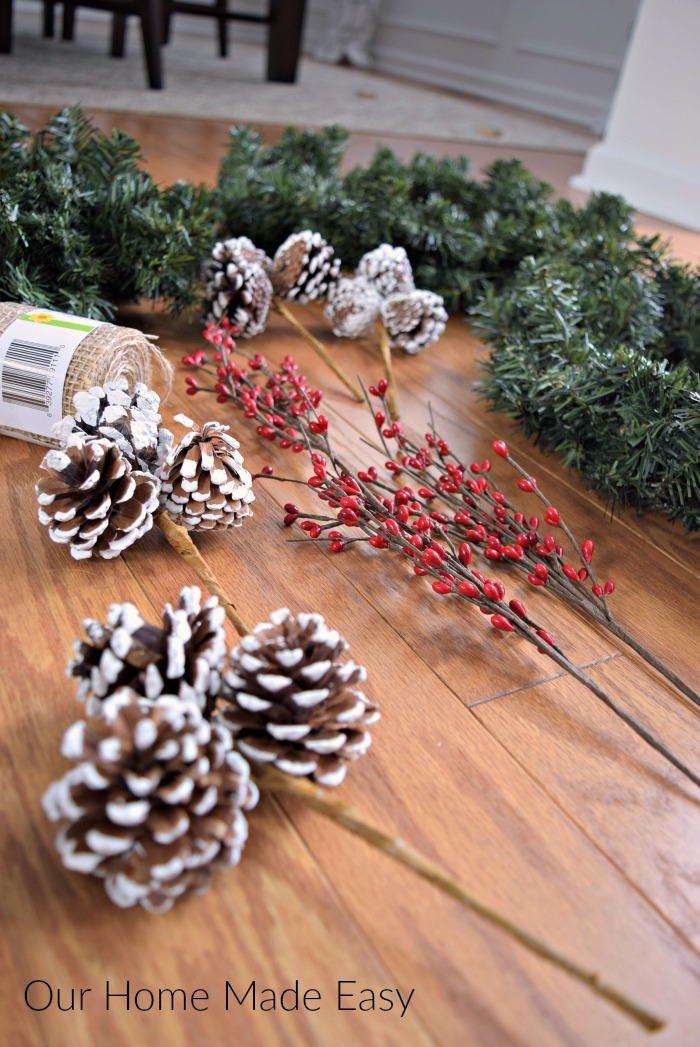 Fit Together Your Wreath
This is the best part about this project, you can set everything in place and then change your mind if you don't like the result! Fan out your wreath as you'd like. Then insert your picks around the wreath. My intention was to not make them identical in layout. However, I still used 2 pine cones and 3 red berry picks per wreath.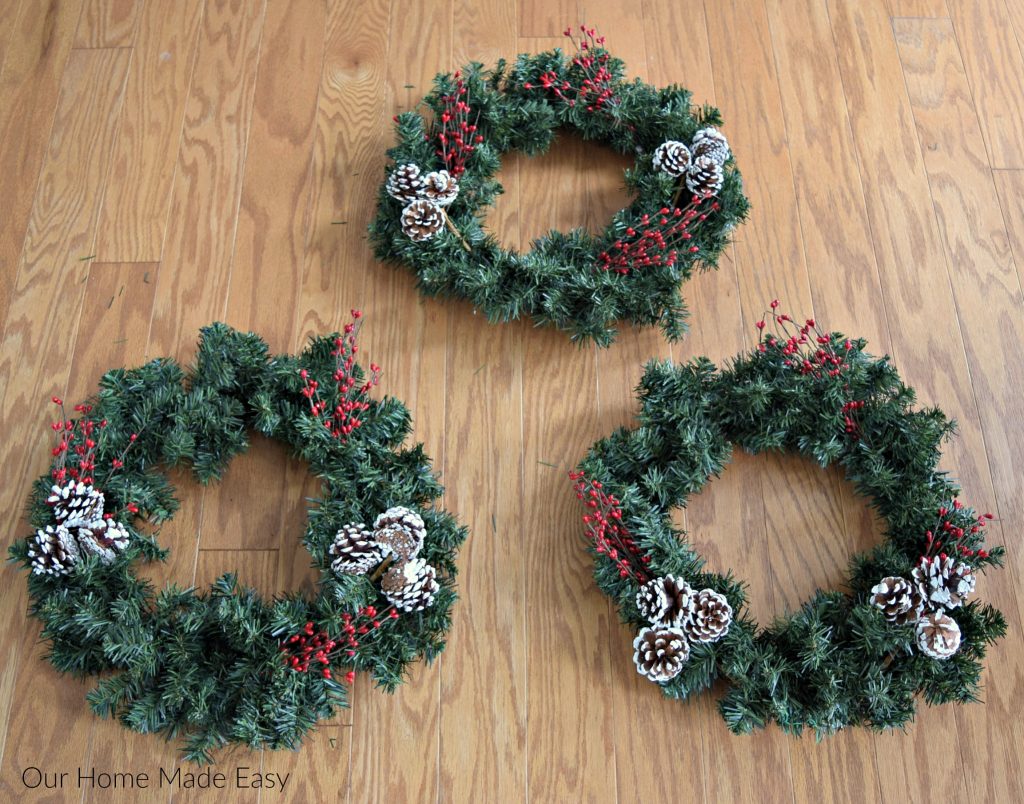 My need for symmetry at work here… despite my best intentions for non-identical…. turned out pretty similar 😉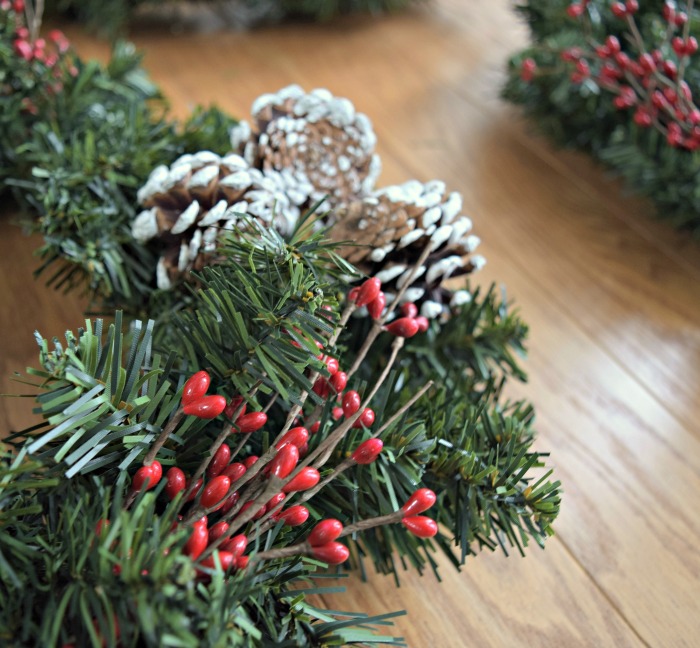 Attach Your Picks to the Wreath
Using wreath wire or hot glue, attach your picks to the wreath. For the wire, I like to attach at the point where the base and the pick meet up. Then I like to attach once more for added security. For hot glue, I like to apply a bead of glue in the same spots as the wire, and in a few more support locations.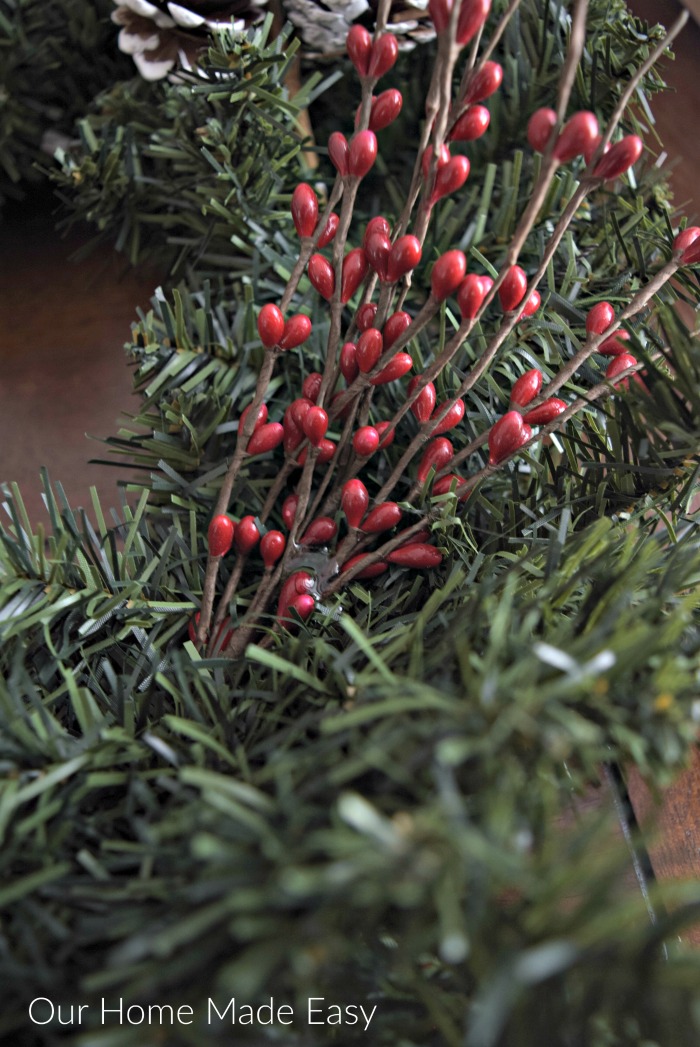 Hang Up the Wreath!
This is such an easy and quick project. I love it. Now you'll want to hang up your wreath. My hangers of choice are small suction cups. They are virtually invisible and you don't have to look at large metal or clear hangers.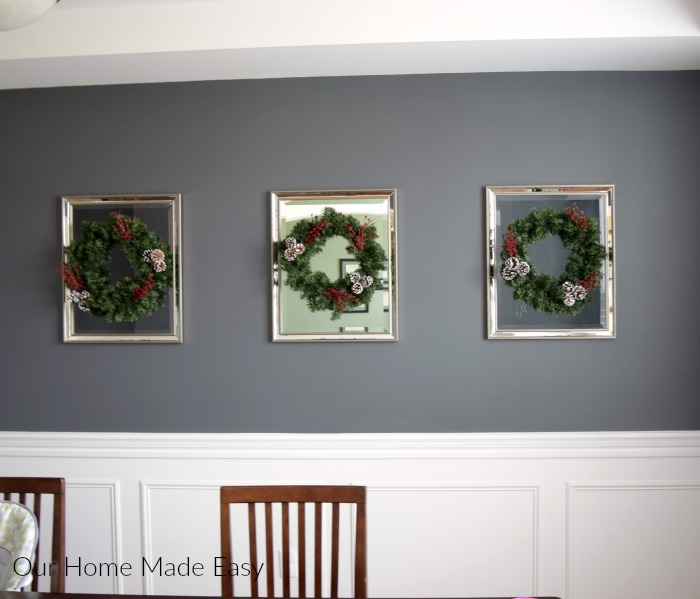 So I think these are super adorable…. BUT… I they needed more. 
How to Hang a Wreath on a Mirror Using Ribbon
I picked up a dollar roll of burlap ribbon last week and thought these would be perfect for the job. How to make the ribbon look like they were holding up the Christmas wreaths? Cut a strip of ribbon long enough to wrap over the wreath and back up the top of the mirror. Mine was about 20 inches.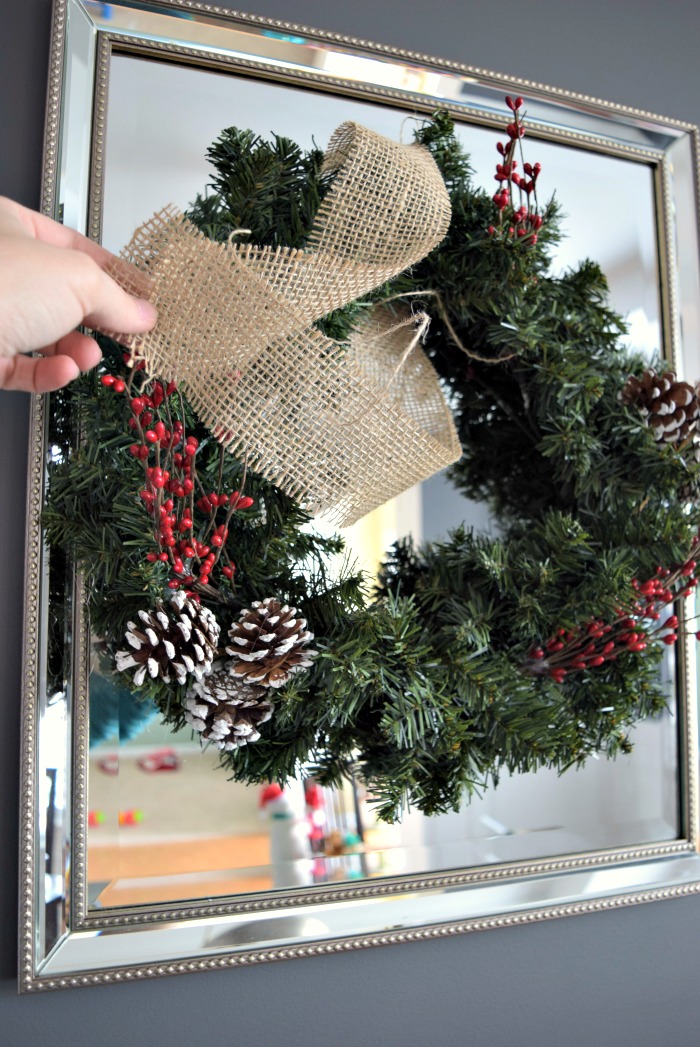 Thread the ribbon under the wreath. Pull until the sides are equal. Simply tuck the ends behind the mirror. And that is it!
Total cost per wreath? About $9.10.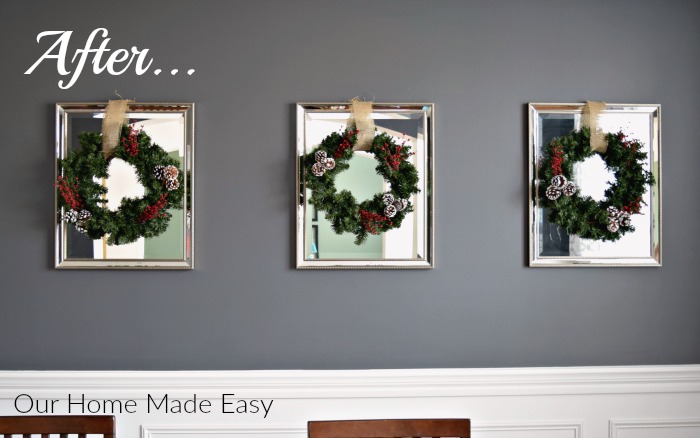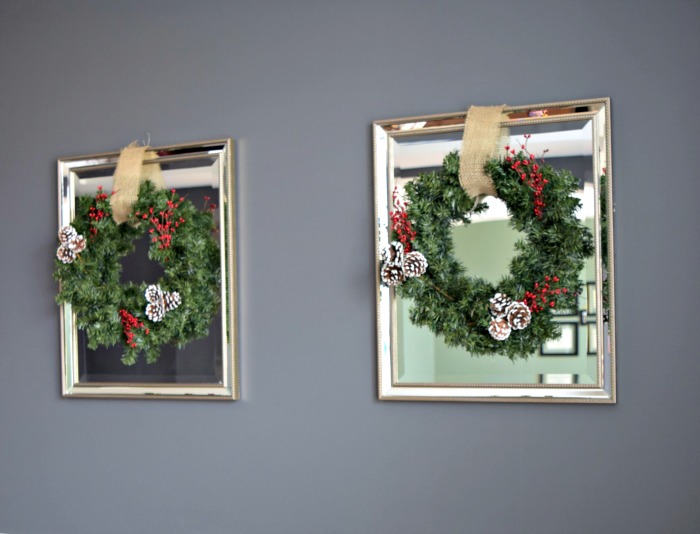 With just a small bit of supplies, you can make your own wreaths in just a few minutes. You don't need to go over the top; simpler is better when you have multiple wreaths to hang along the wall. Start with a small base and keep adding texture!
PIN FOR LATER: