This isn't a surprise to anyone…. I LOVE Christmas. From making cookies, singing Christmas songs, and all the way down to watching 2 hour made for TV movies. I'm such a sap for a love story and a Christmas Tree lighting. And this year isn't any different. I'm already setting recordings for love stories, the Christmas decor is unpacked, and our Christmas Tree is up! Hallelujah! I can finally share my Christmas Tree with you. Grab a cup of coffee and let's chat about the enjoyment that is all things Christmas Trees and toddlers…..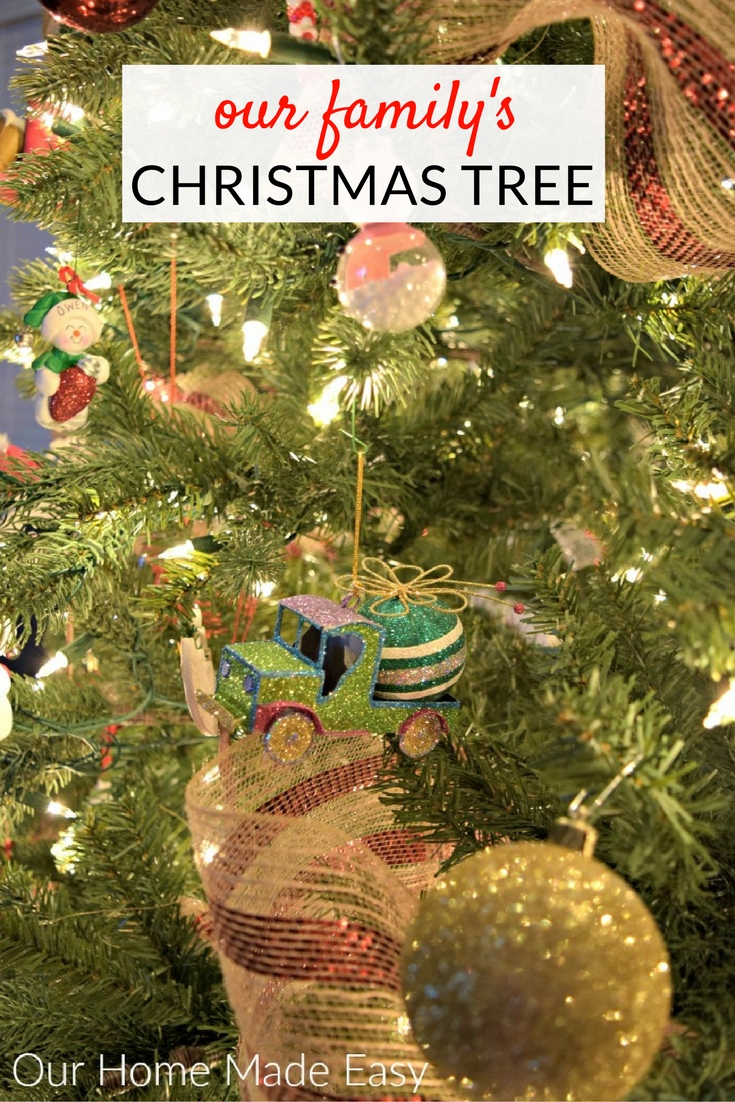 You guys, we bought our first artificial tree 2 years ago. Jordan & I felt like we were cheating all the Christmas traditions we'd ever known. Shoot, Jordan even spent time working on a tree farm in high school. How on earth could we justify transitioning to an artificial tree? Simple economics– Our living room's ceiling height is 18+'. It's super tall-ness was a selling factor in the model home, however decorating it has proven to be a challenge.
This post contains affiliated links for your convenience. See Disclaimer for more info.
How to Decorate an Artificial Christmas Tree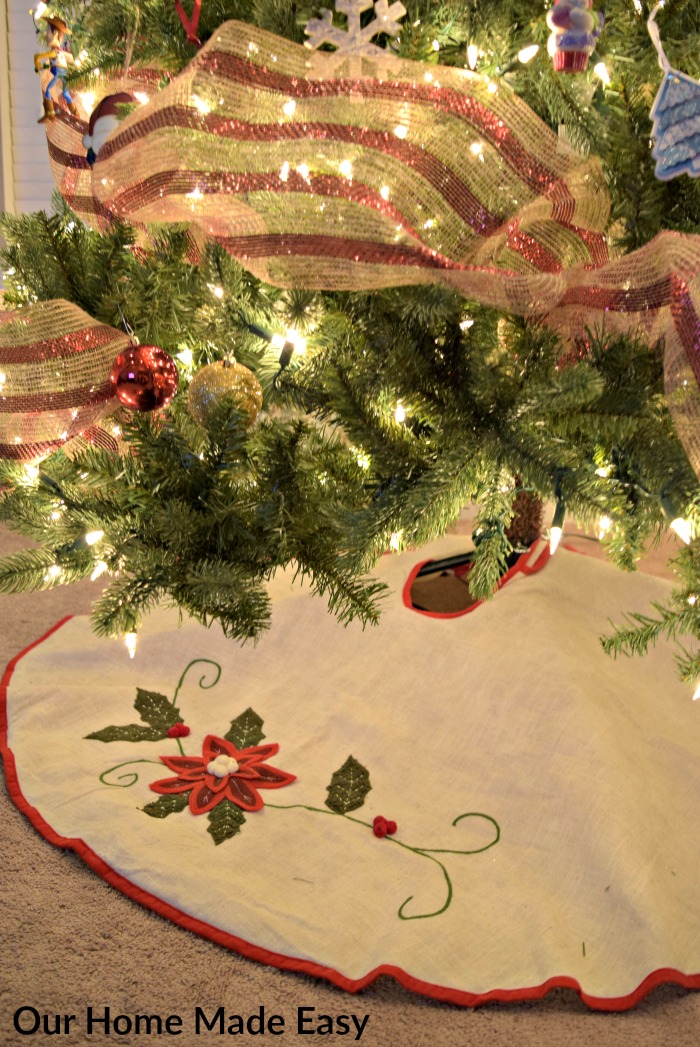 So this is where our sensibilities came in. A small tree wouldn't be ideal and buying a huge fresh tree every year would be super expensive. So…. that led us to biting the bullet and purchasing an artificial tree from Lowe's. The verdict? Wow… its convenient. I can choose to bring it up one evening and boom, insta-tree.
And after 3 years of assembling it, it's holding up really well.
Lowe's no longer carries the one we purchased. They do however have the same brand, with optional color lights (a dream for me 2 years ago!) for sale, now. Here is the similar item. [Click Here]
The empty space ready for the tree….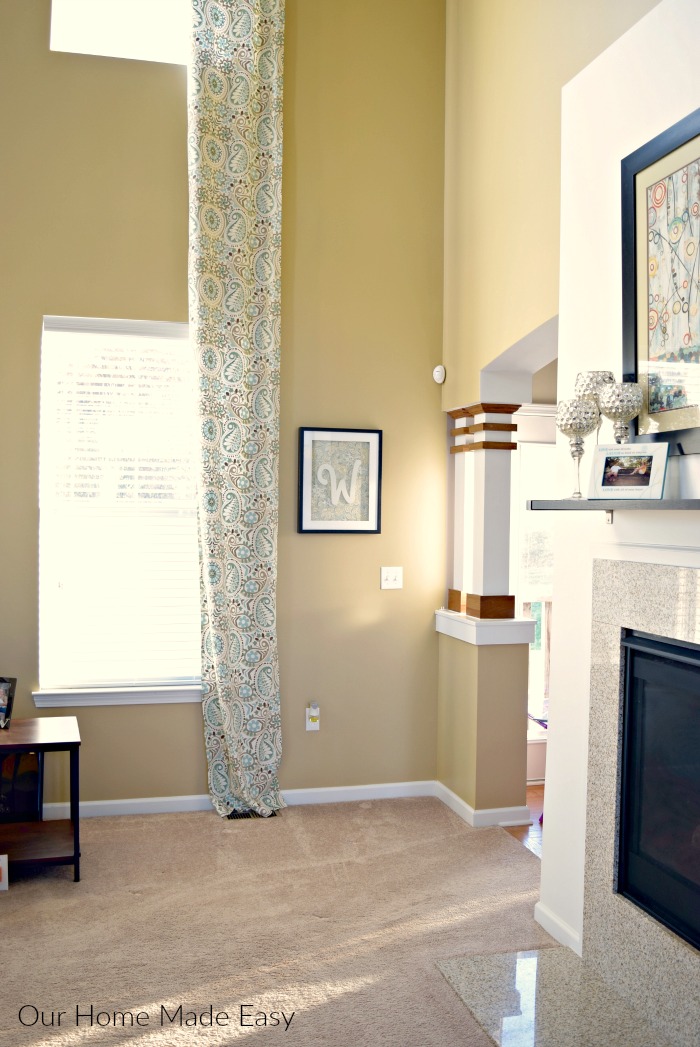 I used the front room as a staging area. I love how I was able to bring up all the pieces from the basement. "Surprise, Jordan… I'm ready for a Christmas Tree!" 😉 😉
If you are interested in knowing where I bought the decor I used, scroll to the bottom for a list.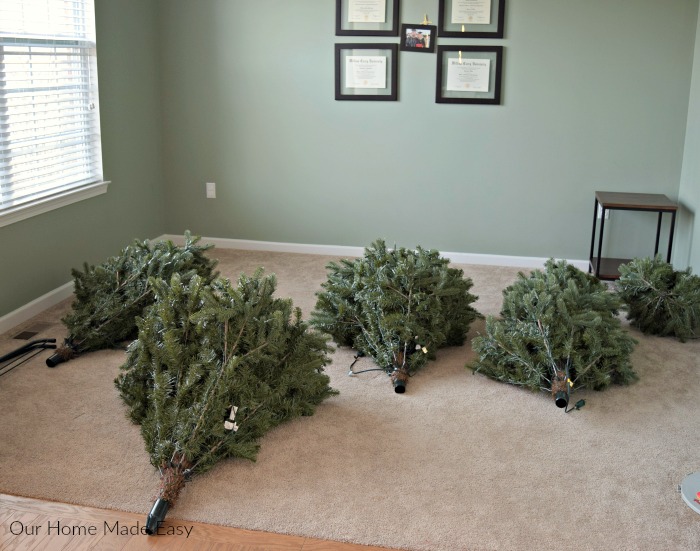 Luckily Jordan was willing to play along and helped me assemble it, even though we were in mid-November.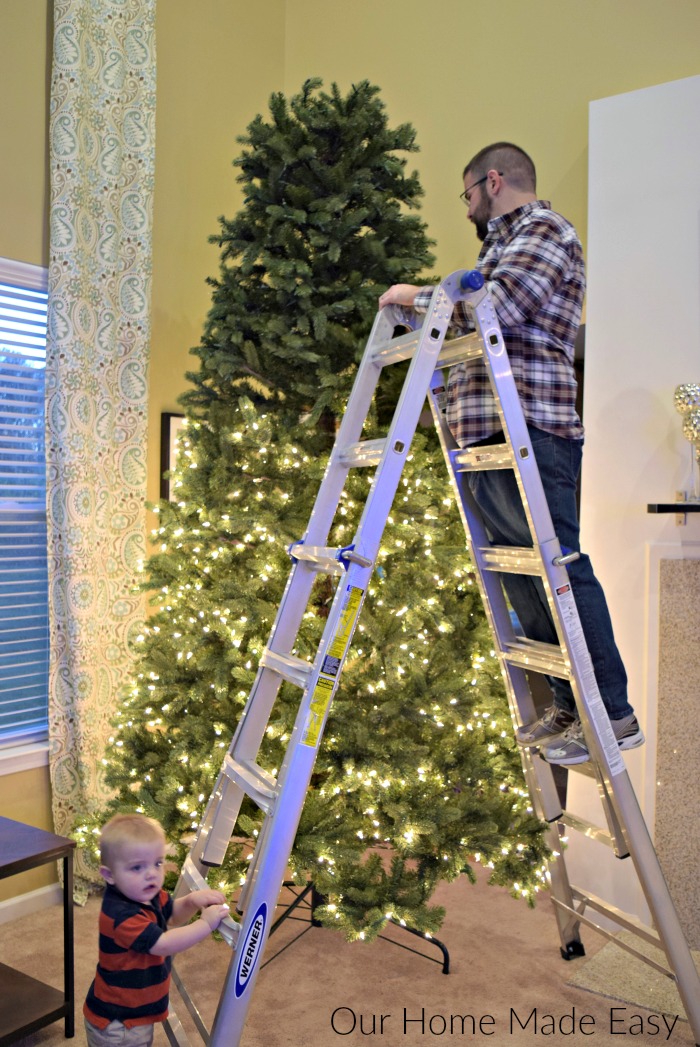 And things could not be done without the assistance of both Aubrey & Owen. I decided to not let this decorating overwhelm our night. Once Jordan had all 12 feet assembled, we called it an evening. The next night, Aubrey & I decorated the tree.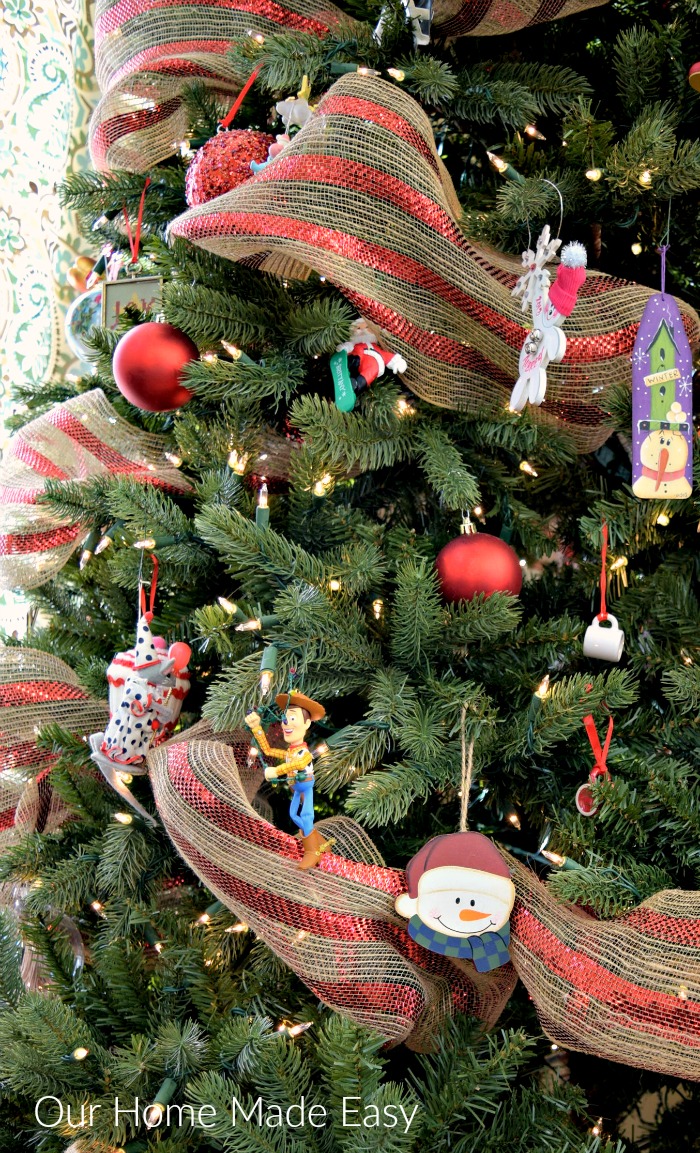 Aubrey was in charge of the non-fragile ornaments. My goal was to place our more sentimental and fragile ornaments at the top of the tree and work my way down. Any areas that needed to be filled in, I used a boxed set of ornaments from Target. They are great for keeping consistency around the tree and are shatterproof. Pretty much a win-win for this house.
In case you're wondering how on earth I made it around all 4 sides of the tree 12 feet in the air, I used the multi function ladder Jordan used to assemble it. I liked that I can go up either side and "shimmy" it around the tree to keep decorating. But… I did have to ask for Jordan's help with the bow. I didn't want to be the one to blame if I fell into the tree… high in the air… while using wreath wire to tie it on! 🙂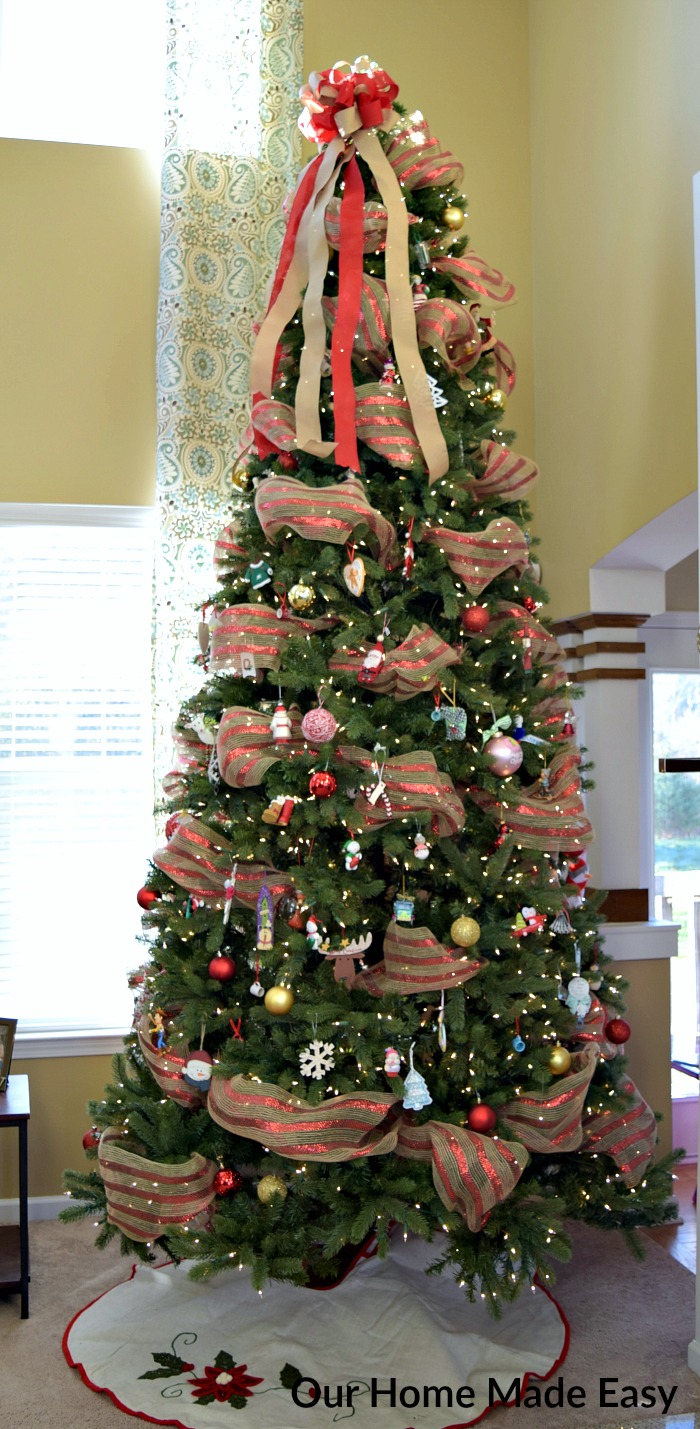 We bought the thick faux burlap ribbon from Michael's last year and they offer a bow making service (it's free!) . This was super easy since I am definitely not a bow making aficionado. I know my limits and this wasn't something I knew I could pursue. 🙂 It has held up well in storage .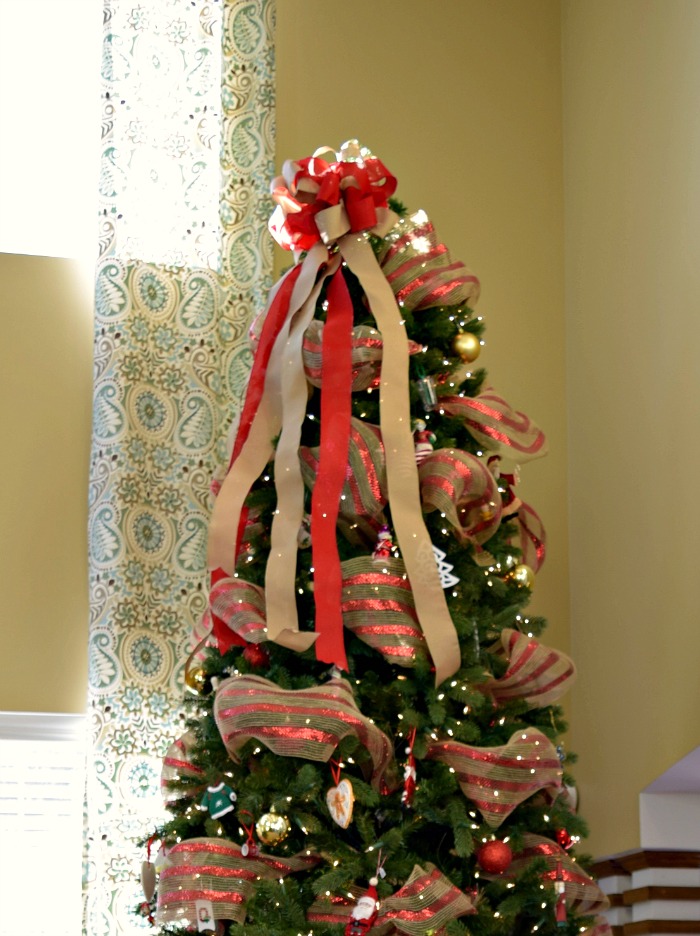 We were very careful of putting any ornaments on the bottom. Owen isn't even a year and a half yet, so we weren't sure what to expect with him. Luckily, a few weeks in and he hasn't touched it yet!
And a shot of the tree in the evening…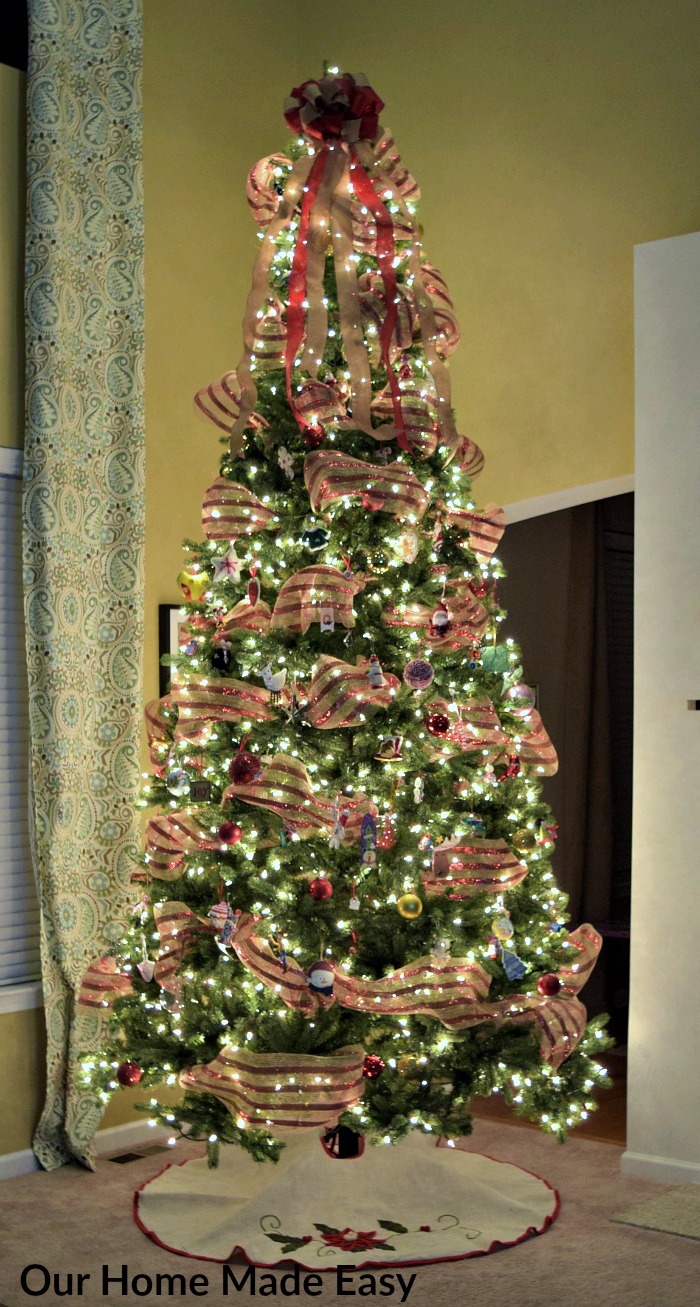 Shopping Sources: Christmas Tree (Newer Version) | Deco Mesh Ribbon (linked Similar) | Ornaments | Burlap Ribbon for Bow (Burlap) (Red) | Tree Skirt (linked Similar) | Glitter Ornaments | Ladder |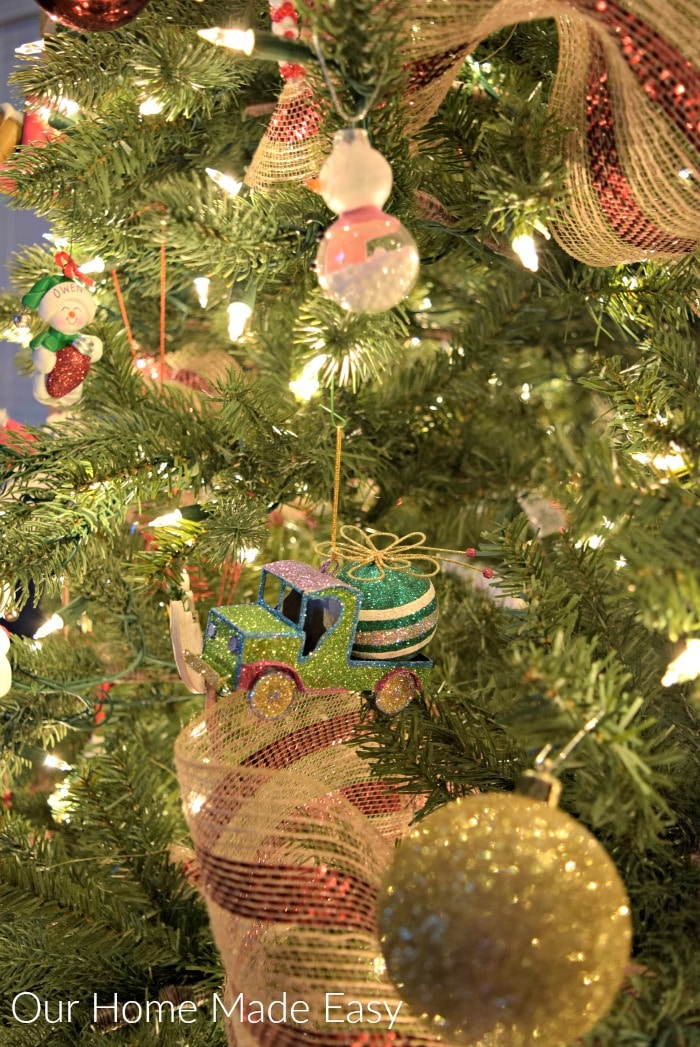 Have you put up your Christmas Tree yet? Do you choose artificial or cut your own?